The 5 Best Car Insurance Providers in Cork
On the lookout for a new car insurance policy? Don't just check out one or two insurers!
Today, we're featuring our picks for the best car insurance providers in Cork, so might as well begin your search here.
What's more, we also included useful info on car insurance FAQs as well as tips in selecting the right policy.
But before we delve into all that, let's take a look first at factors that affect car insurance premiums to help you understand insurance costs.
Factors that Affect Motor Insurance Costs in Ireland
If you're still new to the term, an insurance premium is basically the amount you pay for an insurance policy. It can be a monthly or annual payment.
Now, you will need to submit the necessary details to an insurer because premiums are calculated based on a number of factors.
Citizens Information explains that insurance companies will consider the following:
Size, age, and value of your vehicle
For instance, a new car will be more expensive to insure since it will cost more to replace. Similarly, it can be more difficult to insure older vehicles since many insurers think they have a higher chance of getting in an accident.
Driver's age, experience, and the place where he or she lives
Age and residence are related to risk levels. Expect higher premiums for young and old drivers as well as drivers who live in major cities.
And generally, the less experience you have as a driver, the more expensive your insurance premium is likely to be.
Claims history
This refers to your record as a driver. Insurance is cheaper if you have a clean driving record, meaning, you were not involved in accidents.
Profession and use
The cost of your premium is also affected by how you use your vehicle. Expect additional costs if it is used for business or commercial purposes.
Level of coverage
Usually, third party insurance will have a more affordable premium than third party, fire and theft. And generally, comprehensive insurance is the priciest level of coverage.
There are also additional features and benefits that insurers offer, such as no claims bonus protection, windscreen cover, etc. Availing of these will, of course, increase the cost of your insurance premium.
Excess
Most insurance policies include an excess. An excess is the amount you agree to pay should you make a claim on your policy.
Choosing to pay for a high excess on claims can decrease the cost of your premium.
The Best Car Insurance Providers in Cork
Now that we got that all cleared out, let's move on to our options for the best car insurance providers in Cork!
1. FBD Insurance – Cork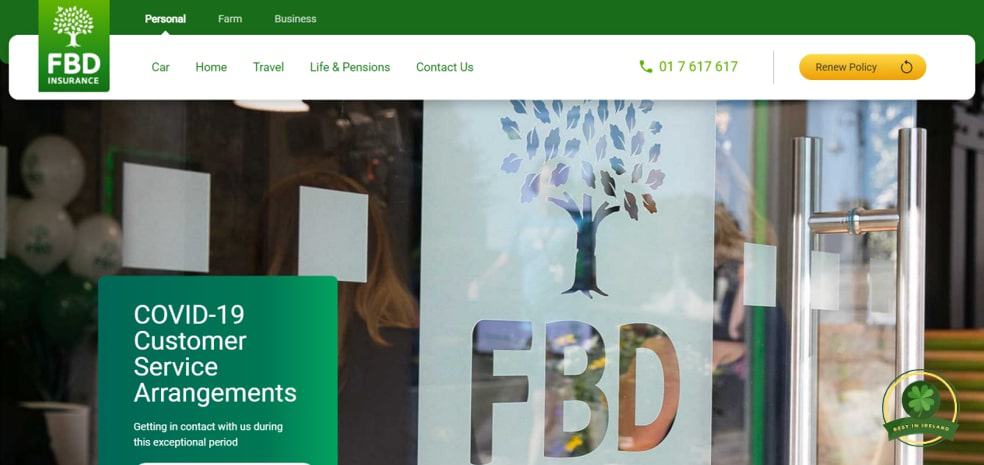 SERVICES
Personal:
Car, van, and vintage & classic car insurance, homeowner, apartment owner, and renters insurance, travel insurance, and life & pensions

Business:
Tradesman insurance, commercial property insurance, office insurance, shop insurance, restaurant, cafe, & takeaway insurance, pub insurance, commercial vehicles, and life & pensions

Farm:
Farm property insurance, livestock insurance, farm vehicle insurance, equipment & machinery insurance, liability insurance, farm safety, farming community, and life & pensions
WEBSITE
https://www.fbd.ie/
ADDRESS
54 South Mall, Cork City, Co. Cork
CONTACT DETAILS
(021) 4544299


[email protected]

OPERATING HOURS
9:30 am to 5:00 pm (Monday – Friday)
Headquartered in Dublin, FBD Insurance is an insurance company with 34 branches across Ireland. Concerning vehicles, FBD offers insurance for cars, vintage and classic cars, and vans.
For cars, they offer third party, fire, and theft and comprehensive coverage. Third party cover, the most basic level of cover in Ireland, comes as standard in both options.
However, a client's cover can also be reduced to third party only upon FBD's discretion.
Both third party, fire, and theft and comprehensive insurance contain these same benefits: car accident assistance, third-party driving of other cars, towage and storage, personal belongings coverage, among others.
The benefits that third party, fire, and theft cover lacks are: uninsured driver protection, courtesy car, and medical expenses.
Meanwhile, aside from the standard benefits included in each policy, you can also opt to purchase additional benefits, such as car breakdown assistance, no claim discount protector, driver accident protection, and so on.
Also looking for home insurance? You can get a 10% discount on your new car insurance policy if you (or a family member living with you) also avail of FBD's home insurance.
You can also opt to purchase 3 optional extras because the cheapest one is free for the first year.
Wide service coverage 
Discounts available
Online renewal and payment available 
Online quote system available 
Offers 24-hr breakdown assistance 
Offers courtesy car 
Offers financial services
Closed on weekends 
Website can be difficult to navigate at times 
Customer Reviews
Highly recommended
"Very effective and user friendly quotation system. The quote I received was superb and hard to believe really given other figures I was quoted and the CarProtect online promo discount offered was also very welcome. Overall I would definitely highly recommend checking out FBD Insurance when your car insurance renewal is due." -Richard Connolly
Got a brilliant quote
"First time with you guys. Got a brilliant quote and took it straight away. Hope to keep giving you my money in the future 😁" -Geraldine Smyrh
2. McCarthy Insurance Group – Fermoy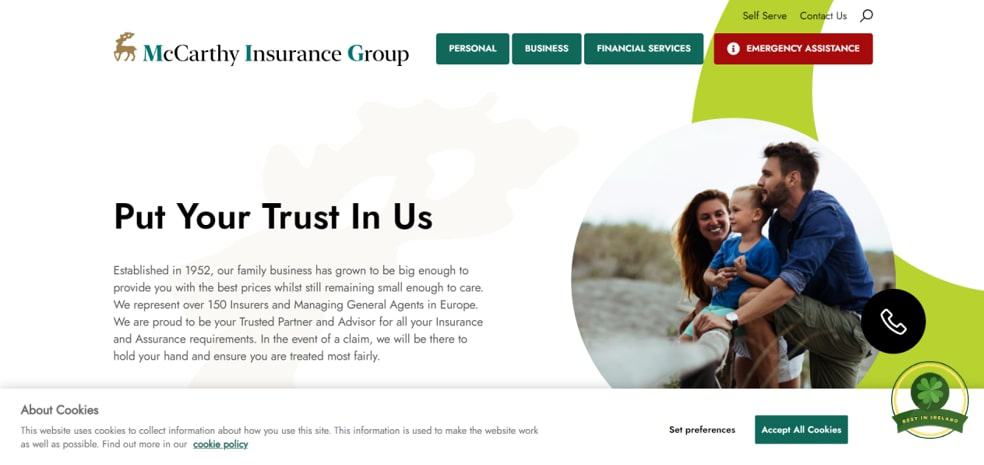 SERVICES
Personal:
Car insurance, motor breakdown cover, motor legal expenses cover, home insurance, home legal expenses cover, buy to let & holiday home insurance, subsidence insurance, health insurance, dental insurance, life insurance, pensions, investments, financial planning, marine, pet insurance, musical instruments, and high-net worth

Business:
Builders & tradesman, complete business legal protection, hair salon insurance, hospitality, public liability insurance, employers liability insurance, marine insurance, office insurance, SME package, other business insurance, taxi insurance, and property insurance

Financial services:
Life assurance, pensions, investments, and financial planning
WEBSITE
https://www.mig.ie/
ADDRESS
Anderson Centre, O'Neill Crowley Quay, Fermoy, Co. Cork, P61D924
CONTACT DETAILS
(025) 31199


[email protected]

OPERATING HOURS
9:00 am to 5:00 pm (Monday – Friday)
McCarthy Insurance Group (MIG) is an insurance broker that's headquartered in Fermoy. It's easy to find them in Cork since 8 of their 16 branches nationwide are located there.
They've been around for almost 70 years after being founded in 1952. Their years of experience probably explains why they handle a wide array of insurance policies, both for personal and business use.
MIG boasts of representing more than 150 insurers and managing general agents in Europe.
One of the ways they help vehicle owners is by providing motor legal expenses insurance that'll help clients in the event of an accident that wasn't their fault.
Some of the damages covered include injury to you and your passengers and loss of the use of your vehicle, among others.
Meanwhile, MIG offers motor breakdown cover (underwritten by Mapfre Assistance), which is available 24/7.
They also help as regards commercial vehicle insurance. This includes motor trade, taxi, and van insurance as well as fleet and haulage.
And aside from insurance, you can contact them to help you plan your finances through their investment and pensions-related services. MIG can guide you as regards lump sum investments, savings plans, personal pensions, and so on.
Has 8 Cork branches, 16 branches nationwide
Wide array of insurance policies 
Offers financial services 
Offers 24/7 breakdown assistance 
Offers courtesy car 
Closed on weekends 
Unsure from website if online payment is available
Customer Reviews
So pleasant to deal with
"Couldn't praise them enough. Staff are fantastic & so pleasant to deal with each & everyone of them. They really do get you best valu and my insurance has come down this year, even received cheque in post about 2 weeks ago because insurance had come down a bit more as I had paid about 3 weeks in advance. My husbands first year with them this year & his was about €140 of a saving by switching. Keep up the good work." -Monica Feeney
Consistent all through
"Busy place but you still get attended to. Never found a reason to leave them for 20 years. They very been consistent all through. and no discrimination.. Professional." -Angela Wambui
3. MBC Insurance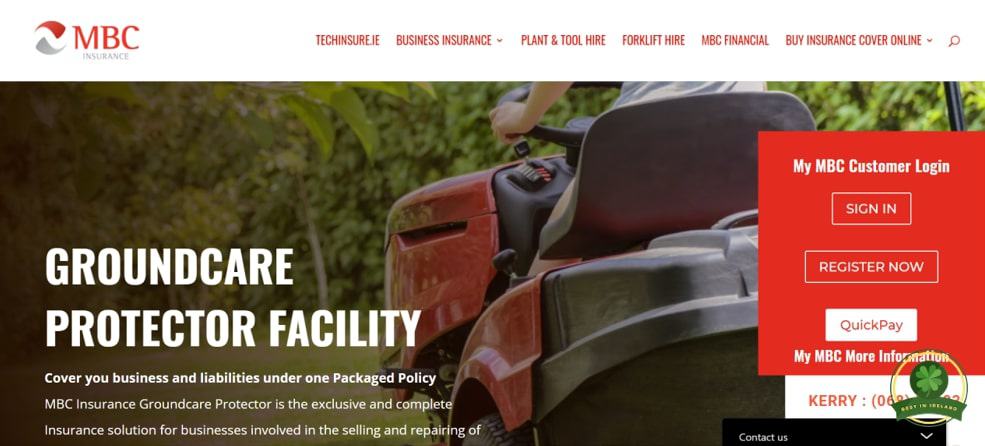 SERVICES
Business insurance:
Agricultural & construction machinery dealers insurance scheme, carpenters & joiners insurance, contractors/tradesman insurance, engineers & architects professional indemnity insurance, event insurance & event cancellation insurance, environmental liability insurance, office insurance & surgery insurance, plant insurance & construction machinery insurance, professional indemnity insurance, restaurant insurance, scaffolding contractors insurance, and unoccupied property insurance

Click here for a full list of business insurance offerings.

Plant & tool hire and forklift hire

Other insurance:
Home, motor, travel, wedding, pet, and gadget insurance

Buy insurance cover online:
Motor breakdown cover
– €30 (2-star cover)
– €47 (3-star cover)
– €57 (4-star cover)
– €84 (5-star cover)
Wedding insurance
– from €49 (2-star cover)
– from €99 (3-star cover)
– from €149 (4-star cover)
– from €179 (5-star cover)
Car hire excess
– from €2.99
– from €3.99
– from €49.99
– from €59.99

MBC financial:
Financial advice, personal protection, business protection, wealth management, and retirement planning
WEBSITE
https://www.mbcinsurance.com/
ADDRESS
Building 5200, Avenue 5000, Cork Airport Business Park, Cork City, T12FDN3
CONTACT DETAILS
021 4275347


[email protected]

OPERATING HOURS
9:00 am to 5:00 pm (Monday – Friday)
Another insurance broker, MBC Insurance covers a broad range of insurance policies—probably the most on this list.
Restaurant insurance, farm insurance, environmental liability insurance, car and motor insurance, pet insurance—these are just some of the insurance they offer.
MBC boasts of working with more than 20 insurance providers with regard to their car and motor insurance. They promise to get back to clients with a quote within 2 days after receiving their completed motor submission form.
Some of the benefits included in their private and commercial policies are full no claims bonus protection, optional key cover, windscreen cover, and 24-hour breakdown assistance.
Additionally, MBC Insurance offers policies for motor trade road risk insurance and motor fleet insurance.
You can also avail of breakdown insurance (underwritten by Mapfre Assistance), which costs from €30 to €84 and car hire excess worth at least €2.99 from their website.
Plus, it's also convenient to pay your renewal, deposit, additional premiums, or missed payments since you can do this via MBC's QuickPay feature on their website.
Another office in Kerry
Wide array of insurance policies 
Online payment available  
Can offers 24-hr breakdown assistance
Car hire excess and breakdown cover available online
Offers financial services 
Closed on weekends 
Only 2 branches in Ireland 
Customer Reviews
Extremely helpful, supportive
"Sarah Mc Carthy was extremely helpful, supportive and professional recently when we had an issue with one of our vehicles." -Kendellen Family
Outstanding service
"I'd like to take the time to personally mention the outstanding service I received from David. In addition to his friendly demeanor, he was a consummate professional throughout and got me a great deal." -Rory
Great service, highly recommended
"I would highly recommend MBC Insurance. I have received an overall great service from them and a very competitive renewal quote again this year. Thanks to everyone at MBC." -Annie O'Connor
4. Campion Insurance
SERVICES
Personal:
Car, vintage, van, home, health, and travel insurance

Business:
Technology, farm, food & beverage, other business, property, motor traders, transport, professional, employee benefits, hospitality, and Brexit

Financial products:
Pensions, investments, life insurance, mortgages, mortgage protection, income protection, and savings
WEBSITE
https://www.campion.com/
ADDRESS
C133, Unit H, Eastgate Village, Little Island, Co. Cork
CONTACT DETAILS
021 4632105


[email protected]
Founded in 1984, Campion Insurance is an insurance broker that offers different insurance categories for both personal and business purposes.
What's more, it also provides multiple financial services related to mortgages, investments, pensions, and so on.
We think they're ideal for vintage car enthusiasts since Campion can register them with the IVETA vintage club at a discounted price of €30. Consequently, you'll be able to receive info on upcoming vintage shows and runs.
And aside from vintage cars, they also offer insurance for vintage and classic jeeps, trucks, campervans, and tractors, if these meet the criteria.
Moreover, Campion caters to different commercial vehicles, namely, vans, buses, and coaches. Under bus and coach insurance, some of the benefits offered are employers and public liability, personal accident cover, third-party property damage, and more.
Meanwhile, for clients involved in motor trade, benefits include car valeting, mechanical repairs, and service, tire fitters, among others.
And similar to its competitors, Campion also operates on a large scale in the country, with 11 branches.
Wide service coverage
Wide array of insurance policies 
Offers financial services 
Online quote system available 
Has discounted membership offer w/ IVETA vintage club
No mention of car insurance benefit samples
Only one branch in Cork 
Customer Reviews
Skilled, knowledgeable, and courteous customer service
"Spoke with Alan Fay at 09.40 and he was amazing. . Customer service skill knowledgeable and courteous. Sean had all my insurance queries dealt with very efficiently. I Will not be moving from Campion, we have 2 cars and will soon have two houses insured with them once renewal date arrives. Thank you Campion but more so thank you Alan Fay." -John Coleman
Went above and beyond
"I couldn't recommend Campion insurance highly enough. Dealt with Amy in the Midleton office who couldn't do enough for us. She went above and beyond to help us and we got a great deal." -Una O'Mahony
5. AXA – Cork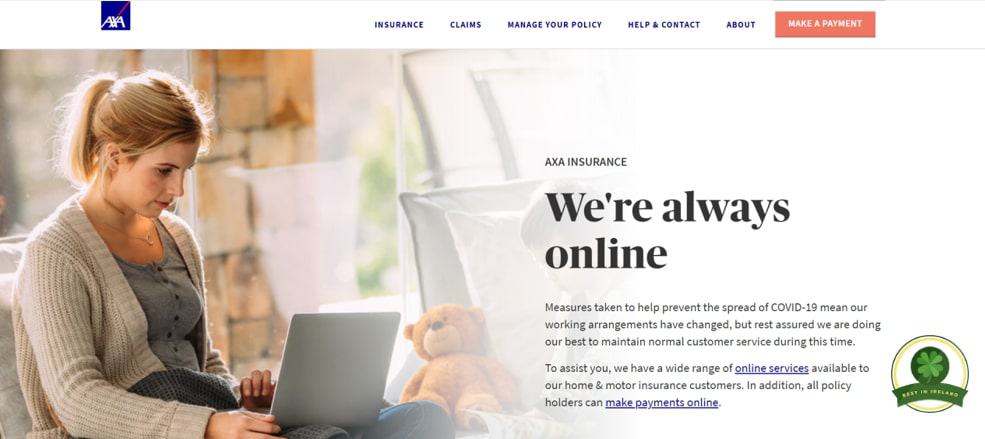 SERVICES
Car, van, taxi, & motorcycle insurance, home, farm, and small business insurance
WEBSITE
https://www.axa.ie/
ADDRESS
52 South Mall, Cork, Co. Cork
CONTACT DETAILS
021 4271941


[email protected]

OPERATING HOURS
9:00 am to 5:00 pm (Monday – Friday)
A popular insurer in Ireland, AXA has 24 branches across the country, so you'll most probably find a branch near you.
AXA offers third party; third party, fire, and theft; and comprehensive insurance. It's easy to check the features that are included under each policy since these are already outlined neatly on their website.
Of course, comprehensive cover contains the most benefits, 5 of which are not found in their third party, fire and theft cover. These are electric car chargers, misfuelling cover, uninsured driver promise, accidental damage or loss of your car, and windscreen cover.
And if you'd like to up your benefits, AXA offers a number of optional extras, such as car and key rescue, protected no claims discount, open driving, and broken glass.
Furthermore, AXA now offers what they call Carbon Neutral Car Insurance. This means they will be offsetting 100% of the car emissions produced by the cars (private) of new clients they insure for one year.
Only those who avail of car insurance on or after January 9, 2021, or those who renew their policy on or after the said date are eligible.
In addition, you can manage your policies conveniently online via AXA's MyAXA platform. With MyAXA, you can view and download your policy documents, add a driver to your policy, make payments, and more.
Wide service coverage
Irish School of Motoring partner
Can manage policies via MyAXA
Offers 24-hr roadside assistance 
Offers replacement car 
Discounts available
Offers carbon emission offsetting 
All discounts subject to a €333 minimum 
Closed on weekends
Customer Reviews
Reasonable prices, lightning-fast processing
"The staff were very professional and easy to talk to. Customer service is highly valuable on their service. I was just supposedly planned to have an inquiry but ended up purchasing the car insurance, as they have a very reasonable prices and processing is lightning-fast." -Eugene Yap
Best customer service I received
"Had a best experience with this insurance company. From the website to an intersection in the office. Pilar Prol went above and beyond to get me the best deal possible! I am a first time driver and she had the patience to explain me how everything works and every details of terms and conditions. She provided the best customer service I received by far!" -Erika Kotliuba
How to Pick a Car Insurance Policy
Knowing a couple of tips will help ensure you select the right policy for your vehicles. Check them out below:
1. Levels of coverage
First, it's important to familiarise yourself with the 3 types of motor insurance here in the country. According to Citizens Information, the three types are third party, third party, fire and theft, and lastly, comprehensive insurance.
Third party is the most basic level of insurance that is required in Ireland as well as the EU. If you cause an accident, it will only cover damages incurred by the other party, such as physical injuries or damages to their vehicle.
Meanwhile, third party, fire, and theft insurance is the same as third party except that it will also compensate you if your vehicle is stolen or damaged by fire.
Lastly, comprehensive insurance contains the same level of cover as the two above, but it will also cover you for damage to your vehicle even if an accident is your fault.
2. What kind of driver are you?
This question will help determine the features you need to look for in an insurance policy.
If you drive your car often, you might consider looking for features such as medical expenses and roadside rescue in your policy.
What about the place where you live? Urban areas may up the chances of your car being damaged by vandalism or theft, so this is another factor to think about.
Are you especially conscious about the appearance of your vehicle? Then, you can opt for a policy that includes features such as windscreen cover and the like.
3. Compare policies
When you shop for insurance policies, don't just settle for one or two insurance providers. Take a look at the features and benefits included in their policies.
What features are standard? What comes as optional extras?
For instance, if you look at the comprehensive coverage offered by FBD Insurance and AXA, you'll notice some differences.
AXA includes accidental damage cover to wall chargers of electric vehicles, plug-ins, and hybrid vehicles, while FBD Insurance doesn't mention this feature.
4. Discounts
Discounts can obviously help you save money on your insurance. Inquire about any discounts offered by an insurance provider, such as the no claim discount.
Do you also need to avail of other types of insurance? Some insurers offer discounts when you buy another type of insurance product from them along with your car insurance.
FAQs about the Best Car Insurance Providers in Cork
---
And that concludes our list of the best car insurance providers in Cork! Hopefully, this article has helped you get the best deal for your vehicle.
Think we missed other insurers that should have made it here as well? Feel free to send us a message to let us know your thoughts!
Also have a motorbike that you need to insure? Don't miss our list featuring our picks for the best motorcycle insurance providers in Ireland!