The 3 Best Dermatologists in Waterford
Featured Image Source: https://www.pexels.com/search/skin%20doctor/
They say you'll feel better if you look better. Well, the first thing that'll make you look better is a healthy-looking skin.
Dermatologists are the doctors to go to if you want to fix sallow, mottled skin. But more than removing crow's feet, acne and other aesthetic cases, dermatologists also deal with serious skin conditions like melanoma.
These doctors from our list of the best dermatologists in Waterford should help set your skin to rights, whether it's serious or "skin-deep."
We've also compiled a few essential information including the costs of some of the most common skin treatments below.
The Cost of Skin Treatments in Waterford
What kind of treatment does your skin need? Based on our research, aesthetic treatments come with a price.
If it's cheap, then it's likely you'll need more than one session to see any effects. You should find the prices of some of the most in-demand treatments in Waterford below:
| | |
| --- | --- |
| SKIN TREATMENT | PRICE |
| Skin tightening | From €150 |
| Pigmentation | From €50 |
| Leg vein treatment | From €125 |
| Laser hair removal (women) | From €12 per session |
| Anti-wrinkle injections (women) | From €142 |
| Skin analysis | From €50 |
The Best Dermatologists in Waterford
Based on our research, here are the best dermatologists in Waterford, where their clinics are and a few other information you might need:
1. Janice Brady of Eye & Face Clinic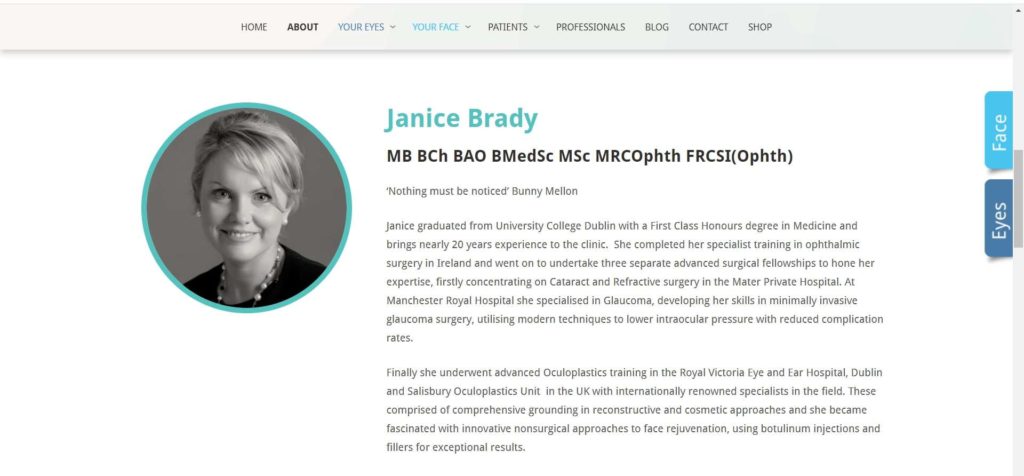 SERVICES
ophthalmology, aesthetic face treatments
WEBSITE
https://eyeandfaceclinic.ie/
ADDRESS
Williamstown Centre, Williamstown Road, Waterford X91 YA2H
CONTACT DETAILS
051 582 220


[email protected]

OPERATING HOURS
Mon, Fri, Sat – by appointment only
Tues, Thurs – 9:30am – 5pm
Janice Brady is primarily an ophthalmic surgeon with advanced training in Oculoplastics and medical aesthetics (cosmetic services). She has a particular expertise in rejuvenating the area around the eyes, brow, cheeks, and sculpting the lower face.
Janice runs the Eye & Face Clinic together with other consultants, providing services concerning the eyes and face. But let's focus on the face, particularly, their skin service.
They treat a wide range of skin conditions such as: skin acne, wrinkles, rosacea, skin pigmentation, and ageing hands. Their treatments are also varied: facials, chemical peels, anti-wrinkle injections, and other skin care management.
We've received quite a number of good feedback for both Janice and the clinic. They said she genuinely cares about her patients and provides great skin advice so you can get the most out of the products.
Indeed, it seems she doesn't just keep what she knows to herself or her patients—her social media accounts are loaded with skin care advice, product recommendations, and other skin information.
And according to patients who've been to the clinic, it has a relaxing and inviting atmosphere that will help make you feel at ease so you won't be scared about your procedure.
We also like that most of the prices of the treatments are freely available, and there's free parking near the clinic.
The only thing we find a bit troublesome is, they're only open twice a week: every Tuesdays and Thursdays. You also need to pay a deposit of €90 when you book an appointment (redeemable against any treatment on the day).
Also provides eye/vision-related care
Comprehensive range of face/skin treatments
Relaxing clinic atmosphere
Prices are online
Free parking
Open only Tuesdays and Thursdays
Deposit required when booking an appointment
Customer Reviews
I knew more from one consultation than many visits to a GP
"If I could give more stars I would. Brilliant from start to finish and genuinely cares about their patients and I knew more from 1 consultation than many visits to a gp. This place has it all 10 out of 10" – Tommy McGarr, Facebook Reviews
Janice was amazing with regards to skin care advice
"I love skin and I'm constantly reviewing new products. Janice was amazing with regards to skin care advice and getting the best from the products available. I choose the Alumier skin care range and I'm loving it. Definitely coming back" – Charlotte Lowe, Facebook Reviews
2. Dr. Colin Buckley of UPMC Whitfield Hospital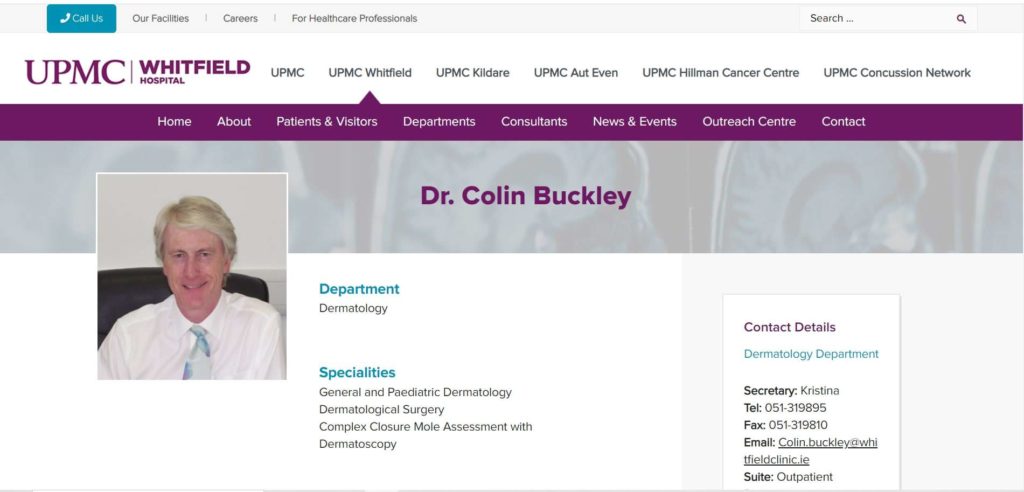 SERVICES
routine surgical ailments, diagnostic imaging, physiotherapy, radiotherapy and elective surgery, advanced cancer care services
WEBSITE
https://www.upmc.ie/upmc-whitfield/
ADDRESS
Cork Road, Butlerstown North, Waterford, Ireland X91 DH9W
CONTACT DETAILS
+353 (0)51 337 400
Lo Call: 1890 825 825
Fax: 051 337401


[email protected]

OPERATING HOURS
Tues – Thurs, 8:30am – 4:30pm
If experience is the best teacher, we'd say Dr. Colin Buckley has been taught well.
He's been practicing dermatology for more than 25 years, specialising in dermatological surgery. So, if you have skin, nails, hair, and vein conditions that need surgical or nonsurgical skills, he's the doctor to go to.
But that's not his only specialisation. A graduate of the National University of Ireland and the Royal College of Surgeons, Dr. Colin also has an accreditation in Dermatology from the Royal College of Physicians in London and a specialist in paediatric dermatology and mole assessment with dermatoscopy.
Other services he provides include: excision of cutaneous malignancies, shave excision, curettage, cautery of benign tumours (skin tags, etc), diagnostic biopsies of rashes, acne treatment, dermatoses, pruritus and skin disorders of the elderly.
If you've got suspicious moles which need to be seen by a trained eye, you can visit his clinic at UPMC Whitfield Hospital. The clinic is open on Tuesdays, Wednesdays and Thursdays.
Get ready to wait in line though. He's one of the few (and possibly the only) dermatologist in the public service.
In a region with a population of over 400,000, the wait can be really long. We've even heard it can be from a couple of months to a year.
But some of his patients are willing to wait saying they wouldn't go elsewhere even if they have to wait. That only means one thing: he must really be good.
He is seeing cases that need to be prioritised, though, such as skin cancer. But we sure hope that's not your case!
Has accreditation in Dermatology from the Royal College of Physicians in London
Specialises in dermatological surgery and paediatric dermatology
Also specialises in mole assessment with dermatoscopy
Treats a wide condition of skin problems
Prioritises urgent cases
Gets fully booked fast
Clinic is open only every Tues, Wed and Thurs
Customer Reviews
He is honestly fantastic
"I went to Colin Buckley 5 years ago, referred by GP. Think I was about 3 months waiting for the appointment. He diagnosed skin cancer and successfully removed it. My mother has also been to him with psoriasis. I can imagine how much of a hurry you're in to see someone – I had pretty much self-diagnosed and thought I'd never get rid of it but he is honestly fantastic, even if there's a wait I wouldn't go elsewhere. " – LegacyUser, Boards.ie
Amazing staff and clean hospital
"Staff is amazing, the hospital is so clean and nice. service good and all staff amazing. I just had surgery and they couldn't do enough for me. thank you to all." – Ronnie Walshe, Facebook Reviews
3. Dr. Maria McKenna of Waterford Medical Centre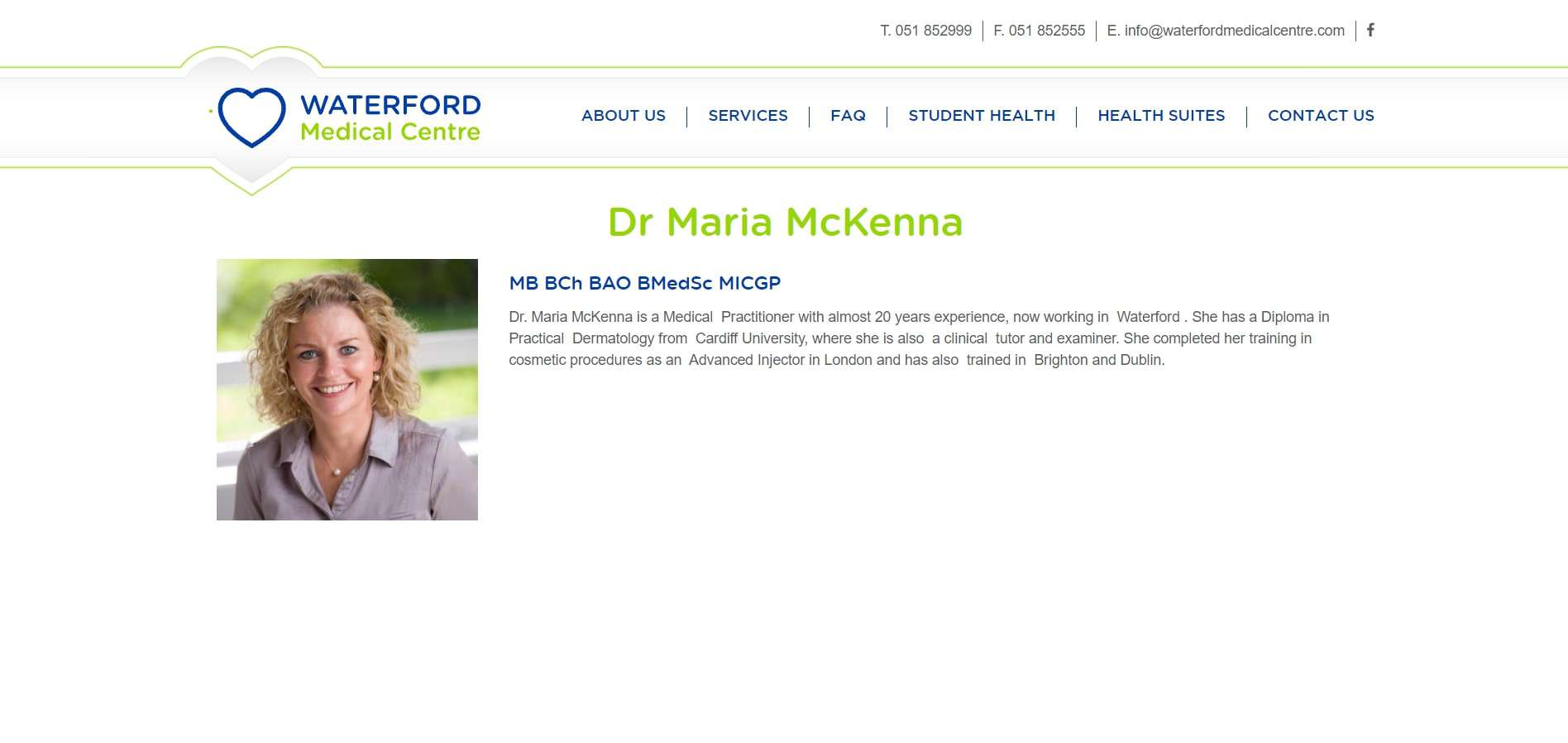 SERVICES
men, women and children's health, pregnancy care, minor surgery, specialised clinics
WEBSITE
https://www.waterfordmedicalcentre.com/
ADDRESS
Kilbarry Shopping Centre Tramore Road Waterford
CONTACT DETAILS
Tel: 051 852999 (By Appointment)
OPERATING HOURS
Monday to Friday: 8am – 5.30pm

After Hours (CareDoc): Monday to Friday 6pm – 8am
Weekends and Bank Holidays
Do you have a rash, mole or skin lesion that won't go away? Maybe you have dandruff, hair loss and other hair issues.
Dr. Maria McKenna might be of help. She has specialist qualifications in Dermatology and can check, diagnose and treat a wide range of skin conditions—be it skin or hair.
She has a diploma in Practical Dermatology from Cardiff University, where she is also an examiner and clinical tutor. She completed her training in cosmetic procedures in London, Brighton and Dublin.
But if it's not your hair or skin that's giving you problems but your nails, Dr. McKenna can help too. She has completed a course in the treatment of ingrowing toenails just recently.
Most people leave ingrown toenails alone, unaware that it can lead to an infection. So, having someone like Dr. McKenna around in case simple cases like that get worse is comforting.
You can call or visit her for a consultation at Waterford Medical Centre where her clinic is at. Sadly, we've received a few reports that it could be hard to get someone to answer the phone.
This could be just a one-time occasion though. Overall, we still think the centre is worth a visit.
If you need other services besides dermatology, the centre also offers travel health, counselling service, occupational health, pregnancy care and many more.
It's a pretty convenient place to go to. The centre is modern and has great parking for patients and visitors.
Trained in cosmetic procedures
Can treat ingrown toenail treatment
Plenty of parking spaces
Full-service clinic
Complaints about customer service
Closed on weekends
Customer Reviews
Kind and caring
"Fantastic doctors and staff who go above and beyond for their patients. I have always found them so kind and caring to deal with. Their new location is great, loads of parking and a lovely, bright, comfortable waiting area with baby changing and feeding facilities. A brilliant service for Waterford." – Eimear B., Top-Rated Online Reviews
The very essence of thorough professional service
"I have had such care and attention here, at once the very essence of thorough professional service but done with tremendous warmth and respect. Thanks" -Micheal Oraghaill, Google Reviews
When Is It Time to See a Dermatologist?
Dermatology is a medical field that specialises in the study and treatment of diseases related not just to the skin, but also the hair, nails and mucous membranes.
Some conditions go away on their own without any treatment from doctors. For instance, skin-related disorders can be treated with over-the-counter skin care products, lifestyle adjustments, dietary and good hygiene practices.
So when should you be concerned and seek help from a dermatologist? Here are some of the scenarios:
Stubborn rashes
If you have a rash that doesn't go away even after using over-the-counter creams and lotions, then it's time to see a dermatologist.
Rashes all look the same to an untrained eye, but dermatologists can often tell what they are based on its shape and pattern. Some rashes can be a sign of blood infection or meningitis which require urgent medical treatment.
New spot(s) on your skin
It could be a new mole or an old mole that changed in color, shape or size. Changes in the mole or patch of skin are often a sign of skin cancer so it's best if your doctor evaluates it for you.
Sores
Do you have itchy red sores that form yellow-brown crusts? It might be impetigo which is a contagious bacterial infection.
Hair loss
It's normal for both men and women to lose hair everyday. But when is hair loss too much?
Your dermatologist can perform some tests to confirm. It could be as simple as pulling your hair or getting a blood test, or performing a scalp exam and biopsy.
Change in the colour of nails
Often, changes in nail colour is the result of a fungal infection commonly found in the air and soil. However, it can also be a sign of ageing, medications, nutritional deficiencies and other diseases.
FAQs About The Best Dermatologists in Waterford
---
Did you find a doctor you like from our list of the best dermatologists in Waterford? We hope you did!
Send us an email if you know of anyone else who should be included here. We'll be happy to give it a look.
You can check out more dermatologists, dermatologic clinics and procedures from any of our list here: