The 4 Best VPN Providers in Ireland
For sure, the internet offers a myriad of benefits, but it can leave us vulnerable to plenty of dangers as well.
One way to keep yourself safe is by using a Virtual Private Network or VPN. VPNs can mask your identity and location, so you can safely surf the Web privately, among other things.
This article on the best VPN providers in Ireland lets you in on our top choices, along with additional info on FAQs and how-to tips.
But first, let's talk about pricing!
VPN Subscription Costs
While you can surely find other VPNs that are offered for free, it's always best to go with a paid subscription.
This is because your privacy may be compromised as free VPNs may sell your data (e.g. browsing history) to advertisers as a way to profit. So in a way, they're not completely free services.
You can read more about the disadvantages of using free VPNs in our FAQ section near the end of this article.
On the other hand, paid VPNs provide better features and of course, better security and privacy.
None of our picks are free VPN services, so here's a table that lists the estimated price of their plans for your reference.
| | |
| --- | --- |
| LENGTH OF SUBSCRIPTION | COST PER MONTH |
| 1 month | $8.99 – $12.99 |
| 6 months | $6.39 – $12.95 |
| 12 months | $5.00 – $12.95 |
| 24 months | $4.87 – $12.95 |
Some of them do offer free trials if you're not looking to make a payment yet. The good news is that all of them offer a money-back guarantee, so you'll always have a chance to refund your money.
The Best VPN Providers in Ireland
Finally! Here are our top choices for the best VPN providers in Ireland!
1. ExpressVPN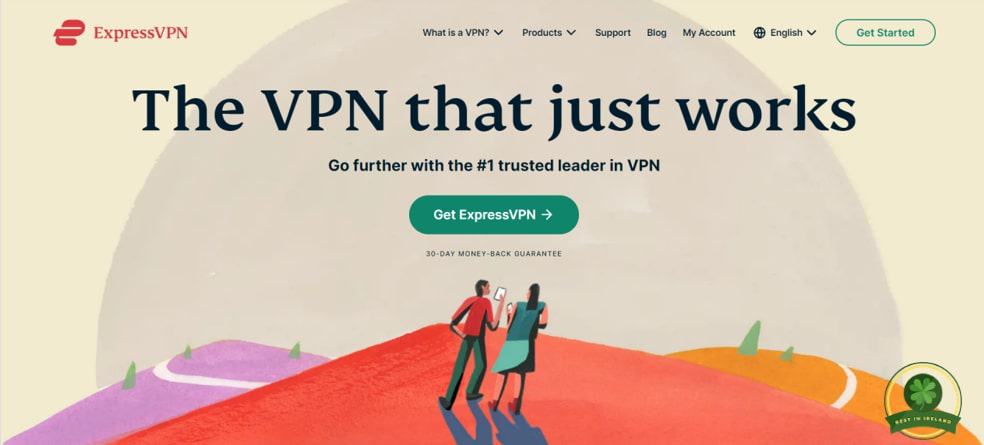 SERVICES
VPN for Mac, Windows, iPhone & iPad, Android, Linux, & routers, VPN Chrome extension, VPN Firefox extension, VPN Edge extension, VPN server locations, and Lightway VPN Protocol
RATES
1 month – $12.95/month
6 months – $9.99/month
12 months – $12.95/month
WEBSITE
https://www.expressvpn.com/
CONTACT DETAILS

[email protected]
It's no wonder ExpressVPN lands on our list as it's been cited multiple times by other reviewers as one of the best VPN services.
With its 160 locations across 94 countries, this VPN offers the most number of options for a particular country on this list.
Express VPN offers a 1-month, 6-month, and 1-year plan — all with a 30-day money-back guarantee. This means they allow 30 days for you to refund your payment if you didn't like their VPN.
Some of its features you'll benefit from are unlimited bandwidth, AES-256 encryption, VPN split tunnelling, 24/7 customer support, and more. True enough, clicking their website's Contact button opens up their chat support directly.
However, compared to other VPN services on this list, Express VPN only lets you connect up to 5 devices simultaneously.
If you'd like to connect more devices at the same time, you'll either have to buy another subscription, share your connection from a Windows or Mac computer, or set up a VPN router.
30-day money-back guarantee
Discount for 1-year plan available
Friend referral benefits
Servers in 94 countries
Accepts Bitcoin payment 
Simultaneous connections only up to 5 devices
Free trial is available only for certain mobile devices 
Customer Reviews
Easy to use
"It's easy to use and compatible with multiple devices. I use it with my Amazon stick, with my Android devices, and my PC. You can easily select where you want to connect from. It has many different countries with multiple cities." -Felipe
Has the fastest speeds
"This VPN works very well. It has lots of servers from around the world that you can connect to; hiding your real location and IP address, it allows you to browse the web without being tracked by websites or your ISP. Express VPN has the fastest speeds of any VPN I've tried. Give it a go." -Russell Harris
2. NordVPN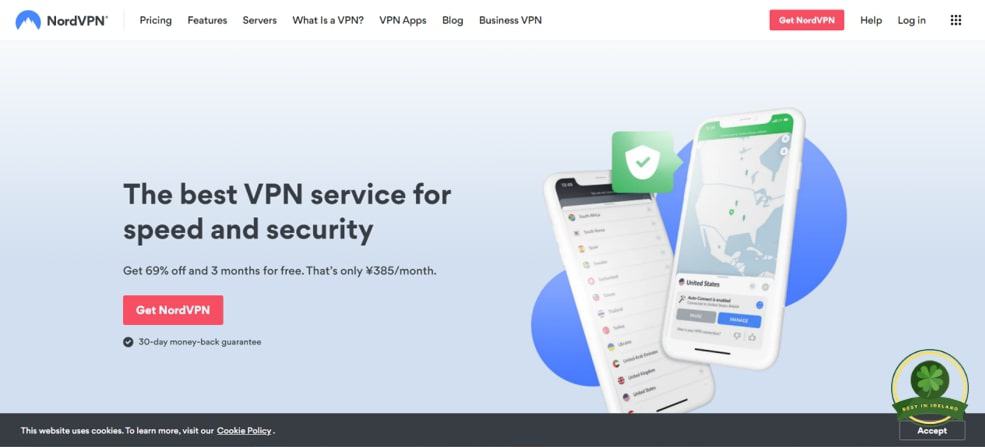 SERVICES
VPN apps:
Windows, Android, macOS, iOS/iPhone/iPad, Linux, Chrome, and Firefox
NordLayer, NordPass, NordLocker, NordWL, and business VPN
RATES
1 month – $11.95/month
12 months – $11.95/month
24 months – $322.65
WEBSITE
https://nordvpn.com/
CONTACT DETAILS

[email protected]
Another top-rated VPN service, NordVPN was founded in 2012.
It also offers a 30-day money-back guarantee to its users. Thus, you can try out its full features and if you were unimpressed, request a refund within 30 days — no need for a special reason.
Double VPN is one of its noteworthy security features. This means the user's data is encrypted not once but twice for added security and privacy.
However, unlike our other picks, NordVPN only covers 60 countries.
But on the flip side, with one account, users can secure up to 6 devices at once. And if you'd like to secure more than that, you can opt to install NordVPN on your router.
Concerning servers, users can use NordVPN's Quick Connect button to automatically connect them to the best server available at the moment, which is usually the server with the least traffic.
And like other VPN services, NordVPN also offers discounts for longer subscriptions, such as for their 1-year and 2-year plans. Their minimum subscription is 1 month.
Moreover, it accepts several cryptocurrencies (not just Bitcoin) for a more anonymous means of payment.
30-day money-back guarantee 
Free trial available 
Discounts for longer subscriptions
Friend referral benefits 
Offers student discounts 
Secures up to 6 devices at once 
Accepts multiple cryptocurrency payments 
Has servers in only 60 countries 
Free trial is only for Android devices 
Customer Reviews
Fastest customer support
"For me, this is the fastest customer support I experienced so far. They answer my ticket very quickly. When it comes to speed and stability compared to ExpressVPN it is just almost the same. The price here is the main reason why I switched to NordVPN." -Itsmejnlm
Easy to change countries
"I just downloaded and installed NordVPN IKE with the NordLynx protocol on my MacBook Pro. No loss of download speed. Easy to change countries. Netflix works. I have NordVPN running on all my devices and recommend it to friends and family." -Michael Panyszak
3. Cyberghost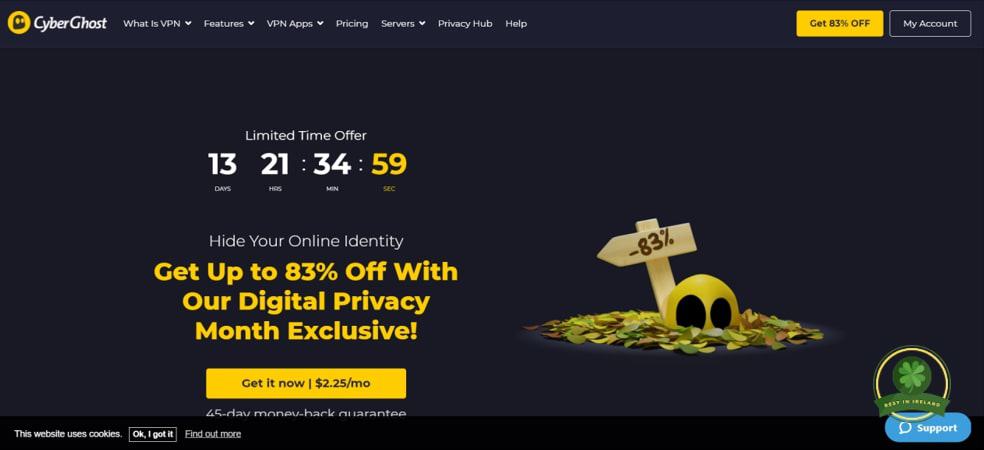 SERVICES
VPN for Windows PC, Macbooks, Macs, iMacs, iPhones, iPads, Android smartphones & tablets, Google Chrome, Firefox, Fire Stick & TV, Android TV, Linux, Smart TV, router, Xbox One/360, PS4, Apple TVs, Samsung TV, Roku, Wii U, & others, and VPN Proxy
Cyberghost Security Suite
RATES
1 month – $12.99/month
6 months – $6.39/month
24 months – $117
WEBSITE
https://www.cyberghostvpn.com/en_US/
Cyberghost is a Romanian-based VPN service that was founded in 2011.
It's an appealing VPN for a couple of reasons. With servers in 91 countries, customers have multiple options for picking a server location.
There are even dedicated servers for streaming, torrenting, and anonymity. Users can easily find these special servers through Cyberghost's search feature.
Moreover, one subscription allows you to secure up to 7 devices at once. And if you're not an English speaker, Cyberghost's customer support is available in French, German, and Romanian.
Plus, they even went beyond the usual 30-day money-back guarantee offered by other VPN service providers by giving you 45 days to refund your money — but with a catch, though.
It's only offered if you avail of a 6-month or a 2-year subscription. If you don't have the budget for longer subscriptions, they have a 1-month plan; however, you only have 14 days to refund your money.
They do offer a free trial, but it's only for one a day, unfortunately.
As for security, you can avail of their No Spy servers for an extra $0.84 a month for greater anonymity. What's more, Cyberghost also offers an antivirus in partnership with Intego.
Servers in 91 countries
Secures up to 7 devices 
Multilingual customer support
Also offers antivirus 
45-day money-back guarantee
Free trial available 
Discount for 2-year subscription available
Friend referral benefits 
Accepts Bitcoin payments 
Antivirus is only for Windows
1-month plan only has 14-day money-back guarantee 
Only 1 day for free trial 
Customer Reviews
Easy to set up and use
"I tried Cyber Ghost on a whim and it has turned out to be a Great Service and a really great value. I'm a be technically challenged and have found that the VPN is easy to set up and use. It is nice to feel more secure when working online. I would like to thank the Folks at Cyber Ghost for the service they provide. I highly recommend this Service." -E. Smyrlakis
Reliable connections
"The application is stable, the speed of the vpn operation at a very good level. It is easy to use and safe. Connections are reliable with no breaks. Really secure with unlimited data transfer – The best VPN I've used and tested so far." -EG64
4. Surfshark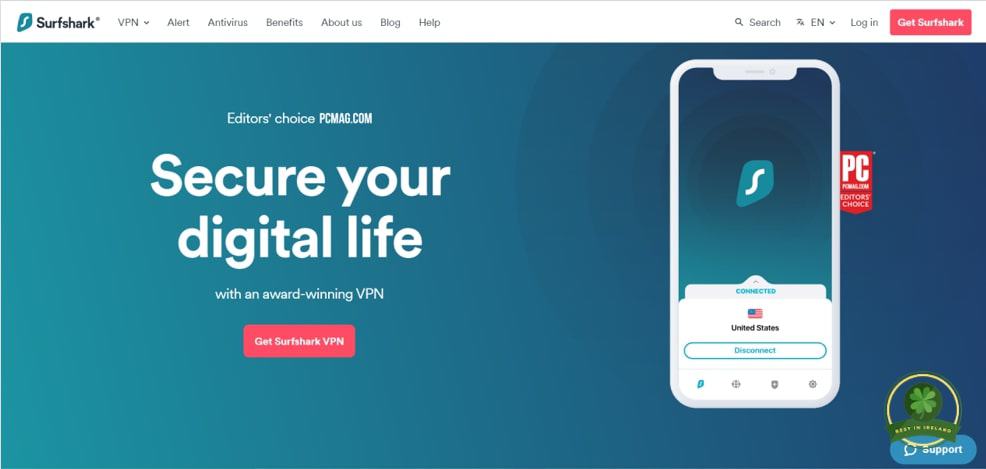 SERVICES
VPN for Windows app, MacOS app, Linux app, Android app, iOS app, Chrome, Microsoft Edge, & Firefox extension, Fire TV app, Apple TV app, Android TV app, other smart TVs, Playstation VPN, Xbox VPN, and routers
Surfshark Antivirus and Surfshark Alert
RATES
1 month – $12.95/month
6 months – $12.95/month
24 months – $12.95/month
WEBSITE
https://surfshark.com/
CONTACT DETAILS

[email protected]
If you're looking for a VPN that you can connect to a lot of devices, check out Surfshark. This VPN service boasts of allowing users to connect an unlimited number of devices all under one account.
Like Cyberghost, it also offers an antivirus, which you can get by choosing their Surfshark One subscription. Or, if you already have an existing subscription, you can activate this service for an extra $1.49/month.
Surfshark VPN also has a double VPN feature for added security as well as GPS spoofing, allowing users to change their GPS location to another country.
And by Surfshark's Camouflage Mode, your Internet provider won't be able to know that you're using a VPN.
All their plans come with a 30-day money-back guarantee, and like NordVPN, Surfshark also accepts Ripple, Ethereum, and Bitcoin cryptocurrencies.
If you want to try out their service, they offer a 7-day free trial, which is very short compared to other VPN providers'.
As for their servers, there are more than 3,200 available in 65 countries. Thus, Cyberghost and ExpressVPN still outperform them on country coverage.
30-day money-back guarantee
Discounts for longer subscriptions
Secures unlimited number of devices 
Friend referral benefits
Offers student discount 
Free trial available 
Antivirus available 
Accepts multiple cryptocurrencies 
Only covers 65 countries
Doesn't offer 1-year subscription 
Customer Reviews
Highly recommend this VPN
"Customer support is really friendly and helpful when dealing across devices and seems to be very knowledgeable. Highly recommend this VPN I've had for several months now. I am not a tech bod but it has done everything I need it to do. What else can I say?" -Debra Fear
Easy to use
"Started off with the free trial on my phone and ended up sticking with Surfshark. Very intuitive and easy-to-use apps for iPhone/Mac. Had a harder time setting it up on my Firestick but support helped me through it. Apart from the occasional hiccups, you'll probably get with any VPN, just a nice easy to use service that does the job." -Darren
How to Choose a VPN Provider
What are the things you need to keep in mind when you select a VPN provider? Read the tips below:
Read reviews
If you check out the websites of VPN providers, all of them claim that they are the fastest on the market, the most secure, and so forth.
Hence, it's important to see what other people have to say about a VPN service.
The good news is, you can expect a lot of reviews for popular services like VPNs.
This will help you learn what users liked about it, what problems they encountered, how a VPN's customer support team resolved their concerns, and such.
Not tech-savvy? Then, call a friend! Sometimes, asking a techie buddy is much more helpful than reading about VPNs online.
Compare features
Of course, comparing the features of each VPN provider is essential.
Look at the number of servers they have worldwide. Where are these located? How many countries do they cover?
The number of servers and where they're located and concentrated have an effect on a user's experience with a VPN.
On the other hand, think about how many devices you'll need to connect at once to your VPN. Some allow up to 5, 6, and more, as you may have noticed in our top picks.
What about customer support? Take a look at the ways you can reach them (e.g. by live chat, email, etc.). See if they provide support in other languages aside from English, if you need that.
Pricing
For sure, money is a top consideration in choosing a VPN. Again, compare subscriptions.
Usually, VPN providers offer discounts for longer subscriptions. But there are other ways to save money as well.
Some VPN providers offer student discounts, so take advantage of these if you're eligible. Referring them to friends is also another way to score discounts.
Money-back guarantees
Good thing many popular VPN services offer a 'money-back guarantee.' This means you can get your payment back within a certain number of days after you subscribe to a plan.
Don't want to wait to get a refund? Look for VPN providers who offer free trials, then. Just make sure the free trials also include all the features of a paid subscription.
Of course, we recommend you take the time to read a VPN provider's terms of use or terms and conditions to avoid any misunderstandings.
For example, Private VPN does not give refunds for cryptocurrencies. So that's something to remember if you're just looking to try out a VPN's services.
FAQs about the Best VPN Providers in Ireland
---
And that's a wrap for our list of the best VPN providers in Ireland! Hopefully, you have a great experience using any of the VPNs listed here.
Know other VPNs worth mentioning? Feel free to connect with us to share your own top picks!
No longer satisfied with your current internet service provider? Our list of the best fibre broadband providers in Ireland is just one click away!