The 5 Best Rhinoplasty Clinics in Ireland
Featured Image Source: https://www.pexels.com/photo/multiethnic-women-looking-away-7480011/
If you're unhappy about your nose, you're not alone. A lot of people worldwide opt for rhinoplasty to get their nose "right."
It's one of the most popular procedures in the UK and Iran. Turkey and Croatia, on the other hand, are known for having world-renowned doctors and first-class facilities.
But did you know Ireland has some great doctors and rhinoplasty clinics as well? You'll find some of the best rhinoplasty clinics below, including how much rhinoplasty costs, some useful tips and what people who've tried the service think of these clinics.
The Cost of Rhinoplasty in Ireland
The cost of a rhinoplasty procedure varies. It depends on how extensive the surgery will be, the expertise and reputation of the surgeon, anesthesia fees among other factors.
You'll find the base price of rhinoplasty from three of the clinics included in our list:
| | | |
| --- | --- | --- |
| CLINIC | PROCEDURE | PRICE |
| SISU Aesthetic Clinic | Nonsurgical rhinoplasty | €400 |
| | Consultation | Free |
| Fuan Chan Plastic Surgery | Surgical rhinoplasty | From €7,500 |
| Aesthetic Institute | Surgical rhinoplasty | From €8,000 |
| | Consultation | €200 |
The Best Rhinoplasty Clinics in Ireland
Gone are the days when people felt ashamed about getting a nose job. More and more clinics offering cosmetic surgeries like rhinoplasty are sprouting.
But we've screened most of them and came up with our own list below. There are several key reasons why we've chosen them: all are led by qualified medical doctors, not aestheticians as some people believe.
Two, they have transparent and thorough consultation procedures to minimise miscommunication and a botched job.
Three, some offer nonsurgical rhinoplasty which fixes your nose without actually operating on you and therefore, doing away with long, intense recovery periods.
Four, some offer extra services or if not, signature services you can't find anywhere else. So without further ado, here are the best rhinoplasty clinics in Ireland:
1. SISU Aesthetic Clinic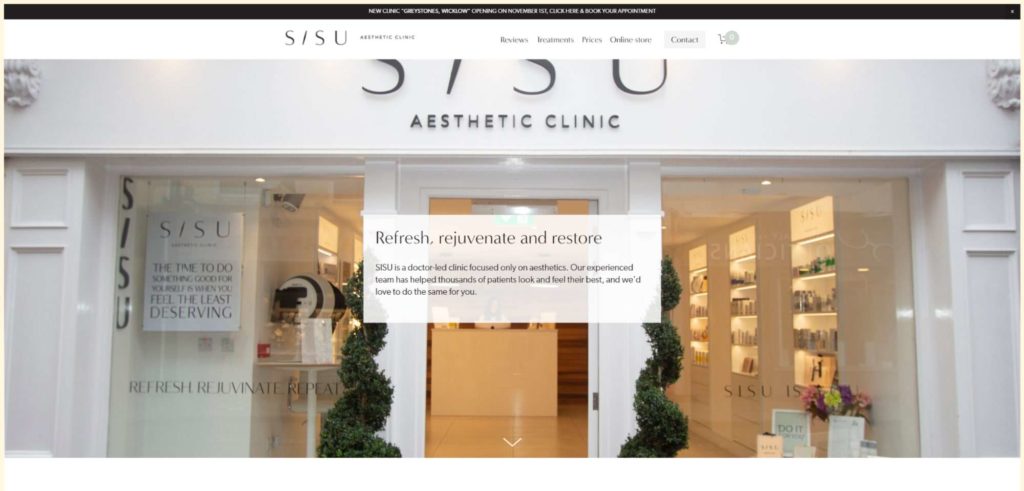 SERVICES
nonsurgical nose job, nonsurgical facelift, skin treatments, lip filler injections, dermal fillers
WEBSITE
https://www.sisuclinic.com/
ADDRESS
15 Anne St S, Dublin, D02 C567, Ireland
CONTACT DETAILS
+353 1 912 0429
OPERATING HOURS
Mon – Fri, 10:00am – 8:00pm
Sat, 10:00am – 5:00pm
So, you want to get a nose job but are afraid of needles. That's not a problem.
You can still get your nose fixed up without surgery through what's called a nonsurgical rhinoplasty. It's a new innovation in aesthetic medicine and SISU Aesthetic Clinic is offering it.
How does it work? The doctors at SISU can reshape, remould and recontour your nose using an injectable treatment called derma fillers.
This refined technique, plus advances in more sophisticated formulas can make your nose aligned and symmetrical in just 15 minutes. It can eliminate deep grooves too, all with minimal discomfort and almost zero downtime.
We think it's pretty awesome that science can advance to a point where it can provide a nose job without invasive surgery. Because honestly, no one likes to think of a scalpel cutting through their skin (*cringe*).
This type of nose job will also give you the kind of nose you like without the intense recovery process of traditional rhinoplasty surgery. We think that's cool too.
Unfortunately, it isn't the answer to all kinds of nose problems. For example, it might not work if you're looking to reduce the size of your nose.
It's best to let the doctors at SISU assess your case (consultation is free!) to determine which method can deliver the results that you want. It's a doctor-led clinic, so no need for you to worry!
Also, they don't offer aesthetic procedures on the side—it's solely what they do. They do it all day, every day, for literally thousands of people, so it's safe to say they are experts in the field.
We also appreciate that they're transparent with every aspect of their treatments. The pricing of most of their services are all online too.
Speaking of services, they also have other aesthetic treatments aside from rhinoplasty. They offer anti-wrinkle injections, derma fillers, lip filler injections, face lift, teeth whitening and their popular SISU Signature anti-wrinkle treatment and dermal filler combo.
If you're interested, you can visit any of their clinics. They have lots of branches all over Ireland so there's most likely one near you.
Nonsurgical rhinoplasty
15-minute procedure
No need for intensive recovery time
Other aesthetics services also offered
Signature anti-wrinkle treatment-dermal filler combo
Free consultation
Lots of branches
Transparent procedure and pricing
Nonsurgical rhinoplasty isn't applicable in all cases
No mention of cosmetic surgical procedures
Customer Reviews
I could not be happier with my nose
"I was in with Oisin today to have some dermal filler placed in my nose and I could not be happier with the result. He really listened to what I wanted and did exactly what I asked. So kind and friendly. All staff were so pleasant and efficient. I cannot recommend Sisu clinic enough!" – Hannah Newman, Google reviews
Amazing results; such a quick fix to a long term insecurity
"I got the SISU nose align – nonsurgical rhinoplasty – and was instantly taken back by the amazing results. Little to no pain, a minimal treatment with a great result. Such a quick fix to a long term insecurity. The workers are so professional and educated, I would highly recommend." – Lucy, Google reviews
2. Fuan Chan Plastic Surgery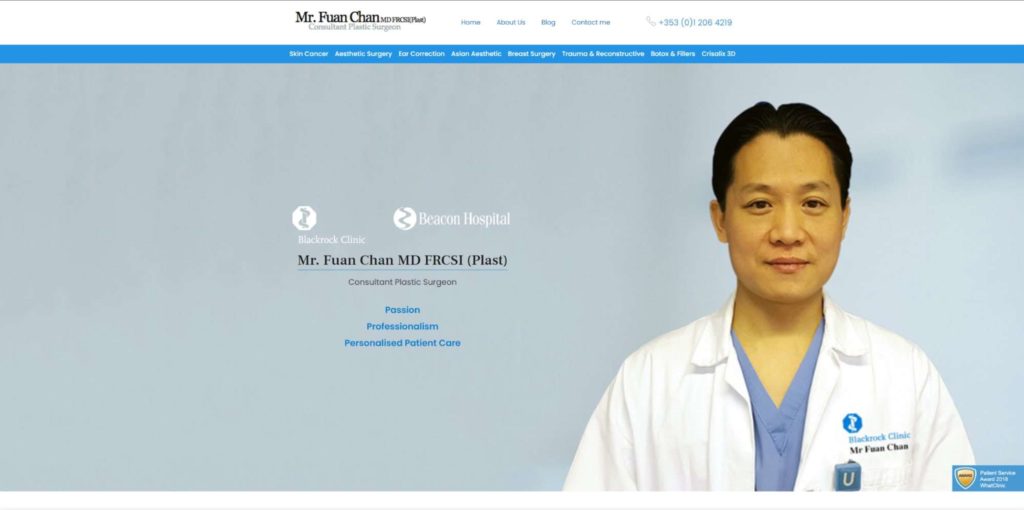 SERVICES
aesthetic surgery, trauma & reconstructive surgery, botox & fillers, skin cancer, ear correction, breast surgery, Crisalix 3D
WEBSITE
https://www.fchan.ie/
ADDRESS
Suite 14, Blackrock Clinic, Rock Road, Blackrock Co. Dublin
CONTACT DETAILS
+353 (0)1 206 4219
+353 (0)87 952 8969


[email protected]

OPERATING HOURS
Mon – Fri, 9:00am – 5:00pm
There are some nose jobs that do require needles and scalpels. For this kind of rhinoplasty, we've picked Fun Chuan Plastic Surgery.
Why? Let's start with their procedure.
For a serious operation such as rhinoplasty, it's important to make patients feel at ease. Nothing can do this better than being clear on what's going to happen before, during and after the procedure.
And this, they did. They explained the importance of critically assessing the structure, lines and angles of the face, nose and nasal subunits during the consultation.
Taking pre-op photos and simulating it (and the results) to 3D images so both the doctor and patient are clear on their goal are also critical. These same images, by the way, will be used during the operation as an additional guiding tool.
After the assessment, the doctor will explain the procedure and surgical techniques, risks, complications, and alternatives. Then, you'll be given the time to think about it and come back if you have further questions before committing to anything.
That 'time to think' part is crucial in major decisions like this, especially after being presented with the hard facts.
But aside from their procedure, Fun Chuan Plastic Surgery was also clear on another thing: they can't promise that the end result will be identical to the 3D simulation.
You can take this in a good way or in a bad way. But whichever way you take it, you'll be informed that the goal is improvement, not perfection, and that every effort will be taken to achieve optimum outcome.
If you want to visit, they're open on weekdays. And if you need other services aside from rhinoplasty, you might be interested to know they provide other cosmetic and non-cosmetic services too.
They do botox, fillers, liposuction, ear correction, breast lift, augmentation and reduction, skin cancer surgery, trauma and reconstructive surgery, among others.
Online appointment booking available
Provides 3D simulation of results
Offers a wide range of cosmetic services
Also offers non-cosmetic surgeries
No mention if consultation is free
Closed on weekends
Customer Reviews
Careful, kind and thorough approach
"After extensive research to find the surgeon most suitable for me, I chose Mr. Chan based on his extremely positive reviews to complete my otoplasty. Mr. Chan went above and beyond what I expected, with his careful, kind and thorough approach. I had several appointments before the actual surgery whereby he went through exactly what was involved in the procedure, the aftercare and the precautions that I would have to take after the surgery. He helped to put my mind at ease, answering any questions that I had, I knew that I was in safe hands. He was extremely facilitating with appointments, often agreeing to see me after normal working hours.
The procedure was done under local anaesthetic which seemed daunting at first. However, during the operation, he reassured me by keeping me calm and involved at all times.
Over a month later, following a number of follow-up aftercare appointments, I am extremely happy with the results. This procedure has been life-changing for me, giving me newfound confidence and self-esteem. This would not have been possible without Mr. Chan, his helpful and accommodating secretary Louise and the rest of his team.
I would highly recommend Mr. Chan to anyone who is considering this procedure. I would also like to take this opportunity to personally thank Mr. Chan for his professionalism, kindness and support." – Karen Roche, WhatClinic reviews
He did an amazing job
"Had a great experience with Dr. Fuan Chan. So easy to get on with and completely understood my problem, I went to him after going to another GP who had turned down my case. He did an amazing job, made me feel so comfortable during my procedure and the scar left was so small I couldn't believe it. Thanks so much for your help." -Katie, WhatClinic reviews
3. Aesthetic Institute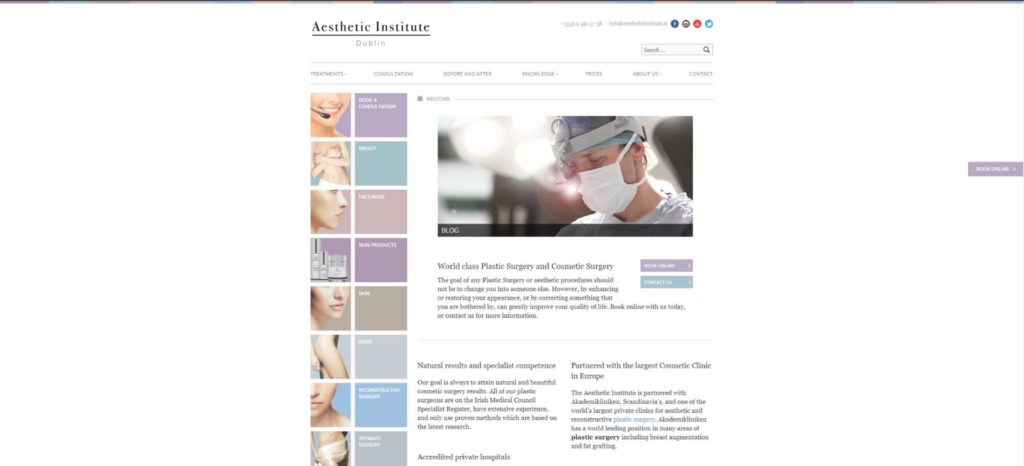 | | |
| --- | --- |
| SERVICES | face/nose, breast, skin, body, reconstructive surgery, intimate surgery |
| WEBSITE | https://www.aestheticinstitute.ie/ |
| ADDRESS | Northbrook Clinic, 15A Northbrook Rd, Ranelagh, Dublin, 6, Ireland |
| CONTACT DETAILS | +353 1 491 5738 |
| OPERATING HOURS | Mon – Fri, 9:00am – 5:00pm |
Rhinoplasty isn't done solely to improve appearance—it's also used to repair injuries or correct deviations. But whatever reason you need rhinoplasty for, another world-class clinic you can go to is the Aesthetic Institute Dublin.
They're clear with their process as well and have stressed how the initial consultation is critical to achieve the goal of the rhinoplasty. This, we strongly agree to.
They will also explain the types of nose procedures they usually do (open, closed and tip rhinoplasty) and which is most appropriate for your case. Post-surgery expectations such as mild pain, bruising and swelling will also be set to avoid unnecessary worries.
Another thing we like about the clinic is, they are transparent with their pricing. True, it's hard to put a price tag on rhinoplasty because each case is different.
However, we appreciate that they have shared a base price—from €8,000 to be precise—so patients have a ballpark amount to work with. At least people who want to do the procedure will know if they can afford it or not, or how much they need to save in order to get it.
Once the procedure is done, will you be allowed to go home? The short answer is yes— at least, that's usually the case.
If things go well, patients are discharged on the same day with an appointment for his first postoperative visit. But of course, you're welcome to call or come back should you have concerns even before your set appointment.
What happens next? The splint and suture are usually removed after a week and although the new shape of the nose is already visible when the cast is removed, the final outcome is assessed only after 6 months.
What are the odds that you will get the nose of your dreams? Going with how the noses of previous patients turned out, it looks very promising, in our opinion.
That's not just based on word-of-mouth reviews (although those are credible too). There are 'before and after' photos of actual patients on their site if you want to see for yourself.
Overall, we think they're a safe, competent rhinoplasty clinic. What we find inconvenient, though, is they are not fully-equipped to handle the procedure at their clinic.
Patients will have to go to any of the 2 private accredited hospitals they use for surgical procedures. We hope they get to do it on-site in the future!
If you're interested, you can book an appointment online, by calling or sending them an email. Parking is free on the clinic grounds, but it's metered if you park on Northbrook Road.
Online booking available
Uses Vectra 3D simulation
Same-day discharge (usually; depends on your case)
Provides Before and After photos of previous patients
Free parking
Closed on weekends
Surgical procedures are not done on-site
Consultation isn't free
Customer Reviews
Results have been amazing
"I have to admit I always disliked some aspects of my body and I always wanted to get something done about it. Thankfully I came across Aesthetic Institute Cosmetic Surgery Clinic. They made my whole consultation very comfortable and where always very supportive and friendly. After doing extensive research into multiple Cosmetic Surgery Clinics in Dublin. I finally decided to get work done with Aesthetic Institute. the results have been amazing and I don't regret one thing about it. Im extremely grateful for everything Aesthetic Institute have done for me. I highly recommend there services they are true experts." – Cormac Battle, Google reviews
Excellent experience
"I had rhinoplasty recently that I was delighted with it. Excellent experience, all the staff were so helpful and kind. I would highly recommend – so happy with my result." -Melissa, WhatClinic reviews
4. The Avoca Clinic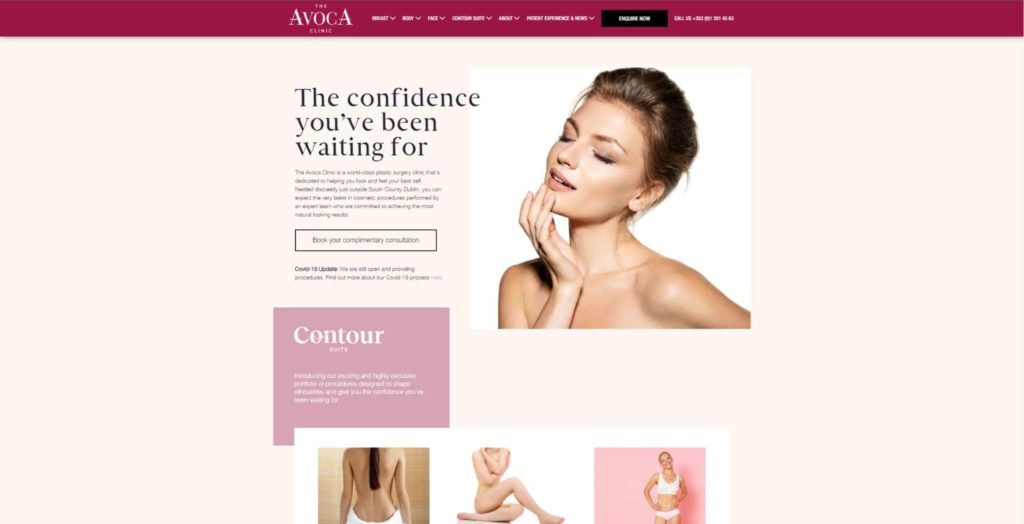 | | |
| --- | --- |
| SERVICES | nonsurgical and surgical face procedures, liposuction, breast augmentation, body contouring |
| WEBSITE | https://www.avocaclinic.ie/ |
| ADDRESS | Kilmacanoge North, Glencormack Business Park, Co. Wicklow, A98 WK27, Ireland |
| CONTACT DETAILS | +353 1 201 4563 |
| OPERATING HOURS | Mon – Sat, 10:00am – 6:00pm |
Another clinic that offers nonsurgical rhinoplasty, also known as liquid rhinoplasty, is The Avoca Clinic. There are several things that made us decide to add this facility to our list.
One, they have a select panel of surgeons so that each procedure is performed by a doctor particularly skilled in that area or discipline. All their surgeons are also registered with The Irish Medical Council on the specialist register of Plastic, Reconstruction and Aesthetic Surgery, so that's another assurance.
Two, they have a multi-disciplinary surgery and aftercare facility that offers one of the latest techniques in cosmetic surgery. They have full-hospital facilities and private recovery rooms which means everything happens – from initial consultation to surgery to aftercare – all under one roof.
And since they have private recovery rooms, it also means the environment where you'll be recuperating reduces the risk of infection. On top of that, they also undergo rigid cleanliness inspections by external auditors 4x a year to ensure nothing can infect their patients.
The third thing we like about them is their location. They are just outside South County Dublin which means you'll have the ultimate privacy, in case you want it.
They offer a wide range of cosmetic services too. Services that are unique, if we may add: drainless tummy tuck, labiaplasty and reduction, contour post-weight loss, contour mommy makeover and more.
But allow us to go back to liquid rhinoplasty: we'd like to clarify that this procedure to improve the contour of your nose is temporary. It's ideal for addressing issues like asymmetry, dorsal humps, and drooping nasal tips.
So we suggest you take advantage of their complimentary consultation so they can assess if liquid rhinoplasty is best for you.
Nonsurgical rhinoplasty offered
Select panel of surgeons
Full hospital facilities
Private aftercare rooms
Discreet location
Also offers other unique cosmetic services
Complimentary consultation
Closed on Sundays
Pricing not available online
Customer Reviews
Aftercare was exceptional
"From the beginning it was all so easy. There was no pressure to book and I was advised to take time to think about what I really wanted. There was ample information available and help was always at hand. Dr Joyce is as down to earth and helpful as they come. The night nurses were amazing after surgery. The after care was exceptional, with communication whenever I needed it, with the option of calling into the clinic constantly given to me to avail of. 100% would recommend." – Stacey Mc Gill, Google reviews
Best decision I've ever made
"I had the best experience with Avoca. Everyone is so professional and so lovely to deal with. I felt so comfortable in their care. Cormac Joyce and the whole team were wonderful from start to finish. It's life changing having cosmetic surgery and I researched so much before choosing Avoca. Best decision I've ever made." – Patricia Ridge, Google reviews
5. Beacon Face & Dermatology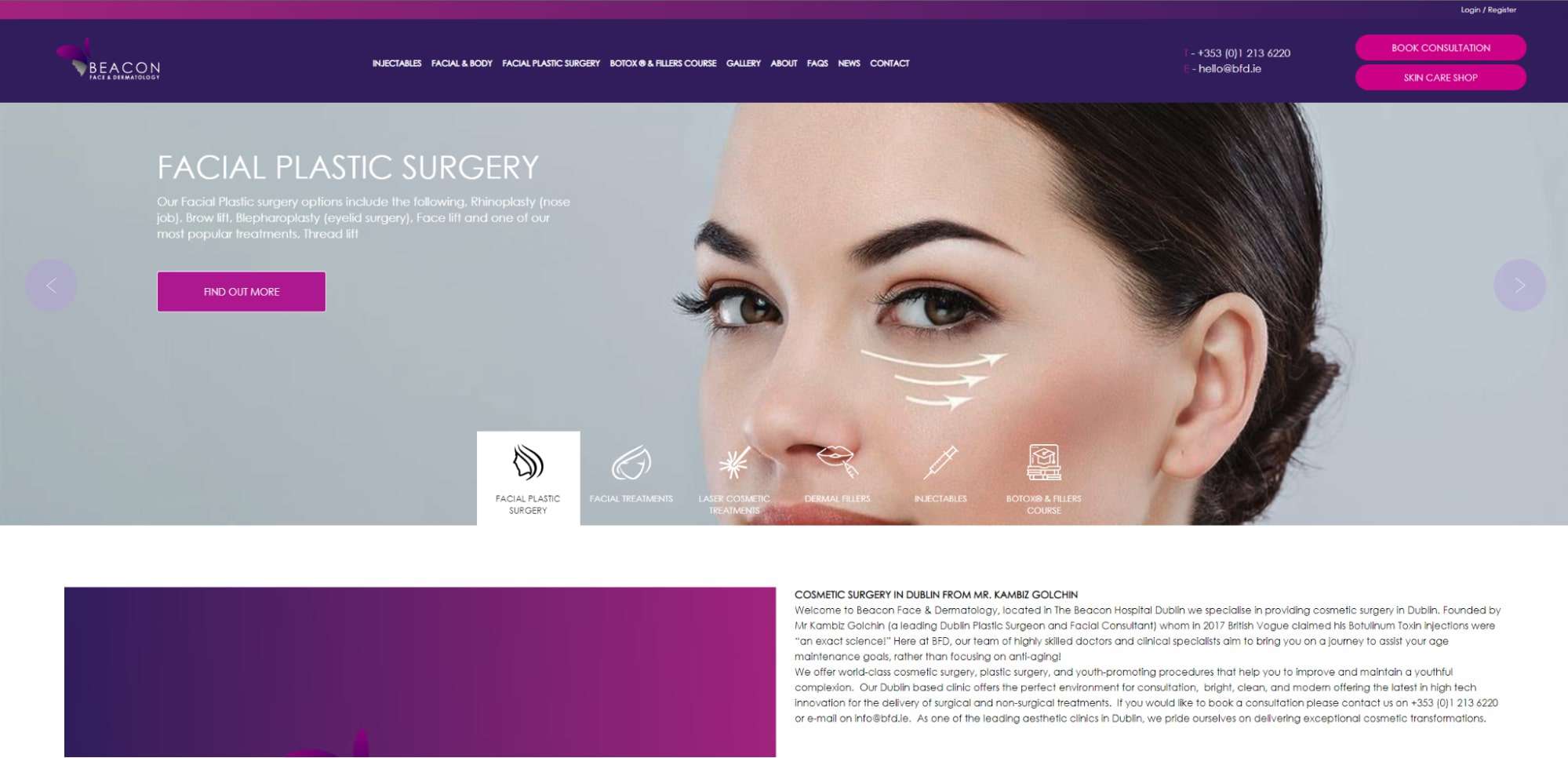 SERVICES
injectables, facial & body, facial plastic surgery, botox & fillers
WEBSITE
https://www.beaconfaceanddermatology.ie/
ADDRESS
Beacon Court, Suite 36 Beacon Hall, Sandyford, Co. Dublin, D18 T8P3, Ireland
CONTACT DETAILS
+353 1 213 6220
OPERATING HOURS
Mon – Thurs, 9:00am – 6:00pm
Fri, 9:00am – 5:00pm
Beacon Face & Dermatology offers both surgical and nonsurgical rhinoplasty. Since surgical rhinoplasty is a serious operation and the results are permanent, their consultation prior to the operation is quite extensive.
To us, this is an indicator that they take careful measures to make their clients happy and protect their reputation at the same time. They do this by enumerating the details of their procedure and giving patients a step-by-step guide.
Like the other clinics in our list that offer surgical rhinoplasty, Beacon Face & Dermatology also conducts a 3D photograph of the face to let you see a realistic visual of the result.
The doctor will also take the time to talk through exactly what he will do to make you achieve your ideal nose, how long the procedure will take (usually 1.5 to 3 hours) and the recovery period.
Unlike other clinics where you'll be discharged within the day, you might need to stay at Beacon Face for a night or two to ensure the initial stage of recovery goes well. They advise you to take around two weeks off work to recover fully.
Aside from rhinoplasty, do they offer other services? They sure do.
They have different facial plastic surgery services for the brows, chin, cheeks, ears, and face. They have injectables, botox, chemical skin peels, laser hair removal and more.
So if you want to avail of any of these services to go with your rhinoplasty, you can visit any of their 3 clinics in Dublin, Cork and Killarney, Co. Kerry. They're open Monday to Friday.
Offers no-obligation quote
Surgical and nonsurgical rhinoplasty
With 3D simulation of results
Offers other plastic surgery services
3 branches
Pricing not available online
No mention if consultation is free
Closed on weekends
Customer Reviews
My nose is so much better now
"I had a rhinoplasty with Dr Golchin, best decision I ever made. I was so nervous and he went above and beyond to ease my anxiety. He was always so generous with his time and never pressured me or rushed me. He is also completely charming and an absolute gentleman. My nose is so much better now, I only just got the cast off and it already looks great even with the swelling. I can't wait to see when it has fully healed. Its amazing how such a minor change can make such a difference. I will be going to Kambiz for all future procedures, I truly trust him with my face and I always look forward to seeing him. If you want any work done I couldn't recommend him enough, he is truly talented at what he does and such a lovely person." – C Ma, Google reviews
The end result is exactly as he predicted
"My GP recommended I see Mr. Golchin to discuss a rhinoplasty. Mr. Golchin assessed my problem thoroughly and clearly explained what he could realistically do for me. He ensured I was happy with his plans before he proceeded with the operation. The end result is exactly as he predicted and I'm delighted. The difference is subtle but life-changing for me. The post op after care from Mr. Golchin has been exceptional. I always felt I was in safe hands and was well looked after. Thank you Mr. Golchin." – Stephanie, Google reviews
What to Expect (And What to Do) After Rhinoplasty
There are two types of rhinoplasty: nonsurgical and surgical. Since a nonsurgical nose job isn't a major procedure, we'll discuss surgical rhinoplasty so you know what to expect (and what to do) after this major operation.
Groggy and tired
It's normal to feel tired and drowsy after surgery especially if you've received general anesthesia. But aside from the medication, the body also naturally triggers a fatigue-response so you'll be encouraged to rest and therefore, heal more quickly.
Expect swelling and bleeding
It's also normal to experience swelling and bleeding after any operation, rhinoplasty included. You'll be given medications by your doctor to minimise this.
The swelling gets worse when you wake up in the morning. Thus, it's recommended to keep your head elevated (above your chest) while sleeping.
Sleep alone
It's recommended you sleep alone for 2 weeks to avoid hitting and bumping your new nose.
Avoid strenuous activities
And by strenuous, we mean don't lift pets or kids, bend over to pick up stuff, let alone work out. This is so as not to aggravate the swelling and bleeding.
Avoid blowing your nose
There will be times when you feel your nose is drippy, but avoid blowing your nose as much as possible – it contributes to more bleeding and swelling. If you must sneeze, make it come out of your mouth like a cough.
Use cold compress
Using a cold compress helps with pain and swelling. But make sure not to put the ice pack directly on your nose; place it against your cheeks instead.
FAQs about the Best Rhinoplasty Clinics in Ireland
---
So you see, you don't have to go overseas for a rhinoplasty – we have great doctors and clinics right in our own backyard. We hope you found one from our list of the best rhinoplasty clinics in Ireland!
If you've tried this procedure from any of these clinics, we'd be happy to hear your story.
If you're looking for other clinics that offer cosmetic procedures, you check out some of our list below: