The 5 Best Dermatology Clinics in Cork
It's common knowledge that taking care of your skin reaps multiple health benefits. In fact, one of the best ways to slow down ageing is by simply developing a well-planned skincare routine that best suits your skin type.
If you're unsure where to start, we recommend consulting with the best dermatology clinics in Cork. We've rounded up their services below, and we'll also attempt to answer some common questions you might have below.
But before any of that, allow us to do a quick discussion about the cost of getting such services.
How Much Do Dermatological Treatments Cost in Cork?
On average, dermatology clinics charge an initial consultation fee between €50 to €150. Meanwhile, some clinics offer free consultations for specific services.
Treatment costs will vary depending on the treatment performed. We've gathered the price range of some of our entries' treatments below:
| | |
| --- | --- |
| CLINIC | PRICE RANGE |
| Ailesbury Lite | Contact for more information |
| Carrigtwohill Dermatology Clinic | Contact for more information |
| SISU Aesthetic Clinic | €70 to €2,000 |
| Skinvet Ireland | Contact for more information |
| Advanced Laser Light | €35 to €500 |
The Best Dermatology Clinics in Cork
Here are our picks of the top dermatology clinics with different specialities that Cork has to offer.
1.   Ailesbury Lite
Best Full-Range Dermatology Clinic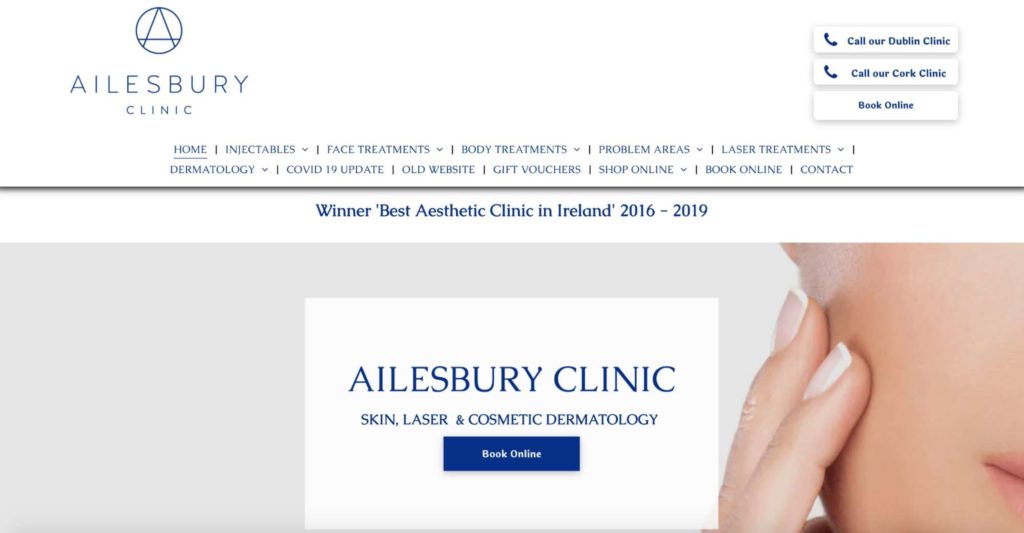 SERVICES
Injectables, facial treatment, body treatments, problem areas treatment and diagnosis, laser treatment, dermatology consultations
WEBSITE
https://www.ailesburylite.ie/
ADDRESS
East Village Douglas, Cork
CONTACT DETAILS
021 483 5006
Support ticket available here
OPERATING HOURS
Monday to Tuesday
9:30 am to 6:00 pm
 
Wednesday to Friday
9:30 am to 9:00 pm
 
Saturday
9:00 am to 5:00 pm
Ailesbury Clinic is no stranger to our skincare recommendations lists. The award-winning clinic is headed by Dr. Patrick Treacy, an aesthetic doctor who's won many prestigious awards such as the Best Aesthetic Doctor in the World in 2019.
This clinic is the top choice if you're looking to have a skin problem diagnosed or a problem area treated. From laser treatments to minor surgeries, their wide range of services is guaranteed to solve at least one of your concerns.
And because treatments vary from one patient to another, you won't find any of their standard rates online. You can, however, schedule a free consultation with their team, which you can conveniently do via their website.
Important to note as well that every team is equipped with the right skills to create a personalised home care skin regimen just for you. They also have an online shop for clients who wish to purchase their line of products from the comfort of their homes.
Award-winning clinic
Wide range of services
Free consultation
Online shop available
Open on Saturdays
Rates unavailable online
Limited online shop product selection
Customer Reviews
Here's what former patients have to say about Ailesbury Lite's services:
"I cannot express my gratitude and heartfelt thanks for the medical treatment, reassuring care and the timely diagnosis of my mother with a Malignant Melanoma. Dr Treacys dermatology consultation with her at the Ailesbury Lite Clinic in Douglas was life-saving. His diagnosis and referral to the cancer team in the CUH has resulted in her effective treatment. We can never thank you enough for your service. You have our deepest gratitude and thanks." —Aileen Keating, Google Reviews
"Just visited the new Ailesbury Clinic, I had such a positive experience. The team are extremely professional, friendly and informative. The clinic is immaculately clean, adhering to all of the new covid measures. They have gone above & beyond to ensure safe, professional practice." —Laura Moloney, Google Reviews
2.   Carrigtwohill Dermatology Clinic
Best Medical Dermatology Clinic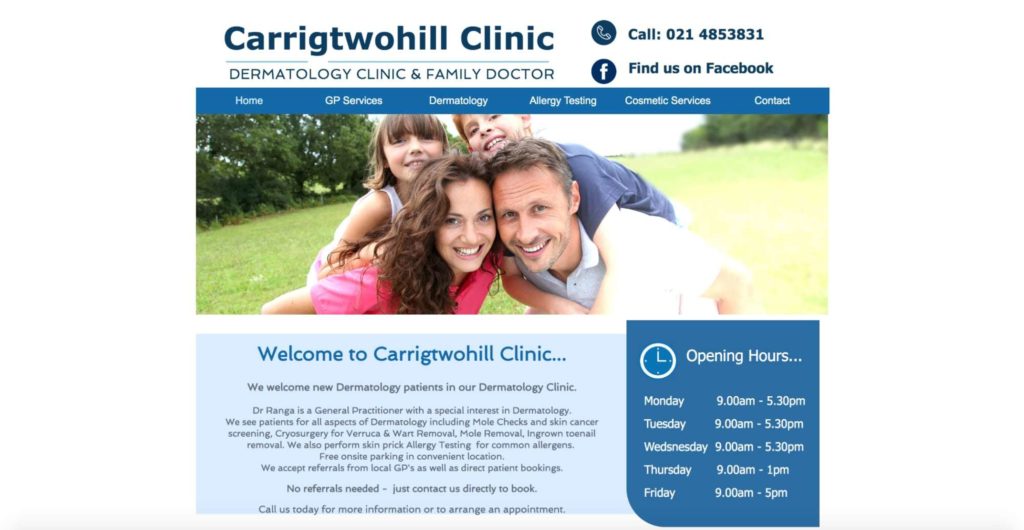 SERVICES
Treatments for different problems, minor surgeries, mole checking/skin cancer screening
WEBSITE
https://www.dermatologycork.ie/
ADDRESS
Carrigtwohill Clinic, Unit 10 Business & Shopping Centre, Carrigtwohill, Co. Cork
CONTACT DETAILS
021 485 3831


[email protected]

OPERATING HOURS
Monday to Wednesday
9:00 am to 5:30 pm  

Thursday
9:00 am to 1:00 pm  

Friday
9:00 am to 5:00 pm
Carrigtwohill Clinic is the best option if you're looking for a general practitioner and a dermatologist at the same time. Dr. Sushil Ranga is a resident doctor who's had special interest and training in dermatology in the past years.
Their dermatology services include treatment of common skin problems such as acne, eczema, rosacea, impetigo, among others. They also perform minor surgeries like cyst and skin tag removal, hemorrhoid excisions, laceration repair, and more.
If you want to keep your skin in check and avoid risks of skin cancer, they also do mole checking, biopsy, and dermoscopy. GP services are also available for patients who have other concerns beyond the skin.
Additionally, their selection of cosmetic treatments are highly limited to anti-wrinkle injections and dermal fillers, so you might want to skip this one if you're looking for more options.
Take note that they're currently accepting patients who have scheduled an appointment via their website or contact details. Walk-ins aren't allowed at the moment.
Wide range of medical treatments
Additional GP services available
Specialises in minor surgeries
Free parking on-site
Closed on weekends
Walk-ins not allowed
Rates unavailable online
Customer Reviews
Below you'll see some reviews left by Carrigtwohill Dermatology Clinic's previous patients:
"I have been going to Dr. Ranga for several years now. Not normally a fan of doctors but Dr. Ranga puts you at ease. He doesn't rush you out the door or make you feel belittled the way other doctors can. All the staff are extremely warm & friendly. If you have an emergency they will do their best to get you in ASAP. A fabulous surgery that I would recommend to friends & family alike." —Fay Kellett, Google Reviews
"Thanks so much for today Dr Ranga and Mary for accommodating me in my hour of need, such a professional staff and they go the extra mile for their patients, thanks again." —Kathleen Omahony, Google Reviews
3.   SISU Aesthetic Clinic
Best Aesthetic Dermatology Clinic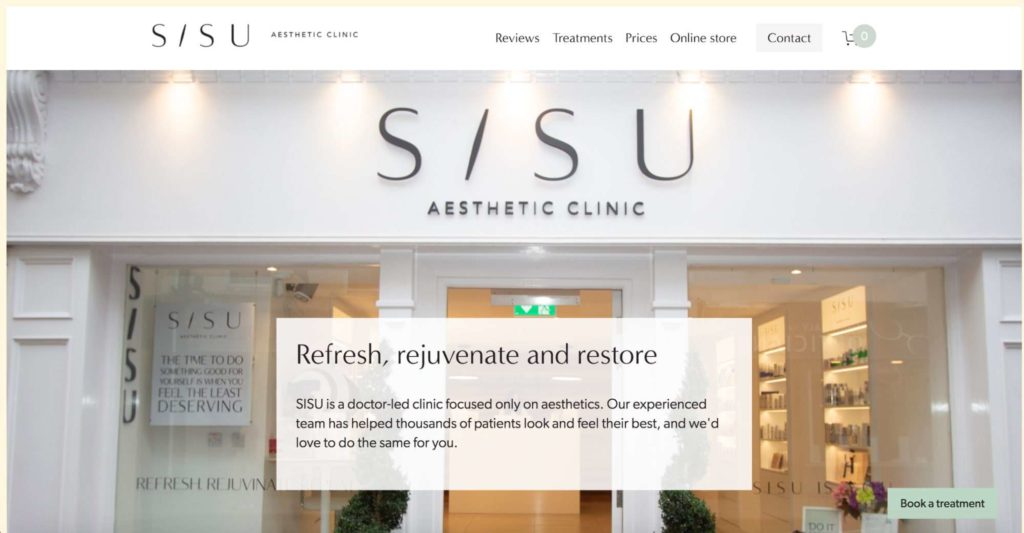 SERVICES
Injections, fillers, skin booster, nose jobs, laser teeth whitening, microneedling, laser hair removal, etc.
WEBSITE
https://www.sisuclinic.com/
ADDRESS
60 Oliver Plunkett St., Cork
CONTACT DETAILS
085 189 2489
Support ticket available here
OPERATING HOURS
Monday to Friday
10:00 am to 8:00 pm  

Saturday
10:00 am to 5:30 pm
The majority of clinics that specialise in skin aesthetics are led by estheticians, but not SISU Clinic. In fact, it's headed by siblings Dr. Brian Cotter and Dr. James Cotter, who are both physicians specialising in aesthetics.
Their line of comprehensive treatments ranges from wrinkle reduction and microneedling to noninvasive facelift and nose job procedures. So if you're considering treatments purely for aesthetic purposes, this clinic is the one to call.
And speaking of calling, you can have them call you back for a 30-minute consultation with one of their aesthetic doctors—free of charge and obligation.
Contrary to our other entries, they have a full page of their services' price range, so you'll know what to expect if you proceed with their treatments. Furthermore, they have branches all over Ireland, and all the way to Belfast up north.
Wide range of aesthetic treatments
Free 30-minute consultation
Multiple branches nationwide
Price list available
Open on Saturdays
Medical treatments unavailable
Limited online shop product selection
Customer Reviews
Take a look at what some of SISU Aesthetic Clinic's previous patients said about them:
"Had an amazing experience in SISU Cork today from the warm welcome at reception to the exceptional treatment from Dr. James. I got their new innovative facial treatment SISU bright. The treatment lasted 15 mins and the clinic is fantastic, so clean and a beautiful relaxing atmosphere. I am looking forward to my next treatment." —Amy Horgan, Google Reviews
"Siobhan was so lovely and very informative. Made me feel at ease and comfortable with my decision. She explained everything to me. There is so much more to fillers girls than just injecting the lips. There was care to follow the natural shape of my lip. I'm so excited to see them when they have settled. Dream come true for me." —Monique Egan, Google Reviews
4.   Skinvet Ireland
Best Pet Dermatology Clinic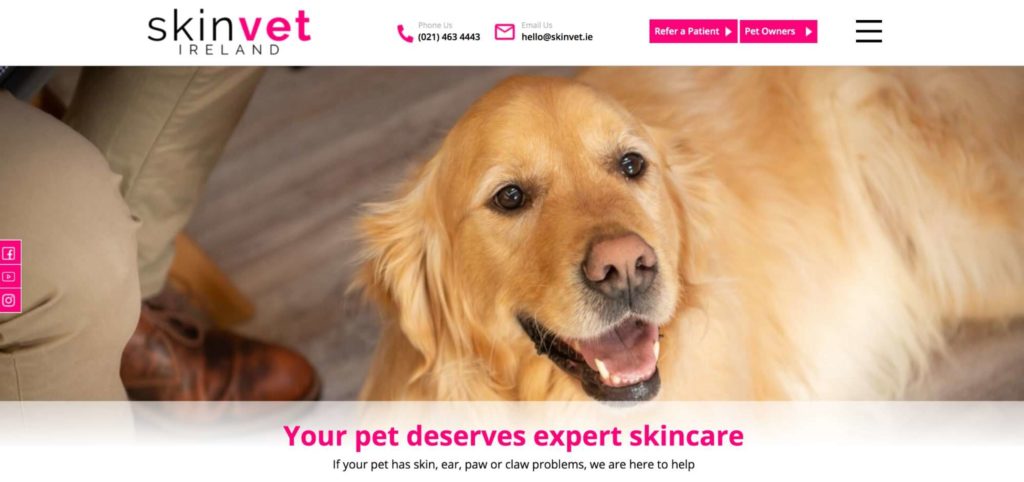 SERVICES
Skin and coat treatment/consultations for pets
WEBSITE
https://www.skinvet.ie/
ADDRESS
27 Cork Road, Midleton, Co. Cork
CONTACT DETAILS
021 463 4443


[email protected]

OPERATING HOURS
Monday to Friday
9:00 am to 5:00 pm  

Saturday
11:00 am to 2:00 pm
If you're a pet owner, you may be surprised to know that your pet's skin problems can be treated by a veterinary dermatologist, too. Yes, they exist—Dr. Kathryn Cuddy is, in fact, an advanced practitioner specialising in veterinary dermatology.
Some problem areas that Dr. Kathryn has dealt with in the past include hair loss, lumps, scabs, allergies, greasy coats, and more. She can also diagnose and treat pets with feet, claw, and ear problems.
A unique feature to Skinvet is their mobile clinics located at the Veterinary Specialists Ireland clinic in Meath every 3 to 6 weeks. If you know a pet owner in Dublin who needs to have their pet's skin problems treated by a specialist, you can refer them to Dr. Kathryn.
Take note that non-dermatological pet health concerns including vaccinations and neutering are out of their scope. Skinvet can, however, refer you to a primary care veterinarian or an appropriate specialist.
Ideal for dogs and cats
Highly specialised in vet dermatology
Mobile clinic available in Meath
Online shop available
Not suitable for non-dermatological pet problems
Limited weekend hours
Rates unavailable online
Customer Reviews
See what some of their past clients have to say about them:
"Dr. Kathryn and everyone at Skinvet are all very friendly and professional. Dr. Kathryn is constantly in contact with me throughout the treatment plan. She is also very detailed in every consultation. On our first visit, I was worried that I will forget to ask important questions. However, Kathryn answered all my questions without me even asking, because as I already mentioned her consultations are covered to the smallest detail." —Kallai Christian, Google Reviews
"Following months of trying to resolve the issues with Alaska's skin we were offered an appointment with Kathryn the day after referral. The service we received was both professional and thorough, whilst the comfort of Alaska was the most important issue. At last, we received a diagnosis of the problem and can now move forward with the appropriate treatment. We cannot recommend Skinvet Ireland highly enough." —Jackie Yates, Google Reviews
5.   Advanced Laser Light
Best Laser Hair Removal Clinic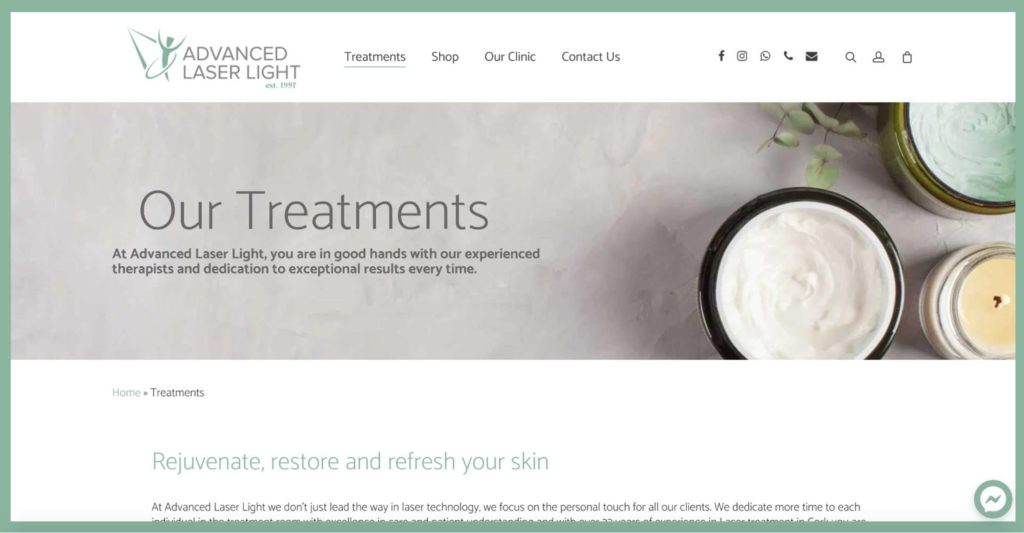 SERVICES
Laser hair removal, skin rejuvenation, thread vein removal, acne and skin rosacea treatments, general skin treatments, IMAGE skin peel, injectables, thermolysis, skin tag removal, tattoo removal, microneedling
WEBSITE
https://advancedlaserlight.com/
ADDRESS
20 Prince's Street, Cork
CONTACT DETAILS
021 494 9916


[email protected]

OPERATING HOURS
Monday
9:00 am to 7:00 pm
 
Tuesday to Friday
9:00 am to 8:00 pm
 
Saturday
9:00 am to 5:00 pm
Established in 1997, Advanced Laser Light is a familiar name known for their laser hair removal treatments. But don't be fooled by its name, they also offer a variety of skincare treatments from skin rejuvenation to acne and rosacea treatment.
Their resident cosmetic dermatologist is qualified to perform minor procedures such as skin tag removals and injectables. While we would've loved to see their dermatologist's profile online, you can schedule a free consultation to know more.
Microdermabrasion is a treatment unique to this clinic. The process involves using an applicator to gently remove the thick outer layer of the skin, reducing hyperpigmentation, lines and wrinkles, and pores.
For couples looking to look their best before their wedding day, they also offer full-range wedding packages that include consultations, laser hair removals, facial treatments, and more. For more information, feel free to contact them as this package isn't advertised on their website.
Wide range of aesthetic treatments
Free consultation
Open on Saturdays
Long business hours
Rates available online
Medical diagnostic services unavailable
Lack of information on resident dermatologist
Customer Reviews
Check out some comments about Advanced Laser Light below:
"Really happy with the results of this laser hair removal, I just finished my third appointment yesterday. I already had at least a 50% decrease in hair after the first two appointments. Tara is so good, I would seriously recommend asking for her, so friendly and professional. I feel very confident that she got every hair. I have another 3 appointments left, but so far everything is going great, so delighted I decided to get it." —Naomi Hanrahan, Google Reviews
"Cannot get over the results I got. It's above and beyond what I was expecting, I've gotten a lot of compliments on my skin already. The staff were lovely. I'm so happy with the experience. Highly recommended." —Nicola Lyons, Google Reviews
FAQs about Dermatologists in Cork
---
And that concludes our guide on the best dermatology clinics in Cork. We hope that we have narrowed down your choices for treatment.
If you think that there are others who deserve to be on our list, don't hesitate to leave us a message.
Likewise, you can also share our list of the best dermatologists in Dublin with your friends and family up north.