The 5 Best Car Insurance Providers in Dublin
Driving in Ireland without car insurance may result in a fine, penalty points, or worse, imprisonment. Needless to say, it's a must if you're a car owner.
Hence, if you need a new car insurance policy or to replace your old one, this article is for you. Look no further as we've rounded up the best car insurance providers in Dublin!
And not only that. We've also included other info such as FAQs and tips to help you further in your search.
Car Insurance Premiums in Ireland
There is no standard premium for car insurance in Ireland as this would depend on a number of factors. According to Citizens Information, these are the driver's experience, claims history, vehicle age, size, and value, profession and use, among others.
Lesser experience as a driver may mean higher insurance premiums. Expect to pay more if you only have a provisional licence.
In terms of claims history, if you have a clean driving record, this means less expensive insurance.
Meanwhile, car insurance becomes more expensive for vehicles with larger engines. Another factor is the age of your vehicle—older cars are harder to insure.
Also, insurance companies take into consideration your vehicle's value. Expect higher insurance for newer cars as they're more expensive to replace than older vehicles.
How you use your vehicle also matters. A standard motor insurance policy will not provide coverage for other purposes aside from social, domestic, and pleasure purposes.
A loading will apply for vehicles that are used for business.
Meanwhile, the other factors that insurance companies take into account when calculating premiums include the level of coverage, where you live, and the excess amount.
The Best Car Insurance Providers in Dublin
Time now to check out our top picks for Dublin's best car insurance providers!
1.   FBD Insurance Dublin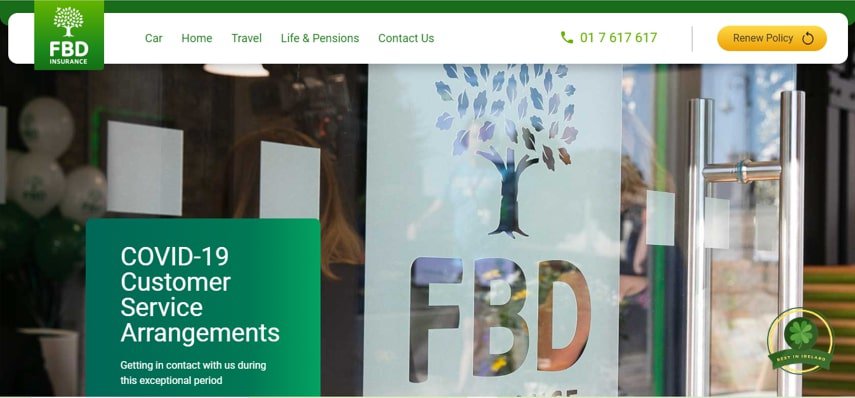 SERVICES
Personal:
Car, vintage, van, home owner, apartment, renters, travel, life and pensions insurance
 
Farm:
Farm property, livestock, farm vehicles, equipment and machinery, and liability insurance
 
Business:
Tradesman, commercial property, office, shop, restaurant, cafe, and takeaway, commercial vehicles, and life and pensions insurance
WEBSITE
https://www.fbd.ie/
ADDRESS
Unit 1, Bridge House, Baggot Street Bridge, Dublin 4, D04 X2C2  

141 Drumcondra Road Lower, Dublin 9, Co. Dublin
CONTACT DETAILS
(01) 761 7680 (Dublin 4)
01 428 2266 (Dublin 9)


[email protected]

OPERATING HOURS
9:30 am to 5:00 pm (Monday – Friday)
FBD Insurance provides ample info on their insurance policies from their website. Hence, you can already know a lot about their products even before contacting them.
For car insurance, they offer two types of cover: comprehensive and third party, fire, and theft car insurance.
The main benefits included in their comprehensive car insurance are car accident assistance, third party driving of other cars, towage and storage, personal belongings, new car replacement, theft of keys, and uninsured driver protection.
It also comes with additional benefits, such as medical expenses coverage, windscreen and window glass accidental damage, and a courtesy car for when your car is in repair.
Meanwhile, the benefits under third party, fire, and theft car insurance is the same as their comprehensive car insurance except for some. The benefits that are not included are uninsured driver protection, courtesy car, and medical expenses.
And if you want to avail of other benefits, you can do so by purchasing them as optional extras.
Some of these optional extras are driver accident protection, car breakdown assistance, and no claims discount protector. (Note that both types of insurance coverage slightly differ in terms of the optional extras that can be availed of).
Moreover, FBD also provides insurance deals for vintage and classic cars, vans, and commercial vehicles.
Meanwhile, one of the things that make FBD Insurance competitive is its discounts. For instance, when you buy 3 optional extras, you get the cheapest one free in your first year.
You won't have trouble finding FBD Insurance in the country as they've got 34 sales offices nationwide. There are 2 in Dublin and more in Galway, Cork, Cavan, Limerick, Wexford, Waterford, and so on.
Ample info on insurance policies
Wide service coverage
Multiple discounts
Offers insurance for personal and business
Closed on weekends
No mention of option for multi-car insurance
Customer Reviews
Below are a couple of good reviews for FBD Insurance Dublin's services and staff:
"First time getting my car insurance on line. Very easy and straightforward so I was very pleased with the experience 😊." -Bernadette Counihan Guerin
"Thank you for making the renewal process seamless. All information was clear and easy to find, plus an extra discount for paying ahead of my renewal date, sweet!" -Denise
"Pleasant staff and good value for car insurance." -ciaran o connell
2.   KennCo Insurance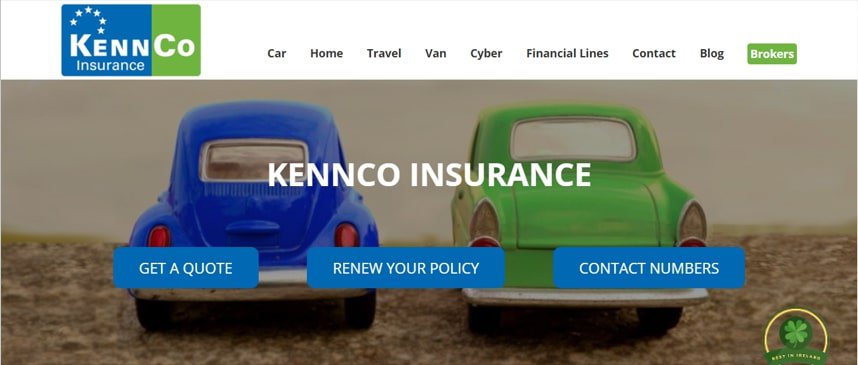 SERVICES
Car: 
Car, women's car, and young driver insurance, car insurance for expatriates
 
Home:
Home, contents only, landlord home, and first-time buyer insurance
 
Travel:
Annual multi trip, single trip, and family travel insurance

Van and cyber insurance
WEBSITE
https://www.kennco.ie/
ADDRESS
Suite 5, 6 & 7, Grange Road Office Park, Grange Road, Rathfarnham, Dublin 16
CONTACT DETAILS
01 409 2600


[email protected]

OPERATING HOURS
9:00 am to 5:30 pm (Monday – Thursday)
9:00 am to 5:00 pm (Friday)
Founded in 2008, KennCo Insurance offers a variety of car insurance policies.
Some of the standard features of their car insurance policy are (but not limited to) 24-hour breakdown assistance with home start, cover for cars up to 17 years old, loss of keys, no loss of no claims bonus for fire and theft claims, and foreign driving up to 31 days.
Their third party, fire, and theft car insurance insures damage to other people's property, compensation for other people's death/injury if you're at fault, loss/damage to your vehicle due to fire, theft, and attempted theft, breakdown assistance (including home start), European cover, and legal expenses cover up to €130,000.
Of course, their comprehensive car insurance features the same benefits but also comes with other benefits such as accidental damage, windscreen cover, personal accident and medical expenses, and more.
KennCo Insurance also offers other car insurance policies depending on the driver. For women's car insurance, some of the benefits are a free courtesy car, legal expenses cover, and unlimited windscreen protection.
For young drivers, their insurance policy also covers windscreen protection, personal accident and medical expenses, 24-hour breakdown assistance with home start, among others. And if you're a full-time student, you may be eligible for a 10% discount on your car insurance policy.
Moreover, they also cater to expatriate clients. The good thing is KennCo Insurance takes into account your driving abroad and driving as a named driver record.
Hence, if you've driven safely during your time outside Ireland, you can still be eligible for discounts.
Offers discounts
Online renewal of policies available
Courtesy car is free for women's car insurance
Closed on weekends
No mention of third party car insurance
Customer Reviews
Some of KennCo's clients mentioned the competitiveness of KennCo's car insurance quotes:
"KennCo offered me car insurance at a price my previous insurer couldn't match. When contacted by phone the staff were super professional and efficient. When contacted by email the response was normally within 24 hours. Highly recommended and hopefully I'll be with KennCo for many years to come." -Niall McMahon
"Kennco offered by far the best quote for fully comp car insurance (hundreds of euro cheaper than several others). Stephen was very helpful and a pleasure to deal with over the phone, and he talked me through everything I needed to know. This was very reassuring as someone taking out car insurance for the first time. Excellent price and customer service!☺️" –Eibhlin Cannon
3.   AXA Blanchardstown
SERVICES
Car, van, motorcycle, taxi, home, farm, and small business insurance
WEBSITE
https://www.axa.ie/insurance/branches/dublin/insurance-blanchardstown/
ADDRESS
Unit 4, Blanchardstown Plaza, Main Street, Blanchardstown, Dublin 15
CONTACT DETAILS
01 8179733
OPERATING HOURS
9:00 am to 5:00 pm (Monday – Friday)
10:00 am to 2:00 pm (Saturday)
Convenience is definitely one of AXA's strengths. To start with, they are widely present in the country through their 24 branches which are located across Mayo, Cork, Wicklow, Louth, Donegal, and more, including Dublin.
Furthermore, one of their services is MyAXA, an online platform that allows clients to access and download policy documents anytime and change a car or add a driver to their policy. With it, you can also report a claim, check the progress of your claim or repair, make payments, and more.
AXA divides their car insurance policy into three types: comprehensive, third party, fire, and theft, and third party car insurance.
All types of coverage are inclusive of the following: 75% no claims discount, accident forgiveness (stepback no claims discount), eligibility to drive other cars for drivers over 25, European travel coverage of up to 90 days per year, medical expenses and emergency treatments, and AXA Plus.
AXA Plus gives AXA clients exclusive offers in motoring, lifestyle, home stores and services in Ireland.
Furthermore, some of the benefits of AXA insurance policies we found worthy of mentioning are coverage of up to €600 for child car seats and up to €650 coverage for accidental damage to wall chargers of electric vehicles and plug-in hybrid vehicles.
Another notable benefit is misfuelling cover worth up to €350. However, note that the said benefits are only present under comprehensive cover, with child car seat coverage also included under third party, fire, and theft.
Meanwhile, AXA also has other car insurance policies for classic cars, women, and young drivers.
Offers variety of discounts
Online transactions via MyAXA
Offers third party insurance
Wide service coverage
Open until Saturday
All discounts are subject to a €333 minimum premium
Closed on weekends
Customer Reviews
See what clients have to say about AXA's branch in Blanchardstown:
"Banks and most commercial premises dont want to see people in person
Not so AXA Insurance in Blanchardstown. The Proprietor Tony Higgins and his staff make the customer feel at ease and give their undivided attention. If you are shopping for insurance give Tony and his team a call. You wont be disappointed." -Martin McAndrew
"Great service at the Blanchardstown branch, they provided me with car insurance even when other insurance companies were not willing to provide even a quote…" -Rajan John
"Great Customer Service from Pat, always polite, helpful and extremely fast in dealing with customers. Highly recomend! A1" -Nico F
4.   Insuremycars.ie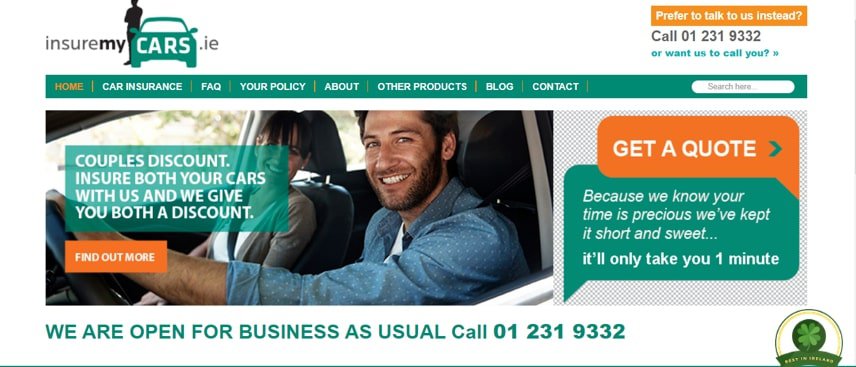 SERVICES
Car insurance
WEBSITE
https://www.insuremycars.ie/
ADDRESS
Insurance House, 62A Terenure Road North, Terenure, Dublin 6W, D6W CF54
CONTACT DETAILS
01 231 9332


[email protected]

OPERATING HOURS
9:00 am to 6:00 pm (Monday – Friday)
If you need to insure more than 1 car, you can check out Insuremycars.ie. This insurance broker specialises in just that—multi-car insurance, catering not just to individuals with multiple cars but to families and couples as well.
They give multi-car discounts to families who have more than 1 car and young drivers insured in the same policy as well as to couples. Discounts for couples can reach as high as 50%.
And if you're worried that your no claims discount may be affected by the other driver in your insurance policy, Insuremycars.ie states otherwise.
Moreover, Insuremycars.ie also offers coverage for high-value cars.
For most of the comprehensive car insurance policies they offer, breakdown assistance and windscreen cover are included. They can also help you look for third party car insurance.
Also, you don't have to be pressured to put all your cars under the same type of coverage. One vehicle can be placed under comprehensive coverage and the other under third party, fire, and theft—it's your choice.
Has sister companies for other types of insurance products
More cars equal more discounts
Flexible multi-car insurance policy
Offers third party insurance
Closed on weekends
More recommended for multiple car owners
Customer Reviews
A couple of Insuremycars.ie's clients left good remarks particularly on their services:
"Super service from Johnny. Efficient & professional. In 18 minutes the first ever policy was done and dusted, unlike their competitors, thank you for the great service. Will definitely use again." -Worldwide Cycles
"Fantastic service. Helped me out a lot when I got stuck in Europe during Covid. Very flexible and they take care of their customers." -Jb B
Just spoke to Alex. Excellent, Excellent service. Saved nearly 300 euro on my quote. These guys are awesome. They do all the hard work for you. highly recommend."
5.   Coverinaclick.ie

SERVICES
Car insurance
WEBSITE
https://coverinaclick.ie/
ADDRESS
Insurance House, 62A Terenure Road North, Dublin 6w, D6W CF54
CONTACT DETAILS
 01 231 9310


[email protected]

OPERATING HOURS
9:00 am to 6:00 pm (Monday –  Friday)
10:00 am to 5:00 pm (Saturday)
Another insurance broker, Coverinaclick.ie's speciality is in providing insurance for new and learning drivers. This includes young drivers, provisional/learner permit drivers, student drivers, and newly-qualified drivers.
Hence, if you fit in any of the above-mentioned types of drivers, Coverinaclick.ie may be the insurance provider for you. What's more, they also offer insurance discounts for provisional/learner permit holders, students, and first-time drivers.
Particularly, if you're still learning how to drive, Coverinaclick.ie has access to discounts for learners and provisional driving licence holders who have accomplished at least 10 driving lessons with an accredited driving instructor.
Some of the benefits they offer are windscreen cover, breakdown assistance for both roadside and home start, and full bonus protection.
To immediately give clients an idea of the prices of their quotes, Coverinaclick.ie has provided sample quotes of different clients. However, while this is helpful information, Coverinaclick.ie has not yet updated their quotes as all the prices were calculated in 2017.
Offers discounts
Open until Saturday
Has sister companies for other types of insurance products
Closed on Sundays
Sample quotes on website are somewhat outdated
More recommended for new drivers
Customer Reviews
You can get an idea of clients' experiences with Coverinaclick.ie by reading the comments below:
"Richard was so helpful finding me the best quote for my insurance this year. I got the best quote here after ringing many insurance companies. Thanks for all your hard worker and effort assisting me to my new policy." -Ev Wilde
"I had a great experience with cover in a click. Conor Cowman and Adam Rodgers made sure all my needs were met and found the right policy for me. I will be recommending this service to my friends" -barry mc call
"Really pleased with the service provided by staff member Richard. Got a quick and cheap policy in a instant. 5 star rating from myself." -Sam Collins
How to Pick the Right Car Insurance Policy
With the number of options out there for car insurance, it can be difficult to choose which one is the best for you. Read the tips below to help you in your decision.
1. Coverage
First, figure out the type of coverage you need. According to Citizens Information, there are 3 types of motor insurance available in the country.
Third party insurance is the most basic level of insurance required in Ireland and throughout the EU. This type of insurance only provides compensation for the other party in the event of an accident caused by you.
On the other hand, third party, fire, and theft insurance is also the same as third party insurance. However, it includes coverage if your vehicle is stolen or damaged by fire.
Lastly, comprehensive insurance has all the benefits of the above-mentioned insurances, but also gives you compensation for accidental damage to your vehicle, regardless of who is at fault.
2. Compare quotes and insurance policies
To find the best insurance policy for you, do not settle with the first auto insurance provider that you find. Contact several to ask for quotes and compare insurance policies.
If you're after comprehensive insurance, compare the benefits and features that are included in this level of coverage across different insurance providers.
For instance, is roadside assistance included in their policy as standard or something that you'll need to purchase as an optional benefit? What about other insurance companies?
Another way to do this (especially if you're short on time) is by hiring an insurance broker.
3. Discounts
Another thing to consider is the discounts offered by a car insurance provider. Up to what percent of discounts do they offer under their no claims discount?
Moreover, do they offer special discounts for particular types of drivers? What about if you will be availing of other insurance products with them aside from car insurance?
FAQs about the Best Car Insurance Providers in Dublin
---
And that's a wrap for our list of the best car insurance providers in Dublin! We hope our choices give you the protection you need as a vehicle owner.
And if you know of other car insurance providers that should have been here as well, please contact us. We'll give them a look straight away!
Are you also an owner of motorcycles, mopeds, scooters, etc.? We've got a list for that as well. See our top picks for the best motorcycle insurance providers in Ireland!