The 5 Best Computer Repair Shops in Galway
Is your troubleshooting getting you nowhere? We know how frustrating it can be.
That's why we've come up with a list of the best computer repair shops in Galway to save you from further hassle. We've got everything covered from services, contact details, to pros and cons of each shop.
But before we reveal our picks, let's talk about repair rates first.
How Much Do Computer Repair Services Cost in Galway?
Computer repair costs will depend on the issue at hand and your chosen shop's labour fee. We've gathered several shops to give you estimated costs on common computer repair services below.
Note that actual prices may vary and change from the time of posting.
| | |
| --- | --- |
| SERVICE | ESTIMATED COSTS |
| CPU/GPU Repair for PC | From €99 onwards |
| Virus Removal | From €50 onwards |
| Data Recovery | €60 to €100 |
| Screen Repair/Replacement | €200 to €500 |
| General Troubleshooting (slow performance, boot up problems, etc. | From €50 onwards |
The Best Computer Repair Shops in Galway
Let's proceed to our best picks of the top computer repair shops in Galway!
1.   TechStar Galway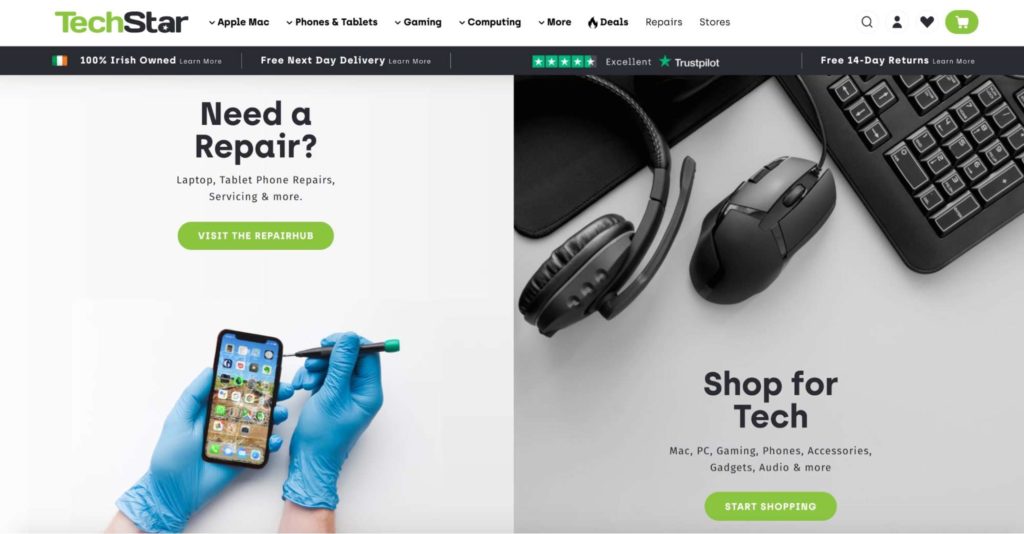 SERVICES
Phone/computer/tablet repairs, gadget and computer shop
WEBSITE
https://www.techstar.ie/
ADDRESS
17 Dock Road, Galway
CONTACT DETAILS
091 575 757


[email protected]

OPERATING HOURS
Mon to Sat: 9:00 am to 6:00 pm
TechStar may be known for selling computers and similar devices but they actually offer repair services, too. From laptop to phone repairs, TechStart doesn't fall short on its range of tech products they can repair.
They can fix common computer problems including screen repairs, water damage repairs, and battery replacements, among many others.
We like that all repairs come with a 6-month warranty on replaced parts, with the exception of accidental and water damage, that is. Note that the warranty will also be voided when a third-party tampers or opens the device.
Repair turnarounds for phones are quite fast with an average of 1 to 2 hours.
Their service centre lies conveniently at the heart of the city with many restaurants and retail shops within walking distance. You can simply come back at a later time if you don't intend on waiting in-shop.
For laptop or PC repairs, expect about 5 working days until it's returned to you. They also offer express services for a separate fee to speed up the process, shortening repair times to 1 to 2 working days.
Express service available
Fast turnaround for phone repairs
Convenient location
6-month warranty on replaced parts
Open on Saturdays
Relatively long turnaround time for PC/laptops
Rates unavailable online
Customer Reviews
Check out some reviews by people who used TechStar's services below:
"After 30 years of never spilling any liquids, Murphy's law kicked in. Staff was able to prioritize the repair and offer me options should I need to transfer my SSD to another model. Great service and staff. You now have a customer for life." —Rickand Irene, Google Reviews
"Great service by the lads in Tech Star, really professional and really helpful. Came in with a busted laptop and they were straight forward and got me sorted. Far better than the high street counterparts." —John Carr, Google Reviews
"Great experience with Techstar today with a laptop repair. All done efficiently and back to full working order. Very much appreciate good service like this!!" —John Morris, Google Reviews
2.   Lapteck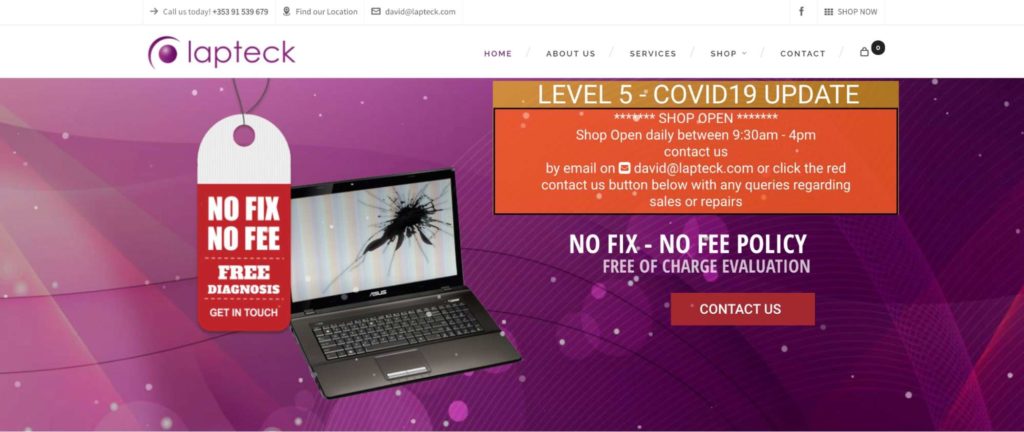 SERVICES
Computer repairs, system upgrades, OS reinstallation, virus or spyware removal, data backup and recovery, iPhone repair
WEBSITE
http://lapteck.com/
ADDRESS
11 Eyre Street, Galway
CONTACT DETAILS
091 539 679


[email protected]

OPERATING HOURS
Mon to Sat: 9:00 am to 4:00 pm
Lapteck earns a spot on our list for two main reasons.
First, they operate on a "no fix, no fee" policy for their repair services.
This means that you can have your device diagnosed at no cost at all. You also have the option to take your device elsewhere if you want to shop around for lower costs.
Next, we also like their relatively fast turnaround time for laptop and PC repairs. Past customers have reported prompt services, ranging from 30 minutes to 3 days on average from the time of drop-off.
Of course, this will still depend on the issue your device has. Rest assured that the team at Lapteck will strive to fix your device as soon as they can.
Like most repair shops, they also sell new and refurbished laptops as an additional service. For new purchases, you can also request initial set-ups and installation of freeware applications.
Free diagnosis
Relatively fast turnaround
Open on Saturdays
Convenient location
Rates unavailable online
Warranty not stated
Customer Reviews
Check out what clients had to say about Lapteck's services:
"Nicest guys in the world, they've never failed to sort me out, including today when they refused to charge me when all I needed was a couple of screws. Prices always seem fair and service is prompt. Can't praise them enough." —Mike Byrne, Google Reviews
"I highly recommend this place! It was busy on the day I dropped in, but I was dealt with promptly, courteously and especially, kindly. My broken laptop held most of my life, and I was upset and nervous, but the repair was excellent, very affordable, and came with good advice for the future. I saw refurbished computers for sale there and given the service I received, I would trust them 100% if I needed one. I now tell everyone about this company!" —Sophie O'Toole, Google Reviews
3.   SolTech Repair Center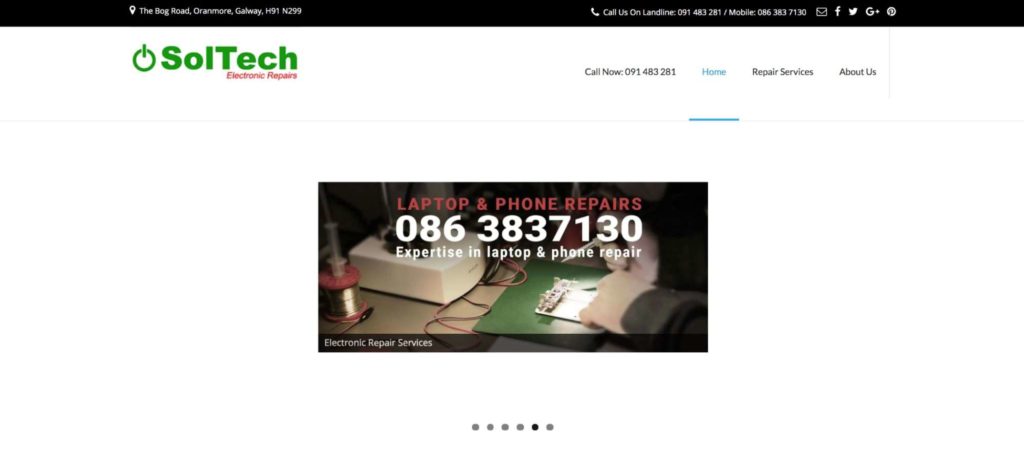 SERVICES
Laptop/PC repairs, TV repairs, phone/screen repairs, HDD data recovery, phone unlocking services
WEBSITE
https://www.soltech.ie/
ADDRESS
The Bog Road, Oranmore, Galway
CONTACT DETAILS
091 483 281 or 086 383 7130


[email protected]

OPERATING HOURS
Mon: 10:00 am to 5:00 pm
Tues to Fri: 9:00 am to 5:00 pm
Sat: 10:00 am to 2:00 pm
For residents of Oranmore county and nearby areas, you'll be happy to know that the town has its own trusty computer repair shop. No need to travel all the way to Galway City to have your broken device fixed.
In fact, we think that this shop is also worth the trip to the county for a couple of reasons.
Important to highlight is their HDD repair recovery service as they operate on a "no data, no fee" policy, meaning that customers won't be charged in case they fail to recover your data.
Similarly, they also follow a "no fix, no fee" policy for all devices. They'll provide you with an obligation-free quote before moving forward—all of which are covered by a 3-month warranty.
Oh, and did we mention that they have a free parking facility in front of their shop?
Beyond computer and phone repairs, SolTech fixes TV screens, too. In fact, screen repairs are one of their specialties, so you might want to keep them in mind if you encounter this issue.
No fees for unresolved issues
No fees for unrecovered data
Free parking
3-month warranty
Open on Saturdays
Far from city centre
No estimates on turnaround time
Customer Reviews
Here's a glimpse of what some of SolTech Repair Center's previous customers have said about their services:
"My laptop suddenly stopped working out of nowhere. I was really upset about it, brought it straight to Soltech and had it repaired in no time! I brought it on a Saturday evening and ended up getting it done on a Monday and they don't work on Sundays it was extremely fast and my laptop is working perfectly would highly recommend them :)" —Zach Prior, Google Reviews
"He is a genius, fixed my broken HTC phone screen, my gaming computer I thought was dead for good and he fixed my mothers charging port. He is very good and professional and is of excellent value, thanks again!" —Lee Craddock, Google Reviews
4.   Computer Troubleshooters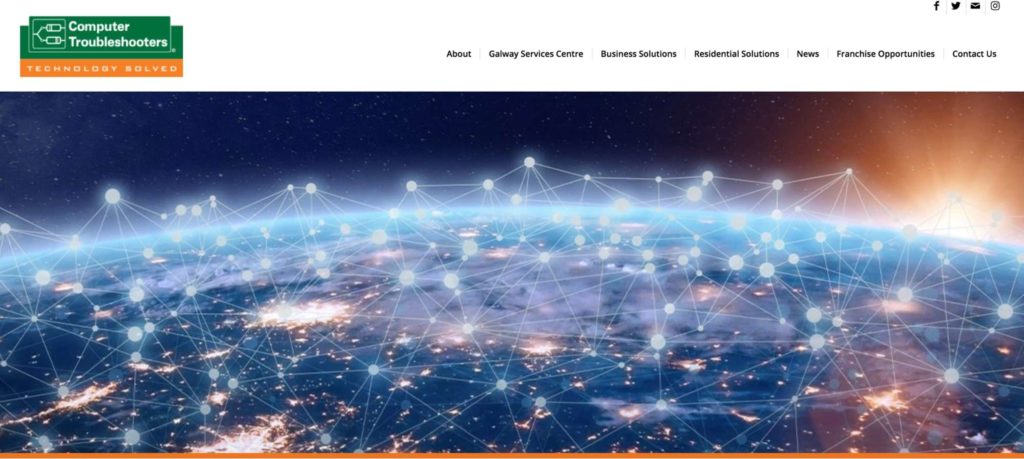 SERVICES
Repair services, backups and recovery, cyber security, managed services, etc.
WEBSITE
https://computertroubleshooters.ie/
ADDRESS
Unit 1, Tí Phuirséil, Freeport, Barna, Co. Galway
CONTACT DETAILS
091 867 888


[email protected]

OPERATING HOURS
Mon to Thurs: 9:00 am to 1:00 pm; 2:00 pm to 6:00 pm
Fri: 9:00 am to 1:00 pm; 2:00 pm to 5:00 pm
Another shop to add to your computer repair contacts is Computer Troubleshooters. And like its moniker, they can troubleshoot just about any computer problem imaginable from virus clean-ups to data recovery.
Apart from basic repairs, Computer Troubleshooters primarily provides IT solutions to businesses and home networks.
What's worth noting about this shop is that they can walk you through quick fixes from the comfort of your home, thanks to their Remote Access service.
Otherwise, you can also drop off your computer at their service center in Barna County. Because they're relatively far from the city centre located in a remote area, it's only reachable via private vehicle.
Hence, we recommend taking accessibility into account before proceeding with their services.
Unfortunately, they don't offer free initial diagnoses for your computers. However, they sometimes offer promos such as free security consultations, which you can look out for on their Facebook page.
Wide range of IT solutions/fixes
Remote services available
Occasional promos
Call-outs available to current customers
Far from city centre
Closed on weekends
Rates unavailable online
Customer Reviews
Here are some reviews about Computer Troubleshooters:
"Highly recommended. Working from home for the last number of months has brought a few challenges and Enda Folan with the trouble shooters have been excellent. From setting me up to protect from any cyber security threats to a printer and a fast laptop they have been excellent. Give them a call." —Rob, Google Reviews
"Enda, Niall and their team are so incredibly easy to work with and take the time to explain complex IT concepts in simple terms. They also provide valuable advice that helps businesses grow with flexibility and ease, and important information about data protection and IT security. They take the hassle and worry out of IT so we can get on with our business!" –Karissa, Write-Me
5.   Sirius Ireland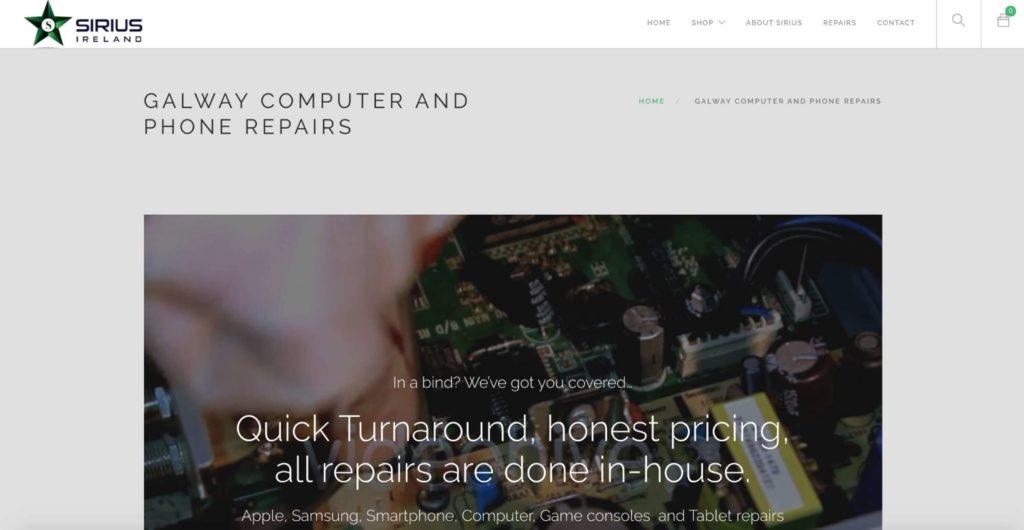 SERVICES
Computer/phone/tablet/game console repairs
WEBSITE
https://siriusireland.com/
ADDRESS
Unit 3, Liosbaun Business Park, Tuam Road, Galway
CONTACT DETAILS
087 311 0051


[email protected]

OPERATING HOURS
Contact for more information
And lastly, you can count on Sirius Ireland for any tech problem you might have with any device such as computers, consoles, drones, and even robots.
They take pride in having quick turnaround times for device repairs particularly screen replacements, which take about 15 minutes to an hour on average.
Take note that they only operate on a limited capacity as of writing. Hence, visiting their shop might not be an option for now.
However, you can contact them for a free consultation service through WhatsApp. Just send them a photo or video of your device, and they'll get back to you as soon as they can.
Currently, all transactions are conducted online, which might not offer customers a clear and detailed diagnosis of their device's issue. You can still send your devices via post or courier though—just bear in mind that the entire process may be a bit delayed.
Quick turnaround time for phone repairs
Services a variety of devices
Free online consultation
Accepts devices via post/courier
Onsite services unavailable as of writing
Rates unavailable online
Limited business hours
No warranty
Customer Reviews
Take a look at what some of Sirius Ireland's past clients have to say about them:
"Saved me today as my computer was not booting at all and wasn't recognized by my computer at all. Needed it for a project and of course had a lot of files on it. Microsoft said my info was done for. Fixed my problem very fast and was priced very well. He even got all of my files to stay on my PC! Would definitely recommend for anything." —David Nolan, Google Reviews
"Had a cracked screen on my laptop and needed a quick fix. I went in in the morning and it was repaired in less than an hour at just over half the price the manufacturer said it would cost to be repaired. Service was excellent, friendly staff, overall would highly recommend." —Ralph Gallagher, Google Reviews
FAQs about Computer Repair Shops in Galway
---
And those are the best computer repair shops in Galway! Just give these shops a call, and they'll fix your devices in no time!
Tried the services of other shops that aren't on our list? Drop us a line and we'll check them out ASAP.
Say, if you're also experiencing electrical problems at your home, you can refer to our list of the best electricians in Galway to help you with that.