The 11 Best Roof Repair Companies in Dublin
Roof repairs are part and parcel of maintaining your property. Today, we're helping you out with them.
In this article, we'll cover the best roof repair companies in Dublin that can restore your roof to tiptop condition and prevent costly damage from worsening.
We'll also share the average cost of roof repairs and answer the most common questions about roof repair companies.
If you're ready, let's get started!
How Much Does Roof Repair Cost in Dublin
Before we start talking about each of the best roof repair companies that we included in our list, let us first consider the cost of this service.
Below is a price table of the average costs of roof repair services in Dublin based on the type of material.
| | |
| --- | --- |
| Material | Average Cost to Fix |
| Flat, Foam or Single-Ply | €350 to €500 |
| Composite | €200 to €300 |
| Tile | €250 to €350 |
| Wood Shake | €300 to €400 |
| Slate | €300 to €450 |
| Asphalt Shingles | €200 to €300 |
| Metal | €200 to €500 |
As you can see, it varies by material. But other factors may go into the actual quote you get too – like the size of the area to be repaired.
The Best Roof Repair Companies in Dublin
Now that you have an idea of how much you might spend having your roof repaired, it's time to move on to the details of the best roofers in Dublin we selected.
In this section, we'll look into what each company can offer, what they're best for, and other important information.
1. Irish Roofers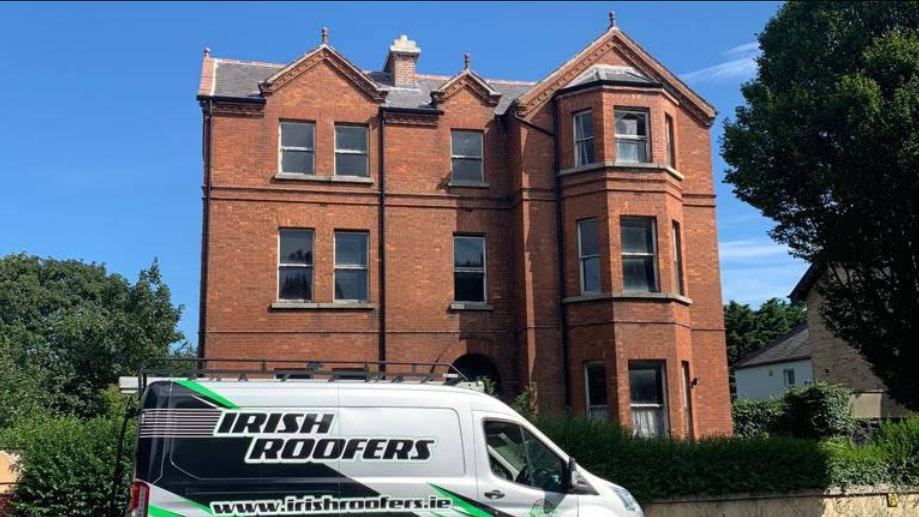 BEST FOR
Roof repair and new roof installation
SERVICES
Chimney Repairs
Commercial Roofing
Copper and Lead Roofing
Emergency Roofing
Insurance Roof Repairs
Roof Maintenance
Velux Skylight Windows
Slate Roofing
Tile Roof
Flat Roofing
Asphalt roofing
Liquid Waterproofing
Flat roof warm insulation
Asbestos roof removal
WEBSITE
https://irishroofers.ie/
ADDRESS
57 Clontarf Rd, Clontarf, Dublin 3, D03 A7P0, Ireland
CONTACT DETAILS
+353 86 050 8558


[email protected]

OPERATING HOURS
24/7 Operations
Irish Roofers is a roofing company in Dublin that has been offering a comprehensive range of services for over 40 years. From new roof installations to roof repair and maintenance to waterproofing and insulation system installation, their reliable roofers can get your project done.
They cater to both residential and commercial clients in North Dublin and South Dublin. Many homeowners do not only praise their workmanship, punctuality, and friendly approach, but also their competitive rates.
When it comes to roof repairs, they offer re-roofing (slating and tiling) , guttering, fitting of Velux windows, UPVC cladding and plastering, as well as other general roof repair works.
What's really great about Irish Roofers is that it offers a 10-year guarantee for roof repairs and a 30-year guarantee for new roof installations. Those are solid warranties!
10-year guarantee for roof repairs
24/7 operations
Wide range of services at competitive rates
Offers waterproofing for roof protection
Uses drones to inspect your roof better and more safely
Offers blue Bangor Slate
Serves entire Dublin and many of the nearby areas
Free 24/7 call outs
Slow website makes it difficult to learn more about it online
Customer Reviews
Below are some of the comments from their past clients:
"They are fair and trustworthy! I highly recommend them for roof repair and complete roof needs! I appreciated the video they sent me prior to the appointment. It gave a clear picture of their abilities. This helps the customer feel confident." -John Abraham
"I found Irish Roofers by google for reviews of local roofers on the web. The quotation was reasonable, compared to others,and the work was carried out as planned within the time and on budget. Patrick was efficient, clear and knowledgeable. Patrick knew the issue as this was not the first time seeing a problem like are situation and he proposed and delivered a good solution. I have no hesitation in giving my full recommendation." -GG Panda
"I contacted the company on a Friday recently re my leaking roof in Dublin, when it rained every day. They came to see the job on Monday. They made the repairs the next day, within a few hours. Very efficient. A five year guarantee from a company with office and landlines is reassuring." -Ben Cheevers
2. Pro Craft Roofing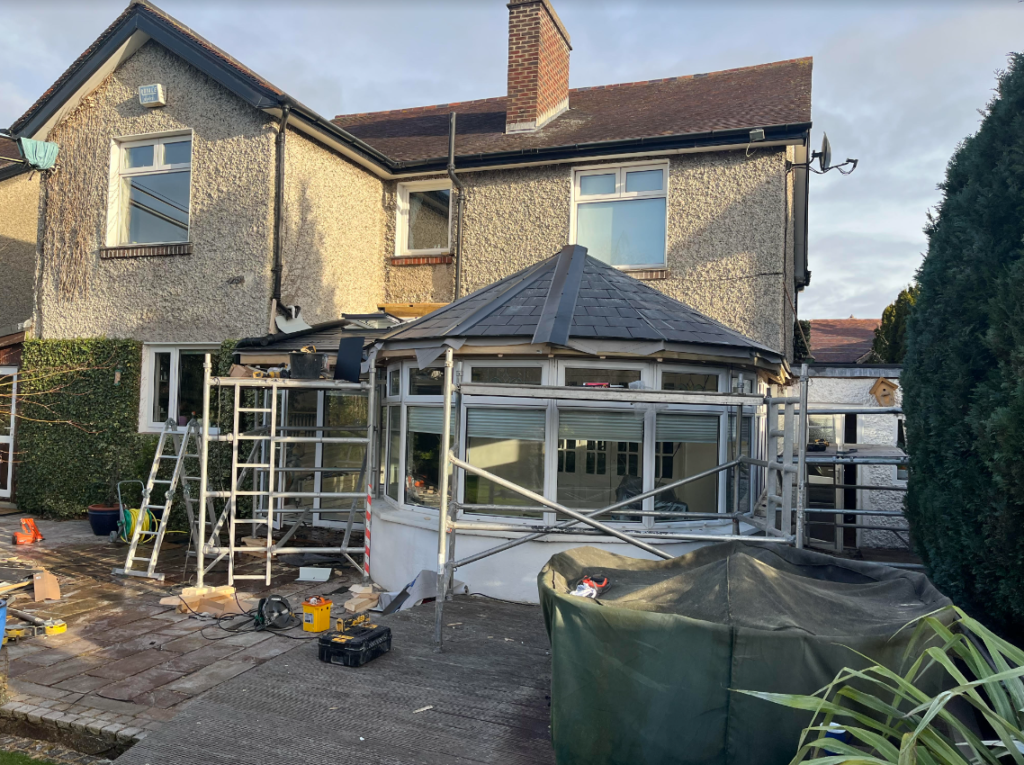 Next on our list of best roof repair companies is Pro Craft Roofing, a roofing company that has been serving the local community for over twenty years.
Throughout the years, Pro Craft Roofing has established a commendable image of providing quality craftsmanship and reliable service to clients from both domestic and commercial sides.
The company's success is mainly due to its team, which consists of roofing specialists who have experience and expertise in new roof installation and roof repairs.
In addition, they can assist you in pinpointing any problem areas your roof may have, allowing you to make better, more informed decisions regarding the services you need to pay for.
Lastly, Pro Craft Roofing works with all roof types, so regardless of the material your roof is made of, they can provide you with the services you need.
If you're looking for a company that can provide quality roofing services at an affordable price, then we recommend Pro Craft Roofing.
Wide range of roofing services offered
Works with residential and commercial clients
Authorized dealer of various roof-related products
Drone roof inspections available
Does not operate on Sundays
3. D.Hennessy Roofing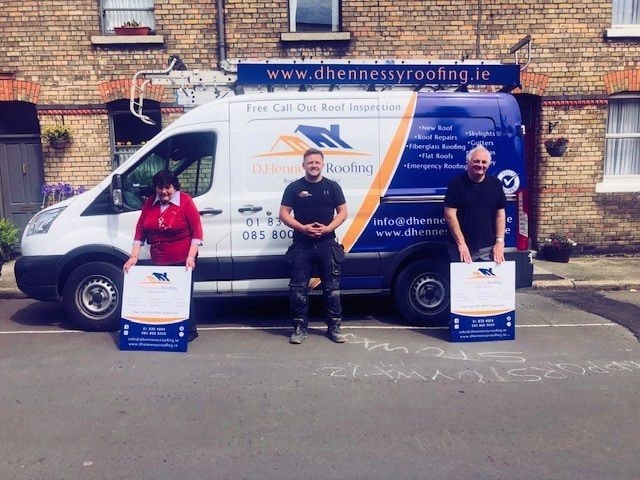 BEST FOR
Drone roof inspections and roof repairs
SERVICES
New roof installations
Roof maintenance and repairs
Chimney flashing repair
Flat roof installations and repairs
Emergency roof repairs
Fibreglass roofing
Skylight installation and repair
Gutter cleaning and repairs
Asbestos removal service
PVC
Soffit and fascia installation
Drone roof inspections
WEBSITE
https://www.dhennessyroofing.ie/
ADDRESS
25 Hollybank Rd, Drumcondra, Dublin 9, D09 CX33, Ireland
CONTACT DETAILS
+353 85 800 5020


[email protected]

OPERATING HOURS
24/7 Operations
D.Hennessy Roofing is another Dublin-based family-owned roofing company that has been operating for over 25 years. It offers new roof installations, repairs and maintenance, 24/7 emergency service, gutter cleaning, asbestos removal, and chimney flashing repairs in the city and surrounding areas.
When you contact them for roof repair, you'll get a free damage assessment using drones. This allows them to inspect your roof more thoroughly and safely.
Aside from your roof, their team can also repair your chimney, gutters, PVC fascia, and soffit. And if ever the damage is too severe and you need a replacement, they offer new roof installations with a 30-year guarantee.
Uses drones to inspect your roof better and more safely
Offers skylight and fibreglass roofing
Serves entire Dublin and many of the nearby areas
Free 24/7 call outs
Customer service can be improved
Customer Reviews
Check out some of the reviews their past clients wrote:
4. Active Roofing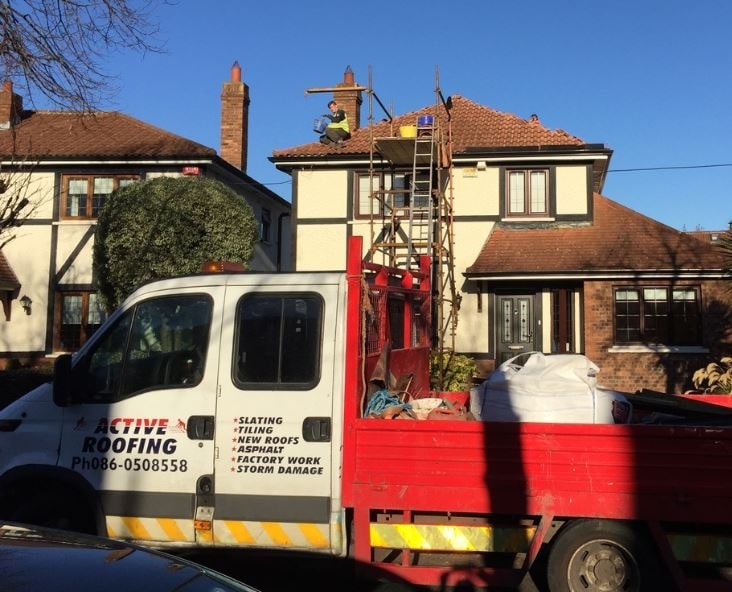 BEST FOR
Flat roof installation and repairs
SERVICES
New roof installations
Insurance roof repairs
Flat roof repairs
Emergency roof repairs
Commercial & industrial roofing service
Slate roofersAsphalt roofs
Skylight repairs
Storm damage roof service
Tiled roofs
Chimney repairs
Copper & lead roofing
WEBSITE
https://activeroofing.ie/
ADDRESS
Broombridge Business Centre, 288 Bannow Rd, Dublin, D07 YA25, Ireland
CONTACT DETAILS
+353 87 930 3564
OPERATING HOURS
24/7 Operations
Active Roofing is a Dublin-based roofing company established in 1973. For over 40 years, it has been providing new roof installations and repairs, as well as chimney repairs for residential, commercial, and industrial clients.
They are experts in flat roofs and provide a 10-year guarantee for both installation and repair work. When you engage with Active Roofing for any type of roof, you can expect them to use only the best quality materials from leading brands such as Capco, Tegral, Blue Bangor Slate Company, and Lafarge.
You can call them anytime because they have a 24/7 emergency call out service. Their team also offers a free inspection and charges reasonable rates.
Experts in flat roofs
10-year guarantee on repairs
24/7 Operations
40+ years in the industry guarantees competence
Works with residential, commercial, and industrial clients
Response times can be improved
Shorter guarantee of 10 years for new roof installations compared to others (30 years)
Customer Reviews
Here are some of the testimonials from their past clients:
"This company is AMAZING! They came and took pictures and video of our roof and gave us a quote in a timely manner. They are organized and provide excellent customer service. We had worked with Active Roofers Dublin before and he was excellent so we knew we were in good hands. They completed the project in 5 days, did a great job, paid attention to our concerns and fixed whatever we needed to be fixed. Very happy with their service. Highly recommend them." -Anna Marie
"Guys are very professional. Turned up on time and completed the job in good time. Price was very competitive too. Would not hesitate to recommend this company and would definately use again if the need arises." -Joan Byrne
"We had a really good experience with Active Roofers Dublin. They did the entire roof and were hard at work for 2-3 weeks to get the job done. They discovered some wood that had rotted and added a bit more to their estimate to accommodate these repairs. They informed us ahead of time that this was a possibility. We also really liked the pictures that we received detailing progress of the house. All in all a great experience with wonderful staff and workers." -Lenora Boyle
5 Roof Solutions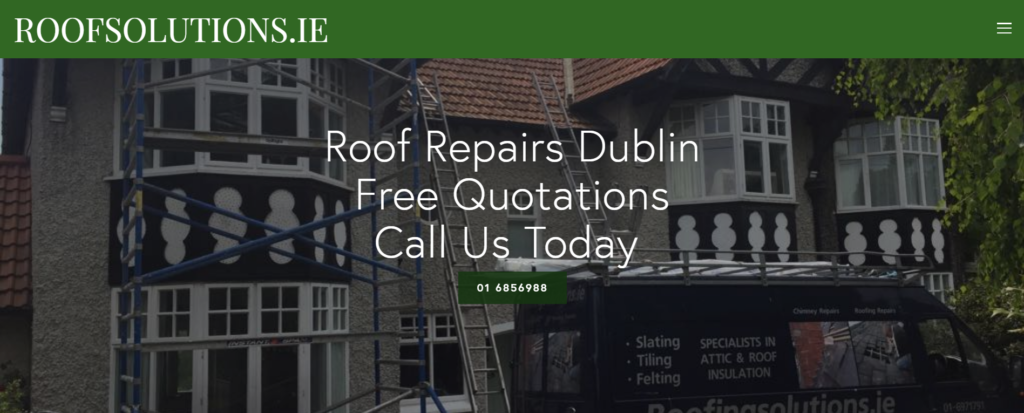 BEST FOR
Roof repairs
SERVICES
General Roof Repairs Wear & Tear
Roof Storm Damage Repairs
Leaking Roof Repairs
General Resident Roof Repairs
Bird Damage Roof Repairs
Loose Roof Tile Repairs
Fire Damage Roof Repairs
Ripped Roof Felt Repairs
Criminal Damage Roof Repairs
Frost and Weather Roof Repair
Emergency Roof Repairs
WEBSITE
https://www.roofsolutions.ie/
ADDRESS
51 Bracken Rd, Sandyford Business Park, Sandyford, Dublin, D18 CV48
CONTACT DETAILS
South Side: 01 6856988 Mobile: 085 – 1429672
North Side: 01 8513027 Mobile: 087 – 4310104
OPERATING HOURS
Contact for more details
Roof Solutions are roofing contractors that have ben serving all of Dublin since 1988. They are committed to bringing you the highest standard of roof repairs in Dublin and replacements to both roofing, chimneys, guttering, and soffits and fascia.
They provide services for all aspects of roof repair contracting, including flat roofs repairs, pitched and tile roof repairs, torch and felt flat roofs, roof lathing and felting, attic insulation, and roof tile painting and repairs across Dublin.
Roof Solutions is a family run business with generations of experience as roofing contractors in Dubin and general roof and guttering repairs. Their aim is to provide quality of service and at competitive rates.
Furthermore, their friendly, highly skilled motivated roof repair Dublin teams pride themselves on their workmanship and are conscious of the need to excel to maintain their valued reputation which they have built up from many years of hard work. They always apply the most modern roof repair techniques when it comes to you roof or guttering.
Free quotations
Specialise in a variety of roof and guttering services
Rates are unavailable online
Customer Reviews
Check out what their past clients have to say about their service:
"I had a problem with condensation in my attic. Roof Solutions came out promptly, identified the issues and replaced the roof felt along with resetting the ridge tiles, repairing around the chimney and replacing damaged tiles. The attic is now dry with lots of fresh air circulating. The team was very professional, tidy, did a high quality job and worked hard to get it completed in a short space of time. Excellent service."
"The team at Roof Solutions are second to none. From quotation to completion of the work, they were a pleasure to deal with. Their quotation was very competitive and I found their workmanship to be excellent, the materials used were as specified and they left no mess after them. They began and completed the work when they said they would and I am very pleased with the end result (the cost and quality of work). Roof Solutions provided an excellent service and I would not hesitate to recommend them for any roofing of ancillary work. Thank you again Robert. Ger Carroll"
"Professional work carried out in a timely manner. Sample provided to assist with choosing gutter colour. All work carried out safely and professionally."
6. Allguard Roofing
BEST FOR
Flat roofs
SERVICES
Roof repairs
Flat roof repairs
New roof installations
Emergency roof repairs
Insurance roof repairs
Factory roofing
Skylight repairs
Roof slating & tiling
Lead & copper roofing
Chimney repairs
WEBSITE
https://www.allguardroofing.ie/
ADDRESS
61 King St N, Smithfield, Dublin, D07 VR99, Ireland
CONTACT DETAILS
+353 86 835 5050


[email protected]

OPERATING HOURS
24/7 Operations
Allguard Roofing is a residential and commercial roofer that has been serving Dublin since 1970. Their team offers a full range of roof installation and repair services, but their expertise lies in flat roofs.
They also have an emergency roof repair service that you can take advantage of 24/7. Their experienced roofers can perform a full storm damage assessment and repair leaks efficiently.
Whatever type of repair you need for your flat roofs, slate, tile, gutter, chimney, or roofline, they've got you covered. And if you need a roof replacement, they have a 30-year guarantee for new roofs.
50+ years of industry experience in residential and commercial roofing
Flat roofing experts
24/7 operations
30-year guarantee for new roof installation
Slightly more expensive than other roofers
Customer Reviews
Below are some of the reviews from their past clients:
"Sean was very quick to respond to my request for a quote. Once the price was agreed, his crew turned up and did a brilliant job on my flat roof. Highly recommended." -Colette Teeters
"Highly recommend the guys at Allguard roofing.i contacted them about an emergency repair that needed urgent attention. John and his team presented to my home the same day as I called. Roof was repaired and for a fair price. Very professional approach to their work. Great service." -Chris Kane
"I rang Sean on a Monday morning and he told me he'd be with me either that day or the next. He arrived 2 hours later with his colleague. They replaced a broken roof tile and sanded and cemented my kitchen extension which had lost some slates and cement. They were both professional and courteous. I have already given their contact details to a neighbour who was looking for a recommendation for a roof repair." -Siobhain Williamson
7. All City Roofing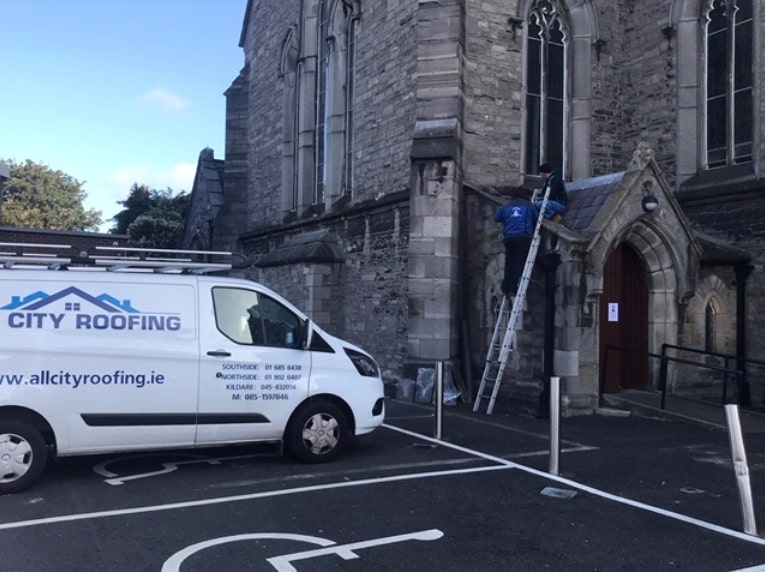 BEST FOR
Roof repair and attic insulation
SERVICES
Roof repairs
Fascia repairs
Flat roofing
Slate roofing
Soffit repairs
Roof valley repairs
Attic insulation
Guttering
Chimney repairs
Emergency roof repairs
WEBSITE
https://allcityroofing.ie/
ADDRESS
Kandoy House, 2 Fairview Strand, Ballybough, Dublin, D03 R8P3, Ireland
CONTACT DETAILS
+353 1 902 0407


[email protected]

OPERATING HOURS
8:00 am to 7:00 pm (Monday-Saturday)
All City Roofing is a roofing company headquartered in South Dublin. It has been operating for more than 25 years, providing roof repairs, guttering repairs, soffit & fascia repairs, chimney repairs, and attic insulation in Dublin and Kildare.
From the simplest residential roof repairs to larger commercial projects, these roofers can handle it. Aside from roof installation and repairs, they also do attic insulation service.
With over 30% of a regular home's heat escaping through the roof, an effective insulation system can prevent it and help you reduce your energy bills. This will also allow you to make the most of your attic and turn it into an extra room.
Can handle any project size
Residential and commercial roofers for over 25 years
Also offers attic insulation service
Office closed during Sundays
Response times can be improved
Customer Reviews
Check out what their past clients have to say about their service:
"I needed to get my roof repaired recently following the discovery of a major leak. I contacted John at All City Roofing who responded promptly and assessed the damage and repairs needed the next day. John and his team carried out the repairs in a thorough and professional manner. Before and after photos were provided as was a ten year guarantee on the work done which was reassuring. I would recommend All City Roofing services to anyone who has roofing issues." -Tim O'Herlihy
"Had gutters and soffits replaced by this company after a full consultation. I can highly recommend them for the quality of the work carried out by their hard working staff. All communication with them was professional and they were ultra punctual. Price was excellent too" -Michael Curran
"John and his team have done a few repairs on my roof and gutters. Very professional service, on time and clean. Also offered a 10 years warranty on the works, which is very reassuring." -Vincenzo Caruso
8. AD Roofing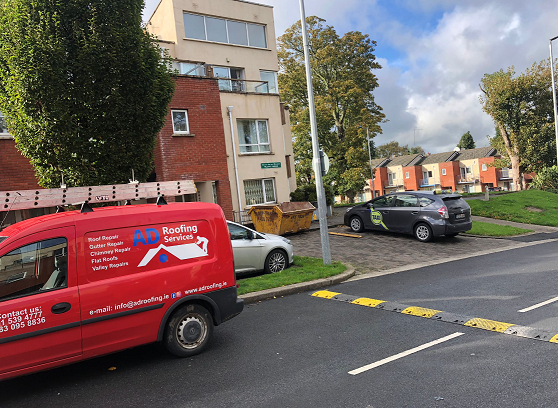 BEST FOR
Roof Replacements, Repairs, and Restorations
SERVICES
Roof repairs
Flat Roods
Dry Verge System
Dry Ridge System
Fascias and Soffits
Guttering
Chimneys
WEBSITE
https://adroofing.ie/
ADDRESS
Ireland
CONTACT DETAILS
01 5394777
OPERATING HOURS
Mon – Sat
8:00 – 18:00
We think it is now time to consider AD Roofing Services as your go-to company to call when in need of roofing services. They have been offering full-service roofing and guttering with guaranteed results in Dublin and surrounding areas for over 10 years.
We think they are great since they are a small and family-operated business, they do not have massive overheads. This allows them to deliver the cheapest quotes possible.
In addition to these, all of their work can be backed up with insurance and guarantee. They also only use the best industry material to deliver their projects to a high standard.
Unfortunately, their flat rates are not available on their website. However, if you contact them, you will be given a free quote.
Competitive pricing
Wide range of services
Free quote
9. Dublin Roofing Services
BEST FOR
Roofing Services
SERVICES
Roof Repairs
New Roof Installation
Emergency Roof Repairs
Flat Roof Repairs
PVC Fascia and Soffits
Guttering and Downpipes
Roof and Attic Ventilation
Chimney Repairs
Commercial Roofing
WEBSITE
http://dublinroofingservices.ie/
ADDRESS
Northside Office
Fairview Enterprise Park, Fairview, Dublin 3
Southside Office
Nutgrove Business Park, Rathfarnham, Dublin 14
CONTACT DETAILS
Northside Office: 01 8120883 / 087 3852315
Southside Office: 01 5143734 / 087 3852315
OPERATING HOURS
Contact for more information
Dublin Roofing Services is one of the area's renowned roofing contractors due to their reputation steadily building positive reviews ever since 1988. They offer a wide range of services for you such as New Roofs, Flat Roof Repair, Roof Repairs Dublin, Emergency Roof Repairs, Fascia and Soffits, Guttering, and Downpipes and Commercial Roofing among others.
Comprised of highly experienced individuals in the field, they cover numerous roofing services in particular such as flat roof repairs, asphalt roof repairs, commercial roofing, emergency roof repairs, and, new roof installations that will surely solve any roofing issues you might have. They are also committed to providing well-organized services that will help you have a stress-free experience with them.
The company also offers Full Public Liability Insurance for your peace of mind and takes pride in the quality of workmanship that they offer in which they always try to deliver only the best results. Furthermore, they also only use trusted and quality products for their repairs so you can be assured that all materials used are one of the best in terms of standards.
We recommend this company for your roofing needs due to their highly balanced customer service and excellent and prompt services that will surely help you in solving any roofing problems that you might experience.
Professional roofers
Offers Liability Insurance
High-quality products
Customer Reviews
Here are some reviews from their clients:
"Dublin Roofing Services replaced our ageing roof for us back in May 2010. Everything was well organised from the start with phone calls to let us know when skips and scaffolding were going to arrive. Amazingly they managed to strip the whole roof in one day! It then took them a couple of days to replace slates, install new felt, new battens and complete the mortaring work. We are thoroughly pleased with the roof and would happily recommend Dublin Roofing Services to anyone who needed roofing work."
"I used Dublin Roofing Services to undertake a complete overhaul of my roof. As the roof was in a poor state, there was extensive lead work and tiling to be done including re-lining some large box gutters front and back, Dublin Roofing Services carefully explained the work required and why. They completed the job on time, on budget and even took pictures of the work in progress to keep me informed. They are extremely knowledgeable and friendly people to deal with and they do exactly what they say they are going to do. I have no hesitation whatsoever in recommending Dublin Roofing Services to anyone who needs a professional roofing job done."
10. HP Roofing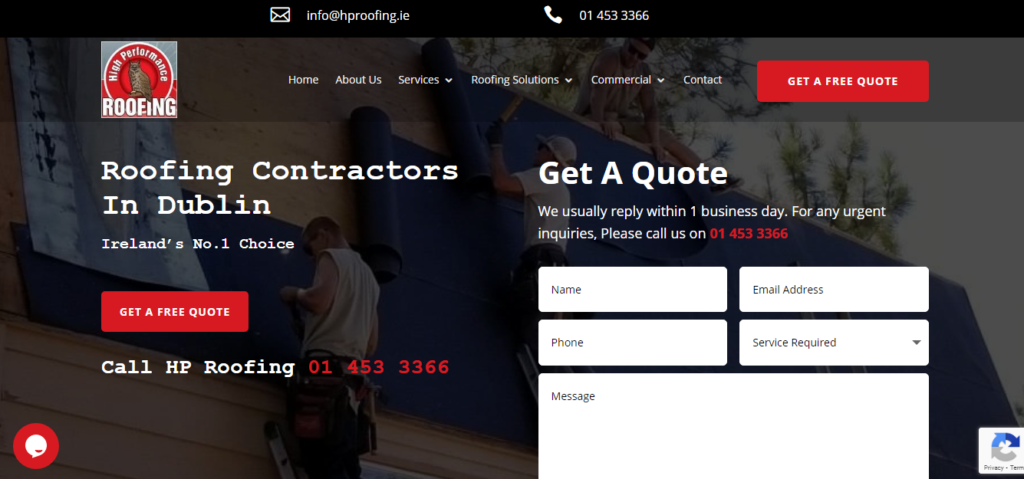 BEST FOR
Roof repair and new roof installation
SERVICES
New Roof Installation
Roof Replacement
Roof Repair
Roof Insulation
Skylight Installation
Asbestos Removal
Felt Roofing
Metal Roofing
Slate Roofing
Liquid Waterproofing
Commercial Roofing
Roof Inspection
Roof Maintenance
WEBSITE
https://hproofing.ie/
ADDRESS
Unit 13 Sunshine Industrial Estate, Crumlin, Dublin 6
CONTACT DETAILS
01 453 3366


[email protected]

OPERATING HOURS
Monday – Friday: 9:00 AM – 5:00 PM
HP Roofing is a roofing solution company founded in 1969 and has since then been providing excellent all-around roofing services for over 50 years already. They are one of the most trusted and top-rated roofing contractors in the area that gives exceptional and fully insured services as well.
Their employees and roofers receive impeccable training before they are employed to do any job for the client to make sure that they give only expert services done by certified professionals indeed. They also have site passes and CSCS skill card compliance which makes them a complete package along with a reliable insurance policy that is automatically employed on every job.
The website features complete company information but is lacking when it comes to showcasing packages that you can readily avail of for their services. To compensate for this, however, they offer free estimates for their clients to help them decide if their services fit the bill just right.
If you are looking for negotiable and flexible prices for your specific roofing services that prioritize your safety and interests at the pedestal.
Highly experienced
Fully insured
Has a public and employee insurance
11. International Roofing And Guttering
Next on our list is International Roofing and Guttering who have been providing roofing services for 20 years in Dublin.
We are impressed for this family-owned company provides you with a wide range of services to help safeguard your home against the Irish weather.
Being in the industry for quite some time now, they want to make certain your home is weatherproof and strong in whatever weather or climate change it may face. That is why they have hired expert roofers who have been dealing with these services which sees to it to provide top of the line service to their customers.
Another great thing we have discovered about this company is that they also provide Emergency Roofing Services. Plus, it is also amazing that they provide free roofing examinations and call-outs, so you won't worry about any hidden charges. They will be transparent at the start of the project on how much it would be.
Free roofing examinations and call outs
Highly experienced
Years of service in the roofing industry
Customer Reviews
Here are some reviews from their clients:
"I contacted International Roofing after attempting to contact two other local roofing companies, neither of which followed up on my calls. Thomas responded immediately and, without delay, got to work. Our roof is bigger than average, yet the works were completed within a week and were done professionally and very much to our satisfaction. The roofers were efficient, polite and were always available to discuss the progress of the work. All in all, we cannot recommend International Roofing highly enough, and we encourage you to contact them with any roofing needs without delay!" – Laura Dooley
"Thomas from international Roofing & Guttering. And hes Crew, replaced all the Damaged wood, the facia, Soffett, Gutter & down pipes on our house in Dublin 18. And for a reasonable price. I am very happy with the Job. I would be happy to reccomend them for any roofing work. Thanks for a great job." – Bren Daniels
FAQs About the Best Roof Repair Companies in Dublin
---
Don't let your roof problem worsen! Call one of the best roof repair companies in Dublin that made it to our list.
Have you had any experience with these roofers? Share your experience with us if so! We love hearing from other consumers in Dublin.