The 5 Best Dermatology Clinics in Limerick
Has your skin been acting up lately? Stay with us, as we're listing down the best dermatology clinics in Limerick just for you!
Apart from contact information, we've also reviewed each of our entries' services by listing down its pros and cons. At the end of this article, you'll also find answers to FAQs.
So before anything else, let's talk about rates first.
How Much Do Dermatological Treatments Cost in Limerick?
Dermatology clinics charge an initial consultation fee between €50 to €150 on average. Meanwhile, some clinics offer free consultations for specific services.
Treatment costs will vary depending on the treatment performed. Check out the costs of our entries' fees below:
CLINIC
SERVICE
PRICE RANGE
The Adare Clinic
Consultation Fee
€150
Dr. Eve Berlinska, Bio Force Medical & Dental Clinic
Consultation Fee
€100
The Otto Clinic
Free initial consultation Contact for more information on cosmetic treatments
Dr. Farhana Khan, Bon Secours Hospital Limerick
Contact for more information
Thérapie Clinic
Skin Consultation Fee
€20
Laser Hair Removal
€290 to €999
Dermal Fillers
€295 to €590
The Best Dermatology Clinics in Limerick
Now that we've laid it out for you, let's head on to our list of the top dermatology clinics in Limerick!
1.   The Adare Clinic
Best Full-Range Dermatology Clinic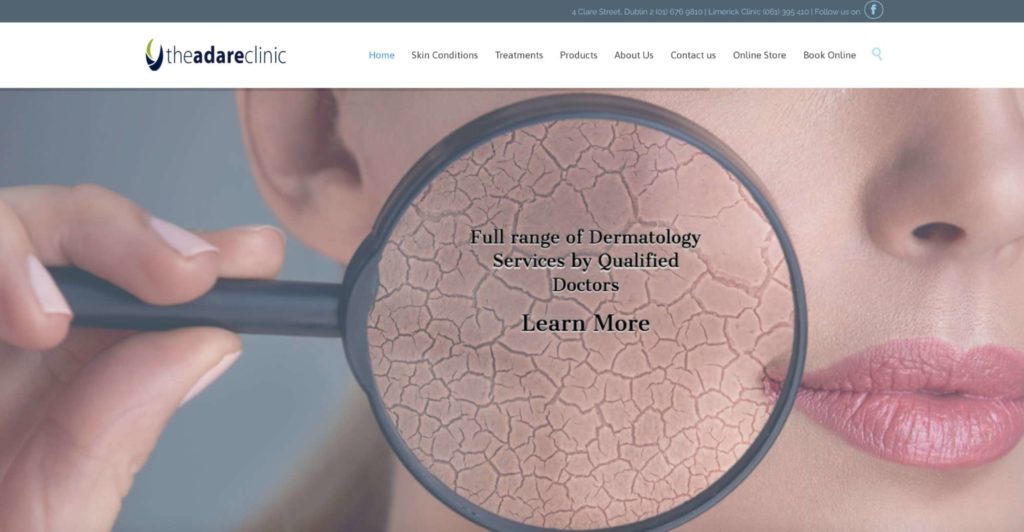 SERVICES
Consultation and diagnosis, medical and aesthetic treatments, mole screening and removal, etc.
WEBSITE
https://www.theadareclinic.ie/
ADDRESS
Unit 2, Harvey's Quay, Limerick
CONTACT DETAILS
(061) 395 410


[email protected]

OPERATING HOURS
Monday to Friday 9:00 am to 5:00 pm
Rest assured that you're in good hands with The Adare Clinic as their team comprises only medical doctors with special interests in dermatology and aesthetic procedures.
They treat and diagnose all sorts of skin conditions including acne, fungal infections, psoriasis, skin cancer, among many others. Furthermore, they also perform various procedures such as mole removals, dermal fillers, chemical peels, to name a few.
Their wide range of services is the top reason why we think they're the clinic to choose if you're looking for both medical and aesthetic treatments for your skin.
Despite these pros, we aren't too keen on their booking policy for a couple of reasons. First, the clinic requires credit card details for all new customers.
They have a pretty strict cancellation policy, too. The clinic will charge customers a hefty fee of €80 for cancellations on the day of the appointment.
Beyond these drawbacks, we still think that they offer one of the best services in Limerick. So give them a call and see how they can help you with your skin issues!
Wide range of services
Online booking portal available
Clean and modern clinic
Convenient clinic location
Dublin clinic available
Strict cancellation policy
Closed on weekends
Relatively expensive consultation fee
Customer Reviews
Here's what former patients have to say about The Adare Clinic's services:
"If I could give more than 5 stars I would ! My teenage daughter was a patient in the clinic for the past 7 months. We come to the clinic with mild to severe acne. From the day 1 always very professional, all concerns I had during the treatment were discussed and detailed by Dr. Naomi. After months being on Roaccutane + Microneedling treatments – Results are unbelievable, I'm absolutely delighted with service provided by Dr.Naomi and extremely friendly and accommodating Rose in the reception.Money well spent. Could not recommend the Adare Clinic enough. Also, I love The Adare Clinic own skincare product line Reform. If you are struggling with acne or any other skin problems, that's the place to go!" —Monika Mis, Google Reviews
"Extremely good person and doctor. He responds quickly and replies to the questions asked via email. He has helped me a lot and do not hesitate to ask or visit the office where he works … Thank you Doctor." —Ivelin Ivanov, Google Reviews
2.   Dr. Eve Berlinska, Bio Force Medical & Dental Clinic
Best Medical Dermatology Clinic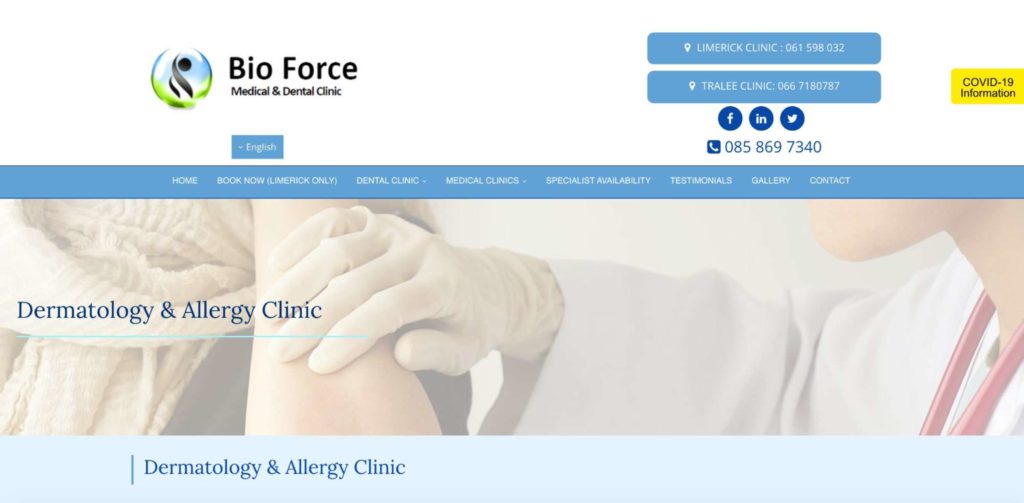 Next up is Dr. Eve Berlinska of Bioforce Medical & Dental Clinic. She's the doctor to call if you're experiencing mild to serious skin conditions.
She specialises in general dermatology including bacterial diseases, fungal infections, skin tumours, and skin allergies, to name a few. She also performs minor medical procedures such as skin tag removals and allergy tests.
What's more is that Dr. Eve is a venereology specialist for diseases transmitted through sexual contact. She also speaks fluent English and Polish, so we also highly recommend her to native Polish speakers as well.
The clinic is also a great option if you're looking for other medical and dental services like orthodontics and gynaecology. Cosmetic treatments are available here, too.
Patients with busy schedules may be glad to know that they're open on Saturdays, contrary to most dermatology clinics in Limerick.
Despite being normally fully booked on Fridays and Saturdays, we like that they try to accommodate more patients by opening on Sundays on occasion.
Make sure to keep yourself updated on their Facebook page, as they mostly post their availability on this platform.
Ideal for Polish speakers
Relatively affordable consultation fees
Open on weekends (Sundays by occasion)
Wide range of medical services available
Convenient clinic location
Availability not regularly updated
Limited availability due to high demand
Customer Reviews
Below you'll see some reviews by Dr. Eve's previous patients:
"Lovely place with friendly and helpful staff. Professional doctors, especially Dr Ewa Berlińska. Dr Ewa helped me with all of her knowledge and experience. Would definitely recommend." —Mariola Fryc, Facebook
"I recommend 100 % the clinic to ladies [due to] Dr. Ewe's professionalism and quick diagnosis." —Dominika Stempnik, Facebook
3.   The Otto Clinic
Best Non-invasive Cosmetic Dermatology Clinic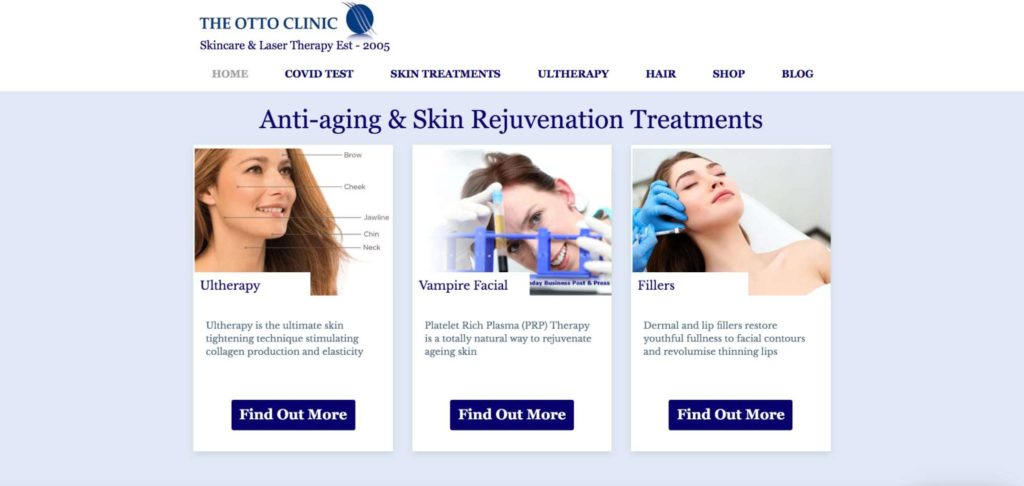 SERVICES
Anti-aging and skin rejuvenation treatments, fillers, face and body treatments, laser treatments, microneedling, etc.
WEBSITE
https://www.theottoclinic.ie/
ADDRESS
3 Pery Square, Limerick
CONTACT DETAILS
(061) 317 678


[email protected]

OPERATING HOURS
Monday to Friday 9:00 am to 6:00 pm
Looking for non-invasive dermatology treatments for your cosmetic needs? The Otto Clinic is one of the best choices!
The team consists of two aesthetic practitioners who are also qualified nurses with years of experience. And while both specialise in non-invasive treatments, you can also be sure that they can perform minimally invasive procedures such as dermal fillers.
Their flagship services are Ultherapy and Platelet Rich Plasma Therapy, both of which aim to reduce signs of ageing by tightening sagging skin. If this is your concern, then we highly recommend them for this type of treatment.
If you're unsure which procedure to go for, you can schedule a consultation with their team—free of charge and obligation.
Take note though that this clinic isn't suitable for treating or diagnosing medical skin conditions. So you might want to skip this clinic if you're experiencing itching, redness, and others.
Specialises in anti-ageing treatment
Free initial consultation
Convenient clinic location
Not suitable for medical treatments
Rates unavailable online
Closed on weekends
Customer Reviews
Take a look at what some of The Otto Clinic's previous patients said about them:
"Thank you so much Olivia and Ita – had the best experience getting PRP facial and can't wait to see the results. Would highly recommend everything was explained so clearly and Olivia was so friendly and professional. Thank you ladies!" —Elaine Cullinane, Google Reviews
"I went into the Otto Clinic to receive PPX treatment. Ita was great. She was professional, explained the procedure in detail, and the benefits. The procedure took no time at all, very quick and efficient. I would highly recommend the Otto Clinic to anyone, and will return in the near future." —Mary Sheahan, Google Reviews
4.   Dr. Farhana Khan, Bon Secours Hospital Limerick
Best Skin Cancer Specialist Dermatology Clinic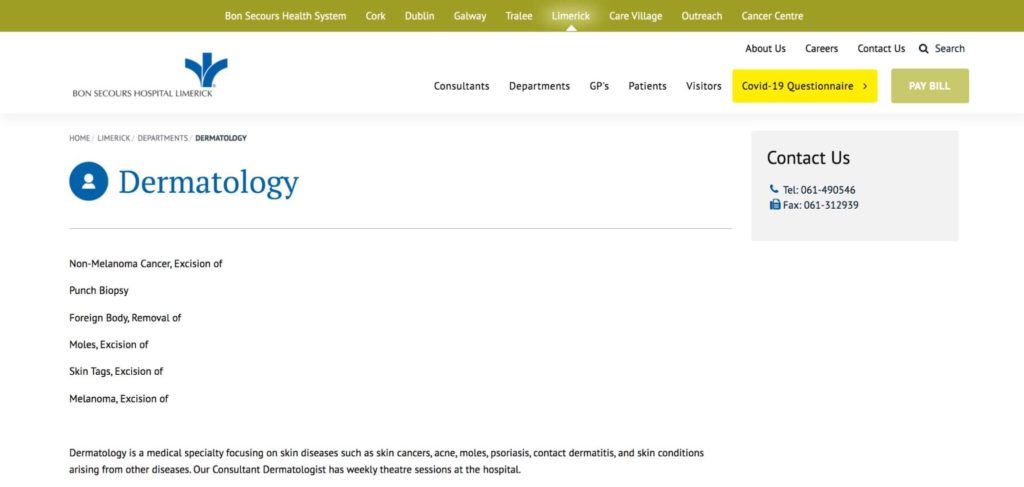 Now, if you've noticed unusual marks and bumps on your body, take this as a sign to see a specialist as soon as possible. Dr. Farhana Khan of Bon Secours Hospital Limerick can help you with that.
She's one of the very few dermatologists in Limerick that specialises in skin cancer, including melanoma and non-melanoma cancer. She performs major and minor medical procedures such as foreign body removal, skin cancer excision, punch biopsy, and mole/skin tag removal.
Because she's a specialist, accessibility may be an issue for some. For instance, you'll need a referral letter from your GP in order to schedule an appointment with her.
Moreover, she isn't available in the hospital at all times, so you'll have to book an appointment in advance. Hence, walk-ins can't be accommodated.
Still, she remains to be one of Limerick's highly limited number of dermatology specialists. So we highly recommend her if you have serious skin problems.
Specialises in skin cancer diagnosis/treatment
Can perform major/minor procedures
Ideal for Urdu speakers
Not suitable for walk-ins
Rates unavailable online
Referral letter from GP required
5.   Thérapie Clinic
Best Laser Hair Removal Clinic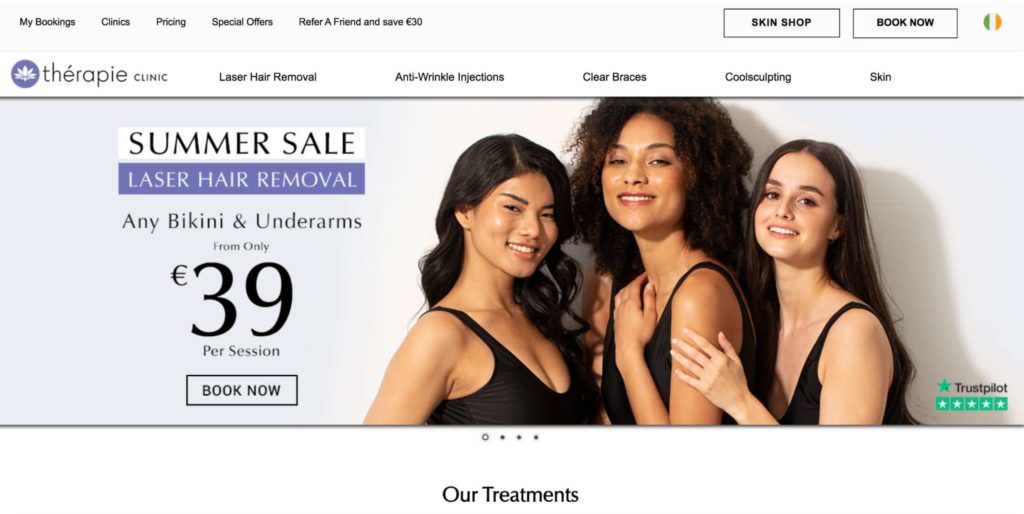 SERVICES
Laser hair removal, anti-wrinkle injections, coolsculpting, dermal fillers, lip injections, skin treatments
WEBSITE
https://www.therapieclinic.com/ie/
ADDRESS
Part Unit 23, Garryowen Mall, Crescent Shopping Centre, Dooradoyle, Co. Limerick
CONTACT DETAILS
(061) 788 050
OPERATING HOURS
Monday to Wednesday, Saturday to Sunday
9:30 am to 6:00 pm  

Thursday to Friday
9:30 am to 9:00 pm
For more options on non-invasive skin treatment, you can also go to the Thérapie Clinic as an alternative. They're specifically known for their laser hair removal treatments in Ireland, Scotland, and the UK.
Apart from laser hair removal, their services include anti-wrinkle injections, dermal fillers, and a whole bunch of other non-invasive skincare treatments. You can also have their in-house doctor look at minor skin conditions such as acne and rosacea.
Initial consultations for skin conditions are very affordable, which they conduct onsite or online. In fact, consultations for other treatments such as laser hair removal are free of charge.
However, this comes with a caveat. Note that consultations are redeemable on product purchases, so we recommend getting a second opinion if you want to explore other treatment options beyond those that they offer.
Wide range of cosmetic treatments
Free/affordable consultations
Branches available nationwide and in the UK
Open on weekdays
Long business hours
Not suitable for serious skin conditions
Limited availability due to high demand
Cancellation fees apply
Customer Reviews
Check out some comments about Thérapie Clinic below:
"This was my first laser appointment and I was a little nervous but my therapist Ashlyn was so welcoming and friendly she put me right at ease. She explained everything, was very professional and helpful. Thank you!" —Alicia Bowe, Google Reviews
"Ashlyn is such a professional and puts you at ease with her gorgeous personality. I would highly recommend her and Therapié Clinic in the Crescent shopping centre." —Laoise Roche, Google Reviews
FAQs about Dermatologists in Limerick
---
That's it for our list of the best dermatology clinics in Limerick! We hope that we've provided you with a useful list for your skincare needs.
Think that there are others who deserve to be on our list of the best dermatologists? Don't hesitate to leave us a message.
You might also need a good dentist to complement your rejuvenated skin. To help you with that, we've listed the best dentists in Limerick, too!