The 8 Best SEO Agencies in Galway
Are you looking to improve your business's online presence? One of the best ways to do that is to use SEO methods to improve your business website's visibility.
But since most business owners can't do SEO, you can refer to our list of the best SEO agencies in Galway to help you out there! We've taken a closer look at their services, pros and cons, and more.
You might be wondering about costs as well so let's talk about that first before proceeding to our picks.
How Much Do SEO Services Cost in Galway?
We've laid out the costs of getting SEO services from our entries in the table below. Note that actual prices may differ.
| | | |
| --- | --- | --- |
| SEO AGENCY | SERVICE | PRICE RANGE |
| Media Pro Web | On-page SEO | €235.99 — €395 |
| | Monthly Packages/Ongoing SEO Maintenance | €659.99 — €1,100.00 |
| | Article Submission | From €100 |
| | Web Analytics | €45 |
| | SEO Audit | €45 |
| SEO Smoothie | SEO Audit | From €80 |
| | Keyword Research | From €80 |
| | SEO Strategy | From €175 |
| | SEO Management | €175 — €525 |
| Heaventree Marketing & Design | SEO Strategy | Contact for more information |
| Honest Marketing | SEO Package | €350 — €1,300 per month |
| Adhere Digital | SEO Strategy | Contact for more information |
| Agile Digital Strategy | SEO Packages | €300 per month |
| Digital Funnel | SEO Process Services | Contact for more information |
The Best SEO Agencies in Galway
In no particular order, check out our picks of the top SEO agencies in Galway!
1.   Adhere Digital

SERVICES
SEO services, PPC advertising, digital consultancy
WEBSITE
https://www.adheredigital.com/
ADDRESS
Unit 1, Fairhill Road Lower, The Claddagh, Galway
CONTACT DETAILS
083 406 3154


[email protected]

OPERATING HOURS
Mon to Fri: 8:00 am to 6:00 pm
Want to drive website traffic to revenue? Adhere Digital can also help you with that.
Despite being a relatively new and small agency, they've already built a pretty impressive portfolio of small businesses around Galway and beyond. In fact, they're also a certified Google Partner, meaning they have the expertise to use Google Ads and deliver results.
Their core services are limited to SEO, PPC advertising, and digital consultancy. Like most digital marketing companies, their services are fully-customised based on their clients' needs.
While we would've liked to see an estimate of their rates online, you can schedule a consultation with their team to know more—free of charge and obligation.
They take pride in the flexibility of their SEO services. So whether you intend on going with ongoing maintenance or simply want an audit, they can accommodate your needs.
If you want to improve brand awareness, they also specialise in social media marketing, particularly in Facebook and Instagram ads.
Certified Google Partner
Free consultation
Flexible SEO services
Convenient location
No set SEO packages/plans
Rates unavailable online
Customer Reviews
Here's what Adhere Digital's previous customers have to say about them:
"Paul and the team at Adhere Digital have really helped us in maximising our return on digital advertising. We were doing a reasonable job in house, but our campaigns are performing much better now that we have Adhere managing the process for us." —Stuart Dempsey, Google Reviews
"Adhere Digital were fantastic at increasing our visibility across all our core products. We are now not only driving new customers each day, but we are capturing their data so we can re-market to them at a later stage. Very professional service, would highly recommend." —Paul Greene, CEO of Engaged Apparel
2.   Media Pro Web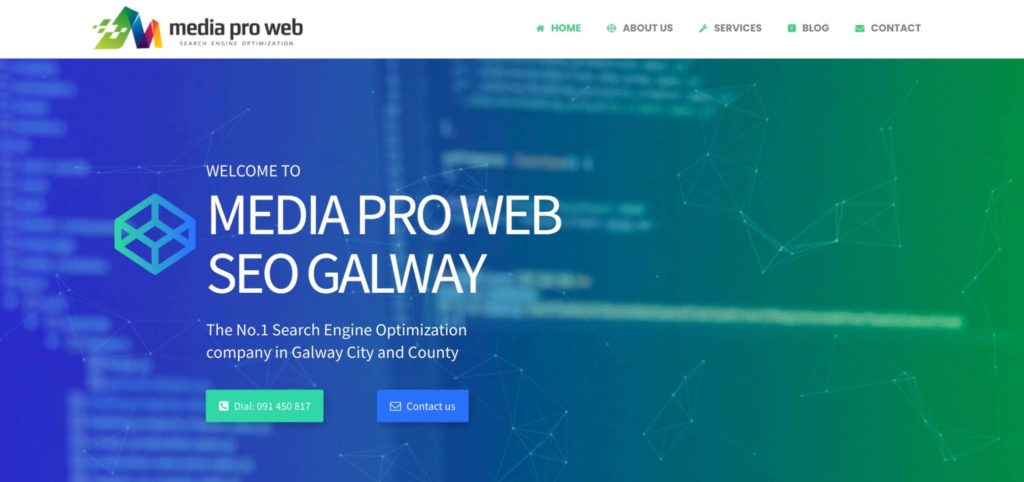 SERVICES
Free SEO analysis, search engine advertising, social media strategy, boost conversion rate, website design
WEBSITE
https://mediaproweb.ie/
ADDRESS
77 Maoilín, Knockancarra, Galway
CONTACT DETAILS
091 450 817


[email protected]

OPERATING HOURS
Mon to Fri: 9:00 am to 6:00 pm
At Media Pro Web, you get to have your own dedicated private account manager to handle your SEO needs. Whether you have an existing website or are planning to start a new one, they can give you the boost you need to bring your website to the next level.
And how do we know this? Well, they're the first website to pop up if you make a quick Google search using the keywords "Galway" and "SEO"—which is why we think that they practise what they preach.
You have the option to choose between their one-time SEO optimisation service or a monthly maintenance package to sustain your ranking. Otherwise, they also offer additional services such as article submissions to promote your website.
We aren't too crazy about their "free" SEO analysis service though. Notice that this service only comes free under select SEO plans.
So, you might want to talk to them first or give it further thought before proceeding with this not-so-free service.
That said, if you look closely, you'll see that standalone SEO analysis audits are priced at €45, which is still a relatively affordable price compared to others in the market.
Content writing services available
Online services available
Relatively affordable audits
Has related web services
Analysis service is only free under select plans
Customer Reviews
Check out some reviews by people who used Media Pro Web's services below:
"Their products have brought my site to the top." —Tasky Alexandru, Google Reviews
"Good quality, good ranking progress. Very well. Thank you." —Ger Colleran, Google Reviews
"We gave our website to Media PRO Web Design for SEO and Maintenance and now I have time to grow my business. I noticed we are the No.1 in Google for most of our search keys, since then." —Sharon O'Toole, Website Testimonials
3.   SEO Smoothie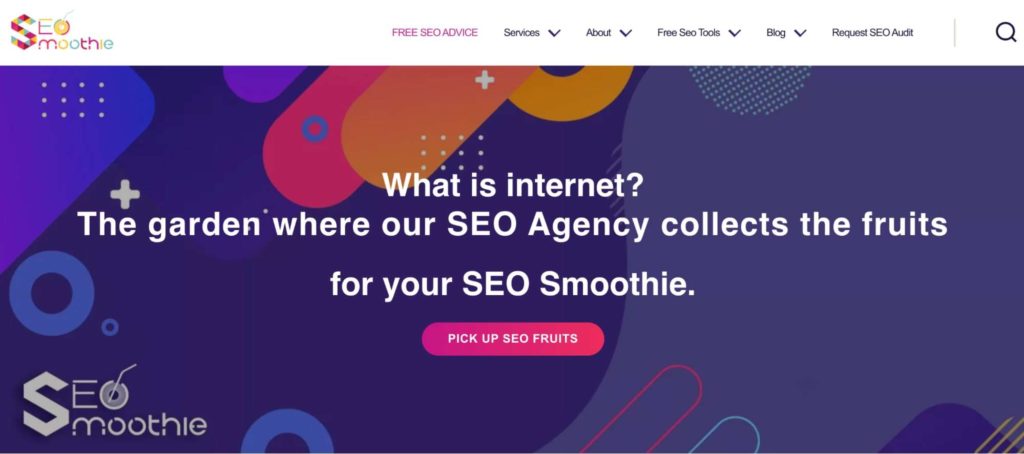 SERVICES
SEO audits, strategy, and management
WEBSITE
https://seosmoothie.com/
ADDRESS
42 Cluain Ard, Galway
CONTACT DETAILS
081 800 2572


[email protected]

OPERATING HOURS
Mon to Fri: 9:00 am to 6:00 pm
Sat: 9:00 am to 1:00 pm
We've included SEO Smoothie in here for several reasons.
First, they offer one of the most affordable rates for SEO services in Galway, and at different price points too. This means that you can select the most suitable package for your needs and budget.
Next, they also offer free SEO audits with no additional obligations. While you won't be getting a detailed overview of your website's analytics and ranking, the team will still make sure to provide you with suggestions on how to improve your website.
Perhaps the only caveat here is that your results may be posted on their website for everyone to see. However, you can keep your information private for a separate cost.
Apart from these, they also offer discounts for clients based in Galway—a good reason to support local businesses! They also have a referral programme, which entitles you and your referral with discounts.
Free SEO audit
Affordable rates
Wide range of SEO packages
Discounts apply for new customers
Open on Saturdays
Data from free SEO audit may be posted
No related web services
Customer Reviews
Take a look at what some of SEO Smoothie's previous clients said about them:
"Great help with our website. Very informative, helpful and thorough! I'm glad I reached out to them! Thank you very much!" —ShopArchery Bulgaria, Google Reviews
"Definitely opened my eyes! I didn't even realise how many things were missing on my website! I've got a very useful analysis and help in the definition of my business strategy. Surely will use their services again!" —Iana Jekrova, Google Reviews
4.   Heaventree Marketing & Design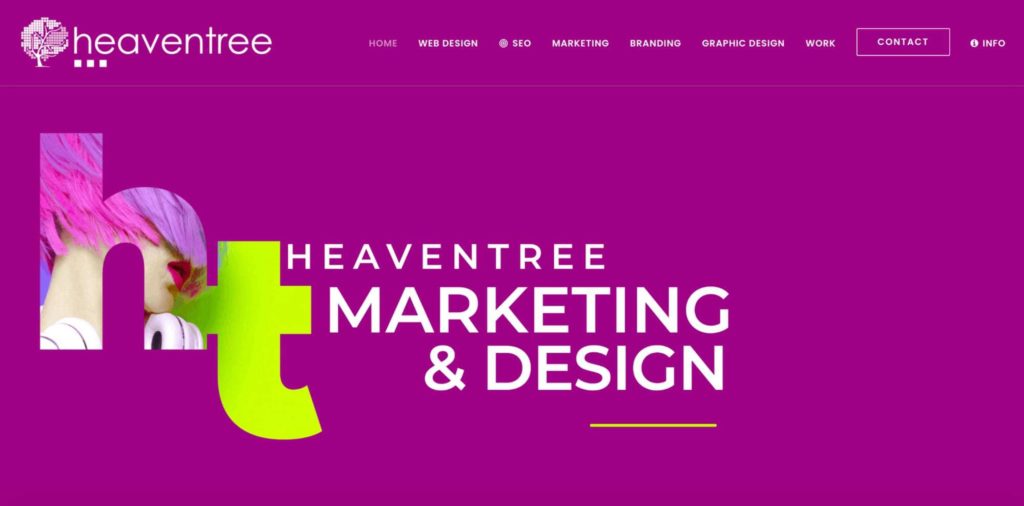 SERVICES
Full-range SEO services, web design, cloud web hosting, social media marketing, branding, graphic and logo design, etc.
WEBSITE
https://heaventree.ie/
ADDRESS
4/5 High Street, Galway
CONTACT DETAILS
091 396 321


[email protected]

OPERATING HOURS
Mon to Sat: 9:00 am to 5:00 pm
Heaventree is a full-range digital marketing company offering an array of services such as SEO, web design, branding, graphic design, and more. If you're planning to start your own website or business from scratch, then this is the company for you.
For SEO services, they'll develop a fully-customised plan according to your needs, which is why you won't find any set packages or prices on their website.
You get to have your own SEO specialist, who will do everything from site analysis to ongoing optimisation.
Because they provide end-to-end services, Heaventree may not be for clients who simply wish to get an audit or a one-time service for their website. This is also evidenced by their initial contract requirement of 3 months.
Hence, we recommend this company if you plan on getting ongoing SEO maintenance only.
Once you've completed your initial contract though, you can cancel anytime with a 30-day notice. If you decide otherwise, they'll charge you on a monthly basis moving forward.
Ideal for start-ups
Suitable for SEO maintenance
Wide range of related web services
Open on Saturdays
Open for online appointments
No standalone SEO services
Initial contract of 3 months
Rates unavailable online
Customer Reviews
Below you'll see some reviews by Heaventree's previous clients:
"I engaged Haventree to update my website and from the beginning I found them to be extraordinarily helpful and accessible. By that I mean that there was always somebody on hand to answer my queries and if they didn't have a solution to what I needed there and then they would quickly find one. I felt very supported by the entire team and liaised with Dirce in particular. I cannot recommend them highly enough for their professionalism. I don't envisage myself going anywhere else in the future for my website needs." —Paul Gill, Google Reviews
"Our business has used Heaventree for many years now and find them excellent in every capacity. From design to website construction and management they cater for all the needs of our company." —Roisa, Google Reviews
5.   Honest Marketing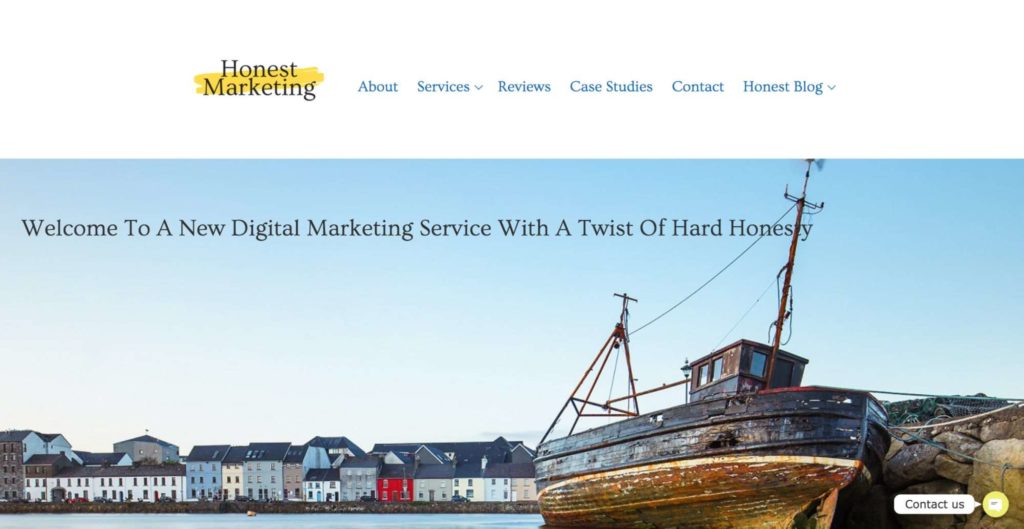 SERVICES
SEO for businesses and hotels, PPC advertising, social media strategy, UX optimisation, web development, web hosting, etc.
WEBSITE
https://honestmarketing.ie/
ADDRESS
14a Sycamore Drive, Galway
CONTACT DETAILS
083 859 6966


[email protected]

OPERATING HOURS
Online appointments only; contact for more information
Now, Honest Marketing's expertise is quite niche. Apart from businesses, they actually specialise in SEO for hotels and other hospitality establishments.
Not only that, but their focus narrows down further to hotels located outside of major cities such as Galway. So if you're thinking of starting your own bed and breakfast or perhaps a mid-sized urban hotel, then you can rely on Honest Marketing for that.
The company offers one digital package for all—no extra frills to worry about. This package includes a digital marketing strategy, SEO services, Pay-Per-Click (PPC) advertising, advanced reporting, conversion optimisation, and website analytics.
This also means that customers will be paying for a monthly fee starting at €350, which depends on the size of the business, working hours, and other factors.
If you think this price is a bit steep, you might want to take them up on their 3 to 4 month trial to avoid long-term commitments.
Thanks to their case studies online, you can see how they used real strategies to improve their clients' websites. This will help you make an informed decision whether their services are right for you or not.
Specialises in SEO for hotels
3-month trial available
Case studies available online
Free audit for hotels
Online appointments only
No standalone SEO services
Monthly commitments required
Customer Reviews
Despite being a relatively new company, Honest Marketing has built a pretty good reputation as shown by these comments:
"Very reliable and great service. Filip helped me understand digital marketing and SEO better and projects he worked on had great success. His work is very detailed and he will make you understand your online presence better. If you want detailed and long term success, Honest Marketing is a way to go." —Matea Sragalj, Google Reviews
"Very helpful towards SEO and digital marketing campaigns. Brilliant response rate and communication. Wealth of knowledge and friendly. I would highly recommend to anyone in need of digital marketing!" —Dusko Susa, Google Reviews
6. Plus Nine Design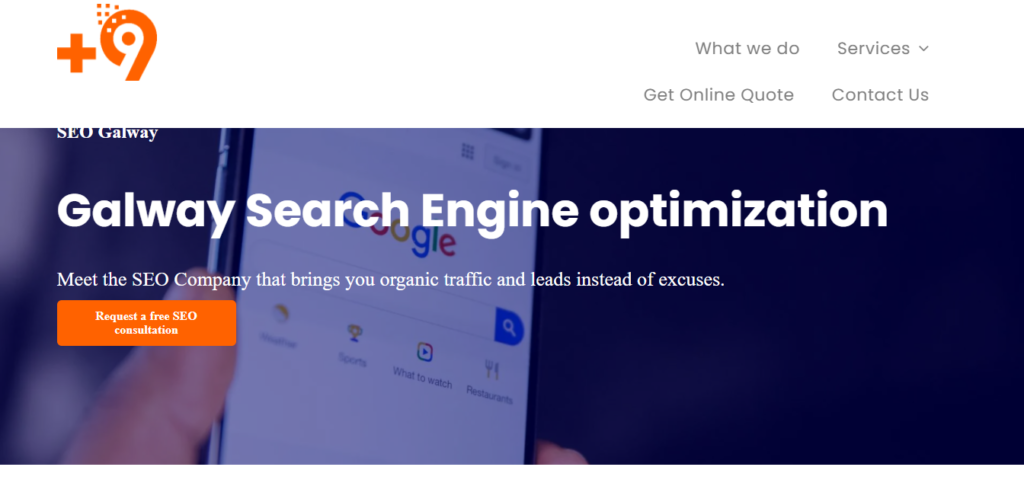 Plus Nine Design offers digital solutions that can put you in control of your campaign by monitoring your website traffic, keyword rankings, inbound leads, social media reach, and monthly goals. Unlike other companies, with them, you will be able to experience a new level of communication because you will be able to see all your statistics in one place for your campaign.
If you want a higher rank on Google, they can help you get to the first page with their SEO services. We think they are great because they offer a 100% free SEO site audit.
This site audit will show you what work needs to be done immediately on your website before you begin your SEO campaign. Plus, the report will be emailed to you within 24 hours after you submit a request.
Their prices are very much affordable compared to others. Their packages start from €500 to €5000 a month.
Rates are available on their website
Offers a lot of packages
Operating hours are unavailable
Customer Reviews
Here is a testimonial from one of their clients:
"Using plus Nine Design allowed me to rank on Google and keep up with competitors, would high recommend!" – Niall Thomas, Weather Tight Roofing
7. Agile Digital Strategy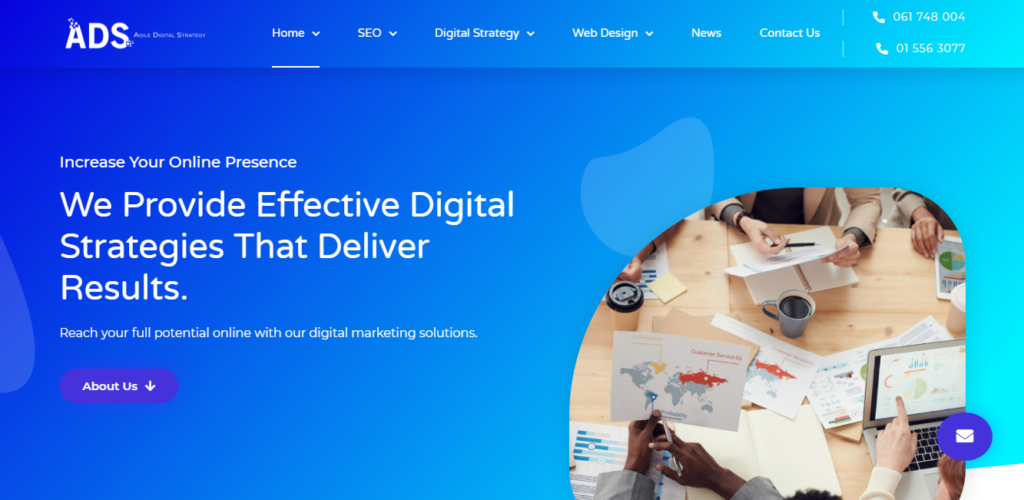 SERVICES
SEO Services, Digital Strategy services, Web design services
WEBSITE
https://agiledigitalstrategy.com/no-1-for-seo-galway/
ADDRESS
Beech Park House, Smithstown, Shannon, Co. Clare, V14 YR20
13 Adelaide Road, Saint Peter's, Dublin, D02 P950
CONTACT DETAILS
Shannon: +353 61 748 004
Dublin: +353 1 556 3077


[email protected]

OPERATING HOURS
Monday – Thursday: 9AM – 5PM
Friday: 9AM – 4PM
Agile Digital Strategy Ltd is a company that specializes in digital marketing services such as SEO, social media marketing, content marketing, eCommerce design, web design, Google Ads PPC, and other services that can be seen on their website.
They are open to serve both national and international projects in which clients are also able to get an instant quote generated at their site as well.
The company prides itself on the steadfast, consistent, and innovative solutions they give clients to suit their business goals and digital marketing needs. They currently have two offices both in Ireland – namely at Shannon and Dublin.
Established back in 2016 under another name, the company has then become reputable to utilize the latest technology to ensure businesses are more discoverable and provide their clients tools that will give their businesses an edge in competition.
Headed by a team with holistic professional experience in the field of digital marketing, Agile Digital Strategy Ltd continues to pride themselves for their transparent negotiations, accommodating staff, client-focused solutions, and results-oriented outputs.
Accommodates international projects
Several options for digital services solutions
Customer Reviews
Here is a review from their client:
"Highly recommend Niamh and her team @Agile Digital Stratgy Ltd. They have just finished our new website in less then a week so fast and efficient. We love it. Thank you." – Oonagh Minogue
8. Digital Funnel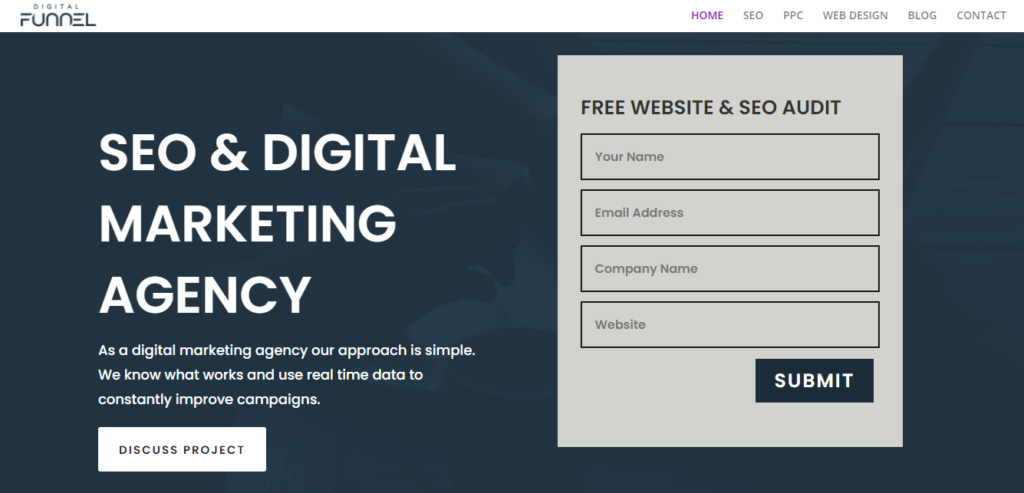 The Digital Funnel is a company that specializes in SEO Services that takes pride in its expertise in the SEO business that is committed to delivering both steadfast and practical solutions to the client's SEO needs.
The company's approach is simple yet is able to get the work done efficiently and professionally as they exhaust all optimization options in order to know what is the best for the client's company and its situation. They prove themselves with their 5-star job reviews and they also offer additional features such as On Page SEO and Off Page SEO that will surely boost the client's company.
They are also well-renowned for their transparent and authentic customer service and processes in which clients are able to monitor their projects so that they can ensure that their ROI is where they wish it is. Digital Funnel makes it a point to collaborate closely with the client in order to deliver customer-centric solutions for each specific company.
We recommend this company for clients who are looking for high-quality and authentic SEO Services wherein they are in control through means of being able to monitor each detail such as ROI Tracking.
Enables ROI Tracking
Authentic and transparent customer services
Results driven strategies
No price range is available
FAQs about SEO Agencies in Galway
---
And that's it! We hope our list of the best SEO agencies in Galway will help drive traffic to your website.
Know any SEO agencies with amazing services that's not on our list? Feel free to share your experience with us!
Likewise, if you have friends in Dublin that need SEO services, you can also refer them to our list of the best SEO companies in Dublin.