8 of the Best Roof Repair Services In Cork
Roofing repair is a tricky task to undertake on your own because it can pose a lot of risk if not done properly. This is why we highly recommend expert services for the job.
In this article, we listed down the best roof repair services in Cork, to help you out with any problems your roof may have.
How much does roof repair cost?
Roof repair prices are quoted on every project because they rely on a few key factors. This includes the size of the repair, materials used, labor cost and complexity of the area.
| Service or Material | Price Estimates |
| --- | --- |
| Tile or Slate Replacement | € 65 to € 100 |
| Roof Replacement | € 4,500 to € 8,000 |
| Valley Roof Flashing Repair | € 350 to € 1,000 |
| Flat Roof Repair | € 150 per m2 |
| Composite | € 200 to € 300 |
| Tile | € 250 to € 350 |
Top Roof Repair Service in Cork
We assessed the roofing contractors on our list according to the following criteria:
1. Cork Roofers
Test
Info
SERVICES
Affordable Roof Repairs
Emergency Roof Repairs
New Roof Installation
Chimney Repairs
Roof Inspections
Fiberglass Roofing
UPVC Guttering
Commercial Waterproofing
Skylight Windows
WEBSITE
http://corkroofers.ie
ADDRESS
Elysium Business Centre, Watercourse Road, Blackpool, Cork, Ireland
CONTACT DETAILS
+353 87 921 0226 or (021) 202 1041
[email protected]
OPERATING HOURS
Monday - Sunday, 24/7
| | |
| --- | --- |
| Background | ★★★★★(5/5) |
| Range of services | ★★★★★(5/5) |
| Roofing | ★★★★★(5/5) |
| Other services | ★★★★★(5/5) |
| Procedures | ★★★★★(5/5) |
| Customer feedback | ★★★★★(5/5) |
| Satisfaction | ★★★★★(5/5) |
| Coordination | ★★★★★(5/5) |
If you're looking for one of the best companies to provide roofing services in Cork, then look no further away from Cork Roofers. They have been in operation for more than 15 years and are happy to have provided the neighborhood with top-notch roofing services.
Their roofing company is committed to providing consumers with high-quality labor, exceptional customer service, and dependable goods only from reputable, well-received suppliers
They specialize in all types of residential and commercial roofing jobs, including new construction and roof replacement. They have a skilled and professional crew who can assist you in locating the ideal roofing solution.
Aside from their reliable roof repair services, they also provide chimney repair wherein they offer competitive prices and discounts to make their services more affordable. Their team of experts can also advise and guide you on how to maintain and repair your chimney, saving you money in the long run.
Additionally, we like how they have 24/7 roof leakage/emergency roof repair. What makes them different from other same-day emergency roof repairs is that they use high-quality materials for our emergency roof repair services and use the latest roof repair techniques to ensure that the roof is repaired in the most effective manner, even on the same day.
Quality roofing materials
Experienced staff
Over 15 years of experience
Rates are not specified online
Customer Reviews
Overall good experience with Cork Roofers
"Recently Hired Cork Roofers to Repair my moms Roof They were very helpful. With sending me images of exactly we're the issues we're. Overall good experience with Cork Roofers" – Ann Casey
2. Skyline Roofing
| | |
| --- | --- |
| Background | ★★★★★(5/5) |
| Range of services | ★★★★★(5/5) |
| Roofing | ★★★★★(5/5) |
| Other services | ★★★★★(5/5) |
| Procedures | ★★★★★(5/5) |
| Customer feedback | ★★★★★(5/5) |
| Satisfaction | ★★★★★(5/5) |
| Coordination | ★★★★★(5/5) |
If you need one of the most trusted companies in Cork that provides roof repairs then Skyline Roofing is the one for you. They offer a nationwide service with a guarantee backed by insurance.
They replace and repair all kinds of roofs including flat roofs, pitched roofs, slate roofs, and more. They will inform you based on their significant experience as approved installers what kind of solutions you can do in order to fix your roof.
They handle all kinds of roof repairs and upkeep, from moss removal or basic tile replacement to repointing a chimney stack and they do maintenance on residential and commercial structures all across Dublin and Cork.
Aside from their roofing services, they can also handle a variety of construction services including attic conversions, attic insulations, renovation & building, chimney repairs, and many more.
As an approved member of the Confederation of Roofing Contractors and an approved installer by Home Improvement Protection, we can confidently say that they are one of the most reliable companies to provide roof repair services in Cork. They have experienced staff, and comprehensive roofing expertise, and are fully registered and insured.
Fully Registered & Insured
Comprehensive roofing expertise
35 years of industry experience
Needs further contact to get their rates
Customer Reviews
Highly recommended Skyline Roofing And Building Cork.
"We contacted them for a roof for a new house. They were professional and timely. We were impressed with the attention to detail that they put into our project. Highly recommended Skyline Roofing And Building Cork." – Moses Nuri
He was on time, very pleasant to deal with and the job turned out great
"Michael and crew installed a new velux skylight for me , very professional roofer. He was on time, very pleasant to deal with and the job turned out great. His prices were very fair especially for his standard of workmanship. I will need to re tile my entire roof soon and I will definitely be using skyline" – Frances Quinn
3. Safeguard Roofing & Building
SERVICES
Roofs: New Roofs, Flat Roofs, Slate & Tile Roofing, Roof Repairs, Chimney Repairs, and Emergency Repairs.More Services: Renovation & Building, Guttering Services, Steam Cleaning, Roof Coating, Attic Insulation, uPVC Fascia & Soffits, and Landscape and Paving.
WEBSITE
http://safeguardroofing.ie
ADDRESS
12 South Mall Centre Cork T12 RD43
CONTACT DETAILS
085 235 4242
021 202 1178
E: [email protected]
OPERATING HOURS
Monday – Saturday, 24 hours
| | |
| --- | --- |
| Background | ★★★★★(5/5) |
| Range of services | ★★★★★(5/5) |
| Roofing | ★★★★★(5/5) |
| Other services | ★★★★★(5/5) |
| Procedures | ★★★★★(5/5) |
| Customer feedback | ★★★★★(5/5) |
| Satisfaction | ★★★★★(5/5) |
| Coordination | ★★★★★(5/5) |
Safeguard Roofing and Construction is one of the top roofing contractors in Cork. They have been offering exceptional roof repair services for their valued clients for over 20 years due to their devotion to giving the finest possible service, and they are always accessible to answer any questions you may have.
They are a Cork-based local firm that has been offering roofing and construction services to clients in the area for many years. The organization is led by skilled individuals that are committed to providing their clients with high-quality services.
Safeguard Roofing and Building provides a variety of services, including roof repairs and replacements, as well as pavement and landscaping. The organization is well-known for its high-quality workmanship, reasonable costs, and outstanding customer service.
Their roof repair service is incredibly effective because of their highly skilled and trained roofing firm, which can handle everything from the tiniest repair to the most complex. Their skilled roofers will be able to assess the problem and give a remedy using the appropriate materials, regardless of the size of the work.
Furthermore, their organization has the necessary skills, tools, and equipment to repair your roof effectively. They also provide work warranties. This might provide you with peace of mind knowing that your roof is in capable hands.
Great attention to detail
Affordable rates
Fully licensed and insured
Over 20 years of experience
Customer Review
Highly Recommended 
Anthony and the team were really quick to come in and quote, price was fair. The replacement of our Velux leaking!window only took 1 day, and now we have a beautiful working Velux window. Cleaned up afterwards, would definitely recommend!
Excellent Job Really Happy 
Anthony has been working on my chimney and roof, and I've been impressed with the quality of what he's done.
Professional, friendly, with good communication of updates throughout the project, which posed various challenges.
Thanks again Anthony and the team
No Hesitation in Recommending Had Complete new roof installed. Anthony and his team worked hard throughout and always with friendly professionalism. Their work was completed to a high standard and always checking we were happy with each stage of the works. We have no hesitation in recommending Safeguard Roofing.
4. Cork City Roofing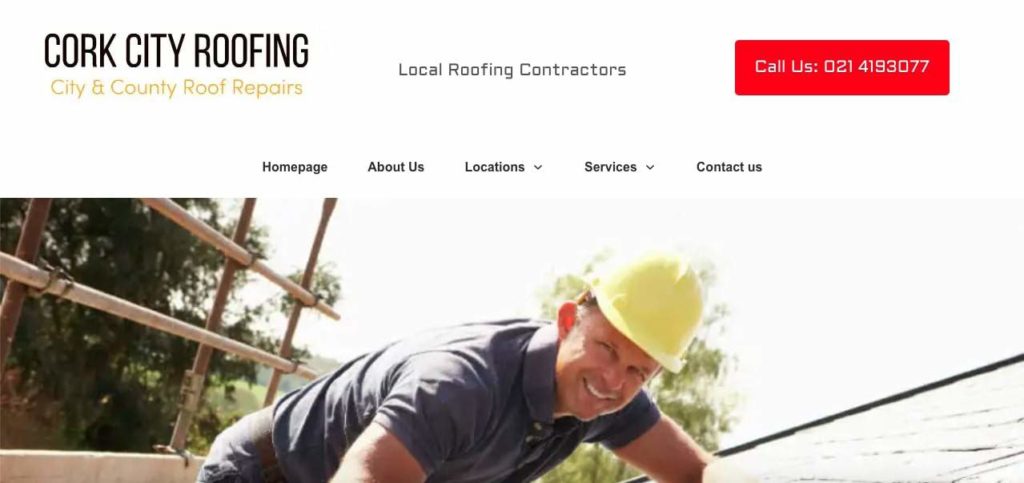 Test
Info
SERVICES
Roofers, Roofing Repairs, Chimney Repairs, Guttering and Downpipes Repairs, Flat Roofing, Roofing Contractors
WEBSITE
https://corkcityroofing.com/
ADDRESS
123 Kilbarry Pl, Farranree, Cork
CONTACT DETAILS
+353 21 419 3077
OPERATING HOURS
Monday to Friday: 8:00 AM to 7:00 PM

Saturday: 8:00 AM to 3:00 PM
| | |
| --- | --- |
| Background | ★★★★★(5/5) |
| Range of services | ★★★★★(5/5) |
| Roofing | ★★★★★(4/5) |
| Other services | ★★★★☆(4/5) |
| Procedures | ★★★★★(5/5) |
| Customer feedback | ★★★★★(5/5) |
| Satisfaction | ★★★★★(5/5) |
| Coordination | ★★★★☆(4/5) |
Cork City Roofing is a fully insured company with over 25 years of experience in commercial roofing, residential roofing and repairs.
What initially impressed us about them are their consistent rules of practice when undertaking a project. They make sure they're punctual with regards to their timeframe and they also provide a no-obligation free quote upon the initial meeting.
Many customer testimonials have mentioned how they were surprised with how fast they got the job done.
If you're looking for a roofing company with consistently efficient processes or you need a project done as quickly as possible Cork City Roofing might be your best bet.
Aside from this, a lot of customer feedback mentions how satisfied they are with the results. Whether it's new construction or repair work, we really like this company's workmanship.
Their roofing services in particular have a great range of applications. They work with all kinds of materials like rubber and PVC fascia as well as cover a wide amount of problem areas like leaks and poor installation.
In addition to this, they also offer additional repairs for features like chimneys and gutters. It's a great one-stop-shop if you're looking to fix your property's upper areas.
We would caution however that their coverage does not include all areas in Cork. Still, Cork City Roofing is an excellent choice for efficient and effective repair work.
Good range of roof repair services
Very efficient and punctual
Excellent results with roof repair work
Can work with all types of materials
Does not fully cover the Cork area
Closed on Sundays
Customer Reviews
Got the Job Done Much Quicker than Expected
We had our new roof installed within weeks! Cork City Roofing and John friendly, professional and got the job done much quicker than we expected. The team that took our old roof off was very nice and they worked incredibly fast, and the same with the instillation. We have a great looking roof for years to come! I highly recommend! –Daniël van Westen
Pleased with the Whole Process
Cork City Roofing did a great job on our roof! Got the estimate from John in a timely manner and was able to schedule the job at a convenient time. John and his crews completed the dry rot repairs and the installation of the asphalt shingles in good order. We now have the best looking and protected roof in our neighborhood. Thanks for a job well done! -Sabrina Graham
5. B&D Roofing and Home Improvements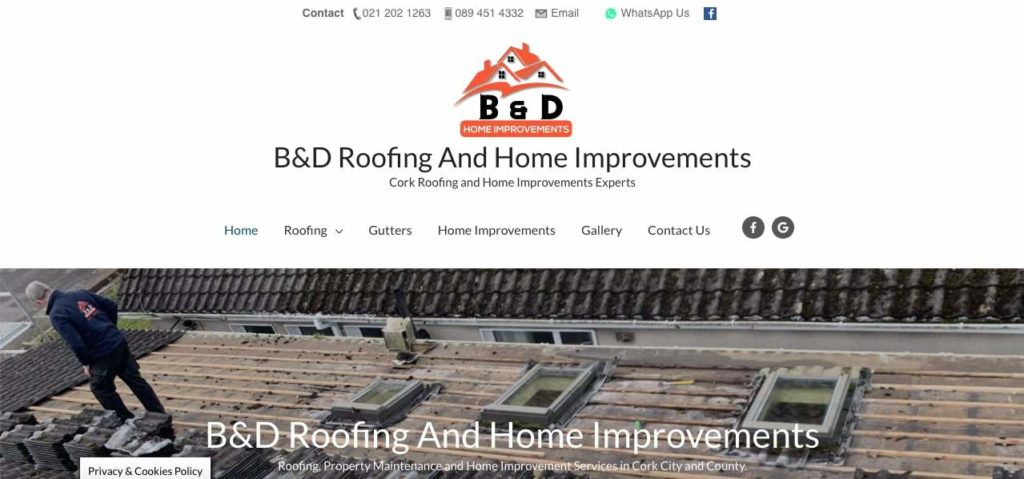 Test
Info
SERVICES
Roofing Services, Property Maintenance and Home Improvements
WEBSITE
https://www.bdroofingcork.ie/
ADDRESS
Cork Area
CONTACT DETAILS
021 202 1263
OPERATING HOURS
Monday to Saturday: 8:00 AM to 8:00 PM

Sunday: 8:00 AM to 5:00 PM
| | |
| --- | --- |
| Background | ★★★★★(5/5) |
| Range of services | ★★★★★(5/5) |
| Roofing | ★★★★☆(4/5) |
| Other services | ★★★★★(5/5) |
| Procedures | ★★★★★(5/5) |
| Customer feedback | ★★★★★(5/5) |
| Satisfaction | ★★★★★(5/5) |
| Coordination | ★★★★★(5/5) |
When it comes to roof repairs paired with property maintenance and upgrading services, we highly recommend B&D Roofing and Home Improvement as a solid option.
With over 20 years of experience, they are fully insured and work with a team of highly experienced professionals.
This is excellent for customers who avail of the full breadth of their services, because their expertise extends to renovating both the inner and outer portion of your property.
We really like that B&D Roofing and Home Improvement can provide you with well informed guidance on different topics, making them especially a perfect choice for new homeowners.
Another great thing about availing their services is that they have no hidden costs. We like that their prices are very competitive and many customers reported how pleased they were with the quotation process.
In terms of their roof repair services, we were very impressed with how varied and unique some of their services are. For example, under the category of slate and tile roofing, they can have velux windows installed and replace rotting roofing timbers.
However, take note that under this category as well, their materials are limited to clay or terracotta, concrete and metal.
Another big reason as to why we are so impressed with their range of services is that customers can also avail of home improvements like kitchen renovations, plastering and insulation.
It makes a consultation and meeting with them even more worthwhile. If you're looking for an all in one repair provider, B&D Roofing and Home Improvement is your best bet
Provides services throughout all of Cork
Also offers home improvement services
Great depth in applications for roofing repair
No hidden costs
Close earlier on Sundays
Limited range of materials in slate and tile roofing
Customer Reviews
Did an Excellent Job
Was very happy with B&D Roofing. I got my gutters cleared, fascia and soffit cleaned and they did an excellent job, very pleasant guys to deal with and would definitely recommend them. -Anne Hennessy
Great Job and Super Efficient
We had a great experience with B&D. Brendan was really helpful and all the guys he got for the job were lovely to deal with. Brendan gave us a very good quote initially and was able to bring that down a little on the day based on the job that needed to be done. The job was done before Christmas, which was great, and they were super efficient on the day itself. They fixed the issue and advised on what we might need to do in future. We would 100% recommend. -Omer
6. Cork Roofing Services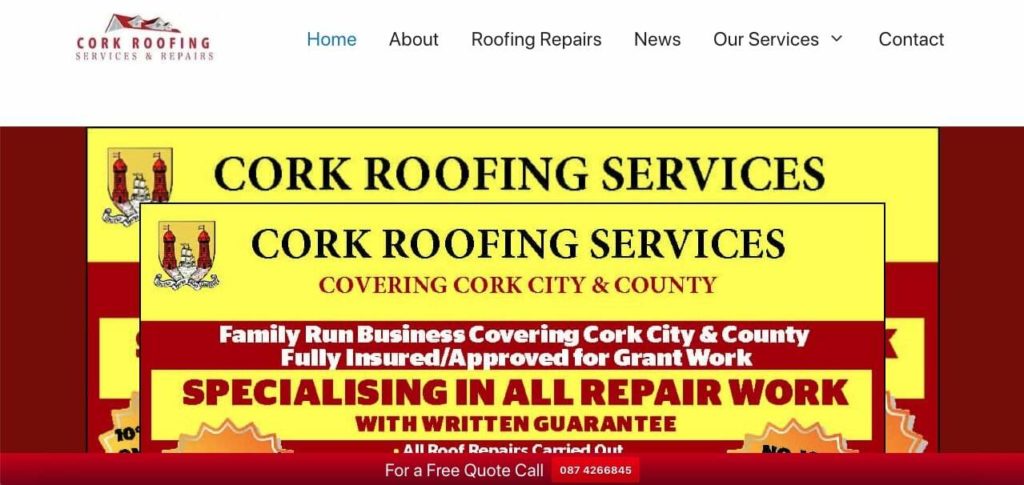 Test
Info
SERVICES
Chimney Flashing, Slate or Tiled Roofs, Waterproof Installed, Waterproof Repair, Felt Roofing Repairs, New Roofs Installed, Lead Valleys Repair, Roofing Maintenance, Fascia and Soffit, Gutter Cleaning, Single Ply Roofing, Chimney Builds, Single Ply
WEBSITE
http://corkroofingservices.com/
ADDRESS
10 Prosperous Pl, Thomas Davis St, Blackpool, Cork
CONTACT DETAILS
021 206 3269
OPERATING HOURS
Monday to Friday: 8:00 AM to 6:00 PM

Saturday: 9:00 AM to 3:00 PM
| | |
| --- | --- |
| Background | ★★★★★(5/5) |
| Range of services | ★★★★★(5/5) |
| Roofing | ★★★★★(5/5) |
| Other services | ★★★★★(5/5) |
| Procedures | ★★★★★(5/5) |
| Customer feedback | ★★★★★(5/5) |
| Satisfaction | ★★★★★(5/5) |
| Coordination | ★★★★★(5/5) |
With a variety of services addressing different roofing materials, Cork Roofing Services has a great amount of options for those looking for a comprehensive experience.
They are a family run business that is fully insured and also has approval for grant work.
What initially stood out to us is that their pricing structure has a lot of advantageous features. This covers not including callout charge as well as offering free quotations.
Additionally, they also accept Visa and debit cards so if you're looking for a roofing service with flexible payment options, you may want to check them out.
If you are however looking to contact them, please be advised that they are closed on Sundays and they have different contact numbers for different areas of Cork.
We were also very impressed with how in-depth their roofing services are. They're known as specialists for flat roofs, and they're a great choice if you're looking for advice in this category.
All of their services also extend to both big and small properties as well as both private and commercial customers. We like how adaptable they are in this regard to different types of customers looking for specific repair work.
Uniquely, unlike most other roofing companies, they offer waterproofing installation and repair. In this service particularly, we like that they pay great attention to the effectiveness of the materials they are using.
Aside from this, they can also work with gutter cleaning, chimney rebuilds and even minor repair work. Cork Roofing Services is the way to go if you're looking for a company that is highly adaptable to your roofing needs.
No call out charge and free quotation
Customer praise for their communication and coordination
Great amount of options for waterproofing and weather resistance works
Use high quality materials
Closed on Sundays
Different areas of Cork have different contact numbers
Customer Reviews
Process was Quick, Answered All my Questions
Highly recommend Cork Roofing Services. Working with Tom was a pleasure and he took the time to answer all my questions. Process was quick, New roof stepped lead flashing was done right away, and was a quality and professional installation. Work crews were professional and performed the work with great care. -Michael Henry
Excellent Price and Service
We hired Tom and Cork Roofing Services to Install new tile roof . Tom and his team were exceptional. Great price! Great service! Great follow-up! Highly recommend his team. -Joon Clever
7. AluPro Roofers Cork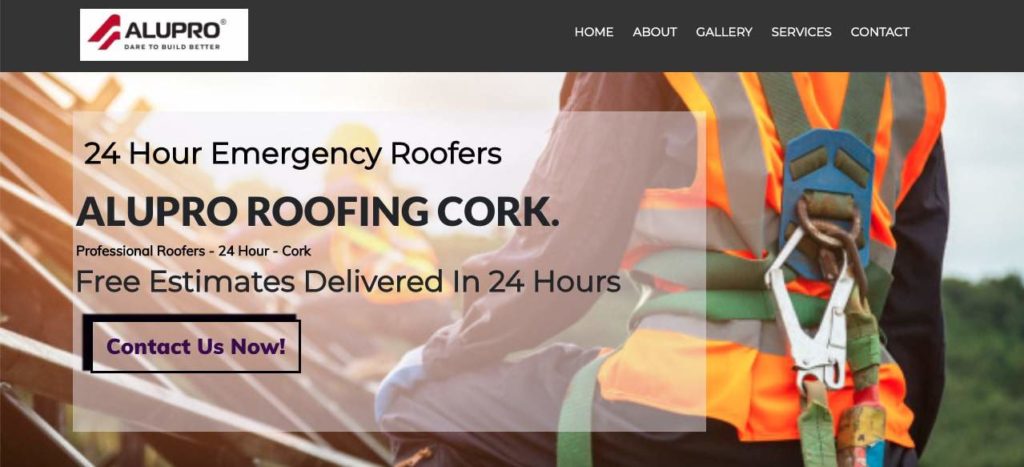 | Test | Info |
| --- | --- |
| SERVICES | Slate and Tiled Roof Repair, PVC Facia and Soffit, Lead Valley Repairs, New Roofs, Chimney Rebuild and Repairs |
| WEBSITE | https://aluproroofers.com/ |
| ADDRESS | unit 2, Rathmore Rd, Blackpool, Cork |
| CONTACT DETAILS | 353216019597 |
| OPERATING HOURS | Monday to Saturday: 9:00 AM to 7:00 PM |
| | |
| --- | --- |
| Background | ★★★★★(5/5) |
| Range of services | ★★★★☆(4/5) |
| Roofing | ★★★★☆(4/5) |
| Other services | ★★★☆☆(4/5) |
| Procedures | ★★★★★(5/5) |
| Customer feedback | ★★★★☆(4/5) |
| Satisfaction | ★★★★☆(4/5) |
| Coordination | ★★★☆☆(3/5) |
AluPro Roofers Cork aims for both quality and safety when it comes to executing their roofing projects.
With over 30 years of experience, they have since expanded their skill sets, techniques and technology used in order to give customers the best results. We really appreciate how they continuously update and try to improve their processes and materials.
We also greatly appreciate how considerate they are when it comes to their construction projects. Notably, there were past customer experiences with roofing issues and they provided temporary repair in order to protect the property from rain.
We were impressed in this way how they are able to compensate for the customer's safety throughout the entire process even when the project is not yet finished.
AluPro Roofers Cork has a gallery of past projects showing how clean and seamless their repair work is. We highly recommend them if you're looking for a company that thinks about both the effectiveness of the build but also how the end result looks like.
Uniquely, they can also provide help and assistance for storm damage claims. This is very convenient especially since they offer services for both waterproof repair and installation.
Speaking of their list of services, we do admit that they are more limited compared to other companies, but still a solid selection of offerings nonetheless. These include slate and tiled roof repair, new roof installation, and PVC Fascia and Soffit.
AluPro Roofers Cork is a wonderful option if you're looking for a curated list of services that continuously updates their processes and tools.
Use the latest techniques and tools
Very detail oriented process
Can help with storm damage claims
Extensive background and impressive look of past projects
More limited amount of services offered
Some past customer experiences describe communication problems
Customer Reviews
Great Professionalism and Outstanding Service
Had PJ and the team over to work on my roof and they did an absolutely amazing job!
From the very moment I reached out to get a quotation up until the completion of the job I witnessed great professionalism and an outstanding service! Couldn't recommend AluPro highly enough! PJ waterproofed and re-slated the main roof of my property, repaired the flat roof on my extension and brought my completely tarnished two chimneys back to life! And all that for a very fair price, in comparison to the other quotes I got. Thank you guys! -Edward Babinyan
Outstanding Integrity
AluPro Roofers Cork is one of the BEST companies I have ever dealt with. ! They replaced on of the roofs on my house after a leak and then cam back and they even did the interior repair for me and my Daughter. Their Technician Pj are as professional as can be, but the most important thing is that the kept all of their promises and their integrity is outstanding, Thank you . -Max Ryker
8. Everbuild Roofing and Building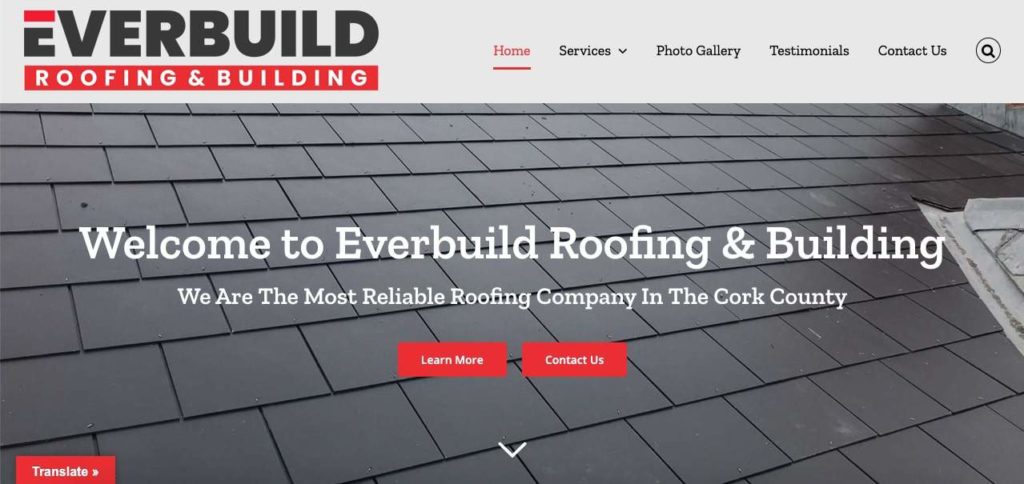 | Test | Info |
| --- | --- |
| SERVICES | Attic Insulation, Guttering, Roof Repairs, New Roofs, Chimney Repairs, Painting, uPVC Fascia and Soffits, Plastering |
| WEBSITE | https://www.everbuild.ie/ |
| ADDRESS | Unit 106 Commerce House, 14 Washington Street West, Cork |
| CONTACT DETAILS | 087 4446577 |
| OPERATING HOURS | Open for 24 hours Monday to Saturday |
| | |
| --- | --- |
| Background | ★★★★★(5/5) |
| Range of services | ★★★★☆(4/5) |
| Roofing | ★★★★☆(4/5) |
| Other services | ★★★★☆(4/5) |
| Procedures | ★★★★★(5/5) |
| Customer feedback | ★★★★★(5/5) |
| Satisfaction | ★★★★★(5/5) |
| Coordination | ★★★★★(5/5) |
With a comprehensive list of property repair and renovation services, Everbuild Roofing and Building is an excellent choice for customers looking for a hassle free experience.
Customers will greatly appreciate their solid list of credentials and certifications. They have numerous years of industry experience, have full public liability insurance, and are safe pass certified.
We like that they skip no details when it comes to establishing their standards before any project. Furthermore, we really like that Everbuild Roofing and Building ensures the use of high quality materials when it comes to repairs and renovations.
This is especially great since their services have such a varied list of applications on different parts of the property. Their offerings also cover both Cork City as well as the wider Cork County area, able to reach a broad range of customers.
Speaking of their catalog of services, what we like about their roof repair in particular is that their procedure takes into account inspection before taking action. This allows them to give proper advice when the time comes to execute the plan.
Although we do note that these roof repair services are more limited in scope as compared to other contractors, their gallery showcases that they produce quite clean results.
Another note of praise for Everbuild Roofing and Building is that they have other services that work great in tandem with roof repairs. For example, customers can opt for interior and exterior painting and plastering for repair and aesthetic purposes.
In summary, they are a great choice if you are looking for additional property maintenance services alongside an excellent roof repair job.
Has additional services like interior and exterior painting
Conducts an in-depth inspection before repair
Extensive background and list of certifications
Cover both Cork City and Cork County areas
Comparatively more limited range of roof repair services
Closed on Sundays
Customer Reviews
Did Everything Professionally and Perfectly
The team at Everbuild Roofing were Fantastic. From step one on the inspection to the final process of replacing our roof due to storm damage. They did everything and did it professionally and perfectly. They always went above and beyond doing a great job and even cleaning up each day when working so that we never got nails in our tires. Entire team did a great job. I have and will continue to refer others to them for their roof inspections and repairs. They were the best contractors I've ever used for a roof. – Harold Simmons
Extremely Knowledgeable
Professional top quality from beginning to end. I was referred to Everbuild Roofing and they did not disappoint. Technician was extremely knowledgeable and explained every step of getting us a new roof. The installation crew was completely amazing. They arrived on time and even worked through a storm to insure my roof was installed correctly. I could not be happier with my experience. Thanks. -Dominic Austin
FAQs about Roof Repair
---
With the right type of contractor, your roofing problems can be solved in no time. We hope our list helped in exploring your options out there and if you would like to read more we also have an article on the best electricians in Cork.