The 5 Best Web Design Companies in Limerick
Don't have a website yet for your business? Then, that may be one area where you're lagging behind your competitors.
If you need a professional to do it for you, our top picks for the best web design companies in Limerick can help!
And don't worry if the website you need is not exactly for retail purposes. Our choices have experience working with other industries as well.
Plus, this article also has info on some computer terms and tips to help you choose the right web design company.
Web Design Costs in Limerick
Most likely, you'll need to request a quote to know how much you need to spend to set up a website since your needs and requirements may not be the same as other clients.
However, some of our featured choices gave info on their rates, which you can view in the table below.
WEB DESIGN COMPANY
SERVICE 
COST 
O'Connor Web Design
Web design
Need to contact
Web maintenance
SEO and Google ranking
AGENT Digital
WordPress support & maintenance plans
– Essential
€47/month
– Starter
€77/month
– Standard
€138/month
Shopify websites
– Starter Shopify store
From €1,499
– Personalised Shopify store
From €3,749
– Custom Shopify store
From €8,999
Budget SME packages
– Mini
€ 499
– Starter
€ 1,499
– Standard
€ 2,499
– E-commerce
€ 3,999
Digital marketing
– Digital audit + strategy
€1,999 (once-off)
– SME plan (5-50 employees)
€999/month
– Corporate plan (50+ employees)
 €1,999/month
Click on the following to view rates for specialised sectors:
–       Legal
–       Manufacturing 
–       Healthcare 
Piquant Media
Website design & development
Need to contact
Graphic design
Brainstorm
Website design
Need to contact
Graphic design
SEO & marketing
Designworx 
WordPress web design & development
From €75/hour
Page speed tuneup
€ 169
Mobile & responsive design
From €399
Malware removal & cleanup
€ 199
WordPress hosting
From €16/month
Browser & device testing
€ 249
Full WordPress site migration
 € 99
WordPress maintenance plans
– Starter
€29/month
– Business
€49/month
– Enterprise
€99/month
The Best Web Design Companies in Limerick
Enough talk—let's head straight to our choices for Limerick's best web design companies!
1.   O'Connor Web Design
SERVICES
Web design, web maintenance, and SEO & Google ranking
WEBSITE
https://oconnorwebdesign.ie/
ADDRESS
Corcamore, Clarina, Co.Limerick
CONTACT DETAILS
087-9384487


[email protected]

OPERATING HOURS
10:00 am to 8:00 pm (Monday – Thursday)
10:00 am to 5:00 pm (Friday)
10:00 am to 12:00 pm (Saturday)
Since 2014, O'Connor Web Design has built over 250 websites for both Ireland and UK clients.
Aside from developing websites that are user-friendly and mobile-responsive, O'Connor Web Design also offers e-commerce upgrades and social media integration.
Furthermore, you can avail of their maintenance packages which include plugin and core updates, e-commerce updates, as well as content and image changes. These you'll need because, of course, websites aren't just created but maintained and updated as needed.
O'Connor Web Design also provides SEO and Google rankings maintenance. Speaking of SEO, each website they create comes with a standard SEO package.
And if you've already got a website, they can also provide site SEO to help it land high on Google's rankings.
Nevertheless, compared to its competitors, O'Connor Web Design's services are noticeably limited. For example, there's no mention of print services, motion graphics, among others.
At least, they're open until Saturday, so that's a plus for availability.
Open until Saturday
Portfolio available
Free quotations
Limited services compared to others
Closed on Sundays
Customer Reviews
While O'Connor Web Design's services may be limited compared to others, they provide quality services based on the reviews below:
"Really excellent service! The quality of the work was excellent. Niall spent an hour listening to me describe our business in detail. Niall was so pleasant when I requested minor changes. A pleasure to deal with! we will be definitely working with O'Connor Webdesign again in the future!" -Daniel Daffy
"Very good professional service." -Antoinette Blake
"Niall was very accommodating and understanding. The main advantage I am now able to carry out small updates to my web site when ever I want." -Seamus Moran
2.   AGENT Digital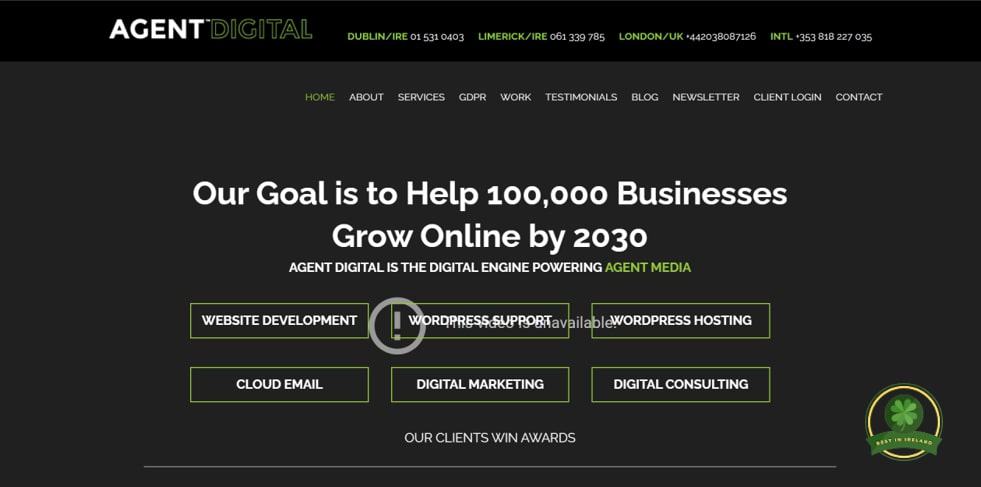 SERVICES
Graphic design, digital marketing, website development, website speed optimisation, video, and consulting
WEBSITE
https://www.agent.media/digital/
ADDRESS
Unit 4, Riverfront, Howleys Quay, Limerick
CONTACT DETAILS
+353 (0)61 339 785


[email protected]

OPERATING HOURS
9:00 am to 5:30 pm (Monday – Friday)
If you're looking for a web design company that offers a wide array of services, try AGENT Digital. It's a digital agency with 6 offices—2 in Ireland, while the rest are overseas.
Web hosting, graphic design, digital marketing, speed optimisation, SEO, web development—these are just some of their services you can avail of. Moreover, they work with several content management systems, including WordPress, Drupal, Shopify, among others.
While AGENT Digital states that a website design and development project with them costs about €10,000, they do offer a number of budget SME website design packages. Prices (exclusive of VAT) range from €499 to €3,999, so there's a package for everyone's budget size.
Moreover, they have worked with big clients such as The Body Shop, Vodafone, Land Rover, and Johnson & Johnson, to name some. Working with a variety of clients means they've got experience handling different sectors, particularly in the legal, healthcare, and manufacturing industry.
Another thing we'd like to mention about them is their client testimonial section as it not just contains feedback about AGENT Digital, but also actual videos of the clients they've worked with.
Multiple offices
Has worked with big clients
Portfolio available
Extensive list of services
Offers free 1 month trial for WordPress hosting
Offers free website & digital audit
No team info on website
Closed on weekends
Customer Reviews
Find out what some clients think about AGENT Digital in the comments below:
"A very professional and knowledgeable service. Kevin Meaney and the team at Agent are highly recommended." -E Hoyne
"Kevin offers fantastic advice on SEO and getting your business the reconition it deserves online." -Tony McMahon
"Excellent experience with service setting up a website. Highly recommend." -Kevin Buchholtz
3.   Piquant Media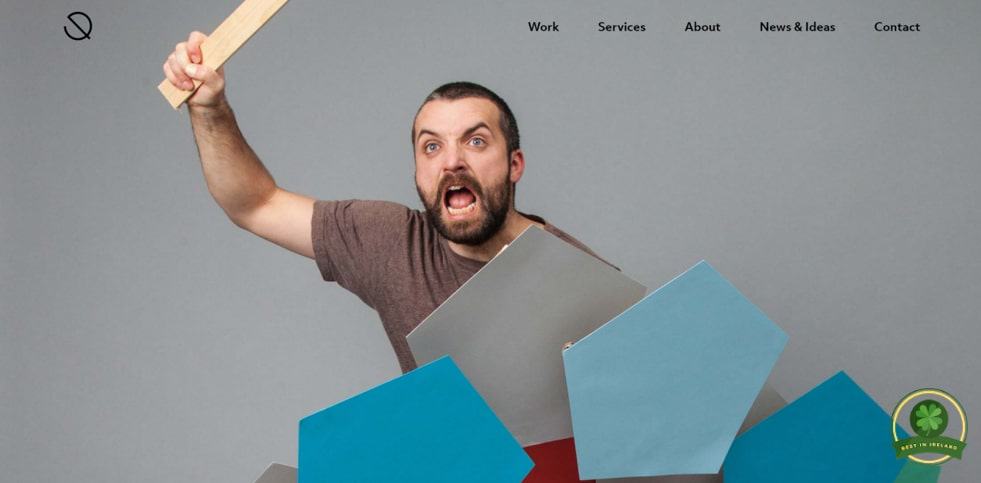 SERVICES
Brand development, campaign management, graphic design, media production, motion graphics, and website design & development
WEBSITE
https://piquant.ie/
ADDRESS
99 O'Connell Street, Limerick City
CONTACT DETAILS
+353 (0) 61 597512


[email protected]

OPERATING HOURS
9:00 am to 5:00 pm (Monday – Friday)
Don't be thrown off by the first thing you'll see when you visit Piquant Media's website.
Upon exploring, this digital media company's own website features a fresh and modern design. Content-wise, we found it to be professional and original.
Located in the city, Piquant Media handles web design projects for businesses, NGOs, government agencies, as well as educational institutions.
They also explain in detail how they can help clients in terms of web design and development. Some of the things they offer are Drupal and WordPress development, e-commerce solutions, and SEO.
Likewise, they can also help with the migration of content from one CMS to another, review security practices and determine the areas where you might improve, and give custom CMS training. Meaning, the tutorials they make are specifically for your web project.
And compared to other web design companies, Piquant Media's website provides info on its team members. We did notice, though, that among their staff, only one is designated as a web developer, while there were more graphic designers.
Office located in Limerick City
Offers motion graphics & media production services
Portfolio available
Only 1 web developer in team
No mention of web hosting services
Customer Reviews
What was the experience of clients who've worked with Piquant Media? Read the following reviews:
"We work with most of the departments in Piquant and the standard of their work is very high. Everybody is very creative, super talented and they all really want to do good work. They made a huge effort when a couple of our deadlines were really tight, and that's the measure of a great agency. They are a trusted partner now. Would heartily recommend that you get in touch with them before you start your next project." -Brian Griffin
"I worked with Piquant on a video, brand work and web development project for my upcoming international academic conference. The team were so professional, I always felt I was in safe hands. Their project management is impeccable! The video produced is beautifully shot helped no doubt by the level of research undertaken by the videographer. The end result is superb. . ." -Annmarie Ryan
4.   Brainstorm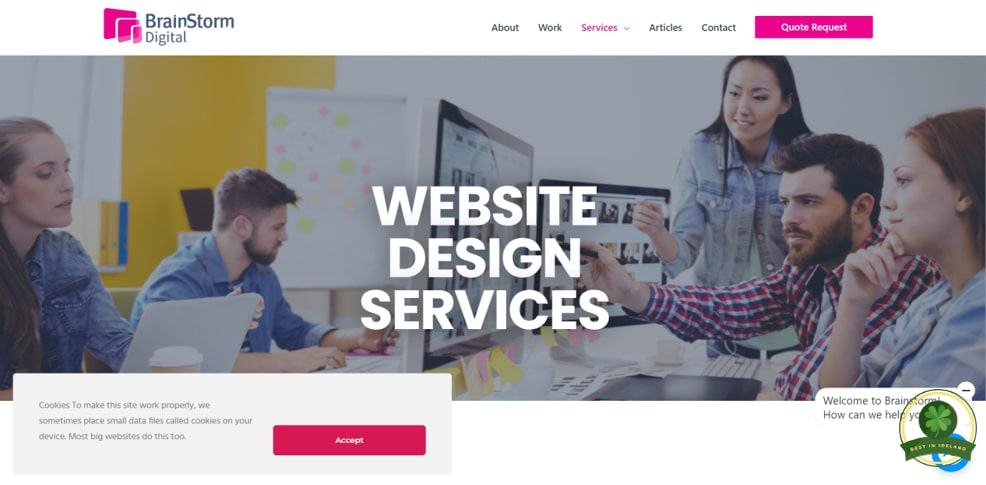 SERVICES
Website design & development, graphic design, and SEO & marketing
WEBSITE
https://brainstorm.ie/
ADDRESS
River Court Business Centre, Cornmarket Row, Limerick
CONTACT DETAILS
+353 (0)61 748 278


[email protected]

OPERATING HOURS
Always open
Brainstorm has been designing websites since 2008. They're another web design company with an international presence as you can find them in Vancouver, Canada.
While their range of services seems similar to other companies, we did take note that they are a professional member of the Institute of Designers in Ireland (IDI).
IDI is a cross-discipline design network, which boasts of being the "largest and oldest association of Irish design professionals."
Since it's important for a site to be accessible for different devices, clients will be happy to know that Brainstorm creates websites that are fit for multiple devices, including emerging devices such as wearables.
To add to the user experience, they also place an emphasis on creative responsive web design and providing users with a convenient user interface for seamless browsing.
Moreover, they also offer motion graphics and animation services (e.g. 2D to 3D, frame-by-frame animation, etc.), including script and storyboarding. On the other hand, some of their digital marketing services include social media marketing, content creation, and campaign management.
Multiple offices
IDI professional member
Portfolio available
No mention of web hosting services
No team info on website
Customer Reviews
Brainstorm also has experience working with film festival projects. Take a look at their clients' feedback below:
"Brainstorm facilitated a full re-brand of the festival including logo and brochure design. We were delighted with the design from first draft to completed brochure. Brainstorm were able to capture the essence of the festival and understood the key aspects that we were looking to achieve in our branding and design. We will continue to work with Brainstorm for our design needs as they offer an on point service with prompt response. 5*" -Kerry Film Festival
"Brainstorm offered great advice and were continuously contactable via phone or email during the build process to ensure the requirements we had were met. Having now built 2 websites for us, Dave @Brainstorm is full of ideas and implements them quickly and satisfactorily. Looking forward to working with Brainstorm on next website for RHIFF." –The Richard Harris International Film Festival PR
5.   Designworx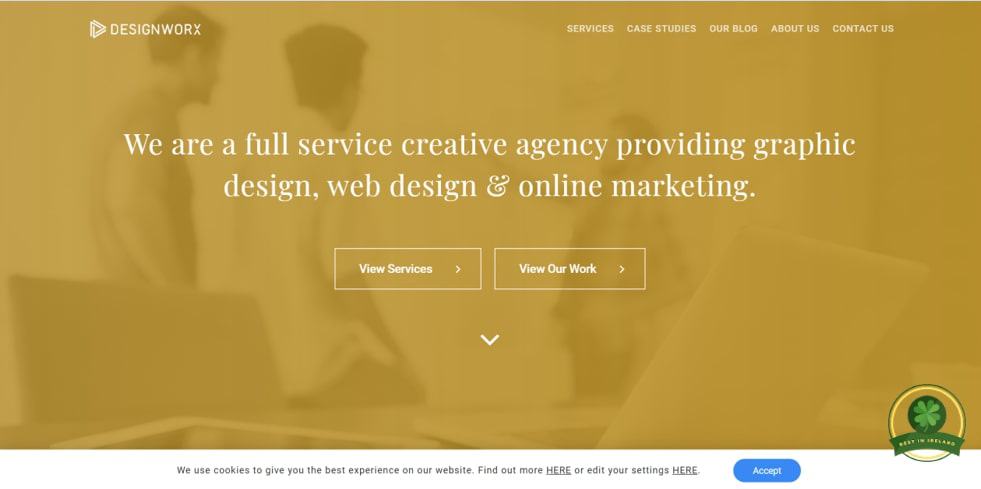 SERVICES
Logo design & branding, graphic design & print, web design & user experience, web development, SEO & online marketing, ongoing web support, and WP Review Funnel
WEBSITE
https://www.designworx.ie/
ADDRESS
River Court Business Centre, Cornmarket Row, Limerick, V94 FVH4
CONTACT DETAILS
+353 (0)61 51 3000


[email protected]

OPERATING HOURS
9:00 am to 5:30 pm (Monday – Friday)
Also located in Cornmarket Row, Designworx is a web and graphic design agency established in 2003.
They're pretty straightforward in discussing most of their services. Some of what they offer are logo design and branding, graphic design and print (e.g. infographics, brochure design, social advertising, etc.), and SEO and online marketing.
Concerning web design and development, Designworx's services include WordPress, custom web development, plugin development, web applications, among others.
They also offer a range of WordPress services which include pricing info, so clients can have a clearer idea of how much they'll need to spend. For instance, Designworx's web hosting services are from €16 a month, site migration is at €99, and malware removal and cleanup is priced at €199, to name a few.
Furthermore, you can also avail of their WordPress maintenance plans, which range from €29 to €99. You can pay monthly or annually, but according to them, you can save up to €192 with their annual pricing plans.
Offers a range of WordPress services
Portfolio available
Lower rates for annual pricing plans
No mention of video production services
Closed on weekends
Customer Reviews
These clients particularly mention Michael O'Callaghan, Designworx's director in their remarks. Check out what they have to say about him:
"Excellent website developing company with great patience! Offering new ideas, ecommerce design and rapid turnaround making it a much easier process than I had anticipated. Delighted with my new website, thank you so much Michael." -Ann Daly
"Designworx rocks, Michael has amazing work ethic that shows in every way. Full worth every penny." Helena Simon
"Michael was great to deal with and very efficient and precise in the way he worked on our website. He makes sure every last detail is taken care of meticulously to ensure everything to do with our logo design and web design is to the highest standard that it could be! A gentleman to deal with we could not recommend him more." -Joe Murphy
Tips for Selecting a Web Design Company
Similar to picking any other service provider, there are things you need to think about and consider when you choose a web design company:
1. Check their portfolio
Many web design companies have a section on their website that contains samples of their past projects.
Thus, you'll be able to take a look at the websites they've designed and developed for other clients. Does it look appealing? Is it user-friendly?
Moreover, you'll also know about the types of clients they've worked with in the past—if they have experience with a diverse group of sectors.
Look particularly for their projects for clients who belong to the same industry as you.
And speaking of clients, see if they've worked for popular brands. But if not, this doesn't automatically mean they're not at par with others who have—just something to keep in mind.
2. Other services
Crafting a beautiful and competitive website that's going to bring in customers and profit isn't just all about coding and design.
There is other work involved such as SEO, digital marketing, branding, logo design, and so forth. Good thing, many web design companies also offer these services.
Especially, if your business is just starting out, ask them how they can help you on these matters.
Moreover, some even offer photography and video production services. These can really enhance your website's content, so it'd be a good idea to look for web design companies that also offer these.
3. Know what you'll be paying for
Like we mentioned earlier, creating a great website involves different types of services. Hence, be sure to know exactly what you need to pay for to help ensure that your expectations are met.
For instance, if you're availing of a website design package, inquire about what is and what's not included.
Is SEO, web hosting, maintenance, and so on included? How much will I need to add to avail of video production? These are some of the questions you may ask.
FAQs about the Best Web Design Companies in Limerick
---
And that's it for our list of the best web design companies in Limerick! Hopefully, you get your dream website via any one of our top choices.
We may have missed other web design companies that should also be on this list, so kindly tell us your picks! We'll check them out ASAP!
What about the best web design companies in the whole country? If you're curious, you can read our list of the best web design companies in Ireland!