Best 5 Must-Visit Restaurants in Waterford
Being Ireland's oldest city, Waterford is rich in heritage and history. This town was founded by the Vikings in 914AD, making it one of the best cities to explore in the country.
And the best way to do it—food tours! It's a more delicious way to explore the culture, the locals, and everything else that Waterford has to offer.
Average Meal Costs in Waterford Restaurants
Cost per meal varies depending on the restaurant, but to give you an idea of how much each meal may cost per person in Waterford, here's a table for you:
| | AVERAGE COST PER MEAL |
| --- | --- |
| Breakfast | €10-15 |
| Lunch | €20-25 |
| Dinner | €30-40 |
Top Restaurants Worth Visiting in Waterford
The following factors are our guide in reviewing the best restaurants in Waterford:
1. Momo Restaurant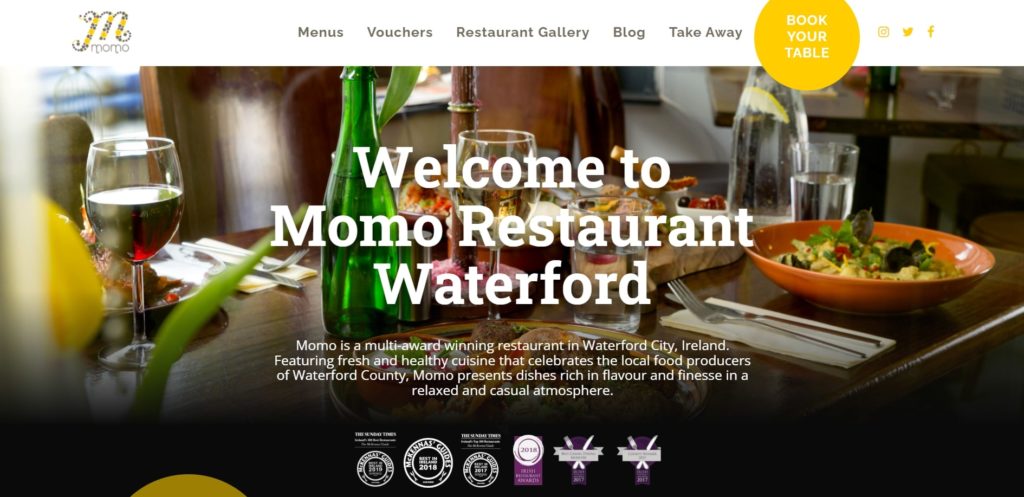 Test
Info
WEBSITE
https://momorestaurant.ie/
ADDRESS
47 Patrick St, Waterford, X91 DX49, Ireland
CONTACT DETAILS
+353 51 581 509
OPERATING HOURS
Tuesday - Saturday: 12:00 PM - 3:00 PM; 5:00 PM - 9:00 PM

Sunday: 1:00 PM - 8:00 PM
| | |
| --- | --- |
| Budget | ★★★★★ (5/5) |
| Price Range | ★★★★★ (5/5) |
| Value for Food (Higher score = better value) | ★★★★★ (5/5) |
| Location | ★★★★☆ (4/5) |
| Atmosphere | ★★★★☆ (4/5) |
| Accessibility | ★★★★☆ (4/5) |
| Food Quality | ★★★★★ (5/5) |
| Taste & Freshness | ★★★★★ (5/5) |
| Food Presentation | ★★★★★ (5/5) |
| Variety | ★★★★☆ (4/5) |
| Reputation | ★★★★★ (5/5) |
| Reviews & Recommendations | ★★★★☆ (4/5) |
| Customer Service | ★★★★★ (5/5) |
For customers who are very conscious about their health, we recommend trying Momo Restaurant. It's one of the restaurants in Waterford that cater to the dietary needs of its customers, which to us is pretty amazing!
First of all, the restaurant has vegan options as well as gluten-free options. The staff actually makes sure about your dietary needs and we appreciate that they can actually recommend dishes once you tell them your preferences.
Second, there's a variety of cuisines where you can choose from, so there's always something for everybody. Even the pickiest eater will be satisfied after dining at Momo!
In fact, we're lucky enough to talk to some of the restaurant's patrons, and they told us that they usually bring their picky eater friends at Momo's to make sure they also enjoy their food. The cosy atmosphere also adds to the perfect dinner setting as well!
We also want to commend the staff for being efficient with their service—the food is served fast and fresh. We also like that they're very attentive to customers and immediately attend to their needs.
We also love that even with all of the quality service and quality food, Momo is reasonably priced. You'll be surprised at the menu once you see it–an affordable and quality meal isn't that hard to achieve after all.
Perhaps the only thing that might turn you off is the surrounding area. When you dine at night, the surrounding area's quite dark—it's a safe neighbourhood though so you won't compromise your safety even if you come for dinner.
Also, we recommend booking in advance. Momo Restaurant can get quite busy, and if you want a hassle-free dining experience, you might as well reserve a table in advance.
Has vegetarian options
Has gluten-free options
Caters to dietary needs
Cosy atmosphere
Reasonably priced
Variety of cuisines
Generous servings
Food is served fresh and fast
Kind staff
Efficient booking system
Surrounding area can get a little dark at night
Can get a little busy
Advanced booking recommended
Customer Reviews
Vegan-friendly restaurant
We went to this restaurant because it had been recommended by the taxi driver from the airport. As the only vegan in our group I was pleased to see several vegan options on the menu. The staff were efficient and had a good knowledge of vegan food. I had three courses and the food was all very tasty. — Edward H, Trip Advisor
Excellent food and atmosphere
This is (one of the) best restaurants in town. Everything was okay. We had a reservation, which is strongly recommended. Service was great, we had a nice chat afterwards as well. The food was excellent, just like the atmosphere. Several families were celebrating some event there, friendly for kids. A place where you will come back! Which we did the next day — Wim Rietberg, Google Reviews
2. McLeary's Restaurant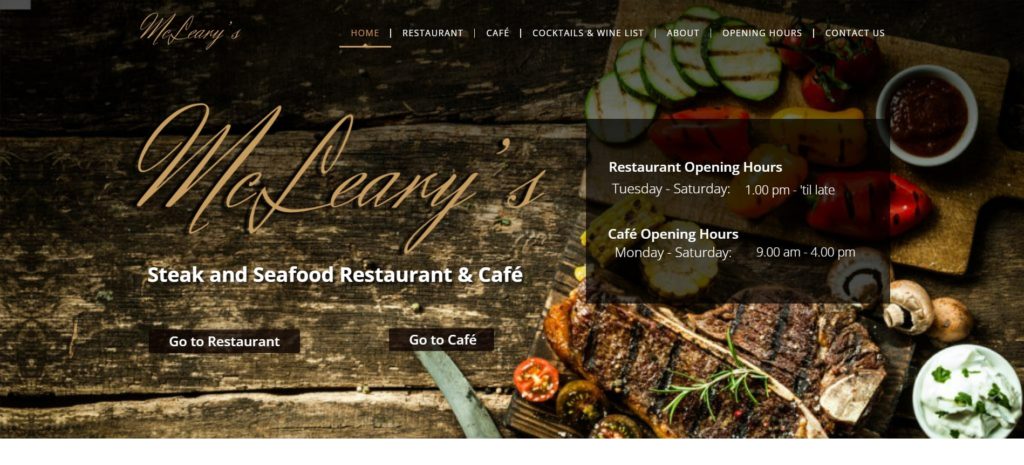 | Test | Info |
| --- | --- |
| WEBSITE | http://mclearys.ie/ |
| ADDRESS | 122 Parade Quay, Waterford, X91 NN59, Ireland |
| CONTACT DETAILS | +353 51 853 444 |
| OPERATING HOURS | Tuesday - Saturday: 1:00 PM - 9:00 PM |
| | |
| --- | --- |
| Budget | ★★★★★ (5/5) |
| Price Range | ★★★★★ (5/5) |
| Value for Food (Higher score = better value) | ★★★★★ (5/5) |
| Location | ★★★★★ (5/5) |
| Atmosphere | ★★★★★ (5/5) |
| Accessibility | ★★★★☆ (4/5) |
| Food Quality | ★★★★☆ (4/5) |
| Taste & Freshness | ★★★★★ (5/5) |
| Food Presentation | ★★★★☆ (4/5) |
| Variety | ★★★★☆ (4/5) |
| Reputation | ★★★★☆ (4/5) |
| Reviews & Recommendations | ★★★★☆ (4/5) |
| Customer Service | ★★★★☆ (4/5) |
McLeary's Restaurant is a family-friendly restaurant in Waterford that has several food options for everyone. So if you have kids or have companions with kids, we recommend booking a table in advance.
One thing that tells us that it's a good restaurant is the fact that it's recommended by the locals in the area. We asked them which restaurant we can try, and they all pointed us towards McLeary's—so yes, it's local-approved!
There's a variety of food to choose from so even if you have a companion who's very picky with food, we're pretty sure they'll have something to eat. We also love that there's gluten-free options and vegan options for those who are watching their health.
We love the atmosphere as well—the interior is lovely and the restaurant even uses candles at times! This makes the setting a little more intimate, so we think it's also probably good for dates.
Another thing we admire is how the place is being run by the owner. The staff are friendly and very good with kids, and the owner has a habit of checking per table to see if customers have complaints or need anything else—top-notch customer service!
Pricing is good too, so there's no need to spend too much for good food. We love that the serving is huge as well so you'll really get your money's worth.
The only problem we see is the overseas booking system. Some foreign travellers told us they had a hard time booking because no one's answering the phone.
McLeary's is always fully booked so there's a need to book in advance. Otherwise, you'll find yourselves lining up during peak hours, and that's not convenient at all.
Family-friendly restaurant
Staff are good with kids
Good atmosphere
A lot of food options
Excellent customer service
A local favourite
Huge servings
Vegan-friendly
Has gluten-free options
Lovely interior
Intimate setting
Owner loves to check customers per table
Always fully booked
Doesn't answer phone at times for reservation
Customer Reviews
Perfect family-friendly restaurant
Food and service was great! We're a family of four with two kids 9 and 12 and they were great with the kids. Service was very attentive and helpful when ordering. It would be difficult to not find something that you like on the menu… many options. — Jace B, Yelp
Fantastic mains and desserts
Charming Irish hospitality with fabulous local cuisine. The lamb, seafood pie & fish chips were all delicious. If you like crème brûlée, their Baileys are amazing. Staff is knowledgeable and very friendly. A great night out — Deb W, Trip Advisor
3. Everett's Restaurant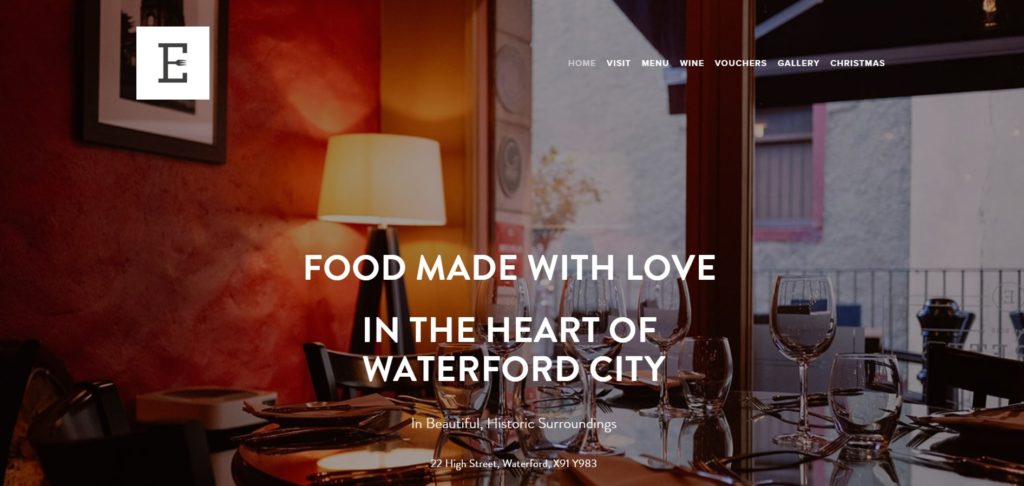 Test
Info
WEBSITE
https://www.everetts.ie/
ADDRESS
22 High St, Waterford, X91 Y983, Ireland
CONTACT DETAILS
+353 51 325 174
OPERATING HOURS
Tuesday to Saturday: 5:30 PM - 9:30 PM

Friday & Saturday: Also open from 12:30 PM - 2:00 PM
| | |
| --- | --- |
| Budget | ★★★★★ (5/5) |
| Price Range | ★★★★☆ (4/5) |
| Value for Food (Higher score = better value) | ★★★★★ (5/5) |
| Location | ★★★★★ (5/5) |
| Atmosphere | ★★★★★ (5/5) |
| Accessibility | ★★★★★ (5/5) |
| Food Quality | ★★★★★ (5/5) |
| Taste & Freshness | ★★★★★ (5/5) |
| Food Presentation | ★★★★★ (5/5) |
| Variety | ★★★★☆ (4/5) |
| Reputation | ★★★★☆ (4/5) |
| Reviews & Recommendations | ★★★★☆ (4/5) |
| Customer Service | ★★★★☆ (4/5) |
Upon entering Everett's Restaurant, we thought we're a little underdressed. This restaurant in Waterford has such a lovely, historical feel to it because of its interior–but don't worry, it doesn't require dressing up!
In fact, the atmosphere is quite relaxed and casual, despite the restaurant looking a little intimate. We actually admire the perfect balance of silence and noise which makes the place lively but not noisy.
In terms of food, some locals and foreign travellers whom we talked to told us that all food on the menu was cooked to perfection. It doesn't matter if it's seafood, steak, or fish—everything is well-seasoned and cooked just right!
This makes splurging a little on the food worth it—fresh ingredients and perfect cooking always come a long way. Everett's might not be expensive, but you might be tempted to try a lot of the food they offer just because they all taste good.
Speaking of food, the restaurant has a full bar. We love that you can match your food with good drinks as well!
The staff is also friendly, which to us indicates good customer service. They're always nearby to attend to any requests or complaints.
Lastly, we love that the place is PWD-friendly. Everything is accessible by wheelchair so our companions won't have a hard time roaming around.
Just a little warning—you really need a reservation to enjoy the place. During busy hours, as much as the restaurant would love to, Everett's might not be able to accommodate you even as a walk-in. 
Lovely historic interior
PWD-friendly (accessible by wheelchair)
Has a full bar
Uses the best ingredients of the season (seasonal cooking)
Relaxed and casual vibe
Food is always cooked well
Value for money
Super attentive staff
Reasonably priced wine list
Has the best meat and fish
Intimate atmosphere
Might not be able to accommodate walk-ins on busy hours
Table might not be ready when you arrive with a reservation
Customer Reviews
Perfectly cooked food with a lovely presentation
Two of us ate lunch here. Lovely warm welcome and taken downstairs to a unique room – the natural stone wall Menu was very well explained by a knowledgeable person who looked after us really well. Food cooked to perfection, presented superbly and tasted even better. — Happy, Trip Advisor
Attentive staff and high-standard cuisine at a reasonable price
Two of us booked an early Wednesday evening table here and it was a good job we did. This place is busy and with good reason. The quality of the service and the food were very high. The staff are all very pleasant and engaging and always close at hand. The menu is limited but covers all the bases. This is presumably behind the high standard of the cuisine which is exceptional. If you are visiting Waterford this restaurant is a must. Three course dinner and drinks for the two of us €130. Can't beat it. — Mike, Trip Advisor
4. Heery's Bar & Restaurant

Test
Info
WEBSITE
https://www.facebook.com/HeerysBarandRestaurant/
ADDRESS
10 John St, Waterford, X91 TH70, Ireland
CONTACT DETAILS
+353 89 252 7817
OPERATING HOURS
Wednesday: 5:00 PM - 12:00 AM

Thursday: 12:00 PM - 11:00 PM

Friday: 12:00 PM - 12:00 AM

Saturday: 11:00 AM - 2:00 AM

Sunday: 11:00 AM - 12:00 AM
| | |
| --- | --- |
| Budget | ★★★★★ (5/5) |
| Price Range | ★★★★★ (5/5) |
| Value for Food (Higher score = better value) | ★★★★★ (5/5) |
| Location | ★★★★☆ (4/5) |
| Atmosphere | ★★★★☆ (4/5) |
| Accessibility | ★★★★☆ (4/5) |
| Food Quality | ★★★★★ (5/5) |
| Taste & Freshness | ★★★★★ (5/5) |
| Food Presentation | ★★★★☆ (4/5) |
| Variety | ★★★★★ (5/5) |
| Reputation | ★★★★☆ (4/5) |
| Reviews & Recommendations | ★★★★☆ (4/5) |
| Customer Service | ★★★★☆ (4/5) |
What we love the most about Heery's Bar & Restaurant—and its loyal patrons agree with us—that it has the most extensive menu in Waterford! So if you're a picky eater and would like to see options before ordering, Heery's is the best place for you.
It has a really extensive menu with vegetarian options for those with vegan preferences. For meat lovers, past and present customers recommend the roast beef—the beef is perfectly seasoned and so tender it melts in the mouth.
If you ask us—value for money is good! The servings are huge and the customer service is decent—we love that the staff are very professional and are always nearby if you need something.
Speaking of value for money, we love that Heery's has regular specials on certain times of the day. Some customers get deals that include a meal and a drink for a much lower price!
Another convenience of trying Heery's is that it's located near other commercial areas. We love that you can enjoy walking around the area after a good meal and explore the place a bit more.
The only thing that disappoints us is that it has irregular opening hours. This can be pretty inconvenient if you're not familiar with the hours and check out the place only to find it close.
To add to this, Heery's has no official website for information. But at least the restaurant's social media pages are active, so even if it's quite bothersome to scroll down, you can still find some information you need.
Near other commercial areas
Professional staff
Best roast beef in Waterford
Huge serving
Has vegetarian options
Has an extensive menu
Always has discount deals on certain times of the day
Pleasant atmosphere
Irregular operating hours
No official website
Customer Reviews
Extensive menu options
One of the best meals we've had in Ireland! We were not looking for anything special but we found it here. Amy (with the glasses) was attentive, pleasant and helpful. She made the exceptional meal even better. The menu offered some vegetarian selections (which we are) and they were so much more than the standard selections we usually expect. A great experience from the time we walked in to the time we left. Thank you for making our honeymoon better than it already was! — RJoes, Trip Advisor
Great atmosphere and fantastic food
First time here and I have to say we loved it. The staff are friendly and attentive, it has a great vibe and the food absolutely didn't disappoint. Highly recommend stopping by if you're Waterford City. — Eva, Google Reviews
5. The Old Couch Café
| Test | Info |
| --- | --- |
| WEBSITE | https://www.oldcouchcafe.com/ |
| ADDRESS | 11 O'Connell St, Trinity Without, Waterford, X91 F304, Ireland |
| CONTACT DETAILS | +353 89 425 9696 |
| OPERATING HOURS | Wednesday - Sunday: 6:00 PM - 9:00 PM |
| | |
| --- | --- |
| Budget | ★★★★☆ (4/5) |
| Price Range | ★★★☆☆ (3/5) |
| Value for Food (Higher score = better value) | ★★★★★ (5/5) |
| Location | ★★★★★ (5/5) |
| Atmosphere | ★★★★★ (5/5) |
| Accessibility | ★★★★☆ (4/5) |
| Food Quality | ★★★★★ (5/5) |
| Taste & Freshness | ★★★★★ (5/5) |
| Food Presentation | ★★★★★ (5/5) |
| Variety | ★★★★★ (5/5) |
| Reputation | ★★★★★ (5/5) |
| Reviews & Recommendations | ★★★★★ (5/5) |
| Customer Service | ★★★★☆ (4/5) |
The Old Couch Café in Waterford only serves dinner during the week and afternoon tea on weekends, which can be disappointing to its customers! it's not just about the food—the atmosphere is great as well as the customer service.
What we love the most about The Old Couch food is that every single item in the menu seems to tell a different story. The restaurant is known for its creative dishes–twists on local and international recipes–and it's living up to the standards.
The restaurant prides itself into cooking only homemade food. We love that this assures us customers that their food is all fresh and authentic.
To add to this, The Old Couch is perfect for vegetarians as they have several options in the menu for this type of diet. And if you have other requests, just let the staff know and they'll try to accommodate everything.
We love that the place is a little formal that you might need to dress up a little bit, but not too formal that you'll feel out of place if you're wearing casual. It's the perfect combination of intimate and relaxing.
The presentation of the food is amazing as well—not only do they taste good, they also look good. This adds to the experience of enjoying the meal, which is what we look for when we dine at a restaurant.
Just a little warning—it's pricey and it's a little bit difficult to book. We recommend calling weeks before your intended trip so you can fully enjoy what Old Couch has to offer without a hassle!
Accommodates special dietary needs
Everything is homemade
Vegetarian-friendly
Mixture of local and international cuisines
Relaxing and intimate vibe
Creative food presentation
Each food is described well by the host
Limited operating hours
Extremely difficult to book a reservation
A little pricey
Customer Reviews
A culinary heaven with the best wine list
Our first time here but not our last. A culinary explosion and discovery of tastes. My husband had the 11 course summer meat menu. I had the vegetarian menu. Both were absolutely fabulous. Service was amazing. Super friendly. Great explanation of dishes. Highly recommend doing the wine pairing option. Each glass was lovely and a discovery of a country source we would not have thought of. Already booked in for their autumn menu. — Michael D, Trip Advisor
Accommodates dietary needs of customers
Wow, what an experience! First time going under the new ownership of Luis Martin – who has kept the Old Couch alive in Waterford. Would definitely recommend – a great experience with the 10 course tasting menu. You have the table for the whole night with really attentive service. What a gem for Waterford. Some incredible food & wonderful team. Can't wait to book in again with friends!! Dietary restrictions: Super accommodating to Coeliacs! — Darragh Carroll, Google Reviews
FAQs About Restaurants in Waterford
---
We're finally done with our mini review, and we hope you get to visit these Waterford restaurants to satisfy your love for food! If you're looking for a more specific cuisine, you can try Top Italian Restaurants in Waterford.