When in Dublin: The 5 Best Bottomless Brunch Spots in Dublin
*When you want to have brunch, there's no better place than Dublin. In the heart of this historical city is a love for great food and great drinks early in the afternoon!
With the popularity of brunch comes a wide selection of brunch places to choose from, including the best brunch places in Limerick. But that's what we're here for: to help you find the best bottomless brunch in Dublin.
How much do bottomless brunches cost?
Just as there are many ingredients at play in the flavor of a dish, there are many elements that come into work with the pricing of a bottomless brunch. So, the price varies the same way buffet prices vary: it depends on what's in the package.
| BOTTOMLESS BRUNCH COMPONENTS | ESTIMATED PRICE PER PERSON |
| --- | --- |
| Drinks Only | €18 |
| Drinks and A Main Meal | €30 |
This doesn't take into account the number of people in a group. So keep that in mind!
What makes a bottomless brunch spot stand out above the rest?
For a bottomless brunch spot in Dublin to be the best, we found the following qualifications the most significant:
1. Platform 61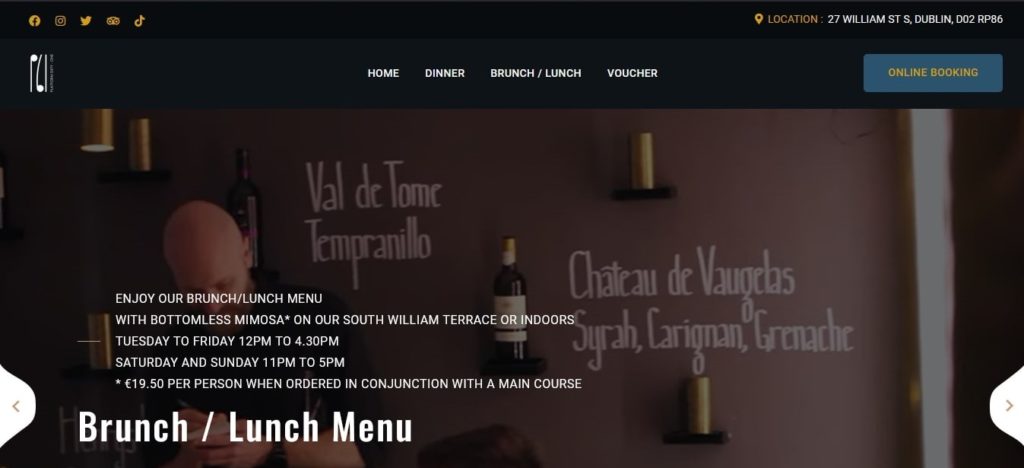 Test
Info
MENU
Modern European Cuisine, Bottomless Mimosa
PRICE PER PERSON
€ 18
WEBSITE
https://platform61.ie/web/
ADDRESS
27 William Street South, Dublin, D02 RP86
CONTACT DETAILS
+353877977390
OPERATING HOURS
Tuesday from 12PM to 5PM

Wednesday from 12PM to 9PM

Thursday from 12PM to 9PM

Friday from 12PM to 10PM

Saturday from 11AM to 10PM

Sunday 11AM to 5PM
| | |
| --- | --- |
| MENU | ★★★★ (4/5) |
| QUALITY OF DRINKS | ★★★★★ (5/5) |
| QUALITY OF FOOD | ★★★★★ (5/5) |
| VALUE | ★★★★★ (5/5) |
| SERVICE | ★★★★★ (5/5) |
| AMBIENCE | ★★★★ (4/5) |
On paper, Platform 61 is a simple, conventional brunch spot in Dublin. But what makes it unique is it's underground! Although this unfortunately makes it harder to find, it does come with an interesting story.
Platform 61 was inspired by Track 61, the underground platform beneath Waldorf Astoria hotel, through which significant figures passed for privacy. You can see it in their interior decor, the entrance door a block of gold.
Inside is a small room, elegant but cozy, with the black furniture and walls of stone and mirrors. It creates an air of exclusivity and privacy, the perfect ambiance to relax with friends.
Unfortunately, it's so exclusive that you have a limited time on your table. Instead of the usual two-hour brunch, they only allow an hour and a half for every table.
This is not their only limit. Although they do a collection of wines, their selection of drinks for the bottomless brunch is limited to mimosas.
But this doesn't speak of their quality. While they do have the contemporary European cuisine perfect for brunch, each dish and drink feels personally made, clearly by staff that listens. Add in the fact that each one comes with a playful name; it feels like you're in with an inside joke.
With its decent price, Platform 61 is an excellent choice for an intimate bottomless brunch hidden away from the world.
Unique concept
Chill ambience
Premium quality drinks and food
Affordable price
Small and hidden venue
Limited time on the table
Limited bottomless brunch drink choices
Customer Reviews
Excellent Service
"We were a large group who went for bottomless brunch. Everyone's food was excellent and we talked about the whole weekend! Our server couldn't have been more friendly and welcoming. The drinks were flowing and we didn't once have to ask for a top up! Even close to the end of our booking we were still being brought mimosas! Couldn't have had a nicer experience and would love to go again." – Taylor M.
Hidden Bottomless Brunch Gem
"Came here with my partner and our friend from the states. I would highly recommend it, the food was amazing, had the bottomless mimosas, ensured that we never ran dry, the staff were extremely friendly and couldn't have done anything more for us, highly recommend." – Michael D.
2. Thundercut Alley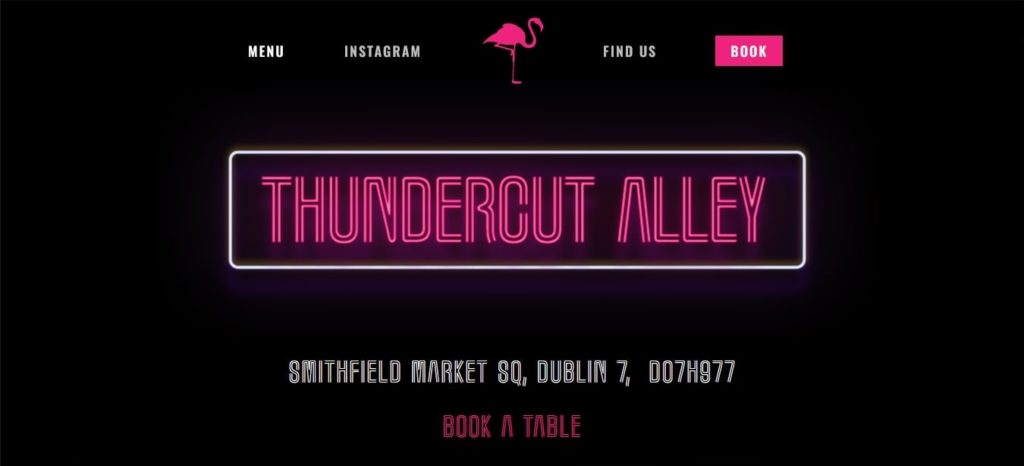 Test
Info
MENU
Bottomless Mimosa, Bottomless Spirits, Mexican cuisine
PRICE PER PERSON
€18.50
WEBSITE
http://thundercutalley.ie/
ADDRESS
Smithfield Market SQ, Dublin 7, D07H977
CONTACT DETAILS
OPERATING HOURS
Wednesday from 5PM

Thursday from 5PM

Friday from 5PM

Saturday from 11AM

Sunday from 11AM
| | |
| --- | --- |
| MENU | ★★★★ (4/5) |
| QUALITY OF DRINKS | ★★★★★ (5/5) |
| QUALITY OF FOOD | ★★★★★ (5/5) |
| VALUE | ★★★★★ (5/5) |
| SERVICE | ★★★★★ (5/5) |
| AMBIENCE | ★★★★★ (5/5) |
Although it's tucked away in an actual alley, the Thundercut Alley is at the perfect location: at the heart of the cultural Smithfield Market Square. It's accessible for anyone attending the fairs or someone shopping for meat.
You won't be able to miss it, though. Not with its spunky and quirky design in a strong, nostalgic 80s theme. Partnered with fun retro music, the Thundercut Alley becomes a great place to party as well to relax with friends.
It's made even better with the quality of their food. They're known for their handmade Mexican-inspired flatbreads, the ingredient from which their entire menu revolves. While it does limit their food choices, they do end up producing the most scrumptious tacos in the area.
However, it goes similarly with their choices for drinks. Although they do have a decent collection, their bottomless brunch drinks are only limited to a few specific kinds of alcoholic beverages: the mimosas and the spirits.
To order them, though, you must order a main food dish first. When you have the drink, it's only bottomless for less than two hours. Luckily, their bottom brunch is available every time they're open!
It's all at a decent price too, starting at € 18.95. With quick-footed and perceptive staff, the value of the experience jumps even higher! When you're in Dublin, you really can't miss out on the magic of the Thundercut Alley.
Delicious food
High quality drinks
Flexible ambience
Affordable prices
Convenient location
Limited food menu
Limited bottomless brunch drink choices
Customer Reviews
Great Food, Better Value
"I popped in today for brunch, and was really impressed! Being well known for their flatbreads, most of the brunch options are served on the flatbread. They have all the usual brunch options but with their own little twist. I got the Eggs Florentine and loved it – it was such an unusual take on something that's been done to death at this stage. Also came with a little bowl of crunchy potato cubes. Really excellent value too at 8.50!" – Lucky O.
Perfect Brunch Spot
"This is a place I have been a few times and the food is great. The Irish breakfast is absolutely huge, tasty and super filling. I love the eggs florentine. The bottomless mimosas are flowing and yummy. The waiter Ricardo was amazing, always refilling glasses and being fun and happy. Great spot!" – Jenny O.
3. Cleaver East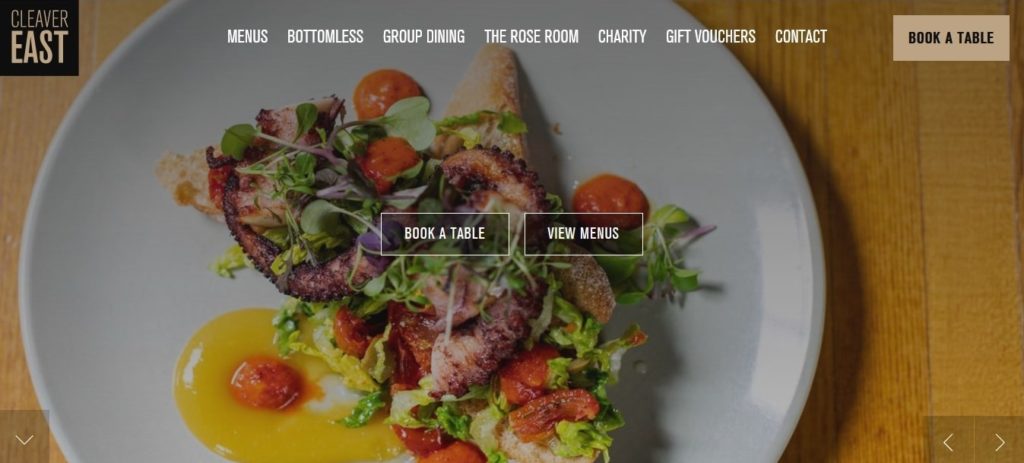 Test
Info
MENU
East Asian and Contemporary European Cuisine, Bottomless Mimosas

Bottomless Pineapples Mimosas, Bottomless Bellinis

PRICE PER PERSON
€ 18.95
WEBSITE
https://cleavereast.ie/
ADDRESS
6-8 East Essex St, Temple Bar, Dublin, D02 HT44
CONTACT DETAILS
(01) 531 3500
OPERATING HOURS
Wednesday to Sunday for dinner from 5PM to 9:30PM

Saturday and Sunday for brunch from 11AM to 4PM
| | |
| --- | --- |
| MENU | ★★★★★ (5/5) |
| QUALITY OF DRINKS | ★★★★★ (5/5) |
| QUALITY OF FOOD | ★★★★ (4/5) |
| VALUE | ★★★★ (4/5) |
| SERVICE | ★★★★ (4/5) |
| AMBIENCE | ★★★★★ (5/5) |
When Cleaver East first opened, it opened with a bang with an argument between a chef and a food critic. It unfortunately earned an infamous reputation, despite the excellent menu.
In its foundation, the menu is a Contemporary European with the classic brunch choice: eggs, seafood, lamb. But it comes with a creative East Asian twist, using duck eggs, dumplings, shiitake mushrooms and more.
It makes for a playfully bold menu, with the added bonus of vegan options! Unfortunately, dishes grow cold quickly, so once it's on the table, ya gotta eat it. Even when it doesn't pair well with your drink—and the drinks are excellent.
The drinks are just as exciting, with a wide collection of craft beers to premium wines to mimosas for bottomless brunch. It mixes well with the rest of the experience.
The experience is fast-moving. The decor is that of a bachelor's penthouse: lots of dark woods, exposed beams, low lighting. But the energy is that of a wealthy bachelor too. It is high class, but it is loud and fun!
There is just as much heart in the service. Staff are accommodating and quick on their feet, dashing between tables.
Although Cleaver East is more on the pricier side of bottomless brunches, it may very well be worth the price.
Vegan options
Classy but fun atmosphere
Unique menu
Attentive staff
Inconsistent food quality
Infamous reputation
Customer Reviews
Accommodating Service
"Booked a table for 5 people but had a few extra join at the last minute and Cleaver East were very accommodating. Could not fault the food and service, great selection. Fantastic location and atmosphere." — Niall G.
Great Food, Great Vibes
"Love this place. My friends and I availed of the bottomless brunch and we were topped up constantly. Food was delicious and perfectly portion sized. The restaurant has a buzz but also a laid-back vibe. This is an upscale, downplayed, perfectly located spot. Will definitely be returning." — Jean Sinclair
4. Bow Lane Social Club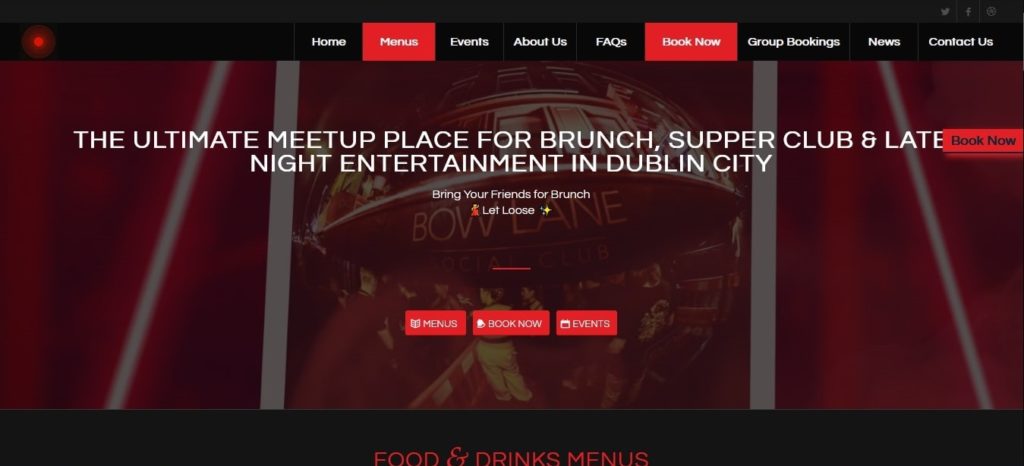 Test
Info
MENU
AAs Bottomless Brunch, AAs Bottomless Supper Club, Caribbean Menu
PRICE PER PERSON
€18.50
WEBSITE
https://bowlanesocialclub.ie/
ADDRESS
17 Aungier St, Dublin 2, D02 XF38
CONTACT DETAILS
+353 (01) 478 9489, +353 (01) 475 9003
OPERATING HOURS
Thursday from 4PM

Friday from 2PM

Saturday from 11:30AM until late

Sunday from 12PM until close
| | |
| --- | --- |
| MENU | ★★★★ (4/5) |
| QUALITY OF DRINKS | ★★★★ (4/5) |
| QUALITY OF FOOD | ★★★★ (4/5) |
| VALUE | ★★★★ (4/5) |
| SERVICE | ★★★★★ (5/5) |
| AMBIENCE | ★★★★★ (5/5) |
Having accumulated awards as the Best Brunch in Dublin from a variety of critics, Bow Lane Social Club is one of the most recommended Bottomless Brunch spots in Dublin.
Much of this could be because of the atmosphere it builds from its unapologetically fun decor. The walls are lit by vivid neon signages, and the floor beats in time with the party music from the DJ.
Add in the friendly service. The staff is amicable and attentive, always on their toes to accommodate any customer needs. A glass half-empty will be immediately filled.
It helps that they have such an extensive menu of drinks, from simple beers to fun cocktails to expensive wine. There's one for every preference. It's exactly what you want for a bottomless brunch.
However, their food menu isn't as extensive. While the Caribbean cuisine is unique, Bow Lane Social Club seems to be struggling to maintain the quality. Their starters and desserts are phenomenal, but their main dishes leave much to be desired.
Nonetheless, Bow Lane Social Club really is the perfect place for friends to gather, to celebrate, and to drink their hearts out. Unfortunately, it's often always filled to the brim. So, if you're in Dublin, better reserve a table now!
Great place for friends
Unique menu
Attentive service
Inconsistent food quality 
Overcrowded
Customer Reviews
Great Service
"I enjoyed our time at Bow Lane social club, although the food that day wasn't quite up to standard, the staff made up for it very well, great service always checking if we had our drinks topped up during our bottomless brunch for the two hours, very attentive and friendly." – Liam Stirzaker
Go-To Bottomless Brunch Spot
"Great music, great food and even better cocktails! The bottomless boozy brunch gives you an unforgettable (or rather forgettable) experience at a very reasonable price. Service by Sam was especially spectacular and has made us want to return ASAP. The vegetarian food options could be improved but overall, great food and great vibe." – Nethraa Kannan
5. Doll Society Bar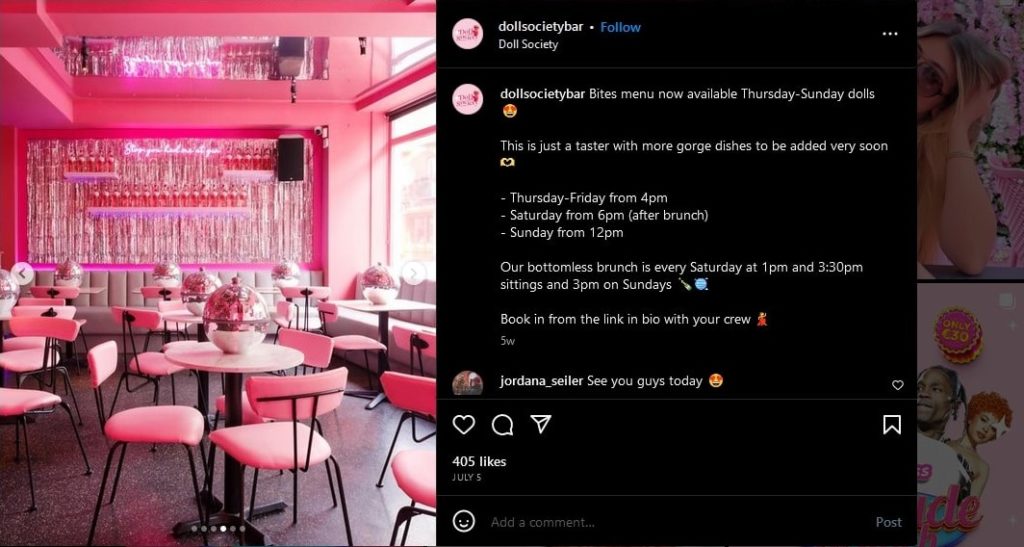 Test
Info
MENU
Tapas, Cocktail Bar, Bottomless Brunch
PRICE PER PERSON
€30
WEBSITE
https://www.instagram.com/dollsocietybar/
ADDRESS
101 Francis St, Dublin 8, County Dublin D08 Y70F
CONTACT DETAILS
(01) 498 8855
OPERATING HOURS
Thursday from 4PM to 11:30PM

Friday from 4PM to 12:30AM

Saturday and Sunday from 12:00PM to 12:30AM
| | |
| --- | --- |
| MENU | ★★★★★ (5/5) |
| QUALITY OF DRINKS | ★★★★★ (5/5) |
| QUALITY OF FOOD | ★★★ (3/5) |
| VALUE | ★★★★ (4/5) |
| SERVICE | ★★★★ (4/5) |
| AMBIENCE | ★★★★★ (5/5) |
The newcomer in town is Doll Society Bar, perhaps the most Instagrammable bar in Dublin. It is a celebration of femininity, decorated with neon pink signages, pink flowers, pink glitter. This is the go-to place for the girlies and gays!
The unique and unapologetic decor makes for an incredibly fun and loud atmosphere. Every month, they have events: drag brunches, DJ performances, themed brunches, and more. You'll feel like you're missing out if you don't come to one.
They're not shy with their drinks as well. With playful drink names like "Blondie," or "Hot Girl Summer," they have a wide selection of cocktails for your friends' bottomless brunch.
Their bottomless brunch is on the pricier side, though. But it does come with a main dish. Their food menu, a conventional modern Tapas menu, provides enough of a decent partner with their cocktails.
It doesn't help that the service is slower. While the staff is very accommodating and eager to please, they are still understaffed, compared to the crowds coming in. It is still a young establishment, though. Perhaps just a little more time is all they need.
Regardless, for an incredible bottom brunch time with friends, you gotta try Doll Society Bar at least once.
Fun, party atmosphere
Unique, instagrammable decor
Wide selection of bottomless brunch
Slow service
Conventional tapas menu bar
Brand new bar
Customer Reviews
The New Go-To Bottomless Brunch Spot
"I had such an amazing time with my friends, as soon as we got in we felt comfortable enough to dance in front of everybody, such a judge-free zone. The music was amazing, so trendy & at a good volume to get you in a dancey mood. Beautiful setting too, everything pink & the staff were so wonderful as well." — Tiffany
Generous Bottomless Brunch
"Doll Society is exactly what Dublin needs! Had an amazing brunch with my girls. They were so generous with the bottomless brunch and complimentary bottle of Prosecco, our glasses never went empty. Excellent value for money. To top it of the Drag queens were 10/10 for entertainment and comedy and the whole experience was just amazing. Will definitely be back!" – Aisling Mu
FAQs about Bottomless Brunch
While these restaurants offer unique and exciting brunch experiences, whichever one you go to will surely result in a fantastic, unforgettable time. What are you waiting for? Go grab some bottomless brunch!