4 Best Financial App Services in Ireland
In today's rapidly evolving financial landscape, technology plays a pivotal role in shaping how we manage money.
Along with this, financial app services have become indispensable tools for effective money management. But if your concerns need expert guidance, you may seek out the best financial advisors in Ireland first.
Join us as we explore Ireland's top financial app services, helping you make smart money decisions remotely.
How much do financial app subscriptions in Ireland cost?
The fees for financial app services in Ireland vary. This depends on the user's chosen subscription tier or pricing plan, the specific features and functionality they require, and the level of access to advanced tools and services.
Here are the estimates for easy reference:
| SERVICES | ESTIMATED COSTS |
| --- | --- |
| Standard Financial Apps | Usually none but with limited basic features |
| Paid Financial Apps | $1.50 to $14.00 |
How We Picked the Best Financial App Services in Ireland
We assessed the app services based on the following criteria:
1. Plum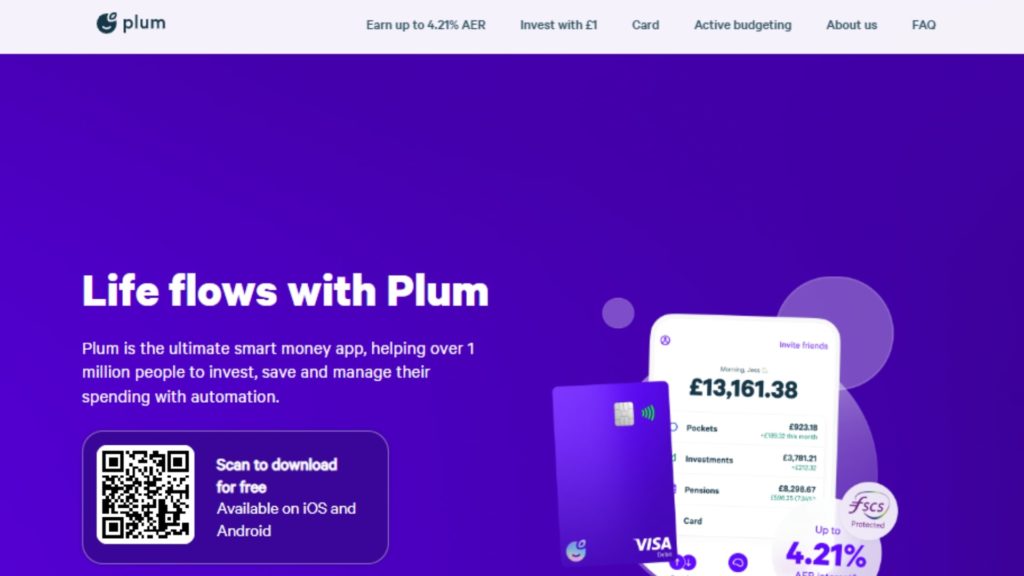 | | |
| --- | --- |
| COST | ★★★★☆ (4/5) |
| EXPERTISE | ★★★★☆ (4/5) |
| SERVICES | ★★★★☆ (4/5) |
| SCOPE | ★★★★☆ (4/5) |
| QUALITY | ★★★★☆ (4/5) |
| COMMUNICATION | ★★★★★ (5/5) |
| ACCESSIBILITY | ★★★★★ (5/5) |
| RESPONSIVENESS | ★★★★★ (5/5) |
Plum is another one of our top choices for your financial app needs in Ireland. Right off the bat, we liked the fact that they've been helping over a million people manage their money.
This company also connects to your current account and analyses all incoming and outgoing transactions. Their app identifies the user's regular income, bills, and expenses.
Using this information, we like that their technology can calculate the amount it can safely put aside without being a bother to your day-to-day life. For us, it's like having a financial assistant on the go!
In our opinion, this is convenient since the app saves you money little by little. Without realising it, you might have enough money to treat yourself now and then!
Moreover, we appreciate that this company is also big on personalisation. They offer different rules for savings like round-ups, weekly rule, pay days, and the like, so you can choose which ones to enable and be included in your weekly combo deposit.
For us, their team is also highly informative, ensuring their features explain how investing works, give each client their spending insights, and allow them to switch to cheaper bills regarding matters like overdrafts and mortgages.
However, some of Plum's services require more time to accomplish. For example, the company's calculated savings for the client would be moved to the latter's Plum account via direct debit in 4 to 5 working days.
Additionally, Plum doesn't support business or joint accounts at the moment.
Comprehensive expense tracker
Personalised auto deposits
Easy-to-understand app features
Supports several Irish banks
Savings transfers can take 1 business week
Not for joint or business accounts
Customer Reviews
Really Useful App
"Love this app was skeptical at first but soo happy I downloaded it. The app links with your bank to analyse your spending and puts away the appropriate amount of money in their app to save. Little yet useful features such as rainy days and the 52 week saving challenge really help raise my savings. Showed it to my friends and now they have the app too and love it. Highly recommend !" – Fionnghuala99
10/10 Would Recommend
"This app has helped me pay off my overdraft of 300 and my credit card of 1200 in one year. I've been trying to do this for nearly 7 years. (I'm not great with money)" – csutton194
2. Buxfer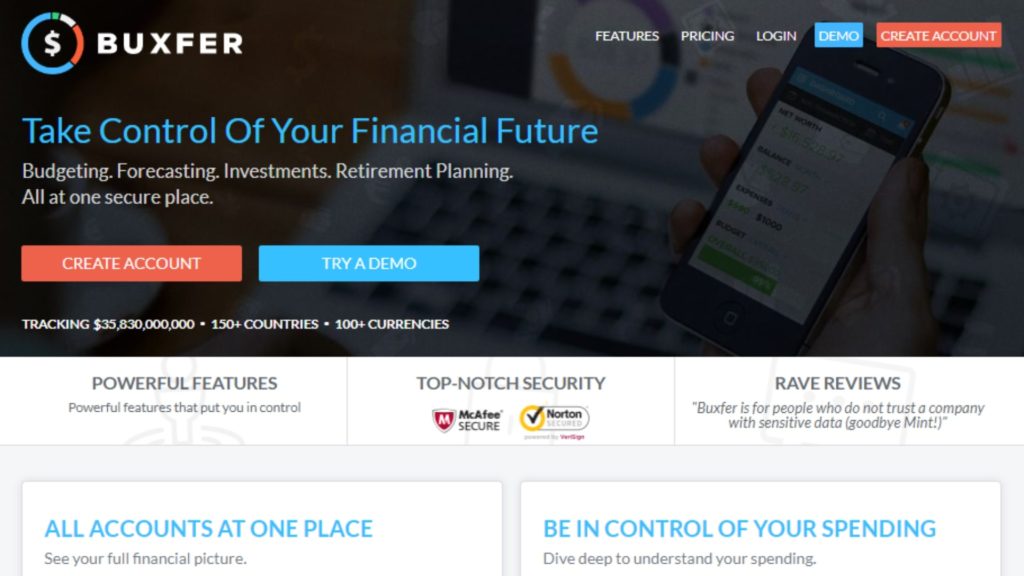 | Test | Info |
| --- | --- |
| SERVICES | Budgeting, Forecasting, Investments, Retirement Planning |
| WEBSITE | https://www.buxfer.com/ |
| CONTACT DETAILS | |
| | |
| --- | --- |
| COST | ★★★★☆ (4/5) |
| EXPERTISE | ★★★★★ (5/5) |
| SERVICES | ★★★★☆ (4/5) |
| SCOPE | ★★★★☆ (4/5) |
| QUALITY | ★★★★☆ (4/5) |
| COMMUNICATION | ★★★★☆ (4/5) |
| ACCESSIBILITY | ★★★★☆ (4/5) |
| RESPONSIVENESS | ★★★★☆ (4/5) |
Want to manage your expenses as well as those of your roommates or friends? Buxfer offers a financial app in Ireland that we think can make this possible.
When you're sharing expenses with a group, we're impressed that users will be able to easily generate reports on who owes what. This is after syncing Buxfer with your bank or importing statements or financial data files.
For us, this is handy for rent and groceries, as well as food and logistics expenses for meetings, parties, and other events. Additionally, we believe small businesses can also benefit from this by making reimbursements a piece of cake.
Another thing we like about their services is that their app allows clients to update their accounts through text messages sent via Twitter. In our opinion, this unique feature makes the whole process of managing joint expenses more efficient.
Of course, you'll need to upgrade to the Plus or Pro accounts to get access to unlimited accounts, create unlimited budgets, and make endless bill reminders.
Buxfer doesn't offer a free trial, though. But if you're interested, we suggest going through the first month because they have an easygoing refund and cancellation policy that you can use later.
Ideal for group expense tracking
Allows transaction reporting via text
Decent refund policy
Comprehensive demo
Customer Reviews
Excellent support
"It's reliable and let me import all my Quicken transactions and I don't have to worry about it since it's in the cloud. The support is excellent and I've never seen a single bug in the program in the past year." – Greg Hickman
Highly Recommended
"I was looking for something where I can create all my accounts from scratch. I don't want to download transactions. I like inputting one by one to make sure I categorise correctly. This app is amazing and there is a web version as well. Highly recommended A++++" – Billk328
3. An Post Money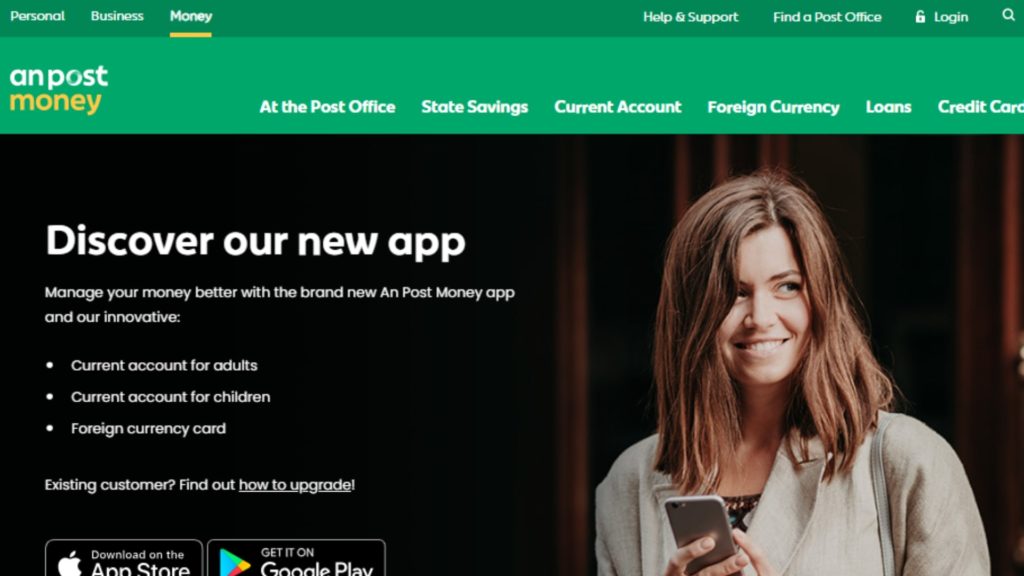 | | |
| --- | --- |
| COST | ★★★★☆ (4/5) |
| EXPERTISE | ★★★★☆ (4/5) |
| SERVICES | ★★★★☆ (4/5) |
| SCOPE | ★★★★☆ (4/5) |
| QUALITY | ★★★★☆ (4/5) |
| COMMUNICATION | ★★★★☆ (4/5) |
| ACCESSIBILITY | ★★★★☆ (4/5) |
| RESPONSIVENESS | ★★★★☆ (4/5) |
An Post Money has some helpful money management tools in their financial app that we think you might find useful.
Firstly, we think it's great that they sort clients' financial goals into 'jars' or categories for better visualisation. Other than that, they encourage rounding up your purchases – we like that they automatically save the change as you spend!
It's also convenient that users can add Apple Pay, Google Pay, and FitBit Pay to their digital wallets. This makes purchases more integrated and hassle-free for users.
In addition, we find it handy that opening an account with them comes with SMS perks. This involves getting free unlimited data, calls, and texts for 3 months with An Post Mobile.
This company also helps kids make an account and save. We believe this company provides a user-friendly service that makes handling money a breeze for young individuals and beginners.
However, keep in mind that only the parent and no one else can freeze their child's debit card. In our opinion, this might come as a disadvantage to the kid in some situations, like losing their card and wanting immediate resolution.
Should you want to give their budgeting tools a try, we feel it's easy to open an account with An Post Money since they approve relatively quickly.
Easy-to-navigate app
Integrates several other payment methods
Automatic money saving feature
Offers perks with text messaging
Kids have limited control in freezing their accounts
Customer Reviews
Amazing with 5 Stars
"Iv had this since they brought it out years ago.. Iv never ever had an issue, I read 2 very negative comments & they are human error on there part! The app works perfect, money comes straight out & in same if not better than any other debit card, I get paid weekly into it you can save in it get money off stuff it's amazing 5 stars.. super easy user interface ( easy to use ) if I E-mail I get a response straight back but I never need to bar once.. so easy to pay bills it's the very same as a bank just it's an post and so much better in my opinion again 5 ⭐️'s!!" – Jay-O-1986
I Definitely Recommend It
"Hello, I've got a son and he's got the an post money mate current account. He loves it a lot, and so do I! It makes life a lot easier. But there was one thing my son wish they added, as of now, only the parent can freeze the child's debit card and not the child themselves. I'd give the card a 5 star if the child had a bit more access to stuff like what the parent did. For some examples, maybe be able to freeze your own card when your out just incase you lose it. Overall, amazing card! Would definitely recommend it!" – CRAIG.2006
4. Skrill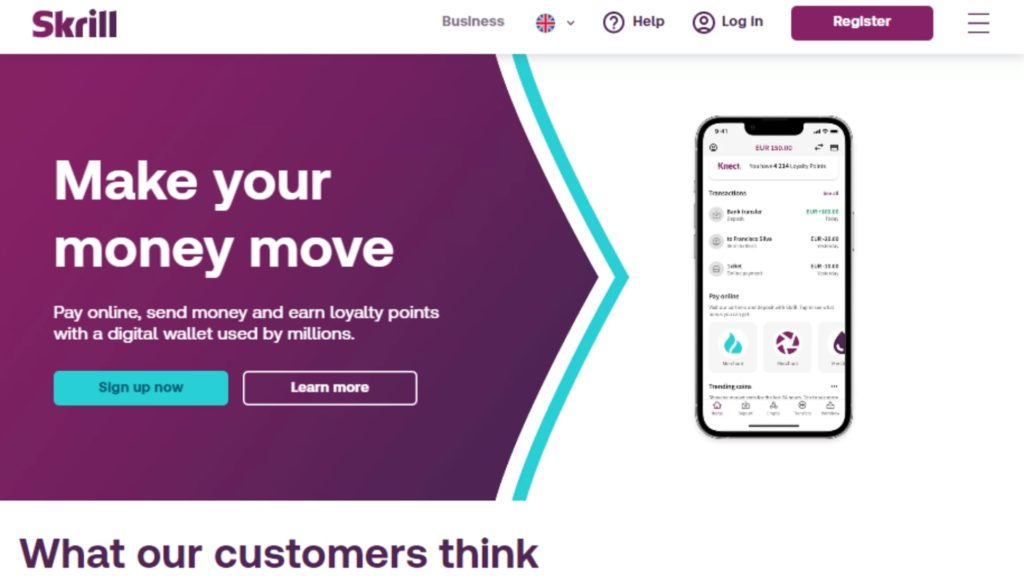 | | |
| --- | --- |
| COST | ★★★★☆ (4/5) |
| EXPERTISE | ★★★★☆ (4/5) |
| SERVICES | ★★★★☆ (4/5) |
| SCOPE | ★★★★☆ (4/5) |
| QUALITY | ★★★★☆ (4/5) |
| COMMUNICATION | ★★★★★ (5/5) |
| ACCESSIBILITY | ★★★★★ (5/5) |
| RESPONSIVENESS | ★★★★★ (5/5) |
When you want to send money in seconds, Skrill has one of the most efficient financial apps in Ireland, in our opinion.
Unlike regular banks, we like that this company allows money transfers even if the sender doesn't have the recipient's bank account details. Only the recipient's email address connected with Skrill is needed, and you're good to go!
We appreciate that this gives clients a few precious minutes back and saves them from typing account numbers incorrectly, especially when in a rush.
It's also impressive for us that users can choose from 40 different currencies, and the money transfer will be available instantly.
If you want to enjoy more benefits, we suggest taking advantage of their referral programme. Every time you refer a friend, they get £10 off their first transfer, and you get £10 off your next money transfer – you may invite up to 50 friends too!
Nevertheless, a few clients shared with us that they've had some trouble getting a quick response from their team in several instances.
Only requires emails for money transfers
Fast registration and transactions
40 currencies available
With a good referral programme
Occasionally unresponsive client support
Customer Reviews
Fast, Friendly Service
"I love the ease & convenience of using Skrill for all my transactions,it's very secure,safe and fast! I use mine daily and I enjoy the rewards you can build up to spend as well. If you're not using Skrill you'd better jump on in there! They are very thorough with any issues you may have,from products purchased to unrecognized transactions and you get FAST, Friendly service!! I give them an A+ !" – Tina Foster
Overall Good
"Recently I was looking for international money transfer app and I found this. Really good service provider if you are new you may getbecause if u are not varified user you can do only one transaction but for next transaction they won't notify you first, but when money got deducted they ask u to varify your account to complete the payment and after verification it will take 1 to 2 hours to complete payment to reciever bank that's funny a bur because that where I got pissed Overall good to use." – Sawi Pandhe
FAQs About Financial App in Ireland
---
And there you go! We hope you liked our review of the best financial app services in Ireland. May you find the most convenient tool for your money needs!
If you want to find more financial-related services, start with our review of these articles below to learn more!
More Resources for Financial App in Ireland