The Great Outdoors: 5 Go-To Outdoor Dining Spots in Dublin
Whether you're looking to catch up with a friend, to spend time with family, or to have a meal with yourself, no setting is more perfect than outdoor dining in Dublin.
In a colorful and historical city like Dublin, it's a must to enjoy a quaint meal in front of its charming, scenic views. So, here's a list of outdoor dining restaurants in Dublin you must visit!
How much is the food for restaurants with outdoor dining?
While it doesn't seem like outdoor dining would add much to a restaurant's pricing, outdoor areas do require a degree of upkeep and maintenance, especially when there's equipment to control its temperature.
So, the average meal prices at an outdoor dining area would range like this:
| MEALS | PRICE RANGE |
| --- | --- |
| Breakfast | €9.90 to €17.50 |
| Brunch | €10.95 to €16.95 |
| Lunch | €35.00 to €40.00 |
| Dinner | €38.00 to €45.00 |
| Cocktails and Wine | €11 to €110 |
What makes outdoor dining great?
Outdoor dining could become a great and extraordinary experience, but it would take these qualities to make sure it is:
1. Sophie's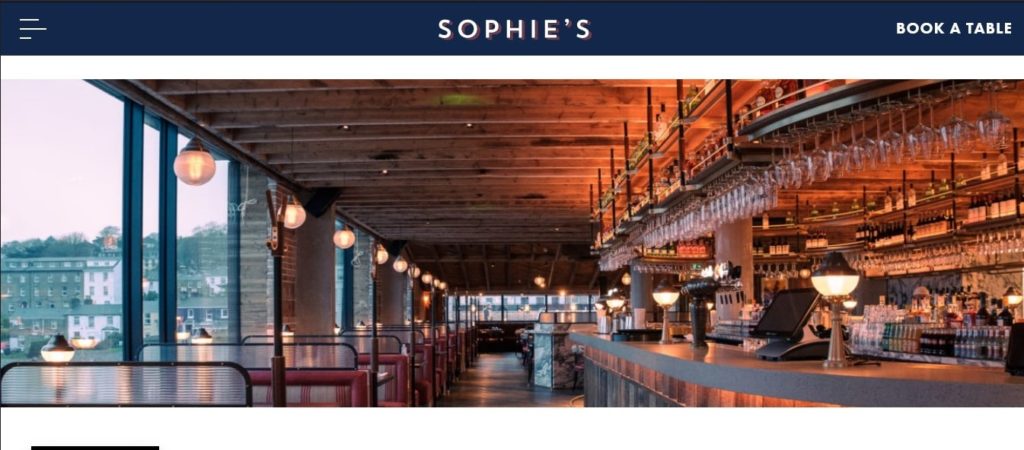 Test
Info
MENU
New York - Italian style and Irish cuisine
PRICE RANGE FOR TWO
€30.00
WEBSITE
https://sophies.ie/
ADDRESS
The Dean Dublin, 33 Harcourt St, Dublin 2
CONTACT DETAILS
(01) 607 8100
OPERATING HOURS
Breakfast

Monday to Friday - 7AM to 11AM

Saturday and Sunday - 8AM to 11AM




Brunch

Saturday, Sunday and Holidays - 12NN to 2:30PM




Lunch

Monday to Friday - 12NN to 2:30PM




Dinner

Monday to Sunday - 5:30PM to late
| | |
| --- | --- |
| MENU | ★★★★★ (5/5) |
| FOOD & DRINK QUALITY | ★★★★★ (5/5) |
| VALUE | ★★★★★ (5/5) |
| SERVICE | ★★★★ (4/5) |
| AMBIENCE | ★★★★★ (5/5) |
| VIEWS | ★★★★★ (5/5) |
Sophie's sits at the top of the The Dean hotel, with a spectacular, panoramic view of the city of Dublin.
A restaurant enclosed in glass, their very walls are the surrounding sky. They let it paint the restaurant's atmosphere throughout the day: a quiet and serene ambience in the early mornings to an excited buzz of chatter in the late evenings.
Partnering that with an excellent menu of New York-Italian-Irish cuisine, the experience is near perfect. They have a wide range of options, from pizzas to steaks to fishes, each one made with much thought and love.
What makes it even higher quality is their ingredients are locally sourced! It's a testament to Sophie's dedication to the elevation of Irish cuisine as well as their customers' experience.
This experience is made better because of its attentive staff. They stand at attention, ready to do their best to accommodate every customer's needs.
Unfortunately, as much as they try, the service still has the tendency to slow down. This is because Sophie's is constantly booked and busy!
They do accept walk-ins from The Dean. But anyone who isn't a hotel guest would require to book first online or via call—because there isn't a day when Sophie's isn't occupied.
To be fair, with its unforgettable views and comfy cuisine, the wait is very much worth it.
Amazing views
Excellent food quality
Locally supplied
Attentive staff
Exclusive, booking-only for hotel outsiders
Slow service
Customer Reviews
Fantastic Rooftop
"Stargazing rooftop in Dublin. The 360° restaurant is very fancy with a good selection of beverages and delectable food. The service was sometimes a bit confusing which is understandable due to the high number of customers. I truly enjoyed my experience and would come back without hesitation!" – Decio
Incredible and Delicious Dining Experience
"We had an incredible dining experience at a beautiful rooftop restaurant. The cuisine, service, and atmosphere were exceptional in every way. From the moment we stepped in until the very end, the waiting staff took care of us with utmost attention. The food was served promptly and the drinks were delicious, even though we're usually picky about cocktails." – Ihor B.
2. The Harcourt Bar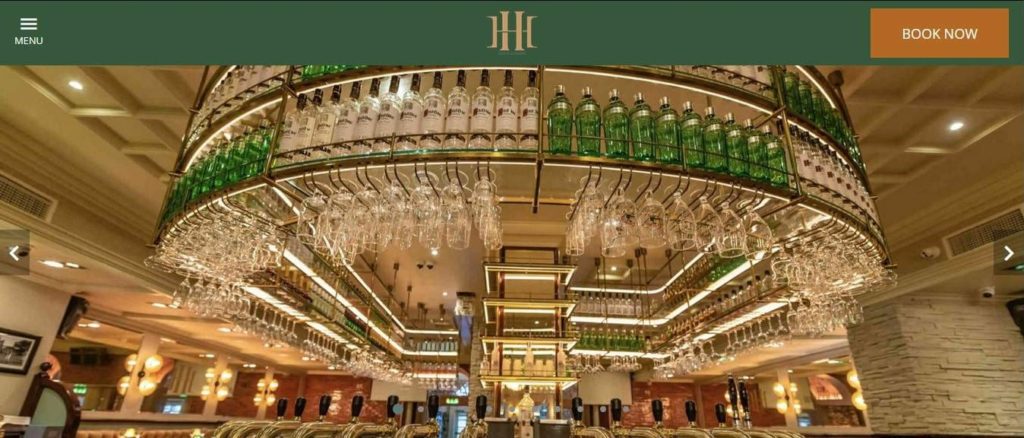 Test
Info
MENU
Irish cuisine, Pub
PRICE RANGE FOR TWO
€30.00
WEBSITE
https://www.harcourtbar.ie/
ADDRESS
The Harcourt Hotel, 60 Harcourt Street, Dublin 2
CONTACT DETAILS
+353 (0)1 476 4682
OPERATING HOURS
Sunday to Thursday: 12NN to 12AM

Friday and Saturday: 12:30PM to 2:30AM
| | |
| --- | --- |
| MENU | ★★★★ (4/5) |
| FOOD & DRINK QUALITY | ★★★★★ (5/5) |
| VALUE | ★★★★★ (5/5) |
| SERVICE | ★★★★ (4/5) |
| AMBIENCE | ★★★★★ (5/5) |
| VIEWS | ★★★★★ (5/5) |
The Harcourt Bar is one of Harcourt Hotel's key establishments and one of Dublin's favorite sports bars. You can see why, with over 20 television screens and a massive one right out their beer garden.
They have seating indoors as well as outdoors. Inside is all light woods and blues, with a touch of a nautical motif. But outside is where it's at.
Their outdoor dining includes a sprawling beer garden, enclosed in glass and decorated with bright foliage and fauna. Walking out here, it looks like you've stepped into an elegant greenhouse.
It's interesting decor, softer compared to their indoors' more masculine design. But it makes for a lovely backdrop for a relaxed afternoon brunch.
And it's perfect for brunch! With their bar, they have a wide array of alcoholic beverages to choose from.
The same cannot be said with their menu, however. It provides a set of choices conventional for a sports bar: chicken wings, pizzas, steaks, and their specialty, barbeque.
That doesn't mean the food is of lower quality, of course. The simple menu may even have helped it, in a way. It made the food, already so delicious, feel more comforting.
The staff makes the experience even more easygoing. They are quick to move between the indoor and outdoor dining and to address any customer's requests.
It's only unfortunate that their service tends to be a little slow. Hard to say why, whether it's the staff or the kitchen, but food would often take longer to arrive.
Nevertheless, with a setting as beautiful as their garden and food as comforting as homemade, you might not even mind the wait.
High quality food
Beautiful outdoor space
Attentive staff
Customer Reviews
Decent Food, Professional and Friendly Staff
"Came here to watch the Champions' League final after finding every other pub in Dublin city centre packed to the gills (understandably). Both the bar and lounge areas are really well kept and look great. Bar staff were friendly and attentive, and also fast when it came to bringing us a pretty large food order. Food itself is pretty decent pub fare and hit the spot. Will definitely be back to watch a game again whenever I'm in the area!" – Nick F.
Wonderful Garden Space
"Nice bar with a wonderful garden out back. Good location and friendly staff. Quite a busy place so it can be a little difficult to order at times but the staff were very attentive and checked many times. All in all recommended if you're in the area." – Paul King
3. Charlotte Quay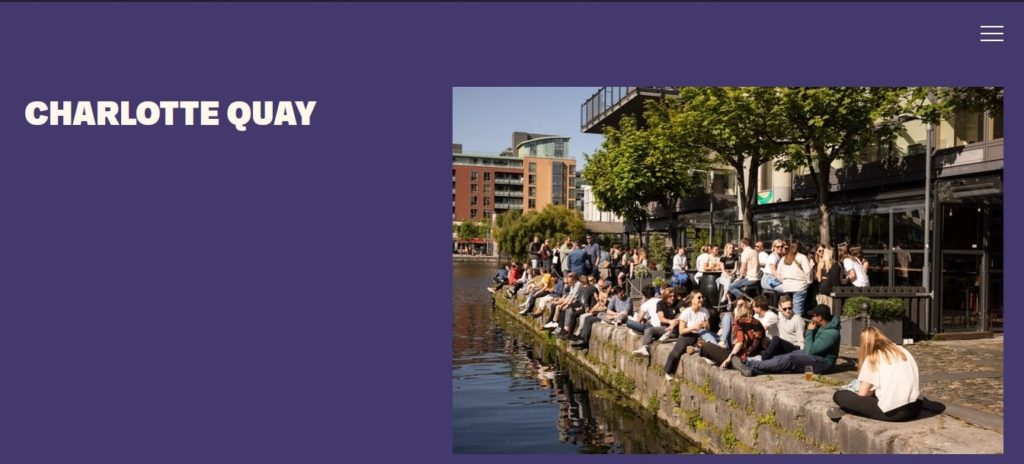 Test
Info
MENU
Irish, Mediterranean and Middle Eastern cuisine
PRICE RANGE FOR TWO
€30.00
WEBSITE
https://bereenbrothers.com/charlotte-quay
ADDRESS
Charlotte Quay Dock, Millennium Tower, Ground Floor, Ringsend Rd, Dublin 4
CONTACT DETAILS
+353 1 908 9490
OPERATING HOURS
Tuesday to Thursday - 4PM to 11:30PM

Friday to Saturday - 12NN to 11:30PM

Sunday - 12NN to 10PM
| | |
| --- | --- |
| MENU | ★★★★★ (5/5) |
| FOOD & DRINK QUALITY | ★★★★★ (5/5) |
| VALUE | ★★★★★ (5/5) |
| SERVICE | ★★★★★ (5/5) |
| AMBIENCE | ★★★★★ (5/5) |
| VIEWS | ★★★★★ (5/5) |
In the center of Dublin's most tech-forward district sits a warm and soft restaurant named Charlotte Quay. It's wrapped in dark woods and orange lighting, with lots of curves in their furniture. The atmosphere here is effortlessly welcoming.
But that's mainly because it's situated on the waterfront, where it offers a stunning, panoramic view of the Grand Canal Dock. Instantly, you feel like you're in Greece or Morocco.
The menu transports you there too. Although it is fundamentally an Irish cuisine, many of their dishes were infused with Mediterranean and Middle Eastern flavors. They use ingredients like lamb belly, flatbreads or duck breasts, all of which are locally sourced!
Unfortunately, this means that food of this premium quality comes in smaller, more gourmet portions. It is disappointing, but then, how can you be disappointed with food that melts in your mouth and with a view that teleports you to an unprompted vacation?
It helps that the staff moves quickly. Food comes in fast, drinks are topped without prompting, and chatter between waiters and customers is easygoing.
Once again, the only downside is the amount of people coming in. When a restaurant is as unique as Charlotte Quay, this is perhaps expected. And like everything else on this list, it's also worth it.
Locally sourced food
Perceptive service
Premium quality food and drinks
Romantic view
Customer Reviews
Excellent Food
"What a great night! We started with mussels, gambas and burrata. All were excellent, but the mussels were extraordinary. The sauce was delicious and the mussels were so tender. Our entrees impressed as well. The short rib bolognese was lean and hearty. The ribeye steak was tender and cooked perfectly. The highlight was the fish of the day: paice with a tomato caper sauce. It was delicate and delicious! Thank you for a wonderful evening!" – Will B.
Perfect Place for Anniversary Dinners
"Anniversary dinner with my wife. We received a warm welcome and a really thoughtful surprise to help us celebrate. The food was quite refined and everything was absolutely delicious including perfect wine pairing suggestions. The atmosphere and views set a really cool energy. Best dinner by far in two weeks in Ireland. Can't wait to go back!" – Phil C.
4. Fire Steakhouse & Bar
Test
Info
MENU
Steakhouse, Irish, and European cuisine
PRICE RANGE FOR TWO
€45.00
WEBSITE
https://www.firesteakhouse.ie/
ADDRESS
Dawson Street The Mansion House, Dublin D02 XK40
CONTACT DETAILS
+353 1676 7200
OPERATING HOURS
Monday to Friday - 5PM to late

Saturday and Sunday - 1pm to late
| | |
| --- | --- |
| MENU | ★★★★ (4/5) |
| FOOD & DRINK QUALITY | ★★★★★ (5/5) |
| VALUE | ★★★★★ (5/5) |
| SERVICE | ★★★★★ (5/5) |
| AMBIENCE | ★★★★★ (5/5) |
| VIEWS | ★★★★★ (5/5) |
In the middle of Dawson Street, there stands a Fire Steakhouse & Bar that burns brighter than all the others.
Fire offers its own unique setting, with its own fascinating story. The restaurant was built into the official home of the Lord Mayor of Dublin, a structure that's over three hundred or so years old.
The atmosphere here is different. The ceilings are high; the windows made of stained glass; the art eccentric—and the outdoor dining elegant.
Fire's outdoor dining is situated on a terrace, overlooking the Lord Mayor's finely manicured garden. It sends you immediately to a different period of time. Unlike that time, though, this terrace comes weatherproofed and heated.
But despite the elegance of the restaurant, it is still a pub. The crowd it draws is the loud kind, composed mostly of young groups of friends. It can be disruptive.
It does make for a fun atmosphere, which grows bolder with its friendly and considerate staff, its expansive selection of alcoholic drinks and its playful spin on Irish cuisine. They are clearly of high quality, with ingredients supplied locally!
However, it all comes with a price—the average price of €45.00 for a meal for two.
You can see, though, that it is well-earned. With a beautifully historic building, lovely outdoor dining, and delicious food, it all may very well be worth the price.
Excellent food quality
Locally sourced
Fun atmosphere
Fast and considerate service
Beautiful view
Loud crowds
On the expensive side
Customer Reviews
Perfect for Milestone Celebrations
"A wonderful steak house in a converted church building that is aesthetically pleasing as well as culinary pleasing, with a warm inviting atmosphere and excellent food it truly was a birthday treat. With Sarman as a fabulous waiter giving so much attention to our food and making us feel special (there was a fab birthday treat). The filet melts in the mouth, the soups are amazing and divine desserts." – Stay
Beautiful Setting and Food
"Beautiful setting in the 'outdoor' indoor section. The service is very attentive yet allows you time to dine and relax, a special mention to Erman who made sure our experience was extra special. The sea bass and porterhouse is always fantastic. Great spot for families, friends or a couple meal." – Coastak
5. La Peniche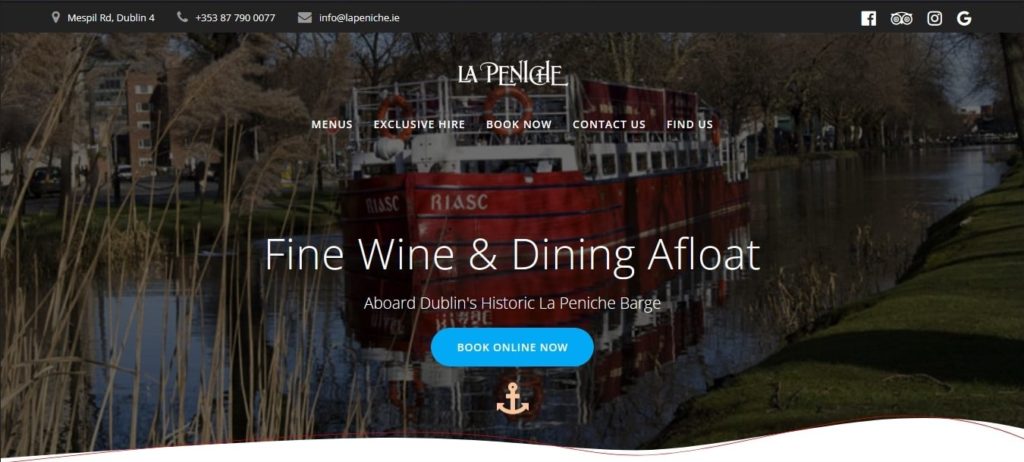 Test
Info
MENU
Irish and French cuisine
PRICE RANGE FOR TWO
€34.00
WEBSITE
https://lapeniche.ie/
ADDRESS
Mespil Road Jetty, Grand Canal, Dublin 4
CONTACT DETAILS
+353 87 790 0077
OPERATING HOURS
Sunday to Thursday - 12:30PM to 9PM

Friday to Saturday - 12:30PM to 11PM
| | |
| --- | --- |
| MENU | ★★★★★ (5/5) |
| FOOD & DRINK QUALITY | ★★★★ (4/5) |
| VALUE | ★★★★ (4/5) |
| SERVICE | ★★★★ (4/5) |
| AMBIENCE | ★★★★★ (5/5) |
| VIEWS | ★★★★★ (5/5) |
Perhaps the most unique restaurant of all: La Peniche, meaning "The Barge" in French. A floating restaurant, it is situated in a restored cargo barge that once flowed through the Grand Canal; but now, it sits atop the canal by Mespil Road.
As expected from a boat, the space is tight and intimate, with indoor seating below deck and outdoor seating above.
And the view from above is spectacular. It offers a closer look of the canal, almost at the center of it, as the trees lining its dock bow towards you. There is nothing like it.
Unfortunately, what will bring this boat down is its food. The menu is that of a bistro, with French seafood dishes. It's a lovely array of choices, although it is also considerably limited.
What's even more disappointing is that the quality is not consistent. Food would often arrive cold, dry, lacking in spices or time in the fire.
Thank god they have a wide selection of drinks! They have fine wines to fun cocktails, served by staff that moves effortlessly between decks.
Still, the experience of sitting above the deck, floating on a canal, beneath sprawling reverrent trees—it's unforgettable. You can't get it anywhere else.
Spectacular view
Unique ambiance
Lots of drink choices
Inconsistent food quality
Small space
Limited menu
Customer Reviews
Unique Experience
"The food is honest and well made, but the unique selling proposition here is the whole experience. If you have a night out with friends coming up, it's a great fun night, and something very different." — Paolo Tullio
Perfect Introduction to Dublin
"We couldn't have asked for a better experience; the weather was absolutely perfect, and the service and menu were as well. The menu options were limited but done so well; our meals were excellent and the wine we chose was so good we're on a search for it here at home. It was a wonderful way to start our visit to Dublin and I can't wait for our next trip so we can eat here again." – SZ
FAQs about Outdoor Dining
Although outdoor dining is not everyone's cup of tea, it is still a must-have experience, especially in Dublin's charming landscape. So, get out there and enjoy the outdoors! You will not regret it.