The 5 Best Wedding Venues at Galway
By Aimee Horgan
Getting ready for a big matrimonial bash and glad that your finances aren't in the red anymore? Excellent, as we're ready to help you out with one of the most important parts of the prep!
One of the most important parts of planning one is booking the venue. Since there's lots of options at Galway, we'll list down the best venues and even more tips to take note of.
How much does it cost to book a wedding venue in Galway?
After looking through all the options available in Galway, we found out that booking a wedding venue can cost €55 to €80 per person.
These rates can differ not only due to the venue. This price can go higher depending on various factors such as the reception table arrangements to custom pre- and post-wedding menus.
Top Wedding Venues in Galway
Galway has no shortage of wedding venues, so we used the following criteria to narrow down to the best options:
1. Glenlo Abbey Hotel & Estate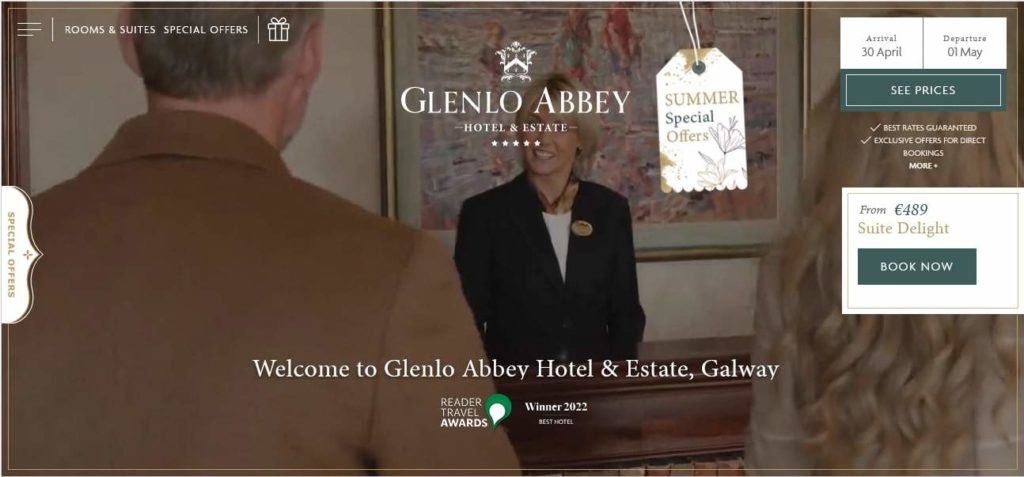 | | |
| --- | --- |
| Criteria | Ratings |
| Ambiance | ★★★★☆ (4/5) |
| Customer Service | ★★★☆☆ (3/5) |
| Variety | ★★★★★ (5/5) |
| Price | ★★★★☆ (4/5) |
With winding green fields and lots of amenities for its guests, the Glenlo Abbey Hotel is one of the most popular wedding venues you can choose in Galway.
Unlike the others on this list, they have unique services such as a train coach dining service and falconry. They also have spa amenities and service vouchers.
We like that they make sure that their guests can enjoy a fine stay by offering everything from fine food to beautiful scenery. We also like that there are lots of indoor and outdoor locations to hold the celebration at.
As a bonus, they only permit one wedding per day, which we appreciate because any wedding party here can enjoy their time to themselves.
With this large variety of options on site, we like that each wedding celebration can be made to tailor-fit which services to avail of and which location to hold the parties at.
We also like that they can provide a wedding coordinator.
Despite this, there are a few caveats that we found out about their service.
One, their customer service quality differs from event to event. Some customers applauded their excellent service, others were disappointed about how poorly their wedding coordinator worked.
Two, as this is a five-star location, their prices are expected to be high. Don't expect to use this location if you're on a tight budget.
Various outdoor features available
Classic 5-star dining in 4 different restaurants
Various indoor event locations available
Great customer service from checking in to checking out
Spa amenities available
Vouchers available
Holds 1 wedding per day
Designated wedding coordinator available
Varied customer service for wedding plans
Prices may be expensive
Customer Reviews
Smooth sailing from start to finish
"Our wedding at Glenlo couldn't have been better! Kate helped us through the planning stage and was there on the day to make sure everything went smoothly. Every staff member we met from the time we arrived was so friendly and genuine. Some of the additional experiences are a must; the Pullman and Falconry were fantastic. The food was some of the best we've had across the country!" – Victoria
Bad experience with coordinator
"Been trying to organize a possible wedding…terrible customer service from the wedding coordinator! Been trying for 2 weeks. How hard is it to respond to an email with dates and provide deposit details. The wedding coordinator never responds to emails. Extremely disappointed with the service!" – Helena Hansell
2. Salthill Hotel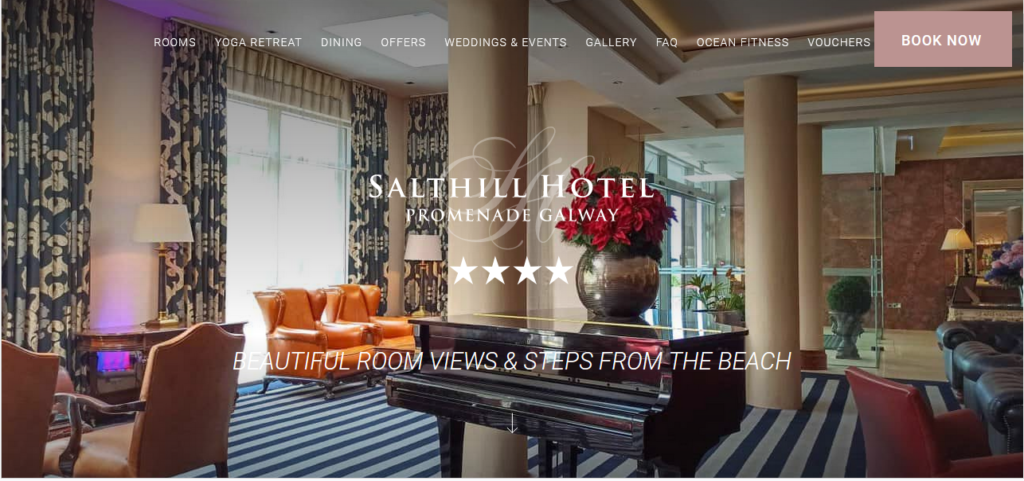 | | |
| --- | --- |
| Criteria | Ratings |
| Ambiance | ★★★★☆ (3/5) |
| Customer Service | ★★★☆☆ (3/5) |
| Variety | ★★★☆☆ (4/5) |
| Price | ★★★★☆ (4/5) |
Overlooking Galway Bay, Salthill Hotel is yet another choice for a good wedding venue.
We like that they have over 30 years of experience in handling events. This shows in their comprehensive wedding packages covering accommodations to food.
Aside from that, their hotel has several amenities that guests can enjoy as they celebrate their beloved's wedding. This includes a gym and indoor pools.
However, there are a few downsides.
Even though they have more than 30 years of experience, some customers complained about the noise the celebrations sometimes made when they stayed in the hotel.
Others pointed out that the staff wasn't able to keep things tidy consistently. There were even some who did not get the same service at their restaurants and bars.
On the side of the wedding preparations, we also didn't like that they didn't list how much their packages cost despite being able to accommodate any special requests for the wedding party.
That just makes it harder for people shopping around for venues to get ballpark figures when comparing options. Some don't like having to commit to direct contact with a provider just to get a rough estimate.
Aside from that, we don't like that they don't have many on-site amenities for their guests. They do, however, recommend several nearby spas in the area for the guests and access to the beach.
Despite this, most wedding parties applauded their service from planning to the end of the celebration.
Overlooks Galway Bay
Various wedding packages available
Offers vouchers
Various amenities available
Great service from the staff
Food has superb quality and taste
Prices for wedding packages not shown publicly
Quality of service from restaurant and bar may vary
Staff cleanliness may vary on some occasions
Hotel guests may be disturbed by noise from the reception/wedding
Customer Reviews
Great service from start to finish
"Booked our wedding here when we thought covid would be a distant memory in 2021. The wedding planning team were a dream to work with for the most part – big shout out to Claire! – and had fantastic ideas and suggestions to make our big day covid friendly but still a day to remember! The staff were brilliant and super friendly on the day and at every viewing, the food was beautiful and the rooms were lovely. We will definitely be coming back for post covid celebrations!" – Aisling
Uncomfortable stay due to celebrations
"Stayed here a few years ago. Sadly there was a wedding on at the same time and our room was located very close to it. Very noisy and did not get a good night sleep. Ruined our trip." – Ian Duffy
3. Clayton Hotel Galway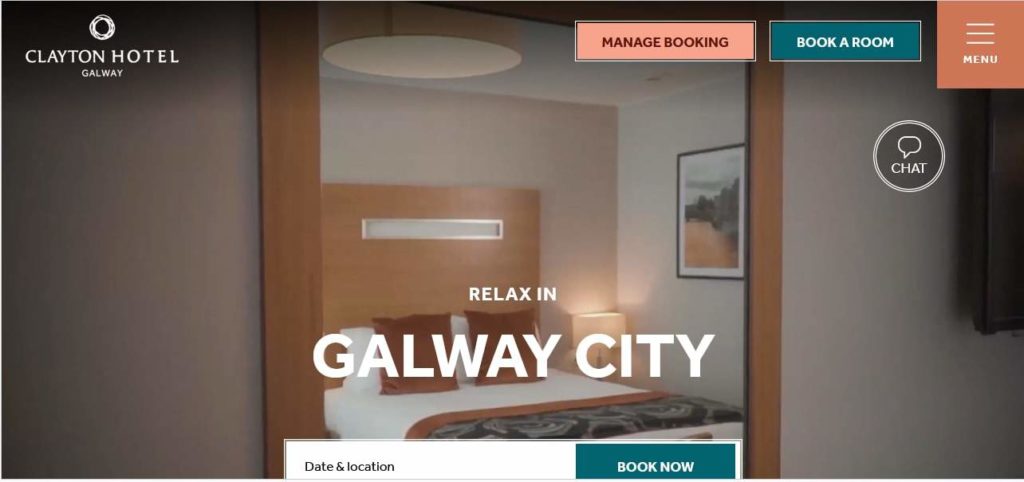 | | |
| --- | --- |
| Criteria | Ratings |
| Ambiance | ★★★★☆ (4/5) |
| Customer Service | ★★★★★ (5/5) |
| Variety | ★★★★☆ (4/5) |
| Price | ★★★★☆ (4/5) |
One of the main strengths of this venue is its size and the staff's familiarity with big parties: they're even able to accommodate 450 guests at a time. We like this as this means wedding celebrants can have as little to as many guests as they want.
They also have decent wedding package offerings with good variety. They offer three types, to be precise.
We like that they can offer pre- and post-wedding celebration dinners as well. This addition makes the celebration more intimate and leaves a lasting impression on the guests.
Another plus side is that they have some of the most affordable wedding packages we found. We like this because we feel that celebrating a milestone in one's life shouldn't get you in the red following it!
Of course, even with those upsides, there are also downsides to their service.
First, any hotel guests not included in the wedding may be disturbed by the wedding celebration. There isn't a lot of sound insulation or sufficient distance to prevent the noise getting to the hotel rooms.
Second, their staff's service appears to vary from time to time. We don't like this as we feel that every event held in their hotel should be done with great care and great service – consistency is key.
Three different wedding packages to choose from
Pre- and post-wedding celebration dinners available
Can host civil ceremonies
Can have up to 450 guests
Affordable prices per package
Speed of service at restaurants may vary
Noise may be heard in rooms
Service quality of staff during stay may vary
Customer Reviews
Cards for staff were made great
"I highly commend the wedding planning staff, Karina and Debbie, for top class customer service. My partner and I had booked our wedding reception with the Clayton and Karina was an absolute dream to deal with throughout all the many cancellations that COVID created for us. When it no longer became possible to go ahead with our ceremony due to complications from COVID, Karina and Debbie were both so kind and helpful to us. I wish we could have held our wedding there as you couldn't meet more professional and diligent staff. Highly recommended for any kind of special event." – Ciara Cunnane
Overall service rocks
"Stayed for 2 nights in Clayton Galway, wedding on the second night. Everything was exceptional, the food was exquisite, 100% attention from Joe at wedding service in tribes restaurant, Couldn't fault a thing. Will be back." – Ailish Murphy
4. The g Hotel & Spa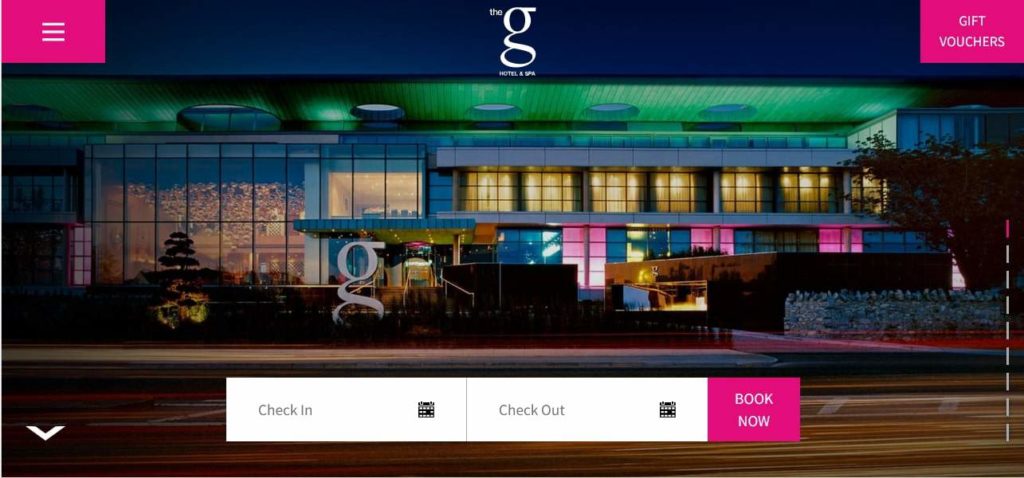 Test
Info
WEBSITE
https://www.theghotel.ie/
ADDRESS
the g Hotel & Spa, Wellpark, The Old Dublin, Galway City, H91 V0HR, Ireland
CONTACT DETAILS
Phone number: +353 91 865200

Fax number: +353 91 865203

Email: [email protected]
| | |
| --- | --- |
| Criteria | Ratings |
| Ambiance | ★★★★☆ (4/5) |
| Customer Service | ★★★★★ (5/5) |
| Variety | ★★☆☆☆ (2/5) |
| Price | ★★★☆☆ (3/5) |
Situated near the banks of Lough Atalia, The g Hotel and Spa is yet another possible wedding venue at Galway.
Why did we pick it? First off, we like that there are not only wedding packages but also packages for civil ceremonies and engagement ceremonies.
They offer gift vouchers too, which is great because you can give these to your family and friends as presents in the future.
They can allow up to 180 guests per wedding party at their location. We feel that this limit is actually enough for most people (those with big parties should obviously look elsewhere, though).
Most of the previous customers we talked to said that they had a great time holding their weddings at The g Hotel and Spa. That's always a good sign.
But we also took note of some downsides.
First, none of their packages' details or price are mentioned publicly. We do not like this as wedding parties can lose time and energy confirming details with them.
Second, this wedding venue will charge extra for use of their facilities. We feel that this is a downside, especially when a fair number of competitors include those in their packages.
Third, their service from their restaurants may vary from customer to customer. This is a bad sign because it may indicate that they can be overwhelmed by larger parties.
Fourth, their choice of decor may or may not be to your liking. Some of our testers liked it, but others had a very contrary opinion – it seems to be less neutrally classic than polarising.
Can house up to 180 guests
Gift vouchers available
Wedding packages available
Civil ceremony packages available
Engagement ceremony packages available
Details and prices of wedding packages unavailable publicly
Loud color scheme inside the hotel
Quality of service from restaurants may vary
Additional charges on using facilities
Customer Reviews
Great stay for an anniversary
"The G hotel was a unique hotel with very modern touches. It is an amazing hotel for couples. It was my husband and I 40th wedding anniversary present from my son for a night stay at the G. The rooms were fabulous and the spa is really one of a kind. We had drinks before dinner and I must say the staff went above and beyond for us. The waiters Mikey and Jimmy looked after us, they made our day very special. They were very charming and friendly young men. With amazing mixology skills as their cocktails went down a treat. We'd highly recommend trying out G sour and cloud 9 cocktails as my son and his friends loved them. We later ate in the GG's restaurant which was an amazing experience with extraordinary food. The waiter Lucas took wonderful care of us. To end our night we had a last drink from the waiter Jimmy who gave us a complimentary glass of Prosecco to celebrate the special Occasion which was such a thoughtful thing for them to do. Overall it was a wonderful way to spend our anniversary and can't thank the G team enough for their excellent hospitality. We would definitely come back again." – Jo Peevers
Not so great experience for the price point
"Our suite was beautiful, however, it was expensive; but we got what we paid for with the room. I have to mention that most of the staff were extremely professional and trained to a very high standard. The food was the highlight of our stay, and we will certainly go back for the food. We had table service for drinks, although they took a very long time to get to us because there were weddings on both nights we stayed, I presume the wedding party got preference with drinks and the waiter's attention. I would definitely not recommend the spa and will give this 1 star. The treatment I had was very expensive and not a patch on what I would get from my small local beauty salon." – Educogym Baggot St.
5. The Galmont Hotel & Spa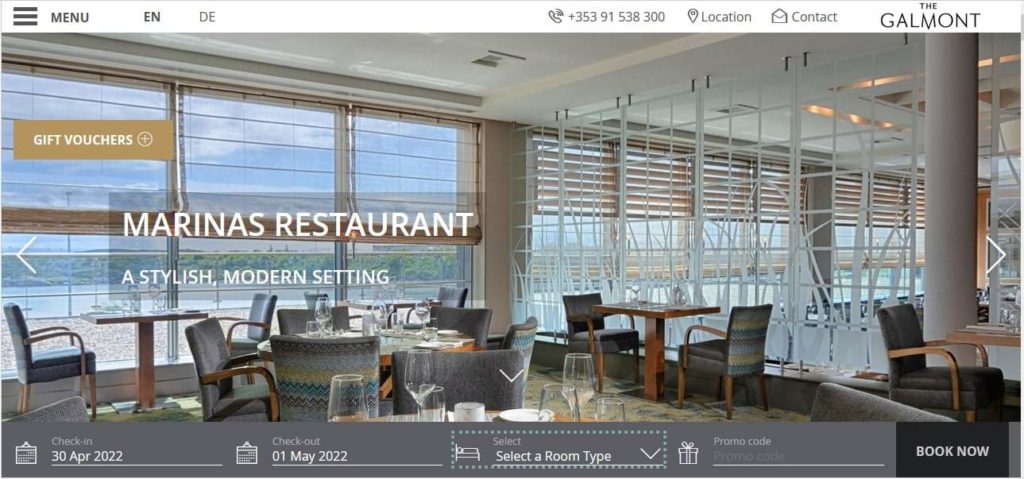 | | |
| --- | --- |
| Criteria | Ratings |
| Ambiance | ★★★★★ (4/5) |
| Customer Service | ★★★★★ (5/5) |
| Variety | ★★★★★ (4/5) |
| Price | ★★★★☆ (4/5) |
Aside from being a great place to stay as a hotel, this place also provides various accommodations. Obviously, they do a lot of weddings, which is why they came to our attention.
What's great about their service is that they outline their terms and conditions clearly on their website. We also like that you can contact them through their website about this directly.
They provide three different locations, which we also appreciate. It gives you more options for your special day.
There are a few caveats on getting them as your next wedding venue.
First, they don't allow anyone except the to-be wedded couple to book them. We feel that this may be a downside as this can be done by someone else on behalf of the couple to share the planning pie – you're just forcing the couple to do the work now.
Second, wedding parties need to give them a deposit twice during the process. One on confirming them as the venue and another six months before said event takes place.
We feel this may discourage wedding parties as this means they need to take a chunk of their wedding expenses early while planning the rest before the event.
Moreover, we don't like that their customer service towards hotel goers varies from guest to guest. They should be able to perform consistently with clients.
Finally, Galmont Hotel and Spa have cancellation charges for wedding parties. We don't like this as wedding parties can change their mind between confirmation and the day of the event.
Three different locations to hold wedding celebrations
Terms and conditions to hold wedding celebrations clearly written
Wedding celebration packages available
Civil ceremony packages available
Online contact form for wedding celebrations
No third-party can book the wedding celebration in behalf of the couple
Deposits required after confirming the wedding booking and six months before the event
Cancellation charges are outlined in the wedding booking agreement
Customer service for hotel guests may vary
Customer Reviews
Great 2-day wedding experience
"Was here for a 2 day wedding. Excellent in every aspect. Such a well run wedding with superb food. Could not fault. Love clean room for our 2 nights stay. And what can I say about the breakfast selection. Best I've ever had and I've had quite a few." – Barry Fitzpatrick
Hitches during stay
"Nice hotel. 10 min walk from Eyre square. Great gym and pool. My issues were around the poor communication with my upgrade request (I asked for something on 3 separate emails and they still missed it) and also the fact that the noise from a wedding below was pretty bad. We were on the 4th floor and could easily still hear the music from the afters of a wedding below." – Derek Harte
FAQ About Wedding Venues