The Best Opticians in Waterford
After a visit from your doctor, you find out that you need to wear eyeglasses. Where can you get them?
Luckily for you, this article will feature the best opticians in Waterford. You can find out why they're great and even know more about visiting opticians and estimated budgets.
Top Opticians in Waterford
These opticians in Waterford were chosen through the following criteria:
1. Nölke Opticians and Hearing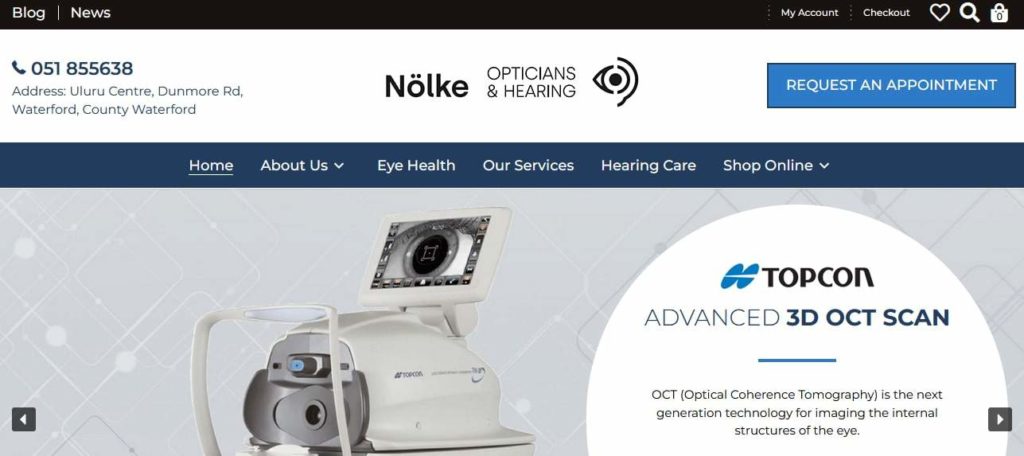 Test
Info
SERVICES
Eyesight report for driver's license application, domiciliary visit, EyeZone corporate EyeCare program, eye examination (medical, PPS, private, student, OCT scan, optomap scan, contact lens check up, annual contact lens aftercare), specialist contact lens fitting, children eye care, myopia treatment, diabetes screening
PRODUCTS
Spectacle lenses (single vision, polycarbonate, ultra tough safety, bifocal, Essilor Varifocal, Zeiss Smartlife Plus Varifocal, Zeiss Smartlife Plus Varifocal, Zeiss Smartlife Individual Varifocal, Nolke anti-glare coating, Zeiss DuraVision Platinum coating, Zeiss DuraVision Blue project coating, Zeiss Hi Index lenses, polarized lenses, TransitionsⓇ Photochromic lenses, Varilux lenses, Eyezen lenses), low vision aids, sports eyewear, prescription sunglasses
WEBSITE
https://www.nolkeopticians.com
ADDRESS
Uluru Centre, Dunmore Rd, Waterford, County Waterford
CONTACT DETAILS
Phone number: 051 855638
OPERATING HOURS
Monday to Saturday: 9:30 AM - 5:30 PM

Sunday: Closed
| | |
| --- | --- |
| Criteria | Ratings |
| Customer service | ★★★★☆ (4/5) |
| Variety | ★★★★☆ (4/5) |
| Speed of service | ★★★★☆ (4/5) |
| Access | ★★★★☆ (4/5) |
| Staff qualifications | ★★★★★ (5/5) |
Nölke Opticians and Hearing is an interesting place here in Waterford. Not only do they offer optician services but they also offer hearing services too.
From the get-go, they offer a lot of eye examinations for children to adults. This includes detecting specific diseases such as diabetes and myopia.
We find it reassuring that this variety is due to their current staff, most members of whom have a lot of experience.
They also feature a wide selection of eyeglasses down to the lens coating. What's worth noting about them is that they can provide eye magnifiers and low-vision aids.
Despite the wide selection, their prices are higher than most opticians around Waterford. However, most of the customers we've talked to said that it's worth it for the service they provide.
Speaking of service, their location has lots of parking for any walk-ins. It's also great that they're open on Saturday, unlike most other opticians in the area.
Customers can also order products on their website and have the items delivered to anywhere from Ireland. That can be a nice point of convenience if you're buying something for someone outside of Waterford.
Wide variety of eye examinations for children and adults
Lots of parking
Offers hearing services
Open on Saturdays
Can order online
Prices higher than average
Customer Reviews
Well prepared for children's eyecare
"The most fantastic care & service given to my 3yo daughter. So child friendly & really helpful. Thanks so much!" – Helen Carey
Great service for a great price
"Friendly, professional staff throughout. Very thorough eye testing. The appointments are carefully managed during these Covid times. A little pricey, but you get what you pay for, and there are deals available on the glasses." – Mark Ireland
2. Specsavers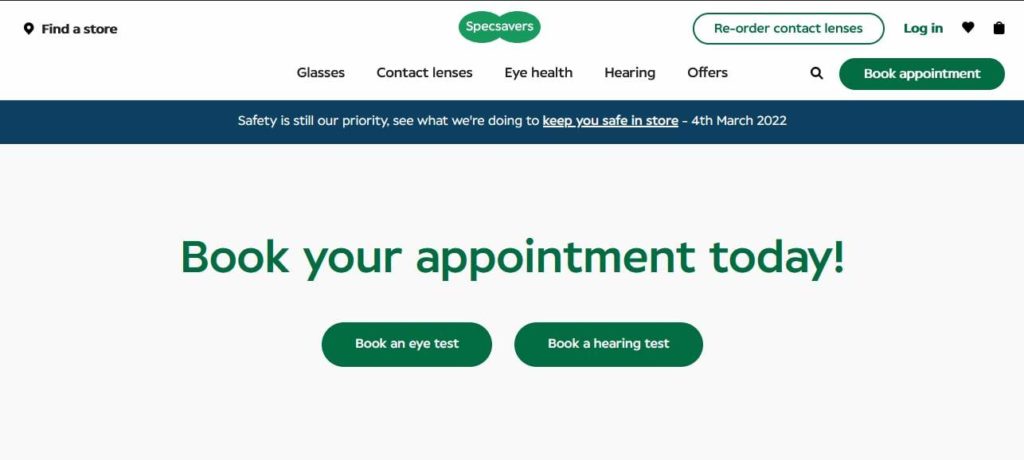 Test
Info
SERVICES
Eye examination (tonometer, visual field test, eye pressure test, autorefractor test, DRP, retinoscopy, vision test, Ophthalmoscope, Visual field check, OCT scan), online consultation through RemoteCare, corporate eyecare service (eVoucher, DSE eyewear, safety eyewear, optical care, driving eyecare), remote audiology services, hearing aid remote fine tuning
PRODUCTS
Glasses, sunglasses, contact lenses (daily, weekly, monthly, disposable, toric, multifocal), hearing aids (Specsavers Advance, Phonak Marvel 2.0, Phonak Belong, SigniaX, SigniaAX, Signia Active)
WEBSITE
https://www.specsavers.ie/
ADDRESS
31-32 City Square, City Square Shopping Centre, Waterford
CONTACT DETAILS
Phone number: 051 877 500
OPERATING HOURS
Monday to Saturday: 9:00 AM - 6:00 PM

Sunday: 12:00 PM - 6:00 PM
| | |
| --- | --- |
| Criteria | Ratings |
| Customer service | ★★☆☆☆ (2/5) |
| Variety | ★★★★☆ (4/5) |
| Speed of service | ★★★★☆ (4/5) |
| Access | ★★★★☆ (4/5) |
| Staff qualifications | ★☆☆☆☆ (1/5) |
Specsavers is well-known because they provide optician and hearing services across Ireland.
Aside from providing lots of eye examinations to their patients, they also offer online consultations. This makes it convenient for anyone who doesn't have time to do this in person.
Speaking of convenience, you can order any of their eye products online and have them picked-up or delivered to you.
Aside from that, they have lots of handy guides available, from how the eye examination goes to picking a pair of eyeglasses.
Do take note that if you have to head to the Waterford branch, they have a 490-space private parking since it is in a shopping complex. Parking charges €2 per hour, which we think is decent.
As great as all of these things are, we should note that some past customers of the Waterford Branch experienced some discomfort.
Some said that they were unreachable through the phone at times, while others said they felt unwelcome when they visited.
On the bright side, it is open on all seven days. That means you can get their eye services any time within the week.
Offers online consultations
Guides on eye health available
Access to private parking for patients
Online ordering available
Pick-up service available
Delivery available
Open on weekends
Inconsistent customer service
Customer Reviews
Small mix-up
"2 different staff, including the optician, got myself and another person mixed up. I was called for examination with another person's chart then the optician called another person for examination with my chart. Eventually got the correct chart with the correct person." – Bea Flavin
Great overall service
"My yearly eye test. Very thorough, my optician is a lovely lady, and had my eyes tested resulting in new prescription glasses for reading. Clean, well appointed shop. It took 30 minutes and a week later a text to collect my glasses. Very good." – Nyck Hampson
3. Eyecatchers Opticians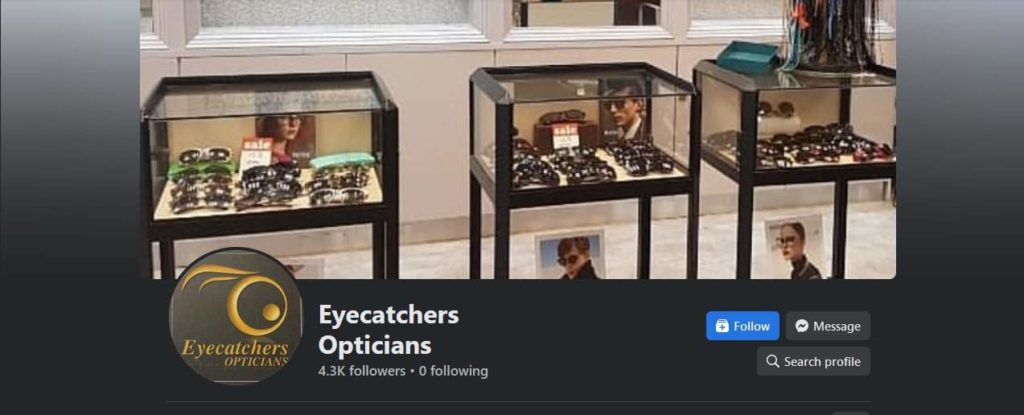 Test
Info
SERVICES
Eye examination
PRODUCTS
Eyeglasses, sunglasses, contact lenses
WEBSITE
https://www.facebook.com/Eyecatcherswaterfordnewross
ADDRESS
5 Arundel Lane, Waterford, Ireland
CONTACT DETAILS
Phone numbers: 051 445447, 051 873553
OPERATING HOURS
Monday to Saturday: 9:00 AM - 5:30 PM

Sunday: Closed
| | |
| --- | --- |
| Criteria | Ratings |
| Customer service | ★★★★☆ (4/5) |
| Variety | ★★☆☆☆ (2/5) |
| Speed of service | ★★★★☆ (4/5) |
| Access | ★★☆☆☆ (2/5) |
| Staff qualifications | ★☆☆☆☆ (1/5) |
Eyecatchers Opticians is located a few blocks from the Waterford Bus Station and the Clock Tower.
Unlike the previous entries on this list, they have a pretty big drawback if you're a window shopper. They do not publicly post which eyeglasses, sunglasses, and contact lenses they offer with their prices for comparison.
We're not crazy about that, for obvious reasons. Consumers need to be able to see prices easily, without being forced to ask for them, so they can shop around for better prices.
Another downside is that their website is still bare bones as of writing this article: only their contact information and address is written on there. They could really do better.
On the bright side, the actual store offers pretty good service and stock, we found on our visit. Most of their customers also said that they had a great experience with them.
From what we found out, they can replace missing parts in glasses even if they didn't get their pair with them. We think this is neat and they don't even charge extra for said parts.
Aside from that, nearly all the customers who ordered their glasses from them were able to get them on time, according to our survey.
There's also lots of them recommending their store to their family and friends. There also seems to be a consensus that the prices are worth the quality of frames they have.
However, we did find out about complaints from last year about not giving customers a heads-up on how many people can be inside at a time in their shop. Not a rare issue during the confusion of the pandemic period, but that disorganisation isn't great.
Near landmarks such as the Waterford Bus Station and the Clock Tower
Can repair glasses with missing parts
Delivers glasses on time
Not public about which eyeglasses, sunglasses, and contact lenses they have
Website not functional except for their contact details and address
Customer Reviews
Great service over the years
"Great service and staff. Have been a customer for some years and have recommended to family members who have all been extremely impressed by the professionalism, care, and service." – Feral McGrath
Speed and quality of service is amazing
"I recommend the quality of glasses as well as customer service. I just got my glasses today which I ordered at the end of last week. High quality for a reasonable price. I would highly recommend them to everyone." – Lech Andrej Koper
FAQ About Opticians
---
Now that you're prepared to keep your eyes healthy, you can also check out these lists to keep you on the path to wellness: