The 5 Best Used Car Dealerships in Limerick
If you're looking for quality second hand cars or just wanting to upgrade your ride at a reasonable price, the best car dealerships in Limerick are here for you to explore!
In this review, we picked some of the top car dealers that provide great cars and even greater customer care. See which ones made our list that suit your needs best.
You may also want to check out the best car financing firms in Ireland to aid you before searching for car dealership services below.
How Much Do Vehicles in Used Car Dealerships Cost
The cost of buying a pre-owned vehicle from car dealerships in Limerick varies. While this mainly depends on the brand of the used car, there are also other factors to consider.
The vehicle type, model, availability, applicable deals, and other extras also come to play in influencing these costs:
Used Cars
Estimated Costs

*depends on the availability

In general
€600 to €380,000
Per brand/model
Car models include but are not limited to:

Hyundai Accent: starts at €600

Toyota: starts at €950

Volkswagen: starts at €2,600

Saab: starts at €2,950

Ford Mondeo: starts at €3,000

Mazda: starts at €3,600

Nissan: starts at €3,950

MINI: starts at €4,900

Audi: starts at €5,950 vMercedes-Benz: starts at €7,900
That's why it's best to buy a car with a plan in mind. Know the specifications you need and want before heading to your chosen car dealer in Limerick.
The Best Car Dealerships in Limerick
We assessed the top car dealers in Limerick, based on the following criteria:
1. Arthur Auto Sales Ltd.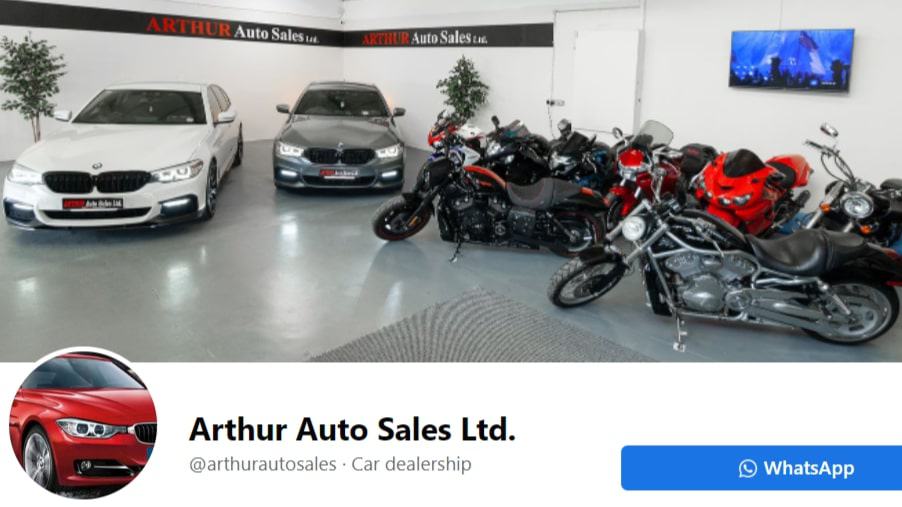 Test
Info
SERVICES
In-store Shopping, In-store Pickup
WEBSITE
http://www.arthurautosales.ie/
ADDRESS
Crossagalla, Ballysimon Rd, Limerick, V94 E1T6, Ireland
CONTACT DETAILS
+353 89 488 2431
OPERATING HOURS
Monday - Friday: 9:00 AM - 6:00 PM

Saturday: 9:00 AM - 5:00 PM
| | |
| --- | --- |
| QUALITY OF CARS | ★★★★★ (5/5)Cars are in great condition |
| BUYING PROCESS | ★★★★☆ (4/5)Easy and efficient for the most part |
| CUSTOMER SERVICE | ★★★★★ (5/5)Professional, polite, and easy-going staff |
| MOST LIKELY TO RECOMMEND | ★★★★★ (5/5)Great services overall |
Arthur Auto Sales Ltd. aims to be among the top car dealers in Limerick by offering the best cars with the best customer care. True to their vision, they seem to provide the best of both worlds!
When we entered their garage, the staff welcomed us and offered us guidance every step of the way. On the other hand, when we tried calling them, they sounded happy to accommodate our phone calls and were available on Whatsapp too!
We prefer car dealers like them who always keep their lines open. This is especially useful for all sorts of enquiries and emergencies.
Aside from their friendly demeanor, we appreciated their honesty when they offered us the most suitable deals for our specific needs or tight budget.
We applaud this one because buying a car should be a fair and seamless experience. Their reliable staff makes this possible by being available to quickly sort out hiccups before and after purchase.
We also like a dealer we can trust! They thoroughly check the cars' history and confirm their quality through automotive data supplier companies such as Motorcheck.ie, Cartell.ie, and VMS.ie.
In addition to this, they're not restrictive with their payment options. We appreciate that they're open to discussing and accepting different modes of payment most favourable for us.
We believe making a fulfilling car purchase shouldn't be rushed, and we're glad they make sure we're content with everything beforehand.
However, we just wish they were more active in responding through their Facebook page too. This is where they put up photos and descriptions of their used cars for sale, and a few customers have their enquiries left hanging.
But at the car dealership, itself, nothing feels too much trouble for them. Additional requests and some extras for the cars are handled with utmost efficiency.
Because of this, we think their satisfactory services make it unfortunate they aren't open on Sundays too.
Overall, we value their consistency. Similar to many happy customers, we would surely consider going back to them for future car purchases and upgrades.
Good selection and quality of used cars
Easy buying process
Polite and knowledgeable staff
Present on Facebook and Instagram
Not open on Sundays
Knowing the availability of cars online can be a challenge
Not that responsive to Facebook comments
Customer Reviews
Professional staff
"What a garage! Never met a professional salesman this easy-going. They held on to the jeep for 3 weeks with a deposit while I arranged transport around work. Jeep is brilliant to drive, she's a head-turner. Would recommend the lads and I'll be returning for future cars and keeps." – Rev Discos
Cars in mint condition
"Got my first car at Arthur Auto Sales and I'm very happy with the car, which is in mint condition. Unbelievable customer service – really helpful and very professional and would recommend to anyone. One of the best places to get your car in Limerick!" – Bartek Migdal
2. Cardian Ireland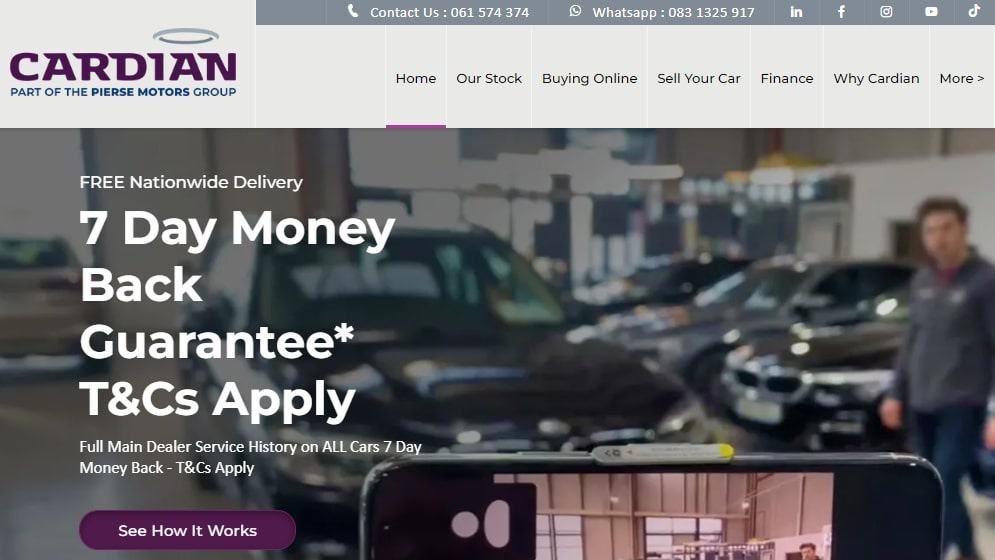 Test
Info
SERVICES
Fully Indoor In-store Shopping, In-store Pickup, Delivery
WEBSITE
https://www.cardian.ie/
ADDRESS
East Point Retail Park, Unit 1, Ballysimon Rd, Ballysimon, Limerick, V94 44N8, Ireland
CONTACT DETAILS
Sales Landline: +353 61 574 374

Sales Mobile (Whatsapp): 083 1325 917

Finance: 061 574 374

OPERATING HOURS
Monday - Friday: 9:00 AM - 6:00 PM

Saturday: 9:00 AM - 3:00 PM
| | |
| --- | --- |
| QUALITY OF CARS | ★★★★★ (5/5)Cars are in great condition |
| BUYING PROCESS | ★★★★☆ (4/5)Hassle-free buying and selling experience |
| CUSTOMER SERVICE | ★★★★★ (5/5)Staff are easy-going and are good communicators |
| MOST LIKELY TO RECOMMEND | ★★★★★ (5/5)Great services overall |
Cardian Ireland is a great pick among car dealers in Limerick due to their convenient purchasing options. Customers can buy through their store or have it delivered – but we appreciate the latter because not many dealerships offer this.
Their showroom is fully indoor too! More often than not, we feel this is safer and more comfortable to explore than outdoor ones.
We commend their staff who are patient with the test drives, paperwork, and other requirements as well. But more than that, we like how they don't put any pressure on customers to buy on the first visit.
It's a delight that they explain every detail from online car reservations to purchases. They're also attentive outside of the garage when you ring them for more questions.
They're also generous with providing deals such as a 12-month warranty, 7-day money-back guarantee, and free nationwide delivery (T&Cs apply). If you're looking for reliable vehicle aftercare, Cardian Ireland is a great place to start.
Not only that, but we can also efficiently sell them cars for a reasonable price. We just need to enter our complete car details on their website and we can collect payment as fast as 24 hours!
We enjoy fast and hassle-free transactions like this and we're glad they're maximising the use of their online platform to provide reliable remote services.
However, we noticed a drawback from their Hire Purchase (HP) financing if you want to own a car from them right away.
Customers will normally pay an initial deposit and pay off the entire value of the car in monthly instalments, but these monthly payments may be higher than other types of financing.
But all in all, we give a thumbs up to Cardian Ireland for going the extra mile in servicing their customers!
Fully indoor showroom
Quality used cars
Detail-oriented and helpful staff 
Car delivery available
Readily offers convenient deals
Present on Facebook and Instagram
Closed on Sundays
Not that responsive on Facebook comments
Customer Reviews
Excellent customer service
"They were so easy to deal with and really efficient with excellent communication. Purchased Range Rover Evoque recently and would highly recommend them for their customer service. Great trade-in and support and hassle-free purchase." – Fiona Mccarthy
Highly recommended
"Had a great experience with Cardian. They were very honest and helpful with test drives, paperwork, etc. Very happy with my purchase and would definitely recommend the guys at Cardian to a friend." – Eanna Heffernan
3. CMC Car Sales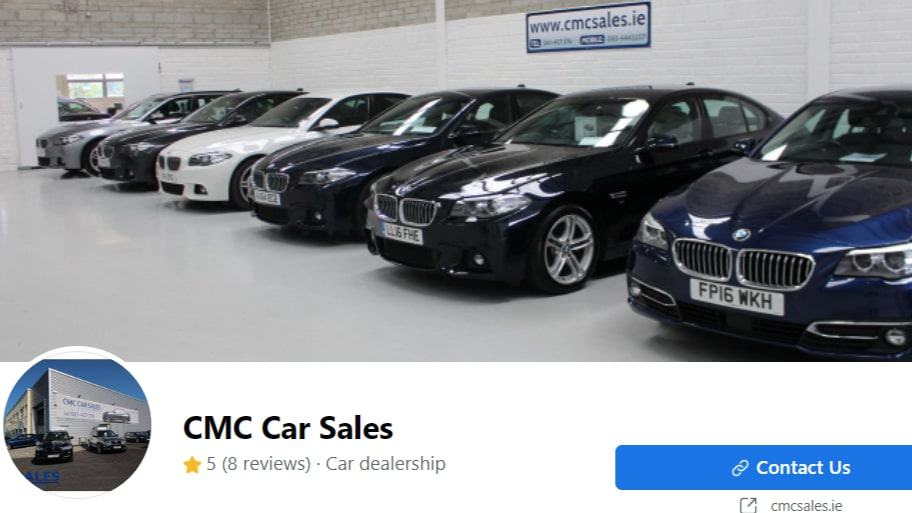 Test
Info
SERVICES
In-store Shopping, In-store Pickup, Delivery
WEBSITE
https://www.cmcsales.ie/
ADDRESS
19 Westlink, Clondrinagh Industrial Estate, Ennis Road, Limerick, V94 N702, Ireland
CONTACT DETAILS
+353 61 457 376

07866 897123

OPERATING HOURS
Monday - Friday: 9:00 AM - 6:00 PM Saturday - Sunday: 10:00 AM - 4:00 PM
| | |
| --- | --- |
| QUALITY OF CARS | ★★★★★ (5/5)Cars are in great condition |
| BUYING PROCESS | ★★★★☆ (4/5)Good servicing from start to finish |
| CUSTOMER SERVICE | ★★★★★ (5/5)Knowledgeable and helpful staff |
| MOST LIKELY TO RECOMMEND | ★★★★☆ (4/5)Great services overall |
CMC Car Sales specializes in high-quality pre-owned vehicles both locally sourced and from the U.K. Because of this, we can be sure to find an extensive selection of used cars here!
From what we've seen, their cars seem to be in brilliant condition too. We know how satisfying it is to buy a secondhand car that looks brand new or straight out of a showroom.
We also appreciate their helpful staff who willingly sent us pictures and videos to discuss enquiries in detail. What's even more surprising is that some staff even sent replies on a Sunday!
If that weren't enough, we were pleasantly surprised that they accommodate late night and weekend appointments too!
Furthermore, we also like how they return calls promptly.
Now, on the occasion that you don't proceed with the purchase due to budget concerns or other reasons, we appreciate that CMC Car Sales is understanding and doesn't make us feel bad about it.
But while they're visibly hands-on, their car viewing service is made available by appointment only. We feel this can be a challenge if we can't get our most preferred schedule and we don't have much room for adjustment.
However, at least they're open every single day! We can just discuss our initial specifications with them first and then proceed with the car viewing later on.
Finally, we admire how they're open and honest about their pricing and trade-in valuations.
We value transparency with our car dealerships. For this, we want to make sure that we're getting the most value out of our money in the end.
Open every day
Late night and weekend appointments available
Cars in pristine condition
Friendly and hands-on staff
Clear pricing and trade-in valuations
Offers to pay cash for private car sellers
Viewing is available by appointment only
Customer Reviews
Everything ran smoothly and efficiently
"I recently purchased a car with CMC and had the pleasure of dealing with Ben who was very friendly and easy to deal with. Everything from the first text ran smoothly and efficiently. He answered queries, returned calls promptly and he was true to his word. He had the car looking like it came straight from the showroom. I will go back in the future because of the excellent customer service and high-quality vehicles for sale. I would definitely recommend CMC Car Sales." – Gary Finan
Car condition was immaculate
"Ben and Barry were a pleasure to deal with. The 530e they handed over to me was everything that they promised! They did everything they said they would do that ensure that the car was immaculate and delivered it in the time they said they would. CMC is an exceptionally reliable and professional company. I would have no problem recommending them to friends or colleagues and I would also be delighted to purchase my next car from them." – Alan Gorman
4. Munster Trade Sales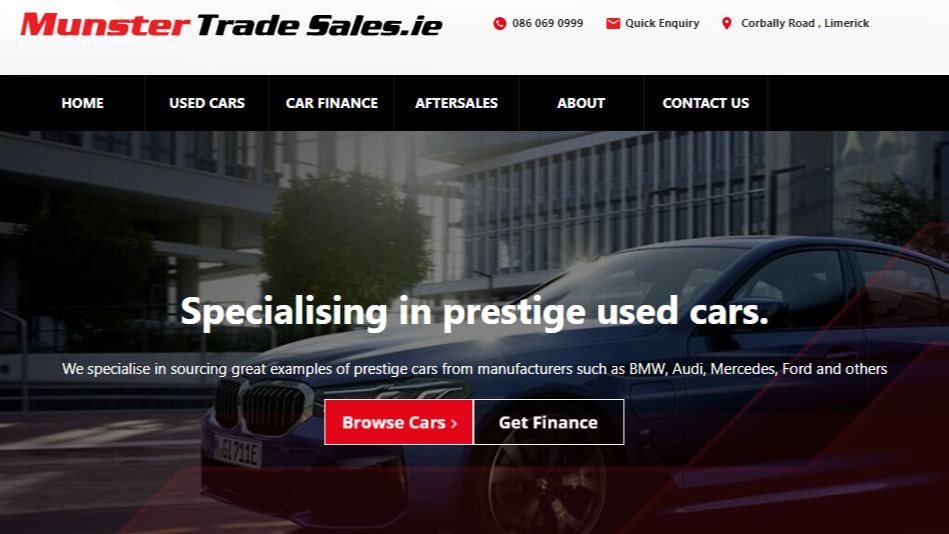 | Test | Info |
| --- | --- |
| SERVICES | In-store Shopping, Delivery |
| WEBSITE | https://www.munstertradesales.ie/ |
| ADDRESS | Rosmadda West, Limerick, Co. Clare, Ireland |
| CONTACT DETAILS | +353 86 069 0999 |
| OPERATING HOURS | Monday - Saturday: 9:00 AM - 8:00 PM |
| | |
| --- | --- |
| QUALITY OF CARS | ★★★★☆ (4/5)Cars are in tiptop shape |
| BUYING PROCESS | ★★★★★ (5/5)Very informative |
| CUSTOMER SERVICE | ★★★★☆ (4/5)Kind staff who goes the extra mile |
| MOST LIKELY TO RECOMMEND | ★★★★★ (5/5)Valuable services overall |
Munster Trade Sales specializes in sourcing luxury cars from manufacturers such as BMW, Audi, Mercedes and others. Here, we appreciate more popular options to choose from that could still work well within our budget.
Aside from having a wide selection, we can also easily book a service or test drive on their website by providing a few important details.
That said, we approve of their website because it has a fairly simple user interface. This makes the booking process straightforward, especially for customers who aren't tech-savvy.
We'd also like to acknowledge that compared to other garages, this car dealer has relatively longer opening hours – about 11 hours a day on Mondays until Saturdays!
We believe this is really convenient for prospects, especially when we can come a bit late after work hours during the weekdays.
We particularly like that their professional staff looks into the tiniest details too. This includes fixing minor external paint damages and ensuring a full tank of fuel just for everything to be spot on before purchase.
Sometimes, they even offer customers a quick car wash during downtime! We feel that their sweet personal touches are among the reasons why many come back to them for major to minor upgrades post-sale.
Apart from that, they also diligently deal with enquiries and provide a fast turnaround for seamless service. Customers don't want to waste their time and this dealer clearly knows that.
Nevertheless, we noticed that a bunch of car prices are not displayed on their website. They are marked as "POA" or Price on Application to be discussed directly with them, so these cars may require a bit more work to acquire.
Overall, if we want to buy high spec cars with genuine salespeople, Munster Trade Sales is definitely a garage to keep in mind.
Longer opening hours than most dealers
Reasonable prices
Genuine staff who adds extra value to their services
Easy-to-use website
Not open on Sundays
Some car prices to be discussed on application
Customer Reviews
One of the most straightforward transactions ever
"Outstanding service and attention to detail at Munster Trade Sales. Went well above and beyond what they had to do to ensure that everything was in perfect condition with our car which we collected today. This was one of the most straightforward transactions I have had in purchasing a car. Will definitely be back in the future. Thanks again, lads." – Padraig Kelleher
Professional from start to finish
"Absolutely fantastic service dealing with Munster Trade Sales, couldn't recommend them enough. Professional from start to finish. Bought my BMW 5 series from them and dealt with Neil, he couldn't have been more accommodating even to the point of delivering the car in person himself. Top selection of cars and highly recommend Munster Trade Sales for your next car purchase. 5 Star Service." – Niall Enright
5. AutoXpress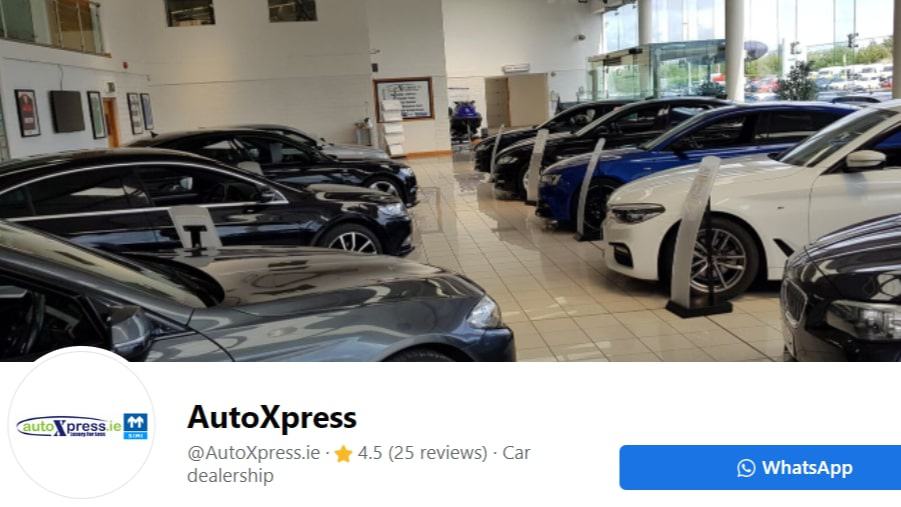 Test
Info
SERVICES
In-store Shopping, In-store Pickup, Delivery
WEBSITE
https://www.autoxpress.ie/
ADDRESS
Castlepark, Dock Rd, Ballykeeffe, Limerick, Ireland
CONTACT DETAILS
+353 61 446 033
OPERATING HOURS
Monday - Friday: 9:00 AM - 6:00 PM

Saturday: 9:00 AM - 5:00 PM
| | |
| --- | --- |
| QUALITY OF CARS | ★★★★☆ (4/5)Cars are usually in good condition |
| BUYING PROCESS | ★★★★☆ (4/5)Efficient even remotely |
| CUSTOMER SERVICE | ★★★☆☆ (3/5)While usually efficient, their sales' responsiveness can still be improved |
| MOST LIKELY TO RECOMMEND | ★★★★☆ (4/5)Not perfect, but still among the best ones |
At AutoXpress' modern showroom, we can find a generous selection of used cars for sale like the latest Audi, BMW, Ford, Land Rover, Nissan, Toyota and Volkswagen models.
So whether it's a luxury or economy car we're after, we can see that AutoXpress has many suitable cars for our budget or lifestyle preference!
They also send lots of photos and videos for reference so we can become well-informed buyers. We like that they're very instructive in showing car options so we don't miss out on anything.
And if we can't be physically present, they're also efficient with doing remote services too! From answering enquiries to managing delivery, we can vouch for their smooth processing.
But on our end, we should still be careful in inspecting their cars before purchasing. Some customers that we've spoken to say they have incurred extra costs because they failed to see some faulty car parts early on.
Another possible drawback of AutoXpress would be its frequency of responsiveness. While this is on a case-to-case basis, having lots of customers tend to delay their replies every now and then.
Overall, while they don't have the perfect customer service, their good car dealership normally compensates for it.
They can still be proud of their usual garage work while continuously improving on the other aspects of their business moving forward.
Generally top quality cars at reasonable prices
Extensive selection
Responsive to Facebook comments
Efficient remote services
Not open on Sundays
Responsiveness of sales can be improved 
Several complaints of faulty parts post-purchase
Customer Reviews
Very thorough and efficient
"Top class experience with my very first time buying from a dealership. Ger is a top-class bloke and was very thorough and efficient when sealing the deal with me. Ger was very informative and was ready to answer any questions I had regarding the car. I will definitely be dealing with AutoXpress for years going forward and I will be recommending them to all family & friends here in Co. Louth. Well done!" – Niall Carolan
Everything was done remotely
"After another dealership let me down by not getting back in touch with me, Ger was super helpful with showing me my available options and even sent videos of the prospective cars to me (one was yet to be placed on the website so it was definitely worth calling in). Everything was done remotely as I was unable to go down to the dealership. Purchase was done quickly and efficiently, and if I had any questions it was promptly answered. Delivery was carried out in less than a week and even the delivery guy was very friendly! I would definitely recommend this dealership to anyone. Great experience from start to finish!" – Daffy Coloma
FAQs about Car Dealerships in Limerick
---
If you want to find more car-related services, start with our review of the best car insurance providers and brokers in Waterford to learn more!