5 of the Best Wedding Videography Services in Dublin
A wedding is a very special day that is carefully planned for months in advance, from large flower arrangements to the small gift bag trinkets.

However, another essential part to this special event is the wedding videographer, who ensures that every special moment is recorded and edited.
In this article, we listed down the best wedding videography services in Dublin to help you ensure that your special day is captured to its finest.
How much does wedding videography cost?
Wedding videography costs can vary greatly between different services. This is mostly due to the creative nature of the industry, which takes liberties in style as well as more technical elements like quality and business costs.
It's important as well to discuss with videographers any additional fees including transportation fees to the venue. Most videographers also need a deposit to secure the schedule.
| Product/Service | Inclusions | Price |
| --- | --- | --- |
| Deposit | - | € 500 to € 700 |
| Basic packages | Bridal preparation, full ceremony, reception with speeches, first dance, highlights film | € 1200 to € 1400 |
| Standard packages | Basic package + drone shots, coordinator, teaser, documentary film, unlimited wedding day locations | € 1500 to to € 3900 |
| Advanced packages | Standard package + higher quality film, raw footage, USB, packaging | € 4000+ |
| Photo albums | - | € 600 to € 800 |
| Raw footage | add-on | €500 |
| Additional hourly coverage | - | €200 |
Top Wedding Videographers in Dublin
We assessed the wedding videographers based on the following criteria:
1. Bride and Groom Films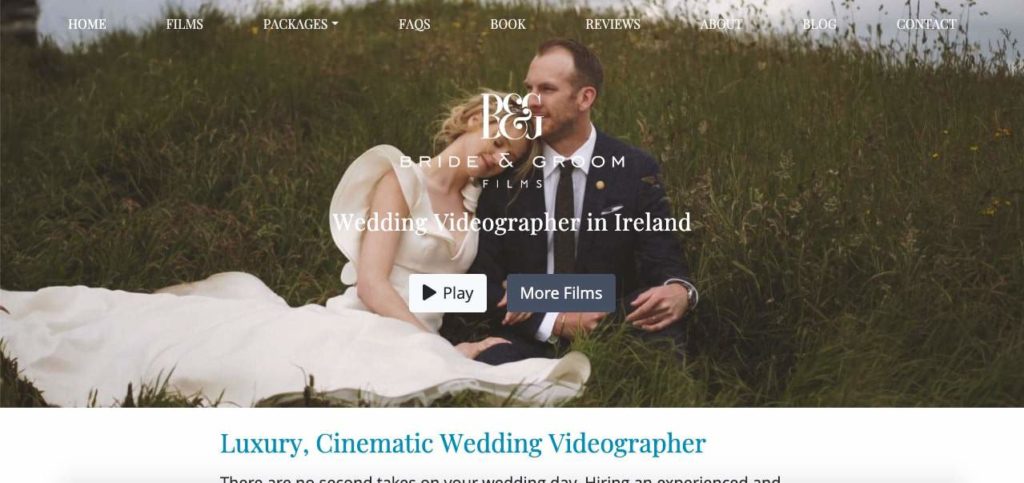 | Test | Info |
| --- | --- |
| SERVICES | Wedding Videography, Film Packages, Build Your Own Package |
| WEBSITE | https://brideandgroom.ie/ |
| ADDRESS | Birchview Cl, Tallaght, Dublin 24 |
| CONTACT DETAILS | 01-4420071 |
| OPERATING HOURS | Open 24 hours |
| | |
| --- | --- |
| Portfolio | ★★★★★(5/5) |
| Videography process | ★★★★★(5/5) |
| Range of services | ★★★★★(5/5) |
| Thoroughness | ★★★★★(5/5) |
| Availability | ★★★★☆(4/5) |
| Customer feedback | ★★★★★(5/5) |
| Style | ★★★★★(5/5) |
| Efficiency | ★★★★★(5/5) |
Bride and Groom Films combines a family perspective with luxurious and cinematic quality, making it a top tier choice when it comes to wedding videographers.
Richard Finlay, the videographer, has an extensive and rich background not only in the wedding industry, but also film itself.

He has recorded close to 1000 ceremonies and his services have garnered multiple awards and features at The Irish Wedding Awards, DV Awards, Weddings Online Awards and the Brides' Choice Awards.
We found his portfolio to be very impressive. His videos capture the atmosphere of the ceremony as well as gorgeous drone shots of the venues altogether.
He is the perfect choice for those who plan to have ceremonies and receptions outdoors. He really fulfills his promise of a cinematic output.
His packages also reflect this high quality, movielike production. Clients can choose from packages named The Tarantino, The Scorcese, and The Coppola.
The different features of these sets include trailers, feature films, drone shots, 4k cinema quality cameras and other top of the line technology. However, we also appreciate that Bride and Groom Films offers a build-your-own package for customization to your liking.
They do not charge travel fees but do require a deposit of € 500 for a confirmed booking. What's more is that the music they use is limited to the licensed music they have access to, but they do allow track changes upon request.
No travel fee
Cinematic and high quality output, perfect for outdoor venues
Offer a build-your-own package
Are discreet in their style yet approachable during the wedding day itself
Music choices are limited to their licensed music
Might be more costly due to high quality
Customer Reviews
Videography like No Other
Richard Finlay is the best at what he does. Look no further… Our family is very happy with the wedding films he has made for us… There is Richard, and then there is everybody else… -Jim Sheridan
Captured the Day Perfectly
Richard is just fantastic!!!! We got our wedding videos from our wedding in august and the quality is just something out of this world! I can't even begin to describe how special the video is to me. Richard captured the day so perfectly. He is an absolute gentlemen to work with and we are blessed to have shared our day with him. He is a genius at what he does. If you want the best of the best, then he is your man. -Hayley and Paddy
2. Edithouse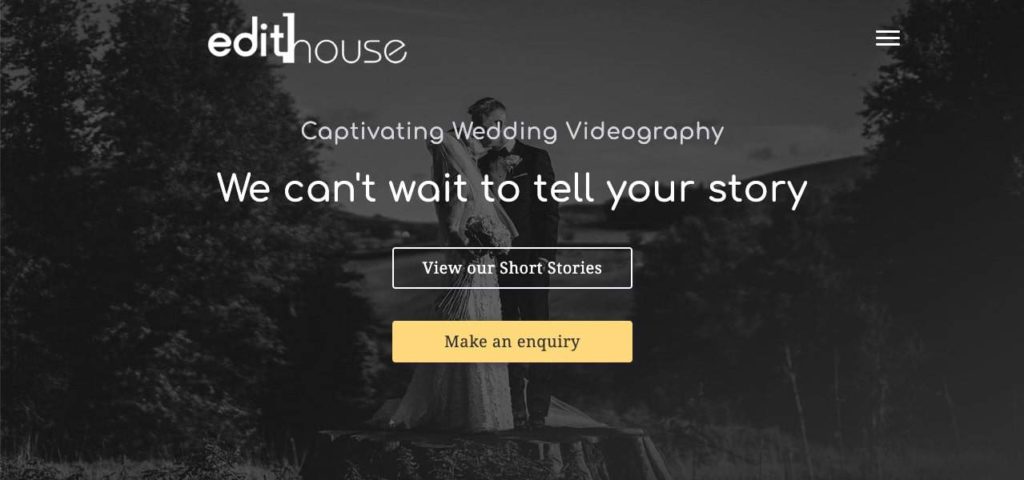 | Test | Info |
| --- | --- |
| SERVICES | Wedding Videography, First Look, Drone Footage, Instagram Video, Extra Filmmaker |
| WEBSITE | https://www.edithouse.ie/ |
| ADDRESS | 13 Adelaide Rd, Saint Kevin's, Dublin 2 |
| CONTACT DETAILS | 087 8371555 |
| OPERATING HOURS | Weekdays: 9:00 AM to 5:30 PM |
| | |
| --- | --- |
| Portfolio | ★★★★★(5/5) |
| Videography process | ★★★★★(5/5) |
| Range of services | ★★★★★(5/5) |
| Thoroughness | ★★★★☆(4/5) |
| Availability | ★★★★☆(4/5) |
| Customer feedback | ★★★★★(5/5) |
| Style | ★★★★★(5/5) |
| Efficiency | ★★★★★(5/5) |
Edithouse has received much praise for their relaxed yet assured style when it comes to executing their videography services.
Starting in 2003, they are a team of both videographers and editors and what we like is that they really closely collaborate with the couple to suit their wants and preferences. They never outsource their editing and come highly recommended from trusted photographers.
They have also been featured consecutively in One Fab Day, Junebug Weddings, Emerald Weddings and Bridal Musings.
What makes them stand out for us is, besides a cinematic style that other videographers offer, they highlight a more documentary style of approach. Their services are perfect for couples looking for more raw and unfiltered moments.
If you take a look at their previous works, they're very playful with the way they use music, color and dimensions in their editing. Edithouse is a great choice if you want videos that can match a wedding couples' personality.
Their packages follow more standard pricing patterns for wedding videography services, starting at € 2095 and they require a deposit of € 500 for booking.
However, do take note that they have additional charges for travel depending on how far the venue is from Greystones in County Wicklow.
Also offer a more documentary style of approach
Previous works feature more playful and upbeat videos
They make sure to blend in during the wedding day
Have two levels of drone coverage
Closed during weekends
Additional travel charges for a certain km range from Greystones
Customer Reviews
Love Her Style, No Fuss
Emma came highly recommended to me from family after she did my brother's wedding video. She is an absolute pleasure to work with, love her style very relaxed and no fuss. She really captured the fun and excitement of the day and we have fantastic footage of our families and guests that we will treasure for years to come. Thank you Emma! -Aoife Tevlin
Surpassed Our Expectations
Edithouse were amazing! Brilliant to be around on the day and the video surpassed our expectations! The video is so special to have and brings all the memories flooding back! Would highly highly recommend! -Rachel and Ken Leyden
3. Wonder and Magic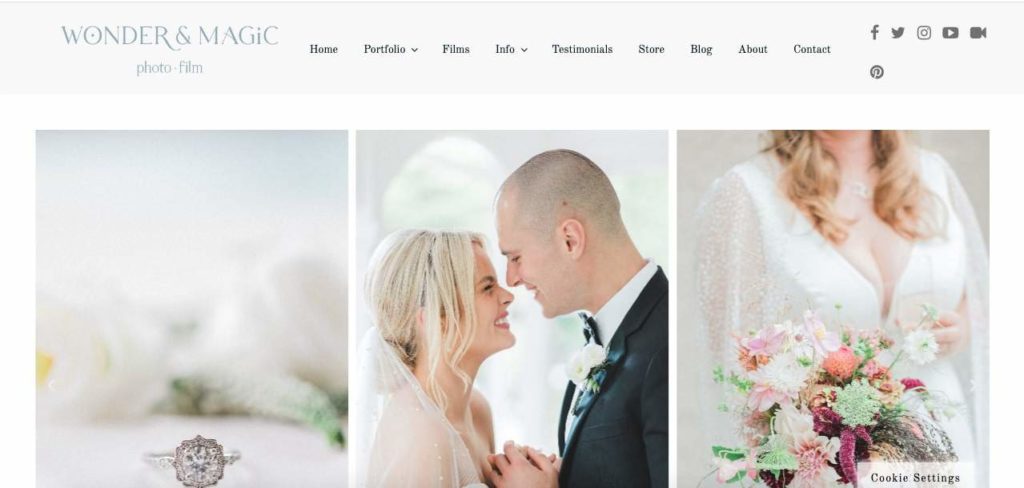 | Test | Info |
| --- | --- |
| SERVICES | Photo and Video for: Weddings, Engagements, Destination Weddings; Albums |
| WEBSITE | https://www.wonderandmagic.ie/ |
| ADDRESS | Beaumont Woods, Beaumont, Dublin |
| CONTACT DETAILS | +353 87 246 6112 |
| OPERATING HOURS | Weekdays: 10:00 AM to 6:00 PM |
| | |
| --- | --- |
| Portfolio | ★★★★★(5/5) |
| Videography process | ★★★★★(5/5) |
| Range of services | ★★★★★(5/5) |
| Thoroughness | ★★★★★(5/5) |
| Availability | ★★★★☆(4/5) |
| Customer feedback | ★★★★★(5/5) |
| Style | ★★★★★(5/5) |
| Efficiency | ★★★★★(5/5) |
Wonder and Magic do not only live up to their namesake, but they also deliver in confidently guiding couples in front of the camera, making for some fantastic candid and posed moments.
They are a wedding photographer and videographer team with an excellent background. Emmylie has been a published photographer for 10 years, while her husband Richie has over 15 years of experience in a variety of disciplines.
Customers can rest assured of the top quality of their work as they have been featured in publications and awards like the IPPVA, Inspiration Awards, and the Irish Times.
Their style is very sophisticated and their guidance makes a huge impact in terms of the outcome of the photos. A lot of previous customers have expressed gratitude towards the team's guidance in front of the camera, citing praise for their professionalism.
Wonder and Magic is an excellent option for couples who are maybe slightly nervous posing in front of a camera. Their team makes you feel very assured and comfortable.
We also like how detailed their process is from scheduling e-meetings before booking to their efficiency in time management between the wedding and reception.
Beyond providing both photography and videography services, they also accommodate engagement sessions and destination weddings.
Keep in mind that when booking their services, the earlier the better, as their slots can be filled up quite quickly.
Also accommodate engagement sessions and destination weddings
Provide gentle guidance in front of the camera
Solid background of photographer and videographer
Efficient process
Higher booking price for both wedding photography and film
Limited number of schedules per year
Customer Reviews
Extremely Friendly and Professional
We felt like we struck gold when we had Emmylie and Richie as our wedding photographer and videographer. They are the perfect duo and work extremely well together. From the moment they step into the house they put you at ease. Apart from being extremely friendly and warm their professionalism shines through. Emmylie is more like a wedding coordinator, organising everyone in order to get the best shot. You feel 100% confident on the day that they are getting all the shots and all the best shots! They have an amazing eye for light and detail not to mention capturing the most precious moments on the day. There is constant communication before, after and during the big day, whether it's a phone call, whatsapp message or email. We are so happy with the photos and videos of the wedding day. It is such a hard decision to make; who to pick as your wedding photographer and videographer. Thankfully we were highly recommended Emmylie and Richie and we in turn highly recommend them to you – Sile and Dave
Couldn't Recommend them Highly Enough
We couldn't have been happier having Emmylie and Richie document our special day. From the minute they arrived they put us completely at ease. We wanted relaxed shots which they delivered in abundance and our video was incredible as neither of us knew what the other had said until we got it. With the after wedding blues it was the most amazing pick me up and is something we will cherish forever. We couldnt recommend them highly enough and if we could do it all again having Wonder and Magic would be a no brainer for us. -Sarah and Eamon
4. The Fennells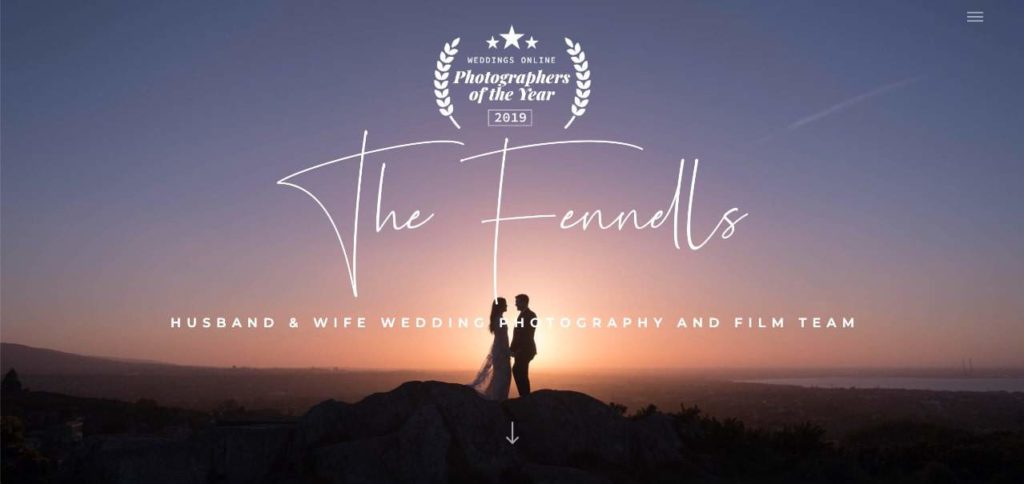 | Test | Info |
| --- | --- |
| SERVICES | Photography, Videography, Wedding Albums |
| WEBSITE | https://thefennells.ie/ |
| ADDRESS | Enniskerry Rd, Stepaside Park, Jamestown, Dublin 18 |
| CONTACT DETAILS | 0879047267 |
| OPERATING HOURS | Open 24 Hours |
| | |
| --- | --- |
| Portfolio | ★★★★★(5/5) |
| Videography process | ★★★★☆(4/5) |
| Range of services | ★★★★☆(4/5) |
| Thoroughness | ★★★★☆(4/5) |
| Availability | ★★★★★(5/5) |
| Customer feedback | ★★★★★(5/5) |
| Style | ★★★★★(5/5) |
| Efficiency | ★★★★★(5/5) |
Winning the Wedding Photographers of the Year back in 2019, The Fennells fusion of a classic yet modern style will be sure to please many couples looking for that timeless feel.
What we really like is that they aim to capture moments at their best. Fiona and Mark Fennell have over a decade of experience and formulate creative perspectives that they tailor fit to each of their customers.
Their works have been featured on Social and Personal Weddings as well as the Accademia Conte Ceconi.
In terms of their videography, they make sure to be very discreet on the day itself. Their portfolio shows smooth drone shots, moving shots, and still captures that perfectly encapsulate different moments from preparation to evening.
Their portfolio also shows a good variety of experience in different venues, from forests to estates and lodges making them very versatile.
We also were very impressed by the range of packages they have. Customers can choose from couple shoots to a combination of photographers and videographers for a fully customized experience.
Their add-ons for these packages include albums, extended coverage, drone photography, a live stream, insta film and highlight film to name a few.
However, it would be best to take a look at the details of each of their packages as they can only provide one videographer in most of them.
Offer both photography and videography services
Have a lot of packages to choose from
Excellent drone and moving shots
Has a shop for albums as well
Packages have a maximum of one videographer
Forms of payment accepted include only visa and bank transfer
Customer Reviews
Impactful Videos
We sat down over Christmas to watch our wedding video and we were blown away all over again! -Louise and Andrew
Unobtrusive Videographer
We decided to book The Fennells videographer, and we can honestly say that was one of the best decisions we made for our wedding. The videographer was unobtrusive and we had no idea that he was even videoing the entire wedding. When we got our video back, it was absolutely perfect. -Molly and Justin
5. Amare Stories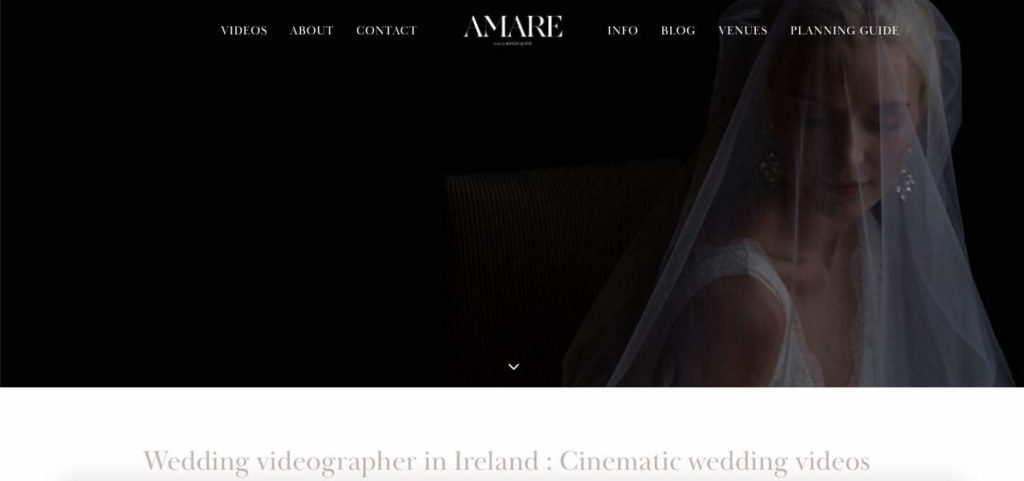 | Test | Info |
| --- | --- |
| SERVICES | Wedding Videographer |
| WEBSITE | https://www.amarestories.com/ |
| ADDRESS | Amare Stories 35 Drynam Crescent,Drynam Hall,Kinsealy Co Dublin |
| CONTACT DETAILS | 0867734687 |
| OPERATING HOURS | Everyday: 7:30 AM to 11:00 PM |
| | |
| --- | --- |
| Portfolio | ★★★★★(5/5) |
| Videography process | ★★★★★(5/5) |
| Range of services | ★★★★☆(4/5) |
| Thoroughness | ★★★★★(5/5) |
| Availability | ★★★★☆(5/5) |
| Customer feedback | ★★★★★(5/5) |
| Style | ★★★★★(5/5) |
| Efficiency | ★★★★★(5/5) |
Ronan, the videographer at Amare Stories, aims to capture the intimate connection within families at weddings. He has a decade of experience in filming and has received the award for "Wedding Videographer of the Year" twice.
We like that their portfolio shows a good blend of experience between recording indoor and outdoor wedding venues. We also like that his works show excellent lighting even during the later hours.
If you are looking for a videographer that has a keen eye in terms of lighting, Amare Stories may be the one for you.
They also have a list of wedding venues they worked with in the past on their website, providing details on each. We like that it is an additional resource that can help couples out there find the perfect places for them.
Some of the places they've worked with include the Ferrycarig Hotel, Tankardstown House, Cabra Castle, Virginia Park Lodge, Ballymagarvey Village, Palmerstown House Estate, and Rathsallagh Country House.
Aside from this they do also have good recommendations for wedding bands out there. We really like how Amare Stories provides advice on key details as it can really build a strong bond between them and the couple they're working with.
They do, however, only film a limited amount per year so it might be difficult to find a booking with them if you don't schedule early.
Most of their video packages cover the full day
Minimal equipment for discreet filming
Excellent video lighting whether in the morning or evening
Worked with a variety of excellent wedding venues
Possibility of limited slots
Music limited to their licensed selection
Customer Reviews
Excellent Attention to Detail
Ronan, I can honestly say I haven't watched a video on repeat like this since Superman 2!! I absolutely love it. You summed up the day in the video so well and captured all our favourite parts. Your attention to detail is second to none. We are so grateful and thankful we chose you to record our big day. Cannot recommend you enough. Thanks again!! – Stephen and Keith
Made us Feel at Ease
We would highly recommend Ronan. He was so lovely to deal with throughout the whole planning and on the day. He made us feel relaxed on our big day and nothing was ever an issue. Thanks so much. – Sarah and David
FAQs about Wedding Videography
---
A good wedding videographer is worth their weight in gold as moments are fleeting but memories are forever. We hope this article helped you explore your options out there and if you would like to read more, check out our article on the best flower delivery shops in Dublin.