The 5 Best Electricians in Waterford
It may be tempting to do repairs on your own, but having a professional do it for you saves you time and money in the long run.
To facilitate your search for reliable electricians in Waterford, we've gathered and reviewed the best ones. We've also listed the typical fees for electrical work in the city.
This isn't our first electrical contractors guide, by the way. Previously, we gathered the best electricians in Galway and Dublin. If you haven't found a guide for your city yet, stay tuned!
What do Waterford electricians charge per hour?
Onlinetradesmen reports that electricians outside Dublin usually charge €30–€40 per hour. You may expect additional charges for VAT and material costs.
Fees may also vary depending on the type of electrical work needed and when you need the work done. Electricians typically increase charges during the weekends unless you have booked an appointment in advance.
| Type of Work | Fee | Estimated Duration |
| --- | --- | --- |
| Electric cooker wiring | €55–€80 | 1 hour |
| Outdoor security light | €90–€140 | 1 to 3 hours |
| Smoke detectors wiring | €95 or more | Half-day to 1 day |
| Electrical inspection of an average three-bedroom house | €250 or more | 2 to 3 hours |
| Full rewiring of a three-bedroom semi-detached house | €4,500–€6,500 | 5 to 7 days |
| Electric shower installation | €450–€950 | 1 day |
| Electric socket installation | €150–€250 | 2 to 3 hours |
| Light fixture installation | €130–€150 | 1 to 2 hours |
The Best Electricians in Waterford
We assessed our options based on following criteria:
1. Tom Kearns Electrical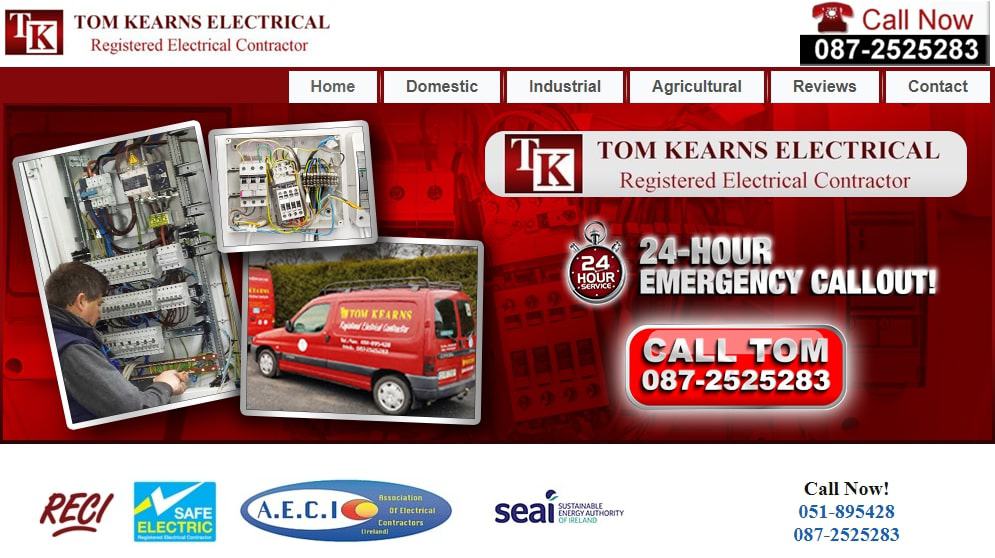 Test
Info
SERVICES
• Domestic: rewires, extensions, smoke detectors, new house, appliance installation, and heating

• Industrial: panels, motors, sludge treatment, factory units, maintenance, network data cabling, emergency lighting, and fire alarms

• Agricultural: milking parlours, automatic scrapers, slatted sheds, pump houses, and electric fences

WEBSITE
http://www.tomkearnselectrical.ie/
ADDRESS
Whitewall, Ardera, Mooncoin, Kilkenny (serves Waterford and nearby areas)
CONTACT DETAILS
+353 87 252 5283
OPERATING HOURS
Monday to Saturday 8:00 am to 6:00 pm
| | |
| --- | --- |
| AVAILABILITY | ★★★★★ (5/5) |
| QUALIFICATIONS | ★★★★★ (5/5) |
| EXPERIENCE | ★★★★★ (5/5) |
| PROFESSIONALISM | ★★★★★ (5/5) |
Tom Kearns is the only electrician on this list we've found to have SEAI (Sustainable Energy Authority of Ireland) registration. If you're conscious about your energy consumption, he's a good choice for you.
Kearns's wide array of services makes him useful to both homeowners and business owners. His electrical expertise extends to industrial and agricultural work.
If you also need electrical work done for your workshop, factory, or farm, you can benefit from his services.
From a client's testimonial, we gathered that Kearns is a self-employed electrical contractor who works with an assistant. Because his team is small, his service alone may not be sufficient for projects that require a huge team.
However, he has previous experience working with building contractors, so we think he may do well as an addition to an already existing team.
The downside to his service for Waterford residents is that the company is based in Kilkenny. If your electrical issue is time-sensitive, you will be better off calling an electrician closer to your area.
The distance doesn't seem to be that big of a problem for clients though. Overall, customers are highly satisfied with the company's service, commending that the electricians work in a tidy manner and with little disruption or disturbance to the clients' spaces and routines.
Member of RECI, AECI (Association of Electrical Contractors), and SEAI
Fully insured
Covers industrial and agricultural work
24-hour emergency callout
30 years of experience
May not be sufficient for projects that require a huge team
Based in Kilkenny
Customer Reviews
A pleasure to do business with
"Thanks to Tom for sorting out an electrical issue at our house in Dunmore East. A pleasure to do business with!" —DVF Print & Graphics Solutions, Google review
Punctual
"We recently engaged the services of Tom Kearns to solve a number of serious electrical faults and sort out underfloor heating at our home.
We were very impressed with the care and service provided by Tom and his assistant Ian. They turned up at the agreed times and if there was a change in plan Tom called us in advance to advise us." —Olivia and Fergus Macsweeny, client testimonial
2. AFD Electrical Ltd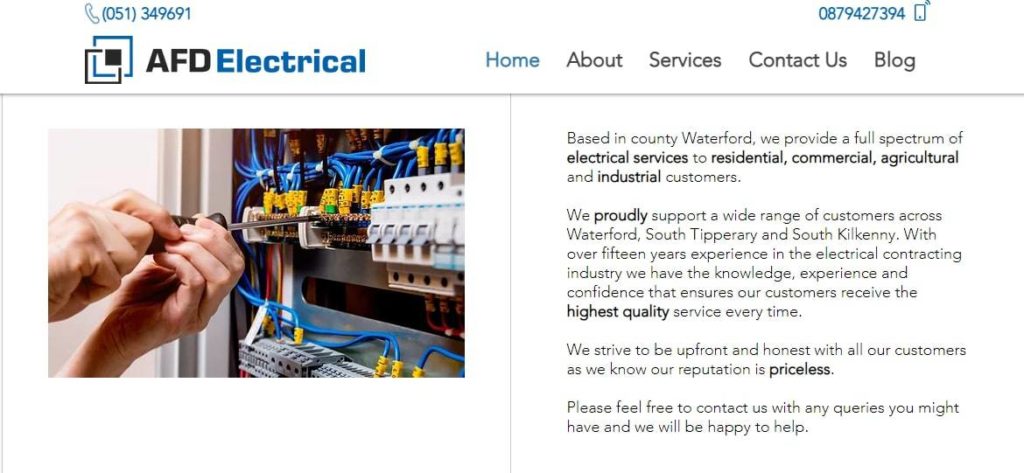 | Test | Info |
| --- | --- |
| SERVICES | Emergency electrician, house rewiring, fire alarms, security lights, residential and commercial electrical work |
| WEBSITE | https://www.afdelectrical.ie/ |
| ADDRESS | Clonea Power, Waterford E32DH42 |
| CONTACT DETAILS | +353 87 942 7394 |
| OPERATING HOURS | Monday to Saturday 6:00 am to 9:00 pm |
| | |
| --- | --- |
| AVAILABILITY | ★★★★☆ (4/5) |
| QUALIFICATIONS | NA |
| EXPERIENCE | ★★★★★ (5/5) |
| PROFESSIONALISM | ★★★★★ (5/5) |
AFD Electrical offers their services at a fixed price, unlike other electrical contractors who charge based on the duration of work and the cost of materials.
This is highly assuring to clients because when your project spans longer than expected, you won't be charged more than the price you agreed upon.
We also like that their business is registered at ESDA.ie (Emergency & Essential Services Discount App). Through the app, they offer a 5% discount to frontline and essential workers.
They are the only ones on this list we've found to offer discounts, so we think they are a great find.
As for things to improve on, we'd love to see which professional organisations or associations they are affiliated with, as these would greatly back up their reputation.
Although AFD Electrical mentions on their website that they are fully certified, they are unclear about what type of certifications they have. As such, that doesn't really mean much.
Anyway, we gave them four stars for availability because unlike some electricians on this list, they don't offer a 24-hour emergency callout service. That would have been a major plus if they offered it.
Limited business hours aside, customers are still happy with their service, mostly noting their reasonable prices, the reliable quality of their work, and punctuality.
Offers a 5% discount to frontline and essential workers through EDSA.ie
Fully insured
Fixed price
Over fifteen years of experience
Unclear about what type of certifications they have
Limited business hours
Customer Reviews
Top quality
"Very impressed with quality of work completed by AFD Electrical. Work was top quality and efficient and very good value. Would highly recommend to anybody looking for any sort of electrical work to be done and I will most certainty be using AFD Electrical myself again." —Mairtin Power, Google review
Cost-effective
"AFD recently completed the electrical side of our home renovation. I found them to be professional, reliable and most importantly cost effective." —Ronan Cahill, Google Reviews
3. Jamie Malone Electrical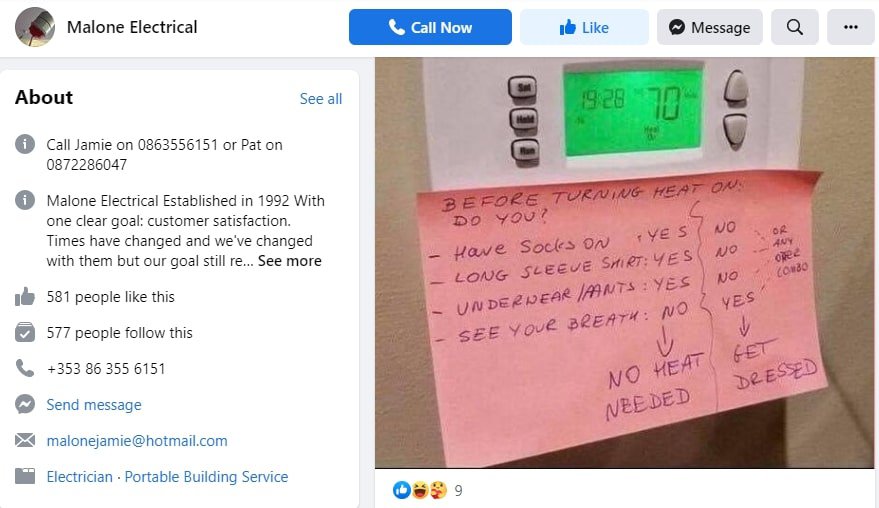 | Test | Info |
| --- | --- |
| SERVICES | Security lighting, alarms, CCTV, first and second fix renovations, shower installations (electric and plumbing), TV, sky dish, digital aerials, sockets, phone, metre box relocation, fuse board upgrades |
| WEBSITE | https://www.facebook.com/Malone-Electrical-193318937458707/ |
| ADDRESS | Coxtown, Dunmore East, Waterford |
| CONTACT DETAILS | +353 86 355 6151 |
| OPERATING HOURS | Monday to Friday 8:00 am to 6:00 pm |
| | |
| --- | --- |
| AVAILABILITY | ★★★★★ (5/5) |
| QUALIFICATIONS | ★★★★☆ (4/5) |
| EXPERIENCE | ★★★★★ (5/5) |
| PROFESSIONALISM | ★★★★☆ (4/5) |
Jamie Malone Electrical has rave reviews on Google with an emphasis on Jamie's friendliness and his ability to connect well with his clients.
Established in 1992 and boasting repeat customers who've worked with them for years (we even found one who's been working with them for seven!), we get the impression that Jamie is close to the community he serves.
Unfortunately, the electrician has no professional website where we can see a complete list of their services. On the bright side, they do have a Facebook page where they occasionally engage with their clients and post updates about their projects.
The father and son team is a small crew, though. This may mean that the number of projects that they can take on are limited.
We also just rated them four stars for their professionalism because of their lack of a professional website. This makes them a little tricky to find unless you know them within the community.
But that's really a minor gripe when you consider that in general, clients are really happy with Malone's services, especially because of the reasonable pricing and their punctuality.
Malone also conveniently offers a 24-hour emergency callout service. Clients we talked to shared experiences of calling them for an emergency and them arriving within less than an hour.
RECI (Register of Electrical Contractors Ireland) registered
Offers services beyond electrical work such as plumbing
Rates are on an hourly, daily, or weekly basis
24-hour emergency callout
No professional website
May not be sufficient for projects that require a huge team
Customer Reviews
Saved €120
"Fantastic work. Jamie saved me 120 euro in an emergency situation with a helpful step by step guide. Couldn't recommend anyone better to get the job done!" —Adam Scannell, Google review
Client of seven years
"I have just realised to my shame that I have never "rated" Malone Electrical! I have been using them for almost 7 years now and they have never let me down. They are responsive, always get the job done efficiently and for a reasonable price – oh, and the Boss tells great stories and is a nice person as well." —Alan Martin, Google review
4. JC Electrical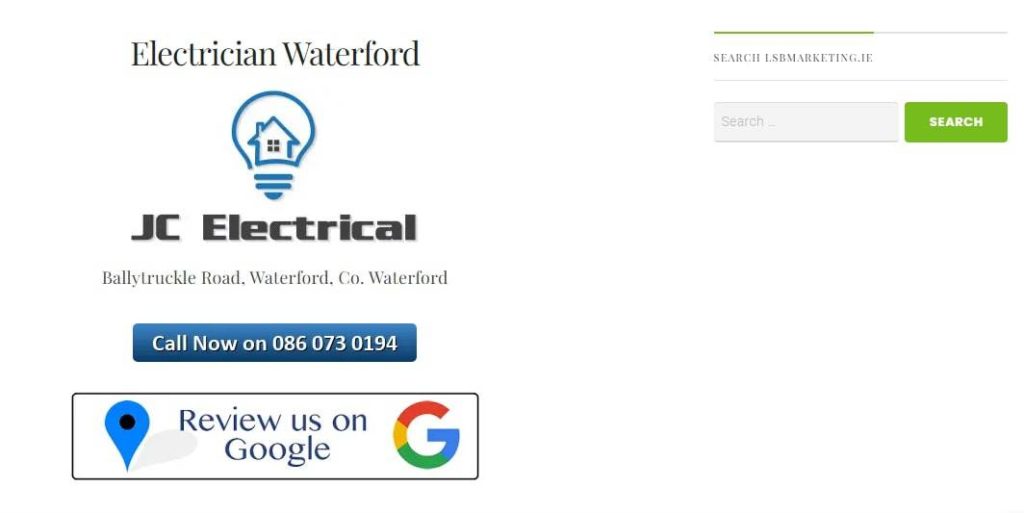 | Test | Info |
| --- | --- |
| SERVICES | Domestic electrician works; emergency electrician; domestic and commercial lighting installation; exterior lighting; emergency and security lighting; CCTV system installations; smoke alarms and carbon monoxide detectors; electric socket installation; electrical appliance installation; electric oven installation and repairs; full and partial rewires; new build wirings; outbuilding, shed, and garage wirings; fuse board installation, repairs, and replacement; bathroom electrician (extractor fans, electric showers, lighting, shaving sockets, etc.); data networking; periodic inspection reports (certificates provided for insurance); PAT testing (portable appliance testing) |
| WEBSITE | https://jc-electrical-waterford.business.site/ |
| ADDRESS | Ballytruckle Road, Waterford |
| CONTACT DETAILS | +353 86 073 0194 |
| OPERATING HOURS | Monday to Saturday 9:00 am to 6:00 pm |
| | |
| --- | --- |
| AVAILABILITY | ★★★★☆ (4/5) |
| QUALIFICATIONS | ★★★★☆ (4/5) |
| EXPERIENCE | ★★★★★ (5/5) |
| PROFESSIONALISM | ★★★★☆ (4/5) |
JC Electrical is the only electrician in this list we've found to offer certificates as proof to insurers that your home wiring is sound. A Safe Electric-registered electrician, John Callahan is qualified to provide periodic inspection reports.
Other electricians on this list may also be qualified to provide this service, but they haven't considered listing it among their offerings. Definitely an oversight!
John also may be a good pick for you if you're doing home renovations because he also offers tiling services under a different trade name, JC Tiling. You can hit two birds with one stone by hiring him if you need electric repair and new floors at the same time.
Anyway, unlike other entries in this list, they don't provide 24-hour emergency callout. That's a pity and what led to their 4-star rating in availability.
It's also worth noting that we only gave them four stars for qualifications not because they lack the required certification, but because other electricians in this list have more affiliations with industry-relevant organisations.
We also think their website can still be improved. Their current website is the default website you get when you sign up for Google My Business.
It would be ideal if they made their own website complete with info about their services and some samples of their projects.
However, we still appreciate that they post regular updates on their Google My Business profile.
In general, clients we talked to were pleased with John's work, citing excellent shower and socket installation and garage wiring multiple times. Overall customer feedback indicates reliable and prompt services.
Safe Electric registered
Over fifteen years of experience
Provides certificates after inspection for home insurance purposes
Also offers tiling services
Reasonable pricing
May not be sufficient for projects that require a huge team
Customer Reviews
Top class
"Just had John up to put in a new oven and hob he was top class he told me he would be here for 9 and was bang on time he done the job in a very tidy manner and made sure I was happy with everything before he left. He was not to expensive either like some people out there. I would highly recommend him to anyone.Thanks again John." —Michael Brophy, Google reviews
Quick and tidy
"Needed a new electric shower installed as well as a new double socket put into our converted garage. John did a great job, was very quick and tidy and a gentleman to deal with as well. Would highly recommend him." —Michelle S.
5. HIO Electrics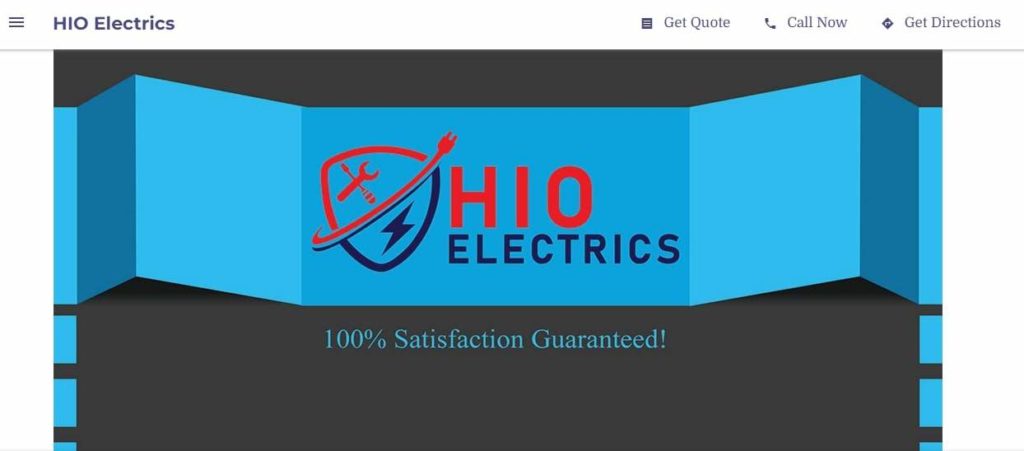 Test
Info
SERVICES
Outlets and switches repair and installation, power restoration, general repairs, light fixtures installation, security system installation, alarm systems, fuse boards, rewiring, extension work, sockets
WEBSITE
https://hio-electrics.business.site/
ADDRESS
Alexander St, Waterford
CONTACT DETAILS
+353 83 310 6416
OPERATING HOURS

Sunday to Thursday

7:00 am to 10:00 pm




Friday and Saturday

10:00 am to 8:00 pm
| | |
| --- | --- |
| AVAILABILITY | ★★★★★ (5/5) |
| QUALIFICATIONS | NA |
| EXPERIENCE | ★★★☆☆ (3/5) |
| PROFESSIONALISM | ★★★★☆ (4/5) |
If you're too busy during the day to call for electrical help, then HIO Electrics is your best bet. He offers the latest operating hours and is available throughout the week.
HIO Electrics is a sole trader, and he keeps a small Instagram account where he posts updates about his projects. Looking through his profile, we got a small glimpse of how he finds solutions to home electrical problems.
We appreciate his transparency in dealing with his customers. For example, a client pointed out that he is upfront about the extent of the repair needed and the required cost.
It's also worth noting that he's often called when previous electricians have failed to do their work properly, resulting in more repairs. This, to us, points to the reliability of his services.
Because he works independently, HIO Electrics may not be ideal for projects that require a team, however. He may be best for domestic jobs.
However, among the electricians in this list, he has worked the least years. Some may prefer more experienced professionals.
We also think he could benefit from having his own website. His current website is also the default website you get when you sign up for Google My Business.
Both his website and his Instagram account don't provide info about his qualifications. That's another thing that could be addressed.
Even though he lacks in the areas mentioned above, clients we talked to still find working with him highly satisfactory. Most highlight his punctuality and responsiveness, things that we saw for ourselves when contacting him.
Available all week long and during late hours
Transparent about costs
More than eight years of experience
May not be sufficient for projects that require a huge team
Customer Reviews
Good value for the money
"Great service, would highly recommend hio electrics. Got the job done fast and good value for the money and their team are so respectful, will pass on to my mates." —Jerry Connors, Google review
Excellent
"Very satisfied with the work. Very upfront about the costs and when it would be done. Excellent polite workers. Have passed on the details to others who had similar experience." —neurodiverse research, Google review
FAQs about Electricians in Waterford
---
Keep your home safe by leaving electrical jobs to certified professionals. Have you worked with any of the contractors we've listed? Share your experience with us!
Or if you want to suggest additions to this list, feel free to comment below.
If you need fixing around your home aside from electrical work, we've got you covered. We've also listed the best plumbers in Waterford.