5 of the Best Car Repair Services in Dublin
It can be quite a hassle to have car problems in the middle of a busy work week or a long road trip. Different auto repair services can provide you with the expertise and skills needed to have your vehicle sailing smoothly again.
In this article, we looked at the best car repair services in Dublin to help you out with all your automobile's needs.
How much does car repair cost?
Depending on the complexity of the repair, labor hours and parts needed, different car repair service prices can vary.
Below is a table for price estimates of different car repair services.
| Service | Price Estimates |
| --- | --- |
| Wheel Balancing | €55 |
| Diagnostic | €110 per hour |
| Brake Fluid Change | €85 |
| Oil Change | €96 to €150 |
| NCT Check | €50 to €55 |
| Basic Car Service Package | €89 to €145 |
Top Car Repair Services in Dublin
We assessed the repair shops based on the following criteria:
1. Baldoyle Auto Centre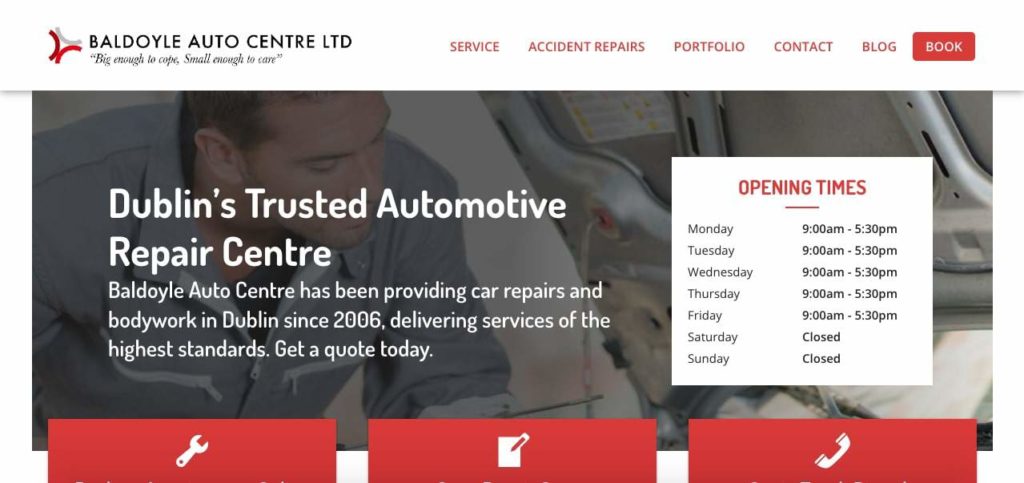 | Test | Info |
| --- | --- |
| SERVICES | Car Servicing, Air Condition Service Pre-NCT Check, Car Tyres, Brake and Brake Fluid Replacement, Wheel Alignment, Computerised Engine Diagnostics, Timing Belt Replacement, Clutch Replacement, Shock Absorbers and Suspensions, Exhausts, Batteries, Bulbs and Wipers, Fleet Servicing, Accident Repair |
| WEBSITE | https://baldoyleautocentre.ie/ |
| ADDRESS | 139 Grange Dr, Baldoyle Industrial Estate, Dublin 13 |
| CONTACT DETAILS | 0183 21045 |
| OPERATING HOURS | Weekdays: 9:00 AM to 5:30 PM |
| | |
| --- | --- |
| Booking and scheduling | ★★★★★(5/5) |
| Services | ★★★★★(5/5) |
| • Thoroughness and depth | ★★★★★(5/5) |
| • Range | ★★★★★(5/5) |
| Flexibility and background | ★★★★★(5/5) |
| Customer feedback | ★★★★☆(4/5) |
| • Coordinating and contacting  | ★★★★☆(4/5) |
| • Overall satisfaction | ★★★★☆(4/5) |
With a wide selection of both general repairs and replacements as well as some more complex offerings, Baldoyle Auto Centre is a great option the next time your car needs an all-in-one service.
Easily accessible to Dublin City and the surrounding areas' residents, their staff have a solid background in motoring services and customer care.
What we like about Baldoyle Auto Centre is that they continuously update both their training and equipment to provide a high quality experience.
Their team of people regularly educate themselves on possible new methods on techniques. On the other hand, they also make sure their automotive technologies are versatile in tackling most jobs, from mechanical to diagnostic.
Speaking specifically about their services, we find their car servicing to be very thorough. Aside from examining all of your vehicle's components, they can also help you with your insurance paperwork.
We also really like that they are highly knowledgeable about the NCT (National Car Test) and tyre repairs. If you're looking for advice especially about these areas, we greatly recommend a visit to their shop.
Baldoyle Auto Centre also uniquely offers computerised engine diagnostics. With so many vehicles with advanced technological systems today, we find this to be very convenient.
However, we would like to point out that their crash repair services are more limited to standard car models and light commercial vehicles. Also, they do not accept online booking for accident repairs.
In the end, if you're looking for a reliable and highly knowledgeable car repair service experience, you may want to check out Baldoyle Auto Centre.
Highly knowledgeable about NCT Tests and tyres
Convenient system for tyre fitting
Excellent selection of options
Also offers computerised engine diagnostics
Limited crash repair services
No online booking for accident repairs
Customer Reviews
Well Worth it, Repaired Side Door Damage
Very happy with the work done. I had damage to the side door. It was badly scratched and dented. In the back of my mind I was expecting it not to ever look 100% again because it was so bad. I was wrong, I couldn't tell the difference when the job was done. It was perfect. I was a bit hesitant because of the price but they showed me the oven room they used after the spray painting was done and they had all the best of equipment. I did get another price a couple of hundred cheaper but it was a guy with a shop down a laneway and he definitely did not have an oven and he said it would take over a week. I got my car back in two days. Well worth it, would highly recommend. Quality! Thanks a mill. -Sully Sullivan
Fair Price and Quick Turnover
Richard and his team provided a 5 star service. I couldn't be happier with the work that they did on my car. After a lot of years of neglect I needed to have alot of work done on the car but Richards team had it back to new within a day at a very fair price with additional cleaning provided at no charge. Excellent service and would highly recommend. -Alan Carroll
2. Alex Auto Service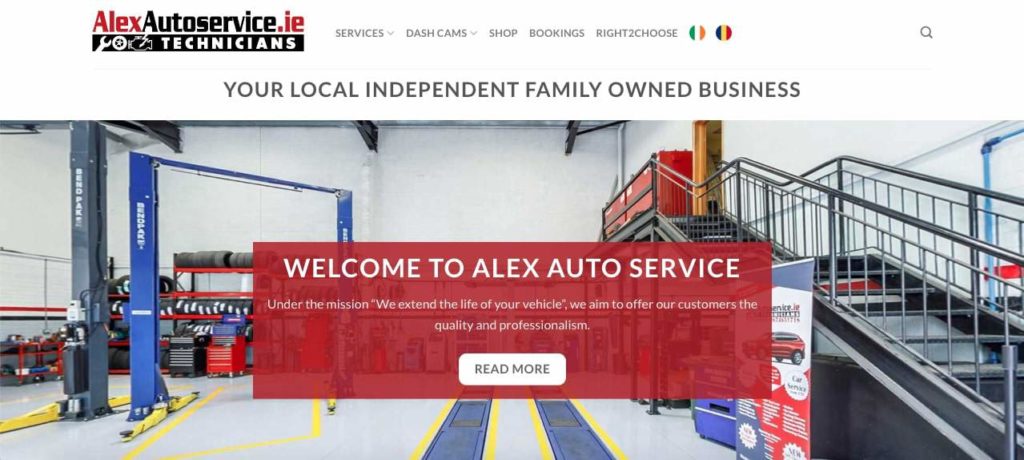 Test
Info
SERVICES
Dash Cam Shop, Dash Cam Fitting Service, NCT Repairs, Vehicle Servicing, Vehicle Diagnostics, Air Conditioning, Auto Electrical Repairs, Transmission Service, Power Flush, Car Battery, Car Lights, Clutch Repairs, Timing Belts, Timing chains, Suspension Repairs, Car Brakes, Wheel Alignment, Tyres and Punctures
WEBSITE
https://alexautoservice.ie/
ADDRESS
Unit 17/19, Westpoint Business Park, Navan Road, Dublin 15
CONTACT DETAILS
(01) 552 9098, (01) 559 3371,

[email protected]

OPERATING HOURS
Weekdays: 8:00 AM to 12:30 PM; 1:15 PM to 6:00 PM
| | |
| --- | --- |
| Booking and scheduling | ★★★★★(5/5) |
| Services | ★★★★★(5/5) |
| • Thoroughness and depth | ★★★★★(5/5) |
| • Range | ★★★★☆(4/5) |
| Flexibility and background | ★★★★★(5/5) |
| Customer feedback | ★★★★★(5/5) |
| • Coordinating and contacting  | ★★★★★(5/5) |
| • Overall satisfaction | ★★★★★(5/5) |
If you're looking for a service that fits repairs and a wide range of dash cam offerings all into one, you may want to check out Alex Auto Service.
They have a background that spans over 25 years, focusing primarily on services that help with vehicle longevity. What we can appreciate about Alex Auto Service is that their spacious workshop contains an impressive amount of modern equipment.
This includes tyre-mounting and diagnostic tools. All of these, in conjunction with their highly knowledgeable team of people, make them a top contender for us when it comes to car repairs.
From technician to electrician work, we find them highly reliable if you're looking for great advice and know-how when it comes to fixing your car.
We really like that the process is simple and very easy to understand for the customer. From booking to collecting your car, customers will really enjoy how straightforward everything is.
However, we do advise checking out their website and consulting with them first before proceeding with car part replacements, as they only use specific brands for the job.
Now, just like other car repair shops, they have a considerable range in both diagnostic and replacement work. But what makes them stand out is their dedicated service for dash cam fitting and selling.
They're an excellent candidate if you're looking to both install a dash cam as well as diagnose your car's possible needs.
Offer a dash cam fitting service and shop
Highly knowledgeable team of people
Spacious room with state of the art equipment
Excellent diagnostic services
Use only certain brands for certain car parts
Limited service options for crash repairs
Customer Reviews
Friendly and Dedicated Service
This is my new go-to mechanic! They took me in at very short notice to do repairs for an nct retest at a time when parts are hard to source – but they refused to give up and sorted me out quickly and for great value for money. I really liked how friendly and chatty Alex was, I felt well looked after and comfortable – like a family friend was helping me out 🙂 I usually feel a bit intimidated with mechanics but didn't feel that way here at all. My car passed the retest no bother! I would definitely recommend these guys to everyone as I think they are very fair and professional. -Jade C
Very Happy with Customer Service
Good service.Was very happy with customer service and all the team of AlexAuto Service.They did a great job fixing my car. -Tetyana Lolya
3. Smart Repair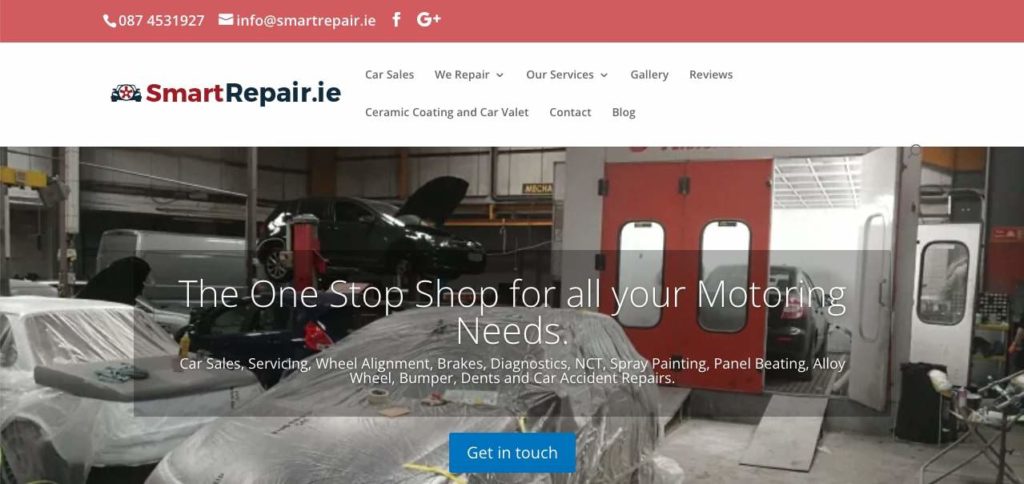 Test
Info
SERVICES
Car Sales, Alloy Wheel Repair, Bumper Repair, Crash Repair, Dent Repair, Interior Repairs, Scratch Repair, Car Servicing, Steering, Clutch Replacement, Brakes, NCT Pre and Post Test, Car Batteries, Timing Belt and Chains, Air Conditioning, Sanitise Your Car, Tyres
WEBSITE
https://smartrepair.ie/
ADDRESS
Unit 10A Greencastle Parade, Malahide Road Business Park, Coolock Dublin 17
CONTACT DETAILS
0874531927, 0852565865,

[email protected]

OPERATING HOURS
Sunday to Friday: 9:00 AM to 5:00 PM

Saturday: 10:00 AM to 4:00 PM
| | |
| --- | --- |
| Booking and scheduling | ★★★★★(5/5) |
| Services | ★★★★★(5/5) |
| • Thoroughness and depth | ★★★★★(5/5) |
| • Range | ★★★★★(5/5) |
| Flexibility and background | ★★★★★(5/5) |
| Customer feedback | ★★★★★(5/5) |
| • Coordinating and contacting  | ★★★★★(5/5) |
| • Overall satisfaction | ★★★★★(5/5) |
Aiming to be vehicle owners' next go to place for one stop shop repairs, Smart Repair offers quite a bit of complementary services that customers will certainly appreciate.
What we really like about them is their efficient turnaround for quicker results, thus returning the repaired cars to the owner in a shorter time frame.
Certain services like bumper and scratch repairs can be completed on the same day while minor crash repairs take only a few days. Customers will surely appreciate how fast they can deliver results.
They also have a good set of standard repair services like NCT (National Car Test) Pre and Post test as well as clutch replacement. However, they also uniquely have a sanitization service, perfect for those looking to eliminate bacteria and odors.
Customers will also really like that they have a lot of experience in alloy wheel repairs. Their gallery shows that they've worked with different brands and the results are shown to be very clean.
However, there are some customer complaints regarding expensive prices but they do have unique offerings that most other car repair services don't have.
While they have a car sales service, this is limited to used cars, but is very convenient if the said vehicle needs repairs. They also have a car valet service for when any of your vehicles need a good cleaning.
Overall, Smart Repair is a great option that encompasses a lot of services aside from repairs.
Offer a ceramic coating and car valet service
Have efficient processes and quick results
Some repairs can be carried out on site
Excellent background and high quality previous work
Some customer complaints on price
Car sales limited to preloved cars
Customer Reviews
Did an Incredible Job
I originally asked the people at Smart Repair to fix the curbing issues on my diamond cut alloys, which they did at a very competitive rate. Seeing the standard of work completed on the wheels, I then asked them to repair the body and paint work damage on the front and rear corners. They did an incredible job and in very good time too, over the Easter period. It was like I had a new car and I would highly recommend them to anybody needing work done on their car, no matter how big or small. Eoin was very honest and fair with his advice and help and I thank the whole team for the amazing work they did. -Denis Kearney
Car Looks as Good as New
Excellent service, really friendly and helpful staff. Had a good bit of bodywork (scrapes, stone chips, dents) fixed and a thorough pre-NCT plus repairs. Car looks as good as new and was gleaming when I picked it up. Very fair and honest pricing. Will definitely be back. -Meadhbh Dunne
4. Sweeneys Garage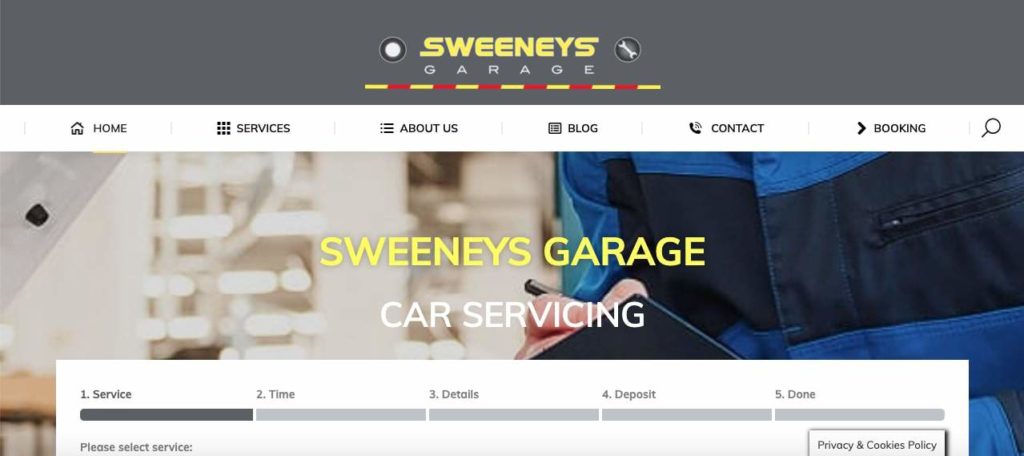 Test
Info
SERVICES
Accident Repair, Auto Electrics Repair, Car Battery Replacement, Exhaust Repair, New Tyres, Small Items, Alloy Wheel Repair, Brake Pads and Brake Discs, Clutch Repair and Replacement, Free Pre NCT Check, Pre and Post NCT Checks, Wheel Alignment, Air Conditioning, Car Service, Engine and Gearbox Repair, Hybrid Car Service, Parts and Diagnostics, Classic Car Restoration
WEBSITE
https://www.sweeneysgarage.ie/
ADDRESS
2 Bridgefoot St, The Liberties, Dublin 8
CONTACT DETAILS
01 672 5926,

[email protected]

OPERATING HOURS
Monday to Friday: 8:30 AM to 6:00 PM

Saturday: 9:00 AM to 5:00 PM
| | |
| --- | --- |
| Booking and scheduling | ★★★★★(5/5) |
| Services | ★★★★☆(4/5) |
| • Thoroughness and depth | ★★★★☆(4/5) |
| • Range | ★★★★☆(4/5) |
| Flexibility and background | ★★★★☆(4/5) |
| Customer feedback | ★★★★☆(4/5) |
| • Coordinating and contacting  | ★★★☆☆(3/5) |
| • Overall satisfaction | ★★★★☆(4/5) |
Founded in 2001, Sweeneys Garage has two locations in Dublin, perfect for vehicle owners seeking reputable part replacements and thoroughly trained employees.
Their staff are consistently trained through the Solas programme and they use tire brands like Kuhmo and Bridgestone. It's a great synergy that provides customers with quality results.
What we also appreciate about Sweeneys Garage is that they support different causes like Roundstone for Fun which helps raise money for breast cancer research.
Before availing of their repair services, we recommend checking out their supported manufacturers. They include popular brands like Volvo and Mitsubishi.
What's great about them is that they offer free pre NCT (National Car Test) checks, which includes assessing a list of 10 categories. It's a very convenient place to stop by considering that they offer this free service and in-depth repairs.
Aside from this, we really like that they have a specific service for hybrid cars, capable o of assessing oil levels and servicing various brands like BMW and Toyota. It really is an excellent place to check out if you're looking for a dedicated experience for your hybrid vehicle.
Some past customers have cautioned that their diagnosis of repair issues may not be spot on all of the time. We really recommend contacting and visiting them for the best results so as to avoid these issues.
Whether it's assessment services or more unique services like classic car restoration and hybrid car repair, Sweeneys Garage is definitely one of your best bets in helping you fix any issues you may face.
Have distinct services for hybrid car repairs and classic car restoration
Use high quality tire brands
Supports various causes
Offer a free pre NCT check
Have background on only with certain car manufacturers
Past customer complaints regarding problems with diagnosing car issues
Customer Reviews
Friendly and Relaxed Atmosphere
I brought my car in for a service a few weeks ago. Such a friendly, relaxed atmosphere every one of the lads said hello with a smile. Nothing was too much for Ash and he explained everything in simple terms to me. I'll be using this as my go-to garage for any future car repairs/checks. Prices were very reasonable too. Thanks to all the staff! -Lysa Byrne
Very Helpful, Reasonable Price
my first visit to this premise was pleasant. The man at the counter was very helpful, got my car serviced there at reasonable price. Just be aware of the price they have on the website can vary depends on the engine size. Otherwise it was a good shop for having your car serviced. -Diff
5. Larkin Automotive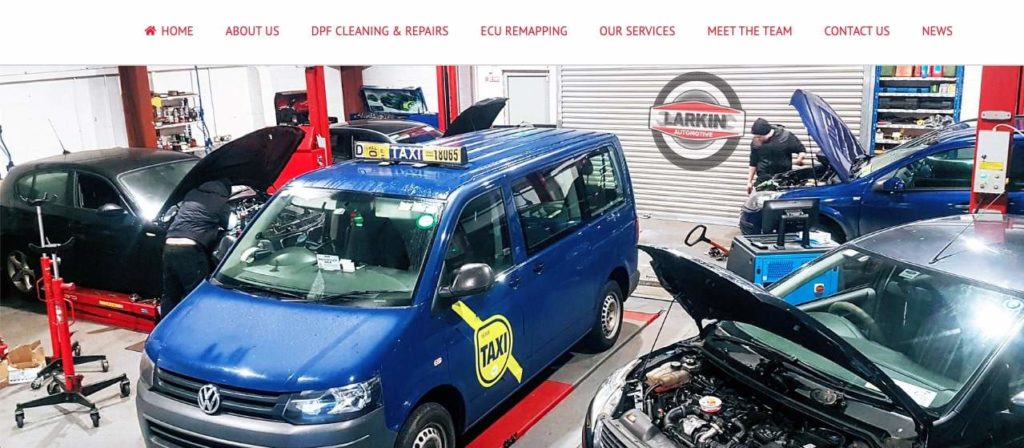 Test
Info
SERVICES
Car Service and Repairs, NCT and CVRT Preparation, Diagnostic, DPF and Engine Carbon Cleaning, Air Conditioning Service and Repairs, Tyre Service and 3D Wheel Alignment
WEBSITE
https://larkinautomotive.ie/
ADDRESS
Larkin Automotive Ltd. 10 Old North Road, Finglas, Dublin 11
CONTACT DETAILS
01 834 6499,

[email protected]

OPERATING HOURS
Monday to Friday: 8:30 AM to 5:30 PM

Saturday: by Appointment
| | |
| --- | --- |
| Booking and scheduling | ★★★★★(5/5) |
| Services | ★★★★★(5/5) |
| • Thoroughness and depth | ★★★★☆(4/5) |
| • Range | ★★★★★(5/5) |
| Flexibility and background | ★★★★★(5/5) |
| Customer feedback | ★★★★★(5/5) |
| • Coordinating and contacting  | ★★★★☆(4/5) |
| • Overall satisfaction | ★★★★★(5/5) |
A car repair provider that brings a lot of technical expertise to the table, we highly recommend Larkin Automotive the next time your vehicle faces a tricky problem.
They're very reliable with over 60 years of experience. What's great about them is that they work with a wide range of vehicles, including high performance ones.
It definitely gives them an edge over other repair services that don't typically service these types of high maintenance vehicles.
Aside from this, Larkin Automotive is an agent for leading brands like Goodyear and Michelin. However, we would caution you to consult with them first if you would request a very specific brand of car part as they usually supply only certain types.
Another aspect that makes them stand out as a car repair provider is that they offer call-out assistance and rescue repairs.
From battery replacement to motorway tyre services, Larkin Automotive can help you during emergency situations or even at the leisure of your own home. They really bring customer service to a whole new level.
For owners who are looking to upgrade their car, Larkin Automotive has specialists to provide ECU (electronic control unit) remapping. These modifications can help your car with features like fuel injection.
Larkin Automotive is definitely a dependable choice the next time you're looking to clean, repair or even upgrade your vehicle.
Offer ECU remapping
Has over 60 years of experience
For NCT tests, they have an in house test lane facility
Available call out assistance
Saturday services are only by appointment
May use only specific brands for certain repairs
Customer Reviews
Always On Time and to the Highest Standard
I have used Larkin Automotive several times from with a wide variety of jobs on my cars. The work has always been done on time and to the highest standard.Ciaran and his team are top class. Wouldn't bring my car anywhere else . – M T
Helpful and Knowledgeable
I'm very glad I brought my car to Larkin Automotive, Ciaran was very helpful and knowledgeable. They did a great job and I would happily recommend them . -John Canto
FAQs about Car Repair
---
With the right experts and services, even the most frustrating car problems can be addressed quickly and efficiently. We hope our list helped you find the best service for your vehicle.
If you would like to read more, we also have an article on the best car insurance providers in Ireland.