6 of the Best Ad Agencies
Whether it is a product or service, an important step in the process is how these offerings are communicated to the target audience. Ads are a defining tool in the success of a company or organization's output.
In this article, we list down the best ad agencies in Dublin to help you out from idea generation to execution
How much do ad agency services cost?
Ad agency services are usually quoted for because the prices depend on unpredictable and customizable factors like medium, execution, labor hours and research.
However, some do have packages for preset services, mostly for online executions. Below is a table of estimated prices of these packages.
Company
Package
Price Estimates
Digital Sales Ireland
Basic SEO Package

Advanced SEO Package

PPC Setup

Digital Marketing Audit

€ 450

€ 1,700

€ 800

€ 120

Social Media Manager Ireland
Social Media Package Starter

Social Media Package Pro

Social Media Package Premier

€ 49.75

€ 99.75

€ 149.75
Top ad agencies in Dublin
We assessed the agency according to the following criteria:
1. CSM Agency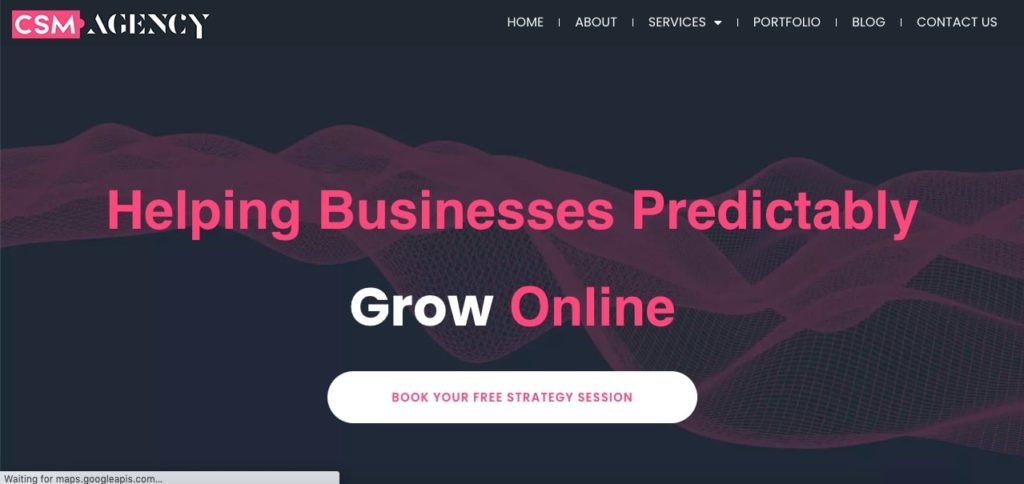 Test
Info
SERVICES
Online Training, Social Media Management, Web Design and Development, SEO, Paid Marketing, Videography and Photography
WEBSITE
https://www.csmagency.ie/
ADDRESS
The Academy, 42 Pearse St, Leinster, Co. Dublin
CONTACT DETAILS
01 254 8472,

[email protected]

OPERATING HOURS
Open 24 Hours
| | |
| --- | --- |
| Expertise and experience | ★★★★★(5/5) |
| Range of services | ★★★★★(5/5) |
| Portfolio | ★★★★☆(4/5) |
| • Versatility | ★★★★☆(4/5) |
| • Consistency with brand | ★★★★★(5/5) |
| Customer feedback | ★★★★☆(4/5) |
| • Satisfaction | ★★★★☆(4/5) |
| • Communication | ★★★★☆(4/5) |
CSM Agency initially started as a consulting agency, but now, with their expanded menu of marketing services, provides clients with a solid array of output from websites to training and even videos.
What we like about their team is that they have the knowledge and know how to interact with businesses in different industries. Their portfolio shows past clients such as Brokers Ireland, Mentors work and even helping in scaling brands like Deliveroo.
On top of this, they take projects on with a multichannel approach. Customers will surely be more than satisfied with the amount of experience and background they have when it comes to marketing.
We also greatly appreciate that CSM Agency hones in on numbers and indexes. If you're looking for an agency that makes sure to look at concrete growth factors, we highly recommend them.
One commendable and unique service that they do offer is online training. Through this, participants are able to learn about digital marketing topics using different prospective channels like Klaviyo, Linkedin and Youtube.
However, we do caution that some of their training plans require a minimum of two participants with quite a pricey cost per attendee.
All in all, we highly recommend CSM Agency especially for those looking for a marketing agency with a highly knowledgeable team of people.
Great background and experience of team
Offers online training
Social media marketing process is very thorough
Expansive portfolio of clients in different industries
Web development prices and service turnover vary per case
Slightly pricey for SEO Masterclass and Lead Generation online training
Customer Reviews
Very Involved in the Process
We would highly recommend CSM Agency. They were a pleasure to deal with and really know their stuff about all things digital marketing. CSM are very involved in the process and checked in regularly to make sure we were on track with all agreed projects, plans and deadlines. They have gone above and beyond and we are very grateful for their time and effort in helping us move our business to the next level. – Amanda Moore
Super Impressed with their Quality and Experience
Rory and his team help us with every aspect of our marketing campaign, lead generation and B2B outreach. We're super impressed with the work that CSM Agency does and trust them completely and their efforts which have really helped us hit sales records. Quality and experience are at the forefront. Pleasure working with people who genuinely care about their clients. We look forward to continuing working with CSM Agency in the future. -Radius Technologies
2. VROOM Digital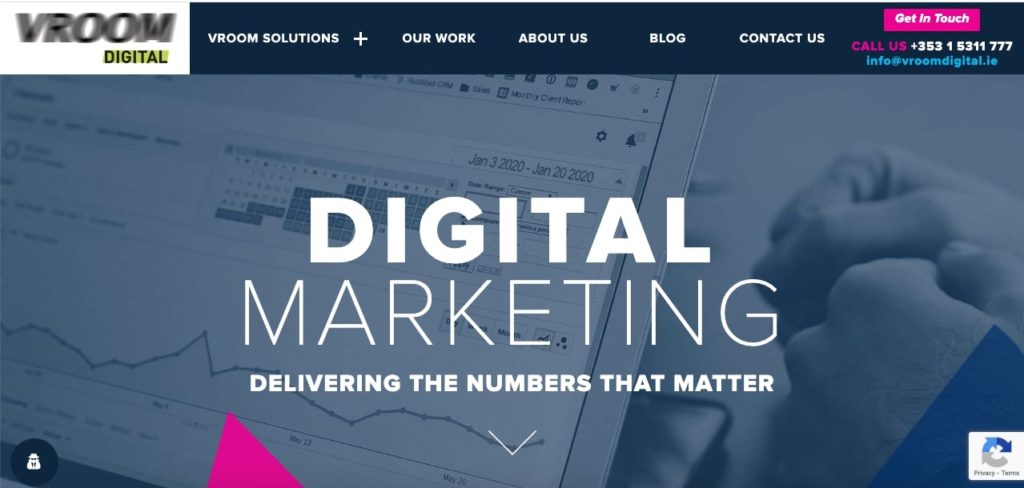 Test
Info
SERVICES
Paid Search Advertising, SEO, Paid Social Media Advertising, Digital PR, Public Relations, Copywriting
WEBSITE
https://www.vroomdigital.ie/
ADDRESS
13 Adelaide Rd, Saint Kevin's, Dublin 2
CONTACT DETAILS
+353 1 5311 777,

[email protected]

OPERATING HOURS
Weekdays: 8:30 AM to 6:00 PM
| | |
| --- | --- |
| Expertise and experience | ★★★★★(5/5) |
| Range of services | ★★★★☆(4/5) |
| Portfolio | ★★★★★(5/5) |
| • Versatility | ★★★★☆(4/5) |
| • Consistency with brand | ★★★★★(5/5) |
| Customer feedback | ★★★★★(5/5) |
| • Satisfaction | ★★★★★(5/5) |
| • Communication | ★★★★★(5/5) |
With an impressive background and set of credentials, VROOM Digital is definitely a top contender when it comes to agencies that deliver on quality and service.
What's great about them is that they are a 2022 Google Premier Partner, meaning they are highly knowledgeable and experienced when it comes to online ad spend, credentials and performance.
Speaking of their credentials, some of their notable awards include Digital Media Awards and shortlistings for the EMEA Premier Partner Awards. Customers can definitely be assured about their background.
They've also worked with an impressive and diverse list of clients including Kearys and Sandymount Hotel.
We will, however, admit that the range of their services are not as wide as other agencies. But they are still great in quality, nonetheless.
One service we would like to highlight is their section for PPC or paid search advertising. In the last calendar year they were able to garner over 80 million clicks all thanks to their areas of expertise.
If you're in need of help when it comes to Google Adwords or even Youtube advertising, we find them to be very experienced.
However, in their Paid Social Media Advertising service, you should be aware that their areas of expertise are more limited to Facebook, LinkedIn and Instagram.
On the other hand, they also offer a service for copywriting which is quite comprehensive in including both SEO and technical copywriting. This offering really helps round out the other services.
When it comes to online presence and expertise, we highly recommend VROOM Digital as one of the best choices out there.
A 2022 Google Premier Partner
Excellent service for PPC
Have worked with a diverse list of clients
Offer copywriting as one of their services
More limited selection of services
Areas of expertise in Paid Social Media Advertising category limited to Facebook, Instagram and LinkedIn
Customer Reviews
Have Helped Us Have Significant Changes
Fast, Reliable & Knowledgable. Shane and his team at Vroom have had a dramatic impact on online presence and conversion rates. I can't recommend them more highly. The moving and storage industry relies heavily on online visibility and after disappointing results and poor commitment from five other providers over the past 10 years – I feel I've finally found a crew don't just set and forget – they do what they say they'll do and continually review and drive the business. Keep up the great work guys. Chris Humphrey | #easytruck moving & storage – Chris Humphrey
Extremely Efficient
Bronagh is a super star! A special mention to Bronagh and team for working with us on a recent transition for a client. Bronagh was extremely efficient and prompt with getting back with requests. – Amy Buttimer
3. Evolve Marketing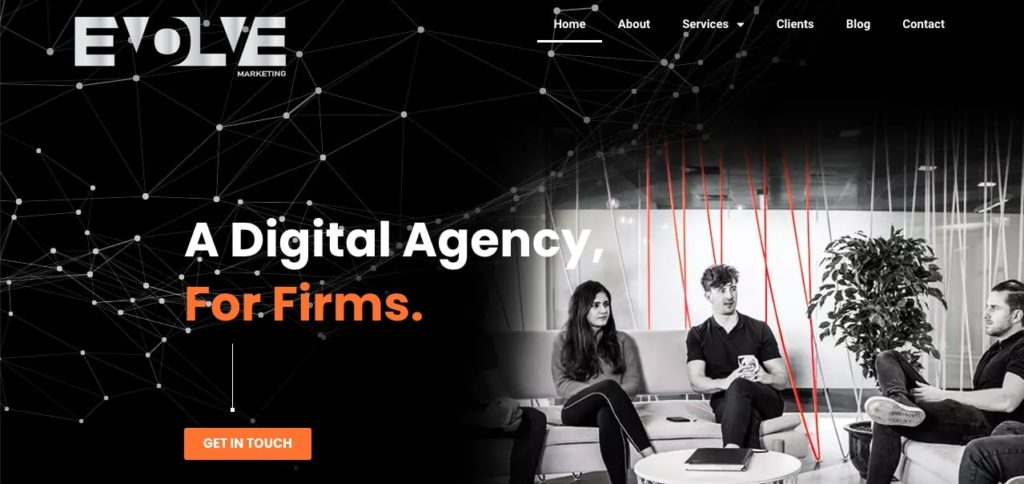 | Test | Info |
| --- | --- |
| SERVICES | SEO, PPC Services, Content Marketing, Social Media Marketing |
| WEBSITE | https://www.evolvemarketing.ie/ |
| ADDRESS | The Academy, Huckletree, 42 Pearse St, Dublin 2 |
| CONTACT DETAILS | (01)-254-8472 |
| OPERATING HOURS | Weekdays: 8:00 AM to 6:00 PM |
| | |
| --- | --- |
| Expertise and experience | ★★★★★(5/5) |
| Range of services | ★★★★☆(4/5) |
| Portfolio | ★★★★★(5/5) |
| • Versatility | ★★★★☆(4/5) |
| • Consistency with brand | ★★★★★(5/5) |
| Customer feedback | ★★★★★(5/5) |
| • Satisfaction | ★★★★★(5/5) |
| • Communication | ★★★★★(5/5) |
Evolve Marketing has over 10 years of experience in helping firms expand their presence online.
Completing over 100 projects, they have a well rounded team that consists not only of marketing and strategy specialists, but even a videographer and photographer.
Although they do primarily tailor their services for firms such as construction, engineering or legal firms, they have an impressive background of past clients. This includes Roberts Nathan and Keldin Engineering.
So, if you are a firm looking for an agency, you can definitely be assured that their focus and past experience makes them a highly qualified candidate.
We also recommend checking out their website for helpful resources regarding firms, marketing and online presence. It's a great tool especially for those looking for a curated set of advice and facts.
While their menu of services are comparatively more limited, we find them to still be very impressive with regards to quality and thoroughness.
Their content marketing in particular, really helps with their clients' online visibility. They can aid you form campaigns that will help reap concrete growth factors.
The clients we've spoken to cite being pleased with the results they have seen and Evolve Marketing's very involved approach.
So, if you are a firm in need of ad agency help, Evolve Marketing is one of the best candidates out there that will definitely help you spark web based growth.
Solid list of past firm clients
Team consists of members in various fields of interest
Have helpful online resources
Content marketing is superb in terms of process and engagement
More limited selection of services
Target clients are primarily focused on firms
Customer Reviews
Helped Us Grow Our Online Presence
Evolve have worked with our firm over the last number of years. With their guidance and expertise as a digital agency we have successfully managed to grow our online presence which in turn has resulted in an increased client base. Their attention to detail and professionalism is second to none and I would have no hesitation in recommending them to any business looking for assistance with online marketing. – Brian Keenan
Flexible and Effective
Evolve marketing has been an excellent partner, showing an ability to be flexible and effective throughout our time working together. I would highly recommend them. – Michael Briscoe
4. Portview Digital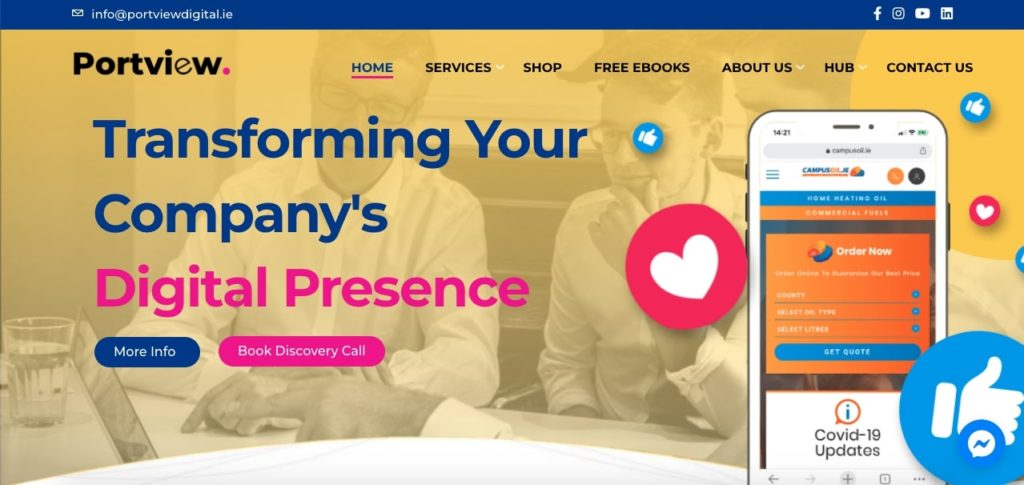 Test
Info
SERVICES
Website Design, eCommerce, Digital Marketing, Website Support, Virtual Business Development, SEO
WEBSITE
https://portviewdigital.ie/
ADDRESS
5 Old Dublin Rd, Stillorgan, Co. Dublin
CONTACT DETAILS
+353 1 437 6919,

[email protected]

OPERATING HOURS
Weekdays: 9:00 AM to 6:00 PM
| | |
| --- | --- |
| Expertise and experience | ★★★★★(5/5) |
| Range of services | ★★★★★(5/5) |
| Portfolio | ★★★★★(5/5) |
| • Versatility | ★★★★☆(4/5) |
| • Consistency with brand | ★★★★★(5/5) |
| Customer feedback | ★★★★★(5/5) |
| • Satisfaction | ★★★★★(5/5) |
| • Communication | ★★★★★(5/5) |
In need of a website overhaul that can better reflect your vision for your business' ads and brand? We highly recommend Portview Digital's selection and quality of convenient services.
What we like about them is that they have a good background, especially working with small businesses like Kenneth Hennessy Architects and WorkMatters. If you are a small business, rest assured that Portview Digital's approach can suit you well.
On top of this, their services have reached a variety of different sectors from food and drink to even IT and software. We like how adaptable they are when it comes to approaching the client.
However, we also do find that their more in-depth batch of services to be very attractive as well.
We really appreciate that each of these services work well in conjunction with one another. For example, Portview Digital can help customers in both designing a website and at the same time maintaining it.
Customers will also really like how thorough the company is with the details. For example, they make sure that these websites translate well both online and through mobile applications.
However, with regards to their website support services, they are more limited in aiding fixes and updates for WordPress specifically. It would be best to ask if they can also help with other hosts.
All in all, Portview Digital makes an excellent choice if you're especially looking for help in the realm of digital ads, design and maintenance.
Offer free eBook resources
Good option for small businesses
Convenient set of services especially for websites
Customer feedback praises their reliability
Web support is mainly limited to WordPress fixes and updates
Some packages can be quite expensive 
Customer Reviews
Professional and Reliable
Ben and his team at Portview Digital provide a professional and reliable service and I would highly recommend them. They did a brilliant job of my business website and provide fantastic, affordable support services. Nothing is too much trouble. – Sarah Wenman
Very Responsive
Ben and his team at Portview Digital are excellent! They took the time to understand our business, and they were responsive to our changing brief. Would highly recommend any business owner looking for a premium site to start a conversion with them – Robbie Godsil
5. Digital Sales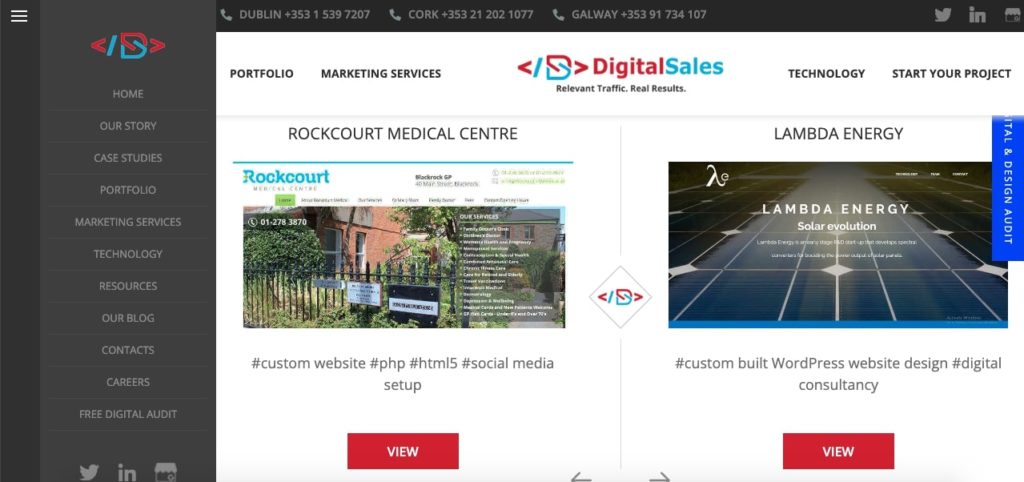 Test
Info
SERVICES
Web Development, eCommerce Development, Software and App Development, UX, Creative Development, SEO, PPC, Analytics, Social Campaign, Marketing Automations, Content Marketing, Advertising and Retargeting
WEBSITE
https://www.digitalsales.ie/
ADDRESS
Digital Sales Ireland, 18 Herbert Street,, Dublin 2
CONTACT DETAILS
+353 1 539 7207,

[email protected]
| | |
| --- | --- |
| Expertise and experience | ★★★★★(5/5) |
| Range of services | ★★★★★(5/5) |
| Portfolio | ★★★★★(5/5) |
| • Versatility | ★★★★☆(4/5) |
| • Consistency with brand | ★★★★★(5/5) |
| Customer feedback | ★★★★★(5/5) |
| • Satisfaction | ★★★★★(5/5) |
| • Communication | ★★★★★(5/5) |
Digital Sales' thorough set of services and well thought out process makes them an excellent candidate for the customer looking for a complete experience.
We really appreciate how exhaustive and involved they are when it comes to enacting their procedures.
From their first step beginning with evaluating possible strategies all the way to trying different iterations, Digital Sales is definitely the one to choose if you're looking for an expansive service.
What's great about them is that customers can be assured of KPI growth based on their past clients' experiences. For example, HawkEye Pest Control was able to get a 400% enquiry increase on their site due to Digital Sales' help.
Also, you can be assured that they've worked with a lot of different types of clients in different industries. Digital Sales ensures to help your product or business become more visible.
In regards to their advertising and retargeting service, although they don't offer anything specifically for Youtube content, we still find this service to be very adaptable.
From other social media platforms, to helping customers with behavioral targeting, displays and in-app advertising, we really like the depth in selection that they have.
In the end, if you're looking for an agency that will provide you with a meticulous eye and a wide array of options to choose from, we highly recommend you check out Digital Sales.
Proven numerical growth from past clients
Versatile portfolio
Exhaustive process
Wide selection of services to choose from
Does not cover Youtube in advertising and retargeting section
Digital analytics service primarily uses Google
Customer Reviews
Outstanding Results
The team at Digital sales Dublin got to work on overhauling our website and improving our google rankings. The results were outstanding and the from the initial consultation to the current on going work we have found them to be very professional and knowledgeable. We would highly recommend this company for any Website or SEO projects – Simon Maiben
Made the Process very Manageable
Excellent services. Diarmuid was a pleasure to work with and made the process very manageable. This was the charities first website and we couldn't be happier with the finished product. Its easy to use and captures our services very well. We believe we have received a quality services at a  competitive price. – Una Kenny
6. Webjuice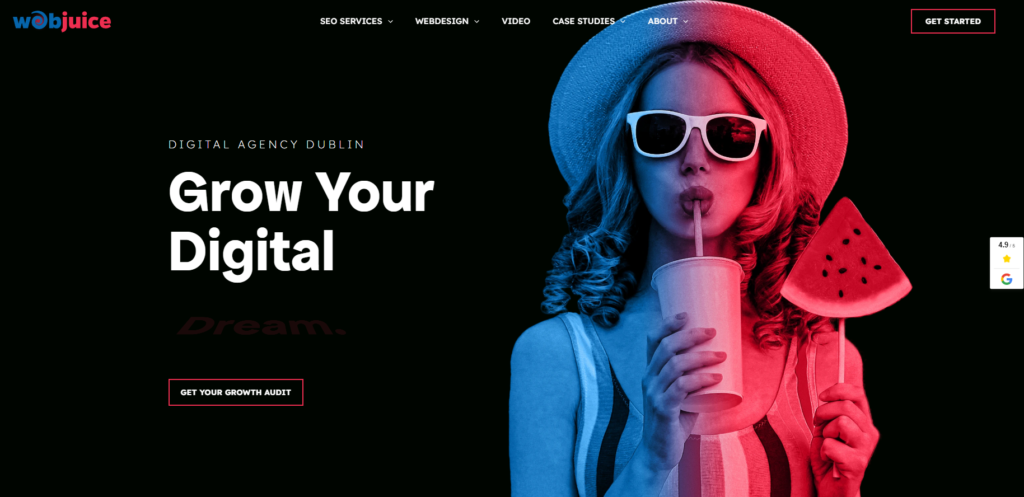 | Test | Info |
| --- | --- |
| SERVICES | Web development, Graphic design, Online marketing, Branding, and SEO. |
| WEBSITE | https://webjuice.ie |
| ADDRESS | 3 Hamilton Way, Ashtown, Dublin 15, D15YPC0, Ireland |
| CONTACT DETAILS | +353 85 880 2213 |
| | |
| --- | --- |
| Expertise and experience | ★★★★★(5/5) |
| Range of services | ★★★★★(5/5) |
| Portfolio | ★★★★★(5/5) |
| • Versatility | ★★★★★(5/5) |
| • Consistency with brand | ★★★★★(5/5) |
| Customer feedback | ★★★★★(5/5) |
| • Satisfaction | ★★★★★(5/5) |
| • Communication | ★★★★★(5/5) |
Webjuice is your go-to for anything related to making a splash online. Based in Dublin, Webjuice offers a wide range of services dedicated to helping clients grow online.
These services include web development, graphic design, online marketing, branding, and SEO, all of which Webjuice carefully tailors to address the client's needs.
One of the things we like about Webjuice is that they take note of the latest trends, so you don't need to worry about campaigns being outdated or too boring.
In addition, they have proven success in creating innovative websites that make money and establish strong brand presence. So, you can expect your popularity to skyrocket if you work with them.
Wide range of digital services
Incorporates the latest trends
Innovative solutions to marketing and website development
FAQs about Ad Agencies and Advertising
---
Ad agencies can be of real help throughout the process and we hope our list helps you in evaluating which option is the best for your projects. If you would like to read more, we also have an article on the best advertising companies in Galway.