The Best Studios for Yoga Classes in Galway
Whether it's to increase flexibility or help for relaxation and mindfulness, yoga is a great option for its health benefits. Having an instructor however, can help with guidance and improvement in terms of progress.
In this article, we list down the best studios for yoga classes in Galway that can be great resources.
How much do yoga classes cost?
The prices of yoga classes can vary due to the packages and duration of the sessions, expertise of the instructor as well as the facilities and maintenance of the studio.
Below is a table of prices of various yoga classes in the Galway area.
Yoga Studio
Details of the Class
Prices
Galway Yoga Centre
Easy Yoga, 10 Weeks, 1 Hr 30 Mins, Room
€ 125
The Yoga Shala
Men's Yoga, 4 sessions

€ 60

Move and Breathe Studio
One Year Virtual Membership
€ 55
Yoga Darśana

Drop in Yoga, 60 to 70 mins

6 Yoga Class Pass

€ 17

€ 85

Hot Yoga Galway
Intro Offer
€ 69
Burren Yoga Retreat
En Suite Single Bedroom, 2 Nights
€ 756
Top Yoga Classes in Galway
We assessed the studios according to the following criteria:
1. Burren Yoga and Meditation Retreat Centre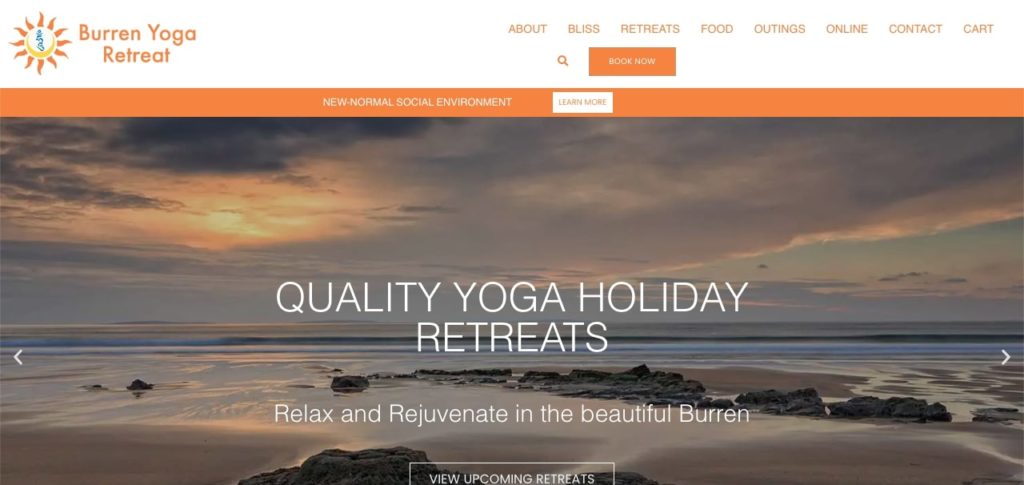 Test
Info
SERVICES

Yoga Retreats

Accommodations

Dining Rooms

Massage Therapy Rooms

WEBSITE
https://burrenyoga.com/
ADDRESS
Burren Yoga Retreat Centre, Normangrove, Kinvarra, Co. Galway
CONTACT DETAILS
Phone: +353 91 637 680

Email: [email protected]

OPERATING HOURS

Daily: 8:00 AM to 8:00 PM

Retreat schedules are subject to change depending on availability
| | |
| --- | --- |
| Yoga classes | ★★★★★(5/5) |
| Range | ★★★★★(5/5) |
| Depth | ★★★★★(5/5) |
| Background | ★★★★☆(4/5) |
| Availability and scheduling | ★★★☆☆(4/5) |
| Feedback | ★★★★★(5/5) |
| Instructor attitude | ★★★★★(5/5) |
| Overall satisfaction | ★★★★★(5/5) |
One of the most immersive yoga experiences out there, not just in Galway but in all of Ireland, Burren Yoga and Meditation Centre is one of the best options for its facilities, amenities and teachers.
The facility has been awarded with the certificate of excellence by Tripadvisor for 10 straight years. This is a testament not only to the business' unique offering but quality of service as well.
What we really like about them is their attention to detail for a perfect yoga retreat. Their yoga studio itself was designed with sacred geometry in mind, with people being able to enjoy the calming scenes of nature through large glass windows.
On top of this, they have an expansive team of teachers who are able to lead great classes on various types of yoga and meditation. If you're on the lookout to really getaway and focus on yoga and a mindful experience, we highly recommend them.
Additionally, we greatly appreciate that their options for accommodations, dining and other activities are also very well thought out. People can enjoy longform programs that include vegetarian food as well as outings that really capture a solitary yet serene stay.
However, we would greatly advise potential customers to check out their prices because it is one of the more expensive choices out there for yoga programs.
Because their focus is more on retreat programs, it would be a more suitable option for special or rarer occasions.
Regardless, Burren Yoga and Meditation Centre is definitely a must visit for any yoga practitioner out there for the full immersive experience.
Best option for isolation and environment
Wide amount of facilities
In depth experience
Broad team of yoga teachers
Type of retreat and weekend package changes frequently
More expensive option compared to other yoga studios
Customer Reviews
Fantastic Every Time
I recently spent a weekend at the Burren Yoga Centre. This was my third time and it was superb yet again. I love the new centre, the yoga room, being surrounded by the Burren, the walks, the gorgeous food. Dave and his team are fantastic every time, friendly, helpful and considerate. Eleanor Dawson our yoga teacher for the weekend was calm, gentle and a wonderful teacher. I felt I experienced and took away from the weekend exactly what I needed. You can have a complete switch off here if you allow yourself to. The Burren Yoga Centre never disappoints me. I can't recommend it highly enough. I will be back again! – Nita MC
Well-Organized from Top to Bottom
We had the best time here. Everything about the retreat was very well considered, fantastic yoga classes, absolutely delicious food, and the centre is so beautiful! We also loved the outing exploring the Burren and the (optional) sea swimming spot. It was so nice to be able to take some time to slow down, feeling really peaceful and happy after the weekend. I'd highly recommend the Burren Yoga retreat to anybody (classes were tailored to all levels of ability) and we will definitely be back. – Christina Cullen-Martinez
2. Yoga Shala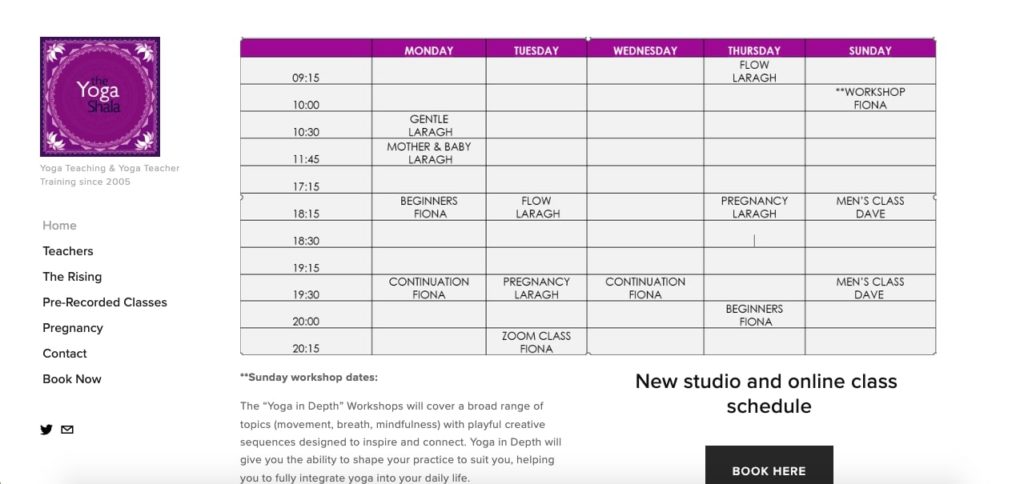 Test
Info
SERVICES

Pregnancy Yoga

Pre recorded Classes

Gentle Yoga

Men's Yoga

Beginner Yoga

Flow Yoga

WEBSITE
https://www.theyogashala.net/
ADDRESS
66 Ballymoneen Rd, Slí Gheal, Galway
CONTACT DETAILS
Phone: +353 870684056, +353 867755236

Email: [email protected]

OPERATING HOURS

Daily: 9:15 AM to 8:15 PM
| | |
| --- | --- |
| Yoga classes | ★★★★★(5/5) |
| Range | ★★★★★(5/5) |
| Depth | ★★★★☆(4/5) |
| Background | ★★★★☆(4/5) |
| Availability and scheduling | ★★★★★(5/5) |
| Feedback | ★★★★☆(4/5) |
| Instructor attitude | ★★★★☆(4/5) |
| Overall satisfaction | ★★★★☆(4/5) |
With a background dating all the way back to 2002, Yoga Shala's wide range of classes are an excellent choice for various types of people with different needs.
The instructors themselves are very highly qualified when it comes to yoga. Laragh Cunningham has a background of more than 20 years teaching as well as having students with different skill levels, from beginners to professionals.
Instructors Fiona Brown and David Cunningham, also have a substantial background in increasing range of motion and Ashtanga yoga to name a few. Customers will feel very taken care of with how well equipped the staff are.
Speaking of the instructors' extensive background, what we also like about Yoga Shala, is that they have a great variety of different types of classes that will suit different customer needs.
For example, they have both gentle and flow yoga which are great options for those looking to work on meditation and relaxation. On the other hand, they also have men's yoga which focuses on improving stiffness and movement.
We think however, a standout program of theirs is their pregnancy yoga which Laragh Cunningham specializes in. We like that it covers a lot of aspects including relieving aches, focusing and breathing techniques, postnatal insights and more.
We do forewarn potential students to take a look at their schedules as their classes might not be easily available or flexible.
Should you find an arrangement and schedule that works for you, Yoga Shala's expert instructors and a good range of yoga categories will certainly add positive energies to your daily routine.
Good range of different classes for different skill levels
Excellent background of instructors
Have pre recorded classes available as well as a video series of Youtube
Some missed classes can be made up through a Zoom class
More limited variation in duration per class
May be difficult to schedule a class depending on the time
Customer Reviews
Always a Lovely Atmosphere
Have been going to Fiona's class for over a year now and can honestly say I am hooked. Her teaching style is fun, encouraging, kind and her love for yoga is infectious. I am happier and stronger in myself overall and if anyone is looking for a yoga class I would highly recommend Fiona as a yoga teacher. The studio is very convenient and always a lovely atmosphere and in general a truly enjoyable experience. – Lisa Gallagher
Such a Great Teacher
I started yoga 3 years ago with Fiona. As a complete beginner I had no idea what to expect. Fiona has been such a great teacher. So knowledgeable, encouraging and kind. She has been a wonderful introduction to yoga for me. I never knew the benefits that yoga has. I feel more flexible and strong, but also more confident and relaxed. I love attending Fiona's classes both on zoom and in house. I look forward to them every week. I would definitely recommend Fiona in Yoga Shaka! – Jane Clarke
3. Yoga with Misha Studio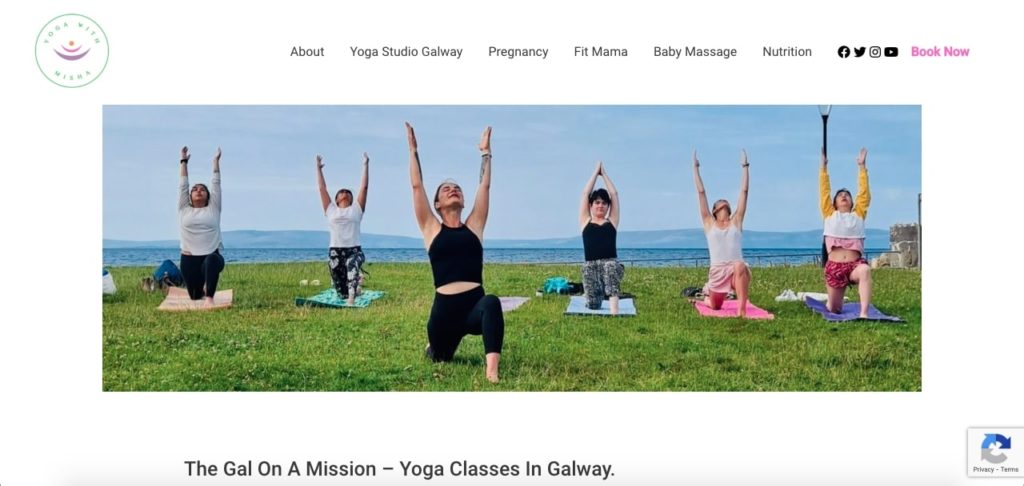 Test
Info
SERVICES

Pregnancy Yoga

Vinyasa Flow

Gentle Bliss Yoga

Yoga and Relaxation

WEBSITE
https://yogawithmisha.com/
ADDRESS
Rockbarton Ct, Galway
CONTACT DETAILS
| | |
| --- | --- |
| Yoga classes | ★★★★★(5/5) |
| Range | ★★★★☆(4/5) |
| Depth | ★★★★★(5/5) |
| Background | ★★★★★(5/5) |
| Availability and scheduling | ★★★☆☆(3/5) |
| Feedback | ★★★★★(5/5) |
| Instructor attitude | ★★★★★(5/5) |
| Overall satisfaction | ★★★★★(5/5) |
A full time yoga teacher, Misha employs her experience in nutrition, baby massage, prenatal and postnatal in her own studio.
What we really like about the Yoga with Misha Studio, is that Misha's background allows her approach to be holistic. Especially for first time moms, this is a great option to consider if you're looking for a highly knowledgeable and helpful instructor.
What we also like about Yoga with Misha is that her classes are welcome to all. All of her classes can suit any skill level, age or gender and we really appreciate the range of different yoga types she offers.
Although it is a more curated and paired down list compared to other studios, we like the depth each class has. For example, her gentle bliss yoga classes are great for beginners looking to ease into the practice while including a variety of poses.
On the other hand, her vinyasa flow classes are great for a more fitness based approach, better suited for those looking to develop more energy and power.
Take note however, because there is one primary instructor in this studio, that scheduling may be more difficult to come by so make sure to check the website beforehand.
The Yoga with Misha Studio is great for all types of prospective practitioners, but in particular, for moms and moms to be because of Misha's background.
Excellent qualifications of yoga instructor
Very in depth pregnancy classes
Curated list of different types of yoga and programs available
Perfect package for new moms out there
Primary contact online or through social media
May be difficult to schedule
Customer Reviews
Thoughtfully Made Classes
I did my first Warm Vinyasa Flow with Misha this week, and I absolutely loved it! She had us put our mats in a circle at the beginning of the class, so we immediately felt like we were in a little safe community, facing one another and practicing WITH one another. Before the class began, we also went around and introduced ourselves, and Misha even asked our favorite go-to poses so she could try to incorporate them in the evening's practice. I felt there was a good balance of poses that were difficult versus some that were easier. I really enjoyed the overall flow of the class. It was smooth! She had insence and music playing too, which set a very relaxing tone.. -Lucy Zuckerman
Welcoming and Attentive
Did my first pregnancy yoga class with Misha on Monday evening, she is an excellent yoga instructor. Misha is so welcoming and attentive to each person within the class, making sure they get the most out of it. Really enjoyable experience and lovely to be in a group with other expecting mum's. Really looking forward to continuing classes with Misha throughout my pregnancy. -Michelle Bullman
4. Yoga Darśana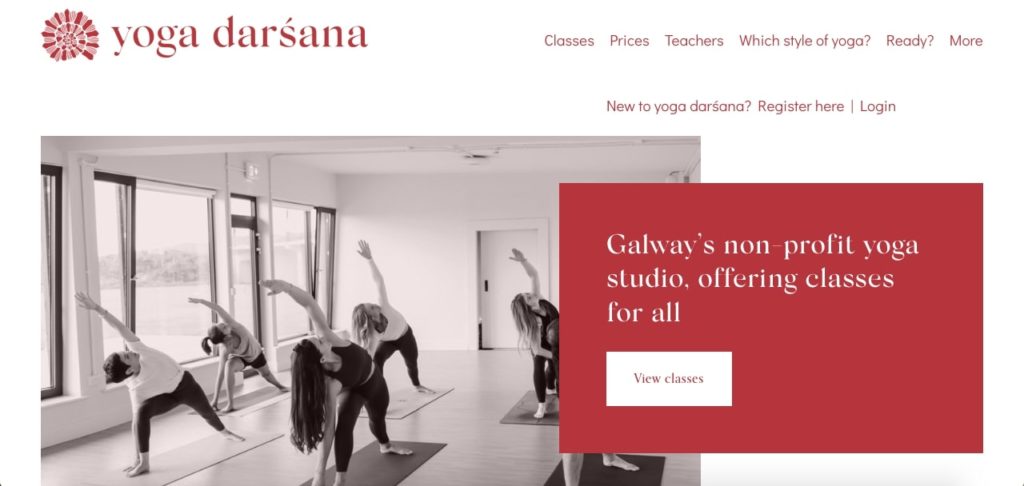 Test
Info
SERVICES

Gentle Yoga

Vinyasa Flow

Hatha Yoga

Pilates

Restorative Yoga

Teen Yoga

Pranayama Yoga

Meditation etc.

WEBSITE
https://yogadarsana.ie/
ADDRESS
Old Driving Range, Salthill, Co. Galway
CONTACT DETAILS

Email: [email protected]

OPERATING HOURS

Monday: 6:30 AM to 11:45 AM; 3:45 PM to 8:40 PM

Tuesday: 6:30 AM to 11:00 AM; 4:15 PM to 8:45 PM

Wednesday: 9:30 AM to 12:00 NN; 4:00 PM to 9:15 PM
| | |
| --- | --- |
| Yoga classes | ★★★★★(5/5) |
| Range | ★★★★★(5/5) |
| Depth | ★★★★★(5/5) |
| Background | ★★★★★(5/5) |
| Availability and scheduling | ★★★★☆(4/5) |
| Feedback | ★★★★★(5/5) |
| Instructor attitude | ★★★★★(5/5) |
| Overall satisfaction | ★★★★★(5/5) |
Yoga Darśana is a nonprofit studio, whose wide team of teachers allow for it to be a great option the next time you're on the lookout to try a large variety of different classes.
What we really appreciate about them is that their not for profit structure allows the studio to support those who cannot easily access their services. This includes people with physical or financial constraints, so we really applaud them for their inclusivity.
Aside from this, they have an excellent team of instructors who are able to focus on different types of yoga.
We were very impressed by the background of their teachers which includes numerous years of experience, global workshops and training, as well as certifications. We highly recommend them if you're looking for a studio with a lot of experienced instructors .
Speaking of their wide team of teachers, we also like that they have a great variety of classes for different types of students and categories of yoga. This includes yoga for different age groups, all levels courses, restorative yoga and many more.
It is important to take note that some classes are more irregular than others in terms of schedules, so if you're looking to take a specific program it would be best to check in with them.
However, we do like different packages for different budgets and program durations. If you're on the lookout for a studio that offers variety and selection in terms of budget, classes and instructor expertise, Yoga Darśana might be the way to go.
A nonprofit studio
Excellent variety of classes of different types and levels
Different available packages that come at affordable rates
Experienced wide team of teachers
May have limited availability for certain classes
Cancellation policy of minimum 4 hours prior for credit
Customer Reviews
Passionate and Accommodating
Beautiful location and space to practice yoga. Both Tara and Eva are beautiful people so passionate about their practice and really accommodating. Highly recommended to anyone practicing yoga in Galway -Sara Elnimr
Location is such a Treat
Would highly recommend Eva's classes – really felt grounded and more at ease after her class. The location of the studio also has to be experienced – we got to practice under moonlight on a super clear night and it was such a treat! Can't wait to try more of the classes – so great to have a yoga studio so close to blackrock so you can go for your swim or just sit and enjoy the view.
All round wonderful experience you must try! – Grace Dwyer
5. Hot Yoga Galway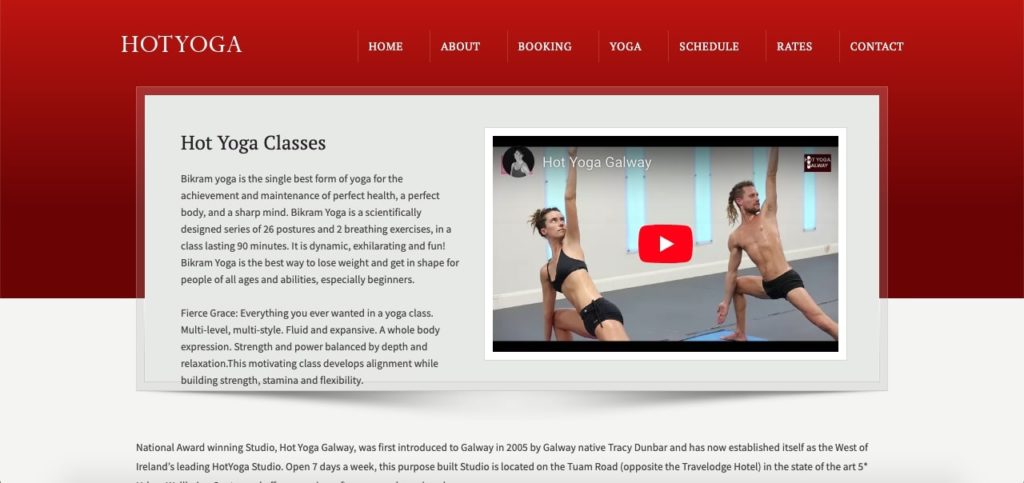 Test
Info
SERVICES

Fierce Grace Yoga

Bikram Yoga

WEBSITE
https://hotyoga.ie/
ADDRESS
9, Tuam Road Retail Centre, Tuam Rd, Galway,, Co. Galway
CONTACT DETAILS

Phone: 087 2642922

Email: [email protected]

OPERATING HOURS

Monday: 6:30 PM to 8:00 PM; 8:15 PM to 9:45 PM

Tuesday: 10:00 AM to 11:30 AM; 6:30 PM to 8:00 PM

Wednesday: 4:30 PM to 6:00 PM; 6:30 PM to 8:00 PM

Thursday: 4:30 PM to 6:00 PM; 6:30 PM to 8:00 PM

Friday: 10:00 AM to 12:00 AM

Saturday: 11:00 AM to 12:30 PM

Sunday: 11:00 AM to 12:30 PM
| | |
| --- | --- |
| Yoga classes | ★★★★☆(4/5) |
| Range | ★★★☆☆(3/5) |
| Depth | ★★★★★(5/5) |
| Background | ★★★★★(5/5) |
| Availability and scheduling | ★★★★★(5/5) |
| Feedback | ★★★★★(5/5) |
| Instructor attitude | ★★★★★(5/5) |
| Overall satisfaction | ★★★★★(5/5) |
If you're on the lookout for a more unique, intense and heated (literally) yoga experience, we highly recommend checking out Hot Yoga Galway. Established back in 2005, this studio definitely sets itself apart from other studios in the area.
We really like that they specialize in two more different types of classes, particularly Bikram Hot Yoga and Fierce Grace Yoga. Their Fierce Grace Yoga program incorporates three different types of yoga, Power, Ashtanga and Hatha as well as some practices for relaxation.
It's a great program to consider for a well balanced routine or class that not many other studios offer in one package.
On the other hand, their Bikram Hot Yoga makes excellent use of breathing exercises alongside a sequence of yoga asanas. We find both of their classes to have great depth in terms of program structures.
What's also commendable about them is that they are very well-equipped when it comes to their studio's features. They use infrared radiant heat panels, slip resistant floors and a great ventilation system amongst other things.
Many previous customers have praised their experiences in class and the studio's facilities. We like that Hot Yoga Galway is very thorough and detail oriented in terms of both program and facilities.
Although it may be a more intense experience, alongside more limited types of program options, they certainly offer a unique experience that is well thought through.
Excellent facilities
Very unique yoga offerings
Well thought out policies and practices
Offers different memberships and package types
More limited yoga types
May be slightly more intense or intimidating for beginners
Customer Reviews
Fabulous Studio, Brilliant Teacher
I went to bikram yoga Galway for the first time Saturday gone. Fabulous studio, brilliant teacher, has to be one of the nicest studios I've ever been to. Tracy is a great teacher loads of experience and it shows. Thanks for a great class. – Denise Gallagher
Beautifully Furnished Studio
I have been practicing Bikram Yoga for many years now and can say that Bikram Hot Yoga Galway is by far the nicest studio I have been to. The setting is lovely and the room is spacious with great infra-red heaters. The heat from the infra-red heaters makes such a difference and it never gets stuffy or uncomfortable. There is fresh warm air coming in so that there is no need to open windows to get the oxygen level up. The studio is beautifully furnished and if you have a day to spoil yourself there is a bunch of beauty and wellness businesses in the Urban Wellbeing complex. Highly recommend. -Sylvia Scathan
FAQs about Yoga and Yoga Classes
---
And there you have it! Whether you're a beginner or more advanced student looking for options in the area, we hope our list of yoga studios helps out. If you would like to read more, we also have an article on the best studios for yoga classes in Dublin.