The 5 Best Eco-Friendly Shops in Ireland
An eco-friendly store is an establishment that tries to minimize the impact of its business on the environment. This is achieved mainly through selling recyclable, organic, and sustainable products.

Other shops, however, go the extra mile and implement practices that are good for the planet.
Here's a list of the best eco-friendly shops in Ireland that can help you become a more responsible consumer. Read it and have what it takes to be a true eco-friendly person!
The Best Eco-Friendly Shops in Ireland
A shop is only as good as the products it sells. That said, we used the following criteria to determine why these shops are among the best:
1. Ecostore.ie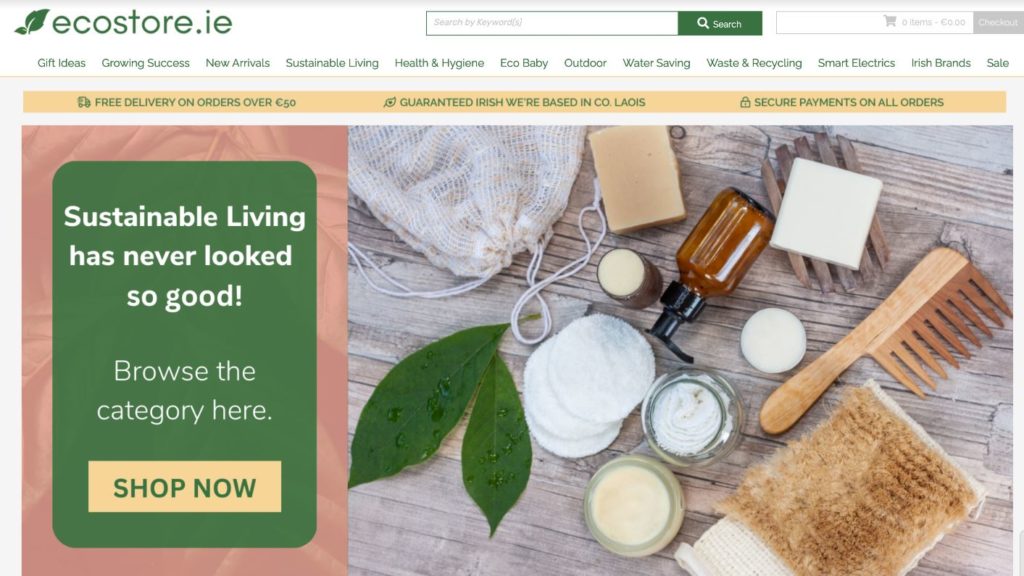 Test
Info
PRODUCTS

Gift Products

Stationery

Coffee Cups

Laundry Detergent

Cleaning Materials

Toiletries

Composting

Water Saving

Wild Bird Care Products

Vegan Products

Dishwashing Products

Skin Care

Outdoor Products

Baby Products

Smart Electrics

WEBSITE
https://ecostore.ie/
ADDRESS
Online store, based in Co. Laois
CONTACT DETAILS
+353 169 91155

Email: [email protected]

OPERATING HOURS

24/7
| | |
| --- | --- |
| VARIETY | ★★★★★ (5/5) |
| QUALITY | ★★★★★ (5/5) |
| ACCESSIBILITY | ★★★★☆ (4/5) |
| VALUE | ★★★★★ (5/5) |
It takes time determining which store really supports environment-friendly products and sustainable living, and we think Ecostore.ie is one of the real stores that's up for that goal. In Ireland, there are a lot of eco-friendly stores and Ecostore.ie is one of the best of them. We'll give you five reasons in this list that make us think so.
First of all, if you go to its online shop and take a look at its products, you'll see that it has an extensive product range. It has everything from reusable cups and natural skincare products to waterbutts and energy saving bulbs.
Secondly, Ecostore.ie carefully sources products so that it is as environmentally friendly as possible. This means that all their products are made from recycled materials, biodegradable, or can be used in the long run.
Thirdly, the tumblers and cups are designed very well which makes them look great when used.
Fourthly, Ecostore.ie's efficient water-saving products help reduce water waste by collecting rainwater for later use in the garden or washing a car, cutting down on the amount coming from the mains supply.
The last reason why we think Ecostore is a great shop is because it works with local Irish brands and suppliers to offer a wide and varied range of products.
Take note that this shop is online only and free delivery is offered on orders over €50. This shop uses biodegradable, recycled, or recyclable packaging on all its orders to minimise waste that ends up in landfills.
Extensive products range
Well-designed tumblers and cups
Efficient water saving products
Works with local brands
No exact shop address
Limited free delivery
Customer Reviews
Speedy delivery
"We recently bought a couple of items from ecostore. We were delighted with the speed of delivery and the level of service. This morning we got a follow up call from Darren to make sure everything was in order. We had never heard of this company before and it gives us great pleasure to recommend them as an efficient and caring Irish company. We will indeed do business with them again." – Grania Glynn
Wide range of products
"Ecostore's website is very easy to navigate. All staff are knowledgeable and extremely helpful with excellent attention to detail. Great to see an Irish Company with such a wide range of products, worthy of support. Excellent service and delivery. I fully intend to do business with them in the future." – Martin Forde
2. Pax Whole Foods and Eco Goods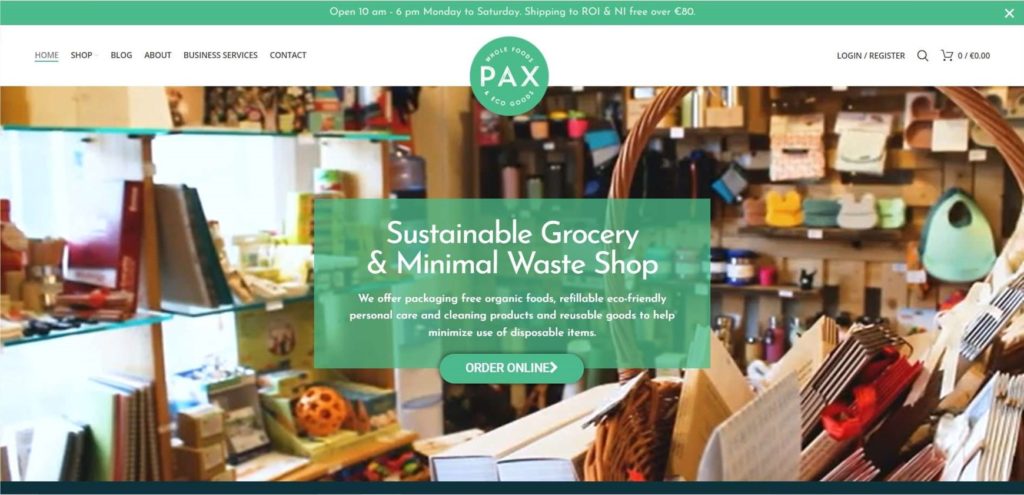 Test
Info
PRODUCTS

School & Office Supplies

Reusable Goods

Personal Care

Oils

Vinegars

Sweeteners

Nuts and Seeds

Kitchen and Home Goods

Irish Food and Condiments

Hobbies and Activities Products

Herbs and Spices

Grains and Pasta

Garden and Pet Care

Dried Fruits

Crafts and Toys

Coffee and Tea

Chocolates and Snacks

Stationery

Beans and Lentils

Baking Ingredients

Bags and Baskets

Babies and Kids Products

WEBSITE
https://www.paxwholefoodsecogoods.com/
ADDRESS
9 Market Ln, Cahernamart, Westport, Co. Mayo, Ireland F28 YV09
CONTACT DETAILS
+353 98 44606

Email: [email protected]

OPERATING HOURS

Monday to Saturday, 10:00 a.m. - 6:00 p.m.
| | |
| --- | --- |
| VARIETY | ★★★★★ (5/5) |
| QUALITY | ★★★★★ (5/5) |
| ACCESSIBILITY | ★★★★☆ (4/5) |
| VALUE | ★★★★★ (5/5) |
When you're looking for eco-friendly stores in Ireland, you want to know that you'll be able to find exactly what you need. And when it comes to helping you achieve a sustainable lifestyle, Pax Whole Foods and Eco Goods has got you covered.
This store has an extensive organic food supply, so if you're looking for healthy options without any additives or GMOs, this is the place for you!
We love their wide range of reusable containers which makes it easy to take your own lunch and drinks to work, school, or at the gym. Plus, they're great for storing leftovers or bringing along snacks when you're traveling.
If your kids have an interest in learning about sustainability, this store offers plenty of eco-friendly toys that are made from plastic-free materials. Not only toys, but there are also baby products like organic wipes, nappies, and creams.
Another good thing is it has a good reputation in supplying eco-friendly products in Ireland. It works with 75 Irish businesses to ensure that all products sold are locally sourced and are supportive of sustainable living.
Among the minor drawbacks, though, are the limited garden tools available and there are also no trash separator products. These are products you can source in other shops, but the rest of your needs can be covered by Pax Whole Foods and Eco Goods.
Extensive organic food supply
Variety of reusable containers
Child-friendly eco products
Works with 75 Irish businesses
Limited garden tools
No trash separator product
Customer Reviews
Well-packaged
"Have ordered from Pax a few times now and delighted with the service every time. The deliveries came promptly, were all really well packaged in recycled materials and the items themselves are all excellent quality. I've ordered a mix of household, food, cleaning, supplies, things for my dogs etc. Great range of products on the website." – Joanne Sullivan
Great shop
"A great shop. Ordered several times and will order more in future. Prompt delivery and well packed. Very good customer service, always very helpful. I love the range of organic products. Highly recommended." – Rita Lutz
3. Youme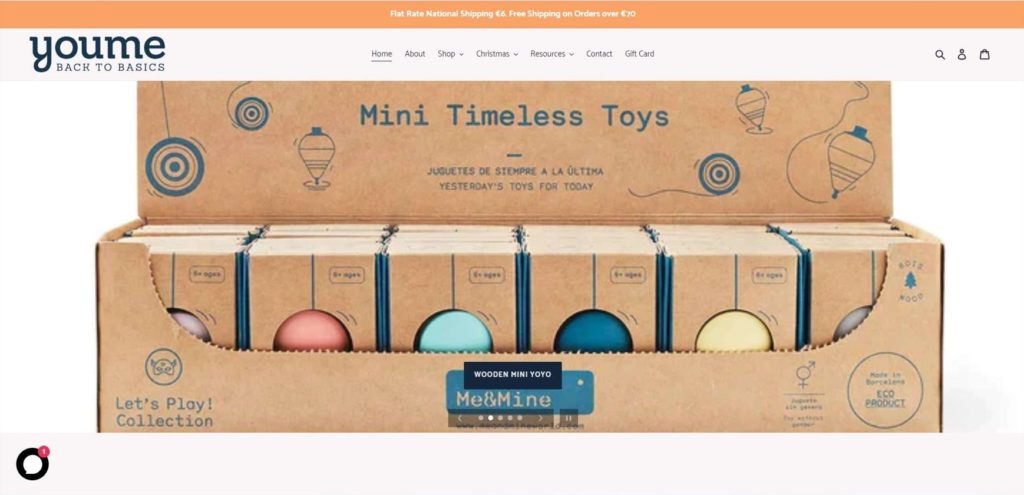 Test
Info
PRODUCTS

Baby and Child Products

Bath and Beauty

Kitchen and Home

Bags and Reusbales

Gifts and Stationery

WEBSITE
https://youme.ie/
ADDRESS
CC Creatives, 87 Meagher's Quay, Waterford, Ireland X91 NH2P
CONTACT DETAILS
No available number

Email: [email protected]

OPERATING HOURS

Tuesday, 10:00 a.m. - 4:00 p.m.

Friday to Saturday, 10:00 a.m. - 6:00 p.m.

Sunday, 12:00 a.m. - 4:00 p.m.
| | |
| --- | --- |
| VARIETY | ★★★★☆ (4/5) |
| QUALITY | ★★★★★ (5/5) |
| ACCESSIBILITY | ★★★★☆ (4/5) |
| VALUE | ★★★★★ (5/5) |
Youme in Waterford has many different kinds of straws to choose from, including reusable, biodegradable, and even edible! It also carries glass, metal, and paper straws that are among the first steps in reducing plastic use among most consumers.
We like that the store also sells a variety of different toys and other items that can help make you more environmentally friendly. These are mostly made from hardwood or paper and are free from plastic materials.
It's also ideal for women who are seeking organic alternatives for their personal care.

Youme's selection of budget-friendly cloth pantyliners are reusable and easy to wash. A single purchase is equivalent to a cloth pad for a girl in India through Youme's program.
Also, Youme has an impressive selection of organic dental products available for purchase at affordable prices. These include toothbrushes and floss made from sustainable materials such as bamboo.
Take note that it has varying store hours and it's not ideal for food buyers because it doesn't have a wide selection of food products.
Still, it's one of the best eco-friendly shops because it has everything organic to care for your body. This shop also has a wide range of environment-friendly hair care products that are good for all hair types!
Variety of straw products 
Nice wooden eco toys collections
Budget-friendly reusable pantyliners
Organic dental products
Varying store hours
Not ideal for food buyers
Customer Reviews
Easy to order
"Shopping at Youme makes me feel like a better person! It's so easy to order online for pick-up or delivery and Amy is really great with answering questions about her products. Having a store like this nearby makes it so much easier to switch to a lower waste lifestyle and I really enjoy stocking my pantry with Amy's high quality, wholesome ingredients." – Lisa Bodenstein
Great products
"Shopping with Amy at Youme is always a great pleasure. Amy is always willing to help you out and explain zero waste and what small changes you can make to improve your life and the environment. The shop itself has some great products that are all affordable and eco sourced." – Mike Taylor
4. Earthmother.ie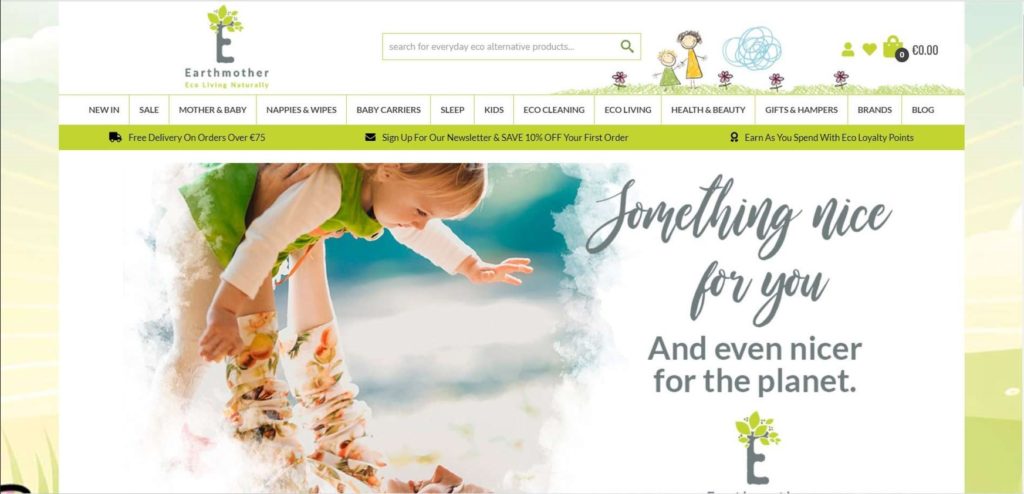 Test
Info
PRODUCTS

Mom and Babycare Products

Nursery and Bedding

Carriers

Cleaning Products

Reusables

Pet Care

Kitchen and Batch

Wearables

Health and Beauty

Gifts

WEBSITE
https://earthmother.ie/
ADDRESS
Robertson Mews, 49 Grange Ave, Grange Hill, Baldoyle Industrial Estate, Dublin 13, Ireland D13 YD39
CONTACT DETAILS
+353 183 97637

Email: [email protected]

OPERATING HOURS

Monday to Friday, 9:30 a.m. - 5:00 p.m.
| | |
| --- | --- |
| VARIETY | ★★★★★ (5/5) |
| QUALITY | ★★★★★ (5/5) |
| ACCESSIBILITY | ★★★★☆ (4/5) |
| VALUE | ★★★★★ (5/5) |
Earthmother.ie is a one-stop shop for eco-friendly products. It has a huge range of product brands, so you can find everything you need under one roof.
We like how it works with many eco-friendly brands that show how they are always looking for new and innovative companies that are passionate about making greener choices.
In our opinion, the top reason that makes it a popular eco-friendly shop is its ideal for shopping products for babies and kids who usually have sensitive skins.
Earthmother.ie offers all-organic baby care products made from natural ingredients that are safe for little ones like diapers, training pants, and sun lotions.

This means you won't have to worry about exposing your child to harmful chemicals when using these products!
Not only that, but there are also products for kids' lunch boxes and water containers that are reusable. There are carriers and earth-friendly wraps for babies, too.
We also like how Earthmother.ie offers a range of green cleaning products that are suitable for use on bathrooms, laundry, kitchen, and surfaces. This is a big do away from harmful chemicals especially if you have children at home!
In addition, this shop uses sustainable packaging for all its products so you won't be feeling guilty about adding more waste to landfills that take centuries to decompose.
The shop is closed on weekends, though, so take some time during the weekday to drop by here. You'll also have to deal with a delivery fee if your cart doesn't reach €75 in price.
Nonetheless, it's a great shopping spot for everything organic. There are also gift packs that are organic, safe, and well-packed.
Wide range of product brands
Ideal for baby care
Efficient green cleaning products
Sustainable packaging
All-organic gift sets
Closed on weekends
Free delivery is for €75 products and up
Customer Reviews
Excellent service
"I've been buying from Earthmother right through from reusable nappies to school lunchboxes and reusable bottles. The service is always excellent, speedy delivery, prompt replies to any query and most importantly the products are excellent quality. I will continue to shop here and would highly recommend." – Ruth McKeever
Helps you live greener
"A wonderful service always. They stock an extensive selection of environmentally friendly products and definitely help me to live greener. It's always lovely to receive a quick handwritten 'thank you' on the delivery docket." – Amy Daly
5. The Source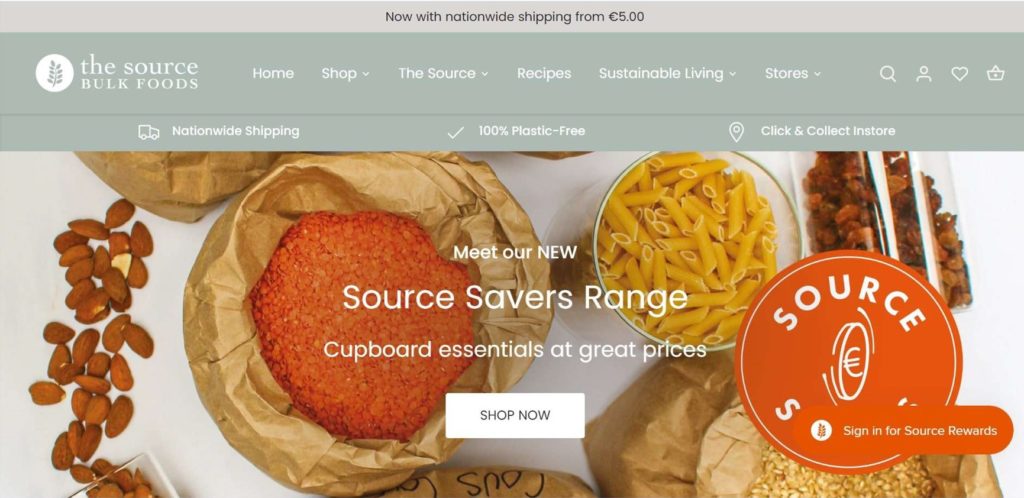 Test
Info
PRODUCTS

Pantry Food and Ingredients

Nuts

Dried Fruit

Granola and Muesli

Cereals

Seeds

Tea and Coffee

Nut Butters

Honey and Sweeteners

Snacks

Confectionery

Sweets

Protein Balls

Vegan Cleaning

Vegan Personal Care

Zero-Waste Cleaning Products

Reusables

WEBSITE
https://thesourcebulkfoods.ie/
ADDRESS
39/40 Castlewood Ave, Rathmines, Dublin 6, Ireland D06 W8C4
CONTACT DETAILS
+353 874 078357

Email: [email protected]

OPERATING HOURS

Monday to Friday, 9:00 a.m. - 7:00 p.m.

Saturday, 9:00 a.m. - 6:30 p.m.

Sunday, 10:00 a.m. - 6:00 p.m.
| | |
| --- | --- |
| VARIETY | ★★★★★ (5/5) |
| QUALITY | ★★★★★ (5/5) |
| ACCESSIBILITY | ★★★★★ (5/5) |
| VALUE | ★★★★★ (5/5) |
The Source is a Dublin and Wicklow-based store that sells everything from organic personal care products to vegan cleaning materials. If you're looking for an eco-friendly shopping experience, consider this one.
What we love most about The Source is it has 100% plastic-free products and how it has taken steps to eliminate all plastic from its packaging. This is great news for both the environment and your health.
Not only that, but it also sells 100% vegan cleaning materials. So if you want to go green without sacrificing quality or comfortability, then you can try some of its laundry and dishwashing products.
Another reason why it's one of the best eco-friendly stores in Ireland is because it provides detailed information about each product on its website. These include the benefits, so you'd know which exactly to buy.
If you've ever considered going zero waste but don't know where to start, you can begin by trying its products like toothpaste and organic cotton. And yes, there are reusable products here, too.
This place, however, isn't the one for those looking for water saving equipment or waste management because there's not much about it here.
Still, you won't have to worry about which day to shop here because it's open daily. That's one good thing to note, especially because it doesn't offer free shipping for all of the orders made online.
100% plastic-free
100% vegan cleaning, personal products
Supports zero-waste living
Open daily
No free shipping
No gardening products
Customer Reviews
Pleasant experience
"Really good place for buying package free products. Was amazed by the variety of snacks and treats. Very pleasant experience and nice staff. You can buy everything from caramelized almonds and tea / coffee to shampoo and hand wash. Almost everything is organic. A bit overpriced though." – Tanya Nekrassova
Great addition to Rathmines
"Great experience of zero-waste shopping! Really helpful and friendly staff. The delivery option is also extremely useful, especially during lockdown. Incredible range of products – rice, lentils, honey, noodles, spices etc. Also love the peanut clusters, chocolate and protein balls. A great addition to Rathmines." – Sara Kelly
FAQs about the best sustainable shops in Ireland
---
Eco-friendly shops are a great place to shop for your holiday gifts and even for your daily needs. They tend to have a lot of organic and sustainable options, as well as lots of fair trade items.
It's not always easy to tell if a shop is eco-friendly, so you really have to research about what makes them truly eco-friendly. For other earth-friendly shops and tips in Ireland, you can also check these:
---