The 5 Best Spas in Dublin
While the vibrant energy in Ireland's capital always has something exciting to offer, sometimes we need a break to unwind and recenter ourselves. What better way to do this than with a relaxing massage and facial?
To help you get this much needed break, we put together a list of Dublin's top spas.
Spa Costs in Dublin
People often associate spas with luxury and comfort. To help you plan your budget better, we've made a table featuring the average cost of a 60-minute massage at each of the spas we evaluated in Dublin.
| SPA | 60-minute Massage |
| --- | --- |
| The Marker Hotel | €125 |
| The InterContinental | €115.00 |
| The Bodywise Clinic | €75 |
| The Shelbourne | €130 |
| Oasis Beauty | €75.00 |
Top Spas in Dublin
We created this list based on the following assessments of each spa:
1. The Marker Hotel
| | |
| --- | --- |
| Facilities | ★★★★★ (5/5) |
| Services | ★★★★★ (5/5) |
| Ambience | ★★★★★ (5/5) |
| Staff | ★★★★★ (5/5) |
| Value | ★★★★☆ (4/5) |
If luxury is what you're after, The Marker Hotel's spa on Grand Hotel Square might be exactly what you need.
With facilities including a jacuzzi, a sauna, a 23-meter infinity pool, a fitness centre, and five treatment rooms including one for couples, their spa is more than well-equipped to provide a relaxing and invigorating experience.
They offer three main signature treatments, our favorite of which is the Elemental Herbology 5 Element Aroma Massage, which blends Eastern and Western massage techniques, heated stones, essential oil infusions, and herbal steam towels.
You can get this massage at three different durations: €85 for 30 minutes, €125 for an hour, and €160 for 90 minutes. While certainly expensive, we should note that use of all facilities is open to day spa quests with a treatment of over €85.
For €60, guests spending less than €85 can upgrade to use all facilities. We think this is a bit much, so to get the best value out of your stay we recommend getting treatments of €85 and above.
We also enjoy being entertained by their kind and genuine staff, who are happy to take care of any requests you may have and offer seasonal fruits throughout the experience.
They also offer facial treatments with advanced skincare from Skinceuticals, healing botanicals, and marine extracts. These treatments are designed to combat dullness of tone, aging, and blemishes.
Another thing we love about The Marker is its location. Overlooking the waterfront and surrounded by lively cafes, bars, restaurants, and theatres, we think it's the perfect place to disconnect and unwind while still having easy access to the dynamic energy of the capital.
The website is also quite tasteful and easy to use, which makes booking a session and looking up information a pleasant, breezy experience.
Scenic location
Up-to-date facilities
Eastern and Western techniques
Customer Reviews
So relaxing!
I wanted to treat myself and the Marker proved to be a perfect choice ! Beautiful place, very helpful and polite staff, amazing massage and great facilities (pool, jacuzzi, sauna, hammam… all very quiet and peacefull).
I hope I'll be able to go again ! -Sophie-Emmanuel
Outstanding massage
I booked my 30/30 (30 minutes back massage 30 minutes facial) and was outstanding.
Everything was amazing since the beginning all the staff is so helpful and nice.
Cristina made a fantastic experience , I am really happy about her professionalism and kindness.
I will definitely come back and suggest everyone to try it. -monicagaiamarino
2. The InterContinental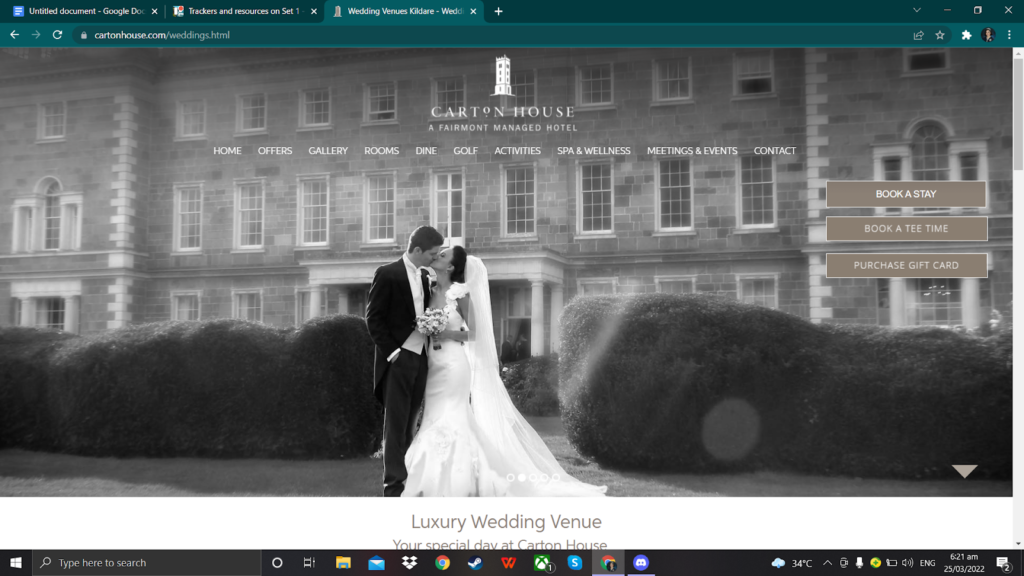 | | |
| --- | --- |
| Facilities | ★★★★☆ (4/5) |
| Services | ★★★★★ (5/5) |
| Ambience | ★★★☆☆(3/5) |
| Staff | ★★★★★ (5/5) |
| Value | ★★★☆☆(3/5) |
The InterContinental is another well-known hotel with a lovely spa to offer in the heart of Dublin.
The spa at the hotel boasts beautiful natural lighting, warming up their 14-metre indoor heated pool with a jacuzzi. They also have four treatment rooms for their special holistic treatments with products from ESPA.
ESPA offers an all-natural, holistic approach to skincare by combining biochemistry with aromatherapy. These treatments start at €100 for 55 minutes.
What we didn't like was that although the area is spacious, the pool is open to hotel guests and there are only six loungers and a few chairs.
Depending on the time of day and season, you may have to share your supposedly relaxing experience with a good bit of people, including children laughing and splashing about.
There are also only two showers for the changing rooms, so it can definitely be a bit crowded when you have to share. For the minimum price of €100, we expected more privacy and space for each guest.
Other facilities include a gym, a relaxation area, a sauna, and a steam room. These all have modern, quality equipment, so a correctly timed booking can definitely be a heavenly experience.
If you're interested in what The InterContinental's spa has to offer, we recommend checking for availability when it isn't peak season for guests. This will allow you to get the most out of the luxurious treatments you paid for.
Up-to-date facilities
Natural lighting
Offers all-natural beauty products
Can get crowded and loud
Expensive
Customer Reviews
Great spa experience
We were able to book a weekday couples massage the day before, but there was only one time open, so booking more in advance might be recommended. We had been walking a lot the week before, and I wanted a relaxing spa experience (rather than a quick in and out massage one might get for less elsewhere). We were able to arrive early (we were not staying at the hotel), and relax by the pool and in the jacuzzi for about an hour before our massage (there was also a fitness room available for use, though we did not). Because it was around 11 am on a weekday, the pool (which is the hotel pool) was empty, so we felt like it was a private pool, though I've seen other reviews where it was more crowded and less relaxing. Our massages were great, they were really able to work out some tight spots, and afterwards we used the sauna and steam rooms (separate for males and females). A very relaxed and unrushed experience, exactly what we were looking for! -valley614
Delightful Balinese Massage
Had a delightful Balinese Massage. Started with aroma therapy and then a full body massage which also targeted stress knots in shoulders really well. Facilities in changing rooms very good. Separate sauna and steam room in each of the male and female areas but no mixed. -John L
3. The Bodywise Clinic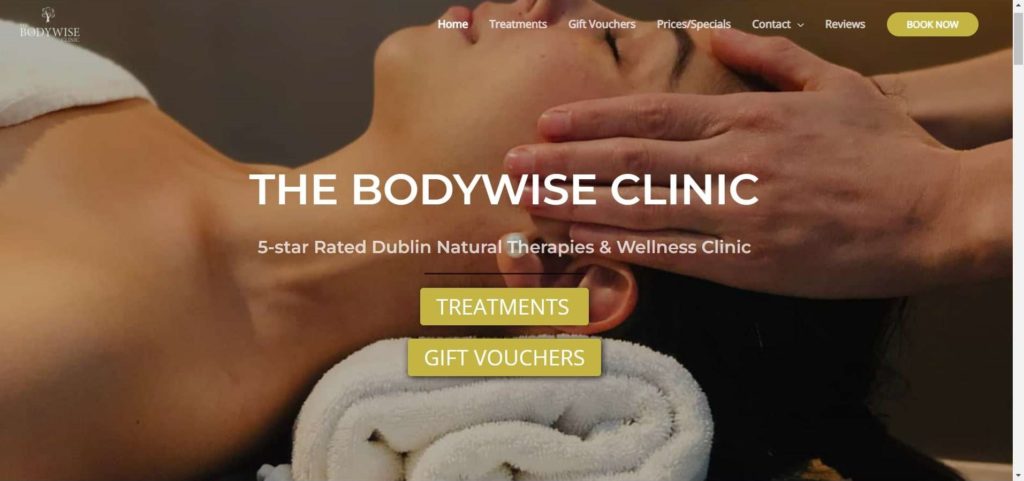 | Test | Info |
| --- | --- |
| WEBSITE | thebodywiseclinic.ie |
| ADDRESS | Second Floor 25 Suffolk Street Dublin 2 |
| CONTACT INFORMATION | (01) 611 1444 |
| OPENING HOURS | Monday- Friday 11 am to 8pm, Saturday 10 am – 6pm, Sunday 11 am-6pm |
| | |
| --- | --- |
| Facilities | ★★★★☆ (4/5) |
| Services | ★★★★★ (5/5) |
| Ambience | ★★★★★ (5/5) |
| Staff | ★★★★★ (5/5) |
| Value | ★★★★★ (5/5) |
The Bodywise Clinic has consistently received a Certificate of Excellence from TripAdvisor from 2017 to 2021, and is rated the number one spa.
They are committed to bringing their clients to their happiest, healthiest self with the aid of their highly qualified therapists. We love that every single treatment is tailored to your body's specific needs.
For your first appointment with them, you will be asked to fill out a consultation form as well as answer some one-on-one questions about your medical history and health. This is to ensure that your treatment will address all your body's problems and needs.
They offer acupuncture, reflexology, hot stone massages, dry needling, deep tissue massages, as well as sports massages for injured or recovering athletes.
They also have packages where you can get a number of different massages for a discounted rate.
Unfortunately, the Bodywise Clinic is on the second floor of a building without a lift. This may present an issue for those looking to rehabilitate injuries and certain conditions.
The clinic however makes it clear that should you need assistance in climbing the stairs, they will be more than happy to comply.
We should also note that it is unlike the hotel spas on this list that offer access to pools, hot tubs, and gyms. For this reason, rates are more affordable.
However, the Bodywise Clinic's commitment to your health and wellness is something we cannot praise enough. Clients continue to feel wonderful, light, and healed after each session.
Personalized and tailored treatments
Offers sports massage
Discount package
Customer Reviews
Amazing massage
Amazing approach. Gabriela is highly skilled and trained to the highest standards.
Reception staff is very pleasant and helpful. The entire experience was incredible. -Eva Roharikova
Fantastic massage in a top notch establishment with professional therapists
I wouldn't go anywhere else in town for a massage. Whether it is a sports massage, deep tissue or a relaxing holistic massage you won't be disappointed. I attend for sports massage with Branca. She is an absolute professional. She really understands the body and has a good knowledge of injuries. She takes time before each session to ask how I am feeling and if there are any specific areas I want her to focus on. As a runner and a swimmer coming here is a really important part of my injury prevention routine.
The Bodywise clinic provides an efficient, professional and friendly service. I highly recommend it and would also highly recommend my therapist Branca. I feel brand new every time I leave. -077grainne
4. The Shelbourne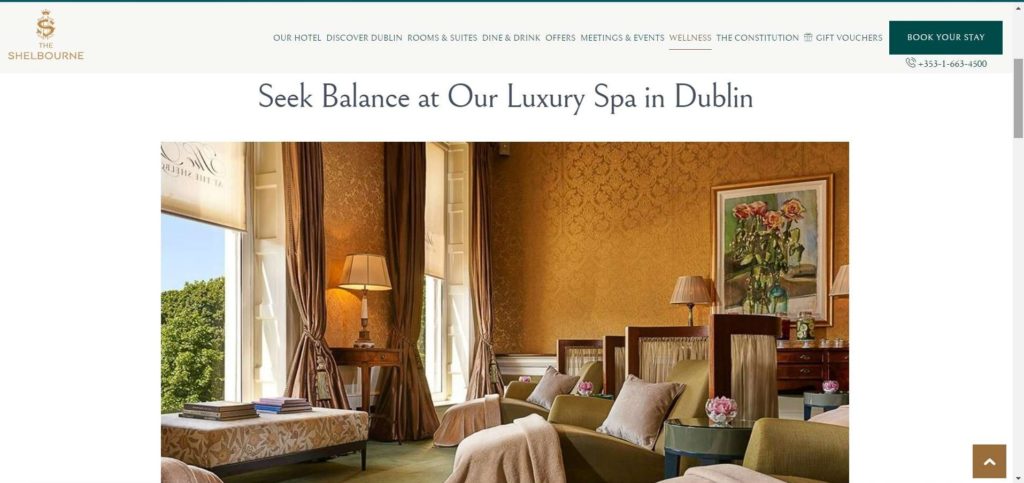 | | |
| --- | --- |
| Facilities | ★★★★☆ (4/5) |
| Services | ★★★★★ (5/5) |
| Ambience | ★★★★★ (5/5) |
| Staff | ★★★★★ (5/5) |
| Value | ★★★☆☆(3/5) |
The Shelbourne is another opulent spa hotel that promises a tranquil atmosphere for you to feel pampered and relaxed.
Facilities include seven treatment rooms, a relaxation room, a pool, and thermal facilities. With lavish, comfortable furniture and served fruits, tea, and champagne, customers are made to feel free to indulge and calm down.
Their partner, world-renowned brand ELEMIS, helped create their signature treatments. The brand promises performance-driven skincare that guarantees youthful, radiant skin.
Most of their massages will run you around €100 for 30 minutes and €130 for an hour, which is on the pricier side of this list. Most packages give you free access to their pool and other amenities.
However, we should note that you can avail of similar experiences for a slightly more affordable price range at the other spa hotels in this list. You can check our pricing table at the top of this article for comparisons.
It is a little difficult to find the spa's entrance from the hotel, so we recommend making sure that you know your way so that you don't lose precious time for your booking.
In the past, customers have felt rushed for time, so we suggest going early. You can even stretch out your experience with use of the pool up to an hour before your session.
Luxurious facilities
Scenic location
Very expensive
Difficult to find
Customer Reviews
Birthday pampering on a rainy day
This place is amazing. The combination massage was very much needed. I didn't realize how tight my body was until the session was over. The therapist was Sade, she was great accommodating my requests, delicate, professional and friendly.. I would recommend anyone to give it a try.See you soon! -Bar11
Lovely treatments and relaxation
Had a beautiful Celebratory Treat afternoon here in August. The voucher was a gift, and what a gift! Gorgeous massage, followed by a facial, and then champagne and relaxation room overlooking Stephens Green.
Suelem was the therapist and her treatments were excellent.
Everything was done in a safe way (as regards Covid), and I felt like a new woman when leaving.
Will definitely be back, and soon! Thanks Suelem. -Miriam M.
5. Oasis Beauty Day Spa & Skincare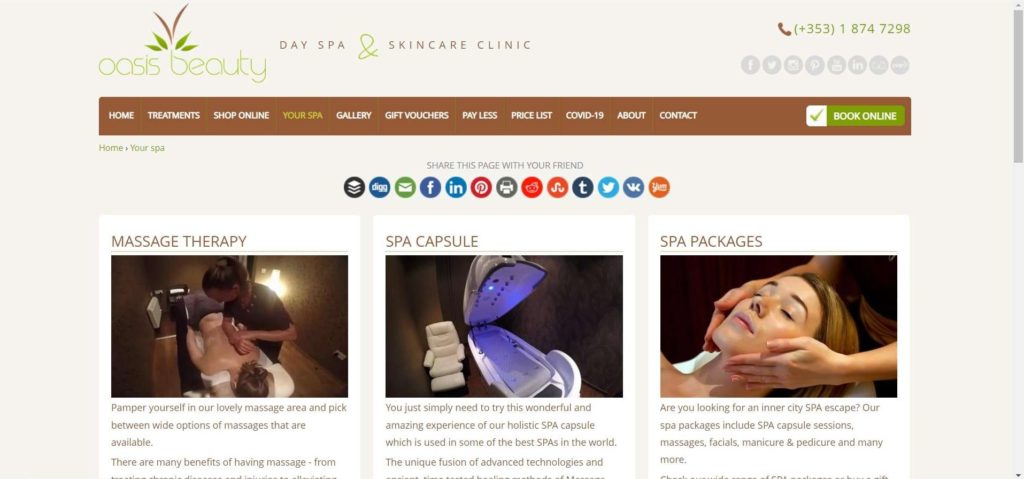 Test
Info
WEBSITE
oasisbeauty.ie
ADDRESS
Unit 2, Block E, Thundercut Alley Smithfield Market, Dublin
CONTACT INFORMATION
(+353) 1 874 7298

(+353) 86 836 6853

OPENING HOURS
Monday 11am - 8pm

Tuesday - Friday 9am - 9pm

Saturday 10am - 6pm

Sunday 11am - 5pm
| | |
| --- | --- |
| Facilities | ★★★★★ (5/5) |
| Services | ★★★☆☆ (3/5) |
| Ambience | ★★★★☆ (4/5) |
| Staff | ★★★★☆ (4/5) |
| Value | ★★★★★ (5/5) |
If you'd rather relax at a day spa instead of a hotel, take Oasis Beauty into consideration.
Aside from a range of massage therapy treatments, Oasis also offers a spa sauna capsule session, a thermal jade massage bed, and body wrap packages. All of these are offered with advanced technology and equipment.
One of our favorite services they provide is the chocolate dream body wrap with facial. For €110, it uses the anti-aging, anti-oxidant properties in cocoa to detox and hydrate your skin for a smooth, soft, and plush finish. It also smells delectable the entire time!
Oasis Beauty also offers a number of slimming and cellulite reduction treatments and a wide range of facial skincare treatments. That being said, the massage and spa services are not offered with as wide a range.
Most of their services are more dermatological, which we recommend for people looking to pamper and beautify with treatments such as microneedling, microdermabrasion, fillers, and botox.
Being a day spa, Oasis Beauty does not offer the usual amenities of spa hotels such as pools and gyms. However, you can still deeply relax at their mini sauna.
The relaxation room is also a long corridor, meaning people pass by when you are trying to unwind. It can be a little awkward and might make you feel like leaving after your treatment faster.
We also find the website to be a little cluttered and visually busy, which is unfortunate for a service aimed at relaxation and calm.
Modern technology
Wide range of beauty treatments
Not as much range for spa treatments
No privacy in relaxation rooms
Cluttered website
Customer Reviews
Knowledgeable staff
The staff are very knowledgeable, friendly and kind. If you book a treatment they will often advise you, depending on your skin type, what package is best for you but you never feel pressured by staff. -Niamh C.
A hidden gem in Dublin! I've been in Dublin 10 years and only just found Oasis. Had an incredible Spa day. All treatments were outstanding – Massage, Spa Capsule (great experience!) Facial and deluxe pedicure. All therapists were fantastic. Would HIGHLY recommend! -Kelly Canning
FAQs about Spa Treatments
---
Experiencing pain and fatigue in your body? Check out our list of the best physiotherapists in Dublin.