The 4 Best Skydiving Experiences in Ireland
Who wouldn't want a bird's eye view of the Emerald Isle? Thrill seekers will be happy to know that Ireland offers both gorgeous views and the chance to see them while hurtling from 10,000ft in the air.
Whether you're an experienced parachuter or a newbie who's finally brave enough to try, we've got something for you. Here, we've found and reviewed the top skydiving experiences in Ireland!
Skydiving Prices
Skydiving costs vary according to training, height of jump, and other offers such as video and photos. We've put together a table of the price ranges for a first-time jump at each of these companies:
| SKYDIVING COMPANY | PRICE RANGE |
| --- | --- |
| Irish Skydiving Club | €255-€285 |
| Skydive Wild Geese | €360-€420 |
| Irish Parachute Club | €300-€335 |
| We Are Vertigo (Indoor Skydiving) | Starts at £45 |
The Best Companies for Skydiving in Ireland
We evaluated these attractions based on the following:
1. Irish Skydiving Club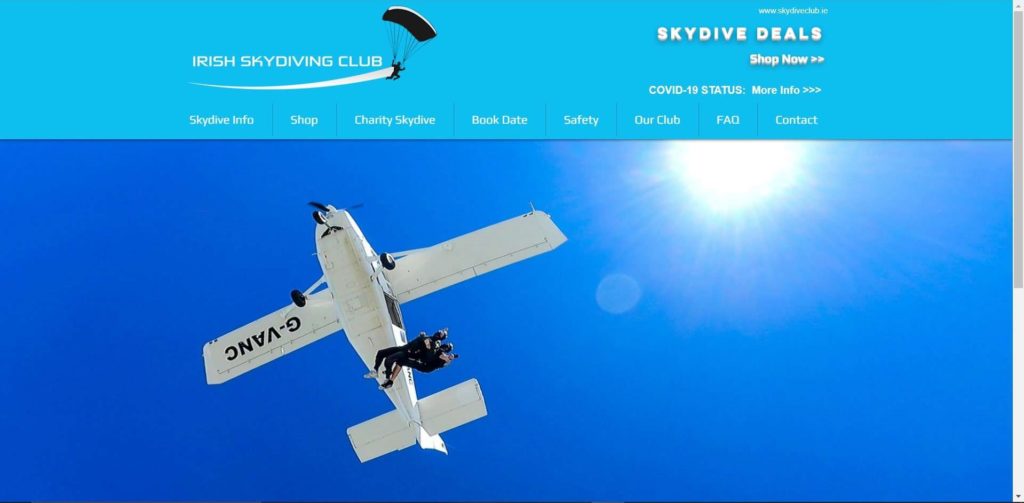 | | |
| --- | --- |
| Pricing | ★★★★★ (5/5) |
| Customer Service | ★★★☆☆ (3/5) |
| Instructors | ★★★★★ (5/5) |
| Customer Satisfaction | ★★★☆☆ (3/5) |
The Irish Skydiving Club in County Kilkenny may be the safest place to skydive in Ireland at the best prices. For €285, you can avail of the Tandem Skydive for peak dates (Saturday and Sunday), and €255 for off-peak dates (Monday and Friday).
They also offer a down-payment of €100 for peak dates and €75 for off-peak dates, with the rest to be paid on the date of the jump itself.
Perhaps the best thing about the Irish Skydiving Club is the 12-month membership that comes with each first-time booking. That means your following sessions within that period are only going to cost you €199.
However, this benefit also comes with a major drawback: since you are paying for a membership and not a one-time session, they do not give refunds.
And remember, safe skydiving is incredibly reliant on good weather conditions. You may have to rebook multiple times for a good day within your membership period.
If you are unable to jump within your membership period, you have to say goodbye to your payment. So, we would only recommend this option if you have plenty of free time on your hands.
They are also only available for contact via email on their website, which is often a lot slower than phone call.
On the bright side, they do have the best safety record in all of Ireland, which is reassuring for any new jumper who may have some doubts. Their services are only for those 18 to 65 years of age.
We should also note that the Irish Skydiving Club is a Non-Profit, with many members praising their charity skydives for organizations such as the Irish Cancer Society and Ireland's Children's Hospice.
Overall, The Irish Skydiving Club is a suitable choice for those looking to become experienced divers for a good price. However, it's advisable to watch out for weather conditions and have a fairly flexible schedule in case you need to rebook a few times.
Consistent and currently the best safety record in Ireland
Has both a 12-month membership option and part-paid options
Does charity skydives
No refunds
No phone calls
Slow to reply to emails
Customer Reviews
Had an incredible experience with the kilkenny skydiving club. The staff are very professional and helpful, which makes the whole process run smoothly. The jump was an unforgettable and thrilling experience, joined with outstanding views of kilkenny. I would highly recommend skydiving with the club, you'll never forget it! -Liyana Sebastian, Google Reviews
After a lot of thinking about what present to get my father for his 50th i decided that the two of us doing a skydive was a great idea after the last year of not being able to do anything
finally got to do the skydive last Monday (we had 5 dates previously booked with the club but we got a email the evening before advised about bad weather )
so after a long wait we got it done but it was so worth it our instructors were pure sound and put my mind to ease in the plane on the way up
just waiting on the video and pictures now
i do think ill be doing it again some day -Sean Flanagan, Google Reviews
2. Skydive Wild Geese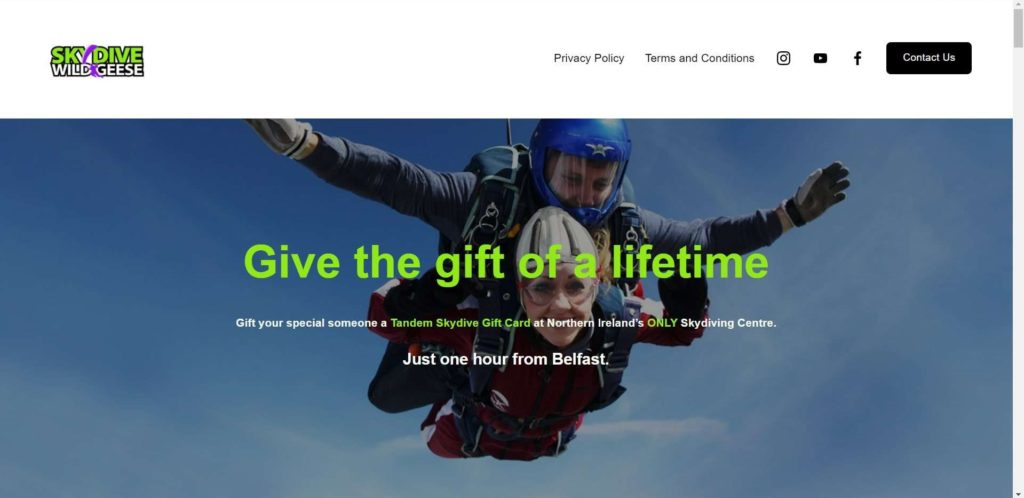 | Test | Info |
| --- | --- |
| SERVICES | Tandem Gift Package, Tandem Skydive and Video Gift Package, Highest Skydive in Ireland |
| WEBSITE | https://www.skydiveireland.co.uk/ |
| ADDRESS | Movenis Airfield, Carrowreagh Rd, Garvagh, BT51 5LQ |
| CONTACT DETAILS | 028 295 58609 |
| SKYDIVING SEASON | Closed December & January |
| | |
| --- | --- |
| Pricing | ★★★☆☆ (3/5) |
| Customer Service | ★★★★★ (5/5) |
| Instructors | ★★★★★ (5/5) |
| Customer Satisfaction | ★★★★☆ (4/5) |
If you're looking for an even bigger thrill, Skydive Wild Geese offers both regular and the highest dive in Ireland at the height of 15,000ft!
Located just an hour from Belfast, they are the only skydiving company in all of Northern Ireland. That means they have a major edge for those who'd prefer to skydive in that area.
One of the first things we noticed when testing them was their friendly, professional staff and easy-to-reach customer service. These things certainly do a lot to relax you as you prepare for your big day.
Aside from that, there are many other things to like here. For instance, each of their dives comes with expert instruction and training, British Skydiving Insurance, administration fees and a jump certificate.
They even offer a special video package for both the regular tandem skydive and Go Higher tandem skydive, which comes with personalized photos and videos of your jump.
However, Skydive Wild Geese's services are the most expensive on our list, with the regular tandem skydive at £299 or around €359.40, and the Go Higher package at £349 or around €420.
The video packages cost £399 or around €480 for the tandem skydive too, and £449 or around €540 for the Go Higher skydive.
Anyway, weather will again need to be closely monitored, but Skydive Wild Geese makes it a point to contact you a few days before your booking to allow you to reschedule in case of bad conditions.
Fortunately, rebooking is relatively simple to request here. But because of constant rebookings, the worst-case scenario is that you might have to wait a while for your turn on the day of your jump.
They also look at each case individually, so if you have any questions about disabilities and medical conditions, they take queries through email and phone. From what we've seen, they're generally responsive and eager to help.
On the whole, while they're expensive, Skydive Wild Geese offers premium services and customer care. We definitely recommend it for those who don't mind spending a little more for great service.
Video packages
Highest skydive in Ireland
Good customer service
Expensive services
Waiting time
Customer Reviews
Went for a tandem skydive on 29/6/19 and was excited from the get go. There was a decent amount of re-books which ended up jumping first which is understandable seeing as they had to come up again to get suitable weather.
Staff was great, friendly and professional with a good amount of banter to go with it.
This was my first skydive and with these guys hopfully wont be my last. Highly reccomend. (Just make sure you've got the full day free for it.) -nathana1989, TripAdvisor
Myself and two colleagues from spar Torgrange done a skydive for childrens cancer fund on mothers day. We have not stopped talking about it since. The staff are so friendly. Felt so much better after the Training course. That's one mother's day we will not forget. Many thanks to everyone involved. Cannot wait to see our dvds. Now trying to get everyone to give it a go. That's one off my bucket list. -Brenda P, TripAdvisor
3. Irish Parachute Club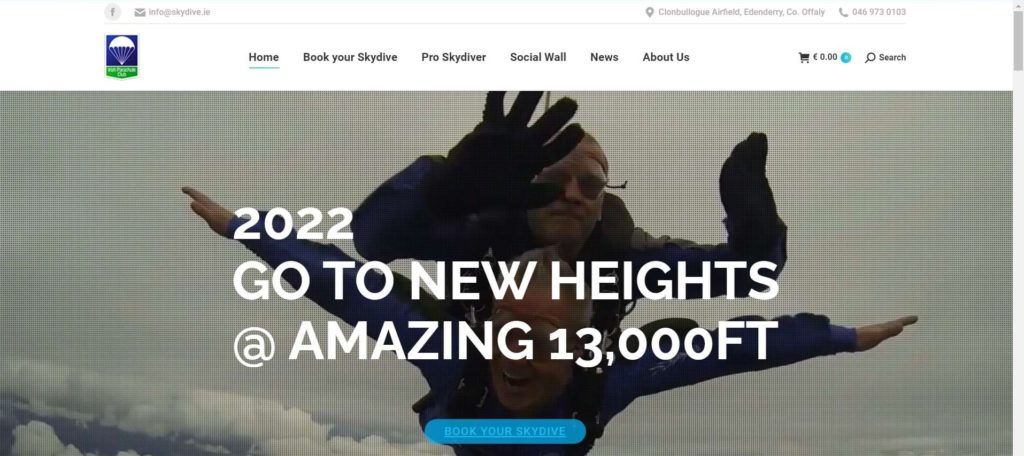 | Test | Info |
| --- | --- |
| SERVICES | Tandem Skydive at 10,000ft and 13,000ft, Solo Jump, Assisted Freefall, Charity Parachute Jumps |
| WEBSITE | https://skydive.ie/ |
| ADDRESS | Clonbullogue Airfield, Edenderry, Co. Offaly |
| CONTACT DETAILS | 046 973 0103 / 1850 260 600 |
| BOOKING OFFICE HOURS | Monday - Friday, 9am-5pm |
| | |
| --- | --- |
| Pricing | ★★★★☆ (4/5) |
| Customer Service | ★★★★★ (5/5) |
| Instructors | ★★★★★ (5/5) |
| Customer Satisfaction | ★★★★★ (5/5) |
The Irish Parachute Club is a non-profit organization that offers full training for everyone, from beginners to advanced jumpers.
The regular tandem skydive is offered at 10,000ft for €300 and 13,000ft for €335, which is a pretty appropriate price for the service. They also offer solo jumps at €299 for training and the initial jump, and €50 for every jump after.
Everything is priced just right, we think, with great deals for those who want to get more experience and training.
At 7-8 jumps you are cleared to free fall, by the way, which comes at different levels according to your experience and readiness. This can be a major attraction for a lot of thrill-seekers.
The Irish Parachute Club also has the most sought-after award-winning skydivers on their team, such as Dawid Zandee, Brian McKee, and Aoife Henshaw. Their expertise is something you'd definitely want for your first jump.
As with other companies, waiting time on the day itself can be an issue because of rebookings and weather conditions. You need a full free day to experience this without rush or hassle.
They also offer their experience for those 16 years of age and up, but we recommend contacting them anyway in case guardian's permission is necessary.
If you are interested in skydiving as a frequent hobby, we can't recommend The Irish Parachute Club enough for their multiple levels of training. Even one-time jumpers just might get tempted to give it another go.
Full training for various levels of experience
Award-winning jumpers
Charity jumps
Easy and professional customer service
Customer Reviews
My friend jumped today. She has cerebral palsy and limited movement the guys and girls could not have been more helpful kind and respectful to her. We will be back. Thanks guys for a great day. -Edel Keane
Couldn't recommend the lads and ladies at the Irish Parachute club any more. Great day out doing a Charity Dive for Inner City Helping Homeless. If anyone is considering a charity dive or just doing a skydive to try it out this is the place to go. Trust me don't go near Skydive Ireland in Kilkenny, after our experiences with them I'd never ever book with them again. Thanks for a great day yesterday folks! -Brian McLoughlin
4. We Are Vertigo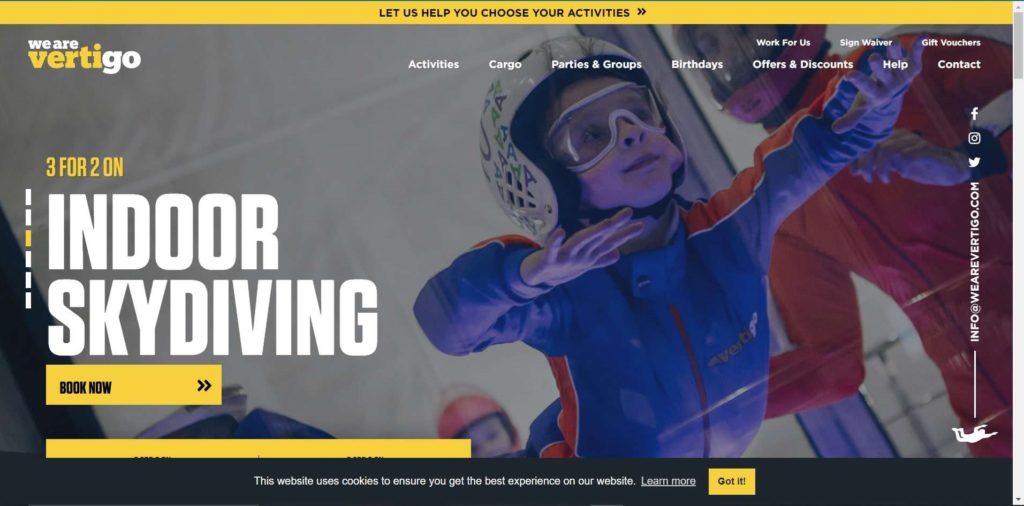 Test
Info
SERVICES
Indoor Skydiving, and other activities like Inflatable Park, Ninja Master Course, and Adventure Climbing
WEBSITE
wearevertigo.com
ADDRESS
T13 Building, Queens Road Belfast, BT3 9DT
CONTACT DETAILS
0870 0661 522
OFFICE HOURS
Thursday 17:00-21:00

Friday 16:00-21:00

Saturdays and Sundays 11:00-18:00
| | |
| --- | --- |
| Pricing | ★★★☆☆ (3/5) |
| Customer Service | ★★★★☆ (4/5) |
| Instructors | ★★★★★ (5/5) |
| Customer Satisfaction | ★★★☆☆ (3/5) |
If you're feeling a little unsure about jumping out of an airplaine 10,000ft in the air, you might want to give We Are Vertigo a try.
Located in Belfast, this company offers a range of exciting physical activities, including a skydiving experience from the safety of indoors.
They have a number of different packages depending on how long you want to spend in the wind tunnel. Their most popular is the Silver Package, which is perfect for beginners.
They also have a High 5 Package, in which 5 friends can all fly together. We Are Vertigo also offers birthday party packages, which is perfect for anyone looking to have a good time with their family or friends.
Sessions start at £45, and last between 1-2 hours. Take note however that most of this time will be spent for training, instruction, and preparation. You will also be watching other flyers take their turns.
Your actual experience in the wind tunnel for a beginner package would be anywhere from 2-6 minutes, which we do think is a little disappointing for a 1hr booking for £45.
An upside to the service is that it's welcome to everyone 4 years old and older, which means it is the only skydiving experience available for kids in Ireland.
The place also offers a number of different experiences, such as an inflatable park and a ninja course for those who want to show off their physical prowess.
We Are Vertigo offers a fun experience for those who want to try a vertical wind tunnel, but if you've got the courage, we think a jump from a plane will give you more bang for your buck.
Indoors for those unsure about parachute jumping
4 years old and up
More activities available in the facility
You can take many photos
Very short time in the wind tunnel
Expensive for what you get
Customer Reviews
Absolutely brilliant experience. Really enjoyed the thrill of it. Easy to do. Instructors were as talented as they were fabulous. Went to venue, watched safety video and straight to the tunnel. Took it in turns of 2 "skydives" each, which was good as you had a better idea of body position on your second turn. Big of craic abd would definitely do this again in the future. A real treat. -BoneAnd B, TripAdvisor
Went with my daughter yesterday. Very well run and staff were very professional but £45 for 2 minutes of skydiving is ridiculous. Should be clearer on website that you only get one skydive, as I understood it would be 2 skydives. -Eamon S, TripAdvisor
FAQs about Skydiving in Ireland
---
Looking for someone to check on your health and physical readiness for these extreme sports first, by the way? Check out our list of the top doctors in Dublin.