The 5 Best Shed Installation Companies in Ireland
Take a good look at your garden. If you think there's something lacking, a shed just might be the missing piece to the puzzle.
Today, we have the best shed installation companies in Ireland right here in this article so you can fix that! We've covered the basics for you such as their services and contact details, as well as a mini guide on how to choose the right shed for your garden.
Costs are a primary consideration for everyone, though, so let's talk about that first.
How Much Do Sheds Cost in Ireland?
We've gathered the average cost of our entries' sheds and listed them down below. Take note that actual prices may vary depending on the size and material used.
For a full list of costs, check out our entries' respective websites.
| | | |
| --- | --- | --- |
| SHED COMPANY | MATERIAL | ESTIMATED COST |
| Sheds Direct Ireland | Classic Steel Sheds | €374 to €759 |
| | Standard Wooden Sheds | €515 to €4,230 |
| Quality Steel Sheds | Metal Garden Sheds | €1,430 to €11,500 |
| Shanette Sheds | Bronze Range Garden Building (25mm roof insulation) | €2,100 to €4,250 |
| | Silver Range Garden Building (25mm roof and wall insulation) | €2,300 to €4,750 |
| | Gold Range Garden Building (40mm composite panel roof and wall insulation) | €2,550 to €6,450 |
| O'Brien Timber Products | Wooden Garden Sheds (Premium Range) | €665 to €5,915 |
| | Wooden Garden Sheds (Economy Range) | €485 to €780 |
| | Chalets | €915 to €2,470 |
| | Summerhouses | €1,090 to €8,050 |
| ShedWorld Wexford | Concrete Sheds (Pebble Dashed Finish) | €3,350 to €24,350 |
| | Concrete Sheds (Plain Finish) | €2,950 to €22,950 |
The Best Shed Installation Companies in Ireland
Now that we've got that covered, let's head over to our list of the best companies to call for your shed installation needs!
1. Sheds Direct Ireland
Best All-around Garden Sheds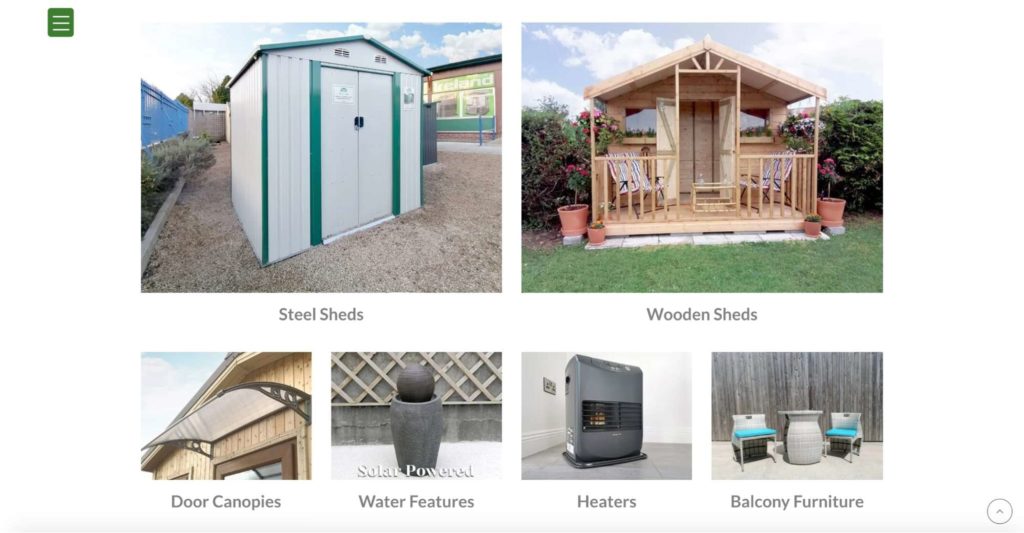 PRODUCTS
Steel garden sheds, wooden sheds, garden items and furniture, etc.
WEBSITE
https://www.shedsdirectireland.com/
ADDRESS
Unit 50, Jamestown Business Park, Finglas, Dublin 11
CONTACT DETAILS
01 864 4247


[email protected]

OPERATING HOURS
Mon to Thurs: 9:00 am to 5:00 pm
Fri: 9:00 am to 4:00 pm
Weekday lunch break: 1:00 pm to 2:00 pm
Sat: 10:00 am to 3:30 pm
If you're looking for a garden shed but are unsure what material to go for, check out Sheds Direct Ireland. Out of our entries, they have one of the most extensive selections of metal and wooden garden sheds available.
If you're based in Dublin, you can take a closer look at their products in their showroom in Jamestown Business Park. Unfortunately, it's the only showroom that they have.
So if you're located beyond Dublin, you'll have to rely on pictures available on their website.
Residents in Dublin can also enjoy free delivery on steel sheds. Otherwise, they also deliver nationwide for a separate cost.
Customers who have trouble with metal shed assembly can request their assembly service for a separate fee, by the way.
On the other hand, they offer free assembly for wooden sheds. Depending on the season, this can take up to 10 weeks for completion.
That's not a bad time frame overall, especially for clean work. Take note that this service is only available in Dublin and surrounding counties, though.
Hence, we highly recommend planning your purchase in advance or booking off-season from September to April. That will let you get your shed as quickly as possible.
Wide range of steel and wooden sheds
Showroom available
Free assembly for wooden sheds
Online manuals available
Delivers nationwide
28-day return allowed
Relatively affordable
No site visits
Peak season from May to August
Metal shed assembly available for a separate fee
Assembly services limited to Dublin and nearby counties
Free delivery only limited to steel sheds in Dublin
Customer Reviews
Here are some comments about Sheds Direct Ireland:
"Our shed arrived yesterday and we are delighted with it. The service from start to finish was top class. We were let down by another shed company and were apprehensive using a new company we hadn't heard of. I'd have no hesitation in recommending Sheds Direct." —Deborah Behan, Google Reviews
"Rang up last week about getting a shed when I got put through to the lovely Louise. I had a few questions and nothing was a hassle for her. Louise then took my order straight away over the phone in a very professional manner. I was told it would be supplied and fitted the following Friday. I had rang yesterday to confirm the delivery day and Louise got it out to me a day beforehand, which I was very happy about. The lads arrived and entered through the back gates, gave me my invoice and set the shed up quickly. They were very nice. I love my new garden shed with no more messy toys lying around. Thanks again to all the team @sheds direct 👏" —Joanne Carrie, Google Reviews
2. Quality Steel Sheds
Best Steel Sheds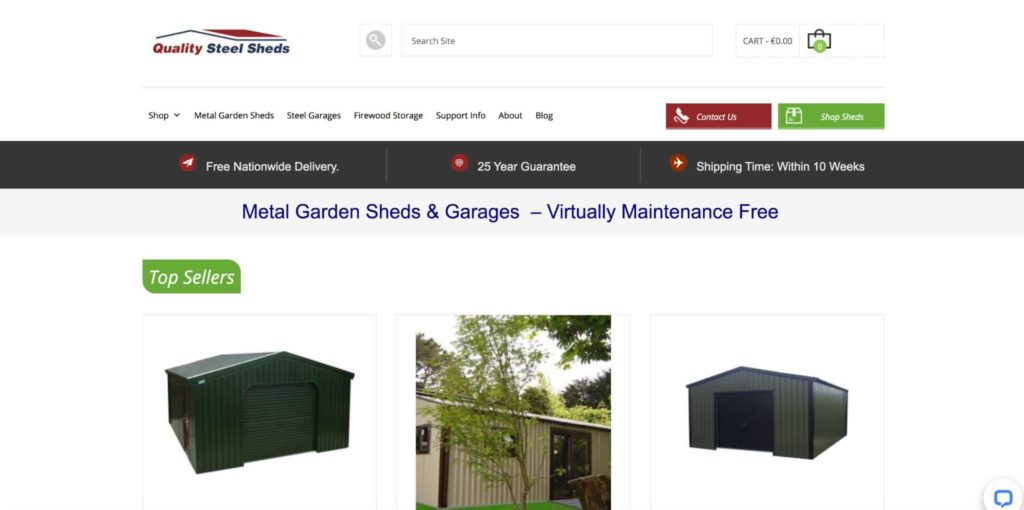 PRODUCTS
Metal garden sheds, steel frame garages, steel firewood storage
WEBSITE
https://www.qualitysteelsheds.ie/
ADDRESS
20C Six Cross Roads Business Park, Waterford
CONTACT DETAILS
051 347 220


[email protected]

OPERATING HOURS
Mon to Fri: 8:30 am to 7:00 pm
If you're dead set on getting steel sheds, you'll find a wide range of them at Quality Steel Sheds. Their selection of steel sheds includes classic metal garden sheds, steel garages, and firewood storage sheds, which all come in different sizes, colours, and finishes.
You'll find that their products are a bit on the steep side but we've found a couple of reasons justifying this.
First, they offer free shipping in Ireland and the UK for all steel sheds. They use their own delivery trucks and avoid third-party haulers at all costs, so you can rest assured that your steel shed will come intact upon delivery.
Second, all sheds and garages are covered by a 20-year guarantee, with after-sales support extending from weekdays to Saturdays. They also accept returns within 14 days of delivery.
One of the only downsides we're seeing is the relatively long delivery time, which takes about 10 weeks on average. Additionally, there are no on-site assembly services, so you'll have to make use of the manual provided to put together your shed.
Wide range of steel sheds
Free shipping in Ireland and the UK
20-year guarantee
After-sales support from Mondays to Saturdays
14-day return allowed
Relatively expensive
10-week delivery time
No on-site assembly services
Customer Reviews
Below you'll see some reviews by Quality Steel Sheds' previous clients:
"Ordered my garage a few weeks ago and it was put up yesterday. Ordered a 8m x 5m shed with extra height (2.75m). John was very careful and meticulous putting up the shed for me. I am extremely happy with the garage and I would most definitely recommend QualitySteelSheds. I priced around a number of other places but I feel that I got great value for money considering the quality of the garage I got." —John James O'Sullivan Casey, Google Reviews
"The personal service was second to none. We live on a small island and John ensured that delivery fitted with the ferry… plus he helped transfer everything to the ferry! The steel shed has withstood many storms already and still looks brand new. The construction is so sturdy and it was not too difficult for my Husband and myself to put together… John was always waiting in the side wings when we needed him. We are very proud of our steel shed and many people have commented on it because it's a beauty. We would highly recommend this company and would not hesitate to use them again. Thanks John, you truly are a shining star." —Tracy Collins, Google Reviews
3. Shanette Sheds
Best All-around Domestic Sheds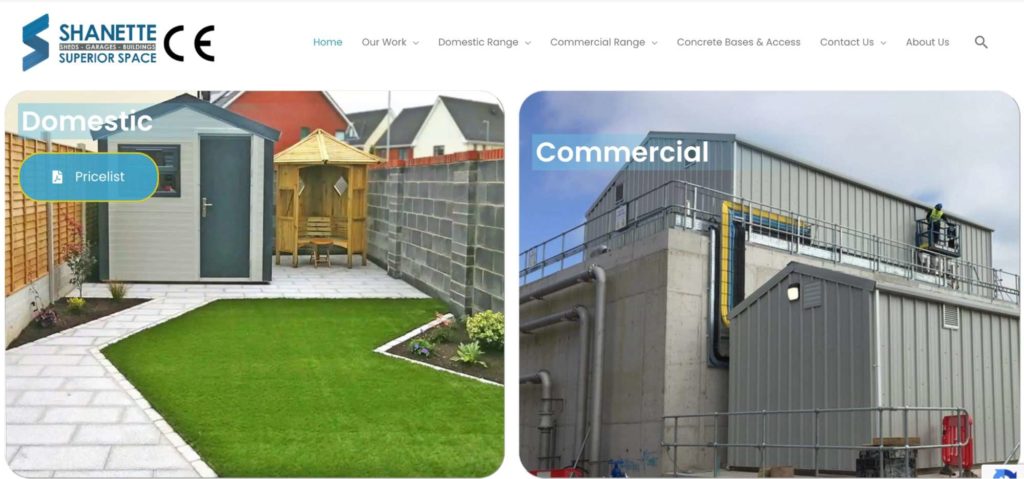 PRODUCTS
Garden sheds, garden rooms, garages, classroom and therapy units, home office units, chalets, commercial sheds, etc.
WEBSITE
https://shanettesheds.ie/
ADDRESS
Dublin
Green Isle Business Park, Naas Road, Dublin

Kilbeggan
Tullamore Road, Kilbeggan, Co. Westmeath
CONTACT DETAILS
Dublin
01 459 4993


[email protected]



Kilbeggan
057 933 2294


[email protected]

OPERATING HOURS
Dublin
Mon to Tues, Thurs to Fri: 9:30 am to 5:00 pm
Wed: 11:30 am to 5:00 pm

Kilbeggan
Mon to Fri: 8:00 am to 5:00 pm
Now, if you're looking to convert your shed into a little hobby room or home office, Shanette Sheds has an array of options for you.
Apart from standard garden sheds, they mostly specialise in constructing insulated outdoor rooms that you can convert to any purpose you want—all of which have a 10-year structural guarantee.
They come in different sizes, colours, and finishing touches to suit your tastes. What's more is that they have showrooms in Dublin and Kilbeggan, so you can have a closer look at their selection.
You won't have to worry about delivery or installation, too, as they can take care of those for you—free of charge. Note that these free services are limited to areas within 100 km of their showrooms.
And because area coverage is limited, feel free to move on to the next company if you're located beyond these areas. While we're a bit disappointed to see the lack of a purchase option on their website, the presence of two showrooms makes up for it.
We also like that they offer after-sales support to its customers. If you encounter any problem with your shed, just give them a call and they'll try to solve the problem with you remotely.
Two showrooms available
Wide range of sheds available
10-year structural guarantee
Free delivery/installation within 100km
After-sales support available
Limited area coverage
No specified lead time on deliveries
No online shop
Customer Reviews
Here's what customers have to say about Shanette Sheds:
"Great selection of sheds, extremely helpful sales person Damian explained everything and answered all our questions." —Gerry O'Donnell
"Wonderful, on time, professional. Even provided us with extra gutter pieces after the install. Great company and would come highly recommended. Thanks to Elaine and Stephen. Great company." —Chris Stokes, Google Reviews
"I got a 30ft x 20ft insulated shed with an electrified roll up door back in late 2006 and it still looks like new today. I've never had any problems with it. I would definitely recommend these sheds to anyone and remember because it's insulated there's no condensation. Definitely one of my best buys ever." —John Geraghty, Google Reviews
4. O'Brien Timber Products
Best Wooden Sheds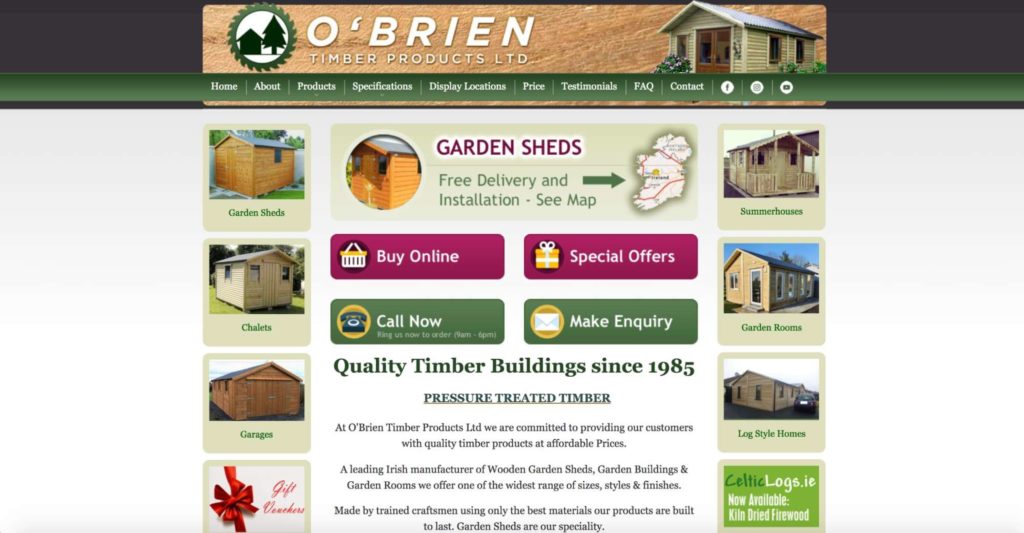 PRODUCTS
Wooden garden sheds, chalets, summerhouses, garden rooms, log-style homes, garages, etc.
WEBSITE
http://www.obrientimberproducts.com/
ADDRESS
O'Brien Timber Products Ltd., Mountbellew, Co. Galway
CONTACT DETAILS
090 967 9408


[email protected]

OPERATING HOURS
Mon to Thurs: 9:00 am to 6:00 pm
Fri: 9:00 am to 5:00 pm
Weekday lunch break: 1:30 pm to 2:30 pm
Wooden sheds are the best pick to get that rustic garden look. If you find this aesthetic appealing, O'Brien Timber Products is your best bet.
Of course, wooden sheds also reap plenty of benefits including flexibility in customisation and functionality. You'll find that O'Brien Timber Products doesn't fall short on their selection of wooden sheds, ranging from simple garden sheds to mini summerhouses.
If you're based in Galway, then you can head down to their factory in Mountbellew to check out their sheds in detail.
But don't be mistaken—they have pretty wide service area coverage from Limerick to Dublin, which you can see more of here. No need to worry about delivery or installation as those services come free with every purchase.
The only drawback is that they don't deliver outside their coverage area, so you'll have to visit their physical store. Still, their current range of sheds is very good, so don't let this discourage you.
Wide area coverage
Wide range of wooden sheds
Free delivery and installation
Affordable prices
Showroom available
No deliveries to areas outside of coverage
Customer Reviews
See what some of O'Brien Timber Products' former clients have to say about their products:
"O' Brien Timber Products delivered and installed a lovely shed to us. They were a pleasure to deal with and the lads who installed it were very helpful." —Niall Kennedy, Google Reviews
"O'Brien Timber Products provided a great service from the beginning to the end of the process. While providing drawings, timelines, instructions for the groundwork and the installation itself, their communication was excellent." —Eimear McGarvey, Google Reviews
"Very happy with the product and the installation team were very efficient. Delivery time was exactly what I was told when ordering. Would recommend." —Brian Curley, Google Reviews
5. ShedWorld Wexford
Best Concrete Sheds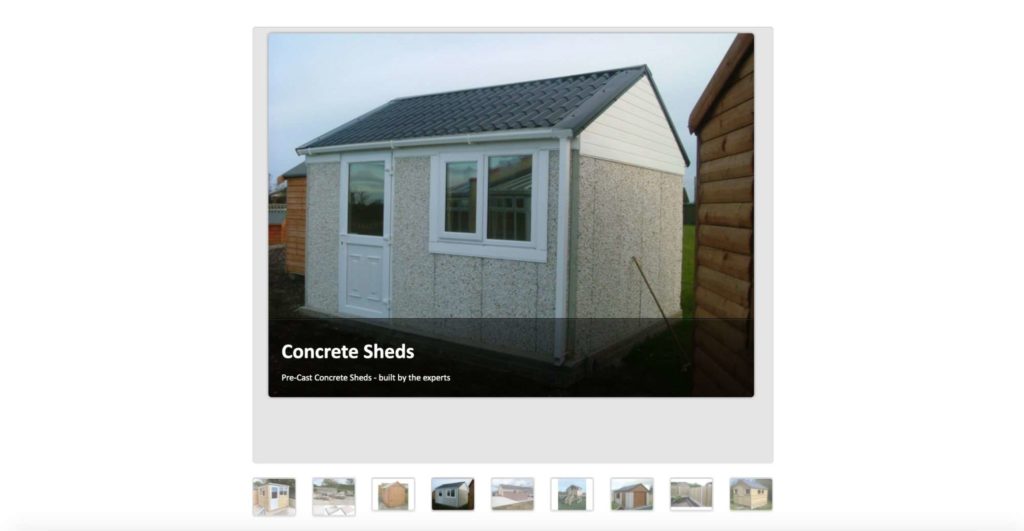 PRODUCTS
Concrete sheds, concrete garages, garden sheds, steel sheds, steel garages, timber fencing, double sided walling, timber decking, etc.
WEBSITE
http://www.shedworldwexford.com/
ADDRESS
Sinnottsmill Business Park, Sinnottsmill, Castlebridge, Co. Wexford
CONTACT DETAILS
053 91 79019 or 087 148 5000


[email protected]

OPERATING HOURS
Mon to Fri: 10:00 am to 2:00 pm
Without doubt, concrete is the strongest material you can think of for a shed—just like houses, really. So if you want an extra-durable shed that will withstand time, consider getting one through ShedWorld Wexford.
While they also carry timber and steel sheds on their selection, their line of precast concrete sheds still takes centre stage. Apart from hobby rooms and home offices, they also make a great alternative to regular garages for a fraction of the cost.
What's more is that they offer free delivery and installation in the Leinster province. But don't worry, you can still order one if you're located outside of the region, which will be subject to availability.
Another thing to consider is that delivery costs for those outside the region may incur a staggering fee of up to €1,500.
If additional costs are a bit steep, remember that they also carry a bunch of other easy-to-install garden sheds, which can be shipped nationwide for a lesser cost.
You can head down to their show area located just off Castlebridge along Gorey Road as phone lines can be quite busy.
Take note though that this site is open for a short period only. Hence, we recommend planning your trip ahead and coming early.
Free delivery and installation within Leinster region
Wide range of products
Wide area coverage
Show area available
Nationwide delivery available
Expensive delivery fees outside of Leinster region
Limited show area business hours
Busy phone lines
Customer Reviews
Check out some comments about ShedWorld Wexford below:
"First I rang on the phone for information and talked to Jessica who was extremely helpful. I went in the next day and was greeted again by Jessica so I explained exactly what I wanted and it was like she read my mind! In less than 20 minutes I had all the information on the different types of sheds and in the end with her help I selected one that day. I found her very experienced, straight talking and she knew exactly what I was looking for. I was so impressed I bought my shed that day! 100/10 😊" —Josy O'Connell, Google Reviews
"Absolutely fantastic job, over the moon with our units, took every minor detail into consideration and the lads were outstanding, friendly, knowledgeable and skilled at what they do! Wouldn't look anywhere else for sheds in the future!" —Lacsar Showdogs, Google Reviews
How to Choose the Right Shed
Unsure where to start with the amount of options available on the market? We've listed our best tips below to simplify the process for you!
Know Your Purpose
Before anything else, it's important to identify what your purpose is for buying a shed, and how you intend to use it. Knowing this will help you narrow down your choices in terms of size and material.
Some important questions to consider: Are you planning to store gardening tools or outdoor furniture? Bikes? Or are you going to start a workshop?
Consider Your Garden Space
Sheds come in different sizes and forms—and they're certainly not cheap. Hence, it's important to take a good look at your garden and measure available space to ensure that your chosen shed fits perfectly.
Think About Your Shed's Security
Garden sheds can be an easy target for determined thieves and trespassers, especially if you're planning to store valuable items inside.
Before purchasing a shed, look at its structure, windows, and doors. Start thinking of ways to minimise risks of burglary by looking at its ability to install locks, lights, and non-removable pin hinges.
From there, don't forget to regularly check on your shed for rusted locks, loose hinges, and broken windows or doors. Make sure to replace them as necessary.
Consider Planning Permissions
According to the Irish Times, Planning and Development Acts generally allow minor planning works around the house without the need to apply for a planning permission.
Some exemptions to a planning permission include the following:
Floor area must not exceed 25 square metres
The structure should remain at the backyard or sides of the house
Height must not exceed 4 metres for tiles and pitched roofs; and 3 metres for flat roofs
The structure must not be lived in nor a place to store animals like poultry, horses, etc.
The structure must not be used for commercial purposes
It's best to contact your local planning authority department to make sure that you won't have problems later on. Failure to obtain a planning permission will result in hefty fines and even imprisonment.
FAQs about Sheds in Ireland
---
And those are the best shed installation companies in Ireland! We hope our guide helped you find the perfect shed for your garden.
Have other recommendations? Feel free to send us an email and we'll check them as soon as we can.
Now, if you're looking to build a structure bigger than a shed, you might need a contractor instead. We've written about the best contractors in Ireland to help you in this process.