The 4 Best Paediatricians in Dublin
A child has many needs, and one of them is paediatric care. And to parents looking to find the best paediatricians in Dublin, we'll help you with that.
Ahead, we'll discuss how our top picks can help ymour child, their specialities, where they practice, and so on.
Our discussion doesn't just end there, however. We've also included other info about kids as well as a couple of things to consider when choosing a paediatrician.
Paediatric Treatment Fees in Ireland
Three of our featured paediatricians practice at Our Lady's Children's Hospital/Children's Health Ireland at Crumlin. The table below lists some of the hospital charges in the said hospital.
Meanwhile, you'll need to contact the other two featured paediatricians for their treatment fees.
| | |
| --- | --- |
| SERVICE | COST |
| Emergency department | €100 |
| Public day case charge | €80 |
| Inpatient charges (public patient) | €80 statutory charge inpatient per day |
| Private day care charge | €407 |
| Single occupancy room | €1,000 per day |
| Multi-occupancy room | €813 per day |
On the other hand, according to Citizens Information, some health services for children are given for free in the country.
Those that are free of charge are generally offered as part of maternity and infant welfare services, health services for preschool children, school health services, and vaccination and immunisation services.
Particularly for preschool children, the Health Service Executive (HSE) provides free health and development checks for every kid up to the age of 5.
The Best Paediatricians in Dublin
Without further ado, here is our list of Dublin's best paediatricians!
1.   Dr David Coghlan – Beacon Hospital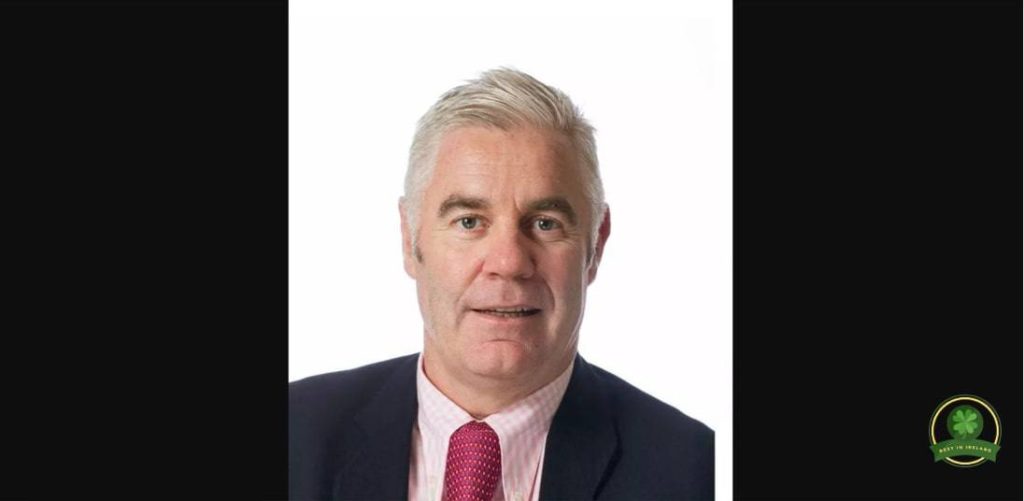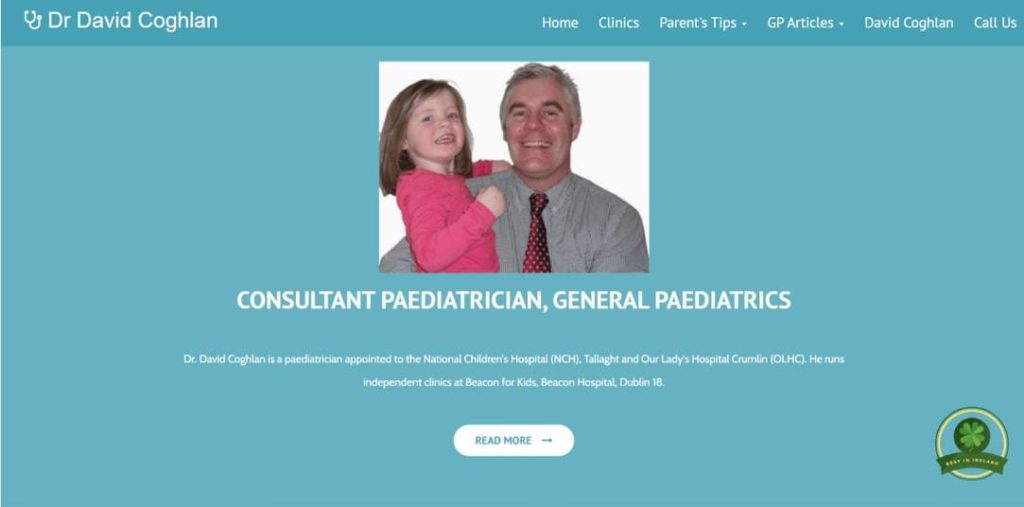 Dr David Coghlan is a consultant paediatrician at several hospitals, not just at Beacon Hospital.
Hence, you can find him at multiple locations here in Dublin such as the National Children's Hospital (Tallaght), Our Lady's Children's Hospital/Children's Health Ireland (OLCH/CHI, Crumlin), and Blackrock Clinic.
He is a graduate of University College Dublin and chose a career in paediatrics and child health after his general practitioner training.
Allergy, including food and penicillin allergy, is one of his areas of speciality. Other conditions he handles are asthma, recurrent infections, and convulsions such as fits and seizures.
Dr Coghlan also provides dietetic services as well as lung function and allergy testing.
However, keep in mind some things before you book an appointment. Dr Coghlan requires a referral from your GP before coming to him, so contact your GP first.
And as we mentioned earlier, because he also practices in other clinics, check his availability.
And once you do book an appointment, you're given at least 2 days notice to cancel your appointment. The fee for late cancellations and missed appointments is quite pricey: €80.
Practices in multiple clinics
Wifi access for inpatients (OLCH/CHI Crumlin)
Freephone taxi line service (OLCH/CHI Crumlin)
Closed on weekends
Availability may be a concern
2.   Dr Sinead Harty – Our Lady of Children's Hospital (OLCH) Crumlin/Children's Health Ireland (CHI) Crumlin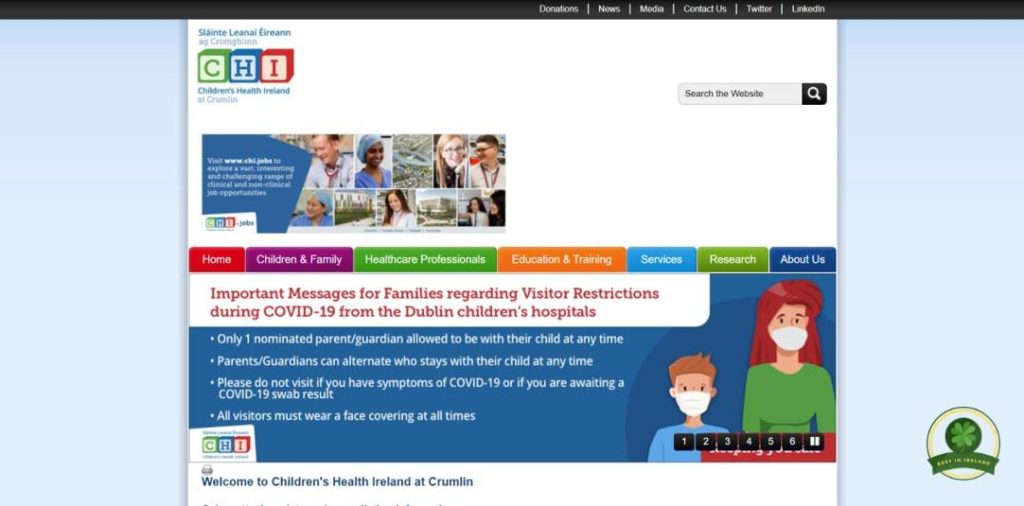 | | |
| --- | --- |
| SERVICES | Paediatrics |
| WEBSITE | https://www.olchc.ie/ |
| ADDRESS | Cooley Road, Drimnagh, Dublin D12 V004 |
| CONTACT DETAILS | +353 1 4096100 |
| OPERATING HOURS | 24/7 (OLCH/CHI Crumlin) |
Dr Sinead Harty is not just any other paediatrician as she's also the lead for OLCH's department of general and community paediatrics since 2014.
It's highly likely that you've heard of CHI Crumlin as it boasts of being the country's largest paediatric hospital with health departments under dentistry, dermatology, cardiology, ophthalmology, to name some.
Dr Harty trained in general and community paediatrics in both Ireland and the UK.
As a specialist in all areas of general paediatrics, some of the conditions she treats are abdominal pain, urinary tract infection, vulvovaginitis, gastro-oesophageal reflux, constipation, and so on.
In addition, child protection and child development are also included in her special areas of interest.
Aside from CHI Crumlin, you can also find Dr Harty at Beacon Hospital in Sandyford. Unfortunately, the websites of both hospitals provide no info on her schedule in each hospital, so you'll definitely need to contact them first.
Practices in 2 clinics
Hospital has multiple paediatricians (OLCH/CHI)
Open 24 hours (OLCH/CHI)
No info on schedule between the 2 clinics
Unsure if doctor accepts online/phone consultations
3.    Dr Mark Walsh – Our Lady of Children's Hospital (OLCH) Crumlin/Children's Health Ireland (CHI) Crumlin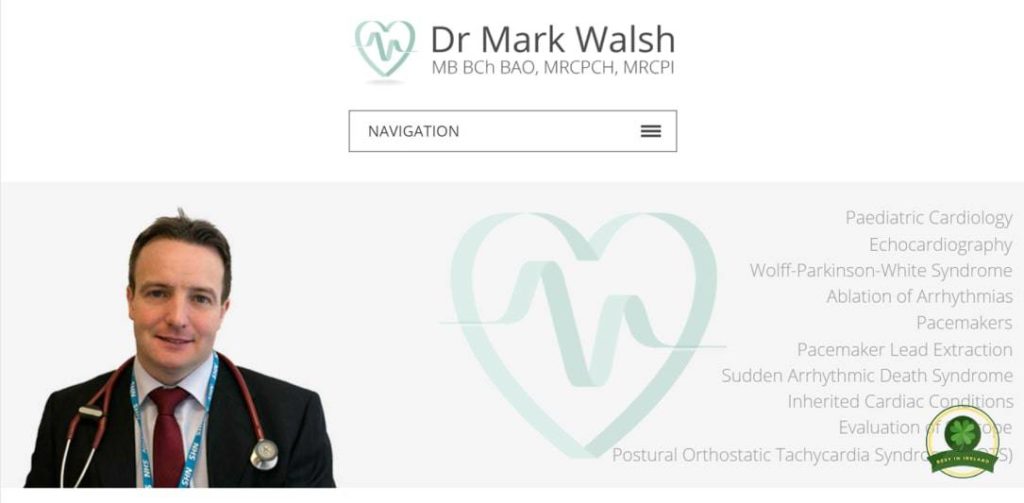 If your child suffers from a heart condition, you can check out Dr Mark Walsh, a paediatric cardiologist whose interests include electrophysiology and inherited cardiac conditions.
Moreover, his other clinical interests are echocardiography, Wolff-Parkinson-White Syndrome, Postural Orthostatic Tachycardia Syndrome (POTS), and ablation of arrhythmias, among others.
Some of the inherited cardiac conditions he evaluates are hypertrophic cardiomyopathy, arrhythmogenic right ventricular cardiomyopathy, and dilated cardiomyopathy.
And if you've got a child who's also an athlete, we also recommend that you take him or her to Dr Walsh for an athletic screening.
Dr Walsh is a sports enthusiast and conducts screenings for athletes for conditions that may lead to sudden arrhythmic death syndrome.
And if your need is more about legal matters, Dr Walsh carries out medicolegal services in selected areas.
What's more, compared to other paediatricians we've seen, Dr Walsh has a wide patient coverage. This is because he practises in two locations—Beacon Hospital and OLCH/CHI Crumlin—and accepts international patients.
On the flip side, this could mean that he may not be readily available at your location of choice.
Also provides medicolegal services
Accepts international patients
Specialises in cardiology
Practices in two clinics
Availability might be a concern
No info on schedule between the 2 clinics
4.   Dr Afif El-Khuffash – Rotunda Private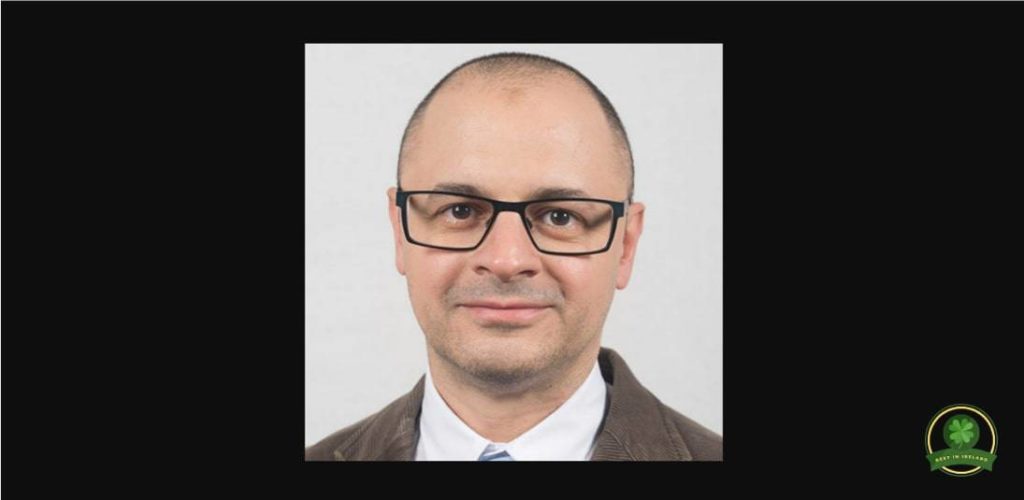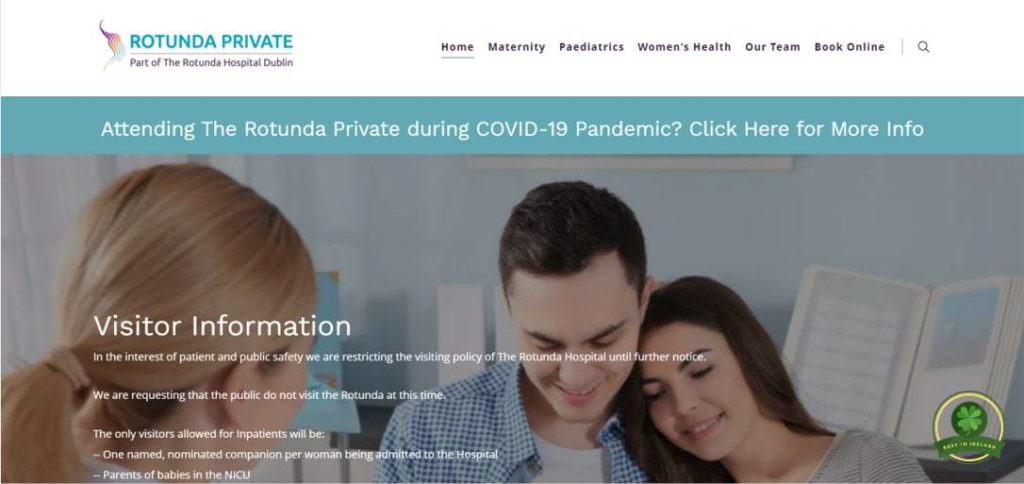 SERVICES
Paediatrics, breastfeeding support
WEBSITE
https://rotundaprivate.ie/
ADDRESS
Parnell Square E, Rotunda, Dublin,
CONTACT DETAILS
01 874 2115


[email protected]

OPERATING HOURS
8:00 am to 5:00 pm (Monday – Friday)
9:00 am to 11:00 pm (Saturday – Sunday, bank holidays)
Located inside Rotunda Hospital Dublin, Rotunda Private specialises in women's health, including paediatrics and maternity care.
As such, they've got a long list of consultants in obstetrics and gynaecology, which also includes paediatricians and radiologists.
Particularly if you're a first-time mother who's new to breastfeeding, we recommend paediatrician and neonatologist Dr Afif El-Khuffash, who is an international board-certified lactation consultant.
That means his special interests include breastfeeding support to mothers and babies and general feeding issues.
Hence, you can expect that his services are focused on such—prenatal breastfeeding and fetal anomaly consultations, postnatal infant assessment, 2 and 6 weeks checks, as well as breastfeeding/general support which includes irritability and reflux.
On the other hand, heart function in neonates is another interest of his.
However, while Rotunda Private is an ideal clinic for mothers and women who are expecting, you'll have to do without some facilities, notably in Wi-fi and free parking.
Clinic specialises in women's health
Open 7 days
Extensive list of doctors 
Parking is not free
No Wi-Fi
BONUS: Best General Practitioners in Dublin
General practitioners in Dublin are highly skilled and trained physicians who provide care to all aspects of the patient's health. This includes diagnosis, treatment and rehabilitation of many different conditions, including chronic diseases such as diabetes, asthma and asthma. They also provide preventive services such as immunizations for children and adults alike.
Dublin has many general practitioners who provide medical services to the people living in the area, but who are the best general practitioners in Dublin? This is a tough question as there are no clear definitions of what makes one physician better than another. However, we've tried our best to compile a list of health professionals you can turn to if you have any health concerns:
1.   Dr Michelle Rodgers – Lincoln Place Medical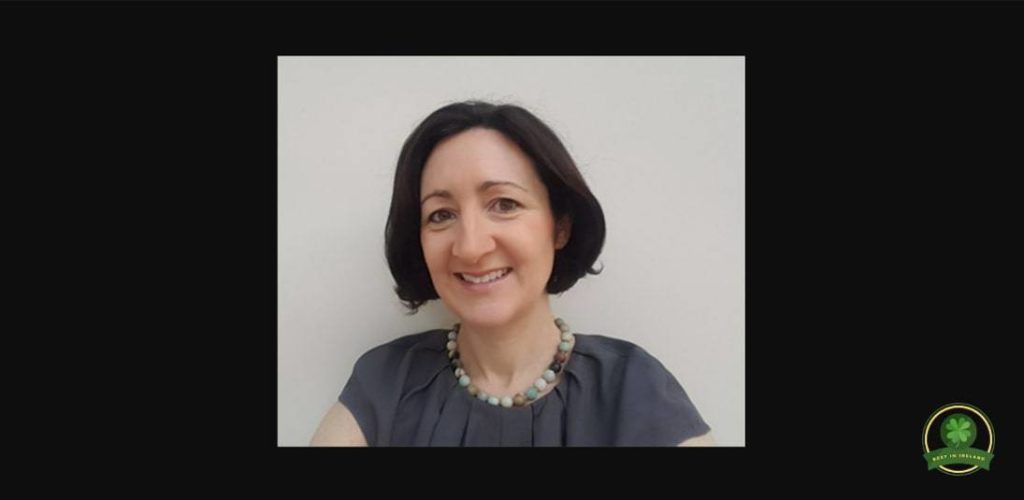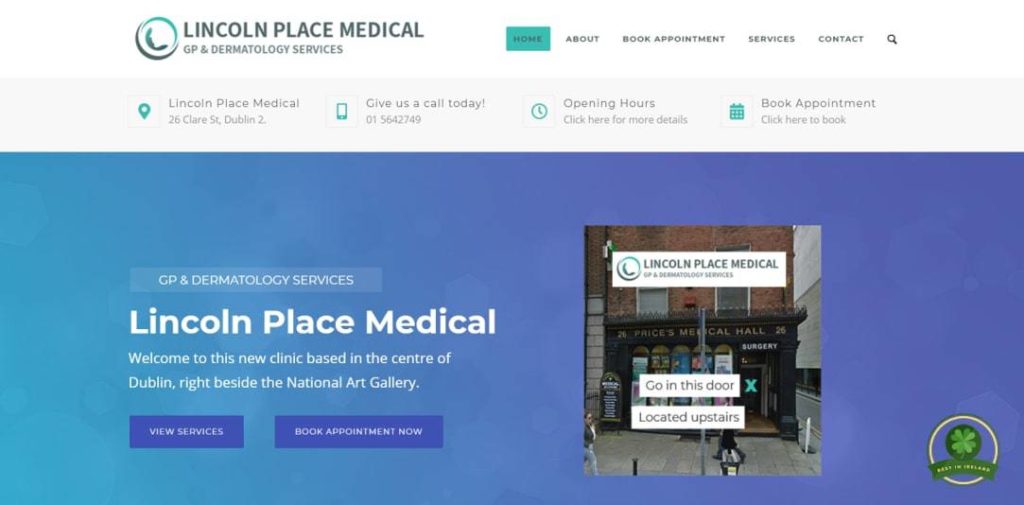 | | |
| --- | --- |
| SERVICES | General health, primary care dermatology, child health, women's health, men's health, sexual health, cervical screening, health screening, blood, urine, and pregnancy testing, and swabs |
| WEBSITE | https://lincolnplacemedical.ie/ |
| ADDRESS | 26 Clare St, Dublin 2 |
| CONTACT DETAILS | 01 5642749 |
| OPERATING HOURS | 10:00 am to 3:00 pm (Monday – Friday) |
Dr Michelle Rodgers is backed by extensive medical expertise, which includes diplomas in child health and dermatology as well as a masters degree in healthcare law and ethics.
Her paediatric experience comes from within the country and abroad, particularly from hospitals in Australia and the UK. Here in Ireland, she has worked in Our Lady's Children's Hospital and Beaumont Hospital.
The treatments she gives children are baby checks and newborn concerns, growth and development checks, and asthma management. She also handles acute childhood illnesses and childhood rashes.
Moreover, because Dr Rodgers offers other medical services for adults, seeing her is a win-win situation for both parent and child.
Some of these services are breast examination and smear tests for women, consultation for prostate or testicular cancer and erectile dysfunction for men, health screening for sports events and driver's licence medicals, and more.
However, the major downside of Dr Rodgers is her short clinic hours, which, unfortunately, does not extend beyond office hours.
But at the same time, she seems to be affiliated with GP24, a company that provides 24/7 GP services, so you might be able to reach her through this service.
Another thing—because she's apparently the only doctor at Lincoln Medical Place, waiting time may be a concern for patients.
Also treats adults
Provides telephone appointments
Website provides link to other useful websites for patients
Short clinic hours
Closed on weekends
No other doctor in clinic
Customer Reviews
Take a look at some positive comments written by two of Dr Rodgers's patients:
"Michelle is a great GP, I found it hard to find a good GP in the city, she's very understanding and knowledgeable, never feel rushed. Dr Rodgers offers phone consultations and in person consultations if needed. Very happy to have found her practice." -Bryony Richardson
"After searching for months for a doctor in Dublin I found Dr. Rodgers and am so grateful I did. She is highly professional, patient & thoughtful and doesn't make you feel like just a number. I'd highly recommend her." -Lindsay
Tips for Choosing the Right Paediatrician
The following are a few helpful tips to keep in mind when selecting a paediatrician:
1. Start your search early
According to Kids Health, the ideal time to start looking for a paediatrician is about 3 months before your baby is due.
Hence, aside from getting ready with the things your baby will need such as clothes, diapers, a crib, and such, include a paediatrician on top of your list.
One of the easiest ways to find a paediatrician is to ask your OB-GYN or your family doctor for their recommendations.
Another way is by asking other parents. If you're a first-time parent, gaining insight from other parents with more experience is important.
2. Clinic hours
If you've already found a paediatrician, consider his or her schedule or clinic hours. Make sure it aligns with yours, especially if you're a working parent.
Moreover, it's also possible that he or she practices in two or more clinics, so inquire about that as well.
Also, inquire if he or she accepts emergency appointments.
3. Location and facilities
Pick a paediatrician whose clinic is near your residence. This will make checkups more convenient for you and your child.
If you have your own car, check for parking space—much better if it's free. And if you need to commute, make sure the clinic or hospital is near public transportation.
You can also inquire about the clinic's amenities for kids such as toys, TVs, art materials, etc. This will come in handy if you need to bring your other kids along.
4. Other considerations
Some other things you may want to consider are whether the paediatrician is a solo or group practice and does she or he accept online appointments.
If it's a solo practice, inquire about how your child will get treated if the doctor is unavailable.
On the other hand, it will add to your convenience if the doctor also accepts online consultations as he or she will be easier to reach, so ask about that as well.
FAQs about the Best Paediatricians in Dublin
---
And that ends our list of the best paediatricians in Dublin! We hope this article has widened your choices concerning the right paediatrician to treat your child.
And if you know of other paediatricians that should have landed on this list as well, please give us a call. We'll give them a look straight away!
Aside from seeing a paediatrician, it's also important to have your kid visit a dentist early on. Our choices for the best kids dentists in Dublin all have experience handling young patients.