The 5 Top Radio Stations in Ireland
Before podcasts came into play, listening to the radio was one of the popular ways of getting news, exploring new music, and being entertained through drama and comedy.
Yes, there are many radio stations available, but with the right music and an excellent host, listening to the top radio stations in Ireland might just be better on your chill time.
If you're ready to tune in, read on!
The Top Radio Stations in Ireland
LIke everybody else, we don't want our time wasted on poor quality entertainment. That said, we factored in the following factors in evaluating the stations included in this list:
1. Raidió Teilifís Éireann (RTÉ) Radio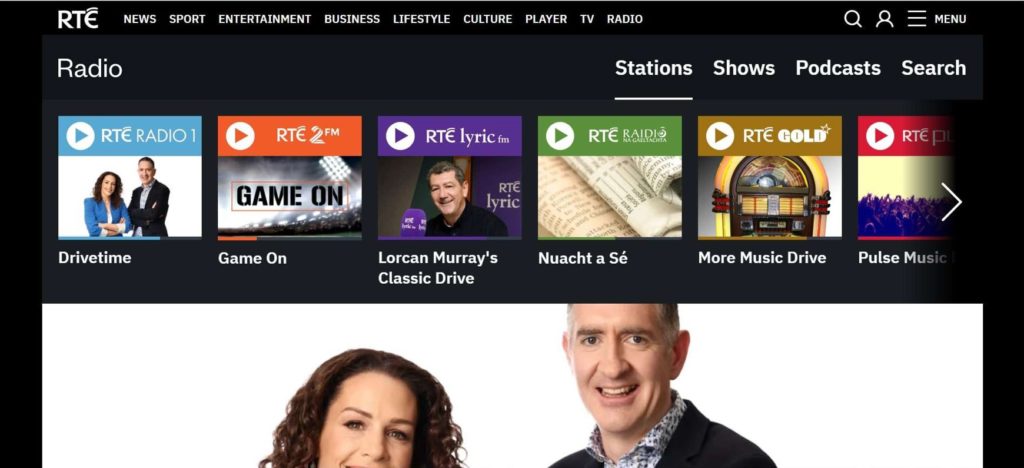 Test
Info
SERVICES

News

Sports

Entertainment

Business

Lifestyle, Player

WEBSITE
https://www.rte.ie/radio/
ADDRESS
RTÉ, Donnybrook, Dublin 4, Ireland D04
CONTACT DETAILS
Phone: +353 120 83434

EMAIL: [email protected]

OPERATING HOURS

24/7
| | |
| --- | --- |
| PROGRAMS | ★★★★★ (5/5) |
| RANGE AND AUDIO | ★★★★★ (5/5) |
| PLAYLIST | ★★★★★ (5/5) |
| DJ AND HOSTS | ★★★★★ (5/5) |
Raidió Teilifís Éireann (RTÉ) Radio, a state-owned public service broadcaster in Ireland, is among the most popular stations and channels in the news and entertainment industry.
One of the reasons why it's a top choice for a radio station is its all-in-one program package that covers general news, in-depth stories, sports, entertainment, lifestyle, light audio sessions, and even one-on-one interviews.
It's worth noting that it has around four comprehensive news programs in its daily line-up that tackle business, economy, politics, health, and other world news. We like that these shows' schedules are spread during the entire airing period of RTE.
We also like that it does in-depth interviews and analysis to further explain the topics under its general news category. Also, one-on-one talks with sports resource persons are a good way to know more about ongoing sports events.
Another great show to start your days is Morning Ireland because it gives real time updates on traffic and timely weather updates. What's more, it's preceded by a morning playlist of classic cuts and chill melody under Rising Time.
Despite the comprehensive program categories, there are no dedicated shows for health matters which we think are essential. The Playback Daily, its recap program, is also not aired every day.
Nonetheless, having all the information you need to go through your day is one major point why you should listen here.
All-in-one program package
Comprehensive news content
Updated sports news
Informative morning show
No programs on health
Playback Daily (recap) not aired daily
Customer Reviews
Best for current affairs
"Best for radio current affairs in Ireland, I always listen to Pat Kenny in the morning… He usually has great guests and topics on his show…" – Andy M.
Excellent Arts Tonight show
"… I do perk up for Vincent Wood's excellent Arts Tonight show, it's a bright flash in an otherwise darkening program list. Let the intellectuals have their playground, RTE.." – Bridget R
2. Today FM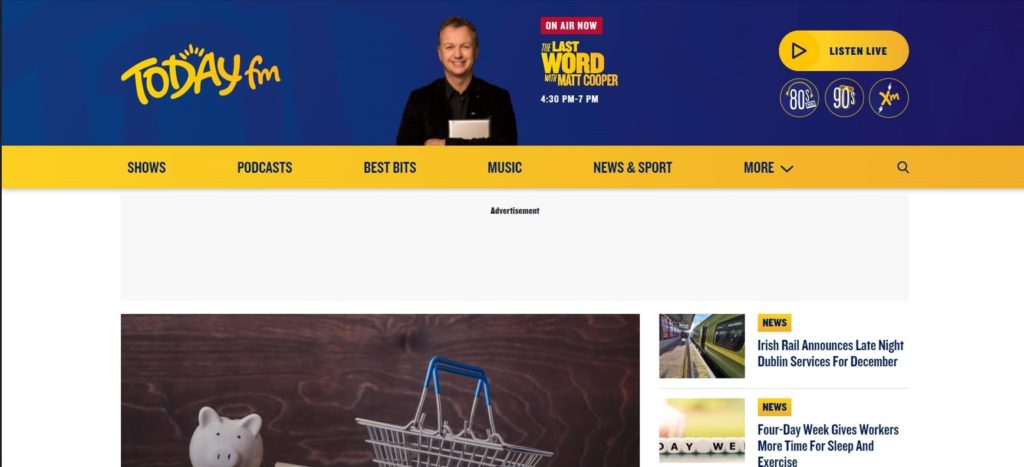 Test
Info
SERVICES

Radio Shows

Podcasts

Best Bits

Music

News and Sport

WEBSITE
https://www.todayfm.com/
ADDRESS
Today FM, Marconi House, Digges Lane, Dublin 2, Ireland D02 TD16
CONTACT DETAILS
Phone: 1800 715100

EMAIL: [email protected]

OPERATING HOURS

24/7
| | |
| --- | --- |
| PROGRAMS | ★★★★☆ (4/5) |
| RANGE AND AUDIO | ★★★★☆ (4/5) |
| PLAYLIST | ★★★★★ (5/5) |
| DJ AND HOSTS | ★★★★★ (5/5) |
Starting your day with good news is great, and it can become better if you listen to Today FM's programs over the radio. You'll surely be entertained by its shows that run until 7:00 p.m.
The reason we included Today FM in this list is its five shows running two to three hours each to cover your downtime until evening. After the shows, you'll also experience Irish and international music in its playlist that runs all day and all night long.
If you ask us about our favorites, topping our list is The Ian Dempsey Breakfast Show. It's loaded with entertainment and daily updates on important matters on general news, sports, and interviews with informative guests on any topic.
Another thing, this three-hour program plays good music, interacts with listeners, and provides giveaways, too! It's indeed a great company for breakfast until 9:00 a.m., especially with a light laugh on its comic segment Gift Grub.
We'd also never forget that Today FM is a top choice because the majority of its content is hilarious. This begins with the late morning show Dermot & Dave. There's never a dull moment here for its funny content and great presentation of the hosts.
One thing we'd like to note, though, is there's limited news and current affairs programs. Its early afternoon show is a bit so-so in countering decreased listener alertness during the afternoon.
Still, Today FM has a program for interviews on heavy matters in Ireland to cap off the day. There's also fun during mid-afternoon if you tune in to Ray Foley who just can't stop talking to make you laugh.
Hilarious shows
Interactive segments
Lots of good vibes
24/7 Irish music
Limited news shows
Yawnful early afternoon show
Customer Reviews
Favorite station
"Today FM is absolutely my favourite Irish radio station. There is nothing like waking up to the Ian Dempsey Breakfast Show and hearing Ian and co easing you into your day. They ease the pain of the morning! The Gift Grub segments are hilarious and worth setting your clock for even if you're on a day off…After Ian Dempsey, you have Ray D'Arcy's show, which is generally topical and entertaining…If you never listened to another scrap of news or current affairs The Last Word would keep you up to speed on the country's goings on." – Karina C.
Cooler radio station
"Today is the slightly cooler radio station if you were to pick one out of the new national stations. Its biggest dj would probably be Ray D'arcy – he has a slot from about 10am-12/1pm and it is extremely popular. Again, its not only Dublin locals who listen to this – it has a huge following from the country folk too. The culchies' only love today fm!!!" – Kate M.
3. Newstalk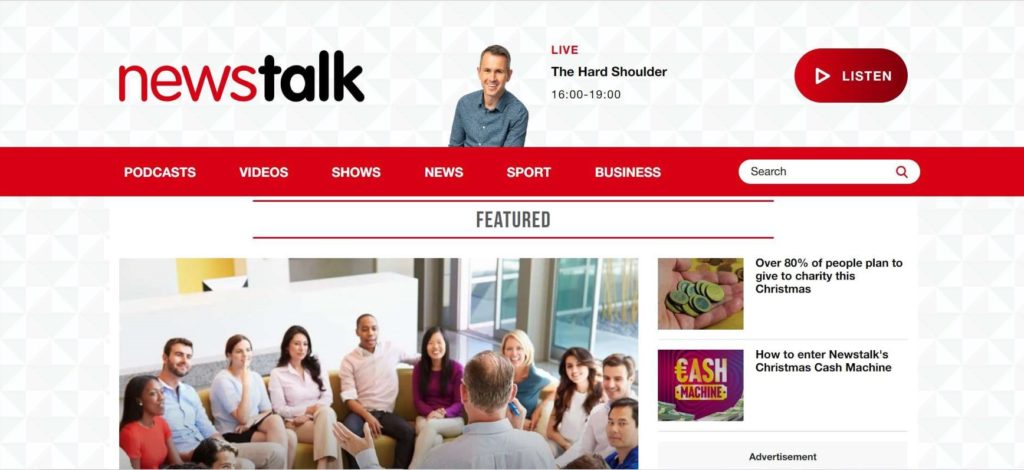 Test
Info
SERVICES

Morning Show

Podcasts

Videos

News

Sport

Business

Drama

Documentary

WEBSITE
https://www.newstalk.com/
ADDRESS
Newstalk, Marconi House, Digges Lane, Dublin 2, Ireland D02 TD60
CONTACT DETAILS
Phone: +353 164 45100

EMAIL: [email protected]

OPERATING HOURS

24/7
| | |
| --- | --- |
| PROGRAMS | ★★★★★ (5/5) |
| RANGE AND AUDIO | ★★★★★ (5/5) |
| PLAYLIST | ★★★★☆ (4/5) |
| DJ AND HOSTS | ★★★★★ (5/5) |
If getting fully informed throughout the day without having to compromise your time on other activities is your goal, then listening to Newstalk is a good idea.
As an independent news radio station, it provides complete news information on a 24/7 basis. We're impressed about how it utilizes its airtime by scheduling shows that cover the entire week without downtime.
One feature that brought it to this list is its variety of morning shows that are all focused on news on matters. They also tackle politics, government, health, business, sports, entertainment, and market analysis.
Plus points also for having a comprehensive recap of everyday news under the Best of Newstalk from 12:00 a.m. to 6:00 a.m. For us, it's a great way to listen to whatever you missed during the day.
We also like the insightful discussion on all things bizarre and interesting on its afternoon shows. It's also worth noting that Newstalk ends the day with a lighter mood through its entertainment magazine show, The Tom Dunne Show.
Although the radio programs are more on the news delivery side, the radio station has a podcast of fascinating topics like human interest stories, crime, and anything under the sun.
It also doesn't have a program dedicated to playing top and classic music songs. Still, it's a great station to hear, considering its very informative and award-winning programs.
Great morning news recap 
Interesting podcast topics
Variety of morning shows
24/7 on air with shows
News-heavy daytime programs
Limited or no music playlist at all
Customer Reviews
Relief and challenge to listen to
"Since going national in 2006, Newstalk has gathered steam -today delivering programming that's varied, entertaining and (mostly) thought provoking. Politics, sport, economy -no topic is safe as Newstalk's stable of bright minds make the sort of radio programmes that are alternately a relief and a challenge to listen to…" – Bridget R.
Decent station
"Decent radio station with a few competent presenters and I especially like David Norris's crazy appearances every now and again." – Andy M
4. FM 104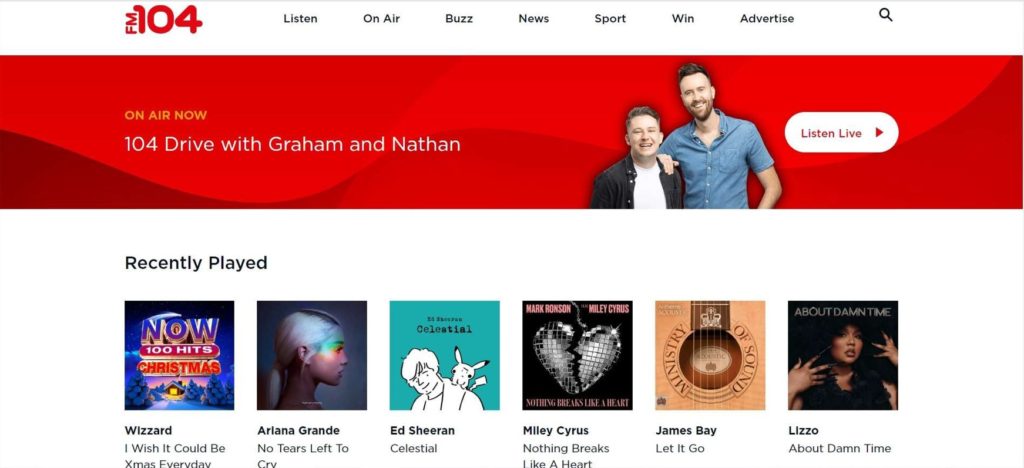 Test
Info
SERVICES

Musical Playlist

Podcasts

News Site

Sports, Games

WEBSITE
https://www.fm104.ie/
ADDRESS
Macken House, 40 Mayor Street, Dublin 1, Ireland D01 C9W8
CONTACT DETAILS
Phone: +353 167 97104

EMAIL: [email protected]

OPERATING HOURS

24/7
| | |
| --- | --- |
| PROGRAMS | ★★★★☆ (4/5) |
| RANGE AND AUDIO | ★★★★★ (5/5) |
| PLAYLIST | ★★★★★ (5/5) |
| DJ AND HOSTS | ★★★★☆ (4/5) |
What's a better way to chill than to listen to the top and best music of all time? With FM 104, all the songs you want to hear and have yet to explore are played throughout the day.
When we talk about highlights, we love being accompanied late in the morning until afternoon with the 10-3 Show with Ben Murray. In this five-hour program, you won't tire of hearing the best music along with music news and Dublin trends.
We also like tuning in to Dublin's Hit Music from midnight to 6:00 a.m. when we can't decide what to do but can't sleep. Moreover, we love how upbeat the Fit Mix playlist is to boost your momentum as you go along your daily workout.
In addition, we think FM 104's joining the list of radio stations that put one of their best shows in the morning time slot is a good move. It's indeed a great show in a great time for Strawberry Alarm Clock with Jim-Jim & Nobby.
The show is an energy booster through its fun yet useful quiz segment with listeners. It's also enjoyable listening to what kids think before school through the Kidz in the Car portion.
However, though the radio goes on air for 24/7, there's not much news and current affairs updates being talked about. The songs played are also repeated because the shows are very much into music playing.
Nonetheless, we keep on listening to this station because of its very relaxed content.
Good range of music
24/7 song playlist
Upbeat fit mix
Interactive games
Limited to music, entertainment
Songs are replayed
Customer Reviews
Interesting to listen to
"Every taxi man on a Friday night will be listening to FM 104's Phoneshow hosted by Adrian Kennedy. It's probably one of the most talked about radio shows because of the controversial things that are said on air… It's interesting to listen to what people really think and has that confessional feel. Besides the Phoneshow, you can listen to chart music, celeb gossip and news briefs…" – Alexandra M.
Cool show prizes
"… It does play Top 40 Hits but it is not a hit with me as it is way to commercial, main stream and middle of the road! The best thing about this station are the competitions of which there are many and with really cool prizes too, and the two shows Strawberry Alarm Clock in the morning… and the late night Adrian Kennedy phone show." – Melanie M.
5. Dublin City FM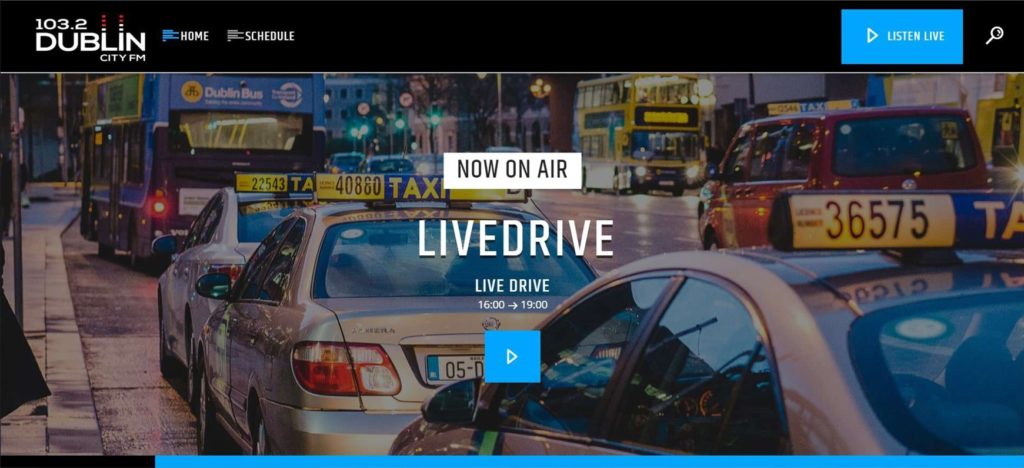 Test
Info
SERVICES

Music

Live Traffic Update

Sports

Arts and Culture

WEBSITE
https://www.dublincityfm.ie/
ADDRESS
Kreston House, Arran Court, Arran Quay, Dublin 7, Ireland D07 K271
CONTACT DETAILS
Phone: +353 186 58020

EMAIL: [email protected]

OPERATING HOURS

Everyday, 7:00 a.m. - 2:00 a.m.
| | |
| --- | --- |
| PROGRAMS | ★★★★★ (5/5) |
| RANGE AND AUDIO | ★★★★★ (5/5) |
| PLAYLIST | ★★★★★ (5/5) |
| DJ AND HOSTS | ★★★★☆ (4/5) |
If you want to listen to something that could practically help you survive traffic and learn more about art, 103.2 Dublin City FM has you covered.
From the lists of its numerous programs, we think the most helpful is the real time traffic updates at the LiveDrive program. It's a program by Dublin City Council to help you get through the traffic every 7:00 to 10:00 in the morning and 4:00 to 7:00 in the afternoon.
We recognize this show's dedication to ease commuting hassle. Aside from the live radio show, it has its own social media accounts that continuously gives information on traffic situations even after the program goes off the radio.
Another much-loved feature of Dublin City FM is its varying arts and culture programs that air on weekdays. Our favorite is the weekly Artbeat show that gives local and global updates on arts, performances, and musical events.
We also love the Saturday discussion on the environment through the Green Room. For us, it's insightful to listen to cultural leaders on their views on sustainability within their sectors.
There's a lot of shows to choose from Sunday to Monday. These not only focus on traffic, arts, travel, and environment, but there are a number of shows dedicated to music of different genres.
However, the station goes off air at 2:00 a.m. and goes back at 7:00 a.m. Be advised that there are different shows daily with varying time slots. Don't worry, you can still check them on Dublin City FM's updates and easy-to-navigate website.
Variety of useful content
Helpful traffic show
Lovely arts and culture programs
Functional and beautiful website
No programs past 2:00 a.m.
Confusing program schedules
Customer Reviews
Interesting, informative content
"Whenever I tune in, I hear something different from the main stations, something I find interesting, informative or quirky. I like the fact that it's unpredictable, that I have no idea what I am going to hear… The first programme i heard was a philosophy discussion on Sunday morning and it was so refreshing to be stimulated to think about something a little more deeply, rather than the tired old reiteration of the various soundbites of one side or another…" – Valerie Warren
Inclusive platform
"[It's] great to find a station in Dublin that will give a platform to all forms of country. From the traditional pedal steel style to the modern country rock / country pop. Musicians like myself will never get a start in Dublin because of the lack of interest in this genre. We all cant just up sticks and move to Nashville much as we would love to." – Xave Ryan
FAQs about the top radio stations in Ireland
---
There you have it, the comprehensive review on the top radio stations in Ireland.
Now that you've read the basic information and programs of the stations, you can also consider trying other forms of entertainment in Ireland. Here, we can help you through the following reviews:
---