The 5 Best Psychics in Ireland
Whether you want guidance, healing, or just to satisfy your curiosity, perhaps you've wondered what psychics have to offer.
Psychics are known to have unique gifts like perceiving your past and future or communicating with the dead. While many debate their accuracy, some travel far and wide for their services.
Others, however, stick to the nearest clairvoyants such as the best psychics in Dublin. But if you want to widen your search for the best psychic in Ireland, it's wise to consider the costs first.
How Much Do Psychics in Ireland Cost
The rates of psychics in Ireland vary depending on their exact location and the types of services they provide.
You can also choose whether you're more comfortable consulting face-to-face, via phone, through email, or by video conferencing.
See estimates below, but keep in mind that not all services are offered by every psychic:
| Service | Estimated Costs |
| --- | --- |
| Card Reading | €25 |
| Psychic / Mediumship Reading | €50 - €70 (30 mins - 1 hour) |
| Meditation / Mediumship Classes (by video) | €10 |
| Reiki & Kundalini Session | €45 |
| Aura Photography & Reading | €70 |
| Pet Aura | €40 |
The Best Psychics in Ireland
We assessed the best psychics in Ireland based on the following criteria:
1. Angels Love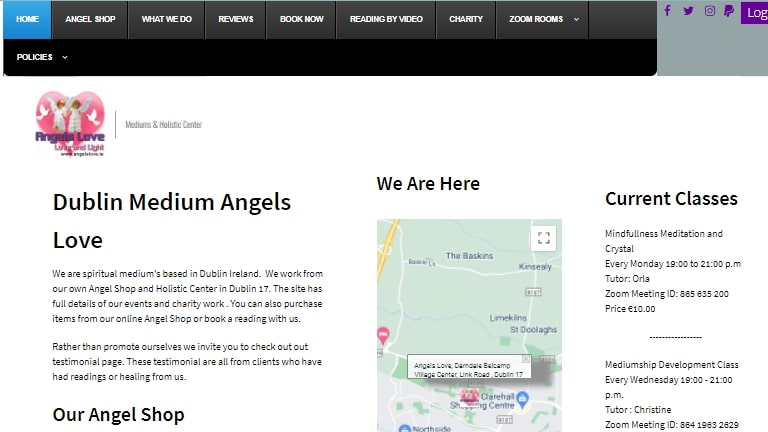 Test
Info
SERVICES
Angel Card Healing, Angelic Healing, Group Bookings, Angel Shop, Reiki Healing, Stage Shows, Medium Reading
WEBSITE
http://www.angelslove.ie/
ADDRESS
Angels Love, Darndale Belcamp Village Centre, Priorswood, Dublin 17, Ireland
CONTACT DETAILS
+353 83 333 8906
OPERATING HOURS
Wednesday: 10:00 AM - 2:00 PM

Thursday - Saturday: 10:00 AM - 4:00 PM
| | |
| --- | --- |
| AVAILABILITY | ★★★★☆ (4/5) |
| SERVICE | ★★★★★ (5/5) |
| ACCURACY | ★★★★★ (5/5) |
| VALUE | ★★★★★ (5/5) |
There are some things in life we cannot fully comprehend. That's why we appreciate Angels Love's guidance in allowing us to make sense of the things we felt and experienced.
This psychic's readings were unbelievably spot on. Many clients can vouch for this, as some even got shivers from being told things no one else could have possibly known.
Not to mention, we're in awe that they were also invited to read for the participants of Celebrity Salon, an Irish TV show, back in 2012!
Because of this, they're confident enough that some of their services don't require a deposit anymore. It was also generous of them to offer mediumship readings without a time limit for a most fulfilling experience.
In addition, during sessions, it's delightful that they handle these private matters with utmost gentleness and compassion.
Most sessions could get emotional too, but it was all dealt with nicely. Several who visited them were initially sad or anxious, but their encounter with these psychics has greatly comforted them.
If you want more, they have an Angel Shop for their goodies as well! It was fun to collect a few of their crystal bracelets, chakra necklaces, salt lamps, and the like.
Nevertheless, make sure to maximise their availability as they're open only 4 days a week. Their website also looks a bit outdated, although still user-friendly.
All in all, the experience we had was amazing. We couldn't recommend Angels Love more for their friendly service and emotional support!
Gentle, pleasant, and compassionate
Relaxing environment
Readings are spot-on
Offers Angel Card readings via email
Mediumship readings have no time limit and don't require a deposit
Open only 4 days a week
Website looks a bit outdated
Customer Reviews
Worth it
"Christine is a fantastic person go to. Highly recommend. I told her nothing. All she gave me is true information. I am glad that I went. It was worth my time." – Joann Rafferty
So delighted
"I had the most amazing experience with Orla this morning. She told me about events only I knew about in the family. Orla and Christine are two gifted, compassionate women. I would, without any doubt, recommend Angels Love. So delighted I went. Thank you, girls. ❤️👼👼" – Jean O'Sullivan
2. Patricia Weston Psychic Witch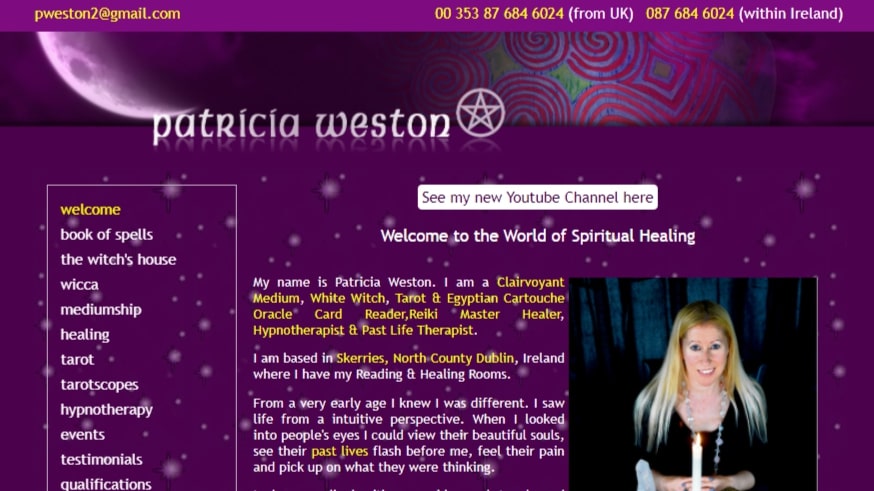 Test
Info
SERVICES
Mediumship, Healing, Tarot, Hypnotherapy
WEBSITE
http://patriciawestonpsychicwitch.com/
ADDRESS
Rush Rd, Piercetown, Skerries, Co. Dublin, Ireland
CONTACT DETAILS
+353 87 684 6024
OPERATING HOURS
Monday - Friday: 9:00 AM - 5:00 PM

Saturday: 9:00 AM - 1:00 PM
| | |
| --- | --- |
| AVAILABILITY | ★★★★★ (5/5) |
| SERVICE | ★★★★☆ (4/5) |
| ACCURACY | ★★★★★ (5/5) |
| VALUE | ★★★★★ (5/5) |
Sometimes, it's hard to let go of the past and our experiences can hold us back. Psychic witch Patricia Weston understands this very well and has had her fair share of reassured clients.
It's stereotypical to think that psychics don't give any practical advice. For us, psychic guidance and practicality shouldn't always be viewed as mutually exclusive.
Patricia actually gave us some useful advice as she connected with us deeply. All throughout, she was inspiring, caring, and knowledgeable!
She helped us reflect and motivated us through her readings and reiki healings. Because of her, it was easier to shift our mindset to a more positive one and see the world in a new light.
Perspective is powerful, and it was a lovely and relaxing journey to gain a better one with this talented psychic.
It was intriguing that she sells a book of spells and magic too! However, she made it clear that she doesn't cast spells for people, but offers this book so we can practice magic for ourselves.
Like many others, Patricia has also been invited to a TV show years ago. But due to limited screen time and editing, some may easily misinterpret her statements about having a "black aura" and its relation to mental health issues.
At the end of the day, it's still us who can decide how to interpret our readings. It's best to focus on ourselves and judge what realisations are best to accept and apply to our lives.
Overall, the best rating for this psychic can be made based on how we felt after the sessions. With Patricia Weston, it was definitely a lighter, more wonderful experience afterwards!
Warm, insightful, and empathetic
Has a YouTube channel for tarot readings
Sells a book of spells and magic
Open 6 days a week
Readings can be misinterpreted at times
Website colours may be too vibrant for reading
Customer Reviews
Full of healing and reassurance
"I had a reading with Patricia yesterday but it was so much more than that. It was full of healing, reassurance and letting go of what is holding me back. She connected so accurately with family members who have passed over, who gave practical and loving guidance. Patricia is a lovely, warm soul who is also a thorough professional. I highly, highly recommend it. Thank you and continued success!" – Marina
I feel absolutely amazing
"I am literally just finished an online tarot reading with Patricia. It was my first and she was absolutely amazing. Such an inspiring, caring and knowledgeable person. I feel absolutely amazing after the reading and I will most definitely be back. ❤️" – Peach Hearts
3. Rose O'Driscoll Psychic Medium & Clairvoyant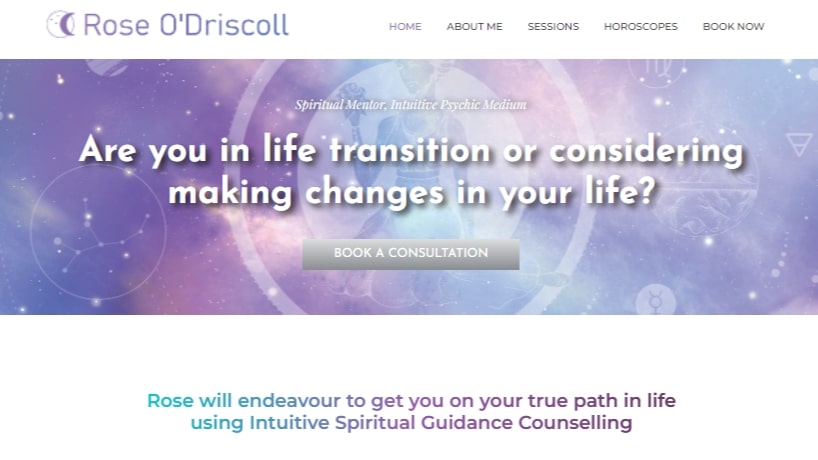 Test
Info
SERVICES
Spiritual Intuitive Consultations (Phone or Skype)
WEBSITE
https://roseodriscoll.com/
ADDRESS
Commons, Cork, T56 XV07, Ireland
CONTACT DETAILS
+353 87 390 1073
OPERATING HOURS
Tuesday: 10:00 AM - 5:00 PM

*Consultations are available via booking
| | |
| --- | --- |
| AVAILABILITY | ★★★★☆ (4/5) |
| SERVICE | ★★★★☆ (4/5) |
| ACCURACY | ★★★★★ (5/5) |
| VALUE | ★★★★★ (5/5) |
Many don't believe that mediums can actually talk to the dead. However, many swear by the comfort they felt upon consulting with a gifted psychic in Ireland like Rose O'Driscoll.
Psychics like her assist in providing knowledge and clarity to their clients. This is so everyone can get the closure and healing they long for.
What we admire most about her is her pleasant and soothing personality. She didn't make us feel uncomfortable at all and encouraged us to ask a lot of questions.
Many of her clients told us they received accurate readings from her as well!
Through this psychic's counselling, she aims to empower others to release the past and make changes with the present. She also wants her clients to manifest their dreams into reality so they can live the life they deserve.
However, unlike her competition, she may have lesser services to offer. But her counselling sessions may just open up different realisations and opportunities you might be missing out on yourself!
To get more from her, clients and prospects could also subscribe to her email newsletter for horoscopes!
Although, it's such a waste that she's not making the most of her YouTube channel as well. She can utilise her uploads to reach more prospects who are curious about her work.
But altogether, if you want a more intuitive take on your experiences and dreams, we suggest consulting with Rose O'Driscoll in Cork soon!
Provides clarity and closure
Gives good advice
Reassuring and calming nature
Counsels through the phone or via Skype
Offers email subscription for horoscopes
Fewer services compared to competition
Open once a week (consultations are via booking)
Customer Reviews
Absolutely amazed
"Rose, Rose, Rose! So much to say about the reading I had with her. I was absolutely amazed that she was able to connect so clearly to my late father – who made himself known in no uncertain terms! Additionally, I gained deep knowledge and clarity in my reading with Rose, and it was such a beautiful experience. If anyone is looking for clarity in any area of their life or would like to connect with past loved ones, I wholeheartedly recommend Rose." – Roshan Chander
Interesting and reassuring
"The experience I had with Rose was absolutely amazing! She told me how it works and advised me. She was able to connect things that would be impossible for anyone else to know which was so interesting and reassuring. She doesn't make you feel uncomfortable and will let you ask questions. Highly recommend !!!!" – Chloe Gouldsmith-Csonka
4. Mary Madigan Spiritual Psychic Reader/Healer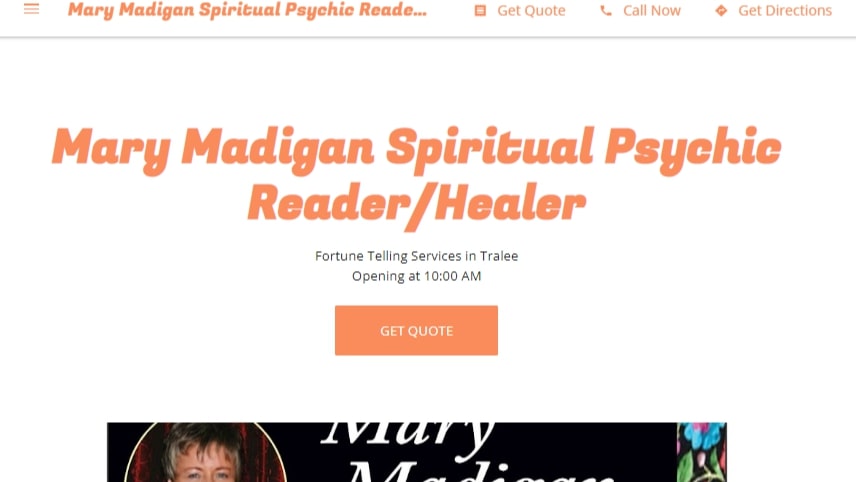 Test
Info
SERVICES
Psyching Reading / Healing, Fortune Telling
WEBSITE
https://mary-madigan-spiritual-psychic-readerhealer.business.site
ADDRESS
Monavalley Business Park, 3E Davcon House, Tralee, Co. Kerry, V92 TD76, Ireland
CONTACT DETAILS
+353 87 707 1587
OPERATING HOURS
Monday - Saturday: 10:00 AM - 9:00 PM

Sunday: 10:00 AM - 8:00 PM
| | |
| --- | --- |
| AVAILABILITY | ★★★★★ (5/5) |
| SERVICE | ★★★★☆ (4/5) |
| ACCURACY | ★★★★☆ (4/5) |
| VALUE | ★★★★☆ (4/5) |
Most skilled psychics have a tonne of repeat clients. Mary Madigan, a spiritual psychic reader and healer, is among them!
For us, a lot of burdens can be unloaded when you choose to talk to the right person. We're glad because we felt safe consulting with Mary with her kind and understanding nature.
One of the clients shared that as a deeply spiritual person, this psychic has tuned in her connection to angels and saints. This, then, added to the healing she needed during that time.
It also helps to have someone listen to you with such great empathy. Moreover, it's brilliant that she wrote down pointers as she went through her reading so we could remember everything!
But, a word of advice – just be clear with what you're looking for. Some clients may face disappointment if they got more readings for their present than their future because they didn't specify their goals beforehand.
In cases like these, Mary is graceful enough to refer clients to other spiritual healers who can better guide them – how thoughtful of her!
Also, as her website is a bit too simple and could be lacking information, she posts lots of updates on her Facebook page instead.
This includes where her next psychic and holistic fairs will be. Pre-booking is essential too so make sure you get a slot if interested.
As you go to her, remember that no two psychics are alike, so every session could feel different. We have to find that sweet balance in order for us to be satisfied with our readings.
With an open mind, we know you'll enjoy reaching out to Mary Madigan for your next psychic reading!
Nice and inspirational lady
Down-to-earth and sensitive
Thoughtful in referring to other healers too
Accommodates many payment options
Clients need to be clear with what they're looking for
Website doesn't have a lot of info
Customer Reviews
Full of empathy
"I choose Mary because of all the positive comments, and I wasn't disappointed she is an amazing person full of empathy and consideration for you as a person would definitely recommend thank you for everything." – Mark Nicholls
Gave courage and confidence
"I had a wonderful reading with Mary. She was sensitive and insightful in her reading and incredibly accurate. Mary tuned in to my connection to Archangel Michael, Padre Pio and Mother Mary. She spoke of the issues going on in my life at that time and the many resources, blessings and healing I was receiving from the universe. I felt her loving compassion surround me during our time together and light-hearted when it was finished. Mary's encouragement and blessings for my future ventures gave me the courage and confidence to pursue what was in my heart. Thank you, Mary." – Teresa Blake
5. Lavender Hill Spiritual Connections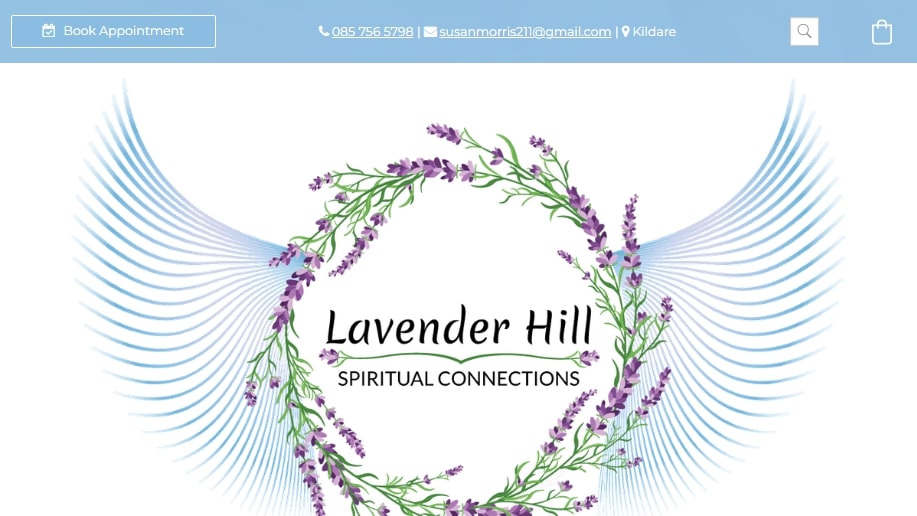 Test
Info
SERVICES
Psychic Readings, Medium Readings, Reiki Healing, Kundalini Sessions, Aura photography, Mediumship Workshops
WEBSITE
https://www.spiritualconnections.ie/
ADDRESS
Main St, Donaghcumper, Celbridge, Co. Kildare, W23 HH87, Ireland
CONTACT DETAILS
+353 85 756 5798
OPERATING HOURS
Monday - Friday: 6:00 PM - 11:00 PM

Saturday: Open 24 hours
| | |
| --- | --- |
| AVAILABILITY | ★★★★★ (5/5) |
| SERVICE | ★★★★★ (5/5) |
| ACCURACY | ★★★★☆ (4/5) |
| VALUE | ★★★★★ (5/5) |
Every bit of time we provide for a psychic reading counts. So if you want someone who can make the most of your sessions, then we give a shoutout to Lavender Hill Spiritual Connections!
Aside from being open Mondays to Fridays, it's also incredible that they're entertaining clients all day on Saturdays!
From the get-go, they have one of the best websites we've seen among other psychics. They offer in-person, phone, and online sessions, as well as easy online booking and payment methods.
Besides that, each session with them was a joy as they went beyond making normal predictions. They shared intuitive insights on how we can achieve our desires and realise our potential too.
We're also pleased to find unique services like Kundalini, a form of yoga to activate your spiritual energy located at the base of your spine.
Interestingly, they offer pet aura photography too! According to them, animals also give off aura and energy, so this is our way of learning more about them – what a great bonding opportunity!
And if you're interested in becoming a psychic, you'll be happy to know that they run regular mediumship development workshops as well! This is for beginner, intermediate, advanced, and experimental mediums to accommodate everyone.
So for comprehensive psychic services in Ireland, we urge you to try out Lavender Hill Spiritual Connections at your earliest convenience!
Open 6 days a week (all day on Saturdays)
Genuine and professional
Website is organised and easy-to-use
Offers Kundalini healing, aura photography, and pet aura
Pending or unavailable psychic reading team on their website
Facebook may be flooded with accounts advertising their own psychics
Customer Reviews
Genuine and professional
"This lady is so kind and gentle she is genuine and professional. I can't thank her enough she really is a lady and one of a kind I have never recommended anyone before but I have no qualms about recommending this gifted lady." – Melanie Osullivan
Best I've had
"Highly Recommended, Amazing reading, spot on and a lot of guidance. Best I have had to date." – Ciara Deering
FAQs About Psychic in Ireland
---
There you go! We hope you liked our review of the best psychics in Ireland and may you find the best one to guide your path.
If you want to find more therapy-related services, start with our reviews of the best hypnotherapy clinics in Dublin to learn more!