The 4 Best Banks for Private Banking in Ireland
Looking to know more about private banking? This article explores the best banks in Ireland for private banking as well as FAQs about them and other useful info.
For starters, private banking is a service not everyone can afford as it's best suited for high-net-worth individuals (HNWIs).
Of course, these types of clients have more complex banking and financial needs. Thus, you can expect private banking to be on a different level from regular banking.
So if you're eyeing to elevate your banking needs, read on!
How Much Will Private Banking Cost You?
You know by now that private banking is best suited for the wealthy or HNWI clients. The question is, how rich should you be to qualify as a private client?
Banks differ concerning the amount of money or assets you'll need to provide to be eligible.
For example, you'll need at least $1,000,000 "in eligible linked deposit, retirement, and investment accounts" to remain as a Citigold Private Client.
On the other hand, Barclays states that they cater to clients who can set up an investment portfolio worth at least £5,000,000.
Concerning private banking fees, Forbes explains that these may be fixed or sliding fees.
Fixed fees are like account maintenance fees. This is charged off of your account monthly as payment for private banking services.
Meanwhile, sliding fees are taken from the client's assets under management (AUM). Usually, clients are charged 1% of the AUM.
Moreover, private banks also profit from the commissions earned from the products they sell to their clients.
The Best Banks for Private Banking in Ireland
Finally! Here's our list of the best banks for private banking in Ireland!
1. Allied Irish Banks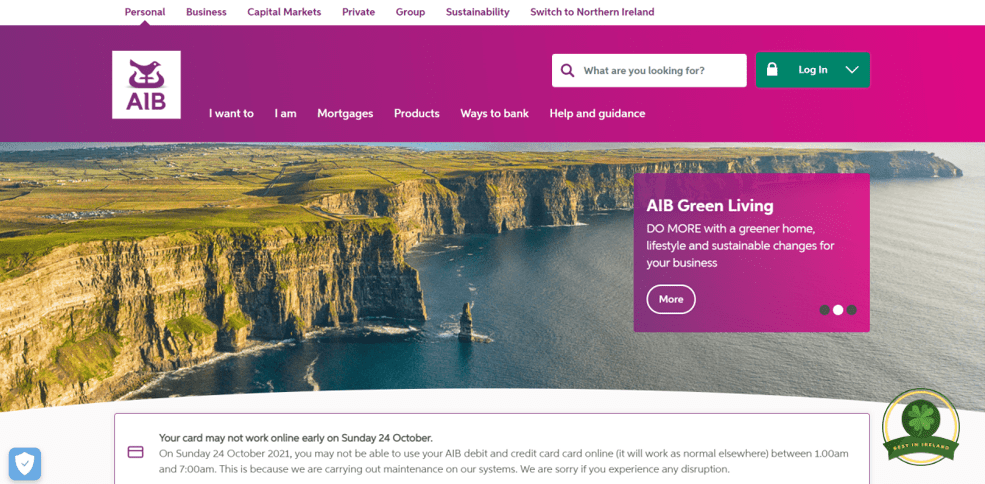 WEBSITE
https://aib.ie/
ADDRESS
10 Molesworth Street, Dublin 2
CONTACT DETAILS
+353 1 6600311
Head of private banking:
+353 1 6600311


[email protected]

OPERATING HOURS
9:00 am to 5:00 pm (Monday to Friday)
AIB has been dubbed as the "largest of the retail and commercial banks in Ireland," by the Corporate Finance Institute. With over 170 branches, it sure does have a large presence in the country, so it's also no wonder that it employs more than 10,000 staff.
AIB doesn't say what type of private clients they serve in particular, but their private banking services focus on investment, lending, and retirement, aside from banking, of course.
Thus, you can expect them to help build your portfolios and provide deposit and savings options.
Moreover, some of their lending solutions include lending against your investment portfolio with AIB private banking; commercial real estate lending; and lending with your pension assets held in AIB private banking.
Concerning pensions, AIB offers in-house pension solutions. They offer two retirement products: namely, their Small Self-Administered Scheme (pre-retirement) and Approved Retirement Fund (post-retirement).
And aside from private banking, AIB caters to both small businesses and larger institutions with their business and corporate banking services.
However, if you'd compare AIB to other banks that offer private banking, they don't seem to have a considerable international presence.
Outside of Ireland, their only other locations seem to be Great Britain, including Northern Ireland, and the U.S.A.
Also provides business and corporate banking
Offers commercial real estate lending options 
Offers in-house pension solutions
Multiple branches in Ireland 
Limited international branches
Minimum deposit to open an account not indicated online
2. Bank of Ireland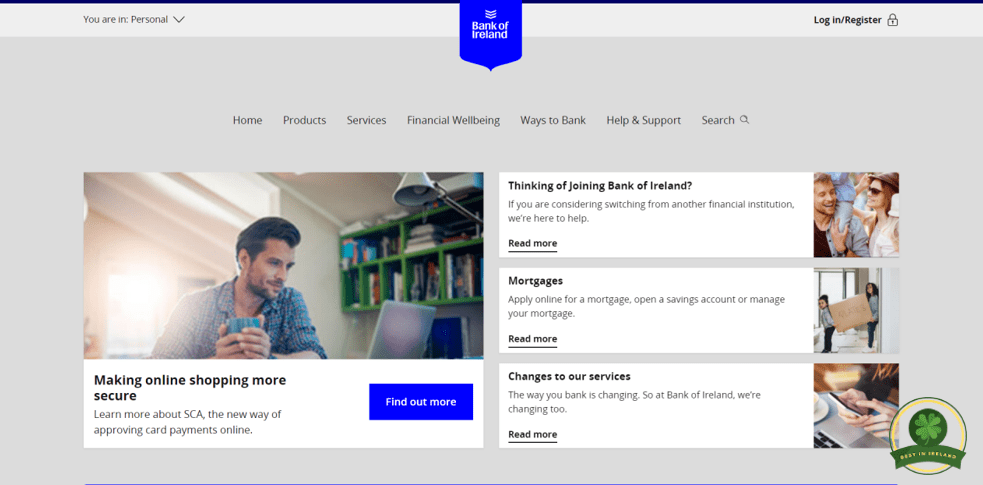 WEBSITE
https://www.bankofireland.com/
ADDRESS
40 Mespil Road, Dublin 4
CONTACT DETAILS
+ 353 1 661 5933
OPERATING HOURS
2 College Green, Dublin 2 branch:
10:00 am to 4:00 pm (Monday – Friday)
Bank of Ireland boasts of being the oldest Irish financial institution that caters to private clients. It was established way back in 1783, so if you like a local bank with a long history, check them out.
You'll be partnered with a private client manager that can help you with retirement planning, portfolio management, wealth protection, among others.
There are, of course, other perks. You'll have access to their Private 24/7 service—around-the-clock phone service that'll put you in line with financial advisors for your everyday banking needs.
And if you're a Black Visa Debit Cardholder, you can avail of emergency cash and have access to the Dublin Airport Authority lounges.
Moreover, investments seems to be one of their main expertise as BOI claims to be the only bank in the country with its own investment house.
We also like that if you already possess considerable wealth but can't afford private banking yet, you can still experience high-end banking.
This is because BOI offers a premier banking experience for clients who have an individual gross income worth at least €100,000. Joint income is also allowed, but it should be at least €140,000.
They also allow clients with savings or investments worth at least €100,000.
Also offers business, corporate, and premier banking
Offers 24/7 phone service 
Benefits for Black Visa Debit Cardholders 
Discounts for foreign exchange rates for €20k+
Multiple branches in Europe 
International offices limited to Europe and U.S.A
Minimum deposit to open an account not indicated online 
3. Citibank Europe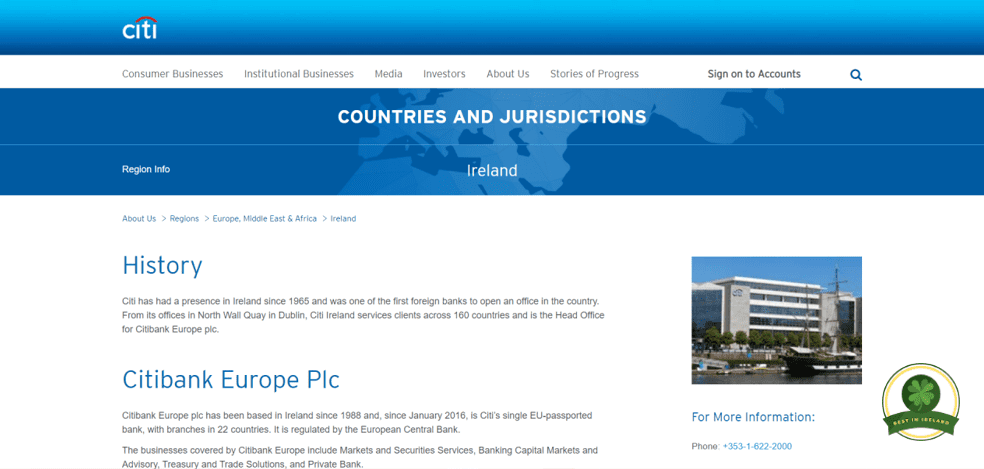 Another bank with a long history, Citibank was first founded in New York in 1812. It was one of the first foreign banks to operate in Ireland.
This bank has a lot to boast about as regards its private banking services. Citibank works for over 10,000 ultra-high-net-worth clients from 50 locations globally.
These clients come from more than 100 countries and among them are a fourth of the world's billionaires.
Plus, they're also able to provide a private banker to their clients in every region of the world with their global client service.
Aside from HNWIs, Citibank's private clientele also include investors, lawyers, family offices, law firms, private investment companies, and more.
Their private banking services cover investment management, portfolio analytics, trust and wealth planning, commercial real estate financing, and so forth.
They also have a range of offerings for their clients' lifestyles, some of which include art advisory, sports financing, and events and networking.
Strong international presence
Ample info on services
Services other private clients aside from HNWIs
Limited offices in Ireland
4. Barclays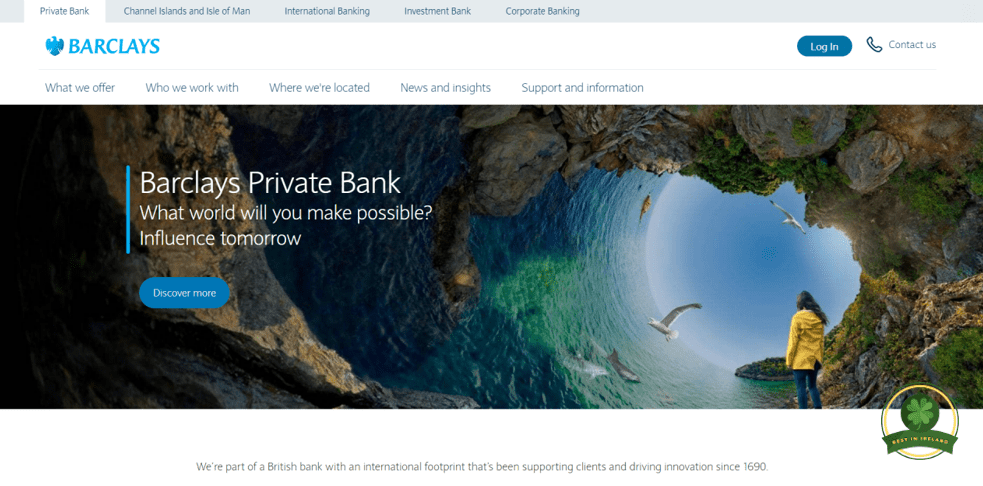 Probably the oldest bank on our list, Barclays was founded in 1690 and is headquartered in London. Their Irish office was set up in 1978.
They serve individuals, family offices, corporates, charities, and not-for-profits. Specifically, they cater to clients who can set up an investment portfolio worth at least £5,000,000, or roughly €5,900,000.
Barclays provides a variety of banking and credit solutions, including treasury deposits, money market funds, real estate financing, trade finance, and so on.
They also have a number of investment services such as direct access and advisory, and discretionary services. Clients can opt for their execution-only service if advice is not much needed.
As for investment opportunities, these are some of Barclays's focus areas: direct investments, private equity, and real estate.
As a well-established bank, you can expect Barclays to also be present globally, with offices in Asia, Africa, and the Middle East, aside from Europe.
Multiple offices worldwide
Services other private clients aside from HNWIs 
Offers a variety of investment services 
Investment opportunities available from corporate & investment banks 
Limited international presence compared to Citibank
Need to inquire if philanthropic service is available in Ireland 
Things to Consider in Private Banking
Assuming you're now ready to embark on your private banking journey, we've outlined some factors to consider before you begin:
Know the pros and cons
Private banking definitely has its perks and downsides, so it's important you're aware of both.
Here are some of its pros:
Multiple services in one place
Private banking is more than just a high-end way of banking. You'll have access to a range of investment opportunities, special services (e.g. aircraft financing), be able to plan your retirement, and more.
Thus, it allows you to avail yourself of multiple financial products and services under one institution.
As a private client, you'll have a private banker at your service.
Thus, your needs are more fully met since you have a dedicated professional who knows you as a client and is aware of your financial status, requirements, and so on.
Money-wise, you may be entitled to discounts on products and services, lower rates on loans, special events, and more.
On the other hand, here are a couple of cons to think of:
Possibility of losing your private banker
Unfortunately, you may have to deal with employee changes.
If your private banker decides to leave, you will have to choose whether to stay with your current bank or find a new one.
Private bankers are paid by the banks they work for. Hence, you may not be entirely sure if he or she is really helping you, the client, or the institution that compensates him or her.
Nerd Wallet claims private banking options "can fall short in terms of interest rates."
So, private banking may not be the way to go if you're looking to grow your money in this way.
Know a bank's minimum asset requirement
One of the main reasons why private banking is best suited for affluent clients is because banks require a large amount of money or assets as a minimum deposit.
Now, different banks have different requirements. So naturally, you'll need to find one that requires an amount you can offer.
For instance, we mentioned earlier that Barclays caters to clients who can establish an investment portfolio worth at least £5,000,000.
Consider the bank's reputation
You'll likely prefer a bank that's well-established and well-known.
Aside from services and experience, choosing a top-tier institution can increase your bragging rights. Being a client of one can serve as a status symbol.
FAQs about the Best Banks for Private Banking in Ireland
---
And that's a wrap for our list of the best banks for private banking in Ireland! Hopefully, you found our choices worth checking out!
Want to share your own picks for banks that offer private banking? Just contact us, so we can give them a look!
More Resources for Private Banking