The 5 Best Plumbers in Waterford
Busted pipes, leaky faucets, and dripping ceilings—these are just some of the telltale signs that you need to call a plumber, stat!
If you're not cut out for repair and maintenance, then you can check our recommendations of the best plumbers in Waterford. We made sure to also include some plumbers that can do emergency work no matter the time of day.
You'll find all their numbers and more in the section below. But first, let's deal with costs.
How much do plumbers charge in Waterford?
Plumbing costs in Ireland range from €45 to €60 per hour. This fee covers basic repairs such as leaks, unclogging, running toilets, and more.
Meanwhile, emergency plumbing can cost you anywhere from €40 to €110 for after-hours services.
Some plumbers also charge a call-out fee, which is a separate fee on top of your service costs. The call-out fee covers petrol and parking charges.
We gathered estimated costs of plumbing services in Ireland in the table below. Take note that actual fees may vary depending on your service provider.
| | |
| --- | --- |
| SERVICE | PRICE RANGE |
| Basic Repairs | €40 to €60 |
| Call-Out Fee | €70 to €90 |
| After-Hour Fees | €100 to €150 |
| Gas/Oil Boiler Repair | €80 to €100 |
| Radiator Valve Replacement | €130 to €160 |
| Electric Shower Replacement | €400 to €450 |
| Toilet Replacement | €400 to €450 |
You can also check out the service costs of one of our entries in the table below. Otherwise, you'll need to contact the others for more information.
PLUMBER
PRICE RANGE
TMG Plumbing & Heating Services
€39.72 (Hourly Fee)
€85.12 (Call-out Fee)
€85.12 (Oil Boiler Deposit Service)
The Best Plumbers in Waterford
Here's a glimpse of our selection criteria:
Let's cut to the chase—check out our selection of the top plumbers in Waterford!
1. TMG Plumbing & Heating Services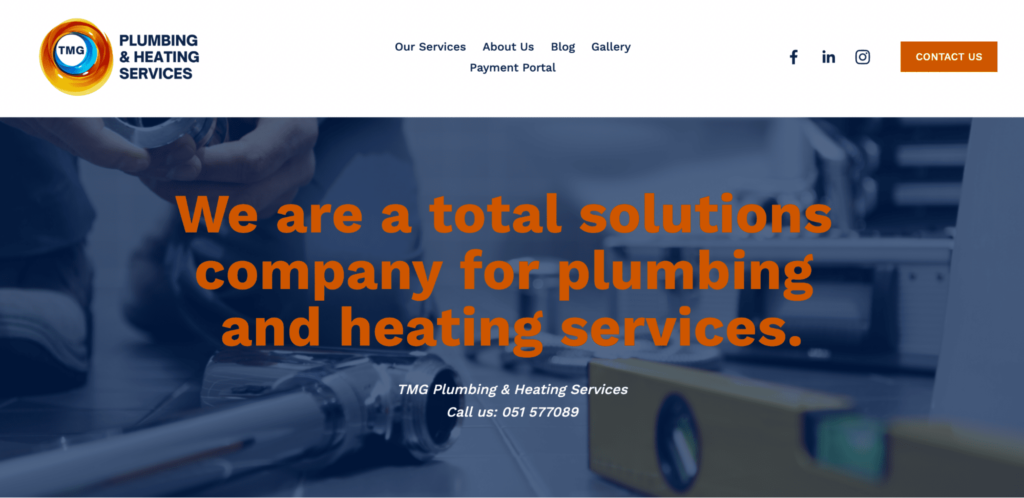 SERVICES
Plumbing and Heating, Bathroom Renovations, Underfloor Heating, Heat Pump & Heat Recovery, Oil Boiler Maintenance, Facility Maintenance
WEBSITE
https://www.tmgplumbing.ie/ 
ADDRESS
Servicing throughout Co. Waterford
CONTACT DETAILS
051 577 089 or 086 876 2710 |

[email protected]

OPERATING HOURS
Mon to Fri: 8:00 am – 5:30 pm
TMG Plumbing & Heating Services is a full-range plumbing company with over 20 years of experience under their belt. They work for large-scale companies and private homeowners alike, servicing clients all over Waterford City and surrounding counties.
Speaking of large-scale companies, they actually do maintenance work for giants like Guinness Brewery, Mintec, Bulmers, and Waterford Distillery.
We're really impressed with this client list! And if anything, it tells us that they're a trusted name in the field, which gives you plenty of reason to rely on them too.
Apart from regular plumbing work, they also do all sorts of home maintenance jobs like underfloor heating, heat pump maintenance, boiler repairs, and more.
What we really like about this plumbing company is their dedication to energy-efficient and environmentally friendly heating systems. They're actually recognised by the Sustainable Energy Authority of Ireland to do the job—and that gets them a huge point here!
We're a bit disappointed to know that they don't conduct plumbing work on weekends though. They also don't have after-hours services, so you might want to skip this one if you have an emergency plumbing problem late at night.
Wide area coverage
Wide range of services
Specialises in energy efficient heating systems
Affordable hourly rate
Fully registered and insured
No after-hours service
Closed on weekends
Customer Reviews
Highly recommended for their quality and reliability
"I had a very positive experience with TMG who did a full remodeling of both my bathroom and ensuite. Tony and his team did an excellent job and left the place very clean afterwards. Would highly recommend for their quality and reliability." —Martin Brennan, google Reviews
Avoids unnecessary time cost
"They know their stuff. Pre-visit contact to establish problem with photo's to prepare for work to be done and avoid unnecessary time cost. Quick and efficient service. Fixed boiler and radiators and gave professional advice on what could be done to improve system. Will be using again when the boiler is to be upgraded. Very satisfied with the work done." —Ian Miller, Google Reviews
2. Darren Roberts Heating & Plumbing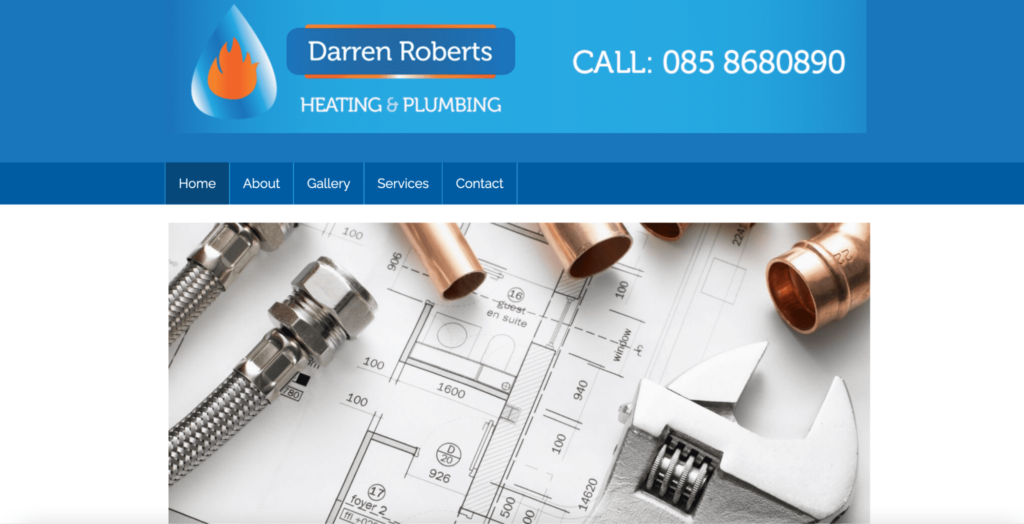 Darren Roberts Heating and Plumbing is another name you can count on for your plumbing issues. As you can guess from their name, they cover all types of general plumbing work, from leaking taps to dysfunctional heating systems.
They've been servicing clients in and around Waterford for over 15 years now. They even travel all the way to South Kilkenny for plumbing jobs!
This wide coverage is just one of the reasons why they made it on our list.
Their plumbers and technicians are registered and fully insured too, which isn't very surprising considering that they've been around for a while.
The only drawback is that their business hours are cut short, which means that there are no after-hours services here. Weekends are a no-go too, so you'll have to find time on weekdays to book their services.
While their rates aren't available online, feel free to contact them for an obligation-free quote. As a little tip, we heard that they even offer OAP discounts for those above 60 years old!
Wide area coverage
Wide range of services
Fully insured and registered
OAP discounts available
No after-hours service
Closed on weekends
Rates unavailable online
Customer Reviews
Professional in all aspects
"Darren did an emergency job for me late in the day and at very little notice. He was very professional in all aspects. I would have no problem recommending him to anyone and will certainly be using him again very soon. Top man." —Gary Wynne, Google Reviews
On time, very polite
"Darren just did some work for us. He was on time, very polite and very accommodating. We were delighted with his work, and we fully intend to use him again in the new year. We cannot recommend Darren highly enough." —Michael Burbage, Google Reviews
3. AK Plumbing, Heating & Property Maintenance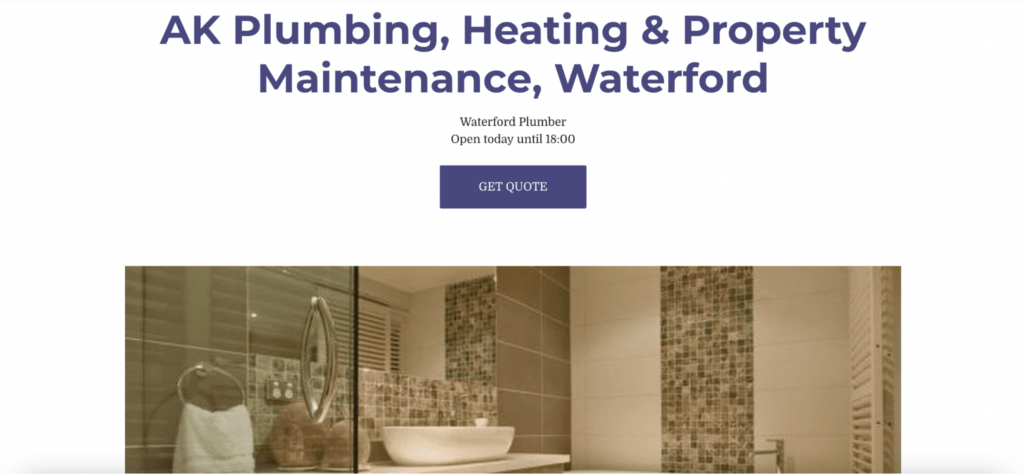 At first glance, AK Plumbing, Heating & Property Maintenance may not seem so special but then again, looks can be deceiving.
They made it to our list primarily because of the many good things we heard about them from our friends, colleagues, and customers like you.
Quick, efficient, and clean—these are the most common things that clients have reported about their services. So really, giving them a spot here was really a no-brainer.
Like our other entries, they cover all aspects of plumbing and heating jobs including domestic plumber services, gas and oil boiler repairs, central heating maintenance, and more.
From what we've seen, they actually specialise in modern bathroom renovations, and it's one of the things they're particularly known for. So if you're looking to spruce up your bathroom a bit, then choosing them would be a good choice.
We also like how extensive their area coverage is. Beyond Waterford City and its counties, they also service clients in Wexford, Kilkenny, and Tipperary.
It's a shame that we can't get a hold of their rates though, seeing that many clients rave about their competitive fees. Still, you can always contact them to get an exact quote of the services you require—no obligation required!
Extensive area coverage
Specialises in bathroom renovations
Fully insured and registered
Open on Saturdays
No after-hours service
Rates unavailable online
Customer Reviews
Very efficient in their work
"I had a full bathroom refurbishment done recently by Adam and his team and I couldn't recommend him highly enough.Very efficient in their work, great knowledge and advice, competitively priced and 100% trustworthy. I am delighted with my new bathroom." —Ciara K, Google Reviews
Tidy and well-priced
"I couldn't recommend Adam highly enough! He was here within a half an hour of ringing him yesterday to look at the job. He was willing to do it there and then but we needed new taps so we decided to wait until today. He said he'd be here this morning at 9.30…..he turned up bang on time and had a choice of taps for me. He got on with the job…..got it done as quickly and as hassle free as possible…..he's as tidy as tuppence and so well priced too! It's lovely to find someone who you know is not ripping you off! Adam is a pure gentleman…..I would highly recommend him for any job! Thanks a mill Adam!" —Ursula Tickle, Facebook
4. Drain Doctor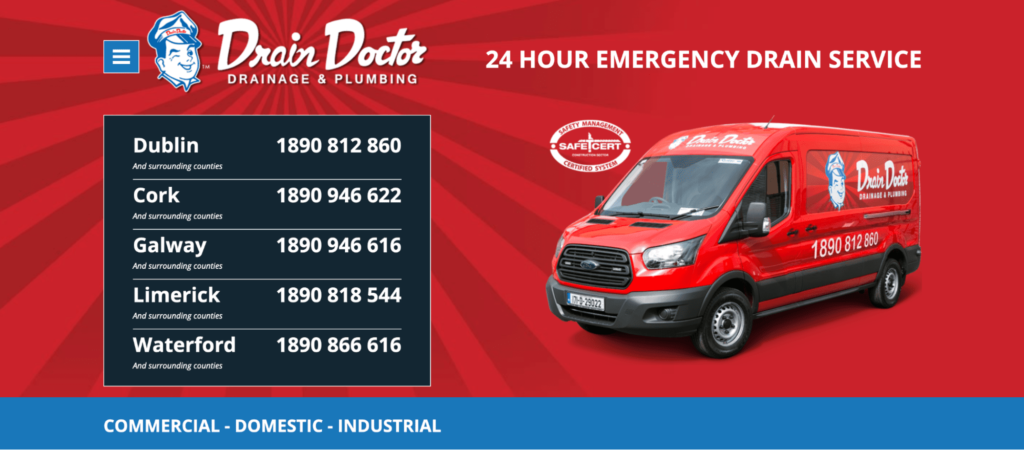 | | |
| --- | --- |
| SERVICES | Emergency Plumbing, Drain Repair, CCTV Drain Survey, Septic Tank Repair |
| WEBSITE | http://www.thedraindoctor.ie/  |
| ADDRESS | Servicing throughout Co. Waterford |
| CONTACT DETAILS | 1890 866 616 |
| OPERATING HOURS | 24/7 |
For those who need a plumber in the middle of the night, then you might want to give Drain Doctor a call. This company is actually known to carry out emergency plumbing jobs all over Ireland around the clock.
Their highly qualified plumbers can handle repairs for all sorts of plumbing problems, from broken tanks to leaky toilets. Of course, you can also rely on them for any problem pertaining to drainage since it's their specialty, after all.
In terms of area coverage, they service clients residing in Waterford City and nearby counties. From what we've seen, it takes about 1 to 2 hours on average for them to respond to emergency call-outs, depending on the time of day.
We love the fact that there are no call-out fees too. You just need to pay for the services you requested—no questions asked!
Compared to their competitors around Waterford though, they don't really offer gas, oil, and heating repair and maintenance. While this may be a drawback for some, they still stand out from many plumbers out there, simply because they're available 24/7!
Wide range of services
Open 24/7
Wide area coverage
No call-out fees
Has branches all over Ireland
Fully registered and insured
Rates unavailable online
No gas, oil, heating repair service
Customer Reviews
Courteous, professional, took time to listen
"I was in contact with Chris in drain doctor as my overflow tank pump was making excessive noise, he sent Denis to replace the pump – what a gentleman, he arrived introduced himself, wore his mask and gloves, helped me move a piece of furniture out of the way to let the stairs down and proceeded to work for about 2 hours. I made him a coffee and we had a little chat. Everyone that i had contact with in Drain doctor was courteous, professional and took time to listen. When you send a member of staff out to deal with the public its so important to be personable and polite – well done Drain doctor Denis was an absolute pleasure to deal with and did a fantastic job." —Chris Cronin, Google Reviews
Booked me in with no hassles
"Excellent service by Drain Doctor. Rang another well known drain unblocking company who wanted twice the price for what Drain Doctor charged. The girl on the phone was lovely and very customer service friendly, booked me with no hassles and as promised they rang me a half hour before the technician arrived. The guy who arrived was really nice and down to earth and had the job done in about 10 minutes. Will definitely be using their service again if ever needed. I would highly recommend." —Gillian Coleman, Google Reviews
5. Boss Plumbing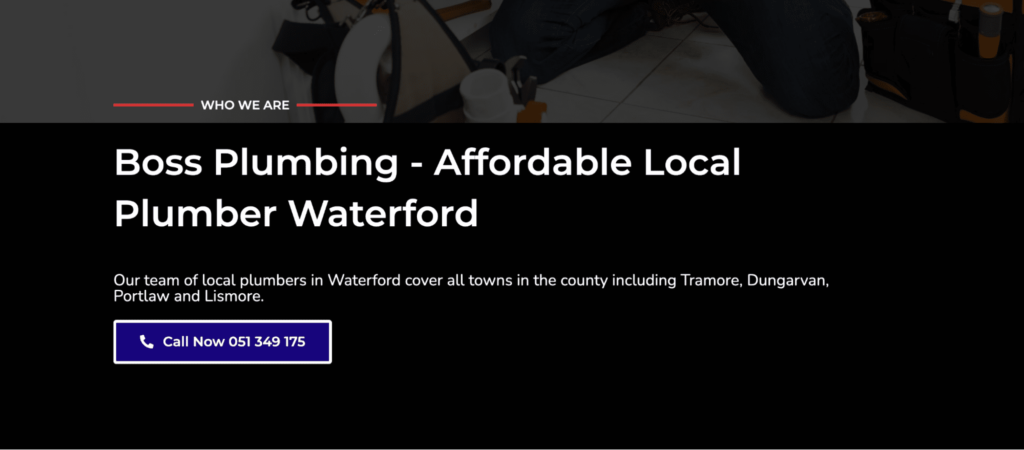 Here's another emergency plumber you can consider: Boss Plumbing provides prompt and professional plumbing service around the clock—up until Saturdays, that is.
Despite this minor limitation, they are available for emergency plumbing and heating jobs all day and all night. Beyond Waterford, they also extend their services to all towns in the county including Tramore, Dungarvan, Portlaw, and Lismore.
They take pride in the fact that they treat customers just like their next-door neighbours. And based on what we've noticed, this couldn't be more the case, seeing that clients also like them for their quick response.
Apart from emergency jobs, they also do all kinds of maintenance work including water leak detection, annual boiler service, shower installation, and more.
We would've liked to see more of their rates though, considering that they also claim to have the best rates in town. You can find out more about this at no additional cost—just ring them up and they'll provide you with a quote.
Wide area coverage
Responds to emergency call-outs
Open on Saturdays
Fully registered and insured
Rates unavailable online
Closed on Sundays
Customer Reviews
Arrived within the hour
"I called the guys to a home emergency near the business park waterford they arrived within the hour and repaired the burst pipe quickly and efficiently, thank you so much." —Jane from Tramore, Website Testimonials
Came on time and has the best rates
"Good service from the lads, came on time and helped install a new shower, best rates out of the companies I found on google 5/5." —Sean from Waterford, Website Testimonials
FAQs about Plumbers
More Resources about Plumbers in Ireland