The 5 Best Plumbers in Galway
Featured Image from: https://www.pexels.com/photo/photo-of-gray-faucet-2339722/
A house needs maintenance, just like a car. Bulbs burn out, hinges start to creak and faucets leak.
It's an inevitable part of owning a house, really. What we can do is to fix those problems as soon as they arise so they don't progress to become major ones.
Plumbing is often the cause of headaches of many homeowners. So if you're looking for reliable plumbers in Galway, we've screened them out for you and picked only the best ones.
You'll find them all below, but let's deal with the cost first.
The Cost of Plumbers in Galway
Plumbers can be hired by the hour or per job. You'll find the average hourly rates of hiring a plumber, including the average cost of some of the most common plumbing jobs below:
| | |
| --- | --- |
| Fee | Average Cost |
| Call-out Fee | €75 – 90 |
| After-hours Call-out Fee | €30 – 110 |
| Hourly Rates | €30 – 40 |
*excluding VAT
| | |
| --- | --- |
| Plumbing Jobs | Price |
| Leaking Tap | €75 – 125 |
| Bathroom Sanitary Ware | €800 – 1400 |
| Electric Shower Replacement | €400 – 450 |
| Boiler Service | €80 – 120 |
| Radiator Repair | €130 – 160 |
| Radiator Replacement | €400 – 150 |
| Toilet Replacement | €400 – 450 |
| Water Pressure Improvement | €120 – 150 |
*excluding parts, materials & VAT
The Best Plumbers in Galway
Who are the best plumbers in Galway? Here they are:
1. Pat Kelly Plumbing & Heating Contractors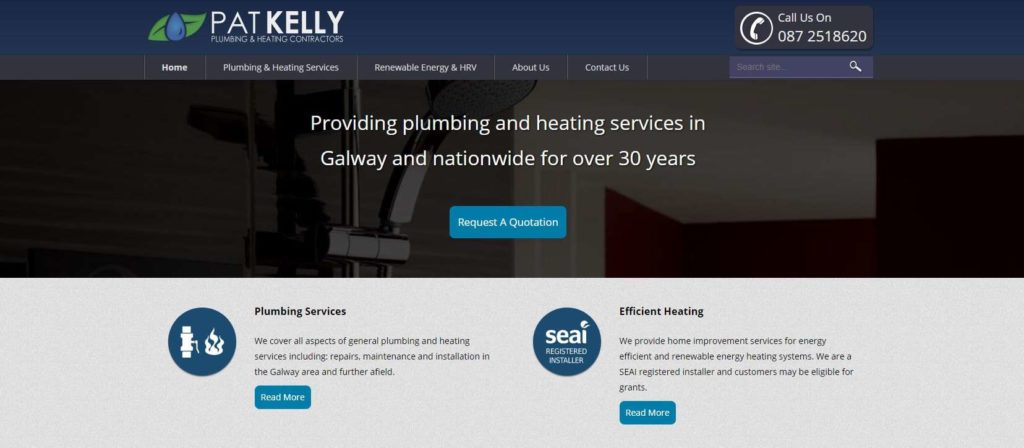 Pat Kelly Plumbing & Heating Contractors isn't a jack-of-all-trades. They specialise only in two services: plumbing and heating.
We think specialising in one or two services make them more knowledgeable in those fields compared to those who offer a wide array of services.
Pat Kelly has been providing all aspects of general plumbing repairs, maintenance and installation not just in Galway but nationwide. They do plumbing for house extensions, kitchen, garages, bathroom plumbing and more.
Their customers are saying they are responsive and their rates are reasonable. Perhaps that's why they have lasted this long—34 years to be exact.
They have a large client base in the Galway area and nationwide as well.
But aside from domestic clients, they also offer plumbing systems for commercial and industrial clients, big or small.
Not only that, they make sure 90% of the materials they use are bought in Ireland or when possible, manufactured in Ireland as well.
If you're also interested in installing underfloor heating, heat pumps and boilers, they provide that too. Don't worry, they are SEAI-registered so you can be sure you're getting the latest energy-efficient heating system.
Quotes are free, so we think talking to them about your requirements won't pose any hassles.
Domestic, commercial and industrial clients accepted
Use locally-made materials when possible
Offers heating systems
SEAI registered installers
Free quote
Open 24/7
No emergency callout services
No mention of service guarantee
No mention if plumbers are insured
2. Patrick Cunningham & Sons
SERVICES
heating, plumbing, boiler servicing, showers and pumps
WEBSITE
https://cunninghamplumbers.ie/
ADDRESS
6 Cúl Aitinn, Clybaun Rd, Knocknacarra, Galway, H91 T27N, Ireland
CONTACT DETAILS
091 891645


[email protected]

OPERATING HOURS
Mon – Fri, 8:30am – 5:30pm
Patrick Cunningham & Sons offers a wide range of plumbing services.
They have repairs, of course, as that's what's often needed in home maintenance. They fix and replace taps, ball valves, shower trays and other minor plumbing and plumbing-related issues.
But they can also deal with big repairs such as toilet, sink and water heater replacement, immersion heater repairs and even clearing blocked sewers.
That's all very well. But what makes them stand out, in our opinion, is that they also offer bathroom and kitchen renovations.
So, if you think the issue you're having with your plumbing can't be fixed with repairs anymore, and your bathroom or kitchen needs an upgrade anyway, Patrick Cunningham & Sons can do the job.
We think having to deal with just one company who can renovate and maintain your plumbing at the same time is pretty convenient.
And don't worry about payment as they offer a wide range of payment methods too. Debit or credit cards, electronic funds transfers, cheques, bank drafts and postal orders are all accepted payment methods.
We also put value on the fact that Patrick Cunningham & Sons has been in the business for more than 60 years. That means 60+ years experience in fixing, maintaining and installing plumbing and heating systems.
Their expertise is not just for domestic clients, but also for commercial and industrial ones. They offer a full design, consultancy and installation service from initial plans to installation.
We also like that they are a registered SEAI contractor. It means if your home has been built before 2006, you can get a grant from SEAI under the Better Energy Homeowner Grants scheme if you want to upgrade your heating systems using Patrick Cunningham & Sons' services.
They are fully insured and C2-registered too. And all their works are covered by their service guarantee.
Just make sure that you don't contact them during the weekend because they are closed.
Offers heating repair, maintenance and installation
Residential, commercial and industrial projects accepted
Registered SEAI contractor
Registered contractor under the Better Energy Homes Scheme
C2 registered
Free quote
Fully insured
All works covered by their service guarantee
Closed on weekends
No emergency callout service
Customer Reviews
Read some of the reviews we found for Patrick Cunningham & Sons:
"I found Cunningham plumbers excellent to deal with. Very helpful and work was of high standard. Problem was fixed in one visit and the price was good. No complaints" – Rita Downs, Google reviews
"Dealing with Cunninghams has been great. Rapid response, excellent workers, polite and professional. Good value. I have been calling them for years for various jobs. Daragh always sorts you out." – Anne Berines, Google reviews
3. H&R Heating & Plumbing Ltd.

SERVICES
boiler service, stove fitting, air to water heat pumps, maintenance, bathroom renovations, heating control upgrades
WEBSITE
http://www.hrheatingplumbing.ie
ADDRESS
Maree, Oranmore, Co. Galway, Ireland
CONTACT DETAILS
+353 91 483 838


[email protected]
We know plumbing accidents don't happen only during office hours. Your pipes could burst any time, even in the middle of the night.
And when this happens, it can be distressing if you can't call on anyone to help out.
We've picked H&R Heating & Plumbing for our list precisely because they have an emergency call-out service. The thought of having someone who can repair leaks at an ungodly hour is reassuring.
But emergency services aside, they carry out other plumbing services too like water tank replacement, repair of outside taps, blocked drains, ballcocks, booster pumps and such.
They offer fault-finding services as well. And no, we don't mean continuous criticisms, but troubleshooting to locate plumbing issues.
So, if your water bill suddenly shoots up and you can't figure out why, H&R Plumbing can help pinpoint where the problem is coming from.
Another thing we like about them is that they're not limited to domestic clients. They can do industrial plumbing and heating installations as well because they are OFTEC registered.
They also have certifications for Fetac level 5 plumbing, Safe Pass, Oil Boiler service course, Manual Handling and GIS/GID Gas Servicing (RGII REG).
All their plumbers are fully insured too, which means you don't need to worry about accidents when they're on the job.
Given all their credentials and experience, we think H&R Heating & Plumbing is a solid choice for your plumbing needs. We hope, though, that they expand their service outside Galway and surrounding areas in the future.
Offers heating services too
Domestic and industrial installation 
Small or big jobs accepted
Offers emergency callout services
Fault-finding service
Fully insured
OFTEC registered
Operates only in Galway and surrounding areas
No confirmation if quotes are free
Customer Reviews
Check out some of H&R Heating & Plumbing reviews below:
"Dave and Martin plumbed my house a couple of years ago. I found them to be very professional and helpful in their work. There after service was second to none and would have no problem recommending them " – Ken Horan, H&R Heating & Plumbing reviews
"We at Level One have been using H&R Heating and Plumbing for the last few years. Always prompt and reliable, they go beyond the call of duty. They provide excellent service. Prices are very fair. We would highly recommend them!" – Fionula Walsh, H&R Heating & Plumbing reviews
4. Gerry Crehan Plumbing

Another company that offers an emergency call-out service is Gerry Crehan Plumbing. They have been in operation for over 15 years providing plumbing services for customers in Galway and the west of Ireland.
But their service isn't bound to just plumbing emergencies; they also cover leaking radiators, central heating issues, oil boilers and a lot more.
They're open not just 24 hours a day, but 7 days a week, 365 days a year. So, if your heating suddenly stops working in the wee hours of the morning, you can get in touch with them to have it fixed asap.
Like other providers, they are fully-insured and are SEAI registered. All their technicians are fully qualified too and can provide service on oil boilers if it breaks down at whatever time of day or night it is.
They also accept jobs on all scales for domestic, commercial and industrial clients.
Unfortunately, they didn't say if they offer free quotes, so you might want to check with them about that.
Heating and oil boiler services offered
Emergency plumbing and heating callout service 
SEAI registered installers
Fully insured
Open 24/7
Covers Galway and the west of Ireland only
No confirmation if quotes are free
Customer Reviews
These customers were happy to share their experience with Gerry Crehan Plumbing:
"Gerry is professional, punctual and friendly – we would have no hesitation in recommending him to family and friends. He is reliable and his work is of a very high quality. We have had him do several plumbing jobs in our home over the past year." – Mk Kelly, Construction Ireland reviews
"Did a great plumbing job on a messy bathroom refurbishment which included old GB piping Obliging and did not stick in the elbow for the extras we ended up asking him to do. – Peter, Construction Ireland reviews
5. Brendan Tarpey Plumbing & Heating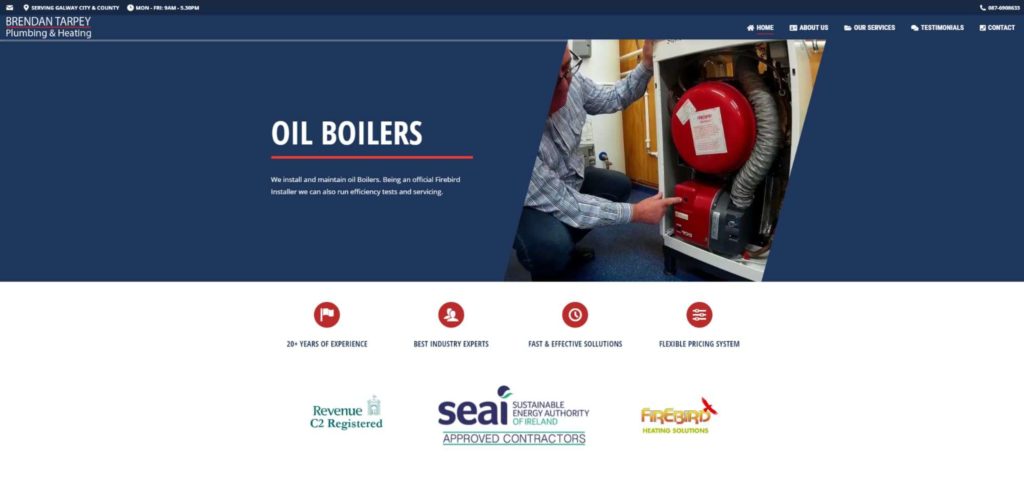 SERVICES
stoves, solar, oil boilers, underfloor heating, water softeners, heat pumps, bathroom makeovers
WEBSITE
https://www.tarpeyplumbing.com/
ADDRESS
Kilskeagh, Turloughmore, Co. Galway, Ireland
CONTACT DETAILS
087 6908633


[email protected]

OPERATING HOURS
Mon – Fri, 9:00am – 5.30pm
Brendan Tarpey Plumbing & Heating has more than 20 years of experience under its belt in plumbing and heating services.
They're pretty solid, considering they supply and install plumbing and heating systems to over 2,000 clients in the west of Ireland and surrounding areas, including homes, schools, factories, government institutions and other businesses.
Like other companies that offer plumbing and heating services, Brendan Tarpey is also an approved SEAI grant contractor. They are also Firebird and C2 registered and are certified with appropriate documentation to be Building, Health & Safety compliant.
But one thing that stands out among their services is water softeners. Hard water is a major contributor in lime buildup in plumbing fixtures, so a service that can fix this is like nipping the issue from the bud.
Aside from plumbing and water softeners, Brendan Tarpey also offers installation of different heating systems such as stoves, oil boilers, underfloor heating, heat pumps and solar thermal systems.
They don't just install, though—they also provide full maintenance and call-out support for the equipment and systems they install themselves.
You can call them for a free quote if you're interested in any of their services. They are open everyday except on weekends.
Domestic and commercial jobs accepted
Approved SEAI grant contractor
Firebird-registered
C2 registered
Water softener service
Free quote
Closed on weekends
Services west of Ireland and surrounding areas only
No emergency call-out services
Customer Reviews
You can read some of their customer reviews below:
"We found Brendan's team excellent at specifying and installing a top of the range Heating System. As a tech company with high green and tech standards you'd imagine we'd be a tough customer but these guys impressed! – Thank you very much!" – Ronan Cahill, Brendan Tarpey Plumbing & Heating reviews
Why You Shouldn't Delay in Fixing Leaky Pipes
Most people ignore small leaks thinking it doesn't need immediate attention. So, it gets pushed down to the bottom of priorities.
But a leaky faucet, no matter how small, can cause a lot of damage over time. Here are some of the reasons why you shouldn't delay in fixing it:
1. It wastes gallons of water.
This may be hard to imagine, but a faucet that drips only twice per minute will waste more than a gallon of water in one week.
A faster drip, let's say around 120 drips a minute, will waste 11 gallons in day. If you wait for a month before fixing it, you would be wasting a total of 330 gallons of water.
Not only will you be paying a higher water bill, it will also have a negative impact to the environment and contribute to the depletion of local water supply.
2. It encourages moulds and mildew growth.
Stagnant water almost always follows when you have leaky pipes or taps. And where there's stagnant water, there's also mildew and moulds.
These microorganisms grow and thrive where there's a lot of moisture like soil, dead plants and leaky roofs and pipes and can cause eye irritation, rashes, stuffy nose, etc. The symptoms could be more severe to people with asthma and allergies.
3. It harbours disease-carrying pests.
Leaky pipes attract pests like rodents, mosquitoes and cockroaches especially during hot summers. They are driven indoors where they can find moisture and safety from the heat.
This makes crawl spaces and basements that have leaks prime real estate for them.
If you don't get the leak fixed, you are inadvertently exposing your family to typhoid fever, dysentery, cholera or whatever diseases these pests might be carrying.
4. It can damage your home.
Small leaks can damage your ceiling, floor and walls over time. It also encourage rust build-up which might end up in the complete replacement of your plumbing system.
Bigger, complicated leaks located below your house can damage your foundation, especially if left untreated for a long time.
FAQs about the Best Plumbers in Galway
---
And that concludes the information we have on plumbing and our list of the best plumbers in Galway.
If you know a plumber who deserves to be added to this list, send us an email and we'll review them right away.
If it's a handyman in Dublin you need, check out our list of the best handyman services in Dublin here.