The 5 Best Shops for Blinds in Waterford
Tired of curtains? Want to transform your windows without a grand renovation?
Well, you're in the right place because we're featuring the best shops for blinds in Waterford in this article! We're featuring a long list of top-quality blinds in this article, so you'll have lots of options to choose from.
And hopefully, you finish this guide by the end as we've also included answers to some FAQs and tips to help you in your blinds selection.
Blinds Prices in Ireland
But first, let's take a look at pricing. The cost of window blinds depends on a number of factors, such as materials, length, design, etc.
Of course, think about other expenses from services like shipping, measurement and installation, and consultation. Additionally, the number and sizes of your windows will affect the price of your blinds.
We've made a list of several types of blinds and their estimated costs in the table below for your reference. These prices are based on several blinds suppliers in the country.
| | |
| --- | --- |
| TYPE OF BLINDS | ESTIMATED COST |
| Wooden blinds | €11.95 – €65.21 |
| Faux wood blinds | €12.84 – €51 |
| Roller blinds | €6.96 – €72.85 |
| Venetian blinds | €6.75 – €85.49 |
| Vertical blinds | €10.89 – €61.93 |
The Best Shops for Blinds in Waterford
Finally! Let's head straight to the best shops for blinds in Waterford!
1. Charisma Blinds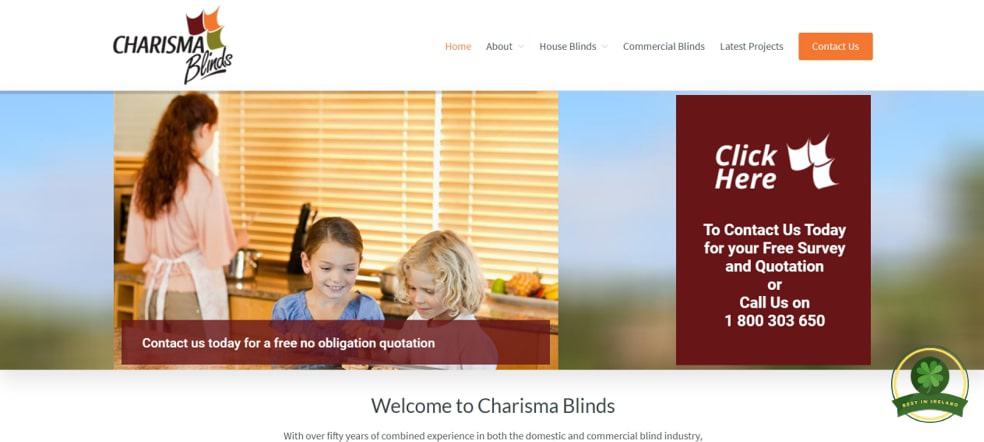 SERVICES
House blinds and commercial blinds
WEBSITE
https://www.charismablinds.net/
ADDRESS
1 Westgate Business Park, Tramore Road, Waterford
CONTACT DETAILS
1 80­0 303 650


[email protected]

OPERATING HOURS
9:00 am to 5:00 pm (Monday – Friday)
9:30 am to 5:00 pm (Saturday)
Charisma Blinds is a family-run business that has been around for quite some time after being founded in 1994. They don't just sell blinds but manufacture the majority of their products from their own factory.
If you're looking for a shop that can give you plenty of options for blinds, they're one of our recommendations. Aside from a variety of house blinds, they also offer blinds for commercial purposes.
We'd particularly like to highlight their motorised blinds, which you can operate via a remote control, battery operation, or a wall-operated switch.
And if your windows have an uncommon shape, (circular, triangular, etc.) Charisma Blinds also offers custom fit blinds for you.
It's also very convenient to meet with them since they're open until Saturday and are available for evening home consultations. What's more, Charisma Blinds also covers Wexford, Kilkenny, and South Tipperary.
Wide service coverage
Open until Saturday 
Manufactures majority of products 
Offers evening home consultations
Offers blinds for commercial clients 
Showroom available 
Closed on Sundays
No online shop available on website
Customer Reviews
A great local company, strongly recommended
"Andrew and his team have been nothing but polite, helpful and professional at all times when we have dealt with them. They did our shutters for our first house over 12 years ago, and now they have just finished fitting our shutters for our new house. The quality of the shutters, and the service is second to none, and our experience with Andrew and the team is one which we just cannot fault. I also have to say that we got quotes and measurements from 2 other companies on this occasion, and still Charisma came out on top. A great local company, strongly recommend them! Thanks Andrew and the Charisma team." -Clare Flinders
2. Ormond Soft Furnishings Ltd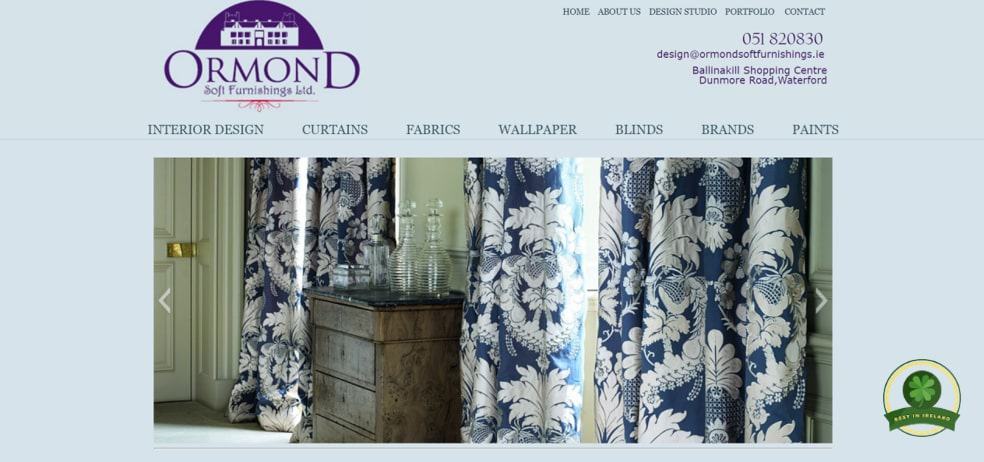 SERVICES
Interior design, curtains, fabrics, wallpaper, blinds, and paints
WEBSITE
http://www.ormondsoftfurnishings.ie/
ADDRESS
Ballinakill Shopping Centre, Dunmore Road, Waterford
CONTACT DETAILS
(051) 820830


[email protected]

OPERATING HOURS
9:30 am to 5:30 pm (Monday – Friday)
10:00 am to 5:00 pm (Saturday)
While they primarily specialise in curtains, Ormond Soft Furnishings Ltd also offers a range of blinds as well as fabrics, paints, and wallpapers.
Hence, if you're looking to upgrade not just your windows, you can contact them to help you design your home's interior.
In terms of blinds, they offer Venetian, wooden, and roller blinds, among others. You can visit their showroom to check out their products. It also comes with free parking, by the way.
Moreover, one of the things we really liked about Ormond Soft Furnishings is that they can create bespoke products, such as a rug or a specially-designed cushion. And for that, we think they're ideal for those who'd like their house's design to have a personal touch.
No time to make it to their location? For a fee, clients can avail of their call-out service so Ormond's team can come to your house in person.
Offers other products aside from blinds 
Creates custom-made products 
Open until Saturday
Free parking
Showroom available 
No online shop available on website
Closed on Sundays 
Customer Reviews
Beautiful, stunning materials
"Great shop but not cheap! This is upmarket material and interior design service.. Beautiful, stunning materials, staff are lovely." -Olivia Power
3. Tara Blinds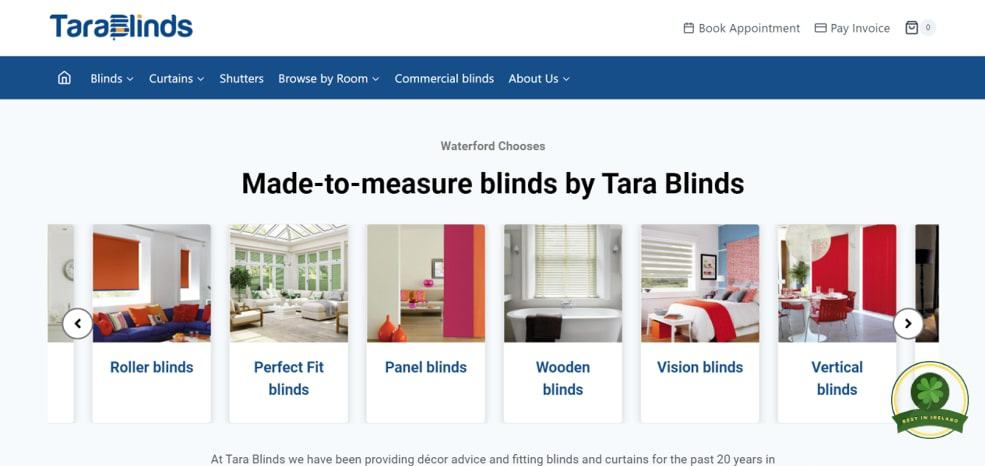 SERVICES
Blinds, commercial blinds, curtains, and shutters
WEBSITE
https://tarablinds.ie/
ADDRESS
5 Riverstown Business Park, Tramore, Co. Waterford
CONTACT DETAILS
051 33 00 33


[email protected]

OPERATING HOURS
Open 7 days
First featured in our Best Blinds Companies in Ireland article, Tara Blinds is another place where you can find a broad list of blinds.
You can really see that they offer plenty of options because they've provided a range of samples of their blinds on their website. Hence, you can already have an idea of what you want without going to their showroom.
One of the blinds that caught our attention is their panel blinds. These blinds are larger than usual and are ideal for large windows and doorways. It can also serve as room dividers.
Tara Blinds is the only company in Waterford that manufactures its own own roller/venetian (wood and aluminium), vertical/pleated/roman blinds, curtains, and more! They even have a full facility in Tramore where you would be more than welcome to visit.
They even have products that you can control via remote! You can control them using a switch or link them up to your smart home system.
Although there's an online shop on their website, you may need to make an account or contact them to check out their blinds' prices. Tara Blinds also caters to the commercial sector, including hospitals, offices, schools, public buildings, and more. 
Offers other products aside from blinds
Offers blinds for commercial clients  
Showroom is open 7 days
Wide service coverage 
Extensive blinds samples on website 
May need to create an account to view prices
Customer Reviews
The blinds look really good!
"Again, thank you for doing a great job. Way faster then I thought, and great quality, customer service and the blinds look really good! This is our second order and definitely not our last!" -Patricia Bartee
Highly recommended
"Got all my blinds here 2 years ago and am so pleased with the service that I received. Sabrina was extremely helpful in helping me choose all the blinds & has a great eye for interior decor.I highly recommend this company." -Mary Lou Silvester-Carr
4. Joe Coffey Blinds & Curtains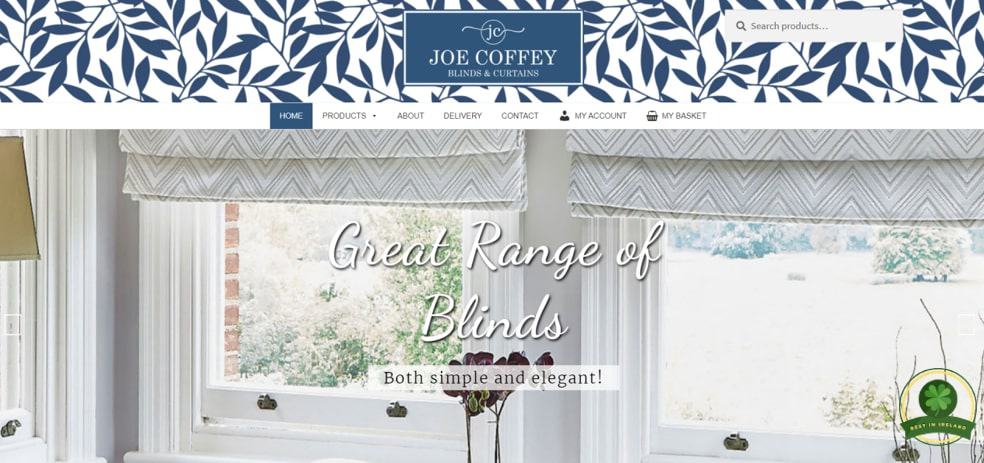 SERVICES
Blinds, ready-made curtains, fabrics, cushions, curtain poles, curtain linings, oil cloths, and haberdashery
WEBSITE
https://www.joecoffeyblinds.ie/
ADDRESS
10 Main Street, Dungarvan, Co. Waterford, X35 HY24
CONTACT DETAILS
+353-58-41506
+353-83-1687020


[email protected]

OPERATING HOURS
By appointment only (Monday – Tuesday)
10:30 am to 5:30 pm, by appointment (Wednesday – Saturday)
Joe Coffey Blinds & Curtains is another company that sells blinds and other products, such as fabrics, curtains, cushions, haberdashery, and more. Their delivery service covers the entire country, based on their delivery information.
Standard delivery is free for orders that amount to more than €100. Below that, they charge €10, while €3 is the fee per parcel for small parcel deliveries.
We're unsure if these rates are the same no matter how far a client is from Waterford, so inquire about that to be sure.
Some of the blinds they offer are vertical, Venetian, roller, Roman blinds, and duo blinds. They source from brands such as Luxaflex, SLX, and Diffusion.
Particularly, John Coffey offers Honeycomb blinds that have the ability to trap heat inside — great for both summer and winter seasons.
You won't find their blinds in their website's online shop, since all are individually measured and custom-made. However, we wished that they'd have provided more samples of their range on their website.
And although they're open until Saturday, you'll have to make an appointment first.
Offers other products aside from blinds
Delivers nationwide
Online shop available 
Open until Saturday
Free delivery for orders above €100 
Closed on Sundays
Need to make an appointment 
Limited blinds samples on website 
Customer Reviews
Customer-focused, thoroughly professional
"I've just had my second lot of blinds fitted by Joe Coffey Blinds. Couldn't recommend them highly enough! Completely customer-focussed, thoroughly professional, great quality and just so lovely to deal with. Thanks a million, Aideen, Pat and Noel " -Anne Halpin
Brilliant service
"Brilliant quality… Price … Very nice people ,and Brilliant service … Will definitely shop here again." -Elle Sullivan
5. Home Store + More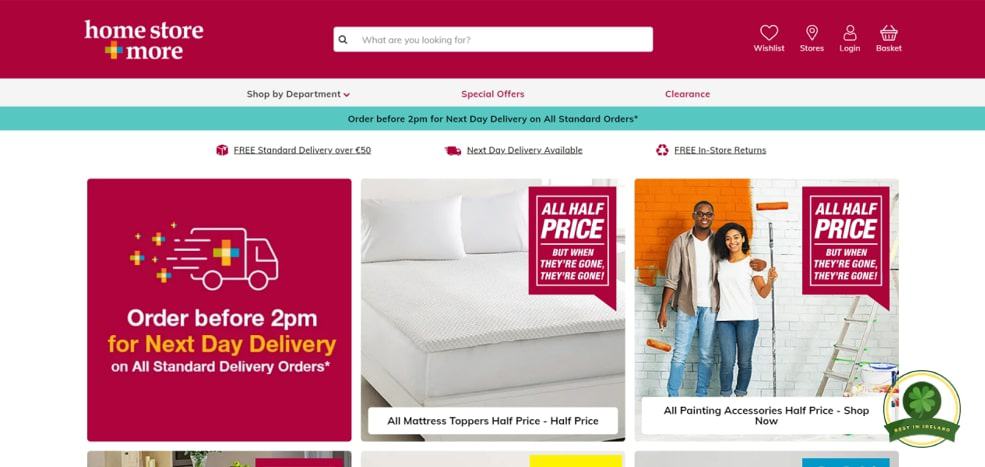 SERVICES
Bedding, curtains, kitchen & cookware, dining & glassware, home decor, DIY, paint & decorating, lighting, laundry & cleaning, storage & furniture, bathroom, and hobbies, pets, & leisure
RATES
Bailey & Cole Blackout Roller Blind (white) – €12.99 – €29.99
Bailey & Cole Roller Blackout Blind (grey) – €12.99 – €29.99
Bailey & Cole Roller Blackout Blind (duck egg) – €12.99 – €29.99
WEBSITE
https://www.homestoreandmore.ie/
ADDRESS
Unit 1A Waterford Retail Park, Waterford
CONTACT DETAILS
Head office (Dublin):
076 888 6662

Note: Cannot transfer calls from head office to stores or take orders over the phone
OPERATING HOURS
9:00 am to 9:00 pm (Monday – Friday)
9:00 am to 7:00 pm (Saturday)
10:00 am to 6:30 pm (Sunday & bank holidays)
You're probably already familiar with Home Store + More as they've got over 22 stores across the country, and even some branches in the UK.
From their name itself, this store supplies a long list of home products, ranging from bedding to leisure products. And in terms of operating hours, they have one of the longest on this list since they're open all week, even on bank holidays.
They do sell blinds, but unfortunately, only roller blinds are offered. And even this blinds type is only limited to 3 colours: duck egg, white, and grey.
At least, Home Store + More has a plethora of other house products to choose from. Thus, they're a great fit for clients who are looking to furnish their entire house's interior.
Also, they deliver to 32 counties (including Northern Ireland) and offer delivery perks such as free delivery for standard delivery orders over €50. And if you order before 2:00 pm, you're eligible for next-day delivery (for all standard delivery orders).
But of course, check Home Store's terms and conditions to avoid any problems and to ensure your expectations are met.
100% Irish owned 
Offers delivery perks 
Extensive list of home products
Open all week, even on bank holidays
Multiple branches 
Delivers to 32 counties 
Online shop available on website 
Website includes buying guides 
Only offers roller blinds
Currently does not ship to multiple addresses 
Customer Reviews
Easy and painless shopping
"It was like an Aladdin's cave for this rural dweller & had everything I needed, plus things I thought I might need & things I liked, so I bought them all & it was all very painless. That's how shopping should always be." -Brian M Carr
Brilliant selection to choose from
"Love shopping there. Spoilt for choice. Brilliant selection 2 choose from. Very reasonable staff very friendly and helpful. Loads free parking. Plenty room inside store as well." -Frances Stafford
How to Select Window Blinds for Your Home
Before you go ahead and select the blinds that suit your style, take note of the tips we've listed below:
1. Research your blinds options
Prior to contacting a blinds shop, it's a good idea to research the many different types of blinds available in the market. This is because there are multiple options out there, and there are a couple of things to consider.
For instance, if you're a busy person, you'd probably want blinds that are easier to maintain. Vertical blinds may be easier to clean than horizontal blinds because the dust they gather falls to the floor.
What about durability? Non-wood blinds, such as those made of PVC, metal, or faux wood are more durable than wooden blinds because they don't absorb moisture.
Furthermore, if you live in a small apartment or house, try opting for wider horizontal slats, since this creates the illusion of larger windows.
2. Seek consultation
Some stores offer advice on design. This service will help guide you in making the right kind of blinds to complement your house's design.
And while a blinds shop may show you a brochure of their products, it's best to inquire if they have a showroom so you can see in person the blinds they offer.
3. Calculate total costs
Remember to include in your budget other costs you may have to pay. Consider measurement and installation costs, as well as consulting and delivery fees.
Concerning the blinds themselves, count the number of windows you'll need to outfit with blinds. The more windows and the larger they are, the bigger the costs.
Moreover, custom sizes (such as for oddly-shaped windows) may cost more as well as any special materials, fabrics, and features you're availing of.
4. Other considerations
Do you have kids at home? It may be best to opt for cordless blinds to keep them safe from any accidents.
Meanwhile, there are also motorised blinds available in the market now. Blinds like these can be operated using a device such as a remote control or phone.
Thus, they're ideal for persons with disabilities. Or, if you've got multiple windows, it'll save you time and effort by just clicking a button to tilt them instead of doing so one by one.
FAQs about the Best Shops for Blinds in Waterford
---
And that's a wrap for our list of the best shops for blinds in Waterford! We hope you found this article useful in finding the right supplier for blinds.
Got your own recommendations for blinds shops as well? Feel free to contact us, and we'll check them out ASAP!
Aside from changing your blinds, you may want to go ahead and change your mattress too. For top-quality mattresses that'll give you a good night's rest, check out our list of the best mattresses in Ireland!