The 11 Best Web Design Companies in Galway
One of the best ways to reach your customers is by setting up a website. However, you'll need not just any kind of website though, but something that'll stand out and is user-friendly at the same time.
Don't know who to contact for quality web design services? We went ahead and made the search for you!
In this article, we've listed down the best web design companies in Galway. Aside from our top picks, you'll also find a list of their services, their pros and cons, as well as a couple of FAQs about web design.
Before we proceed with the list, let's first take a look first at how web design services may cost you.
Web Design Service Costs
Because different clients have varying website requirements, web design services don't usually have a fixed fee. For instance, Cliqued Media states that a web design company may cost you anywhere from €5,000 to €15,000.
But to give you a better idea of how much you'll need to spend, the table below lists some web design service costs according to a number of web design companies in Ireland.
WEB DESIGN COMPANY
WEB DESIGN SERVICE
PRICING
123 Web Designs
Standard website package
Premium website package
€485
€750

(excl. of VAT)
Galway Web Works
Standard business website package
– Design
– Domain
– Hosting
Professional class business website package
– Design
– Domain
Hosting


€400 + VAT
€10 + VAT/year
€75 + VAT/year


From €800 + VAT
€10 + VAT/year
€100 + VAT/year
SmartHost
One-page website

Additional pages
€185/year (€130/year after first year)
€59.99
Ourside
Website Design
Website Development
Request a Quote
The Best Web Design Companies in Galway
Alright! It's time now to check out our choices for Galway's best web design companies!
1. Accent Webs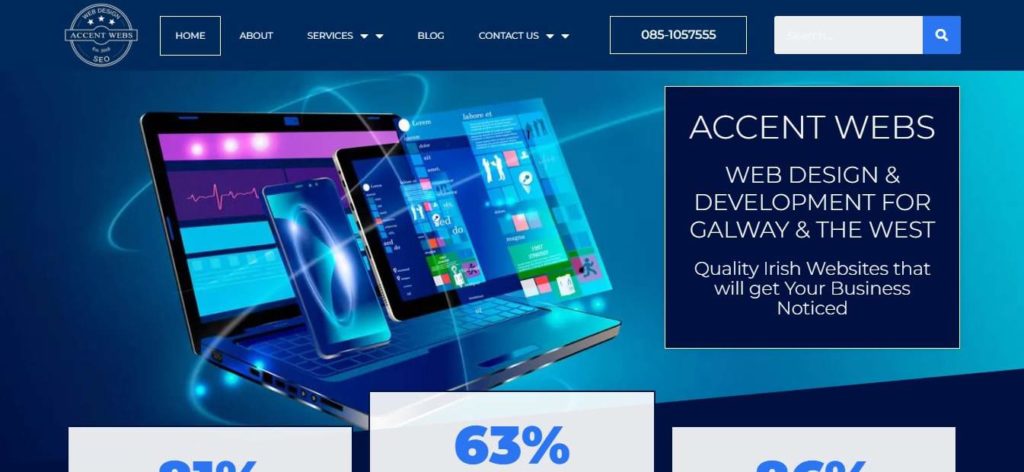 SERVICES
UX design, SEO, eCommerce development, content management system, social media, and marketing
WEBSITE
https://accentwebs.ie/
ADDRESS
Cappagh Rd, Galway
CONTACT DETAILS
085-1057555
OPERATING HOURS
10:00 am to 5:00 pm (Monday – Friday)
11:00 am to 4:00 pm (Saturday)
Accent Webs is a web design company offering a variety of digital services such as web design, web development, eCommerce, and SEO.
UX research, information architecture, wire-framing—these are just some of the UX design services carried out by their team of UX designers.
But what we like best about this web design company is its well-defined series of steps to achieve the best website for you via what they call the 6-D Process.
This shows them to be knowledgeable at their work by having a clear system to obtain their clients' needed results.
Starting with step one, or what they call Discovery, they meet up with their client to learn their needs, goals, present situation, and the like.
This is then followed by the Definition stage where they define the scope of work to be done, until such time that they reach the final step in the 6-D Process which involves the handing over of the finished website to their client.
Another great thing about Accent Webs is its client-convenient meet-up options. They can arrange a phone meeting with you, but if you want a more personal appointment, they can also travel to meet you anywhere in the west of Ireland.
Phone and outside of Galway meetings available
Provides option to manage website or train client's staff
Closed on Sundays
No packaging and print design services
Customer Reviews
Check out some comments from their satisfied customers:
"I could never find my website in Google myself. Good to see that my customers are able to find it now. Great job." -Mary Shafer
"I was afraid that I would have to hire a big company that would charge an arm and a leg, but I chanced a local guy. It paid off. Gerry did a great job for me." -Waise Smith
"Fantastic service from Gerry in web design. Very prompt in responding and nothing is too big or difficult. Very good service, would highly recommend." -Geraldine Daniels
2. Media Pro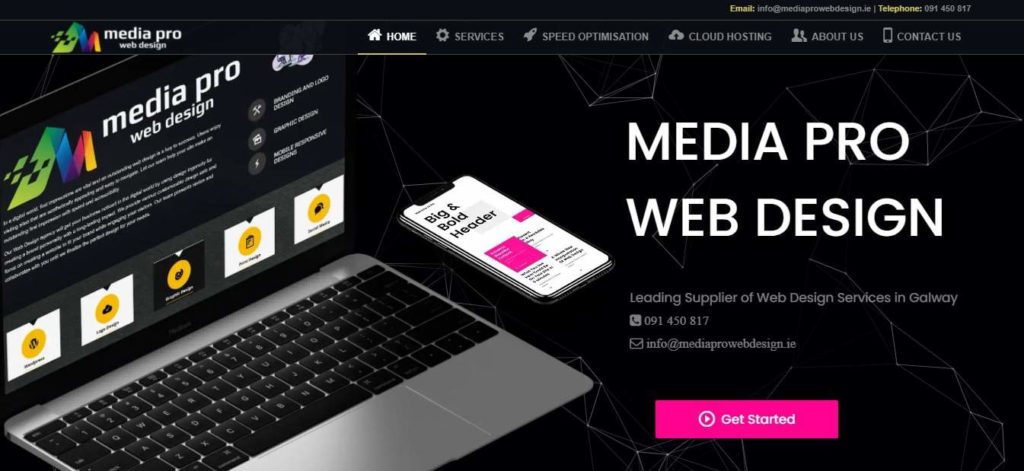 SERVICES
Web design, branding and logo design, graphic design, social media advertising, print design, WordPress website speed optimisation, and WordPress hosting
WEBSITE
https://www.mediaprowebdesign.ie/
ADDRESS
77 Maoilín, Bóthar Bhaile Mhóinín, Cnoc Na Cathrach, Gaillimh, H91 R3PC
CONTACT DETAILS
091 450 817


[email protected]

OPERATING HOURS
9:00 am to 7:30 pm (Monday – Sunday)
Media Pro gets our approval because they can build a good website that'll turn visitors into customers. More than a visually aesthetic site, they produce web designs that are both responsive and speed optimised.
By measuring and testing all screen sizes, they ensure their client's website appears properly on all devices. And to make sure visitors' clicks to your site aren't wasted due to slow page loading times, they offer WordPress website speed optimisation.
And what's great about their web design services for new websites is that they pay for hosting for the first year and also include free on-site SEO. And for website redesign services, on-site SEO is discounted.
They even have an entire team for inbound marketing and SEO to cater to your site's marketing needs.
Moreover, Media Pro can also help you with branding and logo design as well as custom printing design for business cards, flyers, banners, and the like.
Provides client website reports on request
Free SEO and hosting for first year for new websites
Customer Reviews
See what Media Pro's clients have to say about them:
"Awesome. That's all I can say after they did my website." -Tasky Alexandru
"Stefan is very professional and provides a great service. Stefan was willing to allocate his time and expertise to create the desired concept for my website. He added extra elements and critiques not only for my benefit but to be certain that a website developed my media pro would be professional, highly functional and maintain their good quality name." -Dave Cummins
"Very easy to talk to. Stefan created a website precisely as we asked him for. Very skilled and professional service." -5star Cleanbysteam
3. Armour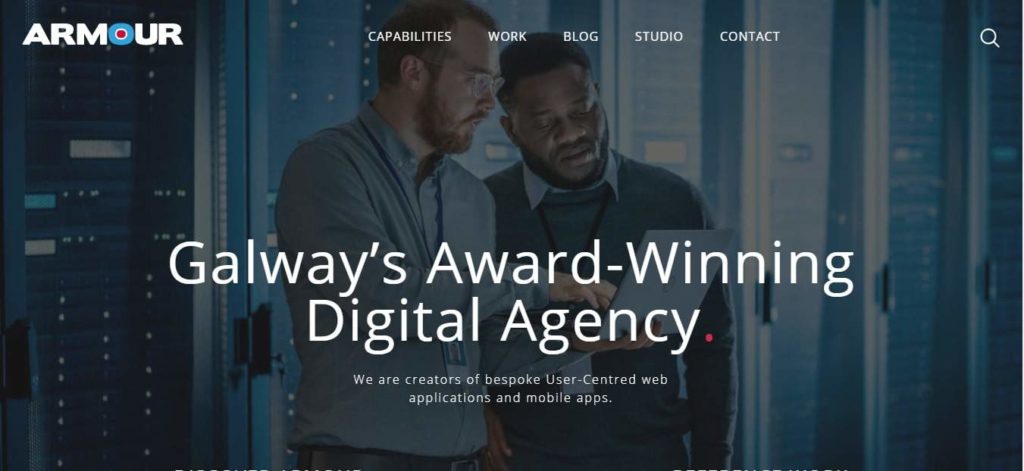 SERVICES
Research, web design, iOS/Android app design and development, web development, eCommerce, CRM integration, connected workflows, IoT and devices, and graphic design
WEBSITE
https://armour.ie/
ADDRESS
Corporate House, Ballybrit Business Park, Galway
CONTACT DETAILS
091 423 426


[email protected]

OPERATING HOURS
9:00 am to 5:00 pm (Monday – Friday)
Founded in 2010, Armour is a digital agency that has worked with some big-name clients such as Intel and Papa John's Pizza. This award-winning digital agency has a notable list of services businesses can benefit from.
We like them best for mainly two things. As WordPress experts, they pride themselves in coming up with customized WordPress websites—no themes, just bespoke websites based on your business, technical, user, and design needs.
Secondly, we can't help but be impressed by the research and planning processes they employ to come up with the best website or digital product for their clients.
With any project, they first conduct what they call a Needs Analysis which involves discussions about business goals, expectations, and scope of work, among others.
They also conduct interviews with the users of their clients' products as part of their research. Taking the info they've gathered in this phase, they use this to come up with User Personas.
User Personas help Armour's UX design team to solve user problems, thereby improving the overall user experience of your site.
What's more, if you already have a business website or application, they can also carry out research to determine problems with usability your customers encounter. These so-called usability studies aid Armour in creating solutions to solve user issues.
Bespoke WordPress websites
Offers mobile application design and development
Wide array of digital services
Customer Reviews
Check out a couple of rave reviews from their clients:
"Web design and corporate identity are really important for an internet marketing business. We were really happy with the great website that Armour Interactive developed for EzSales. It was really important for us to have a stand-out website, with excellent functionality and cool graphic design and Armour Interactive really hit the mark for us. We have recommended them to many of our clients as a result." -Sue Palmer
"I asked Armour Interactive to build my company website and they came up with a brilliant design. In no time my new website was up and running and I was reaching a whole new market!" -Joe Clarke
"Have worked with Armour as a client for over 1 year – really creative and on the ball – no messing – the best design & development co in the west!" -Derek O'Dwyer
4. Hopscotch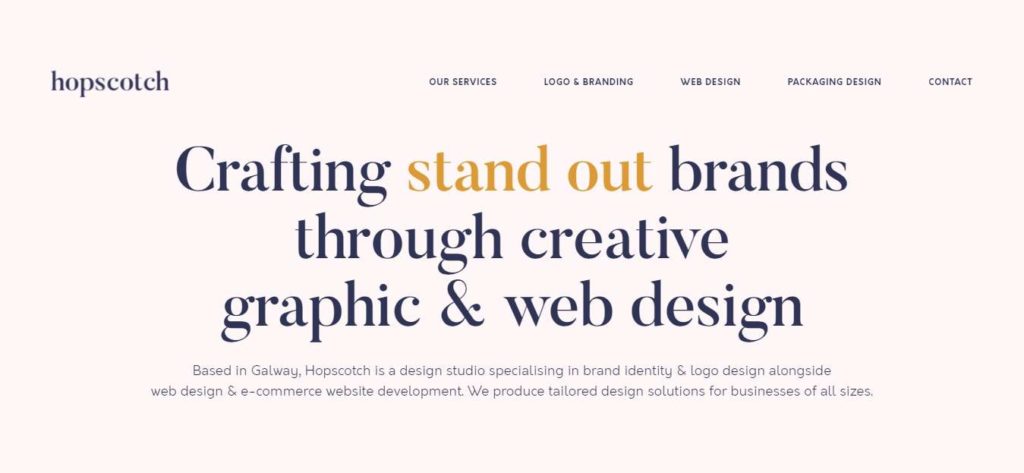 SERVICES
Web design, logo design and branding, packaging design, digital assets, and print design
WEBSITE
https://hopscotchmultimedia.ie/
ADDRESS
32 Lios Ealtan, Lower Salthill, Galway
CONTACT DETAILS
+353 85 8410289


[email protected]

OPERATING HOURS
10:00 am to 5:30 pm (Monday – Friday)
With specialities in web design along with branding and logo design, Hopscotch can make your business stand out. It's run by Orla Kirwan, a graphic and web designer who's handled Hopscotch since 2009.
What we like about this web design company is its focus on making clients' businesses stand out with its designs. Both their web and logo designs begin with research into your business needs to come up with a site and logo that's suited for your brand identity and target audience.
Hopscotch also ensures its websites are compatible across all devices and, of course, have user-oriented designs. Meanwhile, you can have printed materials such as flyers, brochures, and more created by them.
We also recommend them for your products' packaging needs with their aesthetic packaging designs. This will ensure that not only your website looks good, but the products showcased therein look appealing as well.
Works with all kinds of clients nationwide
Wide array of digital services
Customer Reviews
Check out a number of rave reviews from Hopscotch's clients:
"Thanks Orla for the website and all your tech help, it has been of huge benefit to my business. I would highly recommend Hopscotch Multimedia." -Eamon O'Reilly
"Thank you Orla for all the work you have done for me over the years. I would highly recommend Orla for website/graphic design. A real pleasure to work with you." -Eamon Delaney
"Orla worked on my website. She was patient and made great suggestions about the look and functionality of the website, in the planning phase. Her innovative web design allowed me to showcase my radio projects, as well as give some information about myself and my work. Orla was very professional and easy to work with. I would highly recommend Hopscotch!" -Alan Meaney
5. Heaventree Marketing and Design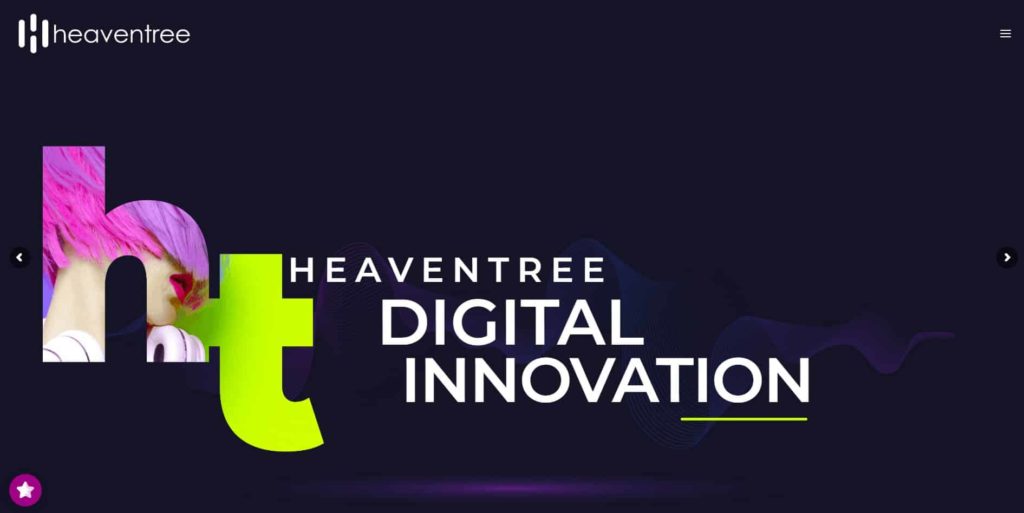 | | |
| --- | --- |
| SERVICES | Web design, SEO, graphics design, branding, and digital marketing |
| WEBSITE | https://www.heaventree.ie/ |
| ADDRESS | 4/5 High Street, Galway City Co, Galway, Ireland |
| CONTACT DETAILS | Tel: +353(91) 396 321 |
| OPERATING HOURS | 10am – 5pm Monday – Thursday |
Heaventree Digital specialise in Business Digitisation, Web Development, Fintech Development, Payment Solutions, SAAS Development, Branding Consultancy, eCommerce, and Technical SEO.
Established in 2008, Heaventree Digital are an agency with a worldwide presence, having their head office in Galway, Ireland and offices in Northern Ireland, India, Brazil, and the UK.
Since 2008 they have worked on over 800 web and software development projects, working with higher educational bodies, local government, the Government of Ireland, Global brands such as Subway to deliver bespoke cloud development.
In 2022 Heaventree partnered with Global payments giant RAPYD to bring cheaper merchant fees to online eCommerce in Ireland. Being the official partner in Ireland, Heaventree will deliver a number of new payment possibilities to Irish Business owners as well as a number of integrations across popular eCommerce platforms.
They ensure their web designs are compatible across different devices be it desktops, laptops, tablets, or mobile phones especially.
Moreover, clients can also expect fast-loading sites through Heaventree's premium Cloud web hosting. All their hosting packages come with unlimited emails, packages, Backups, and sub-domains, among others.
But if you think a good-looking and fast-loading website is enough to garner sales, it's not. That's why another reason Heaventree is on our list is because of their digital marketing expertise.
Marketing expertise aside from web design
Wide array of digital services
Worldwide presence
Customer Reviews
See what clients think about their services:
"We are delighted with our new website promotionalproductsireland.ie. Sean, Marta and Rob were great to deal with and we will be using Heaventree again for all future website work." -Gearoid Spellman
"Superb service from the team in Heaventree. They understood exactly what we needed in terms of functionality and also aesthetics with the development of our website. The result was better than we could have imagined ourselves. The plan drafted at the start of the project was carried out efficiently and not a progression target was missed! I cannot recommend Heaventree Design enough!" -CLS Recruitment Group Ltd
"Very efficient and professional team. Great to work with; very helpful and competitively priced. I love the website they designed for us. They have great attention to detail and were so helpful with slight changes I needed to make. It was so great to work with a team that are so good at their job." -Brega Howley
6. Digitaledge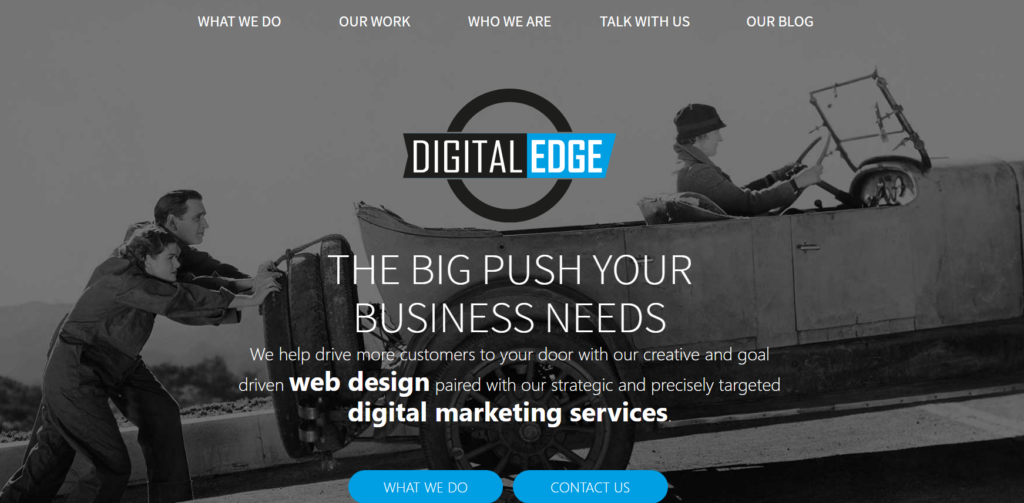 | | |
| --- | --- |
| SERVICES | Web design, digital marketing, and creative technology |
| WEBSITE | https://www.digitaledge.ie/ |
| ADDRESS | Galway Technology Centre, MERVUE BUSINESS & TECHNOLOGY PARK, Wellpark Rd, Galway, H91 T289, Ireland |
| CONTACT DETAILS | +353860275000 |
| OPERATING HOURS | 9:00 am to 6:00 pm (Monday – Friday) |
Digitaledge delivers web designs that excite, engage, and convert your tech savvy market, digital marketing services that will extend your brand awareness, reduce your costs, and drive customers to purchase and technical experience that delivers an interactive, secure and reliable environment.
Their team develops creative, technically advanced, and goal-driven websites focused on your customer's needs and expectations. They are passionate about delivering exceptional user experience that ultimately provides your business with more opportunities, leads, and sales.
They want to bring their unique experience to your business and to ensure that you have a road map that is creative, scalable, measurable, and ultimately profitable.
Whether your business requires mobile or web applications, a CRM integration, or a secure ecommerce platform, they offer the project management and technical skillset to take your business wherever it needs to go.
Customizes websites specifically for you
Reasonable rates
Customer Reviews
See what clients think about their services:
"I engaged Digitaledge to build my Website and although I tied Padraic's hands somewhat in the specifics of what I wanted, I found him a pleasure to deal with. He understood right from the first meeting what I was looking for and took the time to sit down with me on a number of occasions to make sure it was developing the way I wanted and that I was happy with it. I am delighted with the end result and would have no hesitation recommending Padraic and Digitaledge to anyone."
"I am delighted with the website Digitaledge built for me. Padraic was professional and supportive throughout the entire process."
7. Torc Web Design
SERVICES
web design, SEO, recovery, hosting, e-commerce, magento web design, content writing
WEBSITE
https://www.torcwebdesign.com/
ADDRESS
Torc Web Design, C/O Ocean Sports Centre, Harbour Business Park, New Docks, Galway, Co Galway, Ireland
CONTACT DETAILS
+353 86 253 1550


[email protected]

OPERATING HOURS
Mon – Thurs, 8:00am – 6:00pm
Fri, 8:30am – 5:00pm
Torc Web Design has been designing responsive websites since 2007. They accept new builds or improve existing sites for all types of businesses, whether it's just one page or a full ecommerce site.
We've checked their portfolio and we're impressed by how eye-catching some of their work is. But more than the design, we find the sites functional and easy to use—a great marker of well-thought-out websites.
What could be their process to come up with such pro-quality designs? They weren't as clear about it as the other companies we've looked into except for one thing: they offer unlimited design revisions.
That's a surprise even for custom-designed packages. But perhaps it's because they're confident they can hit the nail on the head after just a revision or two.
Torc Web Design's clients even vouched for their design competence, saying they explain options thoroughly, including what works and what doesn't. They also make sure all the websites they work on are successful.
Which brings us to the other services they offer that will make this possible: hosting, recovery after Google penalty, copy and content writing all in a range of pricing options.
They also have 100% Irish SEO service, which includes audit, keyword research and on-page SEO to help you rank in Google Ireland.
If you're interested but don't want to commit to anything yet, you can take advantage of the free quote they're offering. They promise to reply within one business day.
But as thorough as their services might be, they don't seem to offer support for their builds or mobile app development. We hope they do in the future, though.
Responsive designs
New builds or updating existing sites
Unlimited design revisions
Hosting services
No mention of support
No mobile app development
Customer Reviews
Highly recommended
"It's always a pleasure working with Niall and his team. They are reliable professionals that you can trust your business to, they do charge fair prices while helping to grow your business . To be noted that Niall is also a friendly and nice individual to deal with. We have been doing business with this firm for many years and they never failed to support or assist, we have been well looked-after throughout. Highly recommended." – Live in Sardinia, Google reviews
Top class work
"Top class work. Can't praise Niall enough. Always going that extra mile. I had no idea of the website world and Niall guided me through and created exactly what I wanted. SEO listings are spot on too, page 1 with everything we offer. I have no problem recommending Torc Web Design." – Colm Galvin, Google reviews
8. Web Design Company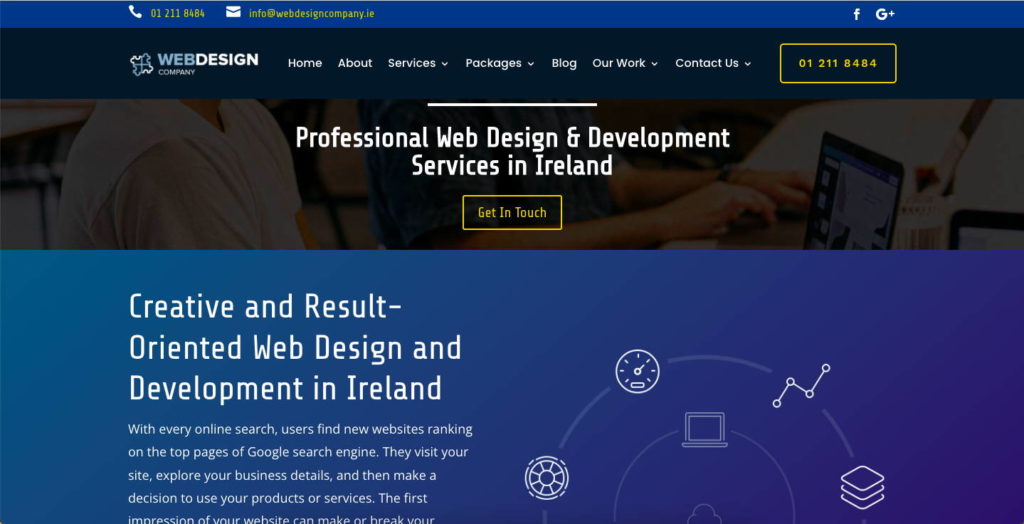 SERVICES
Web Design, Web Development, Website Maintenance, SEO, Hosting & SSL
WEBSITE
https://webdesigncompany.ie/
ADDRESS
Unit 12, ACE Enterprise park, Bawonogue Road, Clondalkin, Dublin, Dublin 22, Ireland
CONTACT DETAILS
Phone: 01 211 8484
Email:

[email protected]

OPERATING HOURS
Mon – Fri 08:00 – 18:00
Sat 09:00 – 14:00
Web Design Company understands that a website's first impression can either attract or deter potential customers, this is why they design and develop creative and result-oriented websites.
To ensure that they deliver their promise of providing top-notch designing solutions, their team constantly keeps up with the trends.
Plus, they're not only composed of web designers, but brand strategists, developers, storytellers and visualisers as well—all working together to create innovative web design services.
Another thing we like about them is that they have a customer-centered approach. All they want is to help you drive business growth.
Their commitment to cater to their customers' needs is evident in their process which includes a client discussion session, proposal and contract creation, draft and feedback, testing, and finally, the launch. They'll also help you with website maintenance on a consistent basis.
They offer their services for local businesses, eCommerce portals, start-ups, and even established businesses at a reasonable price.
You can also get a free enquiry from them through their website.
What we see that's lacking with them is a portfolio on their website to see the work they've actually done. However, they do have testimonials from their clients there.
Customer-centered approach
Affordable price
Free enquiry for their services
On call 24/7
No portfolio on their website
Customer Reviews
"Thank you again. I am extremely pleased with what you have produced for us. We have been particularly grateful for the customer service we have received. It is very impressive what you have done with the tight deadlines we had." – Patrick
"First class web design service, I cannot recommend them highly enough. They clearly understood what I was looking for and interpreted my brief precisely. They have an excellent structure for getting all the information from the client which takes away a lot of stress and makes the process easy. I now have another site I want to create and I won't be going anywhere else!" – Rian
9. Kickstart Web Design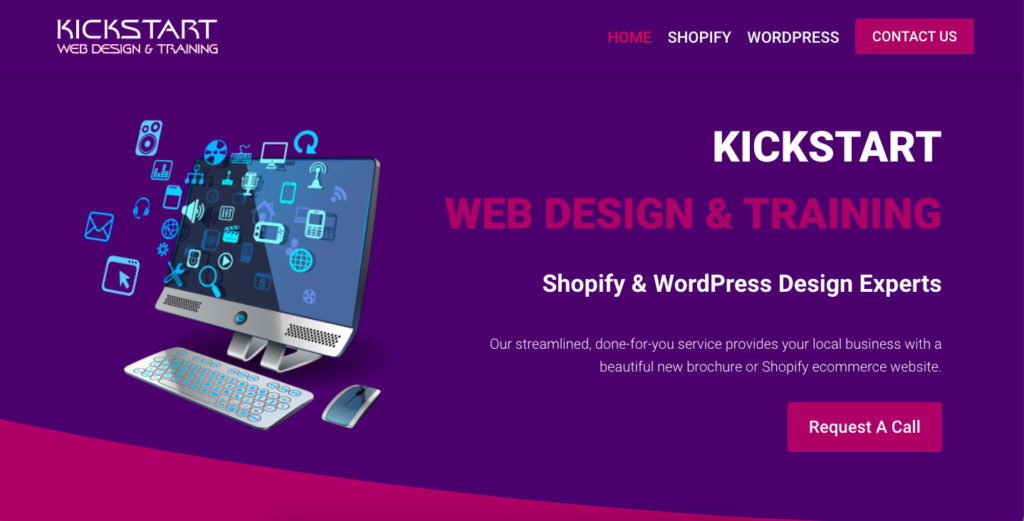 SERVICES
Web Design (Shopify, WordPress, Custom), Digital Marketing, & Training
WEBSITE
https://kickstartwebdesign.ie/
ADDRESS
Ballinasloe Enterprise Centre, Creagh, Ballinasloe, Co. Galway
CONTACT DETAILS
Email:

[email protected]


Phone: 087 9268272
OPERATING HOURS
Contact for more details
If you're a business owner looking to increase your online presence by creating a website, Kickstart Web Design can help you with that.
They know that each business is distinct, with its own goals, needs and resources. This is why they've made their packages in such a way that they can suit most of the requests they receive. This also helps set your expectations.
Their main services are a WordPress Brochure Package (€795) and three different Shopify Packages (€650, €1350, €2500). Don't think that you'll be limited to what's outlined in these packages though. They'll still be happy to discuss any changes you'd need!
What we think sets them apart is their streamlined process that cuts cost and time. It's as simple as a discovery call, choosing one of their premium themes and uploading your content in a central hub, and then they build your website. Easy!
You're sure that they know what they're talking about because they even have their own local online brand, Shuul Colours, they made a website for.
With all these, it's no surprise that we've added them to this list.
One thing though is that they mainly work with WordPress and Shopify, so if you're looking to use other platforms, it may be best to look at other options as well.
Set packages with their prices and inclusions are detailed in their website
Streamlined process
Operating hours unavailable
Packages mainly make use of WordPress and Shopify
Customer Reviews
"I would highly recommend Joe at Kickstart Web Design!! From beginning to end he had patience and great customer service. He had no knowledge of women's health or ultrasound, but worked with me consistantly to produce an excellent web site that I am so proud to call my own. Just look at his work….. Ultrasoundwomenscans.ie" – Veronica Smith
"After having an issue with our website that required a new site to be built thankfully we contacted kickstart Web design in a matter of days we had a better quality and more professional website then before. I can't thank the team at kickstart enough." – Ian Byrne
10. Ourside
Ourside is a digital design agency that offers a wide range of designer and website optimization options for companies that they handle to ensure that their user experience is nothing but smooth, accommodating, and consistent.
We like their approach toward each website wherein they not only focus on the aesthetics but also the convenience of the user interface and how consistent the website is when it comes to accessing it on a range of devices as well.
Another thing we find exemplary is their stages of procedure wherein clients get to be involved and have a proactive part from the consultation stage to that the final stage wherein clients get to see and check the final output before it will be formally launched on one of their servers.
With a 24-hour client response when it comes to any inquiries regarding their services, clients are assured that their site is safe from any digital threats that may occur at any time and affect its overall experience and usability.
Their past clients have since then commended them for their consistency and professionalism and have delivered not only sound advice but also those that are integral to keeping the company's image and identity as a brand.
Customizable services
Reliable and practical consultations
Smoother user interface
Customer Reviews
Here is a review from their client:
"Professional from start to finish. The team at outside designed and created a logo and branding for a business I'm involved in. They listened to what we had to say and delivered ten fold. Highly recommended."
11. Digital Sales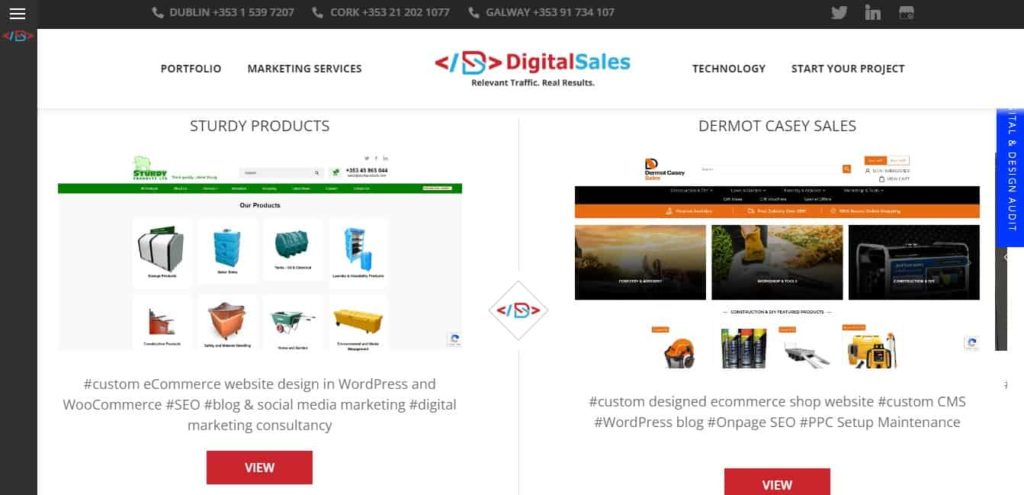 Digital Sales is a digital marketing agency that is both very knowledgeable and effective when it comes to digital design and various online marketing approaches to better help companies generate valuable leads and make a stronger impact online.
We like that all of their approaches are primarily results-driven and of world-class quality to ensure that from the website design to the implementation of the marketing strategy – it is tailored to the needs of the client.
From sales influence to digital presence execution, they are able to utilize and employ the latest and most innovative technologies and software to make the most out of their services.
Their case studies say it all since not only do they have skills to back up their strategies but also an exemplary and proactive communication system to better engage clients and progress toward the company's growth.
While their website contains comprehensive information regarding their services, clients will have to further inquire and get a quotation in terms of their rates.
Innovative technologies employed
Results-driven approach
Accommodating customer service
Operating hours unavailable
Customer Reviews
Here are some reviews from their clients:
"The work they did for us shortened the time we spend on the phone, and our booking process is much simpler." – Sean BreenCEO, Eco Plant Hire
"Although we didn't start the project with Digital Sales, they came in as a saviour at the end." – Gosis TuznikMarketing Manager, So Danca Store
How to Choose the Right Web Design Company
We've also gathered a few tips to further help you in your search:
1. Portfolio
A good web design company should be able to provide you with a portfolio showcasing their past work. This enables you to view the actual websites they've created for their clients and the kind and number of clients they've worked with.
Look especially for clients that belong to the same industry you're in.
2. See their own websites
A good web design company should, of course, have a great website! From their website alone, you can already get a taste of their expertise in web design.
See if it is updated, visually appealing, easy to navigate, and has a design geared towards providing a good user experience.
3. Uses responsive web design
Responsive web design is no longer an option but a necessity if you want to reach your target audience.
If a web design company tells you that they'll just create another website specifically for mobile because they can't make your site cross-device compatible, that's a red flag.
A good web design company should have the expertise to make a site that'll fit across different devices.
FAQs about the Best Web Design Companies in Galway
---
And that concludes our review for the best web design companies in Galway! We sincerely hope this article has helped you with your web design needs.
If you believe we may have missed out other great web design companies in Galway, please contact us. We'll check them out right away!
Are you a Dublin-based businessperson who can't find your own website on Google's first page? Looks like you need help—see our top picks for the best SEO companies in Dublin!