The 5 Best Naturopaths in Dublin 
Alternative medicines are lesser known than traditional medical care. For those looking for a more holistic approach to addressing health issues, naturopathy may be what you're looking for.
In this article, we explore the best naturopaths in Dublin that can guide and provide you with various resources on holistic care.
How much do naturopathy services cost?
Naturopathy services can vary from consultations to custom made tinctures.

These prices could be based on the duration of the sessions or the nature of the treatment. Cost is also influenced by the ingredients needed for any herbal medicines and mixtures.
Below is a list of prices of different services and products we found.
CLINIC OR PRACTITIONER
SERVICE DETAILS
PRICES
Aok Nutrition

Gut Health Consultation

Food Intolerance Test + In Clinic Consultation

€85

€195

Bia Beo

12 Week Transformation Program, Ultimate Support Package

Initial Holistic Health Consultation

€800

€85

Well Being Dublin

Initial Herbal Medicine or Naturopathy Consultation

Initial Follow Up

€80

€45

Rita Tarvydaite

Initial Consultation

Personalized Herbal Formulas

€80

€7 to €20

Breath of Life Natural Healing Clinic

Naturopathic Consultation

Herbal Tincture for 3 Weeks

€80

€38
Top Naturopaths in Dublin
We assessed each naturopath according to the following criteria:
1. Aok Nutrition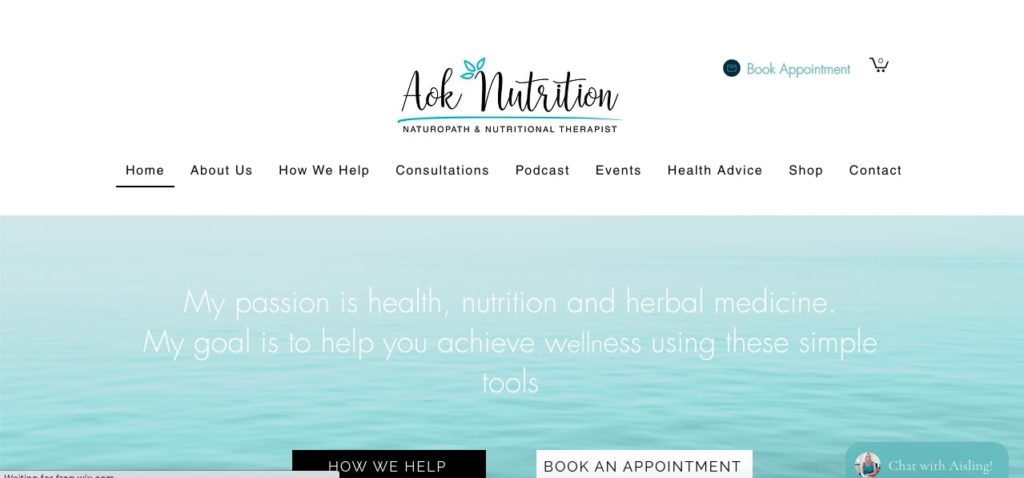 Test
Info
SERVICES

Gut Health Clinic, Nutrition Consultations

Herbal Medicine, Naturopathic Medicine

Online Shop

WEBSITE
https://www.aoknutrition.com/
ADDRESS
10 Village Court Portmarnock Dublin Co. Dublin
CONTACT DETAILS
Phone: 00 353 (0) 1 846 0942

EMAIL: [email protected]

OPERATING HOURS

Monday: 9:30 AM to 4:30 PM

Tuesday: 9:30 AM to 5:00 PM

Wednesday to Thursday: 9:30 AM to 5:30 PM

Friday: 9:30 AM to 1:00 PM
| | |
| --- | --- |
| Selection | ★★★★★(5/5) |
| Consultation and programs | ★★★★★(5/5) |
| Products | ★★★★★(5/5) |
| Prices | ★★★★☆(4/5) |
| Background | ★★★★★(5/5) |
| Customer feedback | ★★★★★(5/5) |
| Approach and attitude | ★★★★★(5/5) |
| Satisfaction | ★★★★★(5/5) |
Aok Nutrition is run by Aisling Fox, who has a considerable amount of experience and qualifications in the field. She is the daughter of Roisin O'Kelly, who runs the Breath of Life Natural Healing Clinic, where Aisling has worked for numerous years.
Aisling herself is a qualified nutritional therapist with expertise in multiple areas of interest including Chinese diagnostics, herbal medicine and more.
If you're looking for a naturopath with exemplary background and knowledge on the nutritional aspect, we highly recommend Aok Nutrition.
In terms of their naturopathic services, we like that they are flexible and adaptable to treat multiple types of health concerns. From immune dysfunctions to skin conditions, this clinic has the know how and capabilities to give you guidance.
We also like how thorough they are when it comes to their procedures and outputs. For example, in the nutrition consultations they can give customers personalized plans, meal examples, herbal tonics, supplement recommendations and more.
Customers will also find it very convenient that they can book appointments 100 days in advance. However, keep in mind that Aok Nutrition has a cancellation policy, which if not followed will result in additional charges.
If you're on the lookout for a naturopath with particular interests in nutrition, fertility and gut health, Aok Nutrition may just be the right clinic for you.
Can book an appointment 100 days in advance
Highly knowledgeable expert with great attitude
Great selection of packages to choose from, good for gut and women's health concerns
Very thorough programs and consultations
Cancellation policy charges
Follow up sessions are slightly pricey
Customer Reviews
Highly Knowledgeable
I would highly recommend Aisling she has changed my life for the better after 9 years of going back and forward to doctors and hospitals taking tonnes of tablets sje set me on a new path to a healthier happier me i no longer suffer with reflux and heartburn on a daily basis her knowledge of her field of profession is is next to none so grateful to have have found aok nutrition -Mark Ross
Very Friendly and Gave Super Tips
I visited Aisling for a food intolerance test and I went away feeling refreshed and ready to make manageable changes to my diet and lifestyle. She was so knowledgable and gave super tips and ideas on how to manage the foods that don't agree with me. It was the start of a super gut-healing journey from a very friendly and helpful therapist. Keep up the super work!! And thank you -Ashling Larmer
2. Bia Beo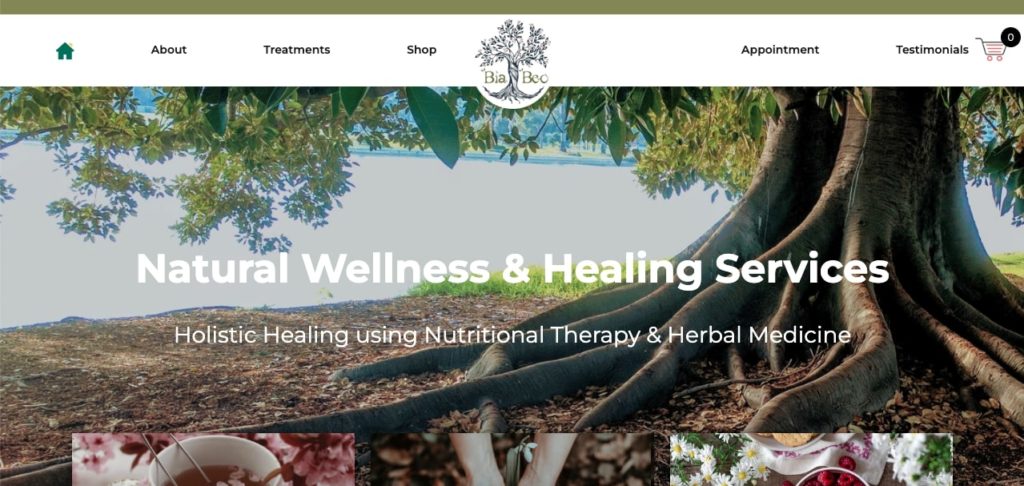 Test
Info
SERVICES

Holistic Health Consultation

Transformation Programme

Gut Healing Programme

Bia Beo Detox Programme

Food Intolerance Testing

Online Shop

WEBSITE
https://biabeo.ie/
ADDRESS
25 Suffolk St, Dublin 2
CONTACT DETAILS
Phone: +353 85 134 5938
OPERATING HOURS

Monday, Thursday, Friday: 11:00 AM to 5:30 PM

Tuesday: 12:00 NN to 8:00 PM

Wednesday: 12:00 NN to 5:30 PM
| | |
| --- | --- |
| Selection | ★★★★★(5/5) |
| Consultation and programs | ★★★★★(5/5) |
| Products | ★★★★☆(4/5) |
| Prices | ★★★★☆(4/5) |
| Background | ★★★★★(5/5) |
| Customer feedback | ★★★★★(5/5) |
| Approach and attitude | ★★★★★(5/5) |
| Satisfaction | ★★★★★(5/5) |
Founded in 2014 by Rachel Jordan, Bia Beo has some extensive and detailed programs that have really helped customers with various health concerns.
Rachel is an herbalist and member of the Nutritional Therapist of Ireland Association. She also has particular training on the subjects of fertility care and natural birth control.
We were very impressed by the range of services and courses that Bia Beo provides. They have longer durations and additional features that most other clinics don't offer.
Their holistic health consultation alone, takes an approach that combines herbal medicine, nutritional therapy and lifestyle changes.
Under this category as well, their essential support package provides consistent contact with the patient for 12 weeks. This includes personalized plans and discounts to their other services as well.
We would caution, however, that these packages may be a bit pricier than your average naturopathy consultation because of their longer duration, so just keep that in mind.
We do, however, like that there are 3 different tiers of packages available, each with different frequencies of engagement.
Bia Beo also offers a transformation programme and a detox programme. These can help keep patients on track with their goals as well as provide personalised formulas depending on the need.
Many past patients have been very pleased with the results they garnered. All in all, Bia Beo proves to be the perfect option for those looking for in-depth programmes with different levels of packages to choose from.
Can help address a wide variety of issues
Highly qualified founder with a lot of experience
Well thought out and detailed programs
Also has a detox program and food intolerance testing service
More expensive packages
Online shop is quite limited
Customer Reviews
Fantastic Results
My experience with Rachael was incredible, she changed my life. I had several stomach problems related to food intolerance, bad habits and poor diet and I followed the 12 weeks essential support package, Rachael was very professional and supportive, she guided me through the entire process and the results were unbelievable, at the end of the programme all my issues were gone and nowadays I am much healthier, my gut is healed and I have much more energy. -Chris
Results have been Amazing
I can't recommend Rachael enough, she was brilliant through the 12 week plan I did. For a couple of years now I suffered with my stomach and diet, having being sent to numerous doctors test results were coming back clear. When I met Rachael she found that was intolerant to certain foods, for the 12 weeks I eliminated these foods and also went gluten free to allow my gut and body to heal. The results have been amazing, I feel so much better and I can't thank Rachael enough for all her help and support. I would have no hesitation in recommending Rachael to family and friends. -Lorna Bolger
3. Well-Being-Dublin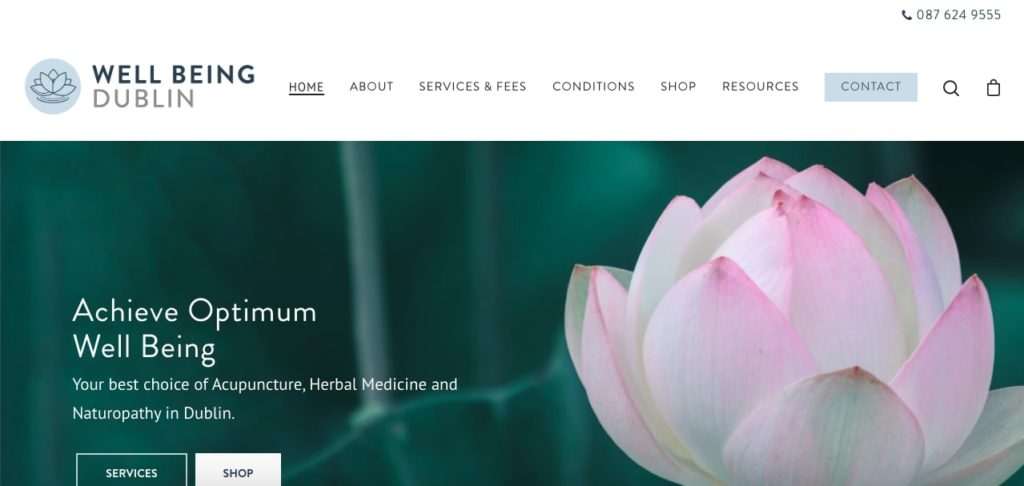 Test
Info
SERVICES

Acupuncture, Herbal Medicine, Naturopathy

Corporate Well Being Dublin

Workshops and Classes

WEBSITE
https://well-being-dublin.com/
ADDRESS
19 Kincora Park, Clontarf, Dublin 3
CONTACT DETAILS
Phone: 087 624 9555

EMAIL: [email protected]

OPERATING HOURS

Tuesday to Thursday: 10:00 AM to 3:00 PM
| | |
| --- | --- |
| Selection | ★★★★★(5/5) |
| Consultation and programs | ★★★★★(5/5) |
| Products | ★★★★☆(4/5) |
| Prices | ★★★★★(5/5) |
| Background | ★★★★★(5/5) |
| Customer feedback | ★★★★★(5/5) |
| Approach and attitude | ★★★★★(5/5) |
| Satisfaction | ★★★★★(5/5) |
With a wealth of different holistic based services at their fingertips, Well-Being-Dublin is excellent for their convenience and comforting atmosphere.
Anne Hughes is a highly experienced acupuncturist, who has a masters in psychology, philosophy and addiction studies.
It's her background which makes the combination of services available at Well-Being-Dublin so complementary to one another. Their business can help out with health issues, pain and psychological problems, all under one roof.
Their naturopathy services are customized to each person's need, helping out through herbal botanical medicine, lifestyle counseling and more.
On the same note, we like that their online shop makes delivery and payment convenient. Customers are able to purchase their personalized mixtures and have them delivered through the function.*
We would, however,advise you to read their guidelines on delivery and collection beforehand as they have rather limited operating hours. Open from Tuesday to Thursday until 3pm, this may be limiting to the amount of sessions for customers.
However, Anne Hughes also offers acupuncture and herbal medicine, which we think go really well with their naturopathy service. There's a good amount of options for packages to choose from which is great for different types of customer needs.
Overall, Well-Being-Dublin is a solid choice for the synergy of their different services as well as the expertise Anne Hughes has to offer.
Considerable amount of experience and expertise from Anne Hughes 
Convenient online shop function
High praise of customers for the comfortable atmosphere
Good amount of variation in packages, services and programmes
Much more limited operating hours
Stricter return and refund policies
Customer Reviews
Extremely Professional
I have had the pleasure of being treated and advised by Anne on several occasions. The latest was last Tuesday when I had acupuncture session to balance the systems in the body. I found the treatment of huge benefit and felt very at ease after the session and in the days that followed. Anne is extremely professional and has a wealth of knowledge gleaned from years of practice. She shares this knowledge and goes the extra mile to make sure you receive what is needed. She is warm, friendly, kind and passionate about what she does. I would highly recommend Anne as a therapist that will make a positive impact on your health concerns. Thank you Anne. -Elaine Mclaughlin
Carefully Attended To
I had my first treatment with Anne, and I thought that she was fantastic! I felt comfortable to open up to Anne about my personal situation and I felt that my purpose for booking the session with Anne was carefully attended to. I learned a lot through the session in terms of why she was working with certain acupuncture points, and I felt nurtured – Anne stayed in the room, made sure I was comfortable, and that I was enjoying the music! 🙂 Anne has a lovely, open personality and I would recommend her for Acupuncture and Herbal Remedies 🙂 -Amanda McKnight
4. Rita Tarvydaite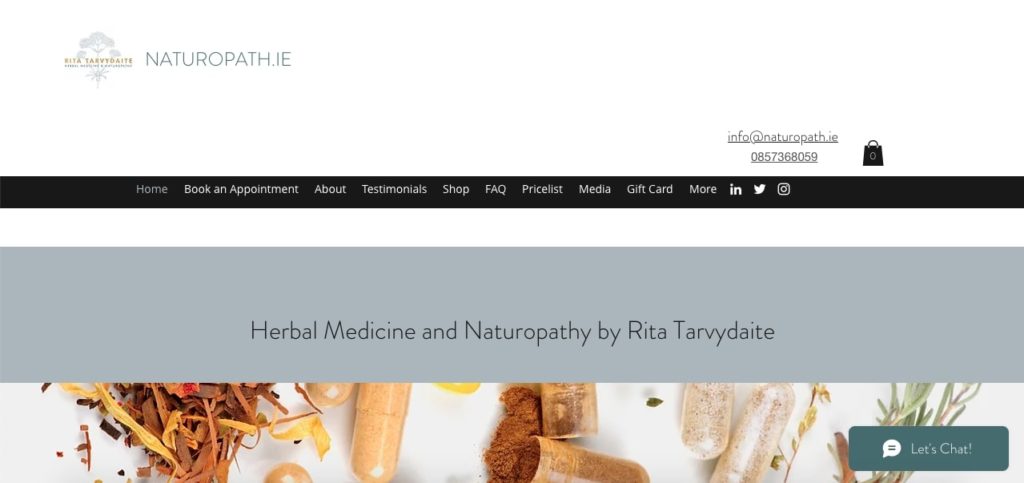 Test
Info
SERVICES

Personalised Herbal Prescriptions

Naturopathic Consultation

Food Intolerance Testing

Stool Analysis, Saliva Testing

WEBSITE
https://www.naturopath.ie/
ADDRESS
Dublin, Ireland
CONTACT DETAILS
Phone: 0857368059

EMAIL: [email protected]
| | |
| --- | --- |
| Selection | ★★★★☆(4/5) |
| Consultation and programs | ★★★★☆(4/5) |
| Products | ★★★★☆(4/5) |
| Prices | ★★★★★(5/5) |
| Background | ★★★★★(5/5) |
| Customer feedback | ★★★★★(5/5) |
| Approach and attitude | ★★★★★(5/5) |
| Satisfaction | ★★★★★(5/5) |
Rita Tarvydaite offers a highly curated naturopath service, which makes her business more approachable and efficient.
Her background however is quite expansive, able to help customers with a variety of concerns. She's a qualified medical herbalist who is well versed in prescribing nutritional supplements, giving dietary guidance as well as helping with skin concerns.
However, consultations are done primarily remotely which may not suit customers looking for more of in person interactions. It may be more convenient for people who are located quite far away, though.
We really like the time and effort Rita Tarvydaite takes to make each service suitable and bespoke to the patient. This includes examining health history and advising on lifestyle changes as well as herbal formulas.
We particularly appreciate that Rita Tarvydaite has quite a range of different prescription formats to choose from. There are more affordable options, and smaller amounts for herbal teas, powders, syrups and more, but of course this will depend on her advice.
The prices of these prescriptions are subject to change but we highly suggest checking out her pricelist on her website.
Previous customers really highlight her approach and clarity in dealing with them in each session. We greatly suggest checking out Rita Tarvydaite and her very personalized consultations and products.
Consultations cover all areas of health including female health, children's health, immunity/allergies 
Extensive experience and expertise 
Great feedback and satisfaction from clients 
Remote consultations can be attended from anywhere in the world 
Online shop available for supplements and herbs
Follow up consultations are limited to 30 mins
More limited amount of additional services compared to other naturopaths
Customer Reviews
Super Clear Guidance
Delighted with my experience working with Rita to date. Thanks to her super clear guidance and recommendations, my eczema has been reduced dramatically and allergic reaction improved a ton. Grateful for the chance to work with her! -Amanda Mclellan
Great Improvements
Rita's treatment has allowed me to overcome years of severe "foggy head" symptoms. Her care has also improved my energy levels and supported my overall well-being. I am immensely grateful to her and I 100% recommend her. -Ana B. Morán
5. Breath of Life Natural Healing Clinic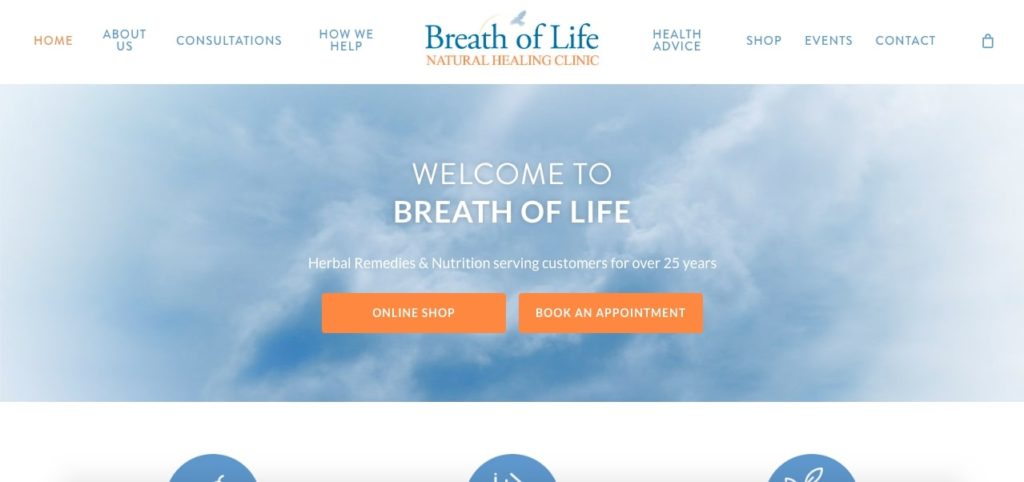 Test
Info
SERVICES

Naturopathy Consultations

Fertility Consultations

Herbal Remedies

Online Shop

WEBSITE
https://bolhealing.com/
ADDRESS
10 Village Court Portmarnock Dublin Co. Dublin
CONTACT DETAILS
Phone: 00 353 (0) 1 846 0942

EMAIL: [email protected]

OPERATING HOURS

Monday, Thursday: 9:00 AM to 4:00 PM

Tuesday: 9:00 AM to 2:00 PM

Wednesday, Friday: 9:00 AM to 1:00 PM
| | |
| --- | --- |
| Selection | ★★★★★(5/5) |
| Consultation and programs | ★★★★☆(4/5) |
| Products | ★★★★★(5/5) |
| Prices | ★★★★★(5/5) |
| Background | ★★★★★(5/5) |
| Customer feedback | ★★★★★(5/5) |
| Approach and attitude | ★★★★★(5/5) |
| Satisfaction | ★★★★★(5/5) |
Breath of Life Natural Healing Clinic is perfect for customers looking for dependable source and longstanding history as the clinic was founded back in 1994 by Róisín O'Kelly.
Her background in the field is exemplary with training in holistic dietetics, herbal medicine and reflexology. She has also lectured on naturopathy and herbalism at Griffith College for around 13 years.
Other members of the team also have qualifications in various areas such as yoga and children's nursing. We think that customers will greatly appreciate the expertise the clinic has to offer.
Their naturopathic consultations help target not only the focused health concern but also the holistic lifestyle of the patient. Better sleep and less stress are also some benefits that past patients have received.
We do wish, however,that there was more variation in the types of online consultations they conduct despite the convenience and affordability.
Aside from this, Breath of Life Natural Healing Clinic can also help through fertility consultations. This service is equally as detailed, with considerations of family history, diet, exercise and other attributes.
We find this especially helpful for mothers looking to conceive.
In the end, Breath of Life Natural Healing Clinic's history of happy customers, outstanding knowledge and attention to detail, makes them a top choice as a naturopath in the area.
Highly knowledgeable team 
Also offers fertility consultations
Personalized bottles of herbal remedies help treat an assortment of problems
Customers report high satisfaction and good results
Less variations in follow up consultations
Cancellation policy charges
Customer Reviews
Incredibly Knowledgeable and Helpful
Roisin and Aisling have helped me go from bed bound with severe fibromyalgia and fatigue to feeling back to 100% over the course of a few months. They are the most incredibly knowlagable and helpful people. Would highly recommend the personalised herbal remedies and nutrition plans. -Aimee Grimes
Advice and Treatment is Always Successful
I highly reccommend rousin and Ashling the advise and treatment is always succesful in the healing process ' beautiful hearts 😍♥️♥️happy new year and many blessings for this year 2019' ! -Sandra Fagan
FAQs about Naturopaths and Naturopathy
---
There are many moving parts to consider when it comes to naturopathy which is why it's important to find the best experts and resources.
We hope our list helps you out and if you would like to read more, we also have an article on the 5 habits to develop a healthier lifestyle.