5 of the Best Pet Shops in Ireland
Pets can be a great addition to a home whether it be a large family dog, an affectionate cat or even a small bird. However, it takes a lot to maintain a pet which is why every owner needs to know their available resources.
We took a look at some of the best pet shops in Ireland to help you find the perfect essentials for your favorite furry buddy.
How much do pet shop products and services cost?
Because there is a wide variety of pets out there, pet shop products usually have a vast range as well. From different brands of food to grooming services, a pet store can have anything your pet needs to live a healthy and happy life.
More and more pet stores have also been offering delivery services for better convenience. To help you get a better idea of your costs, we've gathered the average estimated prices for common products in the table below.
Top Pet Shops in Ireland
We assessed the pet shop based on the following criteria:
1. Shauna's Pet Shop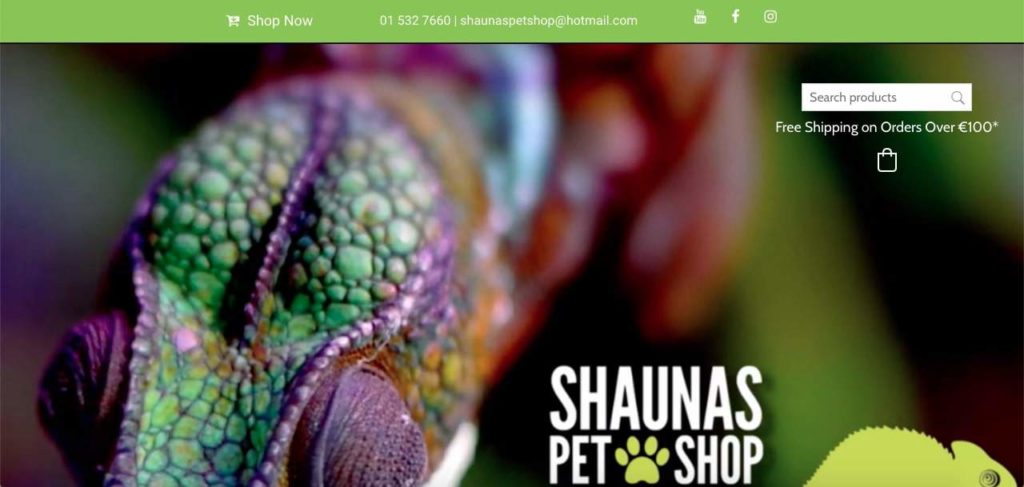 Test
Info
SERVICES
Pet Supplies, Subscription Boxes, Pets for Adoption,
WEBSITE
https://www.shaunaspetshop.ie/
ADDRESS
Ground Floor & Basement, 5 Capel St, Dublin 1
CONTACT DETAILS
01 532 7660,

[email protected]

OPERATING HOURS
Monday to Saturday: 10:00 AM to 7:00 PM

Sunday: 12:00 PM to 6:00 PM
| | |
| --- | --- |
| Range | ★★★★☆(4/5) |
| Pet products | ★★★★☆(4/5) |
| Additional Services | ★★★★☆(4/5) |
| Accessibility | ★★★★★(5/5) |
| Delivery service | ★★★★★(5/5) |
| Customer service | ★★★★★(5/5) |
| Expertise | ★★★★★(5/5) |
| Friendliness | ★★★★★(5/5) |
Shauna's Pet Shop provides not only a great range of pet supplies, but also very helpful consultations and services which makes it a good pick for your next pet store visit.
They are an independent and award-winning pet store with a knowledgeable team of zoologists curating their range of pet supplies. We were very impressed by how well selected their products are, from food to tools.
These supplies include choices for dogs, cats, reptiles, fish, small pets and birds. What's more is that there are various options for pets with different needs such as grain-free dog food or live plants for aquariums.
Shauna's Pet Shop also has subscription boxes that pet owners can have delivered. Currently on the site, they have packages for hamsters and rabbits that contain treats and toys for € 29 a month.
We like that in terms of products Shauna's Pet Shop offers a variety in brands, kinds, and set packages. You won't have any problem finding your preferred product in here.
What we also found interesting is their section for pet adoption which is a page full of information and dedicated to a specific animal in need.

We appreciate how the information includes a background on what conditions would suit the pet and on top of that, the adoption fee would be fully donated to an animal charity.
Other services we find very convenient include rabbit and guinea pig nail clipping, aquarium water testing, and free consultations. These services are perfect especially for the beginner owner.
We do advise to check the website or call ahead because some of the products they carry can sell out quickly!
Free shipping on orders over € 100
Has subscription boxes for pets
Excellent range in pet supplies
Offers free consultation, rabbit and guinea pig nail clipping and aquarium water testing
Slightly higher priced products
Some popular products may be out of stock
Customer Reviews
Diverse Selection of Products
I've been shopping here for pet stuff for a while now. Shauna's pet store is definitely one of the best pet stores in Dublin, in my opinion. Nothing but positive feedback for this place. They sell a really diverse selection of products for your pets including food, hygiene products and toys. There's a lot to choose from and the staff are always so friendly. The toys are very very durable. The woof and purr pizza toy is able to withstand two hyperactive Jack Russell Terriers so I recommend them. They sold us this cuddly octopus toy too and the dogs are delighted! – Jordan Kevin Magtaan
Everything You Need
Shauna's is my go to for anything I need for my pets. They've never let me down for anything I needed for my snake. So many places will stock bits and pieces for most animals but Shauna's will have everything you'll need so no need to go hunting around loads of places. Plus the staff are just so lovely to chat to about anything animal. – Eimear McCole
2. Petstop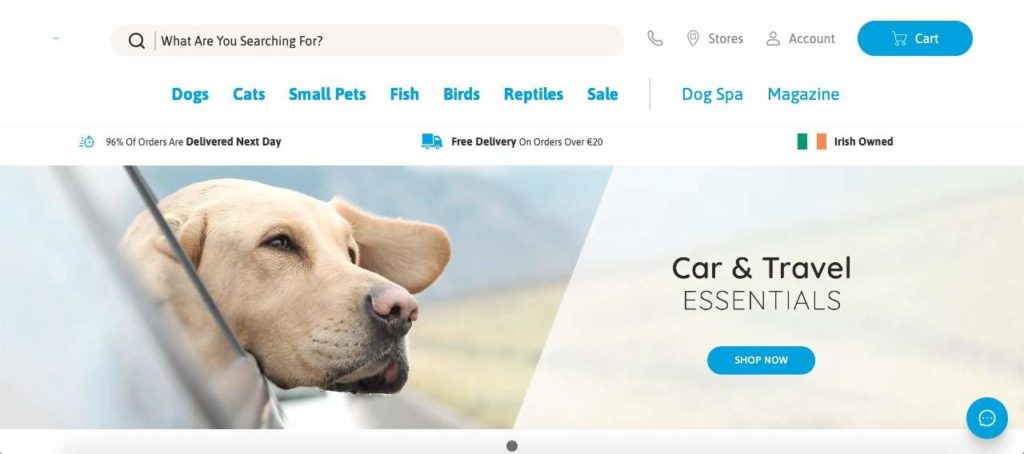 Test
Info
SERVICES
Pet Supplies, Dog Spa
WEBSITE
https://www.petstop.ie/
ADDRESS
Swords Dublin Branch Unit 4, Airside Retail Park, Swords, Co. Dublin
CONTACT DETAILS
01 6875016,

[email protected]

OPERATING HOURS
Monday to Wednesday: 9:30 AM to 6:00 PM

Thursday: 9:30 AM to 9:00 PM

Friday: 9:30 AM to 8:00 PM

Saturday: 9:30 AM to 6:00 PM

Sunday: 10:30 AM to 6:00 PM
| | |
| --- | --- |
| Range | ★★★★★(5/5) |
| Pet products | ★★★★★(5/5) |
| Additional Services | ★★★★★(5/5) |
| Accessibility | ★★★★★(5/5) |
| Delivery service | ★★★★★(5/5) |
| Customer service | ★★★★☆(4/5) |
| Expertise | ★★★★★(5/5) |
| Friendliness | ★★★☆☆(3/5) |
With eight large superstores across Ireland, Petstop carries a fantastic range of products and services. In each of their stores they have a highly trained specialist, who will give you advice on animal care, health, and even a consultation on getting a pet.
We were most impressed by how their products and expertise work so well to make a good customer experience.
They have a vet and vet advice partner via Petfix Club, which is a great resource to have if you're also looking for more in-depth pet health guidance.
Their product selection accommodates a range of brands for dogs, cats, birds, fish, reptiles, and small pets. These small pets even have products for rats, degus, ferrets, gerbils, and chinchillas, which are more uncommon.
Petstop also has a dog spa that provides dog grooming! This makes them a great all-in-one stop if you're looking to buy both your pet essentials while having a maintenance grooming day for your dog.
It would also be nice to consider Petshop's subscription service for your pet's favorite supplies. This service delivers nationwide and with free shipping if the order is over € 20.
This free shipping is also applicable to all orders on the site however, there are limitations to the appointments and branches for the dog spa, so make sure to look at the information in advance.
Dog spa service
Great range and depth of pet supplies
Has products for rats, degus, ferrets, gerbils, and chinchillas
Offers a subscription service
Different operating hours per day of the week
Dog grooming service limited to three branches and one appointment per dog
Customer Reviews
Very Knowledgeable and Provided Great Tips
Lovely store with great people working there. Was talking with Susan yesterday and she was so knowledgeable and willing to talk to us for a long as we needed. We have a new puppy and she gave us some great tips to help us get him sorted at home. – Brendan Mooney
Quick and Efficient
I use petstop all the time for buying food for my dog and cat and find them very quick and efficient and easy to contact if there are any queries or problems that need to be sorted. – Frances
3. Pets R Us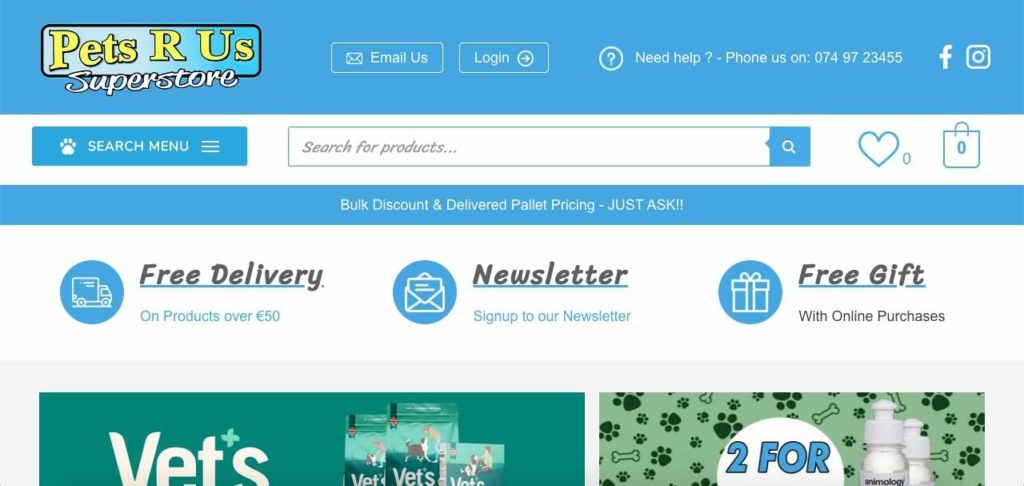 Test
Info
SERVICES
Pet Products, Water Testing, Nutritional Advice, Fittings
WEBSITE
https://petsrus.ie/
ADDRESS
Drumlonagher , Donegal Town, Co. Donegal
CONTACT DETAILS
074 97 23455,

[email protected]

OPERATING HOURS
Monday to Saturday: 10:00 AM to 1:30 PM; 2:30 PM to 6:00 PM
| | |
| --- | --- |
| Range | ★★★★★(5/5) |
| Pet products | ★★★★★(5/5) |
| Additional Services | ★★★★★(5/5) |
| Accessibility | ★★★★★(5/5) |
| Delivery service | ★★★★☆(4/5) |
| Customer service | ★★★★★(5/5) |
| Expertise | ★★★★☆(4/5) |
| Friendliness | ★★★★★(5/5) |
A large pet retailer established in 2012, Pets R Us has since grown their product and service range to provide a helpful and friendly experience for all of their customers.
Their product selection includes shock absorbing leashes, nutrient rich pet food, items for health and hygiene and even informative books on animals. We like that in terms of pet supplies, Pets R Us offers products for both essentials and advice.
However, their selection of items go further than this, even extending to some unique categories. They also have products for horses and goats including, feed mixes, wound cream and pellets.
If you do own these more unique animals, Pets R Us is a great option to collect some supplies.
We also really like the different services they offer which includes water testing, nutritional advice, and accessory fittings.
The fitting service is applicable for collars, headcollars, muzzles, coats, and harnesses. We think it's very helpful especially for dogs of irregular sizes and aids owners in deciding which size of accessory is best for their pet.
On the other hand, water testing is geared towards fish and their new habitat in your home. We especially think this service is unique as most fish owners don't think of the effects of the tank's water composition on the fish's health.
We really do appreciate how Pets R Us' expertise helps owners out there in terms of the pet's comfort and habitat. We do advise to check their delivery policy ahead as there are some constraints and conditions for the fees in terms of the items' weight.
Offer some products for goats and horses
Has services for water testing and accessory fitting
Knowledgeable and helpful staff 
Good range of pet supply selection
Conditions for delivery
Closed on Sundays
Customer Reviews
Fast Delivery with Great Free Gift
Fantastic service. I ordered yesterday morning and delivery just arrived now. Dogs loved their free gift. Thank you so much. I will definitely be a return customer. – Ann Mullen
Fantastic Customer Service
Ordered Wednesday lunchtime to Curracloe Wexford 20 kg bag of sunflower hearts and came the next morning at 11am . Fantastic customer service and great speedy delivery. Will be recommended this shop to my friends as the price was very reasonable and got an extra little gift when delivered. Thank you – Annabel Sheridan
4. The Pet Centre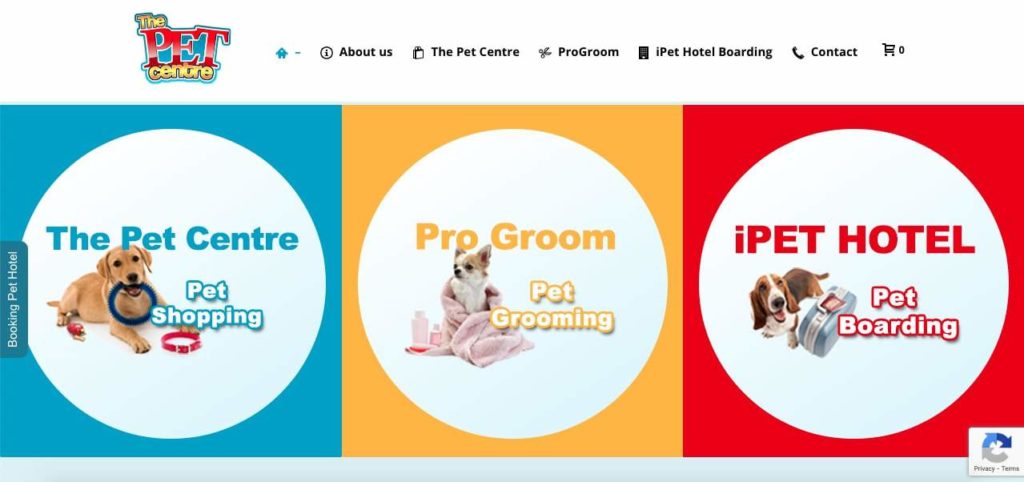 Test
Info
SERVICES
Pet Shopping, Pet Grooming, Pet Boarding
WEBSITE
https://thepetcentre.ie/
ADDRESS
1 Linenhall St, Townparks, Dundalk, Co. Louth
CONTACT DETAILS
042 933 1664
OPERATING HOURS
Monday to Saturday: 9:30 AM to 6:00 PM

Sunday: 1:00 PM to 5:00 PM
| | |
| --- | --- |
| Range | ★★★★★(5/5) |
| Pet products | ★★★★☆(4/5) |
| Additional Services | ★★★★★(5/5) |
| Accessibility | ★★★★☆(4/5) |
| Delivery service | ★★★★★(5/5) |
| Customer service | ★★★★★(5/5) |
| Expertise | ★★★★★(5/5) |
| Friendliness | ★★★★★(5/5) |
The Pet Centre's diverse set of products and service makes it very attractive as your next choice for a pet shop visit. Their experience probably goes the farthest, originating way back into the 1960's.
Presently, however, they continuously update new services that make them advanced in both products offered as well as customer service.
Their offerings can be divided into three main categories. The first, which is pet shopping, provides customers with a solid assortment of products such as insect sprays, basking lamps and of course food.
The second category that they offer deals with pet grooming. It's a great opportunity for owners to have their pets cared for through baths, styling, worm treatment, nail clipping and microchipping to name a few.
It really is impressive with how many conditions they are able to treat. We like that they even make it convenient by offering different packages depending on the type of hair their pet has.
Lastly and probably most uniquely, they offer a pet hotel in which The Pet Centre accommodates, entertains and feeds animals of different kinds during their stay. It's a great choice if you're looking to have your pet watched over during your busy schedule.
We also really like that they offer a cat/kitten rehoming center where customers can see if they would like to be the proud owner of a new pet. The Pet Centre has a good background in this area with rehoming over 1000 cats already!
Do take note though that they have more products in-store than online. So it would be best to pay a visit to their physical store instead to browse for items in person.
Pet hotel accepts different kinds of pets
Pet grooming offers treatments for aesthetics and conditions
Have a good assortment of products
Provide a cat rehoming center
Short operating hours on Sunday
More limited amount of products shown online
Customer Reviews
Friendly and Enthusiastic Staff
The staff are so friendly and and are so enthusiastic about their work. Would definitely recommend this place to anyone I know. They looked after our cat so well over the weekend. We will definitely be back – Alan Englishby
Highly Recommended
Been coming here for years. They are a family run business and have been here for years and years. They have great knowledge . The Young lady with the long red hair is so polite and helpful. We would highly recommend this pet shop. – Eamon Rogers
5. Irish Rosettes Pet Shop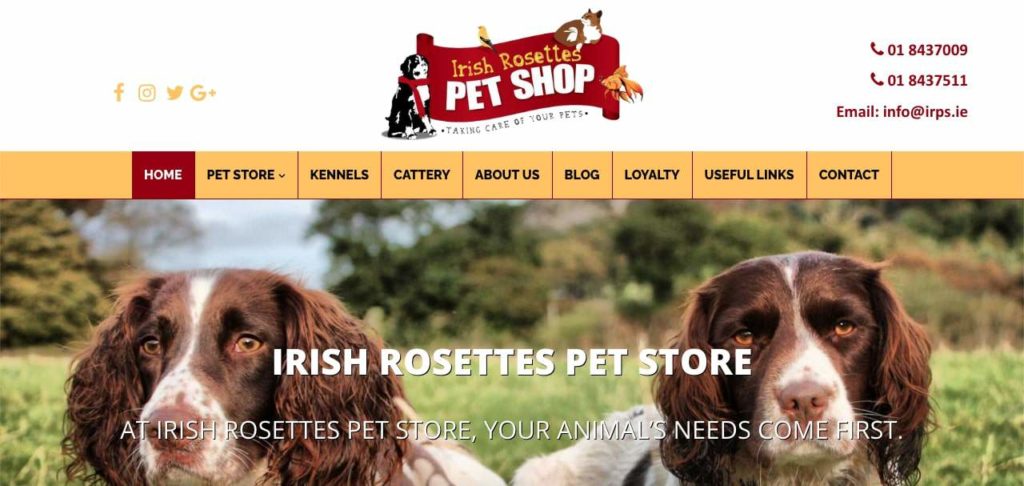 Test
Info
SERVICES
Pet Shop, Kennels, Cattery
WEBSITE
https://www.irps.ie/
ADDRESS
1, Corduff, Dublin
CONTACT DETAILS
+353 1 843 7009,

[email protected]

OPERATING HOURS

Pet Shop

Weekdays: 9:30 AM to 6:00 PM

Saturday: 10:00 AM to 6:00 PM

Sunday: 12:00 PM to 5:00 PM

Kennels and Cattery

Monday to Saturday: 10:00 AM to 12:00 PM; 3:00 PM to 5:00 PM

Sunday: 12:00 PM to 1:00 PM
| | |
| --- | --- |
| Range | ★★★★★(5/5) |
| Pet products | ★★★★★(5/5) |
| Additional Services | ★★★★★(5/5) |
| Accessibility | ★★★★★(5/5) |
| Delivery service | ★★★☆☆(3/5) |
| Customer service | ★★★★★(5/5) |
| Expertise | ★★★★★(5/5) |
| Friendliness | ★★★★★(5/5) |
Irish Rossette Pet Store offers a unique service with well established enclosures that not many other shops carry.
They are a family-run pet shop that was initially involved in the dog show scene. Nowadays, they carry over 5000 product lines to help every pet and animal receive the essential care and nutrition they deserve.
We appreciate that they make sure to source top brands from Irish producers and provide solid advice for owners out there facing any problems or inquiries. They have brands such as Eheim, Juwel, Purina, Seachem, Kong and many more
What probably makes them most unique are their Kennels and Cattery. The Kennel rooms are well kept with an anti-microbial system, fully insulated and have different types of bedding.
The Kennels also allow the owners to leave their toys with the dogs to make them extra comfortable. What's more is that they have a kennel kitchen as well as options for wide outdoor and indoor environments.
We were very impressed with how well thought out their facilities are, assuring every owner that their dog is kept in safe hands. The Cattery is equally as well cared for, providing feeding times and adequate places for sleep.
We do advise to check the requirements for dogs staying at the kennels and cats staying at the cattery as this may include vaccination cards and inoculation against infectious diseases. This does make sure that the customer's pets are safe but is an additional thing to consider.
Offer a loyalty scheme for returning customers
Provide a wide array of brands for pet supplies
Uniquely has a kennel and cattery
Staff is very knowledgeable and has a solid background
Limited operating hours for kennel and cattery
Conditions for animals staying at the kennels and cattery
Customer Reviews
Extremely Helpful
Highly recommend this pet shop. The people working there are extremely helpful and gave me great advice for my lurchers nutritional needs. I wouldn't go anywhere else now. Excellent pet shop! – Ash Lynch
Provide Great Care and Updates
Our older pug stayed in a heated kennel with them for Christmas and New year's (so a good 17 days) and came home healthy and happy. She is very social and attached to us so I was worried but they had no issues taking my calls and giving me updates on how our dog was doing, so great care and customer service. Will definitely bring her back to them again. Highly recommended for anyone who considers their pets part of their family. – Dani Rose Lic
FAQs about pets and pet shops
---
We hope you found this list very helpful especially for the new and soon-to-be pet owners out there. If you would like to read more, we also have an article on the best artificial grass companies in Ireland.