6 Best Locksmiths in Dublin You Can Trust
Locks are crucial security features that keep properties safe. So when you face issues with the locking system of your home or vehicle, you need to call the best locksmith in Dublin to get it fixed right away.
Locksmiths are professionals specialising in opening stuck locks, installing new ones, and other related services. However, not all locksmiths are created equal, and finding the most reliable locksmith in Dublin takes careful evaluation.
Below is our carefully crafted list to help you in your search for the ideal locksmith for your needs.
The Best Locksmiths in Dublin
We did our own research to put together a list of locksmiths in Dublin who offer the best value for money. Here are those who made it to our list:
1. Dyno Locks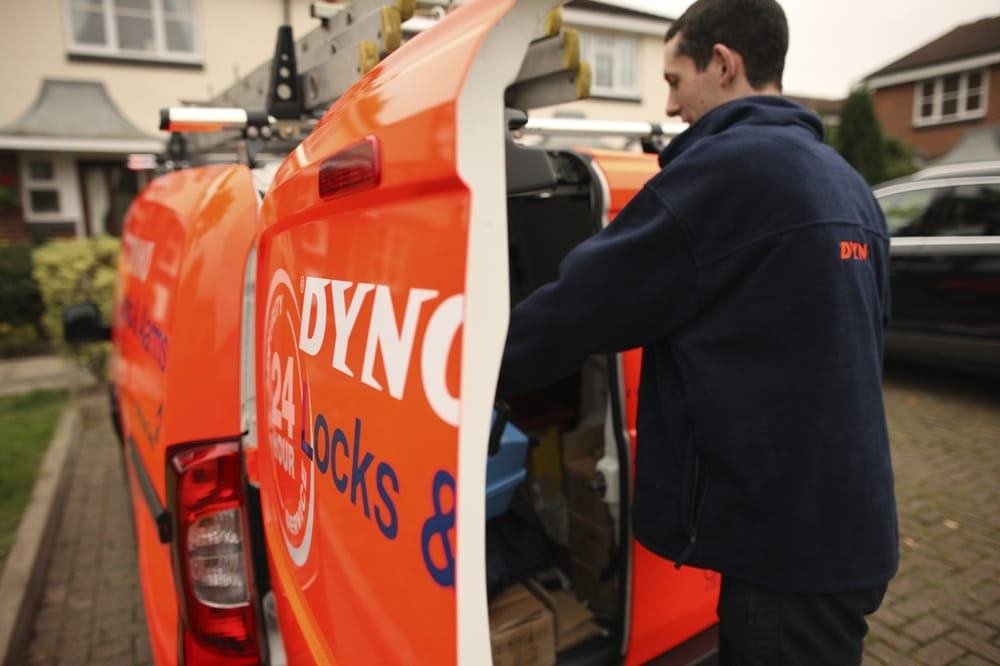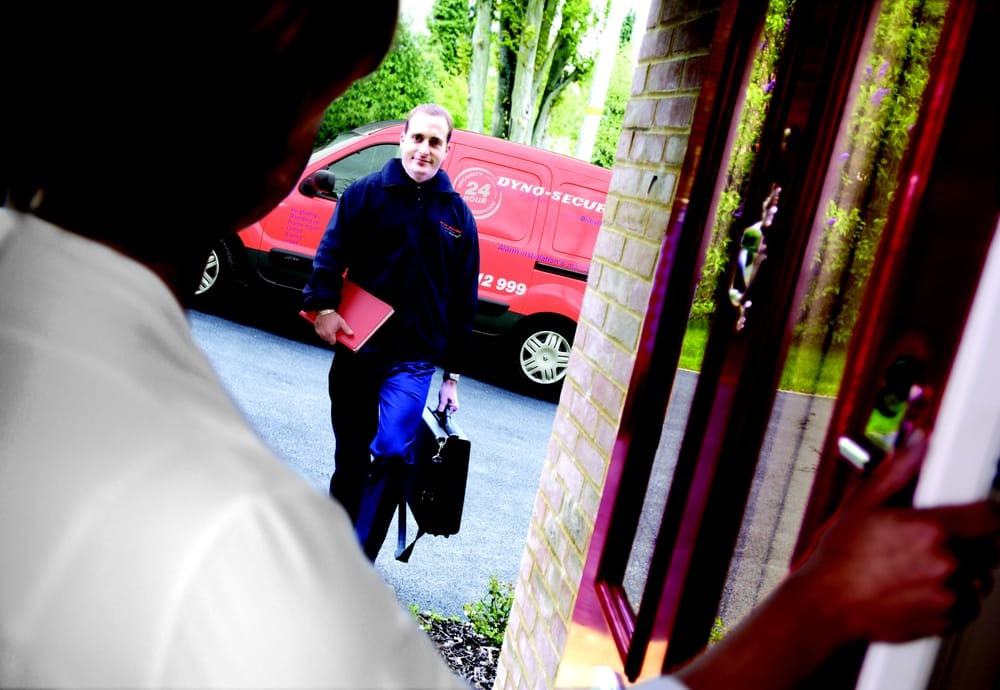 BEST FOR
One-stop shop for all your security needs
PRODUCTS
Lock Changing
Access Control System Repair
Alarm System Repair
Cabinet Lock Services
Access Control System Installation
Alarm System Installation
Building Lockouts
CCTV System Installation
WEBSITE
https://www.dynolocks.ie/
ADDRESS
32 Capel St, North City, Dublin 1, D01 F297, Ireland
CONTACT DETAILS
+353 1800 515 151

[email protected]

OPERATING HOURS
24/7 Operations
Dyno Locks is the largest mobile emergency locksmith service provider that caters to Ireland and the UK. Operating for over 28 years and with 24/7 branches throughout the country, it is regarded as one of the most reliable locksmiths in Dublin.
At Dyno Locks, all technicians are trained in line with ISO 9001 requirements, so you can definitely expect quality services. Aside from their 24/7 quick response, they also offer fixed price quotes and guarantee for all labour and parts.
From emergency lock openings and installation to burglary prevention and CCTV installation, Dyno Locks can be your go-to locksmith in Dublin.
Operates nationwide
24/7 rapid response
Professionals trained in line with ISO 9001 requirements
Fixed price quotes
Parts and labor guarantee
Customer Reviews
Here's what past clients have to say about one of the best locksmiths in Dublin:
"Excellent service. Pleasant friendly staff from phone call through to completed job. And what's really nice is that they will solve a problem rather than just fit a new lock." -Richard J.
"I locked my car keys in the boot of my car. I was nearly 200KMs away from my home. No way to get duplicate keys. Contacted the local Garda Station and was referred to Dyno Locks. I contacted them and was surprised that a representative was on site within 20/25 minutes. Very efficient courteous representative and excellent service. On the road within 5 minutes. Thanks Dyno Locks" – Donal
"Marcus is a very good worker he could solve my problem very quick and with a very fair price also very polite and kind person I will recommend all the time if someone need it."- Victor
2. Access Keys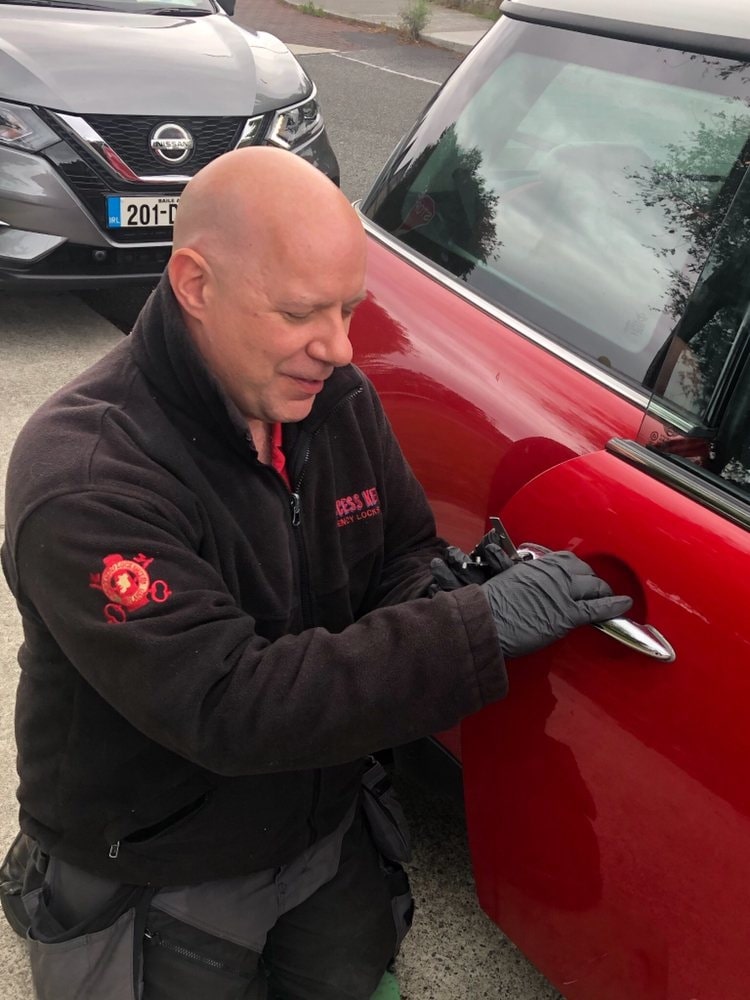 BEST FOR
Online store for high security locks and components
PRODUCTS
Broken Key Extraction
Emergency Services
Lock Installation
Mailbox Lock Services
Building Lockouts
Lock Changing
Lock Repair
Vehicle Lockouts
High security products and parts
WEBSITE
https://www.accesskeys.ie/
ADDRESS
River Lane Shankill, Bray, Dublin, Republic of Ireland
CONTACT DETAILS
+353 87 254 0177

[email protected]

OPERATING HOURS
24/7 Operations
Established in 1989, Access Keys is a trusted 24-hour locksmith in Dublin servicing commercial and residential clients. They offer a full suite of services including emergency locksmith, auto locksmith, lock replacement, lock fitting, and safe opening.
Although headquartered in Shankill, Access Keys can serve customers anywhere in Dublin. They also have an online store where you can buy high security locks and parts to safeguard your property.
They have everything from door chains and window restrictors to mechanical combination locks and electronic keypads. You can also choose from different brands you trust or based on your budget.
Also, if you need a security product and can't find it in their online store, they will contact their suppliers to try and get it for you. This willingness to go the extra mile for customers makes Access Keys one of the best locksmiths in Dublin.
Covers all areas of Dublin
Multiple modes of payment: cash, debit card, credit card, Paypal, bank transfer, personal cheques
24-hour operations
Business cheques are not accepted
Customer Reviews
Below are some testimonials from past clients of Access Keys:
"Fast, effective service. I had locked my keys in the rental, heading to the airport, and Colm arrived faster than expected, and managed to get the car open in 10-15 minutes. Even accepted payment by credit card. Top notch!" -Erki V.
"I had locked my boyfriend in the bedroom on a Sunday night. We called Access Keys directly and Colm got in touch. He was out to our apartment within 20 minutes and fixed the problem within five. Overall Colm's service was first class. We would highly recommend him, and Access Keys for any services you require. Thanks again Colm, and if we get locked out again, we know who to call!" -Jana L.
"My husband and I were locked out of our apartment recently. I searched on Yelp for a locksmith. It was 7:30 on a Sunday night and I was thinking our chances of finding someone weren't going to be great. I found Access Keys. My husband spoke with Colm. His timing and customer service was fantastic. He was up within the hour. He's very friendly and didn't make us feel like the idiots we were for getting ourselves locked out of our apartment! Hopefully we won't have to use his services again, but if so, he will be the first we call!" -Jill B.
3. Fogarty Lock & Safe Co Ltd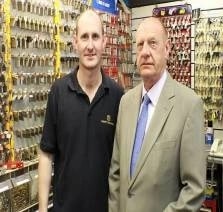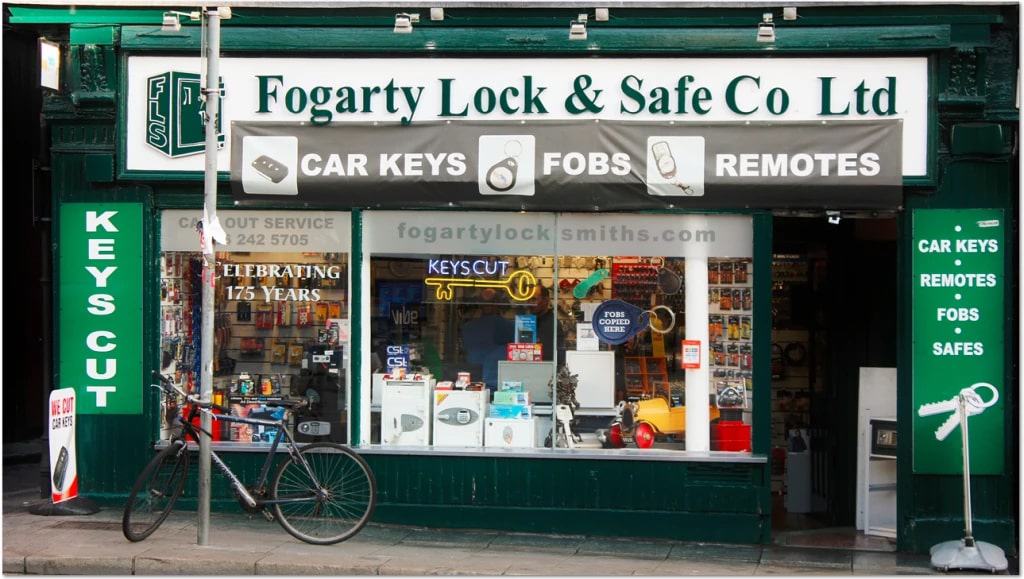 BEST FOR
Complete lock repair service
PRODUCTS
24-hour locksmith service
Key cutting service
Lock repair service
Commercial lock systems
Residential lock systems
Master key systems
WEBSITE
https://fogartylocksmiths.ie/
ADDRESS
80 Dame Street, Dublin 2, Ireland
CONTACT DETAILS
+353 1 677 1961

[email protected]

OPERATING HOURS
24/7 Operations
Fogarty Lock & Safe is a family-owned locksmith in Dublin founded back in 1834. It offers a wide range of industrial, commercial, and residential services including emergency lock opening, lock repair and replacement, key cutting, and installation of mechanical, combination, and electric locks.
With its 24-hour fast response and a team of qualified locksmiths, Fogarty Lock & Safe remains one of the leading and most trusted locksmiths in Dublin. Aside from these services, they also sell security products and safes from trusted brands.
Aside from traditional locks, Fogarty Lock & Safe also specialises in proximity key cards, key fobs, garage remotes, and transponder car key replacements. You may check out myfob.ie for these newer security technologies they offer.
All their products are also simple to program and come with detailed, step-by-step instructions for your ease.
Over 180 years in the locks and security business, so they have extensive experience and an excellent reputation
Fast 24-hour response
PSA (Private Security Authority)-registered
Limited areas serviced (Maynooth, Blanchardstown, Dundrum, Clondalkin, Swords, Tallaght)
Customer Reviews
Here's some informative feedback from past clients:
"This place is Ireland's oldest locksmith we use them for years we never had a problem. Their fast and always seem to know how to fix the problems. Use them.thanks guys." -Kevin H.
"Never spent so little time in a store. Needed two copies of my keys so I walked in, hand them to the lad, 30 seconds later he gave them back with the copies, paid and left. Effective service, minimal chit-chat, decent price (maybe €1 or €2 per key – can't remember). I'm sure they had safes and other…locking items in there. But the service was so swift that I didn't have any time to browse or have to make small talk. Wish all stores were like this!"- Sean B.
4. McCoy Locksmiths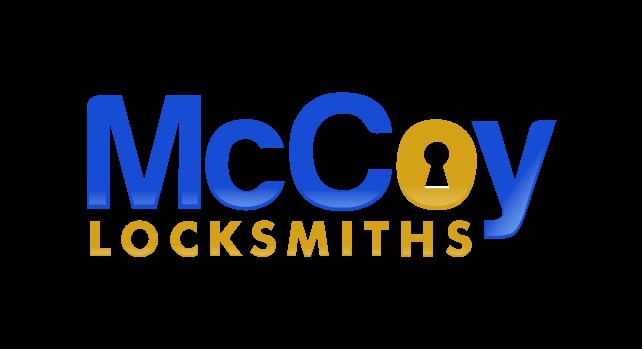 BEST FOR
Break-in repairs
PRODUCTS
24-hour emergency lock opening
Lock repairs
Lock installation and replacement
Glazing
Door repair
Break-in repairs
Installation of child-proof locks, night latches, and ram posts
Safes
WEBSITE
http://www.mccoylocksmiths.ie/
ADDRESS
10 Hunters Hill Hunters Wood Dublin D24 AF50 Co. Dublin
CONTACT DETAILS
+353 86 233 1397

[email protected]

OPERATING HOURS
24/7 Operations
McCoy Locksmiths is a family-owned mobile locksmith in Dublin registered with the Private Security Authority. It offers commercial and residential locksmith solutions, ranging from 24/7 emergency lock opening, replacement, and repair to the sale of safes and security products.
McCoy Locksmiths is known for its high quality and friendly workmanship offered at affordable rates. It is one of the best locksmiths in Dublin, with most of its growth driven by referrals from happy customers.
If you had a break-in in your home or business premises, McCoy Locksmiths is the best locksmith in Dublin to call. They can efficiently secure your space with stronger security measures and are reliable in providing advice with their free security survey.
24-hour operations
Offers discounts for repeat customers
Affordable rates
PSA registered
Customer Reviews
Below are some of the customers' reviews on McCoy Locksmiths' service:
"Well, after too many Airbnb guests saying that the lock is hard to deal with, I decided it is time to do something about it. Too bad it was the end of the week, I never thought looking at Yelp for a locksmith, so I googled up some places and asked them to call me back. No one did. Except for McCoy Locksmiths. They had no problem coming over on a Saturday. They took 70 Euro + VAT to replace the lock, and the guy did it in less than 2 minutes. Also emailed a receipt from his phone. Pretty neat." -J F.
"These guys saved me ! Locked myself out of the house (left the oven on, of course) Only company that answered their phone on a Friday evening and they were at my door in 20 minutes. The guy managed to get in without damaging the door and lock.. in less than a second. This scared the sh*t outta me and I asked if he could come back to fit a better lock. He was able to do it on the spot and saved me another call-out fee. Feel a lot safer now and I would recommend them to anyone."-Alan Y.
"…They were on the scene within a pretty reasonable time frame, they were really nice to deal with, and it took them (depressingly) all of about 1.3 seconds to open the door. Would definitely recommend. Oh – and they do a discount if you need to use their services again after the first time… here's hoping not!" -Emily C.
5. Ace Mobile Locksmiths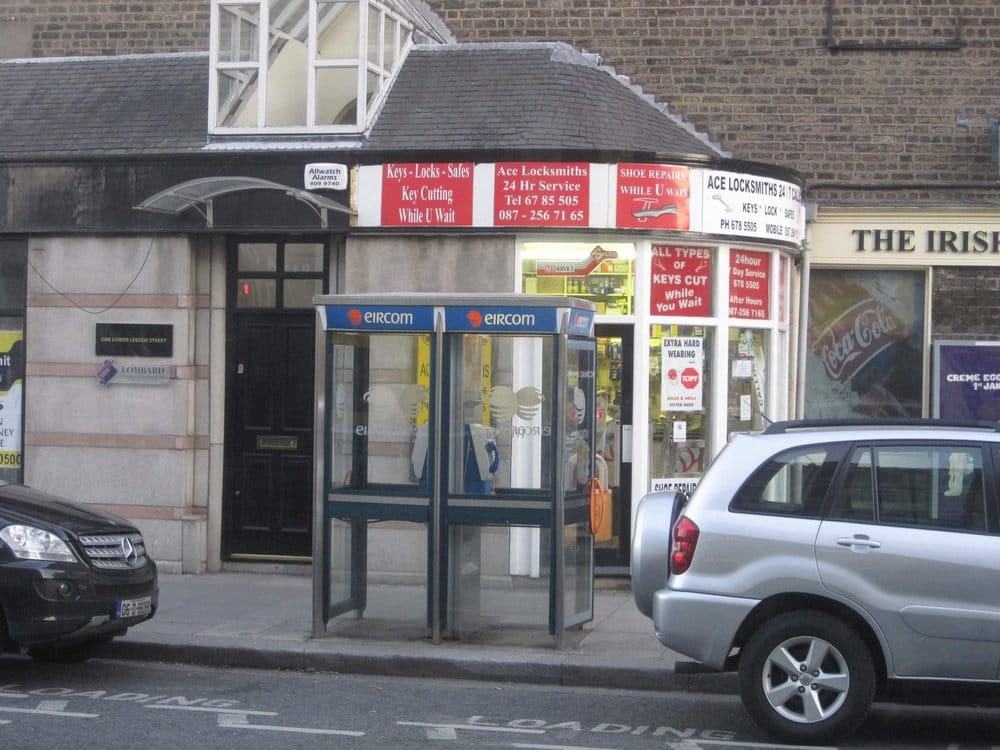 BEST FOR
Commercial locksmith service
PRODUCTS
24/7 Emergency locksmith service
Lock repair and replacement
Safes installation and repair
High security door and window locking systems
Window restrictors
Multi-point locking systems
Anti-snap and break-secure locks
Access Control- Intercoms
Master keys and locks
WEBSITE
https://acelocksmiths.ie/
ADDRESS
1 Earlsfort Tce D 2 Co. Dublin
CONTACT DETAILS
+353 1 678 5505 +353 87 256 7165

[email protected]

OPERATING HOURS
24/7 Operations
Ace Mobile Locksmiths is an Irish family-owned locksmith in Dublin which offers residential and commercial services and security products. Serving customers since 1985, it is one of the most trusted locksmiths in Dublin.
With a fully trained and experienced team of technicians, Ace Mobile Locksmiths delivers exceptional services that are fully guaranteed and insured. You can also expect no hidden charges or unnecessary labour, and benefit from their free assessment and expert advice.
If you are looking for a locksmith in Dublin for your office or shop, Ace Mobile Locksmiths is your best bet. They have been servicing commercial clients for nearly 30 years.
They can help you with file cabinet locks, fire-proof safes for your documents, high security cash holding safes, and keyless entry systems for your business premises.
24/7 response
Member of Associate Locksmiths of Ireland
Transparent pricing
All services are guaranteed and insured
Response time could be improved
Customer Reviews
Here's what past customers shared about their experience with Ace Mobile Locksmiths:
"I went to Ace Mobile Locksmithsto get two copies of two keys cut, which came to 16EUR. But the gent behind the counter informed me that for another 4EUR I could get a third set. So I took the deal. He also threw three key caps in at no extra charge, which I thought was nice. Friendly and fast." – Cristin L.
"Trust me it's not fun being locked out of your house at 5AM! That's where Ace Locksmiths comes in. They're open 24 hours!! Seriously I couldn't have been happier when I found out about this. Though admittedly I did have to ring the mobile number listed a few times before I got an answer, but someone was out within the hour and I was back inside snuggled up in my warm bed before I even knew what happened!" -Kelly T.
6. The Lockman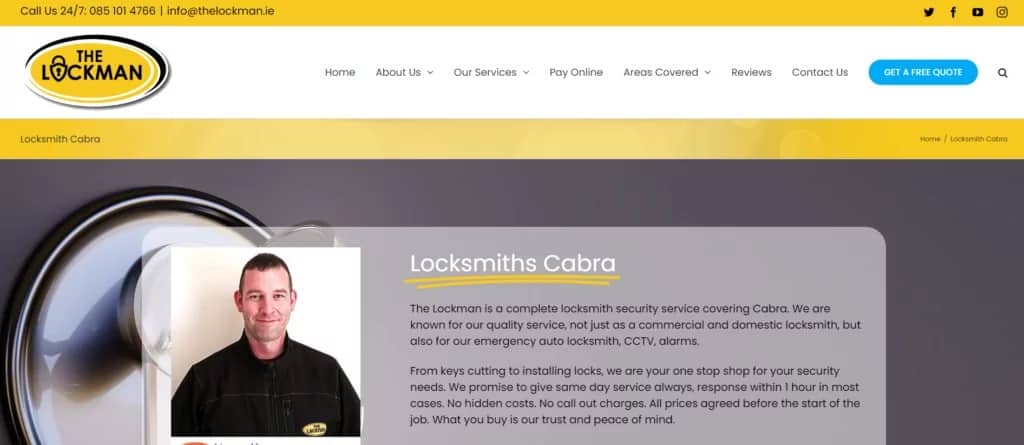 BEST FOR
All-in-on locksmith
PRODUCTS
Residential Locksmith
Commercial Locksmith
Lockouts & Unlock
Mobile Key Cutting
Lost and repair of Keys
Door & Window locks, deadbolts, deadlocks
Affordable and Excellent Value
WEBSITE
https://thelockman.ie/locksmith-cabra/
ADDRESS
Blanchardstown, Dublin
CONTACT DETAILS
085 101 4766 | [email protected]
OPERATING HOURS
24/7 Operations
Sunday – 8:00 – 20:00
Monday – 8:00 – 20:00
Tuesday – 8:00 – 20:00
Wednesday – 8:00 – 20:00
Thursday – 8:00 – 20:00
Friday – 8:00 – 20:00
Saturday – 8:00 – 20:00
The Lockman is a complete locksmith security service covering Cabra. They are known for their quality service, not just as a commercial and domestic locksmith, but also for their emergency auto locksmith, CCTV, alarms.
From keys cutting to installing locks, they are your one-stop shop for your security needs. They promise to give same-day service always, response within 1 hour in most cases. All prices agreed before the start of the job. What you buy is their trust and peace of mind.
No hidden costs
No call out charges
Quick services
Set fees
Customer Reviews
Here's what past customers shared about their experience with The Lockman:
"I had locked my car keys in the car and the Lockman was very helpful. He called out straight away and had resolvedmy issue very quickly. A genuine, friendly guy who I highly recommend the Lockman"
"Top class and friendly service! ken responded straight away and sorted the locks and keys – feel so much safer now! I would highly recommend this service and would have no hesitation in using them again,"
FAQs About the Best Locksmiths in Dublin
---
Maintaining tight security in your property should be your top priority. So if your door gets jammed or your lock gets compromised, you need to call the best locksmith in Dublin.
Have you tried any of the locksmiths in Dublin included in this list? Let us know about your experience in the comments section!