The 5 Best Laser Hair Removal Services in Limerick
Unwanted body hair can be removed through all sorts of ways with one of them being laser hair removal. In the right experts' hands, patients can reduce their need for hair maintenance in different areas of the body through laser hair removal.
In this article we explore the best laser hair removal services in Limerick that can provide you with the best guidance and technology.
How much does laser hair removal cost?
The prices of laser hair removal depend on the equipment used as well as the number of sessions. Below is a list of prices of different hair removal services we found.
CLINIC OR SALON
DETAILS
PRICE
Seventh Heaven Beauty

Bikini Basic, Course of Six

Underarm Course of 6

€ 350

€ 250

Thérapie Clinic

Lower Back 10 Sessions

Underarms 10 Sessions

€ 399.50

€ 199.50

Eternal Beauty

Permanent Hair Removal

10 mins Electrolysis

€ 20
Sisu Clinic

Brazilian Bikini 6 Sessions

Lower Leg 6 Sessions

€ 260

€ 520

Bliss Beauty

Any Bikini and Underarm

Package per Session

€ 95
Top Laser Hair Removal Services in Limerick
We assessed the services based on to the following criteria:
1. Thérapie Clinic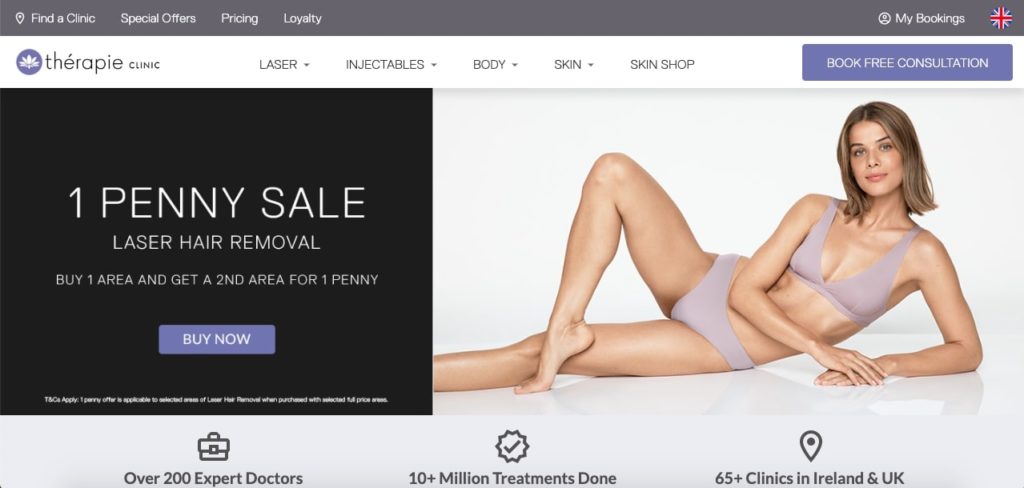 Test
Info
SERVICES

Laser Hair Removal

Injectables

Fat Freezing

Sculpting and Toning

Skin Treatments

WEBSITE
https://www.therapieclinic.com/
ADDRESS
32 Cruise's St, Limerick Part Unit 23, Garryowen Mall, Crescent Shopping Centre, Dooradoyle, Co. Limerick
CONTACT DETAILS
Phone: Crescent: 061788050, Cruises: 061788652,

EMAIL: [email protected]

OPERATING HOURS

Weekdays: 8:00 AM to 8:00 PM

Weekends: 9:00 AM to 6:00 PM
| | |
| --- | --- |
| Laser Hair Removal | ★★★★★(5/5) |
| Terms and Conditions | ★★★★☆(4/5) |
| Technology | ★★★★★(5/5) |
| Other Services | ★★★★★(5/5) |
| Pricing | ★★★★★(5/5) |
| Feedback | ★★★★★(5/5) |
| Accessibility | ★★★★★(5/5) |
| Satisfaction | ★★★★★(5/5) |
Thérapie Clinic has multiple branches across the UK and Ireland. With numerous types of treatments available, this business makes for an excellent commercial choice for an all in one option.
Customers will feel assured with the clinic's numerous years of experience, having conducted millions of treatments considering their different locations.
Customers will also feel assured that their team consists of highly experienced therapists and doctors, knowledgeable in various skin concerns and the execution of different treatments.
Taking a look specifically at their laser hair removal service, what we like is that they use advanced medical grade lasers for the procedure. They also guarantee that through their packages, results can be seen within a few sessions.
They do categorize their hair removal services between men and women. We do like that through their free consultation, they're able to discuss and personalize what package would suit each patient the best.
Another perk from their service is that they do have special offers from time to time, including very enticing 1 cent sales for additional coverage for certain areas of the body. If you're on a budget, we highly recommend checking out their page of offers.
We do advise however, to take a look at their policies especially regarding cancellation charges, advance payment and validity of sessions as they do have some stricter rules.
What makes Thérapie Clinic a great choice is that they also have other services ranging from injectables and treatments for various skin concerns.
A reliable choice for their expertise, coverage and state of the art technology, check them out the next time you're considering laser hair removal.

Has access to numerous expert doctors and conducted millions of treatments
Sales and deals from time to time
Uses medical grade lasers
Multiple session packages available
Purchased hair removals have expiry dates for claiming
No patch test or consultation required before the appointment
Customer Reviews
Quick and Efficient Treatment
I love coming here to get laser treatment. I come in to get 3 areas done and I'm always in and out so quick. I'm always seen to straight away when I arrive, waiting is so short or non existent :). The ladies who work here are the loveliest bunch and I'm always made feel very comfortable everytime I go in. I love going in for a chat. Results are incredible just over halfway done and I can go much much longer between shaves. Treatment is quick and not at all painful. Overall such a great experience getting laser treatment here! Could not recommend enough!!! 🙂 -E G
Professional and Helpful
Went to Therapy Clinic in Limerick City centre for a laser hair removal consultation and I found the service to be very professional and helpful, I was consulted by Laura who made me feel very comfortable and positive about getting laser she explained the whole process very well and there was no rush to make decisions on possible treatments. Very happy with the service and I will look forward to future treatments. -Zoe Leahy
2. Complete Laser Care
Test
Info
SERVICES

Skincare and Candle Shop

Consultations

Skin Treatments

WEBSITE
https://www.completelasercare.ie/
ADDRESS
35 Cecil St, Limerick
CONTACT DETAILS
Phone: 061-481620

EMAIL: [email protected]

OPERATING HOURS

Tuesday: 10:00 AM to 5:30 PM

Wednesday: 10:00 AM to 6:00 PM

Thursday: 10:00 AM to 6:30 PM

Friday: 10:00 AM to 8:00 PM

Saturday: 10:00 AM to 2:30 PM
| | |
| --- | --- |
| Laser Hair Removal | ★★★★★(5/5) |
| Terms and Conditions | ★★★★☆(4/5) |
| Technology | ★★★★★(5/5) |
| Other Services | ★★★★★(5/5) |
| Pricing | ★★★★★(5/5) |
| Feedback | ★★★★★(5/5) |
| Accessibility | ★★★★☆(4/5) |
| Satisfaction | ★★★★★(5/5) |
With an expanding selection of skincare treatments, Complete Laser Care has a lot to offer in terms of customer service and quality treatments.
The owner of the business, Catherine Waters, has a substantial background in the cosmetic and beauty industries. Through the business' years of activity, they have won the WhatClinic Patient Service award in both 2019 and 2020.
Customers will greatly appreciate that they are very detailed with their service care. We really like that the atmosphere of the clinic is discreet and unassuming, which is suitable for customers who would like a bit more privacy.
Additionally, we like that the clinic pays great detail to the technology and brands they use. This includes their use of names like Cosmedix, Image Skincare & MD, Dermalux and more.
Their laser hair removal service is also quite thorough and exhaustive. Beginning first with a free consultation and patch test, they make sure to provide each customer with the proper attention and monitoring each step of the way.
We also found their online booking system to be very convenient and easy to use. If you're looking for a well thought out laser hair removal procedure, Complete Laser Care has got you covered.
Keep in mind however, that they do have a cancellation policy, with a charge of up to 50% if not followed. They do also have other treatments available like cryotherapy, stretch marks lasers, and even a bridal package, making a visit worthwhile.
It's no doubt that Complete Laser Care makes for one of the top options out there for the brands and technology they use.
Continuously expand list of treatments
High praise from past customers
Highly qualified background and experience of aesthetician and skincare expert
Easy online booking system
24 hour appointment cancellation policy
Shorter operating hours
Customer Reviews
Performs Every Service to the Highest Standard
Have had such a wonderful experience with Catherine the last year or so. She's been great with laser hair removal and was able to help me out when other clinics wouldn't due to a health condition. Catherine is very comfortable to be around and performs every service to highest standard. Catherine has also been extremely helpful when it comes to supplements which have helped massively with side effects causing skin issues and fatigue from medications. I've been very well looked after at Complete Laser Care and would recommend to anyone to come here, you will not be disappointed. -Eva Finn
Results are Fantastic
I couldn't recommend Catherine in complete laser care enough! I have been going to her for almost 10 years and her level of professionalism is next to none. Treatment results are fantastic. Catherine also has an extensive knowledge of skin care and supplements and know what is best for my extremely sensitive skin. Would highly recommend. -Louise Bourke
3. Eternal Beauty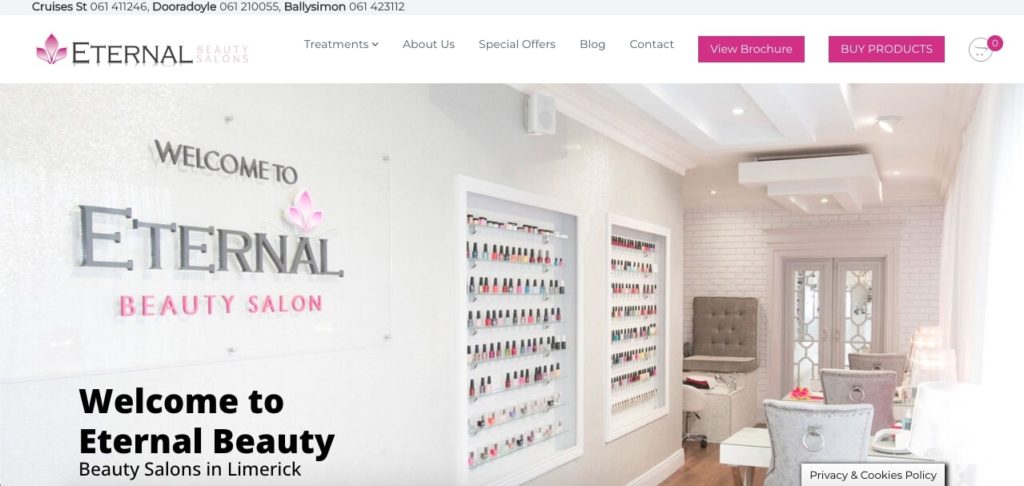 Test
Info
SERVICES

Laser Hair Removal

Eye Treatments

Waxing, Tanning, Facials

Needle Mesotherapy

Fibroblast

Venus Freeze Plus Face and Body Treatment

Treating the Hands and Feet

Whiteheads and Skin Tag Removal etc.

WEBSITE
https://eternalbeauty.ie/
ADDRESS
Unit 2 St Nessan's Rd, Dooradoyle, Limerick
CONTACT DETAILS
Phone: 061 210055

EMAIL: [email protected]

OPERATING HOURS

Monday to Saturday: 9:30 AM to 6:00 PM
| | |
| --- | --- |
| Laser Hair Removal | ★★★★★(5/5) |
| Terms and Conditions | ★★★★☆(4/5) |
| Technology | ★★★★★(5/5) |
| Other Services | ★★★★★(5/5) |
| Pricing | ★★★★★(5/5) |
| Feedback | ★★★★☆(4/5) |
| Accessibility | ★★★★☆(4/5) |
| Satisfaction | ★★★★☆(4/5) |
Eternal Beauty Salon has three available branches in Limerick County. This, combined with their curation of beauty and spa-like services, makes for a relaxing option the next time you're on the lookout for laser hair removal as well.
Started in 1991, the salons have an open, airy and welcoming feel to them which we find makes them less intimidating to customers looking to browse treatments.
What sets them apart is that they have more of a selection geared towards beauty and casual aesthetic services. This includes nail treatments, grooming, as well as some relaxing spa treatments.
We think these pair very well with laser hair removal as a more relaxing alternative, pairing the treatment with calming and soothing options.
Their laser hair removal service is also quite different as well. It's definitely one of the faster procedures out there, taking only a quick session to do so with no downtime needed afterwards.
However, the tradeoff here is that the equipment they use is less advanced and the packages they offer are more limited compared to what other clinics offer. It would be best to weigh your options.
If you're on the lookout for speedier sessions as well as a salon that can also offer beauty treatments, we think Eternal Beauty Salons combine both of these well enough to be a dependable service.
Multiple locations available
Have free consultations available for laser hair removal
Staff are very professional and give excellent advice
Provide special offers from time to time
More limited type of laser hair removal packages compared to other clinics
Some customer experiences on problems with booking
Customer Reviews
Knowledgeable Beauticians, Excellent Experience
I met a fabulous beautician called Susan who I highly recommend. She but my mind @ ease, she is very logical, very good to explain the procedure & after care including results. She really wants the customer to get full benefit. The procedure I had done requires a bit of down time, all this was explained, within three months I will have full effects of the treatment. She gave me after care and was very generous with the price. Today I already see some result, I am very happy with how everything was handled, my experience was excellent, I highly recommend Susan and eternal beauty -Nel Ryan
Very Accommodating and Friendly Staff
Great service and treatment options. They are very accommodating and the late night opening on Thursday and Friday evening is really helpful for getting in after work. The facilities are great too and the free parking out front is brilliant. Staff are very freindly and make you feel very at ease -Sarah O'Riordan
4. Sisu Clinic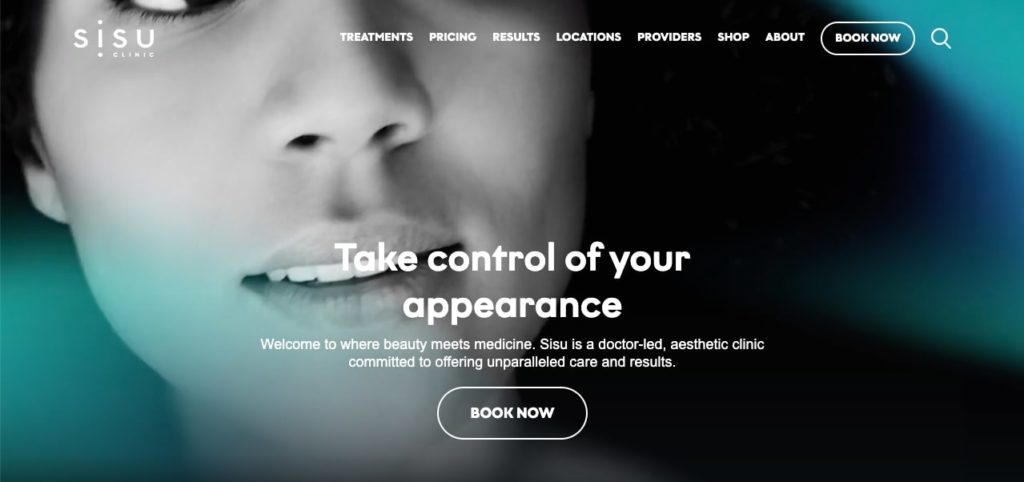 Test
Info
SERVICES

Botox, Fillers, Permanent Fat Reduction

Skin Boosters

Thread Lifts, Sculptra

Sisu Clinic Executives

Facials, Laser Treatments

WEBSITE
https://ie.sisuclinic.com/
ADDRESS
17 O'Connell St, Limerick
CONTACT DETAILS
Phone: +353 1 912 0429

EMAIL: [email protected]

OPERATING HOURS

Weekdays: 9:30 AM to 6:30 PM

Saturdays: 9:30 AM to 5:30 PM
| | |
| --- | --- |
| Laser Hair Removal | ★★★★★(5/5) |
| Terms and Conditions | ★★★★★(5/5) |
| Technology | ★★★★★(5/5) |
| Other Services | ★★★★★(5/5) |
| Pricing | ★★★★☆(4/5) |
| Feedback | ★★★★★(5/5) |
| Accessibility | ★★★★★(5/5) |
| Satisfaction | ★★★★★(5/5) |
A relative newcomer as an aesthetic clinic, Sisu Clinic impresses us with their more medical approach and selection of treatments.
They were founded by brothers Dr. James Cotter and Brian Cotter, who have a background working as general surgeons and treating patients for cosmetic procedures.
Through Sisu Clinic, they were able to create a business specializing in excellent customer care alongside a comprehensive list of services backed up by state of the art technology.
What really impressed us about them is their professional demeanor and convenient process. Customers can easily book an appointment online with detailed guidance and care coming from their medical experts.
If you're nervous about getting your first session, we think you'll like Sisu Clinic for their hands-on approach.
Their laser hair removal service keeps the same thoroughness in mind, with the procedure requiring a patch test beforehand while making sure they're using top of the line technology.
Looking at their prices however, they're slightly more expensive compared to other salons or clinics. We highly suggest checking out their website for their packages as they are more restrictive in pairing certain areas of the body to be treated together.
In any case, their selection of other treatment options is probably one of the best out there. They have other services like laser rejuvenation, skin boosters, facials and more to keep any patient request satisfied.
We highly recommend checking out Sisu Clinic for their professional approach and proven successful results.
Great range of aesthetic treatments
Offer free consultations and immediate treatment in most cases
Have a team of highly qualified medical practitioners and physicians
Customers highly praise the overall experience
Slightly more expensive laser hair removal services
Treatment packages are more limited
Customer Reviews
I Always Feel so Comfortable
I absolutely loved my experience in Sisu, Limerick. I was kindly greeted by the girls at reception. Micha and Niamh were so helpful and provided so much knowledge towards my skincare routine! I love getting my treatments there as I always feel so comfortable! Dr Lisa made me feel at ease during every appointment! The best place ever!! Would highly recommend -Roseanne Ryan
5 Star Service
From the booking process, to entering the clinic, to treatment, Sisu provided a 5 star service. Living abroad, I always wait to come home to visit Sisu for treatments. Dr Lisa made the experience so enjoyable and explained everything so clearly. My results exceeded my expectations. -Jenny O'Leary
5. Bliss Beauty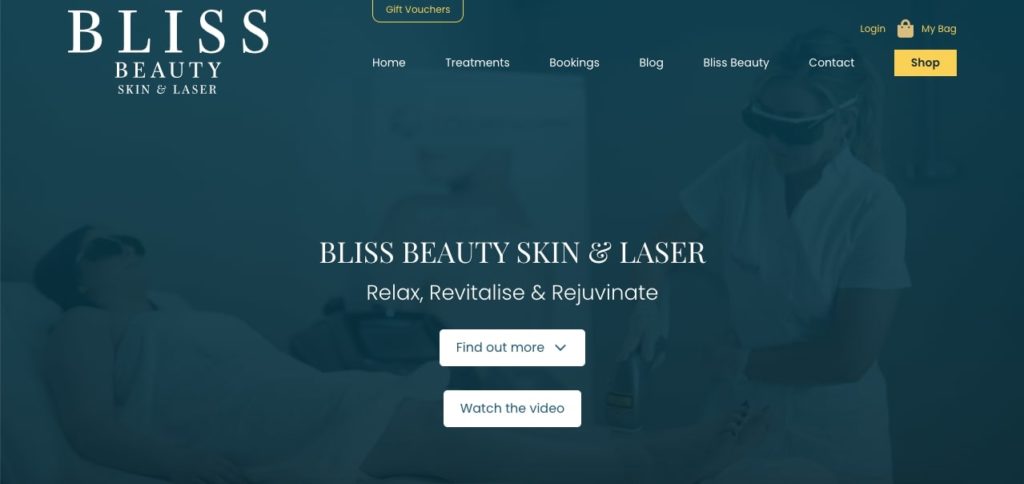 Test
Info
SERVICES

Epildream Laser Hair Removal

Dermalux LED Light Therapy

Mesotherapy Treatment

Voya Facial Treatments

Environ Facial Treatments

Voya Body Scrubs

Voya Body Massage and Holistic Treatments

Voya Mum to be Treatments

Voya Cancer Care Tender Tides Treatments, etc.

WEBSITE
https://www.blissbeautylimerick.com/
ADDRESS
Castletroy Shopping Centre, Castletroy, Co. Limerick
CONTACT DETAILS
Phone: (061) 339 421

EMAIL: [email protected]

OPERATING HOURS

Monday to Wednesday, Saturday: 9:30 AM to 5:30 PM

Thursday to Friday: 9:30 AM to 8:00 PM
| | |
| --- | --- |
| Laser Hair Removal | ★★★★★(5/5) |
| Terms and Conditions | ★★★★★(5/5) |
| Technology | ★★★★★(5/5) |
| Other Services | ★★★★★(5/5) |
| Pricing | ★★★★☆(4/5) |
| Feedback | ★★★★★(5/5) |
| Accessibility | ★★★★☆(4/5) |
| Satisfaction | ★★★★★(5/5) |
A business that definitely carries more unique treatments under their arsenal, Bliss Beauty is a reasonable choice if you're also looking to revitalise and rejuvenate.
Aoife Shannon, the owner and director, is certified in beauty and body therapy and what's more, has a great background working with many skincare brands.
Although they are a little ways away from central Limerick, located at the Castleroy Town Centre, we like that they have a substantial range of branded treatments.
This is especially perfect for those looking for a nice spa day while having the option of receiving their cosmetic maintenance sessions. Some of these branded services include, Voya or Environ facial treatments as well as Voya mum to be treatments.
We highly recommend checking out their unique range as you may find some options that are more creatively packaged.
Their laser hair removal service uses a state of the art Epildream high power laser which is used under the guidance of their knowledgeable technicians.
They have a wide range of treatment areas to choose from but we do find their male laser packages to be more limited. However, we do like that they offer payment plans with multiple sessions making it more convenient for patients.
All in all, Bliss Beauty makes a wonderful choice the next time you're looking to book a laser hair removal session alongside some packages to pamper and soothe your skin.
Online shop available for skincare
Use updated and medical grade technology
Have payment plans available
Excellent option for other revitalising or aesthetic services
Bookings are primarily through email or phone call
Pricier packages and more limited treatments for males
Great Staff and Location
Awesome service. The staff here are so great and efficient. The charges are reasonable and the location is also convenient as it is located inside Castletroy Shopping Center. It's on the second floor of the shopping center.
-Sree Parvathi
Will be a Returning Customer
Very friendly accommodating staff, professional treatments and very good atmosphere. Will be a returning customer 🌟🌟🌟🌟🌟 -Lizzy Csipi
FAQs about Laser Hair Removal
---
Laser hair removal is definitely a procedure that should be carefully considered. We hope our list helps connect you with the most appropriate and qualified experts out there.
If you would like to read more, we also have an article on the best clinics for laser hair removal in Dublin.