The 5 Best Landscaping Services in Galway
Having a garden is good, but having a well-designed one is better.
Whether you have a small garden or an entire yard, landscaping can help you create the space you want and make it feel like a second home.
Check out this list of the best landscaping services in Galway to know which one to get!
How much is a landscaping service in Galway?
Like any improvement to your home or property, landscaping requires some budgeting on your part. Here's a quick preview on landscaping services rates:
| SERVICES | ESTIMATED AVERAGE PRICE |
| --- | --- |
| Small garden (100 square meters) | €4,000 |
| Average garden (300 square meters) | €6,000 |
| Large garden (400 square meters up) | €8,000 |
| Landscaping maintenance | €500.00 |
The Best Landscaping Services in Galway
Only the best can give you a renewed and lovely garden look. That's why we only listed reliable landscapers in Galway based on the following:
1. Connaughton Landscaping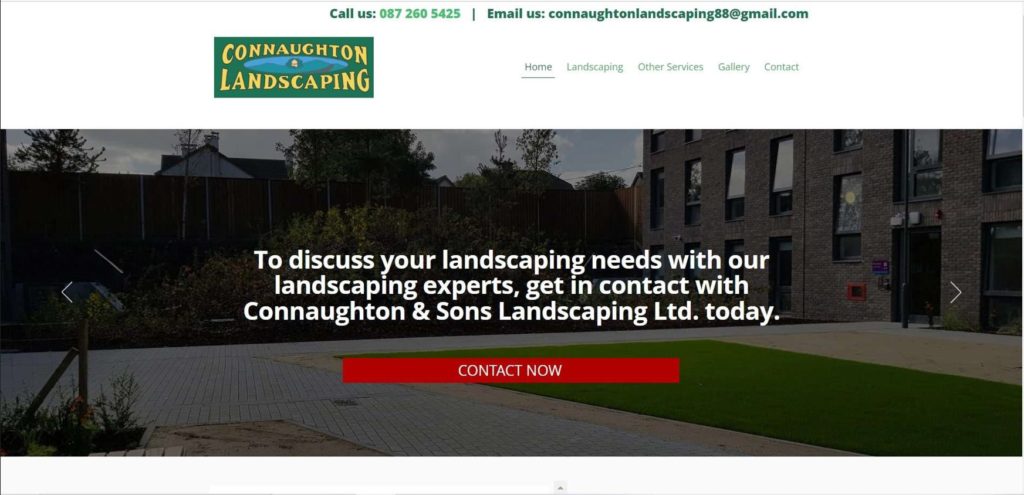 Test
Info
SERVICES

Complete Landscaping and Maintenance

Ground/Drainage Works

Hard and Soft Landscaping

Stone Paving, Water Features

Fencing and Walls, Driveways

Patios and Decking, Full Tree Service

WEBSITE
https://www.connaughtonlandscaping.ie/
ADDRESS
Drum East, Galway, Ireland H91HYF3
CONTACT DETAILS

PHONE: +35391586086

OPERATING HOURS
No available operating hours
| | |
| --- | --- |
| SERVICES | ★★★★★ (5/5) |
| EXPERIENCE AND PORTFOLIO | ★★★★★ (5/5) |
| ACCESSIBILITY | ★★★★☆ (4/5) |
| PRICING | ★★★★☆ (4/5) |
Connaughton Landscaping is an exceptional landscaping company in Galway that offers a wide range of services to commercial, domestic, and industrial clients.
Its experienced team has been providing professional landscaping services for over two decades, and its expertise is evident in every project it undertakes.
We think that one of the most significant advantages of working with Connaughton Landscaping is its flexibility in creating bespoke landscaping solutions for each client.
We appreciate that it takes time to understand that every client has unique needs and preferences. Also, it works closely with clients to design and deliver tailor-made solutions.
What's more, Connaughton Landscaping offers a complete pre-construction process that includes ground grading and preparation, site drainage, and the installation of hard drains and irrigation systems.
This attention to detail ensures that every project is completed to the highest standards and provides long-lasting results.
However, one area where Connaughton Landscaping could improve is in providing information about its operating hours. This information is not available online, so clients need to ask every time they start researching about landscapers.
Another area that may require improvement is the process of obtaining a quotation for rates.
While this may be a minor inconvenience for some, it could potentially deter others who prefer a more transparent pricing process.
Overall, Connaughton Landscaping is a top-notch landscaping company in Galway because of its experience and openness to every project idea.
Can cover commercial, domestic, industrial
Experienced 
Flexible team
Complete pre construction process 
Operating hours unavailable online
Quotation needed for rates
Customer Reviews
Reasonably priced
"They did exactly what I wanted and took every twig and blade of grass away. Reasonably priced. Really happy." – Doreen Ryan
Connaughton Landscaping was also given a five-star rating via Google by Ann Condon.
2. Green Valley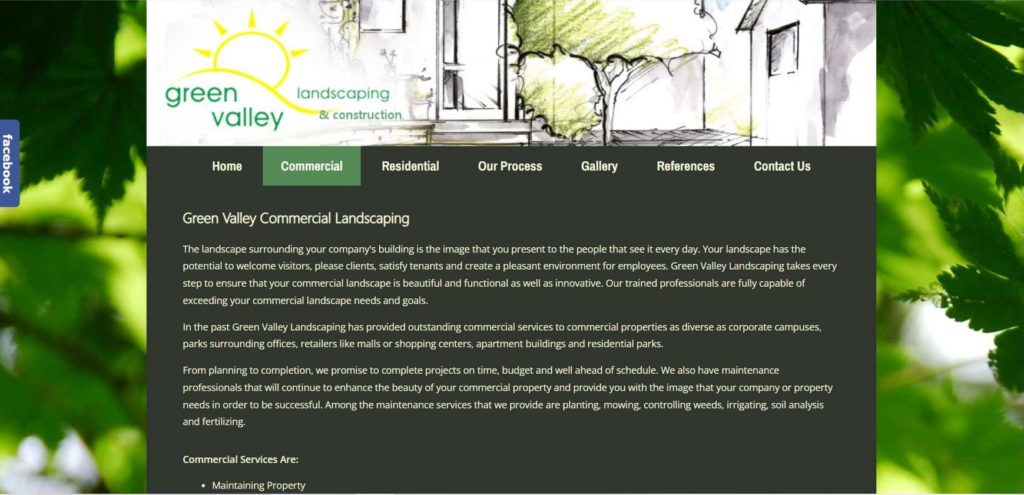 Test
Info
SERVICES

Commercial and Domestic Landscaping

Maintaining Property, Mowing Grass

Caring for Trees and Shrubs

Fertilizing, Designing and Installing

Controlling Weeds, Aerating

Mulching and Caring for Beds

Dethatching, Removing Leaves

3D Design Visualisation and Presentation

Remodeling, Power Washing, Lighting

WEBSITE
http://www.greenvalleygalway.com/commercial.html
ADDRESS
Green Valley Landscaping, Knocknacarra, Galway, Ireland
CONTACT DETAILS

PHONE: +353 876 035991

OPERATING HOURS
No available operating hours
| | |
| --- | --- |
| SERVICES | ★★★★★ (5/5) |
| EXPERIENCE AND PORTFOLIO | ★★★★★ (5/5) |
| ACCESSIBILITY | ★★★★☆ (4/5) |
| PRICING | ★★★★☆ (4/5) |
Green Valley Landscaping is a standout landscaping company in Galway.
It's known for its exceptional services and unique approach to design and construction.
In our opinion, one of the most notable benefits of working with Green Valley is its use of 3D design technology before any ground work begins. This allows clients to visualize their project and make necessary changes before construction begins.
Also, Green Valley Landscaping offers guaranteed start dates, which means clients can rely on them to start and complete their project within a set timeframe.
This level of reliability is not always easy to find in the landscaping industry, making Green Valley a top choice for many.
Another advantage of working with Green Valley is its ability to design and build water features and sculptures, adding a unique touch to any garden or outdoor area.
It's also experienced in handling projects of any size, making it an ideal choice for both residential and commercial clients.
Green Valley Landscaping's comprehensive services cover installation, maintenance, and hardscaping, ensuring that clients receive a complete solution to their landscaping needs.
Its thorough process, which includes planning, design, pricing, doing, and caring, ensures that every project is executed to perfection.
However, it would've been better if it offered a range of its services' rates on its website. Take note also that indoor landscaping is not currently a part of its portfolio.
Overall, Green Valley Landscaping is a top-tier landscaping company in Galway, offering unique design and construction services, a comprehensive process, and reliable start dates.
Uses 3D design before ground work
Guaranteed start dates
Designs and builds water features, sculptures
Good for any garden or area size
Covers installation, maintenance, hardscape
Rates vary
No indoor landscaping in portfolio
Customer Reviews
Happy with finished product
"Martin and his team were very easy to work with. We are very happy with the finished product. They were quick to put our minds at ease with any queries we had throughout the process. Would definitely recommend." –Ciara Gilmore
Amazing job
"Our experience with Martin and his team was fantastic. They did an amazing job on both our lawn and patio. From the very start Martin was very engaging. He presented his ideas in 3D format which helped us visualize the ideas presented and we quickly were able to finalize what we wanted. We are extremely happy with the end result." –Aodan Breathnach
3. Radhard Landscaping Co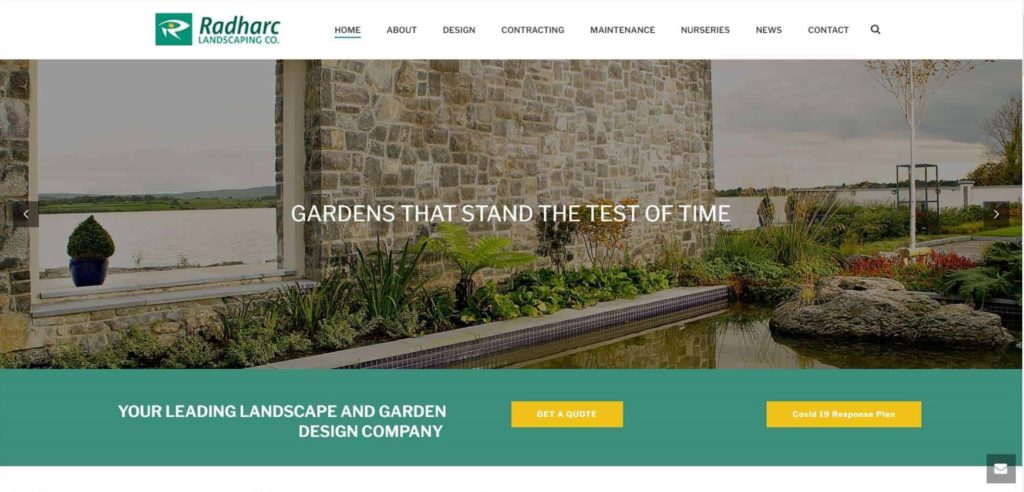 Test
Info
SERVICES

Landscape Design, Consultation

Tree Surveys, Water Features, Garden Maintenance

Full Construction of Hard & Soft Landscaping Projects

WEBSITE
https://radharclandscaping.com/
ADDRESS
Ballynahallia, Moycullen, Co. Galway, Ireland H91 KAK3
CONTACT DETAILS

PHONE: +353 915 55078

OPERATING HOURS

Monday to Friday, 8:00 a.m. - 5:00 p.m.

Saturday, 9:00 a.m. - 1:00 p.m.
| | |
| --- | --- |
| SERVICES | ★★★★★ (5/5) |
| EXPERIENCE AND PORTFOLIO | ★★★★★ (5/5) |
| ACCESSIBILITY | ★★★★★ (5/5) |
| PRICING | ★★★★☆ (4/5) |
If you want a can-do-it all landscaper, look no further than Radharc Landscaping Co. It's a leading landscape service provider in Galway with services for commercial and residential clients.
One of its strengths is the comprehensive design service, which includes consultation, master plans, design, planning, permission drawings, planting plans, and tree surveys.
This comprehensive approach ensures that clients receive a fully customized solution that meets their specific needs and preferences.
We also like its impressive design plan, which is backed by its highly skilled professional team of 40 members. Its team has extensive experience in the industry and is equipped to handle even the most complex landscaping projects with ease.
Additionally, Radharc is an expert in knotweed eradication, providing valuable solutions to clients dealing with this invasive plant species.
What's more, it's an award-winning company with over 30 years of experience. It also has its own vast nursery, which allows it to provide clients with a wide selection of plants and trees.
Do note, though, that its rates may vary depending on the project. It's also closed on Sundays, which may not be convenient for some clients.
Overall, we think it's a top-tier landscape service provider. Its long-standing reputation and award-winning status makes it a reliable and trusted choice for any landscaping project.
Comprehensive design service 
Impressive design plan
Fully supervised contracts
Expert on knotweed eradication
Award-winning with long experience
Huge nursery
Rates vary
Closed on Sundays
Customer Reviews
Experienced staff
"Most experienced and friendly staff, great knowledge with the most extensive gardening center, for all of your gardening needs. A visit is well worth it." – Maurice Power
Efficient management
"Another 5 star review for Radharc and their staff. After doing a grand professional job on my garden, Darren completed a difficult, tricky job on my sisters Victorian courtyard… Darren, in charge should be praised for his keen eye, efficient management and personal touch. A real diplomat with good ethos. The staff worked hard very clean and courteous." – Mary Colbert
4. Hurley Landscapes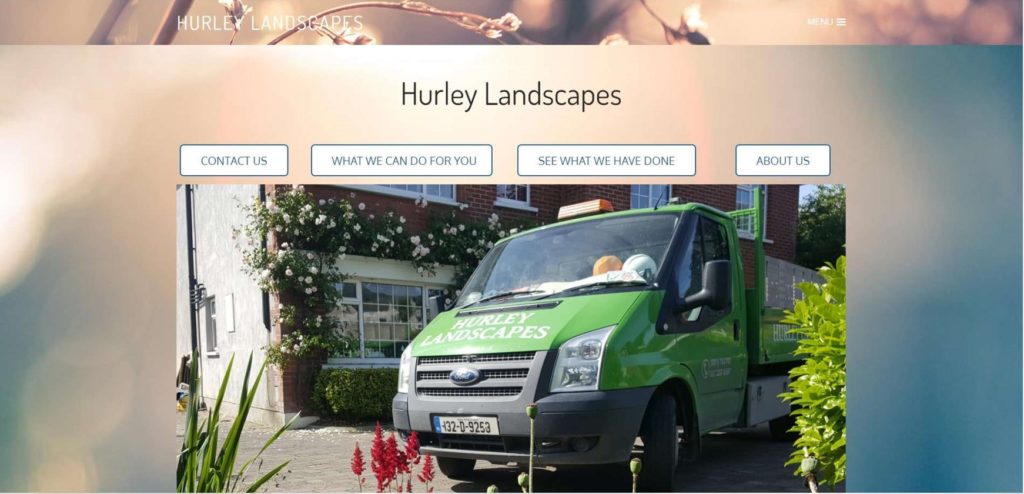 Test
Info
SERVICES

Consultation, Design and Planning

Garden Restoration and Maintenance

Lawn Laying, Supply and Level of Topsoil

Planting Layout, Shrubberies, Patio Areas

Bark Mulch or Pebbles Supplied

Shrubs or Perennials Supplied and Planted

Paving Constructed, Fencing, Stone Walls Built

Water Features, Trees

WEBSITE
http://hurleylandscapes.ie/
ADDRESS
4 Headford Rd, Ballinfoyle Mews, Galway, Ireland H91 N9YX
CONTACT DETAILS

PHONE: +353 877205431

OPERATING HOURS

Monday to Friday, 8:30 a.m. - 6:00 p.m.
| | |
| --- | --- |
| SERVICES | ★★★★★ (5/5) |
| EXPERIENCE AND PORTFOLIO | ★★★★★ (5/5) |
| ACCESSIBILITY | ★★★★★ (5/5) |
| PRICING | ★★★★☆ (4/5) |
Hurley Landscapes is a top-rated landscaping company in Galway, known for its professional services. In fact, it has a long-standing experience of 30 years in the industry.
We think one of its most notable benefits is the thorough consultation process. We find this helpful through ensuring that clients receive a fully customized solution that's fit for their standards.
Hurley Landscapes is particularly well-suited for domestic landscaping projects, with a specialization in garden restoration. In fact, it offers a 12-month replacement guarantee on its work so everything is covered.
Another good thing here is its expertise in decking and fencing, which adds a unique touch to any outdoor space.
We also like that it does clean work, as evidenced by its gallery and progress videos uploaded on its website.
Be advised, however that it requires a fee for its consultation,
Don't worry, it's refundable, so you can have peace of mind knowing that your deposit is secure.
It's also worth noting that Hurley Landscapes does not mention having its own nursery, which may limit the selection of plants and trees available for certain projects.
Still, it's a good choice for those in need of high-quality landscaping services in Galway, particularly on domestic landscaping.
Long experience 
Thorough consultation
Ideal for domestic landscaping
Best for garden restoration
12 months replacement guarantee
Has consultation fee 
No mention of own nursery
Customer Reviews
Delighted with finish product
"Alex and Dean landscaped our cafe garden, Kali in Salthill, and did an amazing job! They took the initiative and we're very efficient and quick. We are delighted with the finished product. The paving looks amazing and the planting is lovely. Can't recommend them enough! Come see the results for yourself." – Laura Kelly
Completely professional
"What a fantastic service from Alex and his team – not only was his work top quality, his attention to detail was second to none and he was an absolute pleasure to work with. A one stop shop and there was nothing he couldn't do. A completely professional, honest and reliable from start to finish. We feel lucky to have found him and recommend him highly." – Dee Finn
5. Colin Cooney Designs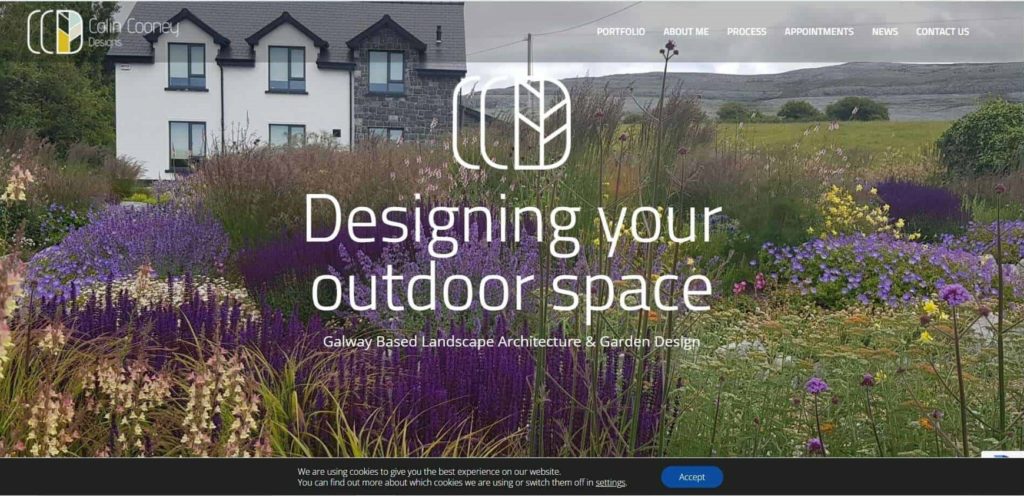 Test
Info
SERVICES

Garden Design, Landscape Architecture, Consultation

WEBSITE
https://www.colincooneydesigns.ie/
ADDRESS
Liscoyle, Gurtymadden, Loughrea, Co. Galway, Ireland
CONTACT DETAILS

PHONE: +353 868653188

OPERATING HOURS

Monday to Thursday, 8:00 a.m. - 5:30 p.m.

Friday, 8:00 a.m. - 4:30 p.m.
| | |
| --- | --- |
| SERVICES | ★★★★★ (5/5) |
| EXPERIENCE AND PORTFOLIO | ★★★★★ (5/5) |
| ACCESSIBILITY | ★★★★★ (5/5) |
| PRICING | ★★★★☆ (4/5) |
For any area size of a garden or empty lot that needs improvement, consider Colin Cooney Designs to do the landscaping.
For one, it's renowned for its sustainable designs and comprehensive process. These make sure that your landscaped garden survives any weather.
We also like that it specializes in mid-sized and residential gardens, with an established name in the industry.
One of its benefits is its utilization of 3D design and detailed plans that can give you a view of what the output would look like once done.
This approach is part of a comprehensive process that includes a site visit and consultation, garden design and masterplan, 3D garden visualizations, planting plan, detailed design drawings and quantities, project tendering, and project management.
Colin Cooney Designs has a beautiful portfolio that showcases its expertise in creating stunning outdoor spaces.
Not just that, but it offers a free 15-minute one-to-one conversation to discuss any project ideas or queries. Take this as an opportunity to learn more about its services and what's best for you.
Moreover, its website features a convenient online calendar for scheduling appointments.
The main downside of Colin Cooney Designs is that a quotation is needed for rates. It also doesn't operate on weekends, which may be inconvenient for weekday workers.
Nonetheless, it's a go-to for anyone seeking sustainable and visually stunning landscaping services in Galway. 
Sustainable designs
Ideal for mid-sized and residential gardens
Comprehensive process
Free 15 minute One-to-One conversation
Convenient online calendar on website
Quotation needed for rates
No weekend operations
Customer Reviews
Pleasure to deal with
"We hired the services of Colin to design our garden and provide a planting plan, and could not be happier with the results. He far exceeded our brief and his chosen plants for our garden look fantastic and the maintenance is minimal. A pleasure to deal with. We have had many compliments and have/would highly recommend Colin." –Carol Guilfoyle
Impressive design
"I was very impressed with Colin's design for my garden, he was very honest in his opinions, I gave him my ideas of what I liked and he did the design around that along with his own ideas.  I highly recommend Colin to anyone who is looking for a garden design." – Majella Hardy
FAQs About the Best Landscaping Services in Galway
---
Landscaping is a fantastic way to turn your property from a boring, lifeless space into a beautiful one that you can truly enjoy. Typically, plants, mulches, fountains, and furniture sets make a great landscape design.
Here are other reviews on landscaping in our site:
---