Top 5 Japanese Restaurants in Dublin
Japanese cuisine has become one of the most popular cuisines in Ireland. It's not surprising, considering both of these cultures value communal eating.
That's why you can find Japanese restaurants in Limerick. But if you're looking for a Japanese restaurant in Dublin, this is the list for you!
How much does it cost to eat in a Japanese restaurant?
Just like any other restaurant, the price of a Japanese meal will depend on the number and quality of ingredients as well as the extensive effort that came into cooking it. With that, we've found the average price of some of the most popular Japanese dishes:
| DISH | PRICE RANGE |
| --- | --- |
| Udon | €14 to €21.75 |
| Miso soup | €2 to €16 |
| Tempura | €7.50 to €13.50 |
| Kare Raisu (Curry Rice) | €12 to €22.95 |
| Sashimi | €6.50 to €27 |
| Ramen | €11.50 to €24.50 |
| Teriyaki | €15.95 to €17.90 |
| Edamame | €5.50 to €9.95 |
| Gyoza | €7.50 to €12.95 |
The Best Dining Experience in a Japanese Restaurant
When Japanese restaurants arrived in Ireland, it didn't take hold immediately. It took some recalibrating to figure out the elements that made a dining experience in a Japanese restaurant the best:
1. Zakura Noodle & Sushi Restaurant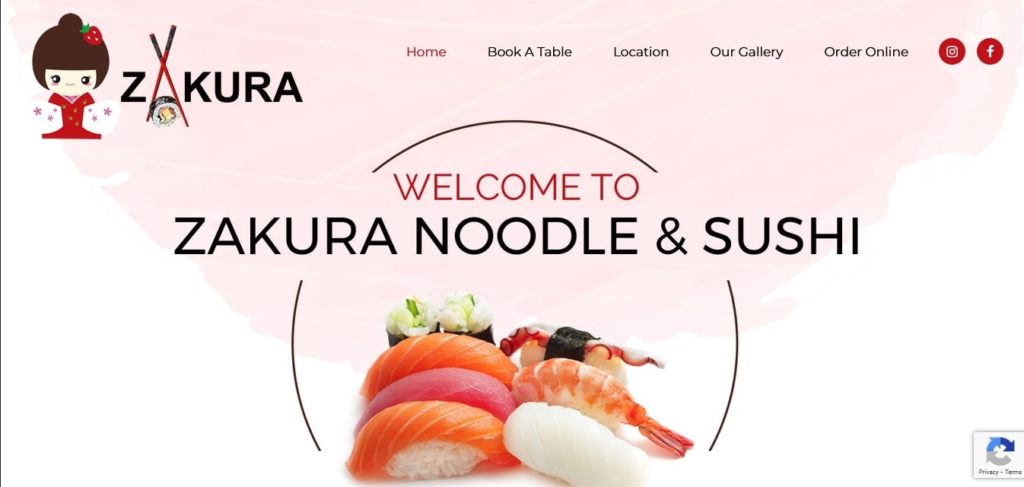 Test
Info
MENU
Japanese cuisine
PRICE RANGE
€25
WEBSITE
https://www.wexford.zakura.ie/
ADDRESS
13 Wexford Street, Dublin 2
CONTACT DETAILS
(01) 555 8000
OPERATING HOURS
Sunday to Wednesday - 12NN to 10:00PM

Thursday to Saturday - 12NN to 11:00PM
| | |
| --- | --- |
| AUTHENTICITY | ★★★★★ (5/5) |
| MENU | ★★★★★ (5/5) |
| FOOD QUALITY | ★★★★★ (5/5) |
| SERVICE | ★★★★★ (5/5) |
| VALUE | ★★★★ (4/5) |
Zakura Noodle & Sushi Restaurant is an authentic Japanese restaurant notable for their cutesy, pink and light visual theme in Wexford Street—and for their sushi!
Made from fresh, local ingredients and well-sliced by an expert, Zakura's sushi is on another level. They have a diverse selection of sushi choices from the classics in different sizes to big and special sushi rolls.
Among all of their choices, we highly recommend Salmon Sashimi, dipped in soysauce and wasabi that will give the tender meat a delicious, sharp zing.
For a more unconventional choice, try out their special sushi rolls. We would go for the Crunch Salmon Roll, the salmon wrapped around asparagus and topped with mayo and tempura flakes, for the contrasting soft and crispy textures.
However, if you're not a sushi fan, they also offer other dishes just as good as their sushi specialty, such as ramen, teriyaki, and donburi. They provide a menu for kids as well that includes two kinds of bento boxes that they can customize—all at €9.95.
Unfortunately, there's only a limited time to eat and stay at a table, around an hour and a half. Because of this, the service is quick to serve and to accommodate. Keep in mind this limit, so you don't rush through the delicious food of Zakura!
Authentic Japanese cuisine
Delicious food
Efficient service
Takeaway & delivery
Rushed, 1 hr and half time limit
Limited space
Customer Reviews
Simply Delicious
"Had the Yaki Udon, and after I told the waiter she assured me that she would tell the chef, and the chef delivered. The most delicious udon noodles I ever had the pleasure of tasting. 10/10 definitely recommend." — Erik V.
Big Recommendation!
"Food was really great and the list was big so there was everything for every! Not too busy in the Friday afternoon and the order came really fast. Totally recommend!" — Jjebe
2. Banyi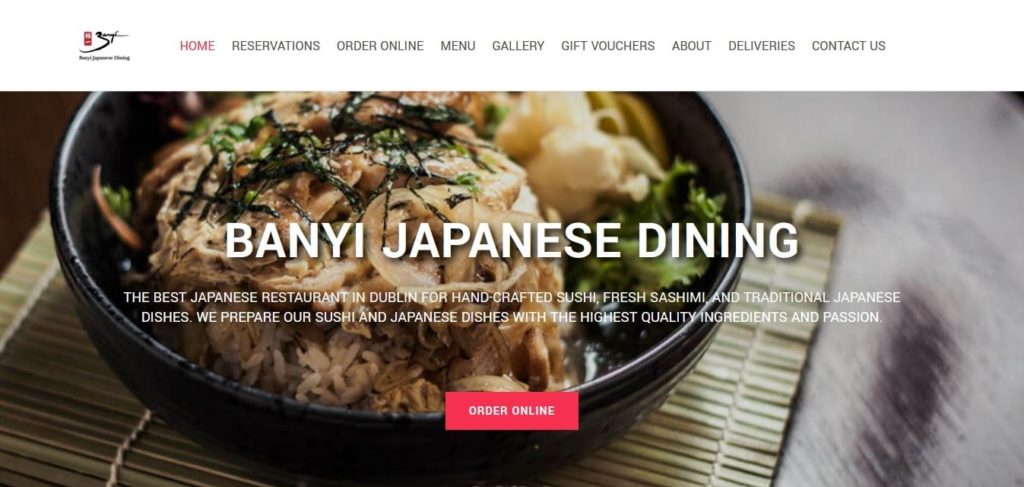 | Test | Info |
| --- | --- |
| MENU | Japanese cuisine |
| PRICE RANGE | €20 |
| WEBSITE | https://www.banyijapanesedining.com/ |
| ADDRESS | 3-4 Bedford Row, Dublin 2, Dublin |
| CONTACT DETAILS | +353 (0)1 675 0669 |
| OPERATING HOURS | Monday to Sunday - 12NN till late |
| | |
| --- | --- |
| AUTHENTICITY | ★★★★★ (5/5) |
| MENU | ★★★★★ (5/5) |
| FOOD QUALITY | ★★★★ (4/5) |
| SERVICE | ★★★★★ (5/5) |
| VALUE | ★★★★ (4/5) |
Down at Bedford Row is an authentic Japanese and Sushi restaurant called Banyi. It's a small but premium establishment dressed in traditional Japanese decor, with bamboo walls, dark seating, and dim lighting, for a cozy and tranquil ambience.
They serve a wide range of Japanese tapas, noodles, fried rice, sushi, and bento boxes. Although all of it tastes and feels like authentic Japanese cuisine, the quality of the food tends to vary, like some dishes are over-fried or undercooked.
Nonetheless, we do have a favorite dish: the Dynamite Ramen, a signature Banyi meal. A seafood-based ramen with mixed seafood, it will leave a burning trail down your body. It's perfect for folks who love spice and who need the warmth for a cold day.
But if you're not into that, another excellent choice is their Banyi Bento, where you could select the meat you'd like: beef teriyaki, salmon teriyaki, or braised venison. It includes white rice, soup, four pieces of a large sushi roll, and gyoza, all at €16.
The food here is so affordable and accessible. We appreciate the fact that they have an entire vegetarian menu, with many choices for meals from appetizers to main courses.
Banyi is a quiet spot of Japan in Dublin for diners who want a moment of themselves with food that tastes and feels healthy.
Authentic Japanese food
Diverse options
Cozy atmosphere
Fast service
Pick-up & delivery
Inconsistent food quality
Limited space
Customer Reviews
Amazing Hidden Gem!
"Banyi came as an absolute surprise to us as we walked around Temple bar in Dublin and were looking for a cozy place to eat. Where to start? Very friendly staff taking care of our stroller, and giving us a nice table. The food is amazing, fresh, authentic, and reasonably priced for a very high quality. They are very quick, not obtrusive but attentive at any time. What else do you wish?" — Psanner
All-Round Great!
"What a great little spot right in the heart of Dublin. Service was excellent and the food was just as great. Good value too! I got a bento box, a side and a soft drink for €28. I was amazed when the food arrived. It's not often you get a 'wow' nowadays and this place did just that. Would definitely recommend!" — Jessa
3. Musashi IFSC Noodle & Sushi Bar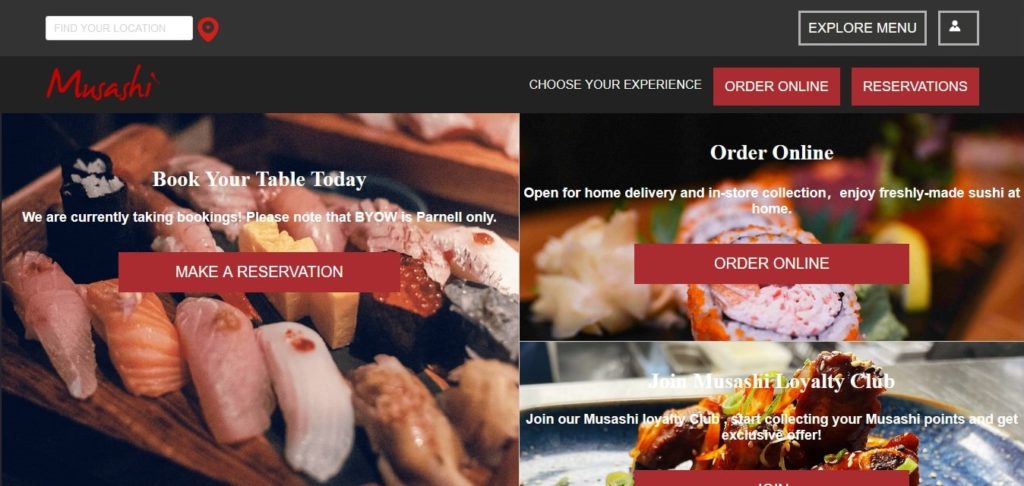 Test
Info
MENU
Japanese and Thai fusion cuisine
PRICE RANGE
€30
WEBSITE
https://www.musashi.ie/
ADDRESS
Custom House Square, Unit 2, Burton Hall, Mayor Street Lower, International Financial Services Centre, Dublin 1
CONTACT DETAILS
015557373
OPERATING HOURS
Sunday to Thursday - 12NN to 10PM

Friday and Saturday - 12NN to 11PM
| | |
| --- | --- |
| AUTHENTICITY | ★★★★★ (5/5) |
| MENU | ★★★★★ (5/5) |
| FOOD QUALITY | ★★★★★ (5/5) |
| SERVICE | ★★★★★ (5/5) |
| VALUE | ★★★★ (4/5) |
Musashi is an Asian fusion restaurant that blends the intricacy of Japanese cuisine with the contrasting flavors of Thai food. It's a compelling combination, but we can see why, with their love of spice and complex flavor profiles.
We really like the unique blend of Asian flavors on their menu. We've enjoyed their Pad Thai, its sweetness and spice pairing well with the softness of their Salmon Delight Platter and its wasabi soy sauce.
Another fun pair would be the Massaman Curry with a vegetable Cha Han. The mild spice of the Thai curry would be softened by the Japanese stir-fried rice, resulting in a perfect blend of flavors.
Unfortunately, these meals would cost over €30. Musashi is more on the expensive side of Japanese restaurants, but we'd say for an excellent meal, it's worth it. There are opportunities here to try new and interesting combination of flavors!
However, Musashi is often crowded with guests. So, to get in, it's better to reserve or call ahead. They also have a website available, but sad to say, it isn't as polished as their meals and is confusing to navigate.
While this means it is not as authentically Japanese, it does make for a memorable experience, especially when the quality of the food is this well-done.
Unique Asian fusion
Excellent food
Large portions
Spacious
More on expensive side
Confusing website
Customer Reviews
Japanese Lunch in Dublin
"When in Dublin… fabulous find. Gorgeous food, tempura, gyoza etc. each dish nicer than the last. We had lunch and it was divine. A busy spot with great atmosphere. Staff were friendly and helpful. Great value for €." — Galway
Excellent Sushi and Noodle Bar
"We visit here every time we are in Dublin, there are lots of Japanese restaurants in the city but we always have found Musashi to be a step above the others. Food is fresh and authentic." — Neil
4. The Ramen Bar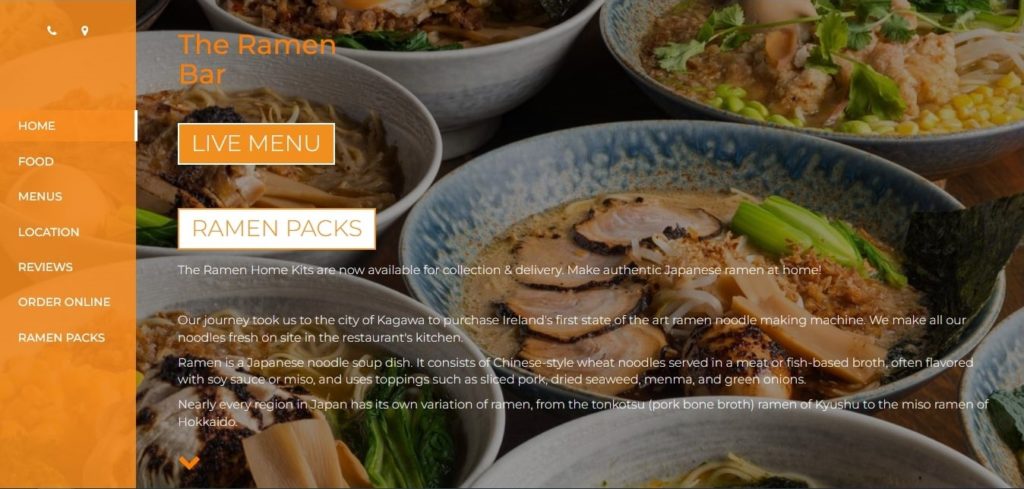 Test
Info
MENU
Japanese cuisine
PRICE RANGE
€25
WEBSITE
https://theramenbar.ie/
ADDRESS
51 South William Street, Dublin 2
CONTACT DETAILS
01 547 0658
OPERATING HOURS
Sunday to Wednesday - 11:30AM to 10PM

Thursday to Saturday - 11:30AM to 11PM
| | |
| --- | --- |
| AUTHENTICITY | ★★★★★ (5/5) |
| MENU | ★★★★★ (5/5) |
| FOOD QUALITY | ★★★★★ (5/5) |
| SERVICE | ★★★★ (4/5) |
| VALUE | ★★★★ (4/5) |
The perfect restaurant for noodle and soup lovers would be the Ramen Bar. An authentic Japanese restaurant, they specialize in everything ramen, with a noodle-making machine imported straight from Japan.
They serve three kinds of menus: the lunch menu, the dinner menu, and the takeaway, all of which have a diverse collection of Japanese dishes.
But for their speciality, our favorite would have to be the Tonkotsu Red Ramen. It comes with soft noodles, locally fresh ingredients and spicy bean sprouts. Nothing's more delicious than a classic with a bit of spice!
However, if you're not into their ramen, they made a unique dish that married Japanese and Irish flavors: the Ramen Beef Burger. It's a prime Irish beef burger patty, topped with teriyaki sauce, egg, and vegetables, in between two noodle buns.
Any meal from their menu is an excellent choice! Each one is clearly carefully crafted, presented on beautiful porcelain bowls, at an affordable price starting at €8.
Their service struggles, though, but only because of the amount of people coming into the restaurant. At peak hours, there's a risk of their service to slow down.
Nonetheless, the wait may be worth it. The Ramen Bar may be the best place for all ramen cravings.
Authentic Japanese cuisine
Delicious food
Wide range of options
Tight space
Inconsistent service quality
Customer Reviews
Satisfying Meal
"The black garlic pork ramen was absolutely delicious. The pork was so tender that it melted in my mouth. The noodles were very fresh and light and the spicy sauce it was served with was flavorful. It was a kind of sweet chilli sauce without much of a kick. The star was the vegan devil's ramen. The spicy sauce was served on the side and was incredibly tasty. I would eat this sauce with anything. It does have quite the kick but taste before you add it. We ended up adding this sauce to the other ramen as well. Pro tip: lightly dipping the pork chashu in this sauce was a game changer. The grilled tofu in this dish was also delicious. Overall, a great meal for all 3 of us. We were too full for dessert, but did see some on the surrounding tables that looked pretty good. The service was also really great. Our server was knowledgeable about the dishes and checked on us often." — Priya K.
Delicious Ramen
"The original tonkatsu ramen. Flavourful broth. Serving potion is generous. And I'd say it's pretty authentic. Love that the char siu is charred for that burnt taste. Location is along this alley and so cool to sit here people watching while slurping my ramen." — Shirley T.
5. Yamamori Izakaya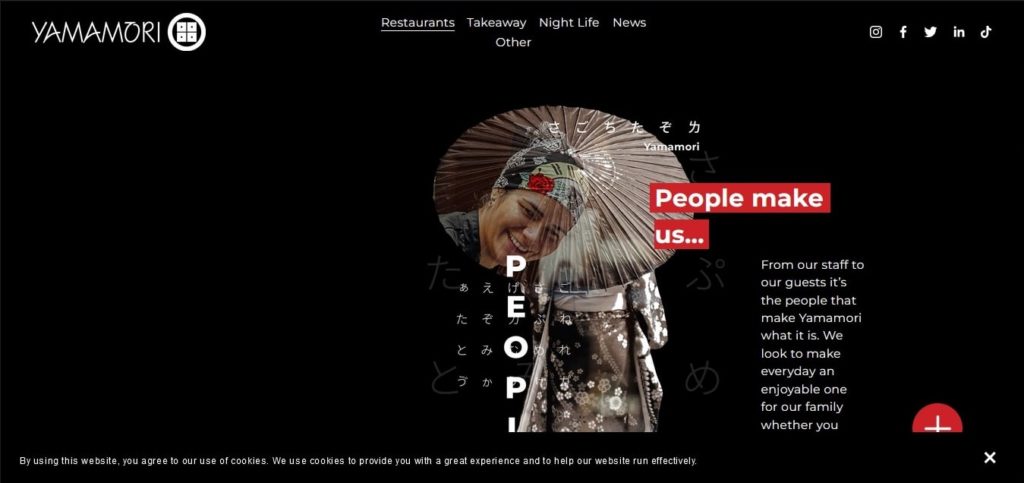 Test
Info
MENU
Japanese cuisine and Sake bar
PRICE RANGE
€40
WEBSITE
https://www.yamamori.ie/dining
ADDRESS
72 South Great Georges Street, Dublin 2
CONTACT DETAILS
00353 1 475 5001
OPERATING HOURS
Sunday and Monday - 12NN to 9:30PM

Tuesday to Thursday - 12NN to 10PM

Friday and Saturday - 12NN to 10:30PM
| | |
| --- | --- |
| AUTHENTICITY | ★★★★★ (5/5) |
| MENU | ★★★★★ (5/5) |
| FOOD QUALITY | ★★★★★ (5/5) |
| SERVICE | ★★★★★ (5/5) |
| VALUE | ★★★★★ (5/5) |
For the most high-class, traditional Japanese experience, it would be found in Yamamori Izakaya & Sake Bar. They offer the dual experience of dining at Yamamori and drinking at Izakaya, each with its own special menu.
At Yamamori, we'd recommend going for more classic meals, such as the Edameme as an appetizer, then the Chicken Katsu Curry as main course, for the full experience of traditional Japanese dining experience. Here is where you'll see Yamamori really shine.
Then, before you end the night, stop by Izakaya for a quick nightcap. We really enjoyed their signature sake, the Denshin Tsuchi Honjozo. Its earthy flavor would fit well with any meal you've had beforehand.
That's what we like here at Yamamori Izayaki: the ambience. Their dark tables and seating, with a subtle and minimal touch of Japanese design, act as the perfect, upscale backdrop for a full, relaxing night like this.
The only significant downside to the restaurant is the price. It's one of the most expensive Japanese restaurants in Dublin, but for a night like no other, the experience lives up to the cost.
Restaurants like Yamamori Izakaya, however, is often already filled with guests. To get a table, make sure to reserve beforehand through their contact number or their website. Or better, have it delivered!
Authentic Japanese cuisine
Diverse options
Excellent food
Delivery
Expensive
Better to reserve
Customer Reviews
Fast Delivery!
"Food was delivered quickly, I went for the chicken noodles special for a change. Everyone else in my group went for the bento box. The food is very good and quite reasonably priced!" — Cathal McGlinchey
Worth the Price!
"Great food and service! Pricey? Yup, but absolutely worth it. Update: went recently again here for lunch and food is still amazing, fresh and big portions. Vegetarian options: tofu steak, various sushi options." — Kristin Emmrich
FAQs about Japanese Restaurants
---
And that's our list! See for yourself the beauty and richness of Japanese cuisine through these Japanese restaurants in Dublin!
If you're trying out more Asian cuisines, there are Korean restaurants in Dublin as well that you can check out!