The 7 Best IVF Clinics in Ireland
If you're planning to start a family through in-vitro fertilisation (IVF), you've come to the right place.
We hope we can make the process a little less intimidating for you by listing down the best IVF clinics in Ireland, along with their services and more. At the end of this article, we've also laid out our tips on choosing the right clinic.
Cost is also a huge consideration in getting treatment so without further ado, let's discuss that first.
How Much Do IVF Clinics Charge in Ireland?
There are many costs to consider before getting an IVF treatment. Apart from the procedure itself, expect to pay for several consultations, tests, and medication.
According to the Irish Times, a cycle of IVF will cost between €6,000 to €10,000 on average. To give you a head start, we've gathered the estimated costs of our entries' IVF packages and consultation fees in the table below.
CLINIC
SERVICE
ESTIMATED COSTS
Merrion Fertility Clinic
Pre-IVF Consultation
€160
IVF Package
€4,500
ReproMed Fertility Clinic
Initial Consultation
€150
IVF Package
€4,600
Sims IVF
Initial Consultation
€180
IVF Package
€4,600
First IVF
Initial Consultation
€200
IVF Package
€5,960
Waterstone Clinic
Initial Consultation
€250 – €350
IVF Package
€5,000
Beacon CARE Fertility
IVF Package
Basic IVF Package: Starts at €4500
Initial Consultation: €175
The Best IVF Clinics in Ireland
Now that we have that covered, let's dive deeper into the top IVF clinics in Ireland.
1. Merrion Fertility Clinic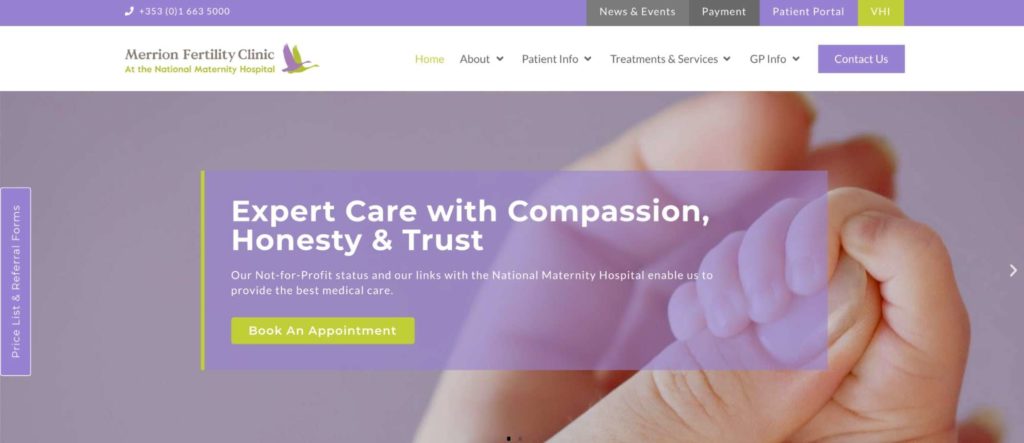 SERVICES
IVF, ICSI, frozen embryo transfer, ovulation induction, surgical sperm retrieval, surrogacy, etc.
WEBSITE
https://merrionfertility.ie/
ADDRESS
60 Lower Mount Street, Dublin 2
CONTACT DETAILS
01 663 5000 or 01 663 5017


[email protected]

OPERATING HOURS
Mon to Fri: 8:00 am to 4:00 pm
Sat to Sun: 9:00 am to 12:00 pm
Merrion Fertility Clinic is no stranger to the Best in Ireland team—for good reason. They're considered as a one-stop shop for fertility treatments, including IVF and many others.
So if you want to keep your options regarding fertilisation treatments open, this clinic can provide you with a wide range of choices.
We like that this clinic regularly reports their success rates on their website, including clinical pregnancy and live birth rates.
From what we've seen, clinical pregnancy rates are the highest among the 35 to 37 age group. Meanwhile, live birth rates are the highest among 40 to 41 years olds at 40%.
If you've never had a fertility check-up yet, you'll be glad to know that they accept first-time patients without the need for a GP or gynaecologist referral. Otherwise, you'll need a referral to book a semen analysis appointment.
We're quite disappointed to learn that waiting times for this clinic are quite long for first-time patients. As of writing, the earliest date you can get a consultation is in December 2021, with treatment occurring 3 to 4 months following your doctor's appointment.
Hence, we highly recommend completing their self-referral form as soon as you can if you don't mind waiting for a bit.
Similarly, we understand that time is a very important factor for some. So don't hesitate to skip this clinic if you're looking to get the treatment in just a few months time.
Wide range of treatments
Open on weekends
No referrals needed
Success rates available
Accepts cash, credit/debit cards, cheques
Long waiting list
48-hour cancellation notice for appointments
Weekends for existing patients only
Customer Reviews
Here are some good reviews written by Merrion Fertility Clinic's former patients:
"If it wasn't for the Merrion Fertility Clinic I wouldn't have my 2 children. They went above and beyond to help us, everyone from the girls at reception, the doctors, nurses and everyone else we dealt with couldn't have asked for better care. I wouldn't hesitate to recommend them to anyone having problems. They made our dream come true." —Laura J., Google Reviews
"MFC were amazing in helping us achieve our dream of becoming parents. All the staff from the nurses to the receptionist were so caring and understanding. You could feel they really wanted a positive outcome for us every step of the way. That is why we wont hesitate to return to MFC shortly to hopefully add to our family. Thank you so much to everyone in MFC!!" —Yvonne F., Google Reviews
2. ReproMed Fertility Clinic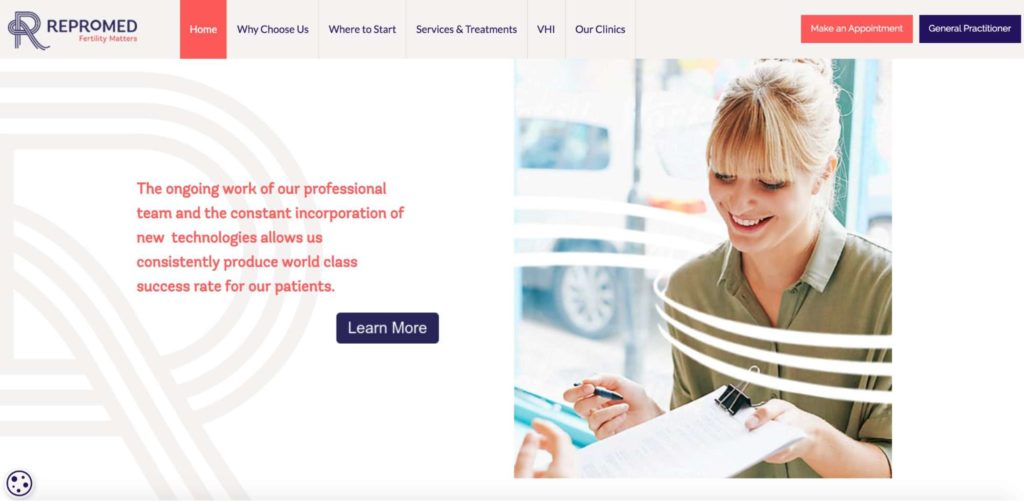 SERVICES
IVF, TSI, partner & donor sperm, egg donation, fertility preservation, semen analysis
WEBSITE
https://repromed.ie/
ADDRESS
5th Floor, Northblock Rockfield Medical Campus Dundrum, Dublin 16; other locations available on website
CONTACT DETAILS
0818 222 404
Online contact form here
OPERATING HOURS
Mon to Fri: 8:00 am to 4:00 pm
ReproMed is another fertility clinic offering IVF treatment.
We like this clinic's inclusivity in accepting patients from all walks of life. Whether you want to proceed with treatment as a single mom or with your partner, rest assured that you'll feel safe in ReproMed.
While they have multiple locations, you can actually book an online consultation as an alternative.
In fact, we highly recommend booking an online consultation instead for those residing in Dublin. While pay-for-parking facilities are available onsite, they get filled up easily, plus traffic around the area can be quite heavy, to boot.
Bear in mind that you'll need fertility tests before proceeding with your consultation, which can be administered in their clinics in Dublin, Galway, Kilkenny, and Drogheda.
You also don't have to worry about securing a referral first before your consultation as they aren't required. You can simply use their online form, and a representative will get in touch with you soon.
Important to note that they've also published success rates online, with a 64% success rate for women 35 years old and under.
No referrals needed
Online consultations available
Multiple clinics in Ireland
Relatively large team of specialists
Success rates published
Closed on weekends
Heavy traffic around the location
Customer Reviews
Check out see some reviews by ReproMed Fertility Clinic's previous patients:
"Easy to contact through the app. Mainly in Drogheda but more important appointments in Dublin. A little tricky to find entrance at first but lovely and friendly at every point of contact. Still in the process but feel well looked after even during a pandemic." —Sarah O., Google Reviews
"Wonderful, caring nurses and Doctors at Repromed Galway. They made my experience so much easier and relaxing." —Darina H., Google Reviews
3. Sims IVF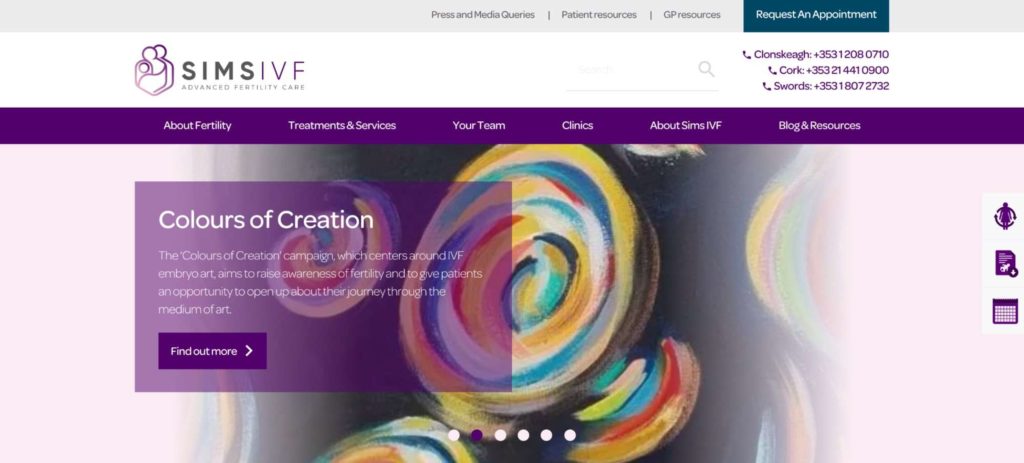 SERVICES
Fertility treatments like IVF, ovulation induction, artificial insemination (IUI), ICSI, IMSI, etc.; fertility preservation, donor programme, etc.
WEBSITE
https://www.sims.ie/
ADDRESS
City Gate, Mahon, Cork; other locations available on website
CONTACT DETAILS
021 441 0900


[email protected]

OPERATING HOURS
Mon to Fri: 8:00 am to 4:00 pm
Sims IVF may have multiple clinics around Dublin but Cork residents don't have to travel far to reach this clinic. You can simply find this reliable clinic at City Gate Mahon.
While they specialise in IVF treatments, they also have an extensive range of fertility treatments, too. From IUI to sperm donation, you can explore your options here.
This also means that they accommodate same-sex couples and single mothers who wish to conceive. Furthermore, you also won't need a referral to schedule an appointment.
We like the fact that they've also published their success rates online, with the latest one being in 2019.
In this study, they've found that success rates for patients at their Cork clinic are at 43.6% for women under 40 years old. Meanwhile, women aged 40 and above have a 30.8% success rate.
The only drawback we're seeing is that waiting lists can be quite long, considering that they also accommodate patients outside of Ireland.
Wide range of services
Success rates published
Multiple clinics in Ireland
No referrals needed
Large team of specialists
Closed on weekends
Relatively long waiting list
Cash not accepted
Customer Reviews
Take a look at what a former patient said about their services:
"Upon arrival for my AMH Test the staff were very friendly and the woman looking after me, Aoife, was very professional and comforting. The test itself was just a simple blood test and I was in and out very quickly. Results came back in a short space of time and any questions I had were answered without hesitation or rush. Very attentive and made the entire experience much easier than I had anticipated. I will be recommending my female family and friends to use Sims Clinic going forward due to their exceptional service." —Ciara B., Google Reviews
4. Beacon CARE Fertility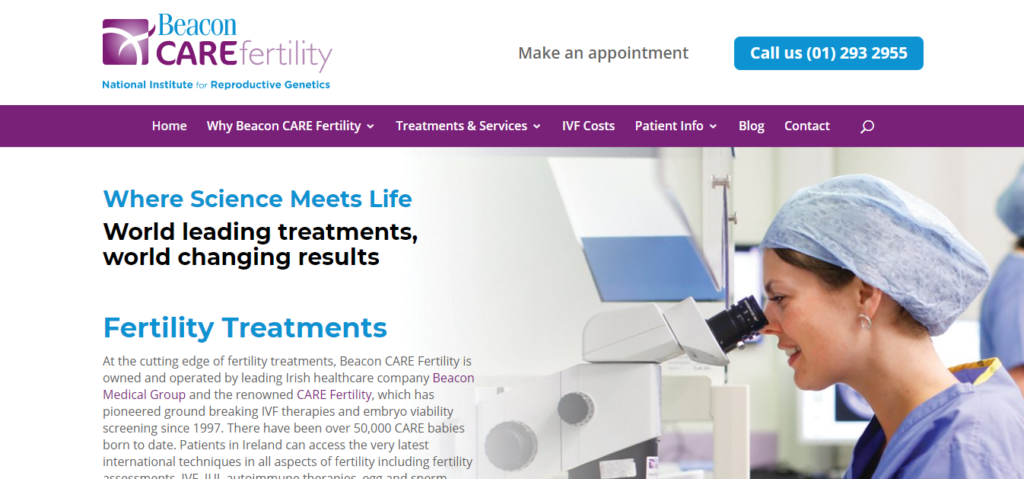 SERVICES
IUI (Artificial Insemination)
IVF – In Vitro Fertilisation
ICSI (Intra Cytoplasmic Sperm Injection)
Recurrent Implantation Failure / Miscarriage
Secondary Infertility
Reproductive Genetics Testing
Fertility Assessments
Endometrial Function Test
Semen Analysis
Reproductive Immunology
Ovulation Induction
WEBSITE
https://www.beaconcarefertility.ie/
ADDRESS
Beacon Court, Bracken Rd, Sandyford Business Park, Sandyford, Dublin 18, D18 AK68, Ireland
CONTACT DETAILS
Telephone:
(01) 293 2955
Email:


[email protected]

OPERATING HOURS
Monday-Friday 8:30-5pm
Beacon CARE Fertility is owned and operated by leading Irish healthcare company Beacon Medical Group and the renowned CARE Fertility. We think they are amazing because they have been pioneering IVF therapies and embryo viability since the year 1997.
We made them a part of the top 10 IVF clinics due to a number of reasons.
First is their expertise and experience. As a part of the international CARE network, their doctors can access the best scientific advances in the whole world, giving them the knowledge to deal with even the most complex fertility problems.
Next would be how they design the treatment plans of their clients. If you want the chance to have a baby, they will tailor an approach specifically for you, look after you every step of the way, and help in everything they can.
There have been over 50,000 CARE babies born to date
Their scientists have made a number of groundbreaking discoveries and advancements
Renowned for their embryo viability screening (PGT-A)
Customer Reviews
Check out some comments about Beacon CARE Fertility below:
"Beacon Care Fertility in Dublin are just great. The staff are kind to their patients and mindful basically they are everything you need for this process. A special shout out to Dr Omar who is so kind and informative. These guys are streets ahead of other clinics in every way. Their science and service is worth every cent. We had cycle number 2 with Beacon Care our first cycle was with another clinic in Dublin but their stuck in the 80s and the overall experience was bad. If you want the best care and all the benefits of modern science look no further than Beacon Care Fertility."
5. First IVF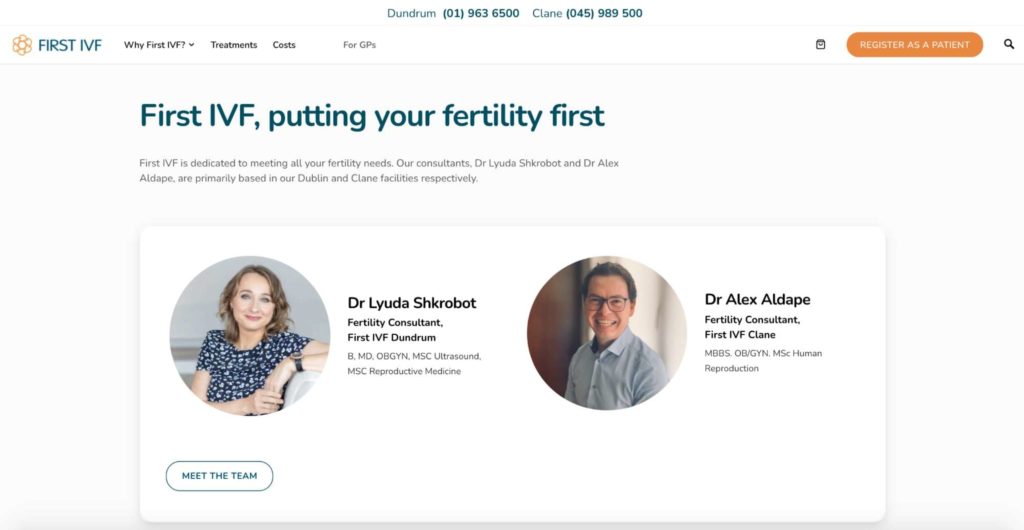 SERVICES
IVF, artificial insemination, sperm donation, embryo freezing, embryo donation, IVF with egg donation
WEBSITE
https://firstivf.ie/
ADDRESS
Clane
First IVF Clane Abbey Hall, Abbeylands, Clane Co. Kildare

Dumdrum
Frankfort Hall, Dundrum, Dublin
CONTACT DETAILS
Clane
045 989 500


[email protected]



Dumdrum
01 963 6500


[email protected]

OPERATING HOURS
Clane
Mon to Fri: 8:00 am to 4:00 pm

Dumdrum
Mon to Thurs: 8:00 am to 4:00 pm
Fri: 9:00 am to 2:00 pm
Aptly named as First IVF, this clinic is responsible for the success of the first baby to be conceived through IVF in Ireland back in 1987. From a humble small town clinic in Clane, they later on became one of the most trusted names in IVF treatments nationwide.
Apart from the regular IVF treatment, some patients may need donor eggs to proceed. Luckily, they offer this option at First IVF, and you're free to choose whether you want to use identifiable or anonymous donors for this treatment.
You can undergo treatment with identifiable donors at First IVF. On the other hand, you'll need to travel to Barcelona if you choose otherwise.
Just keep in mind that you'll have to shoulder your own costs for travel. First IVF will only make necessary arrangements for an embryo transfer at Institut Marques.
We're seeing 2 disadvantages with First IVF though.
First, prices are a bit steeper than the average. However, having a relatively remote location means that they'll have less patients to see, giving you a highly personalised service.
Next, you won't find any of their success rates online, but don't let this discourage you. The doctors at First IVF are highly skilled in their field, and you can discuss success rates during your consultation.
Two locations available
Online consultation available
No referrals needed
Ideal for donor egg IVF treatments
Relatively expensive
No published success rates online
Closed on weekends
Customer Reviews
See what some of their past clients have to say about them:
"Dr Lyuda is one of the best. She made both of us feel at ease the whole way through our treatment and most importantly listened to us. Could not recommend this clinic enough. All staff are very kind and helpful." —Clare, Website Testimonials
"My wife and I first attended this clinic in Clane when it was the Institute of Marques, unfortunately we had a rocky start with poor communication and customer service. However, once the clinic was taken over by First IVF there was a dramatic change in every way. Dr. Lyuda and her team are AMAZING! they get back straight away to any query no matter how small. They made us feel so comfortable at all times. Aisling on the reception in Dundrum was always so friendly and helpful and the nurse Maurie was honestly the best. We couldn't have asked for anything more. I am currently 18 weeks pregnant with twins 🙂 Thank you First IVF." —Micaela C., Google Reviews
6. Waterstone Clinic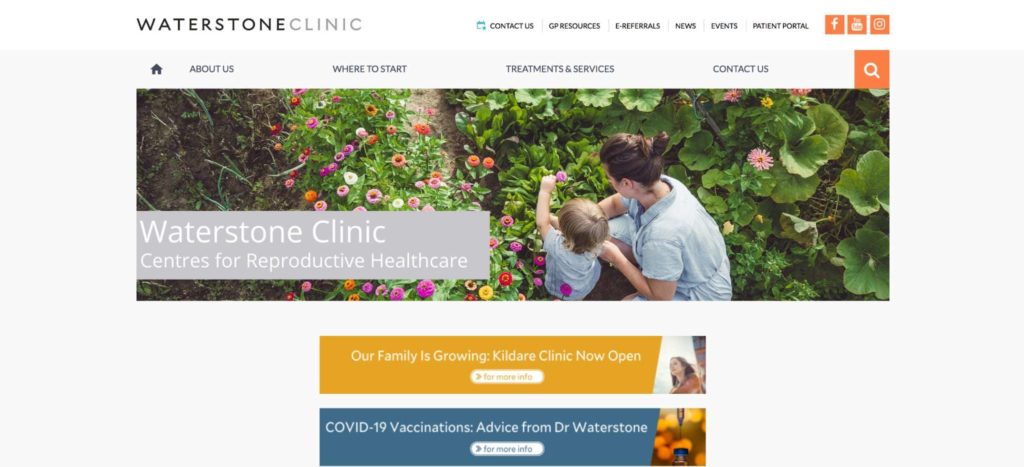 SERVICES
Fertility treatments like IVF, ICSI, IUI, etc., reproductive genetics, freezing services, donation treatments, fertility tests, etc.
WEBSITE
https://waterstoneclinic.ie/
ADDRESS
Lotamore House Tivoli, Cork; other locations available on website
CONTACT DETAILS
021 486 5764


[email protected]

OPERATING HOURS
Mon to Fri: 8:00 am to 5:00 pm
Sat to Sun: 8:00 am to 2:00 pm
Lastly, you can also entrust Waterstone Clinic for IVF and other fertility treatments. They also have a comprehensive range of services available in major cities across Ireland including Dublin, Cork, and Waterford, to name a few.
We're happy to include it in our list due to its multiple locations and almost non-existent waiting list. Expect a maximum of 4 weeks before coming in for your consultation, as you'll have to get a number of tests done prior to that.
As soon as you have those taken care of, you and your assigned specialist will arrange for treatment to get started as soon as possible. Like other entries on our list, you don't need a referral for a consultation.
While they have success rates published online, the last update was in 2018 though, with an average live birth rate of 39% for women below 40 years old.
We also like the fact that Waterstone Clinic offers counselling support for couples and individuals experiencing fertility difficulties. And the best part is that this service is free of charge, available at any point of the treatment.
Perhaps the biggest disadvantage is its relatively high price tag, requiring payments to be paid in full prior to treatment. If costs are a bit steep, you can check with your insurance company to see if they cover consultations.
Wide range of services
Open on weekends
Clinics available nationwide
No waiting list
Free counselling support
No referrals needed
Success rates not regularly updated
Advanced payments required
Customer Reviews
Check out some comments about Waterstone Clinic below:
"I have no hesitation in recommending Dr John Waterstone & his team. He is a top surgeon, very honest in his dealings with clients & extremely professional. He restored my faith in the Irish medical profession after a traumatic experience I had endured under a different consultant in another county. It was a comfort for me too find someone I could fully trust and a grace to know I was in safe hands." —Jacqueline G., Google Reviews
"Highly recommend Waterstone clinic . The staff are amazing , so friendly and really make you feel at ease. They helped me fulfil my dream of becoming a mum and will be forever grateful." —Selina M., Facebook
7. Scotia Clinic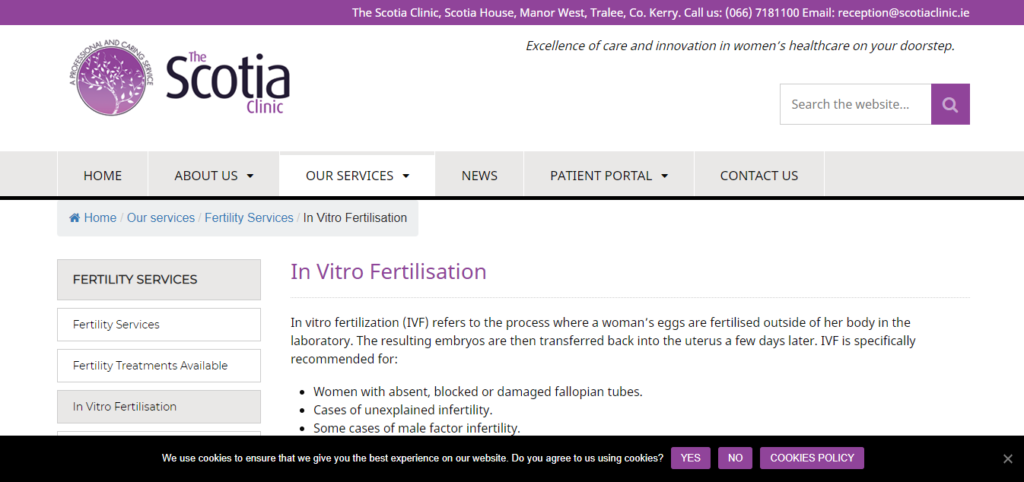 Scotia Clinic is a leading private clinic that is dedicated to the healthcare of women. They have been operating since 2002 with a team of experienced consultants and nursing staff.
We think they are great because their patient care is tailored to the individual with great emphasis on safety and high-quality clinical care and cleanliness. Plus, they are very compassionate and they take the time to listen to each patient.
Aside from these, we can recommend them because there are affiliated with the Beacon and First IVF in Dublin and Cork. This partnership allows patients to have all of their care – apart from egg retrieval and embryo transfer – in Kerry.
In comparison to other clinics, they offer onsite ultrasound scanning, rapid access to laboratory results, onsite phlebotomy, and NIPT testing. They strive to deliver high-quality and cost-effective healthcare in the communities they serve.
Exceptional Care
Covered by all major insurance companies
Rates are available on their website
The team consist of only 4 members
Customer Reviews
Check out some of the testimonials of their previous clients:
"Thanks to Dr McCaffrey and all the staff at the clinic for excellent care for bringing my baby boy safely into this world would highly recommend this clinic thanks again."

"Excellent clinic. Very professional staff. Thank you Dr McCaffrey for safely delivering our little darling Tommy into the world, would highly recommend this clinic to any expecting Moms."

How to Choose the Right IVF Clinic
Choosing an IVF clinic is a very personal decision, and can be quite daunting especially for first-time parents. Here are some tips to consider in your search.
Look for Qualified Specialists
Above all else, look for fully qualified clinics or doctors that can get the job done in a safe environment. For starters, you can ask your gynaecologist for referrals.
Otherwise, you can also approach family and friends for recommendations. If they haven't undergone the process themselves, they might know someone who has, and you can ask them about their experiences.
Of course, you can also begin your preliminary search by looking at fertility clinics online. More often than not, you'll find everything you need to make a decision before booking a consultation.
Consider Accessibility
You'll need to find a clinic or specialist that you and your partner can easily go to. Once you've decided to proceed, expect several visits to the clinic spanning over months, if not a year.
Hence, it's important to factor in travel times and convenience from your home to your chosen clinic.
Book a Consultation
Once you've narrowed down your search, the best thing to know if a clinic is right for you or not is by booking an initial consultation. First impressions matter—and from your first visit, you can assess the location, its services, and your doctor in detail.
During the consultation, you can ask your doctor everything that you need to know before moving forward. At the end of the consultation, ask yourself what you felt about the visit.
Does your doctor make you feel comfortable about the process? Does your doctor genuinely want to help you?
FAQs about IVF
---
And that concludes our guide on the best IVF clinics in Ireland. We hope that we've made the process a little bit easier for you.
If you think that there are other clinics that deserve to be on our list, don't hesitate to leave us a message.
To give you more options for fertility treatment, you can also refer to our list of the best fertility clinics in Dublin.