5 of the Best Italian Restaurants in Dublin
It's easy to understand why Italian restaurants are found all over the world, due to its focus on fresh ingredients. You're definitely not alone if you're craving for some delicious pasta or a delectable pizza for your next meal.
In this article, we found the best Italian restaurants in Dublin that can satisfy your appetite! If you're starting to get hungry, read on!
How much does Italian food cost?
Italian food's primary focus on fresh ingredients, like vegetables, meats and fish, is where most of the prices for its dishes are based.
Alongside the quality of the ingredients, you also have the labor cost and standard of facilities which contribute to these prices.
Below is a table of estimated prices for different types of Italian dishes.
| Dish/Meal | Price Estimates |
| --- | --- |
| Insalata | € 12 to € 14 |
| Bruschetta | € 8 to € 12 |
| Antipasto | € 16 to € 20 |
| Calamari | € 13 to € 14 |
| Ravioli | € 18 to € 22 |
| Linguine | € 20 to € 25 |
| Vegan Pizza  | € 14 to € 19 |
| Quattro Formaggi | € 15 to € 18 |
Top Italian Restaurants in Dublin
Even though food is a subjective issue, there are objective ways to analyze restaurants. We assessed the eateries on our list according to the following criteria:
1. Manifesto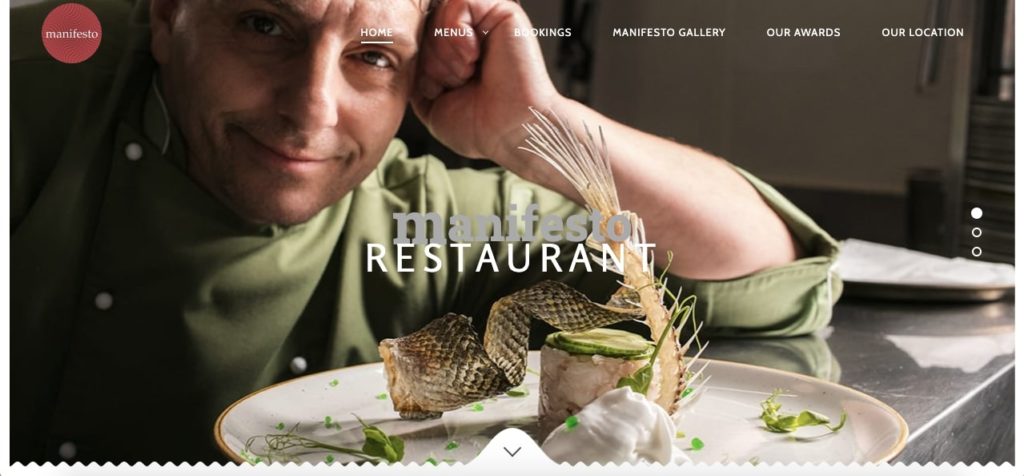 Test
Info
MENUS

Antipasti

Le Nostre Pasta

Main Courses

Pizza

Manifesto Wine List

WEBSITE
http://manifestorestaurant.ie/
ADDRESS
208 Rathmines Rd Lower, Dublin 6
CONTACT DETAILS
(01) 496 8096,

[email protected]

OPERATING HOURS

Everyday: 5:00 PM to 10:00 PM

PRICE PER PERSON

Antipasto: €14.14

Pizza: €16
| | |
| --- | --- |
| Menu | ★★★★★(5/5) |
| > Variety | ★★★★★(5/5) |
| > Portion sizes | ★★★★☆(4/5) |
| Prices | ★★★★☆(4/5) |
| Atmosphere and facilities | ★★★★☆(4/5) |
| Feedback | ★★★★☆(4/5) |
| > Satisfaction | ★★★★☆(4/5) |
| > Customer service | ★★★★☆(4/5) |
Customers who visit Manifesto restaurant can rest assured of the quality and range of options the next time they're craving a delicious course meal.
Lucio Paduano, the owner and chef, is from the south of Italy himself so customers can definitely feel certain of the experience of the staff and quality of the recipes.
What we greatly appreciate about Manifesto is that the team makes sure that their dishes are coeliac friendly. They also have options for vegan and vegetarian customers making it a much more solid choice for those with specific dietary needs.
We were also very impressed with the amount of awards the restaurant has garnered due to their excellence in quality. In 2019, they were even awarded as one of the 50 best pizzerias in Europe.
This makes it even more of a must visit, the next time you're craving for some Italian cuisine in Dublin.
Admittedly, the restaurant itself can fill up quite fast as the space does not fully accommodate the high demand. However, we do like that their ambiance is simple yet blends both modern and rustic textures.
In terms of their food selection, the standouts are definitely the pizza and wine menu. Many customers have noted the flavors to be excellent and worth coming back for.
However, do take note that while their other menu items are available for pickup and delivery, gluten free pizza options are only available for dine in.
If you are looking for an Italian restaurant that has an exceptional range of both pizza and wine, we highly recommend checking out Manifesto.
Offer pick up and delivery through Deliveroo
Coeliac friendly options
Have won numerous awards
Very impressive range of wine offerings
Small space so location may fill up fast
Gluten free pizza is limited
Customer Reviews
Good Food, Nice Ambience
Been twice now and the ambience is nice, food is good, the pizzas have great ingredients and are a little salty which i really like. They have one of the largest wine lists around and the service is minimalist but on point. Worth visiting and great little spot in Rathmines. Manifesto and a trip to the cinema is a great plan. – Michael Jordan Taylor
You Won't Regret It
Hands down still the best pizzeria in Dublin.
Small place so book early. Has other dishes on the menu but its pizza is just simply the best choice. You wont regret it. – David D
2. Da Mimmo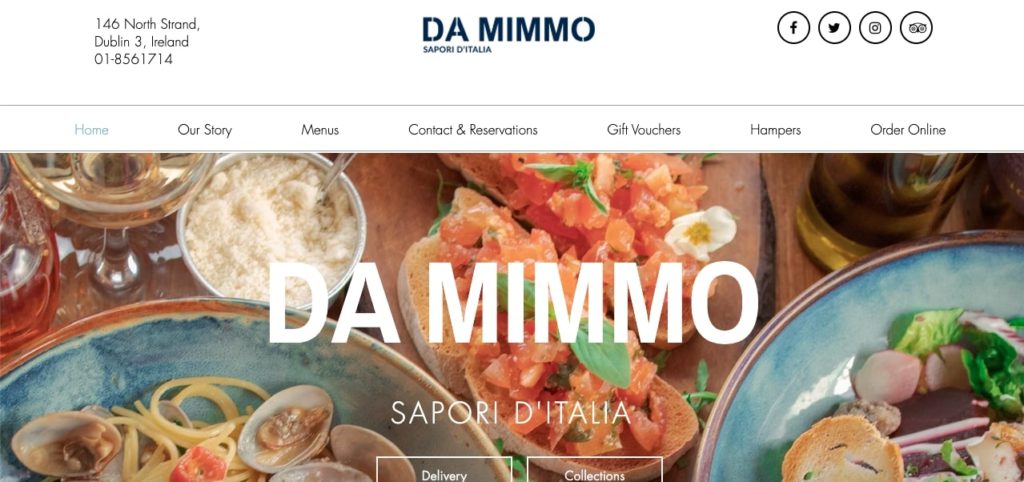 Test
Info
MENUS

Antipasti

Primi Piatti

Main Courses

Pizza

Side Orders

Dipping Sauces

Desserts, Drinks

WEBSITE
https://www.damimmo.ie/
ADDRESS
146 North Strand, Dublin 3
CONTACT DETAILS
01 856 1714, 01 834 9773,

[email protected]

OPERATING HOURS

Everyday: 12:00 PM to 9:30 PM

PRICE PER PERSON

Two course lunch: € 8.5
| | |
| --- | --- |
| Menu | ★★★★☆(4/5) |
| > Variety | ★★★★★(5/5) |
| > Portion sizes | ★★★★☆(4/5) |
| Prices | ★★★★★(5/5) |
| Atmosphere and facilities | ★★★★★(5/5) |
| Feedback | ★★★★★(5/5) |
| > Satisfaction | ★★★★☆(4/5) |
| > Customer service | ★★★★★(5/5) |
A restaurant that captures the spirit of hearty and warm food to share, Da Mimmo is a great option for those looking for freshly prepared dishes perfect for group sharing.
They are a family run business with a long history in the food industry. Nowadays, even dubbed by LovinDublin as a "Italian Gem", they aim to carry out the ongoing tradition of sharing meals to future generations.
We really like the atmosphere and look of the whole restaurant. The warm lighting and sleek furniture and decor really add to the experience of eating something special when you visit Da Mimmo.
On top of this, customers will enjoy that Da Mimmo also offers delivery and takeaway. This makes it much more accessible for customers to eat their meals whenever convenient.
We do advise considering these options as during certain times, the restaurant can get quite busy and difficult to get into.
What impresses us a lot about their menu though, is that there is quite the amount of vegetarian options in the antipasti, side orders and pizza category. We think it's an excellent choice if you're looking for a lot of vegetarian dishes.
Their wood fire pizzas are the standout choice for us as they have quite the range of options and variety of flavors.
Da Mimmo is a great Italian restaurant to visit the next time you're in the Dublin North Strand area.
Open daily and offers dine in, delivery, and takeaway
Offers daily specials for a wider variety of options
Great atmosphere and ambiance
Excellent amount of options for vegetarians
Can be very busy during certain times
No wine options
Customer Reviews
Great Dishes
Probably the best Italian restaurant in Ireland. It doesn't look fancy and tables are placed close together, but it oozes atmosphere. It's usually packed with people, so book your table. Closes relatively early. Great pasta and risotto dishes with fantastic seafood. Pizza would be hard to beat. – Reinhard Schaler
One of the Best Lasagnas
One of the best Italian restaurants in the country. I was looking for a good lasagna and it was one of the best in my life. The starter I chose from their starters of the day was amazing as well. The place is small but great decorated. And they have a proper oven, so I assume pizza will be great as well. – Adrián Almorin Fernández
3. Dunne & Crescenzi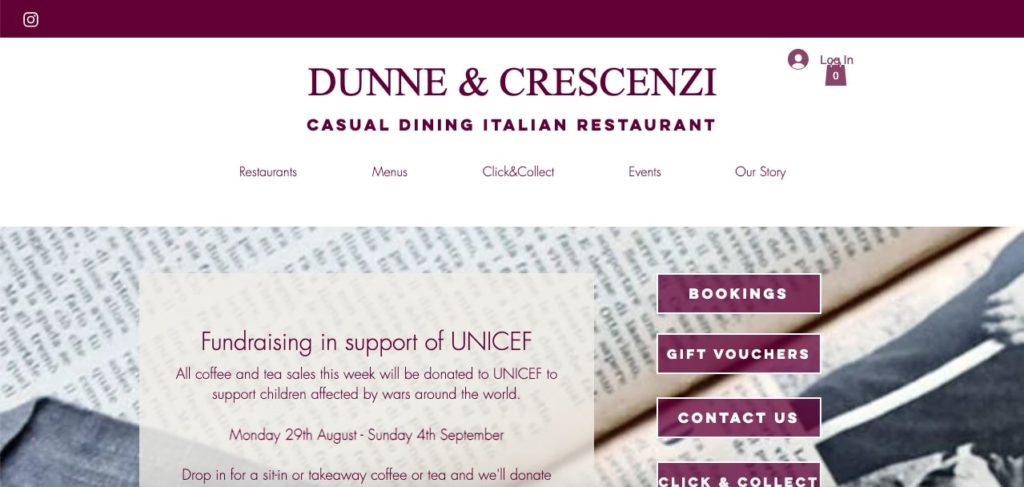 Test
Info
MENUS

Breakfast

Wine

A La Carte

WEBSITE
https://www.dunneandcrescenzi.com/
ADDRESS
14-16 South Frederick Street, Dublin 2
CONTACT DETAILS
+353 1 675 9892
OPERATING HOURS

Everyday: 9:00 AM to 11:00 PM

PRICE PER PERSON

Breakfast: €4 to €8

Bontà Quotidiane: € 17.6

Evening Specialties: € 25.2
| | |
| --- | --- |
| Menu | ★★★★☆(4/5) |
| > Variety | ★★★★☆(4/5) |
| > Portion sizes | ★★★★☆(4/5) |
| Prices | ★★★★☆(4/5) |
| Atmosphere and facilities | ★★★★★(5/5) |
| Feedback | ★★★★★(5/5) |
| > Satisfaction | ★★★★☆(4/5) |
| > Customer service | ★★★★★(5/5) |
Dunne & Crescenzi offers a casual dining experience that really elevates the senses. It is worth the experience the next time you're looking for hearty Italian food.

Couple Eileen Dunne and Stefano Crescenzi initially opened the restaurant in 1999.
Since then, the restaurant has garnered awards and praise such as the "Casual Dining Restaurant of the Year" by Georgina Campbell in 2020.
We really like the ambiance of this restaurant from its deep wood, warm lighting and display of wine bottles across the wall. There's also a good amount of space and we find it to be a great spot to visit during holiday evenings and date nights.
If you are looking for your morning fix of cappuccino and espresso, Dunne & Crescenzi has a dedicated breakfast menu. From options like Italian bacon, breads and coffee, it's a great place to drop by or grab takeout in the morning.
Their A La Carte menu is also quite impressive as they have a mozzarella & cheese bar and very tasty pasta options like their ravioli ai funghi.
However, their City Centre and Dundrum branch don't have the best options if you're dining with kids. Their Kildare branch, however, does have a kids menu but it's quite limited and small.
The next time you're looking for a delicious cup of coffee or delectable evening dishes, we suggest to check out what Dunne & Crescenzi has to offer.
Accommodates private event requests
The restaurant does fundraising from time to time
Good amount of space and very warm ambiance
Excellent breakfast menu
Not the best range of dishes for kids
No pizza options
Customer Reviews
Excellent and Authentic
Recommended by a family friend. Excellent and authentic Italian cuisine. Service team was friendly and prompt. Italian wine selection is good and not overpriced. Ravioli special, gnocchi, bruschetta and tiramisu was all superb. Will return often. – Ted Bolstad
Helpful and Attentive Staff
Delicious Gnocchi and fresh veg. Staff were attentive and helpful and accomodated all our needs it was a delightful evening! Will definitely be back – Clare Hilton
4. Host Restaurant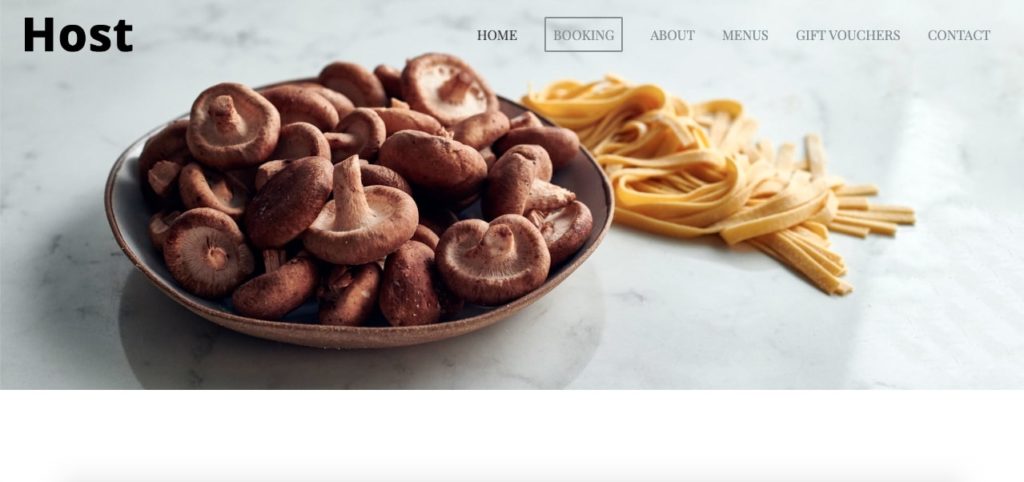 Test
Info
MENUS

Food Menu

Wine Menu

WEBSITE
https://hostrestaurant.ie/
ADDRESS
13 Ranelagh, Dublin 6
CONTACT DETAILS
01 561 2617,

[email protected]

OPERATING HOURS

Tuesday, Wednesday, Friday, Saturday: 5:00 PM to 9:30 PM

Thursday: 5:00 PM to 9:45 PM

PRICE PER PERSON

Small plates and pasta: €13 to €15

Menu for two: € 32.5 per person
| | |
| --- | --- |
| Menu | ★★★★☆(4/5) |
| > Variety | ★★★★☆(4/5) |
| > Portion sizes | ★★★★☆(4/5) |
| Prices | ★★★★☆(4/5) |
| Atmosphere and facilities | ★★★★★(5/5) |
| Feedback | ★★★★★(5/5) |
| > Satisfaction | ★★★★★(5/5) |
| > Customer service | ★★★★★(5/5) |
Host is a restaurant in Dublin that definitely sets itself apart from the rest. It carries a curated list of items with a very sophisticated approach to dining.
Although founded in 2017, which is quite recent compared to other restaurants, Host has established a unique experience that attracts a loyal customer base.
We really like the minimalist atmosphere they have, which is manifested through their menu and facilities. It feels casual and hip, offering both a traditional sit down table area as well as high stools.
We do think, however, that they may not be the best restaurant to vist for larger group because of their menu and more paired down space.
If you're looking for a restaurant that's more suitable for one-on-one and small group dining, they're an excellent choice because of their intimate space.
A definite standout about this Italian restaurant amongst others is their curated menu, with around three options per standard category.
While Host might offer less options, the quality is superb.Many customers have praised how they're able to make the flavors shine in dishes like their tagliatelle ragu bolognese and burrata with Italian peaches and balsamic.
In short, Host is the restaurant for foodies looking for a more minimalist approach when it comes to dining. They're one of our top picks in Dublin for those with sophisticated tastes.
Have a pickup and collection service
Sleek and clean ambience
High quality dishes with a focus on the ingredients' full flavors
Attentive staff service
Very small menu range
Not the best option for large group dining
Customer Reviews
Simple and Delicious
One of my absolute favourite spots in Dublin! I love it when restaurants do the simple things extremely well, with the very best ingredients- that's exactly what you can expect at Host. Classic Summer dishes like grilled marinated peach with creamy burrata, delicious Pasta con ragu and to top it off, one of the best pieces of meat I've had in a very very long time. Combine all this with fair prices, great drinks and charming service and you have a perfect evening. Will come back again and again – Sebastian Peter
Excellent Food, Friendly Staff
I enjoyed a wonderful meal here last night.
The food was excellent quality & mixed incredible flavours.
The staff were warm & friendly & gave great wine advice. – Pauline O Connell
5. Toscana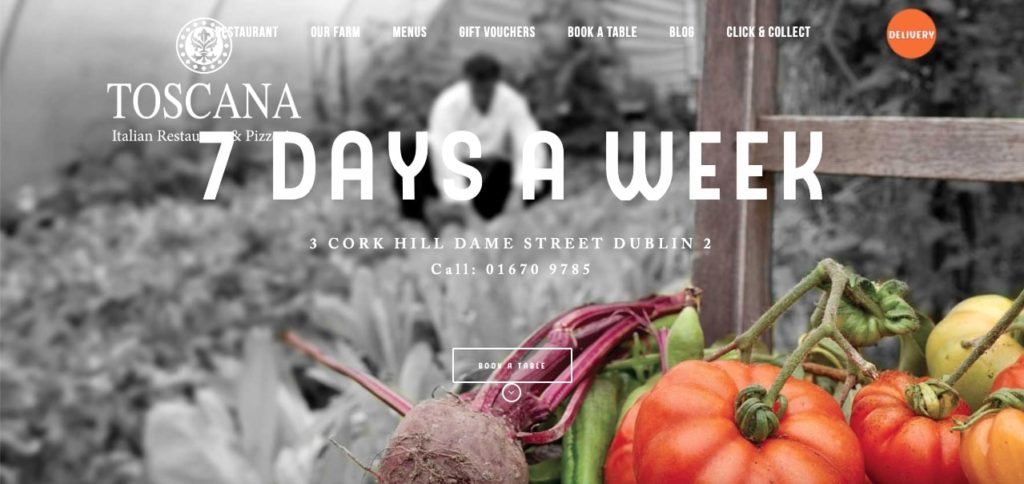 Test
Info
MENUS

A La Carte

Lunch

Early Bird

Desserts

Set Menus

Christmas Menu

Cocktail

Wine Lists

WEBSITE
https://toscanarestaurant.ie/
ADDRESS
3 Cork Hill, Dame Street, Dublin 2
CONTACT DETAILS
+ 353 1 670 9785,

[email protected]

OPERATING HOURS

Monday, Sunday: 12:00 PM to 10:00 PM

Wednesday, Tuesday: 12:00 PM to 10:30 PM

Thursday, Friday, Saturday: 12:00 PM to 11:00 PM

PRICE PER PERSON

Early bird menu for 3 courses: € 30.95

3 course set menu: € 36.5
| | |
| --- | --- |
| Menu | ★★★★★(5/5) |
| > Variety | ★★★★☆(4/5) |
| > Portion sizes | ★★★★★(5/5) |
| Prices | ★★★★★(4/5) |
| Atmosphere and facilities | ★★★★☆(4/5) |
| Feedback | ★★★★☆(4/5) |
| > Satisfaction | ★★★☆☆(3/5) |
| > Customer service | ★★★★☆(4/5) |
Located right in the middle of Dublin's hustle and bustle, you would never expect that this restaurant brings the freshest cultivated ingredients for its Mediterranean offerings.
Toscana focuses on producing their own fresh grown ingredients from their farm in Wicklow County. This really pays off in terms of the flavors of their dishes.
On top of this, they have quite the assortment of menus and food categories available. We recommend taking a look at their pre-theatre or early bird menu, as it features three courses for such an affordable amount.
This includes dishes like suppli, a vegan spaghetti option, tiramisu and panna cotta. Their set and lunch menus are also quite reasonably priced for the amount of courses you get, so we highly suggest this restaurant if you're looking for set options.
However, some customers have complained about the flavors and cheese may be a bit strong. In any case, their menu has such a range that you do have a lot of other dishes to choose from.
Aside from this, Toscana is also able to accommodate private reservations for events like family occasions. It's a great option especially since they even have menus for kids and even holidays like Christmas and New Year's.
All in all though, Toscana is conveniently located at the city centre, which is ideal for groups looking to explore various course options in the area.
Grows their own ingredients, ensuring freshness and quality
Have facilities available for reserved events
Appealing offering of 3 course set menu
Substantial menus for kids, holidays and wine options
Some customer criticisms on the pizza
Cramped space and very busy during dinner
Customer Reviews
We'll Be Returning For Sure
We opted for the pre theatre menu. Food was delicious and really tasty. Stuffed meat Cannelloni was unreal I would definitely recommend. Staff are extremely helpful and friendly.. We will be returning for sure. – Laura
Generous Portions, Great Price
Lovely restaurant with great food and very friendly staff. Portions are absolutely generous and great price as well. Would definitely recommend! – Catalina Vasiliu
FAQs about Italian Food and Restaurants
---
An Italian course meal is the perfect go to for a family night out or even a romantic evening. We hope our list helps you in considering the different restaurants you can visit when looking for some Italian dishes.
We also have an article on the best seafood restaurants in Dublin, if you would like to read more.