The 5 Best Front Door Suppliers in Ireland
Looking to replace your old front door with a new one? Then it's time to find a door supplier, and in this article, we've narrowed the search for you.
Ahead, we'll discuss our choices for the best front door suppliers in Ireland—from their products down to their pros and cons.
You'll also learn a few tips to help you make the right front door purchase as well as answers to some FAQs you may have in mind.
Front Door Costs in Ireland
The majority of our featured choices require customers to request a quote to determine a front door's price.
However, to give you an idea about front door costs, we've enumerated several front door prices in the table below. These were taken from Murphy Larkin Timber Products, one of our recommended door suppliers on this list.
| | | |
| --- | --- | --- |
| FRONT DOOR SUPPLIER | SPECIFICATIONS | COST |
| Murphy Larkin Timber Products  | Mahogany timber glazed door (0021) (Hollywood) | € 437.11 |
| | Mahogany solid timber (008) (Liffey) | € 440 |
| | Mahogany timber solid door fanlight glass (0012) The Carolina | € 440 |
| | Mahogany timber solid glass (0022) 4 pane half sheeted | € 464.94 |
| | Palladio Belfast glazed door & frame | € 1,290.01 |
| | Palladio Cambridge glazed door & frame | € 1,390 |
| | Palladio Giza CD glazed door & frame | € 1,290.01 |
| | Palladio London CD glazed door & frame | € 1,290.01 |
Note: Listed prices are subject to door sizes.
The Best Front Door Suppliers in Ireland
Without further ado, let's go over our selections for Ireland's best front door suppliers!
1.   Elafindoors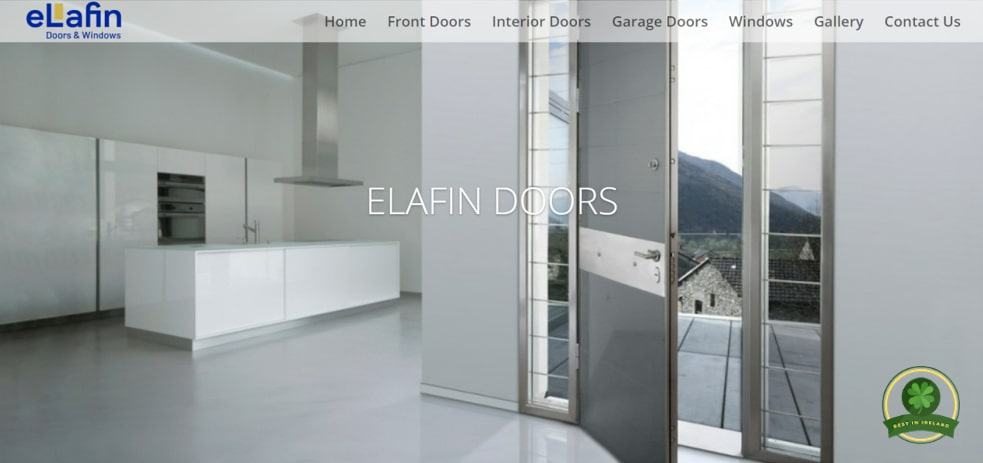 Have a specific front door design in mind? Elafindoors is a Louth-based door supplier that makes bespoke, made to measure composite front doors as well as interior and garage doors — all with a 2-year warranty.
They can supply and/or fit doors, servicing both residential and commercial clients. No need to worry if you're not from Louth—they deliver nationwide.
Elafindoors offers two front door collections: modern and traditional, and you've got plenty of designs to choose from. Their door samples include details on what features are standard or optional.
For instance, all their front doors are reinforced with steel, have heavy-duty hinges with ball bearings, and triple-glazed door windows, among others.
Also, customers can choose from their Ral Palette, which features around 180 colours.
Meanwhile, some of Elafindoors's optional door features are peepholes, post boxes, long bar handles, and extra security locks. And concerning security, they offer a couple of lock options in partnership with ISEO, a lock manufacturer based in Italy.
However, one drawback of Elafindoors is that they didn't mention having a showroom. Hence, you'll probably have to depend on the door samples on their website.
Supplies and fits doors
Also supplies windows
Nationwide delivery
Custom-made doors
No mention of showroom
No mention of instalment options
No door repair services
Customer Reviews
Eleanor Jones seemed extremely pleased with the service she got from Elafindoors. Check out her full comment:
"We have had a new front door installed by Elafindoors and we are very, very pleased with the job. The door looks very well and is somewhat of a "statement" door. The quality is very good, and the opening and closing action is excellent. The guys were very polite and very clean, and they did a very good job of all the small things like the plastered finish around the door. They returned two days later to complete some small, final plastering jobs. One very big thing is that everybody arrived to do things when they said that they would. No waiting around and no-one turns up. So full marks to them. I can highly recommend this company, and may very well use them if I change my windows." -Eleanor Jones
2.   Peak Windows & Doors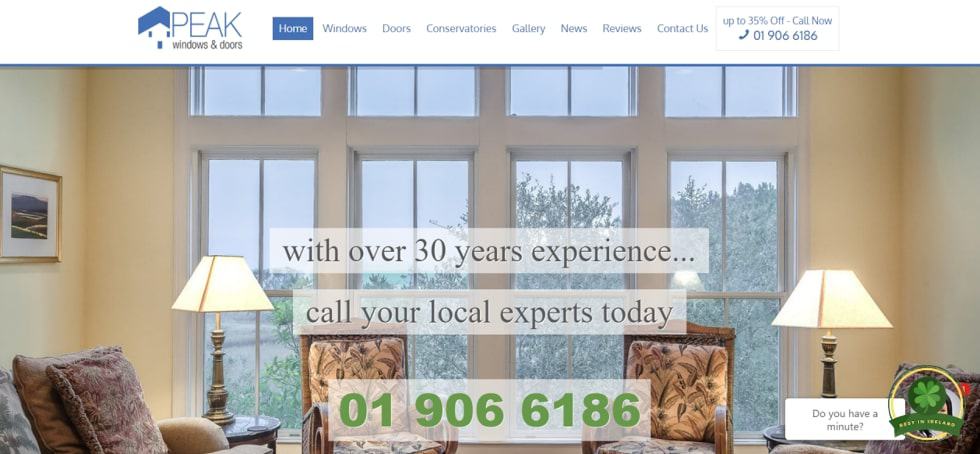 SERVICES
Windows, doors, and conservatories
WEBSITE
https://www.peakwindows.ie/
ADDRESS
1B Swords Business Park, Swords, Co. Dublin, K67AP80
CONTACT DETAILS
01 906 6186
OPERATING HOURS
9:30 am to 5:30 pm (Monday – Friday)
10:00 am to 3:00 pm (Saturday)
If you're looking for a door supplier that'll give you plenty of door options, Peak Windows & Doors is one of our recommendations. They have 4 composite front door collections, namely, classic, country, urban, and other styles.
They've got multiple door samples to choose from in each collection. Particularly in their other styles collection, Peak Windows & Doors offers a variety of side panels, stable doors, double doors, and fire doors.
Their door options don't stop here. Other door styles include French doors, sliding doors, and large doors (e.g. triple track doors).
Moreover, Peak Windows & Doors has a repair service for both aluminium and uPVC windows and doors. So if you're not after a new door and need a repair instead, they can help.
And if you're tight on budget, this door supplier also offers a finance option. Just contact them to see if you're eligible.
However, because their contact information says they cover all areas of Dublin (and not any other counties), they probably don't service clients outside of Dublin.
Extensive door options
Other products aside from doors
Offers repair service
Financing options available
Has showroom
Open until Saturday
Service limited to Dublin
Closed on Sundays
Customer Reviews
Peak Windows & Doors has over a hundred 5-star reviews online. Check out a few of them below:
"Very nice and good quality doors I love it 🙂 I really recommend ❤️🌞." –Jowita Staszak
"Super happy with my new windows and front door. Erica was great to deal and so patient while I made a decision. The installers were fantastic – swift and so tidy. I can't thank you guys enough and would highly recommend Peak Windows to anyone thinking of replacing their windows and doors." -Mandy Creevy
"We just had our new French doors fitted by Dave in Peak Windows & Doors and we are delighted with them. The customer service has been amazing throughout & the service provided was faultless. I would highly recommend." -Aideen Curran
3.   Murphy Larkin Timber Products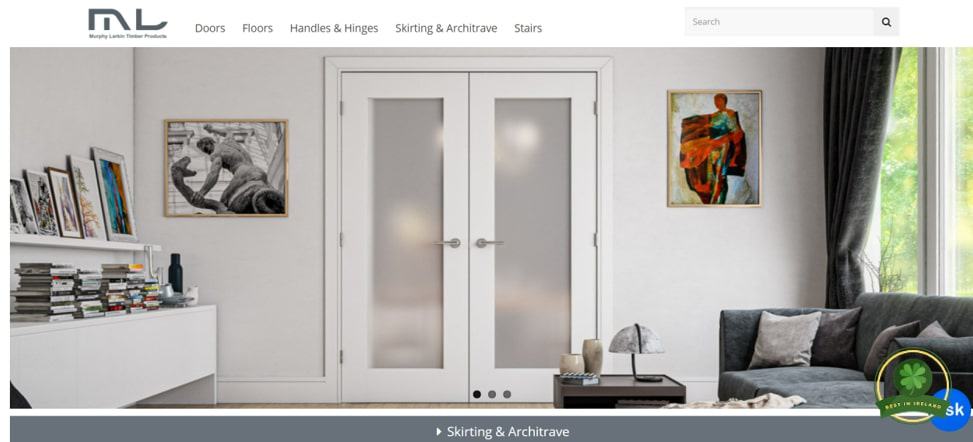 SERVICES
Doors, floors, handles & hinges, skirting & architrave, and stairs
WEBSITE
https://murphylarkin.com/
ADDRESS
Sales offices:
Dublin & Cork
 
Showrooms:
Unit 4 Riverstown Business Park,
Tramore, Co. Waterford
 
Unit 12A Ardgaoithe Business Park,
Cashel Rd, Clonmel, Co. Tipperary
CONTACT DETAILS
Dublin sales office:
01 9010 302
 
Cork sales office:
021 2029 111
 
Waterford showroom:
051 391 821
051 330 786
 
Tipperary showroom:
052 6121 536
 

[email protected]

OPERATING HOURS
9:30 am to 5:30 pm (Monday – Friday)
10:00 am to 1:00 pm (Saturday)
 
Waterford only:
2:00 am to 5:00 pm (Sunday
Looking at Murphy Larkin Timber Products's range of products, we'd not only recommend them for front doors but for new builds or home renovation projects.
Pre-hung door kits, primed door frames, door accessories, stair parts and cladding, architrave sets—you can find these and more.
And unlike other door suppliers, Murphy Larkin offers two types of front doors: composite and timber. Their external timber doors are made of solid mahogany, with 44 mm thickness, and come either glazed or unglazed.
Meanwhile, their Palladio door collection (composite material) has almost 30 designs in 13 colours. Additionally, it comes with a 10-point locking system and triple-glazed glass.
What's more, Murphy Larkin's website includes a door builder feature that allows customers to 'build' or design their own door by selecting a door range, style, colour, and so on straight from the site.
You can also shop from their other door products. It's an extensive list that includes handles, knobs, locks and latches, hinges, post boxes, numerals, and more.
Moreover, if you prefer to shop by brand, you can also do so on their site. Palladio, Doors Ireland, Eurospec Locks, Fortessa Handles, Vicaima Fire Doors—these are just some of the brands they offer.
It's also convenient purchasing from Murphy Larkin as they've got 2 showrooms, two sales offices and are open 7 days. Furthermore, they deliver nationwide and even in the UK.
Offers composite and timber doors
Two showrooms
Open 7 days
Nationwide delivery
Website has door builder feature
Has pricing info
Only Waterford showroom is open on Sundays
No mention of instalment options
Customer Reviews
The majority of their numerous clients were happy with Murphy Larkin Timber Products's services. Read a couple of them:
"We bought all our doors off Murphy Larkin they were top quality and great to deal with made the hole process very easy and very fast delivery would definitely recommend." -Jonathan Byrne
"Great service, and what a fantastic show room." -Eoin Burke
"I recently purchased my Denta doors and accessories from Murphy Larkin after being let down by two other stockists. Not only were they cheaper but they had my materials delivered within the week. The staff in Murphy Larkin were extremely helpful and even followed up after my delivery to ensure that I was content. Highly recommend." -Brona Keating
4.   Perfect Home Windows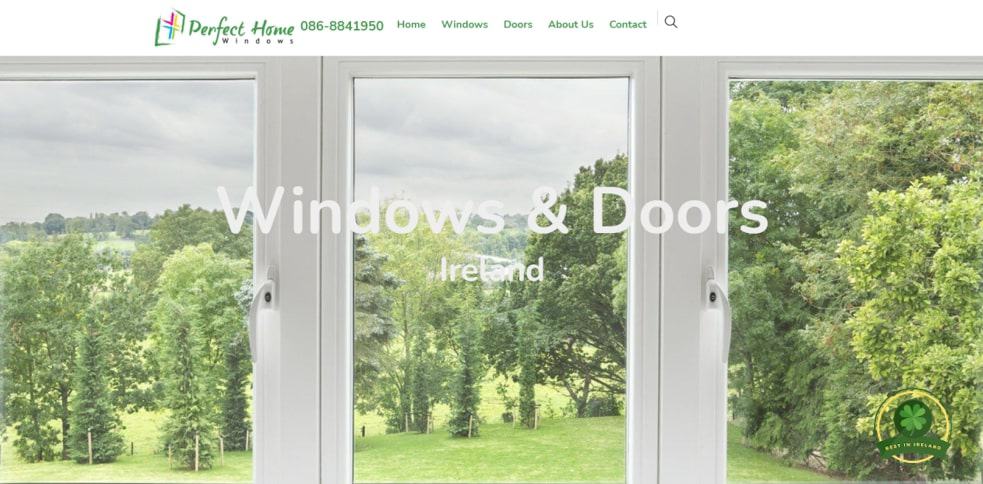 Don't mistake their name for just offering windows. Founded in 2009, Perfect Home offers replacement and repair services for both doors and windows.
And although Cork is their listed address, they have wide service coverage, particularly in southern Ireland. They operate in Cork, Limerick, Clare, Kerry, Tipperary, Waterford, Kilkenny, and Wexford.
But if you're not from any of these counties, Perfect Home can still reach you if the service you require is a big one.
They offer Palladio doors that come in 27 designs and 10 colours. It also comes with a 12-year manufacturer's guarantee. You can view their Palladio brochure here.
Plus, Perfect Home's website includes a Palladio door designer feature to further help clients choose their door of choice.
And as a window and door repair service provider, they provide repairs for residential to industrial clients. Some of the things they repair are front, patio, and sliding doors, door hinges, handles, and seals, broken glass, among others.
Moreover, if you're on a budget, Perfect Home has teamed up with Flexi-Fi, so you can have the option to pay in instalments.
On the downside, though, Perfect Home's door selections are only limited to front and back doors compared to its competitors.
Wide service coverage
Other products/services aside from doors
Flexi-Fi partner; financing options available
Website has door designer feature
Has showroom
Limited door options
Requires larger projects to service other counties
Customer Reviews
The following clients availed themselves of door services from Peak Windows & Doors. Take a look at their experiences:
"We are really happy with our new door! The whole process was easy and stress free! Our door arrived exactly when it was supposed to. The installation was hassle free and the guys who came were very professional and friendly!" – Majella McMorrow
"Suberb service well done and thank you ,from delivery time of 6 weeks as promised, great communication and price , door fits like a glove , not even dust left after the job really impressed highly recommend 😀" -Michael Spreadborough
"The service i received from Perfect Home Windows & Doors was next to none. They installed my new Palladio front door and i am more than happy with it. I would recommend them to anyone i know who is looking to have a door installed in their home." -Donna Casey
5.   Composite Doors Ireland Ltd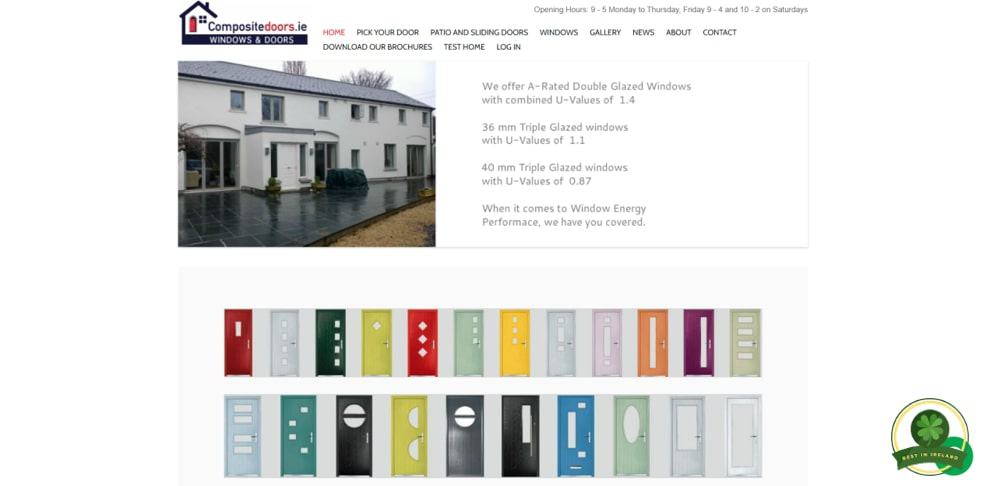 SERVICES
Doors, patio & sliding doors, and windows
WEBSITE
https://www.compositedoors.ie/
ADDRESS
3 St. Gall Gardens South, Dundrum, Dublin 14
CONTACT DETAILS
(01) 216 4951


[email protected]

OPERATING HOURS
9:00 am to 5:00 pm (Monday – Thursday)
9:00 am to 4:00 pm (Friday)
10:00 am to 2:00 pm (Saturday)
Founded in 2010, Composite Doors Ireland Ltd is another of the best window and door suppliers in the country.
What makes them a standout among other composite door suppliers is that they don't just focus on Palladio doors and also offer two other composite door brands: Apeer and Diamond. See their brochures here.
All their doors come with a 10-year guarantee and a multi-point locking system.
Manufactured in Limerick, Palladio doors have a thickness of 65 mm with triple-glazed glass. Meanwhile, Apeer doors have two types of thicknesses: 70 mm and 44 mm.
And if you also need other types of doors, Composite Doors offers sliding doors from Patio Master and bi-folding doors from Dutemänn as well as several French door styles.
You can find their showroom in Dundrum (Dublin 14), which is open until Saturday. And although based in Dublin, they also supply and install in other Leinster counties.
On the other hand, you can opt for their supply-only prices which are available nationwide. But if you want their whole package, it includes the following: home survey, delivery and installation, frame, disposal of old door, VAT, and 12-year guarantee.
Offers 3 composite door brands
Also offers windows and other door types
Has showroom
Open until Saturday
Website has door designer feature
No mention of instalment options
Closed on Sundays
Customer Reviews
These customers say they recommend Composite Doors Ireland Ltd:
"We got new windows, a new front door and our hall extended into our old porch. The standard of the work is excellent as is the quality of the windows and doors. Excellent company to deal with. We would highly recommend them." -Niamh Occonel
"I would highly recommend Composite Doors Ireland. We got a new front door from them and the whole process wouldnt be easier. Ronan was great and we're delighted with the finished product. Such great value too." -Kathleen Holden
". . . The fitters Mick and John did a brilliant job fitting the windows and door. They were friendly, professional and kept the place very tidy over the few days that they were here. When they were finished our house looked like a new house! Could not recommend composite doors enough. . ." -Elaine Fitzgerald
Tips for Buying a New Front Door
Ready to shop for your new front door? First, have a look at the following tips:
1. Design of your home
One of the first steps in choosing a door style is determining the design of your home. For instance, it wouldn't make sense to pick a modern-looking front door for a Victorian or cottage-style house.
In other words, pick a front door that would complement your house's architecture. Remember, a front door doesn't just serve as an entryway but one of the main features of your house's exterior.
Moreover, choosing the right front door (in terms of style) can help attract more buyers should you decide to sell your house in the future.
2. Total cost
When you buy a new front door, you most probably would be paying for other services aside from the door itself.
Other expenses you have to consider are delivery fees, installation services, as well as door accessories (e.g. peepholes, numerals, etc.).
If you really need a new front door but have insufficient funds, some door suppliers offer instalment options. Hence, you could narrow your search to these door suppliers.
3. Showroom
Seeing a product face to face isn't the same as seeing it online. The door you liked on the website might meet, exceed, or go below your expectations when you see it in person.
For this reason, visit your door supplier's showroom to get a better look at their front doors. You'll be able to physically see its thickness, smoothness, security features, and such.
FAQs about the Best Door Suppliers in Ireland
---
And that's it for our list featuring the best front door suppliers in Ireland! Hopefully, you were intrigued by our top picks or at least learned something new.
Meanwhile, you can help us if we may have missed other great door suppliers in the country. Just contact us for your own recommendations, and we'll have a look!
Have a hard time sleeping? The culprit may be your mattress. Consider getting a new one via our list of the best mattresses in Ireland!