The Top 7 Tour Agencies in Ireland
There are many people who seem to think that travel agents and travel agencies are a thing of the past. In fact, they seem to think that using a "do-it-yourself" approach to booking will suffice.
However, more often than not, consumers are bombarded with information that may overwhelm them when planning a vacation! There are thousands of travel sites that can make it difficult to know which you can trust.
Luckily this guide will help you cut through the clutter and have the epic travel experience you've always imagined! If you're ready, let's take a look at Ireland's top tour agencies!
How much do tour agencies cost?
While travel agencies get exclusive offers and deals with their partners, their prices can vary sometimes. Here are the estimated prices to expect when planning to employ a tour agency:
| Service | Estimated Average Cost |
| --- | --- |
| Flat Rates | 150 to 250 IEP per person |
| National tours (ranges from 5 to 12 days) | 1,250 to 3,000 IEP |
| International tours | 1,250 to 3,000 IEP |
Best Tour Agencies in Ireland
To proceed, we have established our selection criterion. This was our approach while deciding which entries to include in our list.
1. Vagabond Tours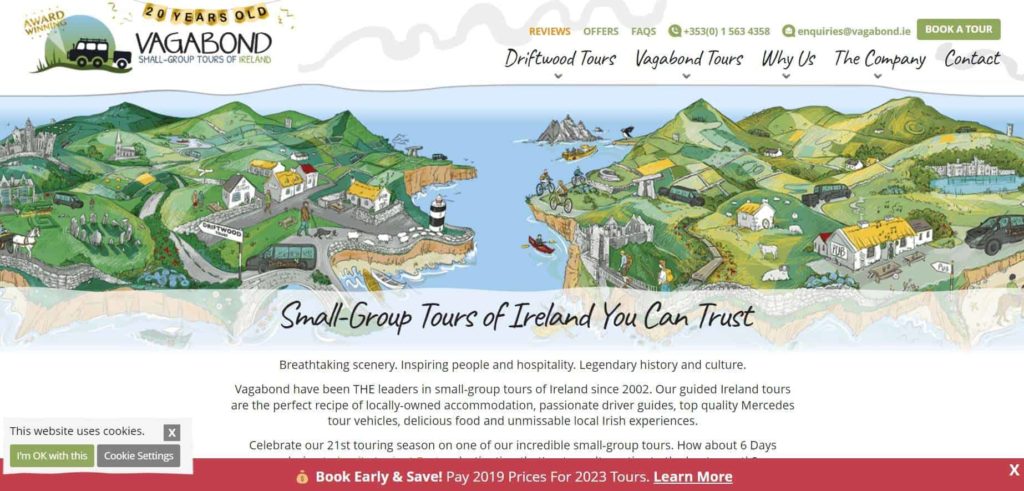 Test
Info
SERVICES
Discover Ireland Tour

Castle and Kingdoms Tour

Ancient Ireland Tour

Northern Island Tour

Discover Island Tour

Treasure Ireland Tour

WEBSITE
ADDRESS
52, Newtown Business and Enterprise Park, Newtown Mount Kennedy, Co. Wicklow, A63 PA07, Ireland
CONTACT DETAILS

Email: [email protected]


From Ireland: +353 (0) 1 563 4358
From USA (Toll-Free): 833 230 0288
From CA (Toll-Free): 833 681 6903
OPERATING HOURS
Mondays to Fridays

9:30 AM to 5:30 PM
| | |
| --- | --- |
| Range of Service | ★★★☆☆ |
| Cost | ★★★★★ |
| Transparency | ★★★★☆ |
| Experience | ★★★★☆ |
Vagabond Tours is one of Ireland's longest-running touring services to date, with over 20 years of experience in the business.
We think that their packages are easily the epitome of the quintessential Irish holiday. With a personal Irish tour guide, luxurious and stylish mini-coach, and a range of intriguing sites to see, you might discover hidden gems that no guide book could ever reveal!
Vagabond Tours offers two kinds of touring experiences: Driftwood and Vagabond Tours.
Driftwood tours focus more on the cultural and heritage side of Ireland. With this package, you can enjoy the most out of the Irish castles and landscapes.

Meanwhile, if you're more into adventurous stuff like hiking and rafting, we'd suggest going for the Vagabond Tours instead!
Even though they offer one of the most affordable tours out there, their long-term (~12 days) tours are one of the more expensive ones in the market. But if you're willing to pay a little extra to stay in a full-fledged castle for a night, then it's just a small amount to pay!
Higher-end packages include a night's stay in a castle
All packages offer bed-and-breakfast accommodations
Packages are highly customizable
No weekend operations
250 IEP deposit
Customer Reviews
Incredible experience left us speechless
"I went on the 8-Day Irish Rover tour in August and I don't have enough words to tell you what an incredible experience it was. I almost don't want to travel anywhere else again because I can't believe anything will ever top this experience. I had been hesitant as a young solo traveler but by day 2 our tour bus felt like family. Our tour guide Aidan had a knack for hiking us up to the most spectacular views and finding the best food for lunch. Each day my eyes could not believe how much more beautiful the country could be. The pace was perfect; spending the day hiking, biking, kayaking, horseback riding, or exploring and ending the night in a pub, then back to our charming BnB or castle, excited to do it all again the next day. We truly experienced it all: adventure, music, history, and always with lots of laughter!" – Samantha Parker
Experience is bolstered by knowledgeable guides
"Unbelievable experience. Henri was the best tour guide & driver. His passion for Ireland is remarkable and shone through in the amazing, rich knowledge he shared with us. The hiking, the scenery, the food, the history, the places we stayed, and the people, are unforgettable. Such a personal experience! The Wild Irish Rover Tour is a must!" – Jackie Gehin
2. My Ireland Tour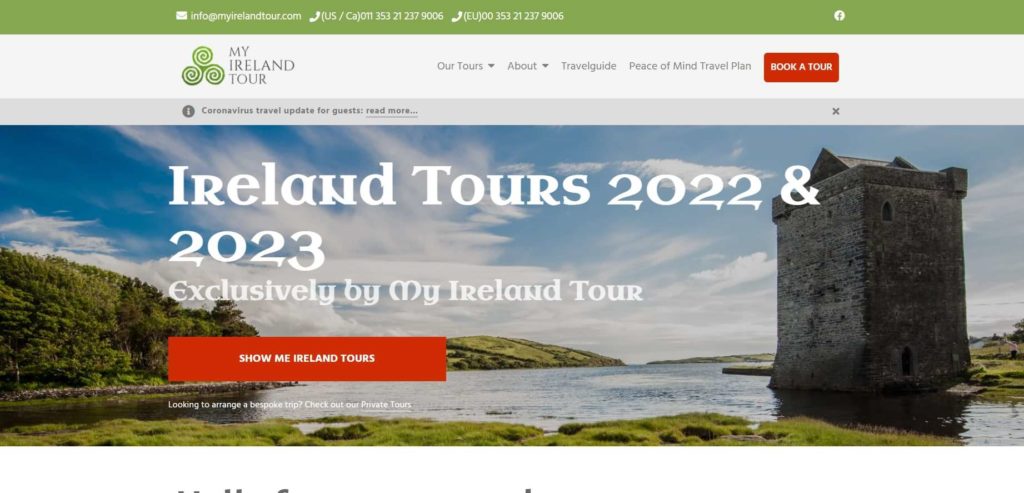 Test
Info
SERVICES
Iconic Scenes of Ireland

Ancient Ireland Tours

Discover Northern Ireland

Historic Irish Castle Tour

WEBSITE
ADDRESS
5 Church Hill, Carrigaline, Co. Cork, Ireland P43 X376
CONTACT DETAILS

Email: [email protected]

(US / Ca) 011 353 21 237 9006
(EU) 00 353 21 237 9006

OPERATING HOURS
Mondays to Fridays

9:00 AM to 5:00 PM
| | |
| --- | --- |
| Range of Service | ★★★★★ |
| Cost | ★★★★☆ |
| Transparency | ★★★★☆ |
| Experience | ★★★★★ |
My Ireland Tour is a tour company that can take you around the beautiful country of Ireland to experience it in a way you never have before. They've provided quality tours for thousands of people from all parts of the globe and have over 30 years of experience in the industry.
Because of their time-tested service, you're guaranteed to get a range of quality tour packages. This includes highly-rated group tours and customized private tours.
This agency hosts tours with exciting destinations and activities to choose from to make your vacation one to remember. We think that their packages are an absolute must-try if you want to get the complete Irish cultural experience!
What we love about My Ireland Tour is how they have large-scale group tours with destinations that span across Ireland and Scotland. If you've got a lot of time on your hands, you can explore both countries for two weeks to make the most out of it!

Unlike other services, however, they don't offer in-package travel insurance and COVID-19 antigen testing. Albeit, this is to keep their package costs low.
Overall, if you're looking to explore Ireland (and a bit more,) then My Ireland Tour is definitely a tour agency to check out!
Affordable big group packages
Offers Ireland-Scotland tours
Unlimited plan changes up to 60 days before your arrival
Deposit is non-refundable
Travel insurance is not included in their packages
Customer Reviews
Very organized tour
"I just returned from the 10-day Iconic Scenes of Ireland tour and can say without exception that it was the best guided tour I have ever taken. Tour guide/bus driver Tony McGoey was kind, considerate, and full of interesting facts about everything we saw. The hotels were very good, the food was excellent, and the group on the tour was very simpatico. For those people afraid that it will be just a bunch of old fogies, nothing could be further from the truth. I am 72 and only a few people were older than I. Half of the group of 25 was retired but there were several folks under 40 and everyone got along well together. I only regret that I did not find this tour company earlier. If you plan to go to Ireland on an organized tour, I highly recommend My Ireland Tours." – Barry W.
Exceeds expectations
The deluxe Irish castle tour was excellent. Hotel accommodations were all 5 star and the included meals were outstanding. The pace of the tour was perfect. The bus stopped about every 2 hours to allow for coffee or bathroom breaks. Our tour guide Tony was amazing. He was very knowledgeable about the places we were touring and would supply us with the background information as we travelled to that destination. This helped us understand and appreciate what we were viewing. This tour exceeded our expectations. I would highly recommend. – Louisa B.
3. Galway Tour Company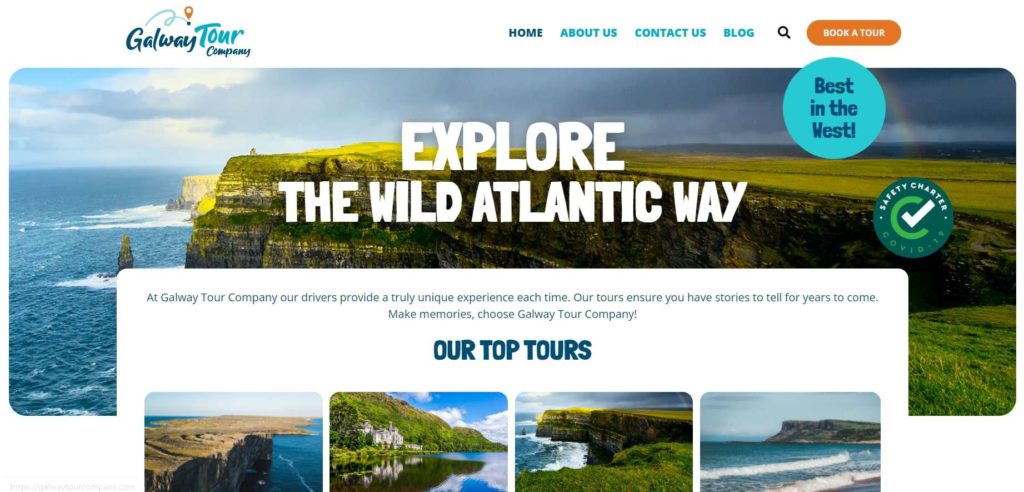 Test
Info
SERVICES
Cliffs of Moher & The Burren Day Tour

Connemara, Cong & Kylemore Abbey Day Tour

The Aran Islands & The Cliffs Cruise Day Tour

Northern Coach Tour Package

Southern Coach Tour Package

WEBSITE
ADDRESS
Ground Floor, Kinlay Hostel, Merchants Road, Galway, H91 F2KT
CONTACT DETAILS
Tel: +353(0)91 566 566

Email: [email protected]

OPERATING HOURS
Mondays to Fridays

9:00 AM to 6:00 PM
| | |
| --- | --- |
| Range of Service | ★★★★☆ |
| Cost | ★★★☆☆ |
| Transparency | ★★★★★ |
| Experience | ★★★★★ |
Galway Tour Company a tour company reputed for their luxury tours at an affordable price. They are the largest coach travel agency in the West of Ireland, having won the Travellers Choice award from TripAdvisor for 14 years in a row.
They provide a variety of interesting trips around Ireland including a variety of Day and Extended Tours, as well as a customizable Luxury Bucket List Tour.

We think that their tours to The Cliffs of Moher, the Aran Islands, Connemara, and Clonmacnoise Monastic City are particularly interesting. They are among the most popular and lesser-known places along the Wild Atlantic Way and are worth a try.
What sets them apart from others is how you're set to travel in luxury with Galway Tour Company on one of their tastefully equipped coaches. They are also one of the few tour firms that provide private excursions.
However, unlike their competitors, they offer fewer places to visit per package to make sure that you get the most out of every tourist site.. As such, the longest package duration they have to offer is a week to visit 16 out of 25 top sites in Ireland.
When adventurers go on a journey, they don't just have one story to tell but many. Choose Galway Tour Company for an experience that allows you to do the same!
Offers luxury coach tours
Relatively affordable
Hosts big group tours
LImited areas to travel
Short-time excursions only
No weekend operations
Customer Reviews
What a way to see it all!
Excellent day tour! We got to see way more and learned way more than if we had driven ourselves. The tour guide was knowledgeable and caring, and kept us to the schedule that allowed us to do everything but not feel rushed. – Genell S.
Amazing coach service
I wanted to see the Irish countryside, but didn't want to rent a car. This was the perfect way to do it. While the stops to Kylemore and Cong were excellent, my favorite part was driving through extremely beautiful, rural areas while hearing about Irish history, including the potato famine. Learned so much and had the time of my life. – Lora D.
4. Oroko Tailored Travel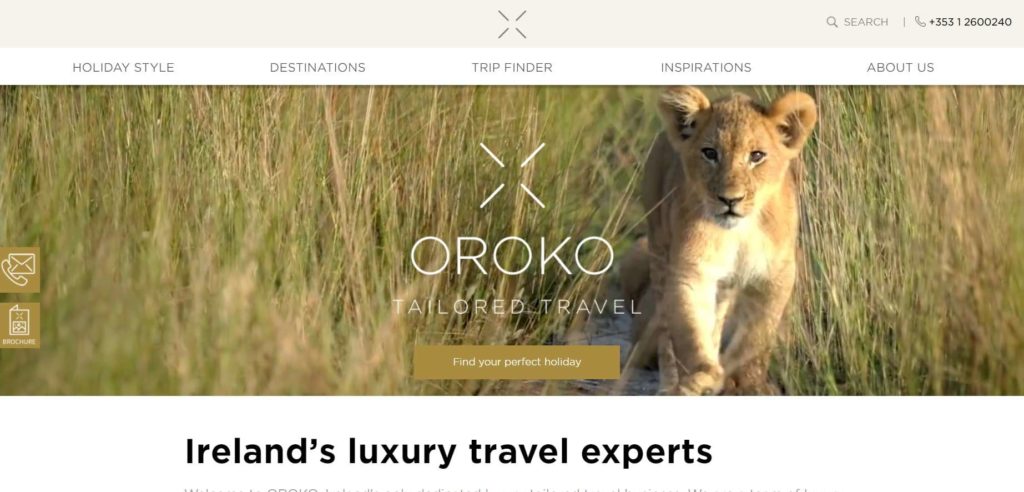 Test
Info
SERVICES
Luxury Travel to destinations worldwide
WEBSITE
ADDRESS
Terminus Mills, 7 Clonskeagh Rd, Rathmines, Dublin 6, D06 W3P2, Ireland
CONTACT DETAILS
Tel: +353 1 2600240

Email: [email protected]

OPERATING HOURS
Monday, Tuesday, and Friday9:00 AM - 6:00 PM

Wednesday and Thursday9:00 AM - 7:30 PM

Saturday10:00 AM - 3:30 PM
| | |
| --- | --- |
| Range of Service | ★★★★★ |
| Cost | ★★★★☆ |
| Transparency | ★★★★★ |
| Experience | ★★★★★ |
OROKO Travel is Ireland's only dedicated luxury tailored travel business whose offers span worldwide destinations.
Although based in Ireland, this agency specializes in customizing premium vacation experiences all around the world. They're well-known for having locations in travel packages that wouldn't usually be covered by local agencies – from Antarctica down to the plains of Africa!
What we like best about OROKO Travel is how relaxed and open their consultation sessions are. This means that they can adjust to whatever budget ceiling you have while making sure that you get the best value out of it.
Moreover, their longstanding partnerships with hotels have given them exclusive access to some of the top hotel chains in the world. These partnerships ensure that their clients get more bang for their buck when traveling overseas.
Do note that their base prices are pricier compared to other travel agencies. This can be attributed to the fact that they focus on luxury while also covering your flight costs.
To sum it all up, OROKO Travel is a top choice if you're looking for a premiere internationally serving travel agency. Offering luxury and comfort on a vacation is what they do best!
100% refund up to 30 days before booked date
Includes flight fares in packages
Pricey
Best for long-weekend vacations
Customer Reviews
Perfect international break
"Dara at OROKO booked the most fantastic trip for my daughter and I to Athens. It was our first time in Greece. Between Acropolis, museum, and gallery visits, to quiet times at a beachside boutique hotel, it was the most perfect Easter break for us both. Thanks OROKO." – Fiona Coyne
Stress-free travel guaranteed
"We have had wonderful experiences booking with Aisling at Oroko. Whether travelling as a couple or with young children they understood the brief each time and the advice and itineraries we received have been faultless. Highly recommend for stress-free travel." – Karen McCarthy
5. Overland Ireland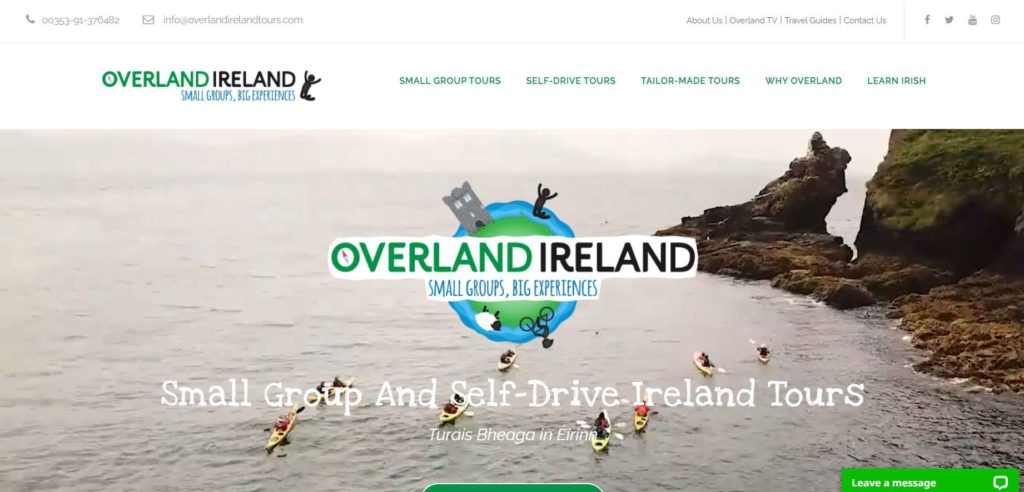 Test
Info
SERVICES
Self-drive Tours

Custom Tours

Small Group Tours

WEBSITE
ADDRESS
33 Clybaun Ct, Knocknacarra, Galway, H91 WFK5, Ireland
CONTACT DETAILS
Tel: 00353-91-376482

Email: [email protected]

OPERATING HOURS
Mondays to Fridays

9:00 AM to 5:00 PM
| | |
| --- | --- |
| Range of Service | ★★★★☆ |
| Cost | ★★★☆☆ |
| Transparency | ★★★★★ |
| Experience | ★★★★☆ |
Overland Ireland is an award-winning travel agency that assesses each client individually and then plans a journey based on their needs and bucket lists and how these can be met with safety as the priority of any tour.
It's exciting when you get to experience something new, whether it's an activity you've never done before or a place that hasn't been on your radar. With that at the forefront, Overland Ireland offers services that highlight the outdoor beauty of Ireland.
Our favorite thing about Overland Ireland is how flexible they are with group tours. Whether you want an all-out guided tour or not, they've got something for you!
Primarily, they offer tours throughout the country with their very own private guide and top-class transport. This means that your group can tweak the tour to your needs and your guide will be more than happy to cater to your daily needs.
Unlike other companies, Overland Ireland also provides a wide variety of affordable "self-drive" tours. This gives tour groups the option to travel independently while being guided by their expert, guided itineraries and complementary Paddy the Pocket Pilot virtual tour guide app.
Keep in mind, however, that their services only range from 5-day to 10-day packages and may appear to be a bit pricy when compared to the selection of sites provided by other agencies.
Health- and safety-focused
Customizable itineraries
Requires a deposit of 125 IEP per person
Touring groups may merge if not private
Customer Reviews
The way to go!
"Overland Ireland Tours is the way to go! This was my first trip to Ireland and traveling to another country can be a bit intimidating. Pat, our tour guide, made our 7-day trip fun, safe, and easy. He was extremely knowledgeable about the history of Ireland and always made sure we were having a good time! I can't say enough positive things about this company. I would highly recommend!!" – Nicole Gordon
Best active experience out there
"I had an excellent experience with Overland Ireland and would absolutely recommend the 7-day Emerald Explorer small group tour to active individuals. I saw, learned about, and experienced much more of Ireland than I imagined and met some amazing new friends along the way. Many thanks to our guide, Pat, who went above and beyond his duties to ensure we all had a wonderful experience." – Holly Ward
6. Little Gem Tours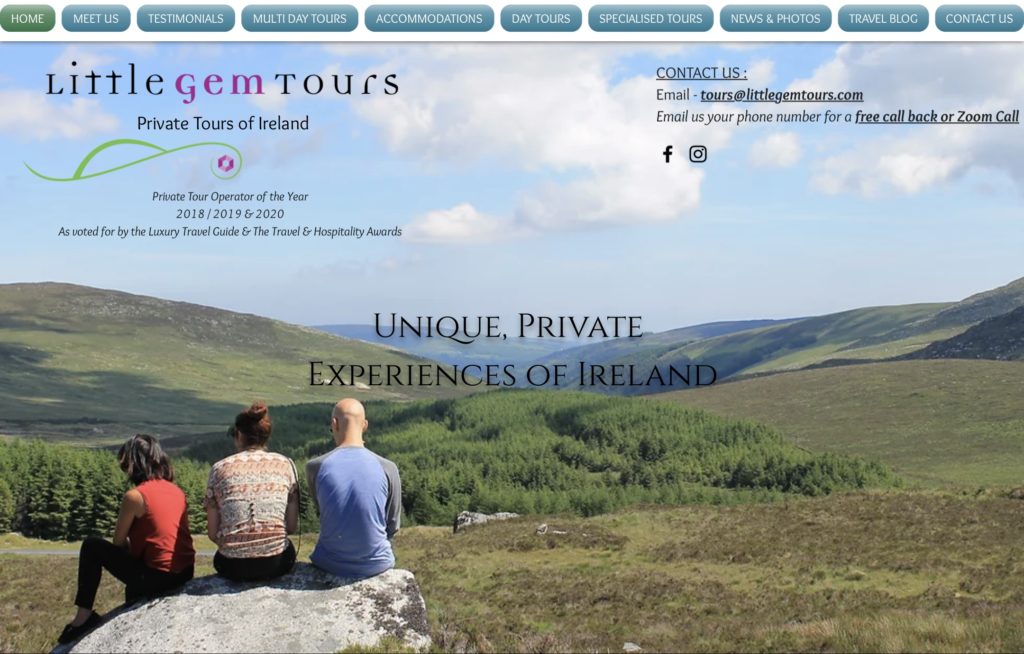 | | |
| --- | --- |
| Range of Service | ★★★★☆ |
| Cost | ★★★☆☆ |
| Transparency | ★★★★★ |
| Experience | ★★★★☆ |
Little Gem Tours is a tour agency that promises a gem of an experience. Our journey with them left no stone unturned.
Little Gem Tours offers a dazzling array of tours, from historical excursions to culinary adventures.
We were spoiled for choice. Their well-curated itineraries and knowledgeable guides ensured that every moment was a gem of an experience.
Convenience is the crown jewel of any travel experience, and Little Gem Tours wears it with pride.
Booking was a breeze, and their prompt communication was a shining example of professionalism. The convenience of their services made our trip sparkle with ease.
Reputation is the bedrock of trust in the travel industry, and Little Gem Tours' reputation is a diamond in the rough.
Their stellar reviews and word-of-mouth recommendations convinced us to give them a shot. They didn't just meet our expectations; they exceeded them, leaving us with a sparkling impression.
When it comes to cost, Little Gem Tours strikes the perfect balance between value and quality.
Our experience felt like a treasure trove of memories without breaking the bank. They prove affordable travel can still be a gem of an adventure.
However, they can get busy during peak days. We advise booking them ahead of time.
Professional guides
Diverse itineraries
Excellent customer service
Competitive pricing
Customer Reviews
"Exceptional tours! Little Gem made our trip unforgettable."
"Impressive service and knowledgeable guides. Highly recommend!"
7. Desmond Tours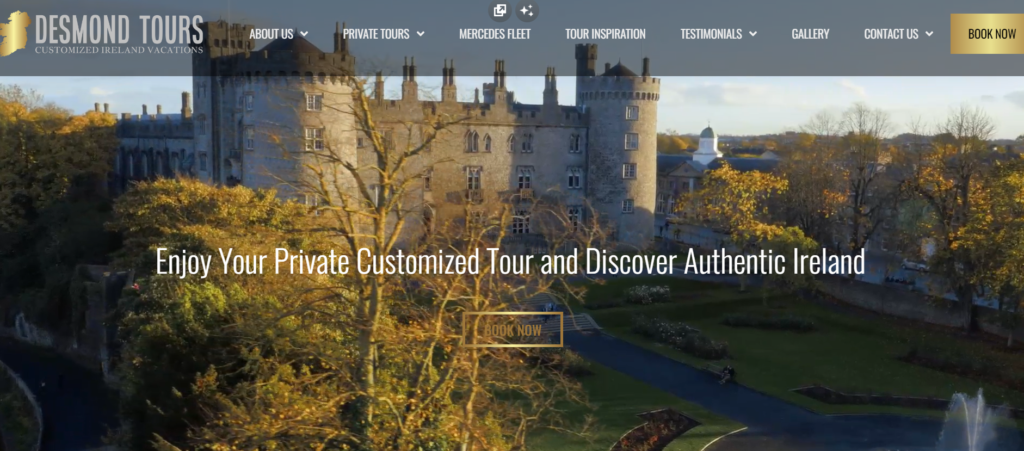 Test
Info
SERVICES
Multi-Day Private Tours Single-Day Private Tours
WEBSITE
ADDRESS
Castlecomer, Co Kilkenny, Ireland
CONTACT DETAILS

+353 86 106 2726

011 353 86 106 2726

OPERATING HOURS
Mondays to Thursday: 9:00 AM to 5:00 PM

Friday: 9:00 AM to 4:00 PM
| | |
| --- | --- |
| Range of Service | ★★★☆☆ |
| Cost | ★★★★☆ |
| Transparency | ★★★★★ |
| Experience | ★★★★☆ |
Desmond Tours is not your typical tour agency and we will tell you why.
With Desmond Tours, their driver guides will take regular additional stops that may not be listed on your chosen itinerary and they call these "hidden gems." In these hidden gems, you will be able to discover more facts about Ireland that you cannot just hear anywhere.
All agencies have pre-made itineraries but what makes them standout is their option to customize your own individual tour. They will listen to you and design a bespoke tour to match your needs, drawing on years of experience, contacts and local knowledge.
Whether you want a multi-day or single-day tour, they got your back. What's great about them is that their tour prices start from €490 per day of touring.
To make it even better, here is a list of inclusions in your tour.
A fully customized itinerary designed with your touring needs in mind.
Scheduled stops at must-see locations.
Additional stops at lesser known hidden gems – Ireland's best kept secrets!
Live commentary, information and entertainment by an experienced, Failte Ireland approved driver guide.
Driver overnight expenses (including accommodation & food).
Private collection from / return to an address of your choice.
Mercedes Benz vehicle including associated costs such as fuel, tolls, insurance and car-parks – your own personal group vehicle.
Recommendations on reputable accommodation choices, local Irish pubs, award winning restaurants and fun activities.
Wi-Fi connection in your touring vehicle on request
Given that they have flexible and customizable tours, you will definitely not be bound to a strict itinerary!
Added freedom to stop whenever it suits you
Driver will look after the navigating, so that you can spend time immersing yourself in the Irish culture
Create a tour experience mixing present day with the past
Closed on weekends
Travel insurance is not included in their packages
Customer Reviews
Here are a few reviews from their previous clients:
"Our friend group spent 6 days with Desmond touring the magnificent country of Ireland. This was the first time we had used a touring company for any of our travels together, and there had been concern we might be too tied to a schedule or spend excessive hours in a bus. The worry was for nothing! We had such a great time exploring historical monuments, taking in beautiful scenery, drinking in local pubs and eating delicious food at all of our stops along the way. Prior to our arrival, a general plan for our trip was put together with the help of his wife, Luisa. Along the journey, Desmond would give us recommendations of what we might like to do, yet he was always flexible when we requested an impromptu stop or change in plan along the way. Desmond is admittedly an Irish history buff, and we heard so many great stories and learned so much about the Irish people and their heritage. By the end of our journey, Desmond felt like an old friend, and we look forward to a time when our paths should cross again. With Luisa's pre-planning and Desmond's guidance, you can just sit back and enjoy the ride. You are in good hands."
"Desmond was awesome! We had a party of six, and he was very attentive to our needs. Very knowledgeable, flexible, and a joy to have around. Would definitely use him again, and recommend him for anybody wanting a private tour of Ireland"
"Had the best time with Desmond Tours!!! Super nice guy, none of us got carsick on Ireland's twisty roads, learned a ton and loved the 24/7 personal professional experience. Wouldn't go to Ireland again without Desmond!"
FAQs about Travel Agencies