The 6 Best Flooring Companies in Dublin
Come to think of it, the most used space in any person's house is the floors, right? So, this part of your home should definitely be given more thought!
If you're still unsure of your options, the best flooring companies in Dublin can help guide you from selection to installation.
This article not just covers our recommendations but other good stuff to read about as well, such as floor FAQs and a couple of tips.
Flooring Prices in Ireland
First, let's discuss costs. Most probably, the main factor that affects floor price is the material. According to Forbes, some of the pricier options are hardwood, tile, and stone.
On the other hand, you'll find cheaper alternatives in laminate, linoleum, or engineered wood.
Include installation and delivery costs in your budget. Don't forget about maintenance as well.
Additionally, the size of your floor matters—the larger the area, the more flooring material needed, of course.
To give you an idea, we've listed a couple of popular flooring materials and their estimated cost per square metre in the table below.
| FLOORING MATERIAL | COST PER SQUARE METRE |
| --- | --- |
| Laminate | €13.95 - €53.38 |
| Engineered wood | €30.95 - €186.05 |
| Solid wood | €69.95 - €99.95 |
| Carpet | €4.77 - €23.91 |
The Best Flooring Companies in Dublin
We primarily considered the following criteria in our selection:
In no particular order, here are our top choices for Dublin's best flooring companies!
1. Hamptons Floor Store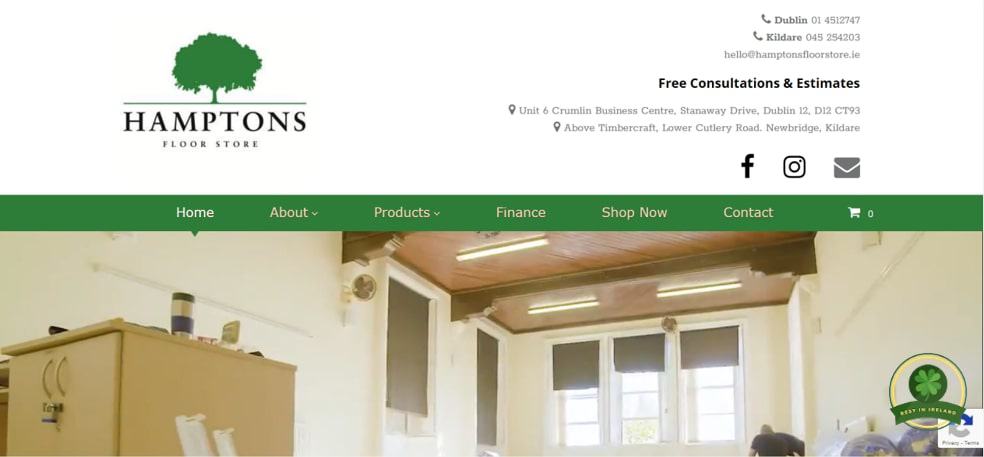 Test
Info
PRODUCTS
Laminate, wood, engineered, carpet, vinyl flooring, artificial grass and commercial flooring
WEBSITE
https://www.hamptonsfloorstore.ie/
ADDRESS
Unit 6 Crumlin Business Centre, Stanaway Drive, Dublin 12, D12 CT93
CONTACT DETAILS
01 4512747
OPERATING HOURS

9:00 am to 5:00 pm (Monday - Friday, by appointment)

10:00 am to 2:00 pm (Saturday, no appointment required)
Among our picks, Hamptons Floor Store is one of those with multiple flooring options. It offers 5 types of materials for floors: laminate, wood, engineered wood, carpet, and vinyl.
They even offer artificial grass—a good product to have for your outdoor area if you don't have the time to maintain real grass.
Also, Hamptons services commercial clients, and you can view several samples of commercial work on their website.
One of the perks of shopping from them is that they offer a free measuring service for all their clients. This allows customers to know how much flooring material they need.
On top of this, Hamptons is a Humm partner. Meaning, you can pay in instalments, and thus, it'll be easier on the pocket to obtain your desired flooring.
Moreover, on this list, Hamptons is the only flooring company with two showrooms. They have another one in Kildare aside from their Dublin showroom.
However, you'll have to secure an appointment before you show up. You can still come without an appointment but only on Saturdays, from 10:00 am to 2:00 pm.
Meanwhile, the Hamptons online shop allows customers to check out product prices. And great news for Dublin residents: delivery is free if your order is above €200!
But on the downside, it looks like most, if not all of the products available on their online shop are laminates.
Humm partner
Offers 5 flooring options
2 showrooms 
Online shop available 
Free delivery for orders over €200
Also offers artificial grass 
No appointments needed on Saturdays 
Free measuring service 
Appointments needed on weekdays
Shorter operating hours on Saturdays
Majority of products on online shop are laminates 
Customer Reviews
Lived up to expectation
"We had Hamptons recommended to us by a friend for floor fitting and they definitely lived up to expectation. They had the measurements taken and entire job completed within a week. Would definitely recommend to anyone looking for a swift, professional and quality service. . ." -John Golden
Job completed within the time said
"Highly recommended. They fitted wooden floor and carpets. The most important thing for me is that they completed the job within the time they said. Everybody I spoke to from Hamptons was really nice and easy to deal with. From Jamie who helped us decide and measured our house, to Suzanne who handled the booking details, DJ who fitted the floors and the carpet team who blasted through the upstairs part and completed the carpets in 2 hours, with an excellent finish. If you want to take the hassle out of your floor fitting experience, use these guys!" -Michael Zoumboulakis
2. Deco Designs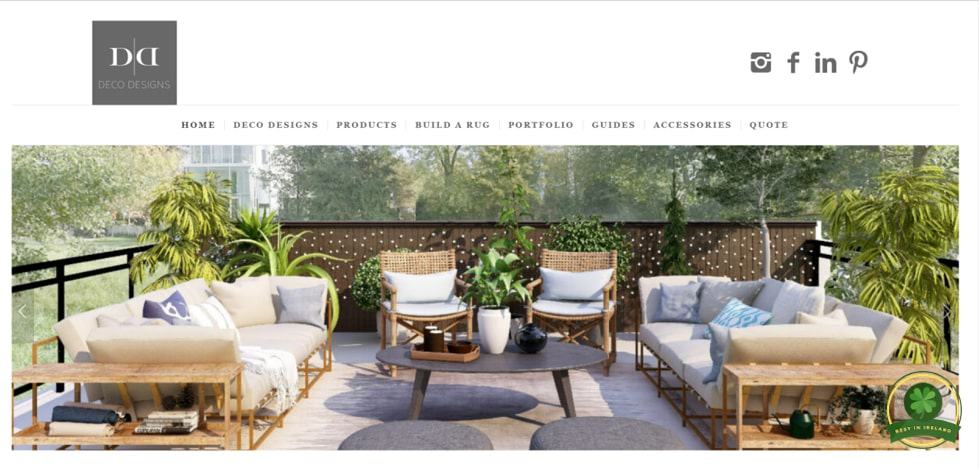 Test
Info
PRODUCTS
Carpets, binding, rugs, carpet protector, and laminate, natural wood, and luxury vinyl tile flooring
WEBSITE
https://decodesigns.ie/
ADDRESS
Unit 11, Western Parkway Business Centre, Ballymount Drive, Ballymount, Dublin 12
CONTACT DETAILS
+353 (01) 405 1959

+353 (85) 738 9490

OPERATING HOURS
8:00 am to 5:00 pm (Monday - Friday)
One of the younger companies on this list, Deco Designs was founded in 2016. However, despite their age in the industry, client feedback from them is very positive.
They cover all of Ireland, even offering free measure service.
They offer four flooring options: carpet, laminate, natural wood, and luxury vinyl tile (LVT) flooring. You can check out samples of their previous work for both their residential and commercial clients on their website.
In particular, they have four carpet categories. They have ones for outdoors as well as other ranges such as fine wool, eco-friendly, as well as the Count of Valois collection.
It's also worth noting that Deco Designs offers other products such as rugs and carpet binders. Not only that, you can even request a personalised rug, runner, and stair runner.
This is made possible through their manufacturing facility, which allows for the creation of these bespoke products—how cool is that?
Unfortunately, though, their showroom is only available on weekdays and only by appointment. And unlike our other picks, they apparently do not offer finance options to customers.
Thus, they may not be the best flooring company for you if you're on a budget.
Can avail of personalized rugs and runners 
Provide a visualizer BUILD A RUG were you can get instant quote on a rug
Also offers carpet protector and carpet binder
Showroom available 
Portfolio available 
Can visit client's premises 
Offer interior designer consultations if required on designing the rugs and stair runners
Do alteration services for the rugs and provide binding services if required
Lead time for stock is under 14 working days
Offers free measure services
Covers all of Ireland
Showroom is by appointment only
Closed on weekends
No mention of finance options 
Customer Reviews
Fantastic product and service
"I just had a herringbone sisal rug delivered. The rug was delivered much sooner than I expected and to say it has exceeded my exceptions. It is absolutely stunning, the colour is even more stunning in person and fantastic quality. Thanks you Deco Designs for a fantastic product and service. Aoife" -Ciaran Mcmahon
Attention to detail is second to none
"I cannot recommend these guys highly enough. I had Luxury vinyl flooring installed in several rooms in my apartment recently. The attention to detail by Vaidas and his wonderful team of guys was second to none. Great value and an absolute lovely group of guys to deal with. The floors are stunning. Thank you Vaidas. Dave Fitzgerald" -Electric Symphony
3. Doherty Flooring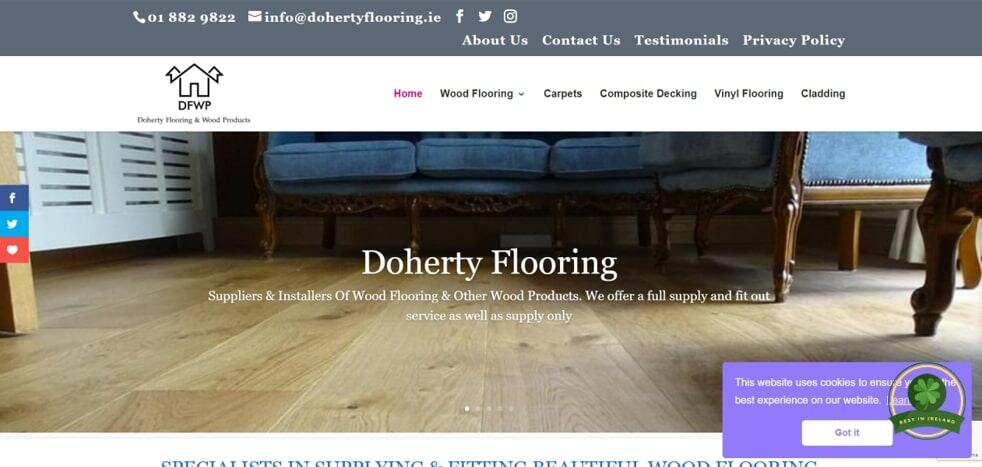 Test
Info
PRODUCTS
Laminate wood, engineered wood, & solid wood flooring, carpet, composite decking, vinyl flooring, and cladding
WEBSITE
https://www.dohertyflooring.ie/
ADDRESS
Unit 1, Birch House, Rosemount Business Park, Dublin 11
CONTACT DETAILS
01 882 9822
OPERATING HOURS
10:00 am to 4:30 pm (Monday - Thursday)

10:00 am to 4:00 pm (Friday)

10:00 am to 1:00 pm (Saturday, by appointment)
This flooring company has been running since 1999. So if experience is one of your criteria for flooring suppliers, Doherty Flooring has got that.
The good thing about their Dublin 11 showroom is that there's no need to book an appointment. For weekdays, at least, since appointments are required on Saturdays.
Like Hamptons, Doherty Flooring also offers the same types of flooring material: carpet, laminate, wood, engineered wood, and vinyl.
Their products come from brands such as Whiteriver, Junckers, Balterio, Cormar, and more.
Furthermore, we think Doherty is a great option if you're also looking to transform your residence's outdoors as well. This is because they offer composite decking and cladding.
However, they do have the shortest operating hours on this list. At least, they are open on Saturdays.
To add to their cons, they don't offer any financing options.
Showroom available
Also offers cladding and composite decking
5 flooring options
No need for appointments on weekdays 
No mention of finance option 
Appointments needed on Saturdays 
Closed on Sundays
Shorter operating hours compared to others 
No online shop 
Customer Review
Good selection of flooring material
"I would recommend Doherty flooring very highly. The initial consultation with Audrey was excellent, she was polite and helpful and the shop has a good selection of flooring material laid out very clearly. There was no 'upselling' and no hidden extras introduced later and the work was done in the agreed timeframe.The kitchen floor (engineered wood) was laid quickly, expertly and cleanly and looks great. Many thanks to Doherty flooring – we are delighted" -Fergal Finnegan
Highly recommend
"New deck installed. Composite wood looks fab! Great job done by Thomas and James. Highly recommend Doherty flooring. Very nice to deal with. Phil Daly" -philly pyne
4. Chetham Timber Co.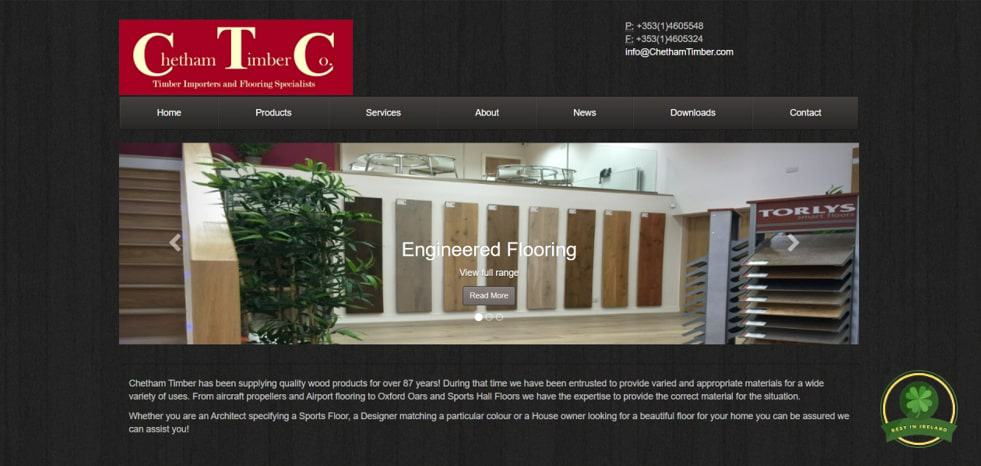 Test
Info
PRODUCTS
Hardwoods, engineered, solid wood, unfinished wood, herringbone, laminate, leather, cork, & LVT flooring, decking and Tover products
WEBSITE
http://chethamtimber.com/
ADDRESS
38-39 John F Kennedy Road, JFK Industrial Estate, Naas Road, Dublin 12
CONTACT DETAILS
+353(1)4605548
OPERATING HOURS
8:15 am to 5:00 pm (Monday - Thursday)

8:15 am to 4:00 pm (Friday)
An even longer-established business, Chetham Timber Co. was founded way back in 1929. While it specialises in supplying hardwood lumber, it also provides flooring products.
It's a great flooring company for the variety of services and products it offers. To start with, they have the most number of flooring options on this list.
Engineered, solid wood, unfinished wood, laminate, vinyl, cork, leather—take your pick. And speaking of the last two, cork and leather flooring is something not many flooring companies offer from what we've seen.
Plus, you can also avail of herringbone floors if you'd like to deviate from the usual floor design. This is available in solid or engineered wood.
Moreover, Chetham offers unfinished wood flooring, which allows clients the option to finish the floor with a lacquered or oil finish, among others.
As regards services, Chetham offers a machined to order service, site surveys, as well as direct shipments from factory to buyer's warehouse, and more.
Offers most number of flooring options 
No need for appointments
Showroom available
Offers machined to order service among other services
Specialises in supplying hardwood lumber 
Offers decking and a variety of Tover products
Ample info on products 
No mention of finance option
No online shop 
Closed on weekends 
Customer Reviews
Pleasure to deal with
"Great space to visualise proper sized samples of finishes and colours. Great range and a pleasure to deal with. Once the actual shopping was out of the way the completion of purchase abs delivery etc was seamless!!" -Conor McMahon
Great range of beautiful wooden floors
"Doesn't look much from the outside but has a great range of beautiful wooden floors,very professional and also carry a good range of floor care products. Very happy to be getting my floors from hear but do expect to wait a while to be fitted as the guys laying the floors are so busy now." -Padraig Twamley
5. Mulveys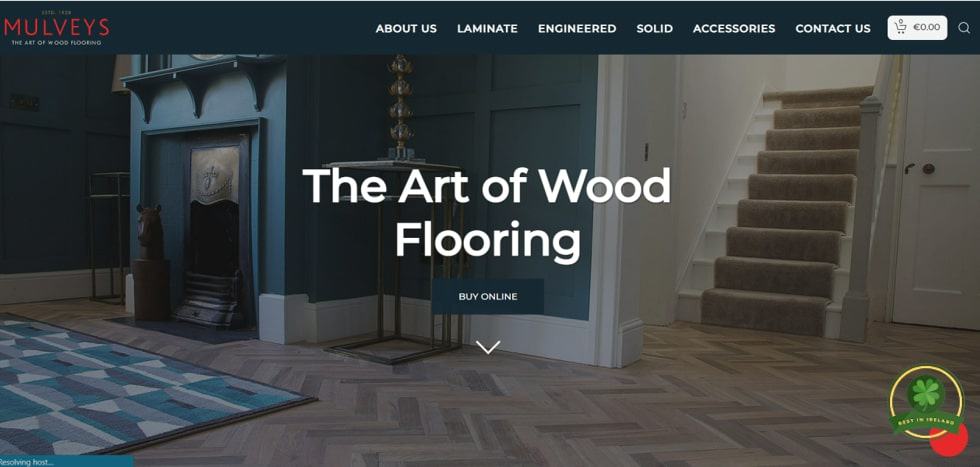 Test
Info
PRODUCTS
Engineered, solid, & laminate flooring and accessories
WEBSITE
https://www.mulveys.com/
ADDRESS
Unit 11G, Dundrum Village Centre, Dundrum, Dublin 14
CONTACT DETAILS
01 2964358
OPERATING HOURS
9:30 am to 6:00 pm (Monday - Friday)

9:30 am to 5:00 pm (Saturday)
Established in 1928, Mulveys first focused on selling hardware goods before eventually specialising in flooring.
Although their flooring options are limited to three—laminate, engineered, and solid wood—there's a great variety under each.
Specifically for their laminate floors, you can opt for water-resistant floors or woodblock flooring, which consists of different patterns (e.g. herringbone, basketweave, etc).
Additionally, Mulveys offers a long list of accessories, such as adhesives, underlays, skirting and architraves, tools, floor finishes, among others.
And the good thing is, there's a price tag on almost all their products. You can also shop their products online, and best of all, Mulveys is also a Humm partner!
It's also worth noting that this flooring company offers a sanding and refinishing service. Thus, you can contact them if you desire to breathe life into your old floors once again.
Humm partner
Flooring options have a wide range 
Online shop available 
Showroom available 
No need for appointments
Plenty of accessories 
Offers sanding and refinishing service
Only 3 flooring options 
Closed on Sundays
Customer Reviews
Quick and professional installation
"Really great service from start to finish. We picked a colour in the showroom, brought a sample of it home, we weren't happy with it, rang them and explained what we were looking for, they put aside a few more samples for us to pick up. We brought them home and laid a piece down in different rooms, they nailed the samples, we found it hard to choose a favourite out of the two but we picked one of them, got all carpets upstairs replaced with a neutral laminate, install was quick and professional, we are so happy with the finish! Would definitely recommend." -Jennifer Kelly
Grateful and impressed
"Had run out of laminate right at the end of laying a floor. None of that specific type available anywhere in Ireland but Mulveys went out of their way to source a few display planks for me at no cost. Very grateful and impressed, will be back as a customer." -Eoin Ryan
6. Dublin Floorsanding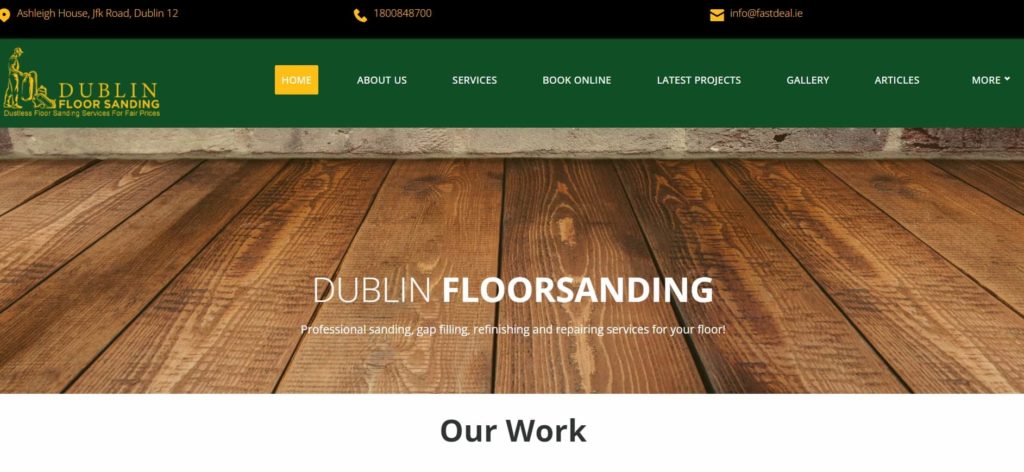 Dublin Floorsanding is a company that provides homes and other establishments with professional sanding and repair services for floors to have a dust-free finish. With 90% of their services coming from referrals, this only tells the quality of their services which is tried and tested by locals time and time again.
Available for both commercial and domestic solid floors, they have since then had a diverse experience working on various floor types of schools, pubs, homes, and gyms among many others.
Apart from this, their staff is highly certified and knowledgeable to be able to apply the needed techniques and achieve the proper finishes the customer would like their floors to be.
Note though that their services aren't readily rated so clients may have to inquire with them regarding their pricing details and the like for more information.
Nonetheless, with their speedy booking features, quality workmanship, and excellent finishes, we highly recommend them to clients in the area looking for flooring services for their establishment.
Experienced professionals
Quality materials used
Versatile finishes
How to Choose a Flooring Company
Having trouble choosing from among our picks? Here are a couple of tips to help you with your decision:
Floor know-how
A good flooring company should be able to advise and guide you on the different flooring options out there. The thing is, there's quite a lot to consider when you choose a flooring material.
You have to think about style and aesthetics. Of course, consider maintenance as well, especially if you have kids or pets.
If so, then it might be better to consider flooring that's easy to clean, resistant to moisture, and so on.
And then there's the price. If you're not keen on investing so much in flooring, you might want to reconsider.
What if you end up selling your home in the future? Then, it might be worth it to really invest in high-quality flooring.
Product range
Take a look at the flooring company's product range.
For instance, one may offer multiple types of flooring material (e.g. carpet, laminate, LVT, hardwood, etc.) but have limited options under each.
This is especially important if you already have an idea of what flooring material you're after. If you're after solid wood flooring, check if the company has a good variety of that material.
Otherwise, it's best to check out what other companies have to offer.
Reviews
Of course, customer feedback is another way to gauge a flooring company's services.
Reading what past customers have to say allows you to know more about how a company carries out its services.
Some of the things former clients comment about are staff behaviour, service quality, punctuality, etc.
Floor fitters
Unless you're hiring a different contractor to install your desired flooring, don't forget to inquire about the company's floor installers.
Does the company have its own installers or hire other service providers? Either way, ask about their experience, qualifications, samples of past work, and so on.
Pricing
What are the things you'll need to take into account as regards pricing?
Floor area is one. The larger the area you'll need covered, the heftier the price of the material.
Perhaps, the company is open to giving discounts if your floor area is really big, so keep that in mind.
And then there's installation. Installation requirements vary across different flooring materials, just so you know.
Consider also delivery fees.
FAQs about the Best Flooring Companies in Dublin
---
And that concludes our list of the best flooring companies in Dublin! We sure do hope you found our selections to your liking.
Did we miss other notable flooring companies? Share your thoughts by sending us a message, so we can take a look at your picks!
More Resources for Flooring Companies