The 9 Best Home Security System Providers in Ireland
Coming home to broken windows and lost valuables is every homeowner's nightmare. However, it can be avoidable by installing a reliable home security system to repel pesky intruders.
Keep your home and family safe with the best home security system providers in Ireland! Not only will we narrow down your choices below, but we'll also talk about each provider's pros and cons to save you time.
We'll also answer some things you may be wondering about home security systems in general. But before we reveal our picks, here are the estimated service costs of a home security system.
How Much Do Home Security Systems Cost in Ireland?
Take note that the table below only covers the costs of the actual packages advertised on each of our entries' websites. This excludes other fees such as call-out or installation fees.
COMPANY
PACKAGE
PRICE
Wilson Security Systems
Monitored Smart Home Alarm
€199 + €1/day monitoring fee
Action24
Monitoring Packages
From €199 + €31.95/month monitoring fee
AM Security Solutions
Contact for more information
HomeSecure
Wireless House Alarm System with Monitoring
€99 + €1.15/day monitoring fee
Securigard
Self-Monitored House Alarm
Monitored House Alarm
From €590
From €199 + €24.95/month monitoring fee
GoKonnect Smart Home
Personalized Smart Home Security
Plans starting at €199
Monitoring from. €34.99 (Monitoring from €12.99 per month)
Self monitoring starts at €399 with 30 day cancel-any-time policy
Visi Connex
Home Security Monitoring
Request a Quote
The Best Home Security System Providers in Ireland
Now that we cleared that up, let's head on to our list of the top home security system providers in Ireland!
1. Wilson Security Systems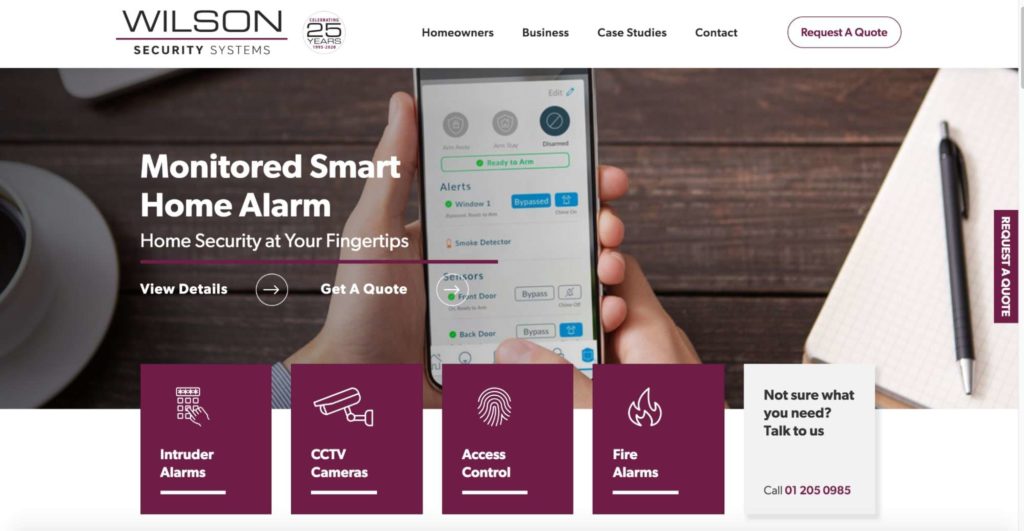 PRODUCTS
Monitored smart home alarm, alarm packages, burglar alarms, CCTV, fire alarms
WEBSITE
https://wilsonsecurity.ie/
ADDRESS
Unit 6 Parklands Office Park, Southern Cross Road, Bray Co. Wicklow
CONTACT DETAILS
01 205 0985


[email protected]

OPERATING HOURS
Monday to Friday 8:00 am to 6:00 pm
Being in the industry for over 25 years has made Wilson Security Systems a trusted name among well-known Irish businesses such as Bayer HealthCare and Kerry. However, this doesn't mean that they don't provide security systems for households, too.
In fact, their flagship product is the Monitored Smart Home Alarm, which allows you to have total control over your alarm system through your smartphone or tablet. If you want to have a complete alarm system, this is the package for you.
It comes with video cameras, motion sensors, and door locks, to name a few. In addition to the app that gives you complete control, you can also rest in knowing that your home is monitored 24/7.
Take note that this package has an accompanying monitoring contract with a daily cost of €1. But if you think a comprehensive package is too expensive to maintain, they also have intruder alarms, CCTV cameras, and fire alarms so that you can monitor your home by yourself.
And if you're unsure what security measures to get, you can arrange for a free consultation through their contact numbers or their website.
Fully accredited and certified
Comprehensive monitoring packages available
Wide range of products
Free consultation
Lifetime warranty for certain products
Not all rates are advertised online
Installation/call-out fees apply
Packages are bound by a monitoring contract
Customer Reviews
Check out what Wilson Security Systems' previous clients have to say about them:
"We used Wilson security to fix our alarm and found them to be so professional, and very importantly they listened to us. Everything was fixed perfectly, and I wish I had done it with them sooner. I would completely trust Wilson Security and highly recommend them. They are also very innovative and always on top of the latest technology available." —Barbara Monahan, Google Reviews
"Excellent service and aftercare. Just had Paul in to change batteries on our system. He was very aware of and observed Covid-19 protocols the entire time. Made us feel very safe. We would definitely recommend Wilson Security to all our family and friends." —Jenny Cooper, Google Reviews
2. Action24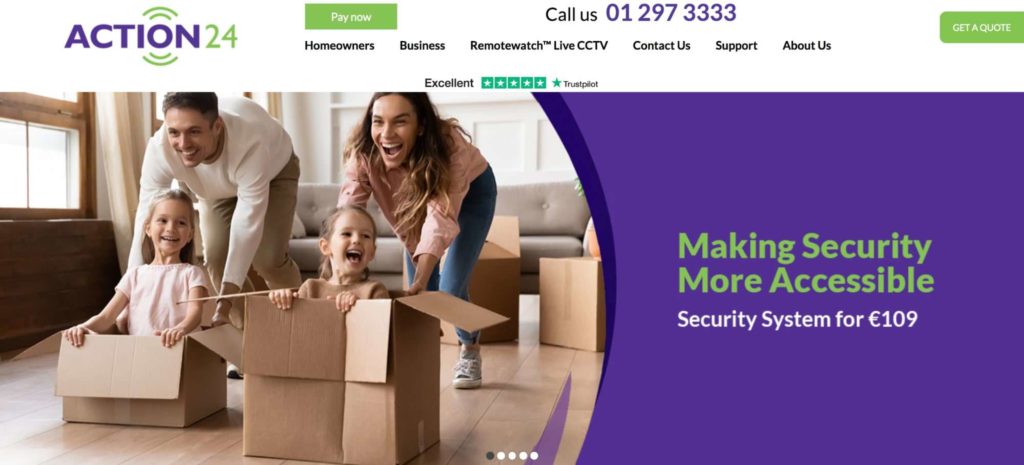 PRODUCTS
Homeowner security packages, SkyBell video doorbells, professional monitoring, home automation alarm systems, intruder alarms, CCTV
WEBSITE
https://www.action24.ie/
ADDRESS
C1, Three Rock Rd, Sandyford Business Park, Sandyford, Dublin
CONTACT DETAILS
01 297 3333


[email protected]

OPERATING HOURS
Monday to Thursday 8:30 am to 5:00 pm
Friday 8:30 am to 4:00 pm
Alarm24 also supplies alarm and monitoring packages for homeowners and businesses. They're certified by a number of institutions, such as the Irish Security Industry Association and the National Standards Authority of Ireland.
Like most major providers, they have a wide variety of monitoring packages available, all of which include a touchscreen panel, 7 contact sensors, a flashing bell box, and a smoke/fire detector or sensor at the minimum.
Depending on your chosen package, you may have additional devices for extra security. Take note that the packages' rates advertised on their website come with a monthly monitoring fee.
But if you're on a tight budget, we recommend getting their Smart Starter System for a minimal fee, which includes all of the equipment above minus the monthly monitoring fee.
We are pleased to let you know that they don't charge call-out fees and that customers are entitled to unlimited service calls! Apart from this, they also recently purchased the Wilson Security last 2021.
Fully accredited and certified
Comprehensive monitoring packages available
Free consultation available
Budget package available
No call-out fees
Limited selection of individual products
Rates for CCTV packages unavailable online
Customer Reviews
Below you'll see some reviews by Action24's previous clients:
"Had Action24 installed in our house. Easy quick installation – nice feature panel – looks modern and easy to use. App is excellent also – can turn the alarm on and off from anywhere – handy if I have forgotten to set it or want to double check if I have set it. Dave installed our alarm – very knowledgeable and friendly. Thanks Dave and Action 24." —Trac Gar, Google Reviews
"Have Action 24 installed a couple of months now, and I'm very happy with it, delighted! Every time we've accidentally triggered the alarm, they called. Thankfully, we've been safe and not needed the security or gardai called. Sleeping peacefully! Even the house cleaner has her own temporary code, which we can activate when we know she will be here. And the in-laws have the same code, temporary! Wanna make sure they leave. Very happy with Action 24 to date, definitely recommended." —Mike Grogan, Google Reviews
3. AM Security Solutions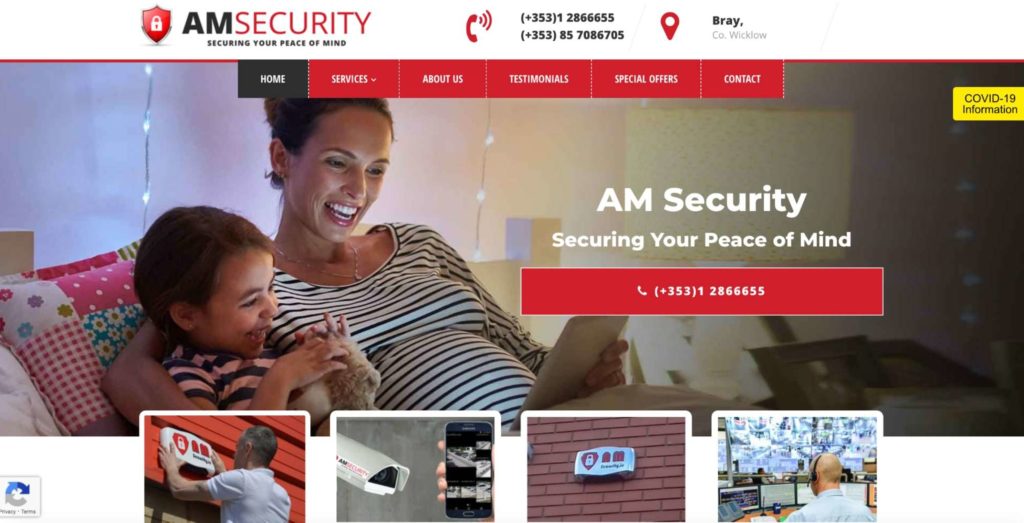 PRODUCTS
Alarm installation, CCTV, security system upgrades, 24-hour monitoring, alarm servicing
WEBSITE
https://www.amsecurity.ie/
ADDRESS
83 Hollybrook Park, Kilruddery Demesne West, Wicklow
CONTACT DETAILS
01 286 6655


[email protected]

OPERATING HOURS
Monday to Friday 9:00 am to 6:00 pm
Saturday 9:00 am to 1:00 pm
For residents of Wicklow and Dublin, you may want to consider AM Security. It's a security company that has built a reputation for having fast and dependable technicians for over 20 years.
Compared to our previous entries, they mostly supply offline alarm installation systems and packages, meaning that you aren't tied to their monthly monitoring subscription. But if you'd like to avail 24/7 professional monitoring services, they also offer this service as an addition.
Their wireless system has multiple benefits such as panic buttons and pet-friendly motion detectors—good news for pet owners. They can also install CCTV systems depending on the size of your property.
What's special about AM Security Solutions is that they have a 24-hour call-out service for those who are busy during the day.
Unfortunately, their service rates are unavailable online. But should you decide to give them a go, you may request an obligation-free quotation through their numbers.
Fully accredited and certified
Multiple equipment packages available
Non-binding alarm installation systems
24-hour call-out service
Free site survey
Service/product rates unavailable online
Limited selection of self-monitoring products
Customer Reviews
Take a look at what some of AM Security Solutions' previous clients said about them:
"AM Security fitted an alarm and CCTV for me. All work was professionally carried out. Andy and team were very detailed orientated and made sure all cables were neatly wired. They exceeded my expectations. I would recommend AM Security to anyone that is looking for anything alarm or CCTV related." —Barry Cotter, Google Reviews
"Professional, timely, efficient and helpful service. Very clean installation throughout the house. Andy was very thorough, explained the system very well to us and was ready to answer all of our questions. Highly recommended!" —Roberto Borg, Google Reviews
4. HomeSecure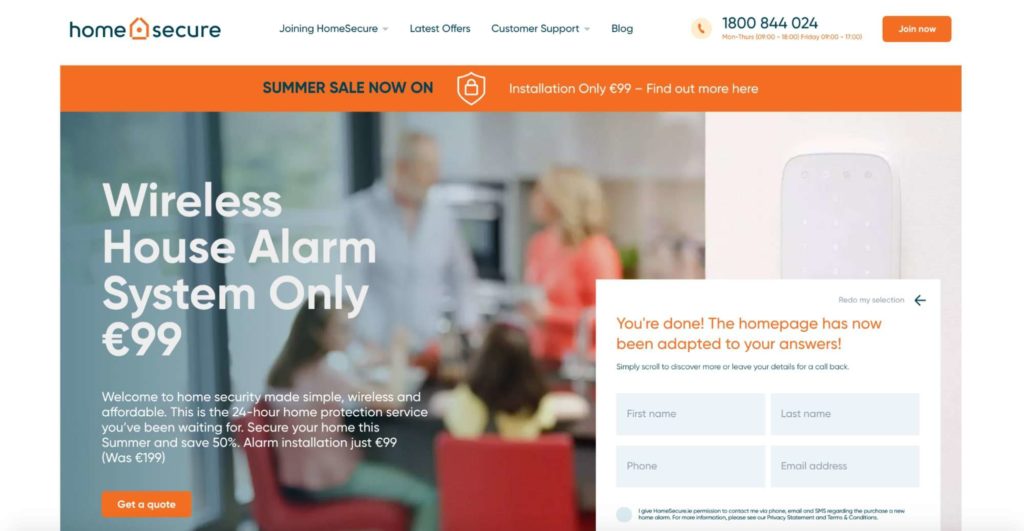 PRODUCTS
Home security packages, panic button, smoke detector, leak detector, KeyFob, internal siren
WEBSITE
https://www.homesecure.ie/
ADDRESS
Eden Centre, Grange Road, Rathfarnham, Dublin 16
CONTACT DETAILS
1800 844 024


[email protected]

or

[email protected]

OPERATING HOURS
Monday to Thursday 9:00 am to 6:00 pm
Friday 9:00 am to 5:30 pm
Regardless of your location in the country, you can count on HomeSecure to have an extensive network of local technicians nationwide to accommodate you.
If you want a straightforward alarm system that comes with 24-hour monitoring, this is the company to consider. You don't have to worry about selecting the perfect package for you because there's only one package available.
The one-time installation fee is the most affordable on our list, with separate monitoring costs of €1.15 a day. And if you're wondering what this simple package offers, you're provided with a keypad, a couple of sensors, 24/7 professional monitoring, and access to a control app.
No need to worry about extra charges for battery replacement or when moving homes as those are already covered in your plan.
Perhaps the only downside of HomeSecure is that cameras are only exclusive to customers who have availed of the monitoring package as an added extra. If you're a new customer though, they can pencil you in for a free home assessment through their online form.
Fully accredited and certified
Services available nationwide
No extra charges for battery replacement or moving homes
Relatively affordable
Free home assessment
Limited installation times in the morning/afternoon only
No self-monitoring equipment available
Cameras not included in package
Customer Reviews
Here's a glimpse of what some of their past clients have to say about them:
"Ray came out and was on time professional and explained everything to us. I couldn't fault this company in any way. It's great to have a company that looks after you 24/7 and they are quick off the mark. If anyone wants to improve their security please come to this company. Their service and standard is second to none." —Maria Brill, Google Reviews
"I had HomeSecure system fitted in my home last week. From the first phone conversation with Chris to the fitting carried out by Curtis, everything ran so smoothly. Neat, top class work carried out by Curtis who also explained everything in great detail. System is so easy to use and just this morning the alarm was set off accidentally and I received a phone call instantly from the monitoring center to make sure all was ok. Very happy I joined Home Secure." —Kevin Traynor, Google Reviews
5. Securigard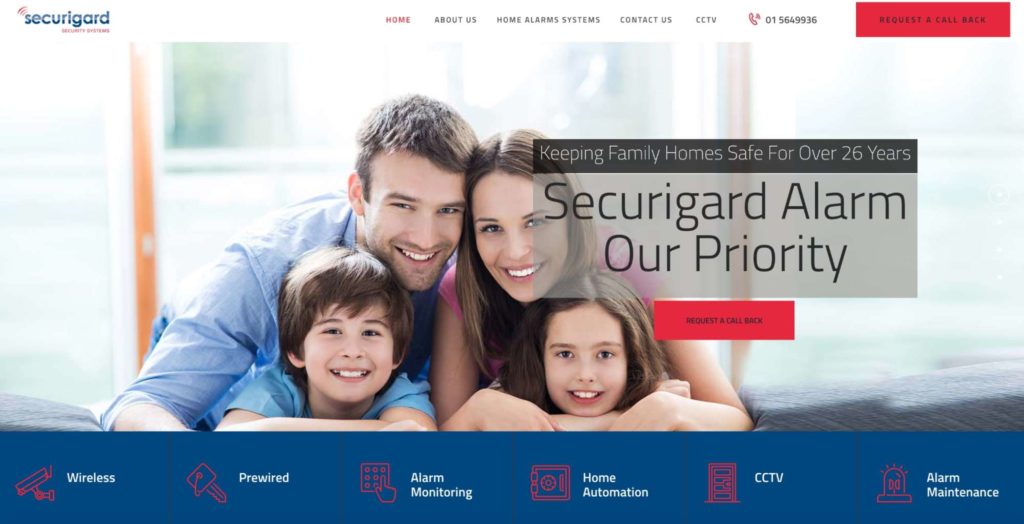 PRODUCTS
Wireless house alarms, pre-wired house alarms, alarm monitoring, smart home alarm system, alarm maintenance, CCTV, self monitored and non monitored alarm systems operating at 24 hours
WEBSITE
https://www.securigard.ie/
ADDRESS
Dodder Park Road, Rathfarnham, Dublin
CONTACT DETAILS
01 564 9936


[email protected]

OPERATING HOURS
Monday to Friday 9:00 am to 6:00 pm
Saturday 9:00 am to 1:30 pm
Securigard may have its headquarters in Dublin but its services also extend to surrounding areas such as Wicklow, Kildare, and Meath. Their services have been rated among the best in the industry by Sunday Independent surveys in the last couple of years.
With Securigard, you have the option to choose between monitored or self-monitored alarm systems. Their monitored systems have the lowest prices on our list at €24.92 per month, but take note that this contract is locked in for 5 years.
On the other hand, their self-monitored alarm system includes a panel, sirens, a control fob, a panic button, and a front door instant alarm feature. You only have to pay for a one-time fee, and all of its inclusions are yours to keep.
What we also like about Securigard is the app that its monitoring packages come with, which is fully encrypted to keep hackers away. Furthermore, its wireless intruder alarm also has an anti-jamming and anti-code grabbing technology to repel online thieves.
You may be overwhelmed by the number of packages available on their website but you can have them ring you back for a free consultation.
Fully accredited and certified
Wide variety of packages available
Free assessment
Full-encrypted technology
Covers surrounding areas outside of Dublin
Don't operate nationwide (limits are to areas one hour from Dublin)
Customer Reviews
Check out some comments by Securigard's previous clients below:
"I meant to write this review after we had the alarm fitted in 2019. The wireless system was fitted by John who did a great job and took the time to make sure my wife and myself knew exactly how to operate the alarm. A few years later we had a small problem and John called to sort it out for us but unfortunately discovered an additional problem which needed a part to be ordered. This he did and returned to us a few days later and fitted this new module at no extra charge. Couldn't ask for better service and a really nice guy to deal with too." —Paddy Griffin, Google Reviews
"Had Securigard installed the alarm 3 months ago. They were very helpful explaining what would work for my home. Installation was quick and so far very happy with the alarm. All round experience so far with Securigard was very good." —Mick Dune, Google Reviews
6. GoKonnect Smart Home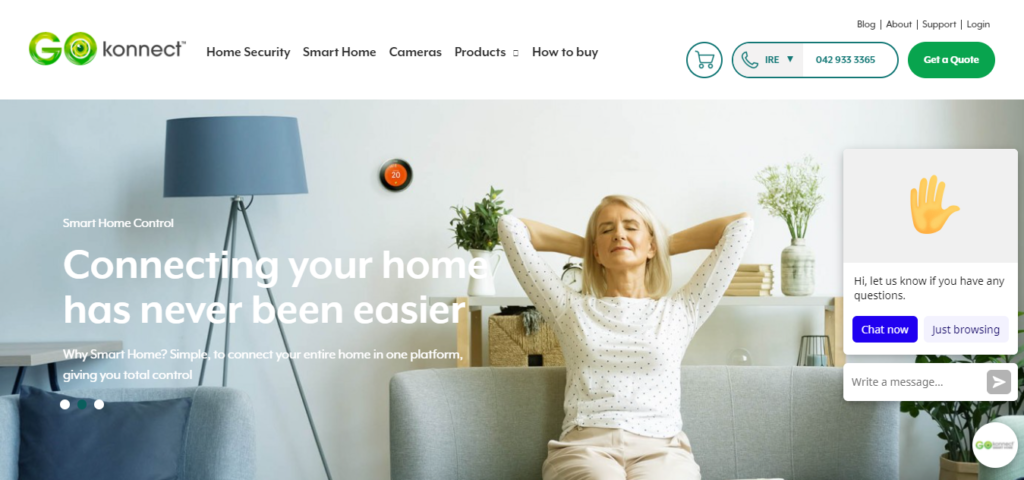 PRODUCTS
Burglary Protection, Skybe Video Doorbells, Sonos Speakers,Wellness Cameras, Google Nest Thermostat, Smoke Alarms, Danalock Smart Lock, Outdoor HDR Camera, CO Detector, Smart Lighting, Motion Sensors, Smart Home Hub System
WEBSITE
https://www.gokonnect.ie/
ADDRESS
Dundalk, Ireland
CONTACT DETAILS
042 933 3365 /

[email protected]

OPERATING HOURS
24/7
GoKonnect Smart Home capitalizes on providing smart home security systems for homes so that the client is able to keep an eye on their household whilst away from home.
In comparison to other companies, they offer various products that serve various purposes to further enhance home safety such as smart doorbells, wellness cameras, and smart home hubs that are all connected to their application which enables clients to view their homes.
They offer packages that are fit for all homes should the client choose to have the said smart security system to be installed either by the company or by themselves. These packages vary according to the client's desired plan and each tier enjoys an excellent set of professional services.
Furthermore, they also offer professional monitoring which is cancellable anytime should the client have any problems with the said plan. The company also offers flexible buying options with 24/7 technical support and with accessible and hassle-free online payments done online.
Professional monitoring services are available
Hassle-free transactions
Flexible plans
Options with smart security, full smart home control, and CCTV camera all under one app
Customer Reviews
Here are some reviews from their previous clients:
"When you're out on the pitch it's important to remember… you're doing this for your country. Its a huge responsibility, and its never been one I've taken lightly. Peace of mind is the ket to training effectively, and keeping my focus where it needs to be." – Aidan O'Shea
"My work takes me all over the world, one minute I'm Dublin, the next I'm back in Vegas. I'm always on the go. It can be an intense lifestyle at times. In the fight same protecting what's important is vital, the same is true at home. Keeping my family and home safe and secure when I am away is hugely important to me and with GoKonnect I can rest easy knowing that's the case." – Owen Roddy
7. Network Security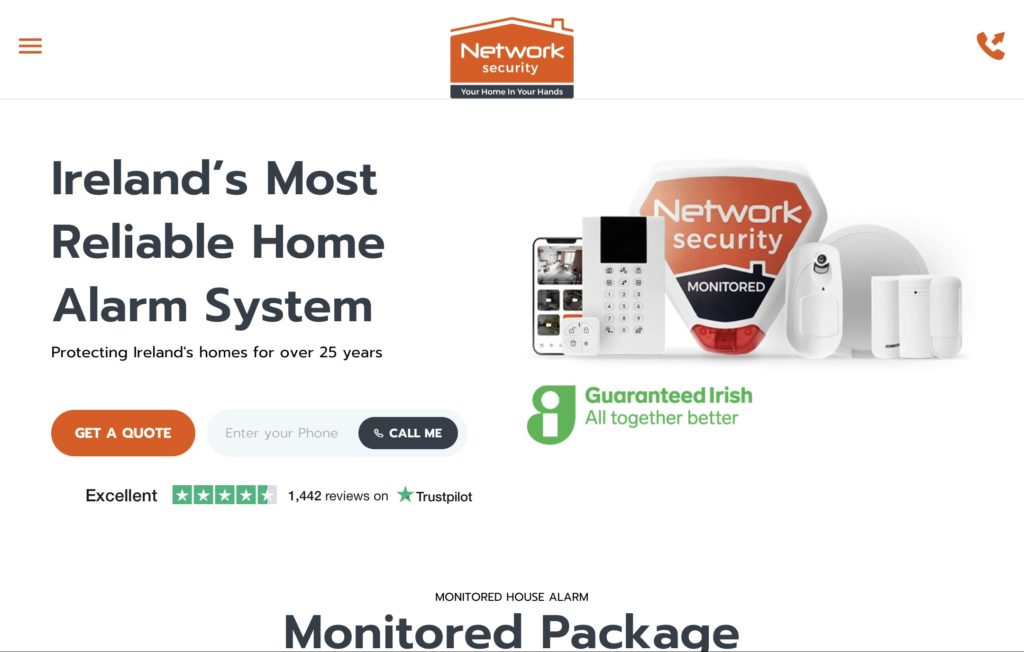 PRODUCTS
CCTV and Monitored Alarm
WEBSITE
https://networksecurity.ie/
ADDRESS
Ireland
CONTACT DETAILS
01 257 3600
OPERATING HOURS
Monday to Thursday: 9 AM to 6 PM
Friday: 9 AM to 5 PM
At Network Security, we've discovered a paragon of home security services that effortlessly marries cutting-edge technology with unparalleled convenience.
Our experience with their services has been nothing short of exceptional, leaving us with a peace of mind that our abode is fortified against the digital tides of the modern world.
When it comes to services, Network Security stands head and shoulders above the rest.
Their robust suite of offerings, from intrusion detection systems to advanced firewall setups, reflects a commitment to thwarting potential threats before they even knock on our digital doorstep.
It's as if they've woven an impenetrable cloak around our home, where virtual trespassers are promptly shown the exit door.
Convenience, the modern-day elixir of life, is where Network Security truly shines. With a seamless installation process that makes setting up a breeze, we were able to swiftly establish a digital fortress without the usual hassle.
The user-friendly interface for monitoring and managing our security parameters is akin to having a vigilant sentry at our beck and call, all within the convenience of a few taps on our devices.
In the realm of reputation, Network Security is a name that resonates with a symphony of commendations.
Their track record of safeguarding homes and businesses speaks volumes about their dedication to excellence. Knowing that we've entrusted our security to a company with such a sterling reputation only deepens our sense of assurance.
However, they don't offer any promos yet. We advise checking their website for other affordable deals.
Cutting-edge technology
Seamless convenience
Stellar reputation
Cost-effective security
Customer Reviews
"Network Security's advanced systems have transformed our home into an impregnable fortress. The peace of mind we now enjoy is simply priceless."
"We joined the Network Security family based on glowing recommendations, and they have exceeded every expectation. Our trust in their reputation has been reaffirmed."
8. ESP Security Ltd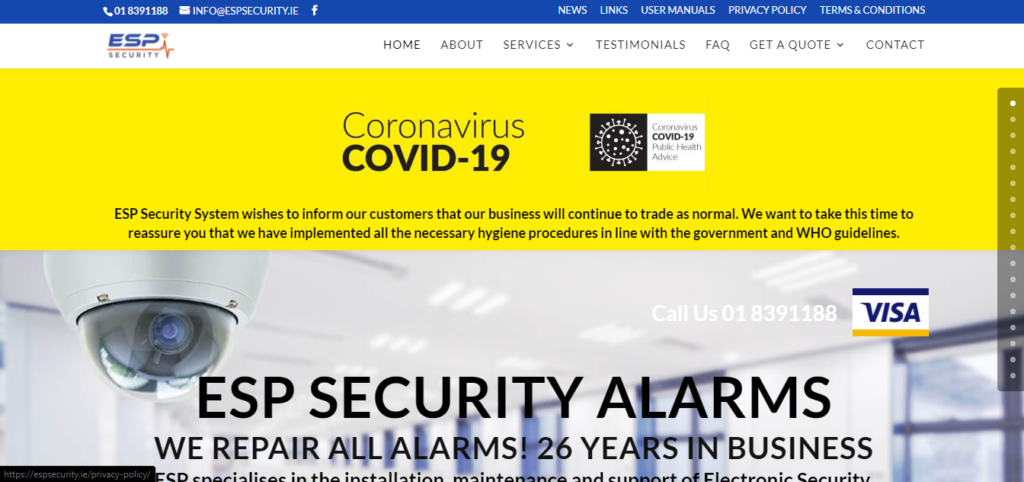 PRODUCTS
Alarm Battery Replacement
Wireless Alarms
Wired Alarms
Alarm Repair
Domestic Alarm Systems
Commercial Alarm Systems
Burglar Alarm Installation
Alarm Monitoring
CCTV / Digital Video
CCTV Repairs & CCTV Servicing
Access Control
Intercom Systems
WEBSITE
https://espsecurity.ie/
ADDRESS
Kandoy House,
Fairview,
Dublin 3
CONTACT DETAILS
01-839-1188


[email protected]

OPERATING HOURS
24/7
ESP Security Ltd has been serving people in Ireland since the early 90s. Their team has expertise in the installation, maintenance, and support of Electronic Security, Access Control, and CCTV systems.
We think they are great because as a customer-focused, growing, and dynamic business, they always look and search for ways in serving their customers better.
If you live in Dublin 1 to 6, 6W, 7 to 18, 20, 22, and 24, consider them as your go-to company if you need residential or commercial repair, installment, and maintenance. We say this because they always deliver high quality systems to all sectors of industry and commerce.
We love them because they carry out a full survey of all properties before they recommend what security installation to install. And in comparison to others, this company lets their clients choose whether a wireless or wired alarm system would be installed.
Are IS/EN 08422  accredited
Fully licensed member of the NSAI and the PSA
Can supply any customer with a list of references for previous alarm installations on any home security systems they have installed
Provide 24 back up for all home security installations
Rates are unavailable online
Customer Reviews
Here are some reviews from their previous clients:
From start to finish ESP Security have been fantastic & I will certainly be using them again.
"Caroline (receptionist) took my details & information on my alarm problem. Caroline made a phone call & had a technician (Joe) out to me within a couple of hours. Joe was an absolute gent, very professional – explained exactly what he was doing. Alarm problem fixed within the hour & at a very reasonable price. Excellent all round. Great team – 5 stars" – Caroline Ronan"
Very professional and prompt service, I am glad we called this team. The technician Anthony has been very kind, efficient and available to provide plenty of explanations. We engaged for checking how the current alarm was and we landed with investing in plenty of devices. I would definitely recommend them." – Maria Chiara
9. Visi Connex
PRODUCTS
Event Based Monitoring, Home Security Monitoring, Remote Monitoring, Full-Time Monitoring, Hikvision Monitoring
WEBSITE
https://www.visiconnex.com/
ADDRESS
Unit 19, Woodbine Business Park, New Ross, Co. Wexford, Ireland, Y34 DH26
CONTACT DETAILS
051 440 330
[email protected]
OPERATING HOURS
24/7
Visi Connex is a company that offers a wide range of surveillance and monitoring solutions to increase security and bring to clients flexible monitoring necessities for any situation. Based in New Ross, all of their products and services meet the standards set by the National Standard Authority of Ireland and licensed by the Private Security Authority.
We find their services to be flexible and ideal just for any setting that the client may need a CCTV system for may it be for industrial or personal use.
With their licensed installers, clients can be assured that they can receive complete customer support 24/7 should there be any concerns and issues with their packages and products.
Another thing we find impressive is their proactive and advanced CCTV technology that can track any suspicious movements and activity in an area and adequately set an audible alarm according to what the client prefers.
Overall, with their past clients commending their professionalism when it comes to customer interaction and comprehensive packages, we highly recommend them for clients looking for an all-around monitoring system.
PSA Certified products
24/7 monitoring and customer support
Customizable packages
Limited information on alarms
Customer Reviews
Here are some reviews from their clients:
"The cameras supplied by Visi Connex for New Ross Town Park eliminated all anti-social behaviour and allowed our staff to go about their day to day business, saving time and money." – Ger Mackey, Town Clerk, New Ross
"Visi Connex has provided Galway City Council with a comprehensive CCTV service, efficient and flexible service and support and a system that is simple to use." – Patricia Philbin, Housing section, Galway Town Council
FAQs about Home Security Systems
---
And that ends our list of the best home security system providers in Ireland. If you've had the opportunity to try out the services of our entries, let us know your experience!
You can also leave us a message if you think there are other service providers worthy to be on our list.
Speaking of homes, you can also have your other rental properties handled by the best property management companies in Dublin if you're a landlord.