The 9 Best Alarm System Providers in Ireland
Featured Image Source: https://unsplash.com/photos/Hd0m_5-OyCw
Nowadays, a simple lock isn't enough to keep your home safe. It can be picked quite easily with pins, bump keys or some lock-snapping techniques.
To protect your family and belongings, consider using an alarm system. Aside from being more complicated to outsmart, studies also show 9 out of 10 burglars won't attack if they encounter a house with a security alarm system.
You will find providers of the best alarm systems in Ireland below, including the approximate costs and other tips so you can arm your home from danger even when you're not around.
The Cost of Alarm Systems in Ireland
The price of a security system varies depending on several factors: the type of alarm, how sophisticated it is, if it's wired or wireless, how big the property is, among other things.
We've taken the average rates of the most common products and compiled them for you below:
| | |
| --- | --- |
| Product | Price |
| Wireless security system | From €1,077 |
| Wired security system | From €800 |
| Security system upgrade | From €310 |
| Burglar alarm | From €125 |
| Monitoring | From €1.15 per day |
The Best Alarm Systems in Ireland
We found suppliers of the best alarm system in Ireland and picked what we think are the best:
1. AlertWatch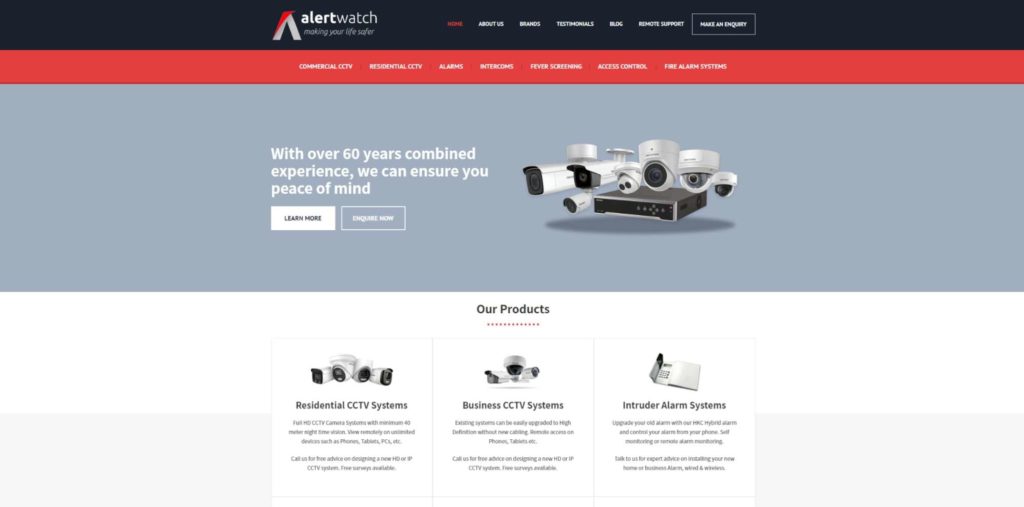 | | |
| --- | --- |
| PRODUCTS | intruder alarm systems, fire alarm systems, residential CCTV systems, business CCTV systems, intercom systems, gate automation |
| WEBSITE | https://alertwatch.ie/ |
| ADDRESS | Unit 237, Blanchardstown Corporate Park 2, Blanchardstown, Dublin 15, Ireland |
| CONTACT DETAILS | +353 1 689 6390 |
| OPERATING HOURS | Mon – Fri, 8:00am – 10:00pm |
It seems there's an alarm system for everything that can pose a danger to our home—like intruders and fire. Manufacturers have also made it so monitoring it can be easy, thus, intercoms and CCTVs were thrown into the mix.
AlertWatch offers all this, including gate automation and even access control systems. But AlertWatch didn't make it to our list because of those—other companies offer the same stuff after all.
What they have, which most of the companies we've reviewed don't (not yet, at least) is fever screening.
Yep, they offer camera solutions that can detect the skin-surface temperature of a person. It can even detect the temperature of multiple individuals at the same time.
Their thermal solutions use AI (Artificial Intelligence) to lower the chances of false alarms from other heat sources and have an accuracy of up to ±0.3°C. What's more, it will immediately notify the operators once elevated temperatures have been detected.
We think it's a very timely product to offer for both homes and businesses. In these troublesome days, if we can't completely eradicate COVID-19, we can at least help prevent its spread.
Aside from fever screening systems, AlertWatch also offers other CCTV solutions for both residential and industrial clients. They have a wide range of brands—Samsung, QVIS, HIKVision, Concept Pro, etc.—all of which come with a 3-year warranty and full training and support.
What they don't seem to have, though, is professional monitoring plans for the alarm systems. Still, we think they're a solid alarm system provider despite this lack.
If you're interested, you can call them for a free consultation. You can also come for a visit, but only from Monday to Friday.
Residential and commercial alarm systems
CCTV, intercoms, and gate automation offered
Wide range of brands
Fever screening
3 years warranty on CCTV
Full training and support included
Free consultation
No monitoring plan offered
Closed on weekends
No referral reward
No mention of payment methods
Customer Reviews
Ultra-efficient
"These lovely guys installed CCTV for me. They are consummate professionals; extremely pleasant to deal with ; and they are ultra efficient. Their product is really high quality. They issued quotes and came to work on the jobs without delay. I installed alarms with them too because they were so efficient to deal with. No stress; fantastic job; highly recommend." – Fionnuala Fallon, Google reviews
Cameras capture all areas
"Fantastic service, cameras capture all areas. Quick and easy install with minimal disruption. Definitely give peace of mind in terms of security and cameras provide a really clear picture of any movement near the house. Several other houses in the estate have used Alert Watch and all have very positive feedback. 100% recommend!" – Cliona Dalton, Google reviews
2. Action24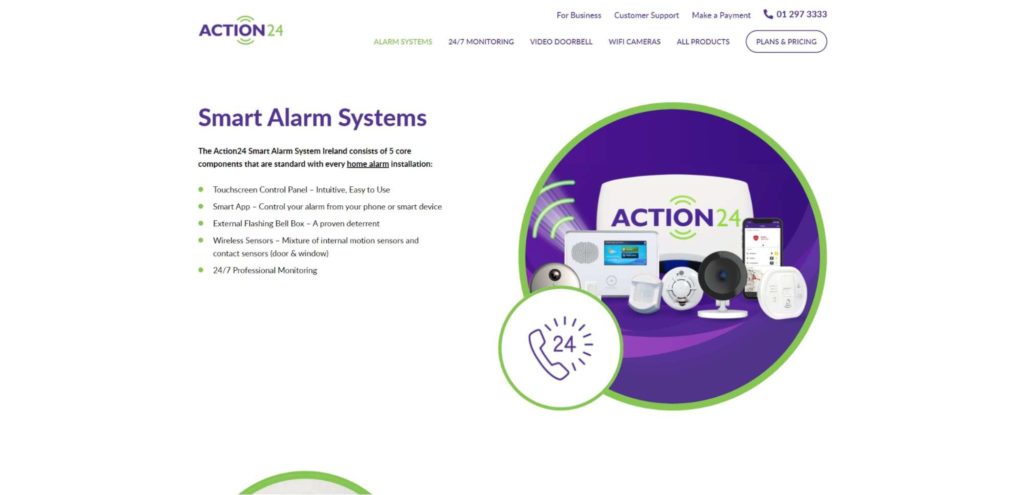 PRODUCTS
smart alarm systems, 24/7 monitoring, video doorbell, wifi cameras
WEBSITE
https://www.action24.ie/
ADDRESS
C1, Three Rock Rd, Sandyford Business Park, Sandyford, Dublin, D18 N9P6, Ireland
CONTACT DETAILS
+353 1 297 3333
OPERATING HOURS
Mon – Thurs, 8:30am – 5:00pm
Fri, 8:30am – 4:00pm
Anybody can buy an alarm system and have it installed—all you really need is money. But what if you don't have the time to monitor it yourself?
Action24 offers not just alarm systems but also 24/7 professional monitoring solutions. How it works is pretty straightforward.
When the alarm activates from your home or business, a signal is transmitted to Action24's receiving centre. Trained personnel will then get in touch with you to confirm if the alarm is genuine or not.
The alarm will be cancelled once the correct verification word is given. However, if they don't receive any confirmation from you, they will contact relevant keyholders so emergency services can be dispatched.
In a world that's getting busier every day, having professionals look after your home when you can't do it yourself is a pretty useful service. What's even better is, they don't subcontract any element of their service for your complete security.
We also like that they have different plans to match your needs. They have the starter plan at €109 which includes basic monitoring devices such as touchscreen panel, smart app, external flashing bell box, and wireless sensors.
The price and features of the succeeding plans go up from there. The primary plan is priced at €199, the premium plan is at €299 (which is their most popular plan) and it's €399 for the prestige plan.
Aside from these, Action24 also offers other products like video doorbells, wifi cameras, smart plugs, panic response fob and other similar products. They also have locksmith and key-cutting services for both residential and commercial clients.
If you're thinking of getting an alarm system from them, you might want to hurry as they're offering discounts to celebrate their 40th year in the business. Their smart starter alarm system is at a discounted price of €40 for a limited time (the original price is €109).
You'll also get an extra surprise if you were born in 1981 (we're as curious as you are to know what it is) so don't forget to tell their sales team what your birth year is!
But if you're going to miss that, don't worry. They also have regular promotional offers (like discounted alarm installation) and a referral reward which will entitle you to a €50 One4all gift card.
Consultations are free, too. We only have two complaints: they're closed on weekends and it seems only credit cards are accepted if you want to make a payment.
 24/7 professional monitoring solutions
Different alarm system plans and pricing
Other security products also offered
Regular promotional offers
Referral reward
Free consultation
Closed on weekends
Only credit card payments are accepted
Customer Reviews
Looks modern and easy to use
"Had action 24 installed in our house. easy quick installation – nice feature panel – looks modern and easy to use. App is excellent also – can turn alarm on and off from anywhere – handy if i have forgotten to set it or want to double check i f i have set it. Dave installed our alarm – very knowledgeable and friendly. Thanks Dave and Action 24." – Trac Gar, Google reviews
Gives me peace of mind
"Couldn't recommend Action 24 enough and after a recent spate of burglaries in my area, I'm extremely thankful not to have been targeted and have a 24 hour monitored alarm system in place. It really gives me peace of mind when I lock up the house at night. Installation was quick and simple and the installer was lovely-a credit to the company" – Fiona Linehan
3. Lara Electrical & Alarms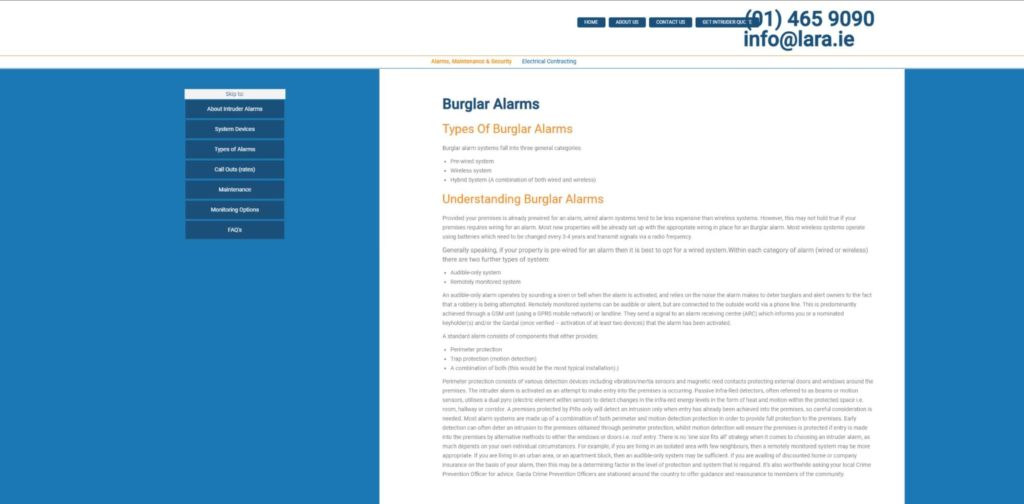 | | |
| --- | --- |
| PRODUCTS | domestic, commercial, monitoring burglar alarms |
| WEBSITE | https://www.lara.ie/ |
| ADDRESS | D4, Centre Point Business Park, Oak Dr, Dublin 12, D12 TY48, Ireland |
| CONTACT DETAILS | +353 1 465 9090 |
| OPERATING HOURS | Mon – Fri, 9:00am – 5:30pm |
We'll get straight to the point: what we think makes Lara Electrical & Alarms stand out is their fog security system. This alarm system is built around the theory that burglars can't steal what they can't see—and that makes a lot of sense.
Once the detection device of the system has been triggered, it will immediately release a dense fog and scatter in a matter of seconds. The smoke is harmless, but it will obscure the burglar's vision which will make stealing difficult.
Besides, once they know they've been found, a burglar's instinct isn't to continue stealing but to escape. Our research also shows that the mere presence of a fog security system decreases theft incidents.
Like other companies of its kind, Lara Electrical & Alarms offers other alarm systems too: burglar alarms, fire alarm systems, security cameras, door entry access control, intercoms, security lighting among others for both domestic and commercial clients.
They have energy-saving lights, security maintenance, cabling systems and also offer a full range of electrical contracting and installation for new builds, extensions and renovations. Indeed, they're one of the few that offers a truly vast range of products and services.
They give you lots of options for the products they offer as well. For example, you can create your own quote by choosing between a wired alarm and a wireless system—with or without a maintenance contract.
For burglar alarm systems, you can choose to self-monitor or use their alarm receiving centre. The only thing left for you to really do is decide the level of protection you're most comfortable with.
Fog security system offered
Vast range of alarm systems, products and services
Security maintenance
Accepts domestic and commercial projects
Full range of electrical contracting and installation
Accepts new builds, extensions and renovations
Monitoring options available
Closed on weekends
No referral reward
No mention of payment methods
Customer Reviews
Competitively priced
"I have used Lara Alarms for years, they always do a great job. Recently they fitted CCTV and sensor lights for me. I have had some awful tradesmen in my house that have left so much damage afterwards. Lara are always so neat & tidy and take such pride in their work. I never have to look over their shoulder. No wires trailing all over the house and holes in walls. Always competitively priced and they arrive at the time agreed. I recommend them to everyone! Keith and Susan are always so professional and helpful." – Ciaran Mc Donnell. Google reviews
A very neat and tidy worker
"I would highly recommend Lara Alarms to anyone looking for an alarm. The staff in the office were very helpful & friendly. Keith the technician who installed the alarm was brilliant. He was extremely helpful & friendly. He was a very neat and tidy worker & explained everything about the alarm system to me. He has now installed 3 alarms for myself & people in my family & I would recommend Keith & Lara Alarms to anyone" – Dermot O'Rourke, Google reviews
4. Smartzone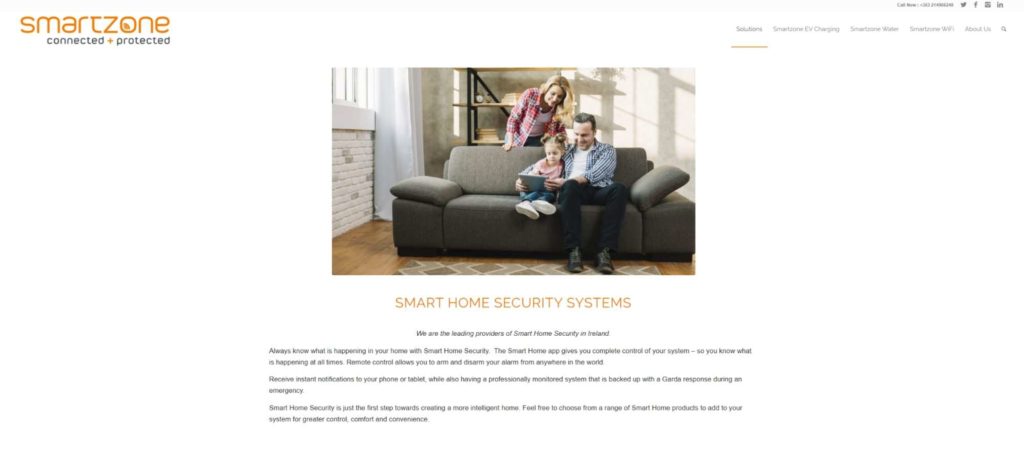 | | |
| --- | --- |
| PRODUCTS | wireless house alarm, monitored house alarms, smoke alarm, smart locks |
| WEBSITE | https://smartzone.ie/ |
| ADDRESS | Unit 12 Southside Business Park, Togher, Cork, T12 FR50, Ireland |
| CONTACT DETAILS | +353 818 222 926 |
| OPERATING HOURS | Mon – Fri, 8:30am – 5:30pm |
Smartzone offers everything "smart": alarm system solutions and monitoring, EV charging, video, automation, locks and others for homes and businesses. They also have a system solution to one thing most people wouldn't think can harm their home: water.
We know how much damage water can do when rain gets into roof leaks. But what we never thought of is, what if your pipes burst and water escapes from the inside when you're not around?
Surprisingly, water damage is 5X more likely to happen than theft and 6X more likely to happen than fire. In fact, 40% of insurance claims are from escaped water!
To help prevent this, you can install a water alarm security system in your home. Called Smart Water Valve, it can monitor and detect leaks as small as 0.1 litres per hour in real time.
The water valve will alert you once a leak is detected and will automatically shut off the water. It's one of the most advanced water-monitoring technologies in the world today.
We also like that they've thought of a "contingency plan" for their alarm systems when your broadband goes down. Their systems have been made with a dedicated dual-path connection (GSM and IP Internet Communication), so it will continue to work even when you have poor or no internet connection at all.
We think adding a smart alarm system to your home is a good investment because really, no money can replace the control, convenience and security it makes one feel.
There is a price attached to it, of course. Fortunately, Smartzone also offers bundles (some with free installation) so you can save money and still get the features you need for your home.
Another way you can save is to refer a customer to them so you can earn €150. You can use it for your monthly maintenance and monitoring subscription or buy other products from them.
Wide range of smart alarm systems
Residential and business clients accepted
Monitoring service offered
Water monitoring system
Systems have a dedicated dual-path connection
Bundles available
Free installation on some bundles
Referral reward
Closed on weekends
No mention of payment methods
Customer Reviews
Brilliant service
"What a brilliant service from start to finish – these guys are true southern gentlemen. Installed an alarm for my mother and couldn't have asked for more. Would highly recommend and they have humans to answer the phone too, brilliant idea!" – Justine O'Toole, Google reviews
Wide range of products
"I spoke with Justin and Amanda at Smartzone in Cork and was impressed with their level of expertise on smart home security and alarm systems. They have a wide range of products like smart heating and CCTV video cameras which you can control from your phone. This is perfect for someone like me who likes new tech gadgets but also loves smart home gadgets.
The ability to watch from my video doorbell and get a notification on my phone has been super helpful for me and has added comfort when I'm traveling.
I would recommend Justin and Smartzone to anyone who needs a burglar alarm or home security system." – Casey Meraz, Google reviews
5. Aztec Security Systems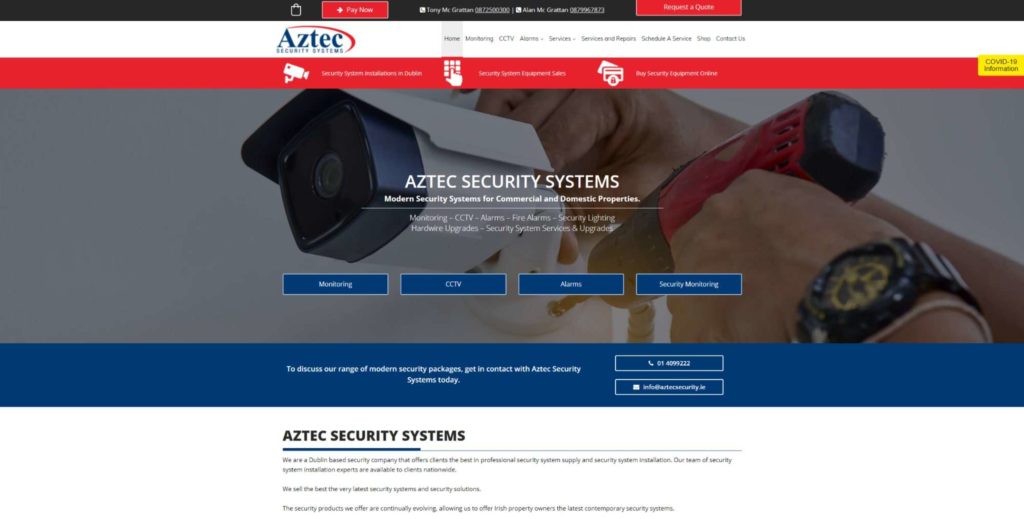 | | |
| --- | --- |
| PRODUCTS | alarms, fire alarms, CCTV, ZeroWire alarms, monitoring |
| WEBSITE | https://www.aztecsecurity.ie/ |
| ADDRESS | 3 Shelton Gardens, Terenure, Dublin, D12 X625, Ireland |
| CONTACT DETAILS | +353 1 409 9222 |
| OPERATING HOURS | Open 24 hours |
Aztec Security Systems offers a variety of security system equipment such as intruder and fire alarms, CCTVs, security lighting, and burglar alarms.
They also provide monitoring options that will allow you to monitor your home yourself using your smartphone or have the local Garda go to your home when the alarm is triggered.
Their monitoring solutions can be fully customised to fit your requirements and aren't limited to just these two options which is the first reason why we picked this company for our list.
Another is that Aztec also offers repairs nationwide. We especially like this because some companies just sell and install systems but don't have a team dedicated for security system servicing.
Aside from repairing individual pieces of equipment, they can also service your system as a whole. They can rewire security lighting, reposition CCTV cameras, and replace or update faulty, out-of-date security systems with modern, energy-efficient alternatives.
Another point in favour of Aztec is, they have an online shop where you can buy CCTV cameras, intruder alarm systems, and video doorbells that let you book service calls.
There aren't a lot of payment options, though, which is a bit of a bummer. It wasn't confirmed as well if requests for quotes are free so make sure to ask them that before anything else.
Domestic and commercial clients accepted
Customisable monitoring options
Offers repairs nationwide
Has online shop
Service calls can be booked online
Limited payment options
No mention if quotes are free
Customer Reviews
Installed in a few hours
"Had my house alarm upgraded to a wire free monitored system with app functionality on my I-phone. They did an excellent job. Removed all old alarm contacts and wiring and filled in all holes in walls and windows from the old system. New system was installed in a few hours by a team of 3 knowledgeable installers. Very professional company." – Des Mccormack, Aztec Security reviews
Professional and priced competitively
"We have been with Aztec for over fifteen years. We originally dealt with Tony and then Alan and his colleagues took over the ongoing maintenance. They are a fantastic company to work for. Nothing is a problem and they'll always advise to go with value rather than over-specifying the products to maximise their price. We trust them and have recommended them to others who have been delighted with their service, professionalism and competitive cost. An excellent company to work with." – Andrew Gunne, Google reviews
6. Power Right Fire Energy & Security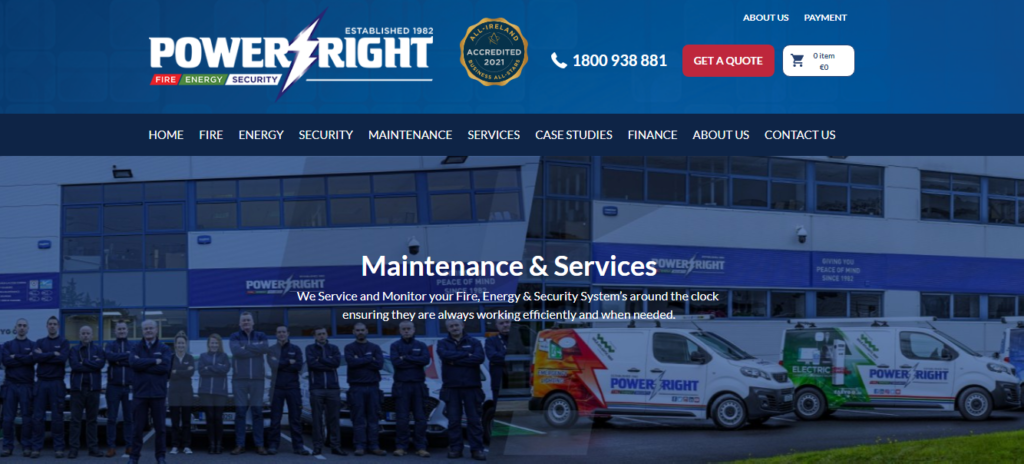 | | |
| --- | --- |
| PRODUCTS | Fire Alarms, Emergency Lighting, Risk Assessment, Home EV Charging Stations, Business Charging Station, Public EV Charging Stations, EV Accessories, Domestic CCTV, Domestic Intruder Alarms, Domestic Gates, Avigilon CCTV, Integrated CCTV, Thermal CCTV, Commercial Intruder Alarms, Commercial Access Control, Commercial Automation |
| WEBSITE | https://www.powerright.ie/ |
| ADDRESS | Unit 6B North West Business Park Collooney, Co. Sligo, F91 N8PE |
| CONTACT DETAILS | 1800 938 881 |
| OPERATING HOURS | Contact for more information |
Worried of possible security issues in your home, or perhaps a fire in the middle of the night when you and your family are fast asleep? Worry no more because Power Right Fire Energy and Security has got it all covered for you.
Established back in 1982, they make use of their over 3 decades of experience to offer you're the best security systems and alarms most suited for your homes and other business establishments. They are 100% independent and pass the EQA standards when it comes to the products and services that they offer.
While they offer to install these systems, feel free to reach out to them if they can service your area of residence. Passionate and committed to what they do, they have a selection of brands you can choose from that best fit your needs.
Protecting your family and valuable is a hard task, let Power Right Fire Energy and Security lend you a hand to keep the things that matter safer.
Accepts both commercial and residential jobs
EQA standard quality
Comprehensive Packages
Free Quote
7. Securiguard Alarms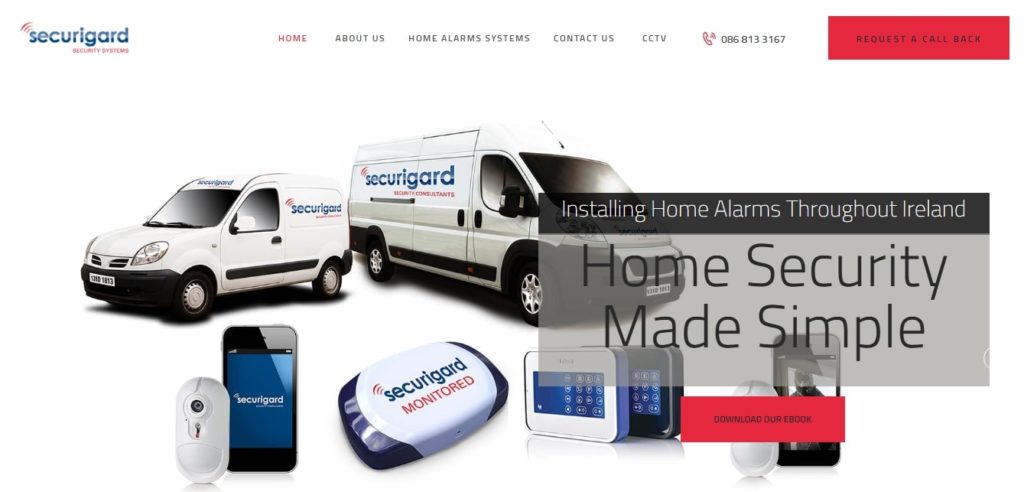 PRODUCTS
Wireless House Alarms
Pre-Wired House Alarms
Self Monitored and Non Monitored
Alarm Monitoring
Alarm Maintenance
Smart Home Alarm System
WEBSITE
https://www.securigard.ie/
ADDRESS
Unit 5, West Mall Nutgrove S.C, Rathfarnham, Dublin 14, Ireland
CONTACT DETAILS
[email protected]
01 5649936
OPERATING HOURS
Securiguard Alarms is a provider of alarm systems to both commercial and residential facilities in the area ever since 1994. They are also recognized and licensed by the Private Security Authority and have been consistently reviewed to be among one the best-selling burglar systems in the area.
With over 10,000 satisfied customers and alarms installed, they are able to provide fast and timely services since they recognize just how important security is to any business or home for a variety of reasons.
They only employ experts for the job so that clients can be sure that their security systems are properly installed, best suited for the establishments that they handle, and customized to the individualized needs of their clients.
We find their selection of systems to be very extensive and diverse so that clients can easily customize their alarm system according to what is most convenient and preferred such as wired options, monitoring schemes, and maintenance packages.
Overall, with their long-term and durable alarm systems and experts who are able to provide sound advice and reliable support should there be any concerns with the system, we highly recommend them to clients within the area who are in need of a customized security package.
Flexible packages
Experienced installers
Ideal for long-term security
Operating hours unavailable
Geared toward residential settings
Customer Reviews
Here are some reviews from their clients:
"Securiguard installed my system two years ago. Since then they have installed one for my inlaws. Excellent service. The monitoring service is particularly good. They are extremely prompt and polite day and night." – Brian, Rathgar
"Securiguard has installed systems in both my business premises in Dublin 15 and my own home. Their monitoring fee us far lower than most and they have not increased our fee in over 5 years." – Jan, Dublin 18
8. ODS Security Ltd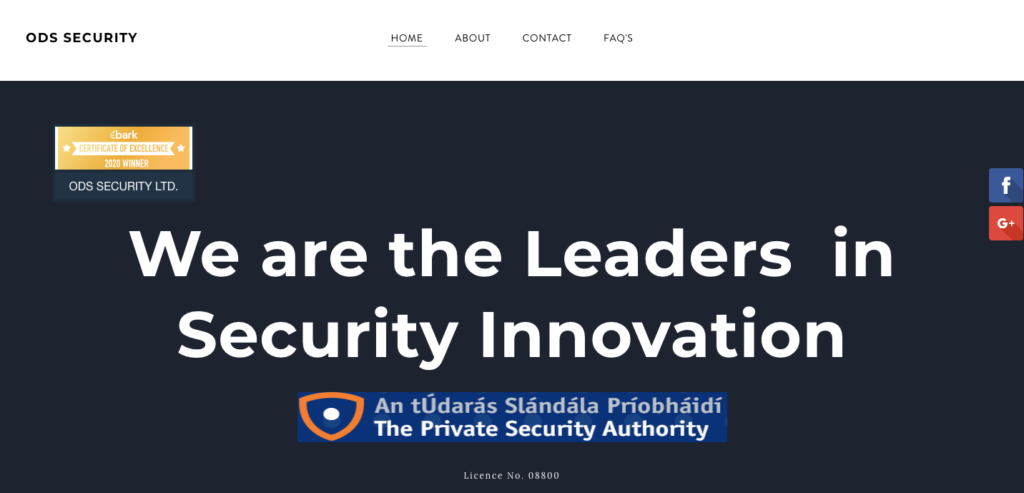 PRODUCTS
Intruder Alarms
Integrated Video Surveillance
CCTV Solutions
Access Control
WEBSITE
https://odssecurity.weebly.com/
ADDRESS
Agall, Tullamore, Co. Offaly, R35 AE72, Ireland
CONTACT DETAILS
Phone:
057 9355673
085 8299366
OPERATING HOURS
24/7
ODS SECURITY is a local company with over 30 years of experience in the security sector, serving Kildare, Laois, Offaly, Westmeath, and Rosscommon. They are the leaders in their field because of their attention to detail and understanding of their customers' needs.
No two properties are ever the same, and each system is custom-designed to meet your specific needs or property. ODS Security Solutions are tailored to your specific security needs while also taking into account your operational requirements. They are constantly evolving and investing in advanced technology to ensure that we can provide you with the most up-to-date products and services for added peace of mind.
Connect your smartphone to your security system to receive security alerts directly on your phone. Push notifications with audible alert messaging, a fully functional keypad, and other features are available through the App.
They are committed to long-term relationships with all of their clients, and we place a high value on customer satisfaction. Their company's goal is to provide not just the best, but legendary customer service.
They Create Elegant Solutions Using Cutting-Edge Technology.
Always available
Uses cutting edge technology
Their website needs improvement for easier navigation and content
Customer Reviews
Here are some reviews from their clients:
"Very quick response and professional service, couldn't be happier! Thanks" – Cian Maher
"I also had security system and camera system installed by ODS Security. Absolutely brilliant to deal with. A very efficient and reliable company. Couldn't recommend highly enough" – Fidelma Earley
9. Network Security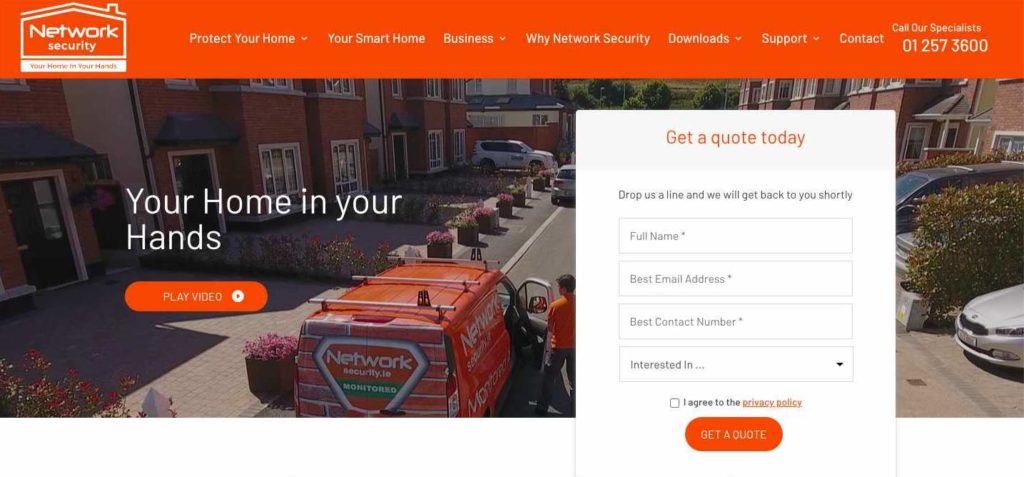 PRODUCTS
Monitored Home Alarm
Reactive CCTV
Intruder Alarms
Monitored Systems
Fire Alarms
Access Control
Intercoms
WEBSITE
https://www.networksecurity.ie/
ADDRESS
510A Grants Avenue, Greenogue Business Park, Rathcoole, Co. Dublin.
CONTACT DETAILS
Phone: 01 257 3600
OPERATING HOURS
Monday to Saturday: 8:30AM to 6:00PM
Another company in our list that we believe can provide you with the best alarm system is Network Security.
We like that they offer alarm systems not only for homes, but for businesses as well. They can surely help protect a range of private spaces.
We especially like their home alarm features. This monitored alarm system has many features like a smartphone app, motion detectors with built-in CCTV cameras, and more.
Moreover, the system can be armed and disarmed from anywhere, and is monitored 24/7.
With all these features, we think that you'll feel much safer and know that your home is protected.
What's more is that their customers have shared that they truly do feel safe with Network Security's alarm system, and we think that you will too.
24/7 monitoring
Home alarm system with many features
Various alarm systems for business
Prices available on website
Reports of some glitches in the system
Customer Reviews
Here are some reviews from their clients:
"Excellent customer service and the service department also. When contacting network security very polite on the phone and can always solve the issues you may have."
"Since inception in 2005 have provided a smart comprehensive service and support admin back up. All issues resolved quickly and efficiently"
What Are The Types Of Alarm Systems I Can Buy For My Home?
There are many kinds of alarm systems. It can be an external, perimeter detection system or an internal security alarm system.
It can be a wired, wireless, monitored or unmonitored system against fire, intruders, water, carbon monoxide and other unwanted elements. Each system can be slightly different depending on where it will be installed, whether it's in a house or an office.
To keep things simple, we'll discuss the most common types of alarm systems installed in homes.
Zonal alarm systems
This type of home alarm gives you control over which area or room to safeguard. For example, if you're going to do some work upstairs, you can activate the alarm downstairs to keep it safe and vice-versa.
At night, you can switch off the alarm in the rooms and turn on the ones at the entrance areas to alert you of intruders.
Pet-friendly alarms
Pets can easily set off infrared or motion sensors. If it happens at night, it can be a source of unnecessary worry.
But with the right equipment, this shouldn't happen. Pet-friendly alarm systems operate using sophisticated PIR (Passive Infrared) sensors that consider your pet's heat signature when installed.
It won't activate when your dog passes along, but it certainly will if something with an unusual heat signature is detected by the alarm!
Smart alarms
Smart alarms are wireless security systems that allow you to monitor your home from wherever you are.
You can watch your home live using a tablet or smartphone if you have a CCTV monitor installed. You can also set or disable the alarm in real-time and get live notifications so long as you have mobile data access.
FAQs about the Best Alarm Systems in Ireland
---
And that's all we have for the best alarm system providers in Ireland. We hope you found a potential supplier from our list.
If you've already bought a security system from any of these companies, send us an email. We'd be happy to hear how the system is performing in your home.
You can check more companies that provide alarm and security systems here: