5 of the Best Golf Courses in Cork
Although a quiet sport, golf requires an undeniable focus and coordination that many athletes practice diligently. An important element to golf is the environment itself, with different courses offering various levels of difficulty in strategy.
In this article, we list down the best golf courses in Cork for you to consider.
How much do golf club memberships or tickets cost?
Prices of golf club memberships or tickets depend on the exclusivity of the club as well as the added features and amenities that come along with it. Oftentimes, this would be broken down into different tiers for different duration or group options.
We listed down below some available green fees or ticket prices for various golf clubs around Cork.
Golf Course
Estimated Average Price
Prices
Cork Golf Club

Weekdays and weekends

Student and Junior

€ 125

Castlemartyr Golf Club

November to March Weekends: 18 holes Non resident

April to October Monday to Thursday: 18 holes Non resident

€ 50

€ 70

Old Head Golf Links

Low Season: 18 holes

High Season: 18 holes

€ 225

€ 375

Fota Island Golf

Individual

Groups 16+ Weekdays

€ 120

€ 70
Top Golf Courses in Cork
We assessed the courses based on the following criteria:
1. Cork Golf Club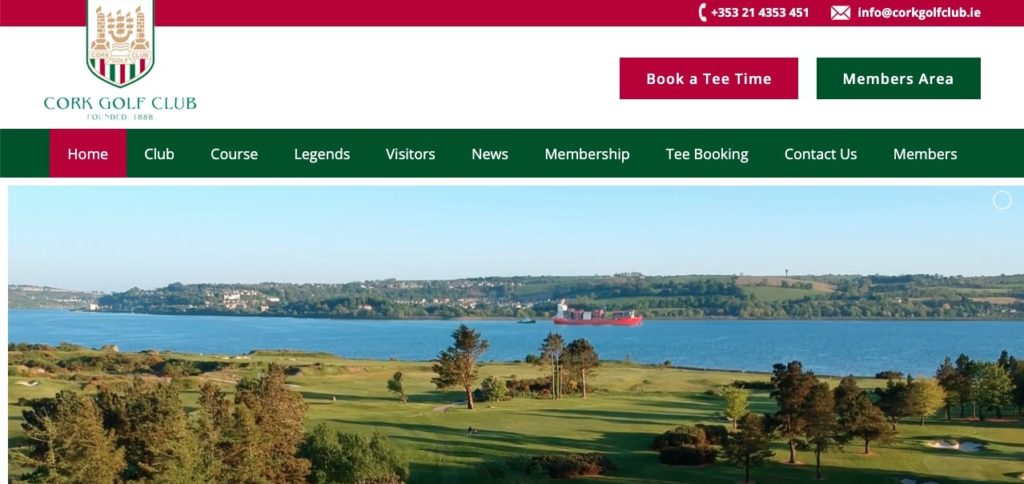 Test
Info
SERVICES

Dining Facilities

The Pro Shop

Green Fees: Individuals and Corporate and Societies

WEBSITE
https://www.corkgolfclub.ie/
ADDRESS
Cork Golf Club, Little Island, Co.Cork
CONTACT DETAILS
+353 21 4353 451,

[email protected]

OPERATING HOURS

Daily: 7:00 AM to 10:00 PM
| | |
| --- | --- |
| Surroundings | ★★★★★(5/5) |
| > Routing and design | ★★★★★(5/5) |
| > Environment | ★★★★★(5/5) |
| Amenities and perks | ★★★★★(5/5) |
| Membership terms and conditions | ★★★★☆(4/5) |
| Feedback | ★★★★★(5/5) |
| > Satisfaction | ★★★★★(5/5) |
| > Staff approach | ★★★★★(5/5) |
Cork Golf Club has a longstanding history ever since being founded in 1888. Initially formed by businessmen, the club is a popular site, hosting quite an impressive number of tournaments.
Golfers will definitely enjoy visiting for the club's prestige and background. What's more is that Cork Golf Club has accommodated multiple British Open Champions.
It's certainly the place to be in terms of overall history and professional atmosphere.
Aside from this, the club is situated right along the city's inner harbour. We really like how picturesque and refreshing the location of their courses are.
In terms of routing and design, we like how varied each hole is and we highly recommend checking out their website for detailed accounts of the layouts.
Combining both beautiful views and a more than adequate course design, Cork Golf Club is a strong contender as one of the best golf courses in Cork.
In terms of their membership however, it can be quite difficult to get in as they only have limited slots per season to limit capacity. Moreover, the fees aren't the most affordable ones out there so we highly suggest checking out their terms beforehand.
Nonetheless, we appreciate that members do get a lot of perks from participation, facilities, and social events.
If you are looking for a course that has a great balance between club perks, excellent course layout as well as fantastic views, we highly recommend checking out Cork Golf Club.
Scenic environment
Available dining facilities
Numerous experiences of hosting tournaments
Great variety in course layout and design
Limited slots for new members
Slightly pricier rates
Customer Reviews
Beautifully Maintained
Fabulous golf course, a true test of any golfers abilities. Beautifully maintained course with excellent greens. The bunkers are many and beautifully positioned. Loved this golf course and I will be going back there the first opportunity that I get. – Eamonn Leahy
Excellent Choice
One of best courses to play in Cork. Cork GC is an Alister MacKenzie's redesign course with a lovely mix of long and short holes and easily enjoyed. Also Cork GC would be an excellent choice along with Old Head for a 36 hole day playing golf in Ireland – Concierge Golf Ireland
2. Castlemartyr Golf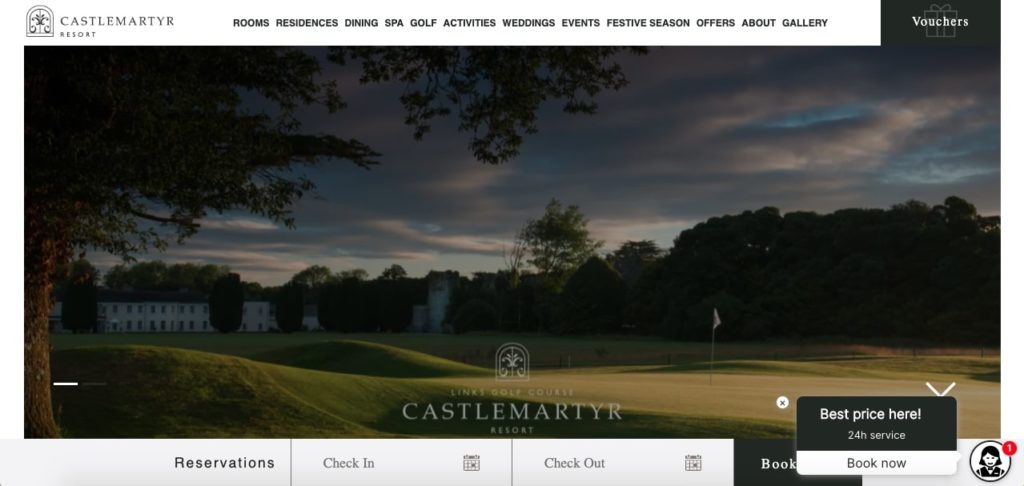 Test
Info
SERVICES

Resort, Profession Shop

PGA Pro

18 and 9 hole options

Hire Items

Membership

Clubhouse

WEBSITE
https://www.castlemartyrresort.ie/golf/
ADDRESS
Castlemartyr Resort, Cork
CONTACT DETAILS
+353 (0)21 421 9000,

[email protected]

OPERATING HOURS

Open Daily Subject to Weather

Closed on Christmas
| | |
| --- | --- |
| Surroundings | ★★★★★(5/5) |
| > Routing and design | ★★★★★(5/5) |
| > Environment | ★★★★★(5/5) |
| Amenities and perks | ★★★★★(5/5) |
| Membership terms and conditions | ★★★★☆(4/5) |
| Feedback | ★★★★☆(4/5) |
| > Satisfaction | ★★★★☆(4/5) |
| > Staff approach | ★★★★☆(4/5) |
With the view and the resort amenities Castlemartyr Golf's facilities has to offer, it makes an excellent choice for those looking to both relax and have a satisfying time.
Castlemartyr Golf's course was designed by well-known golf course designer Ron Kirby. What we really appreciate about the course is that each hole's design is very distinct so golfers looking for a challenge will definitely be satisfied.
The subtle hills and dips of the layout make it slightly more difficult to navigate, thereby making its guests strategize and engage more.
However, as challenging as the course is, Castlemartyr's club has numerous facilities that put its guests at ease. It also has a professional shop where golfers can buy crested garments.
We also really like that they offer golf lessons for different skill levels which makes it very approachable even for beginners to experience the course itself.
Their green fees are also quite comparatively affordable! So if you're on a budget and want a course that still delivers a quality experience, we highly suggest checking them out.
However, we would advise taking a look beforehand at their dress code before playing as it does cover quite a number of limitations. Alongside this, visitors' cancellations need to be relayed at most 72 hours before the session or else there would be a fee.
Overall, in terms of quality, prices and abundance in amenities, Castlemartyr Golf offers all of these and more making the entire experience worthwhile.
More affordable pricing
Can be enjoyed alongside the resort facilities
Excellent golf course design
Offers a professional shop
Strict club dress code
Visitor cancellation needs at most a 72 hour notice 
Customer Reviews
Super Friendly and Helpful
The experience at the Spa was incredible. The Staff was super friendly and helpful. The food was so good and possibly the best cheesecake I had in a long time 😊 Caroline from the Spa was super and she really made me feel at ease and relaxed. Couldn't have wished for a better experience! 1000 times recommended – Laura Luppino
Strategic Course
Stayed in a house on the estate. Clean and well maintained. Played golf on the estate course, course set up to test your game with bunkers strategically placed to frustrate you. Swam in the pool with my grandkids , nice. Food in the restaurant good . – Michael Brennan
3. Old Head Golf Links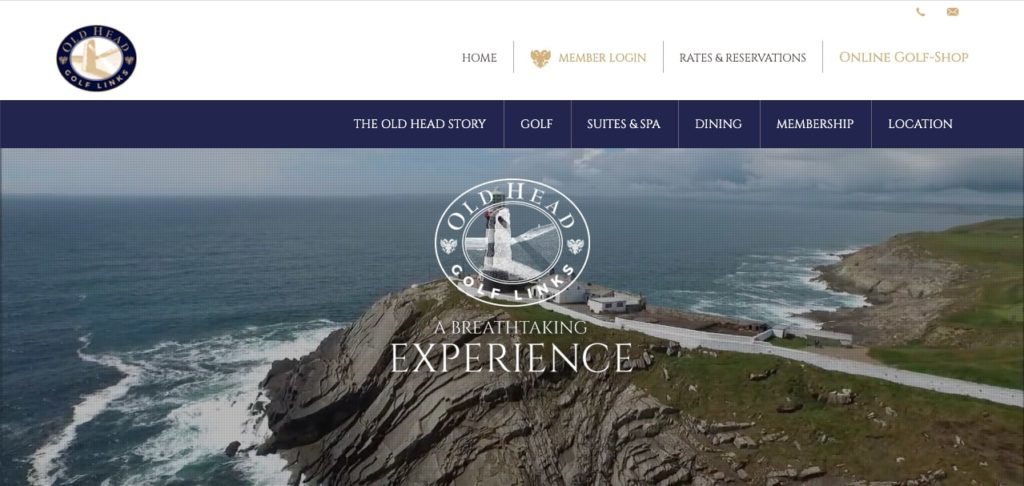 Test
Info
SERVICES

Suites and Spa

Dining

Membership

WEBSITE
https://www.oldhead.com/
ADDRESS
Downmacpatrick, Kinsale, Co. Cork
CONTACT DETAILS
(+353) (0)21 4778444,

[email protected]

OPERATING HOURS

Sunday to Friday: 8:30 AM to 8:00 PM

Saturday: 8:30 AM to 7:30 PM
| | |
| --- | --- |
| Surroundings | ★★★★★(5/5) |
| > Routing and design | ★★★★★(5/5) |
| > Environment | ★★★★☆(4/5) |
| Amenities and perks | ★★★★★(5/5) |
| Membership terms and conditions | ★★★★★(5/5) |
| Feedback | ★★★★★(5/5) |
| > Satisfaction | ★★★★★(5/5) |
| > Staff approach | ★★★★★(5/5) |
A popular and highly sought after course, Old Head Golf Links separates itself from other courses from the location alone. Brothers Patrick and John O'Connor have developed a standout experience for guests looking to venture onto their facilities.
Old Head Golf Links is located on a headland stretching out onto the Pacific Ocean, making it seem as if the courses were on an island of their own.
We like the atmosphere that its location contributes to the overall experience, with players listening to the waves and sounds of the ocean as they're playing on the course. A number of customers have noted how this aspect alone makes it a must visit.
However, we would like to note that this does make the course more susceptible to weather like strong winds or rain. There can be the occasional cancellation and it can be difficult to play because of the stronger winds.
Aside from this however, Old Head Golf Links also offers other facilities that make anyone's stay more luxurious!

We really like that they've thought of the full top to bottom experience. They have suites that have breathtaking views of the ocean as well as a spa that has a luxurious aromatic steam room.
Truly, Old Head Golf Links is a must visit for any golfer out there because of the high quality indulgent experience they offer.
Unique and breathtaking location
Offer suites, spas and dining for a luxurious experience
Fantastic and varied course design
High praise from customer feedback
Very expensive rates
May be more susceptible to wind and weather
Customer Reviews
Staff was Amazing, Breathtaking Views
What an incredible experience. While golfing there and learning that this course is only 25 years old to me was completely astonishing every every detail is attended to and this course looks like it's been here for 230 years if you get the chance to play… Take it without thinking… The staff was amazing the food was very good and the views breathtaking. We had the opportunity to rent a helicopter for one hour to fly around the peninsula at old head as well as other parts of Ireland can't say that that's included in the experience as we were lucky but again and a course absolutely worth worth visiting for travelers and of course locals alike – David Gardner
Stunning Views
This place is amazing with stunning views. Unfortunately I played the back nine in 35 mph sustained winds and driving rain. The ball would move on the greens while your trying to putt. I lost my balance several times while trying to hit. Just brutal conditions. This is a must play but be prepared for the rain and winds. I will be back and hopefully better weather. – Steven Karch
4. Fota Island Golf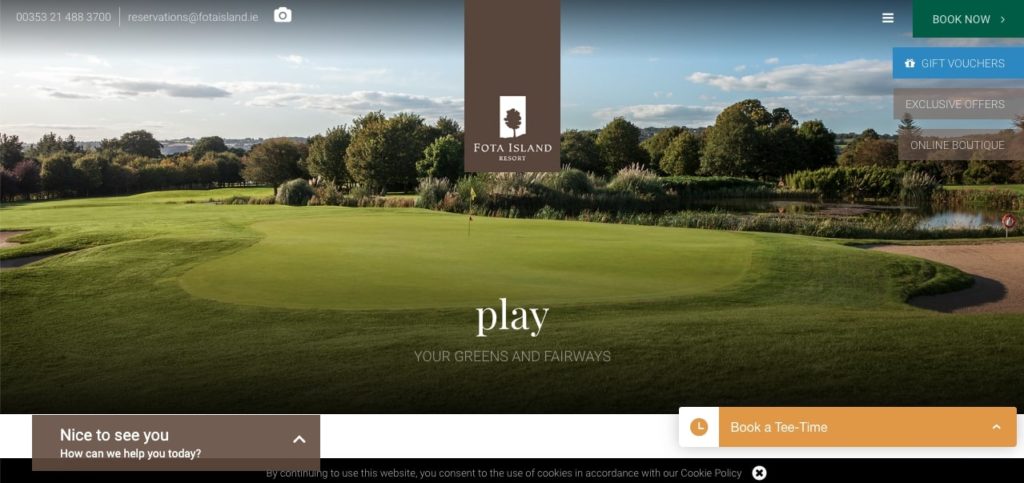 | | |
| --- | --- |
| Surroundings | ★★★★★(5/5) |
| > Routing and design | ★★★★★(5/5) |
| > Environment | ★★★★☆(4/5) |
| Amenities and perks | ★★★☆☆(3/5) |
| Membership terms and conditions | ★★★★★(5/5) |
| Feedback | ★★★★☆(4/5) |
| > Satisfaction | ★★★★☆(4/5) |
| > Staff approach | ★★★★☆(4/5) |
Fota Island Resort has a great golf course alongside its fantastic resort facilities. We really like that they offer a more expansive experience that is definitely one to consider when looking for a place to both stay and play.
What makes them stand out amongst other courses in the Cork area is that they offer three different options for courses.
Their Deerpark course is perfect for strategists as it features bunkering and long curving ways. On the other hand, their Barryscourt course is more suited for those who would like to practice and develop their tee shots and putting.
Lastly, if you're looking for a lot of challenges with water features, we recommend visiting their Belvelly course. We really appreciate that they offer a greater variety that is well thought through, each course having different strengths and challenges.
In addition to this, they also offer variety in terms of membership categories. From corporate to Lady Associate, we think golfers will appreciate the variation in selections that best suit them.
We would like to note however, that in terms of events, Fota Island's calendar is a little more bare than others. Nevertheless, they still hold the occasional shindig, usually from mid to late summer.
As a resort-run course, customers should definitely take advantage of the other facilities they have like the dining and accommodations.
That said, with a backdrop of the stone manor as well as their variation in courses, Fota Island is a solid option when it comes to choosing a course to both stay and play.
Other resort facilities include rooms, lodges and spas
Have three different courses to choose from
Offer different membership packages 
Have up to date technology featuring TrackMan
Some customer critiques on food quality
Not as much events as other clubs
Customer Reviews
Exceptional Staff
Had an amazing 3 night stay here. Large group played 3 rounds of golf along with the 3 nights in the hotel. Rooms were perfect, modern and extremely clean. Food was lovely. Staff were exceptionally friendly and accommodating. Highly recommend a stay here, golfing or otherwise. I have no complaints about our visit whatsoever. Rest of our group were equally as impressed. Thanks Clodagh for organising our stay. – Paul Fitzgerald
Great Atmosphere
Clubhouse is great location on a sunny day for food & drink after a round of golf or if you are just passing. Nice walks around the hotel and through the woodlands. – Eoin Mulligan
5. Lee Valley Golf & Country Club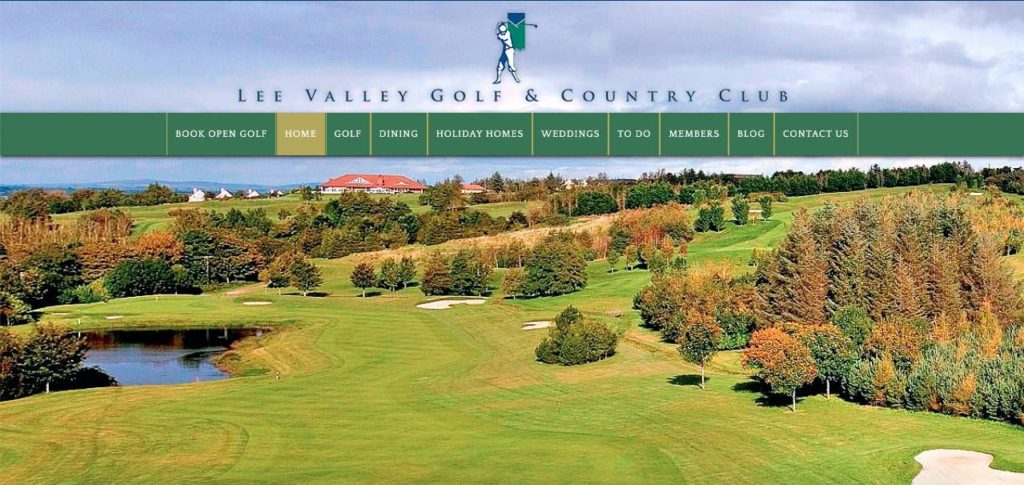 Test
Info
SERVICES

Membership

Pro Shop

Dining

Weddings

WEBSITE
https://www.leevalleygcc.ie/
ADDRESS
Mullaghroe, Clashanure, Ovens, Co. Cork
CONTACT DETAILS
021 7331721,

[email protected]

OPERATING HOURS

Monday to Friday: 8:00 AM to 11:30 PM

Saturday: 7:00 AM to 12:30 PM

Sunday: 7:00 AM to 11:45 PM
| | |
| --- | --- |
| Surroundings | ★★★★★(5/5) |
| > Routing and design | ★★★★★(5/5) |
| > Environment | ★★★★★(4/5) |
| Amenities and perks | ★★★★☆(4/5) |
| Membership terms and conditions | ★★★★★(5/5) |
| Feedback | ★★★★☆(4/5) |
| > Satisfaction | ★★★★☆(4/5) |
| > Staff approach | ★★★★☆(4/5) |
Lee Valley Golf & Country Club has the expansive green spaces that will definitely please golfers looking to play in the area.
We think that their facilities are probably the closest to a classic golf course layout so if you're on the lookout for one, we highly recommend checking out what they have to offer.
What's nice about them is that they're very well prepared for visitors flying in. They have available transportation that can pick you up from the airport which is convenient.
Alongside this, they also accommodate other events such as weddings. We like that the setting itself has a lot of space, with hills and trees all around.
It's also a great option to consider if you're looking for a getaway that's very close to central Cork!
The golf course is very well thought out and we like the distinction of each hole, offering different features and area sizes. Although not the most unique course out there, we do like that it provides a clean and classic playthrough.
We do think, however, that the portion and range of food that they have is quite limited, so we would advise to check their menu ahead of time.
Lee Valley Golf & Country Club offers a more straightforward club experience amongst other golf courses out there. They are great if you're looking for an option that's close to the city but nonetheless, a satisfying course experience.
Able to host events and offer packages for societies
Great option for those visiting
Can make tailor fit itineraries
Great membership options
Some customer complaints on the food
Place can get busy
Customer Reviews
Enjoyable for Every Level
Haven't played Lee Valley golf club in over a decade and I can tell you now it's matured into one of the best parkland courses in Munster. You need to bring your A game to conquer it but it's enjoyable for every level and the condition is tremendous. Good value too. -MrMickthemallet
Lovely Atmosphere
Great food and lovely staff. Lovely atmosphere there. Advisable to book in advance. Well worth a visit – Susan Keating
FAQs about Golf
---
And there you have it! With the many amenities and features different golf courses may have, we hope our list helps narrow it down for you to the best of the best. If you would like to know more, we also have an article on the best golf courses in Galway.